What are the best Kid Subscription boxes? They're the subscription boxes for kids that teach life skills and STEM in a really FUN way. Let me share my favorites.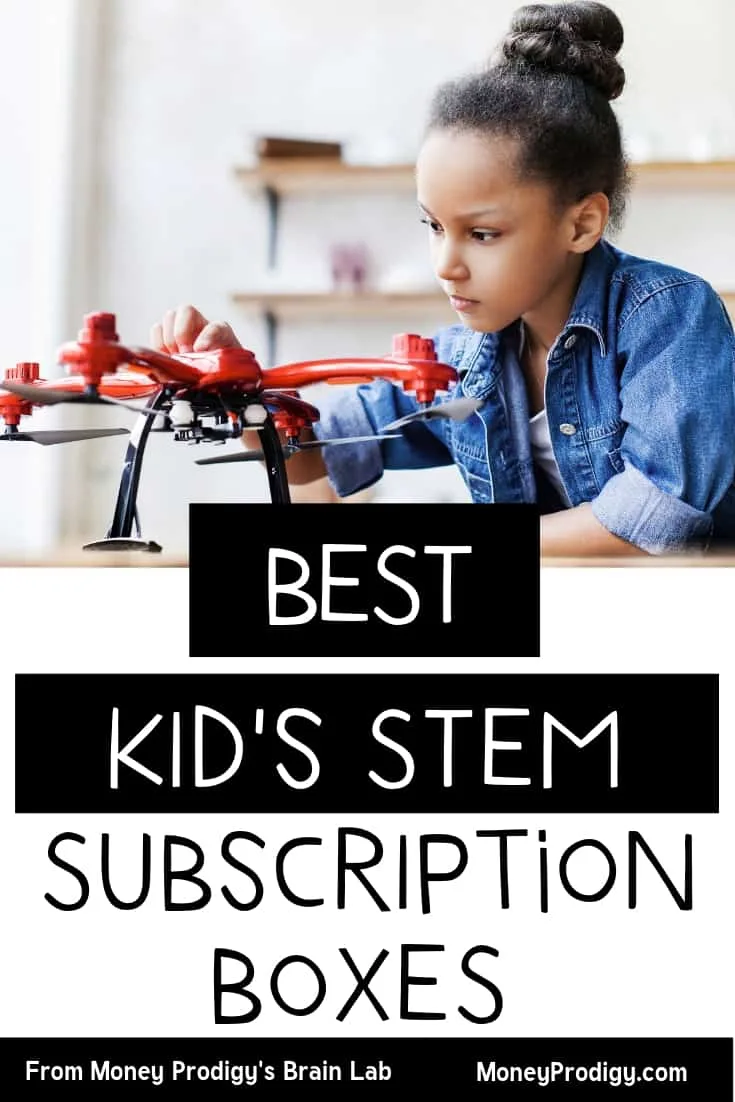 Kids LOVE to get mail. And parents LOVE to involve their kids in things that are both FUN + educational.
Sooo…when I started seeing all these life skills and STEM subscription boxes for kids pop-up, I knew I needed to sample them and write about the ones that I loved the best.
Not sure what STEM stands for? It's an acronym for science, technology, engineering and math (and MATH happens to be part of what money learning is all about!).
Over the last several months, my son and I have been trying out different subscription boxes for kids.
YES – we literally sampled and reviewed each of the boxes below. How else could I recommend something to you?
To be honest, I was blown away by what's available in the STEM and life skills subscription box world, and I think it's even cooler that you can get it delivered monthly to your doorstep.
.
Let's take a look at our favorites.
Age: 8+ years
STEM Skills: investigate, brainstorm, plan, build, and test skills
Cost: $29.95/box
Groovy Lab in a Box partners with Popular Mechanics to bring your child some hands-on science, right in their home. I also love how they partner with Versability.org, meaning their boxes are packaged by people with disabilities.
We received the "Lesson in Electricity" box, with the following mission:
"You are a groovy electrical engineer who has been contracted by the latest groovy dance group. Using the materials from your Groovy Lab in a Box, can you design and build a dance pad?"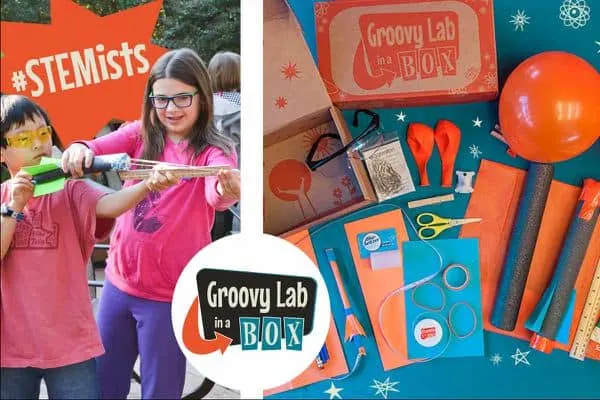 They recommend that you complete this mission in a STEM team, but you can definitely do it individually, as well.
Through a series of small lessons + experiments, your child will investigate things like static electricity, paper circuits (they'll be building an actual circuit!), and then, of course, building an actual "groovy" dance pad!
I like how your child is asked to brainstorm ideas, design the dance pad, and even to redesign it to see if they can make it even "groovier".
You also get to use the password to sign into some bonuses in the "Beyond" section of their website, including videos about kid engineers, additional cool experiments to do with electricity, and more.
Age: 3-11 years
STEM Skills: varies (there's such a huge array of options!)
Cost: $41.99/box
Can I tell you how excited my 3.5-year-old was when he saw a SPACE-themed box, complete with stars and a rocket ship on the outside of the box, come in the mail (from Kid's Night In)?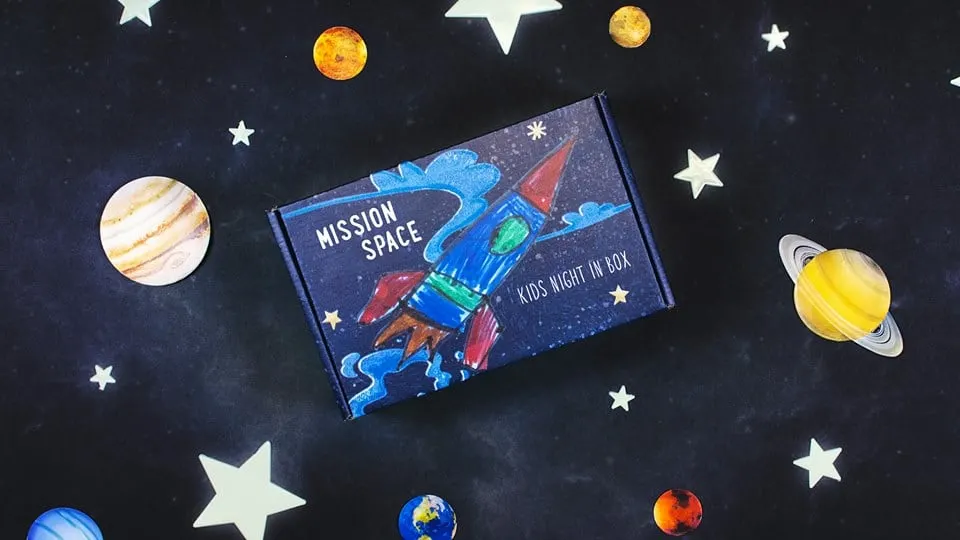 WOW did he get excited over that.
When my little guy opened up the box, here's what he found:
A gorgeous pamphlet filled with instructions, talking points, and other information
A paperback, DK book all about astronauts for reading level 2
Everything we needed to color and create two astronaut puppets (nice pack of colored pencils, tape, two lunch bags, astronaut cutouts, stickers, etc.)
A pack of space yoga cards
A freeze-dried, astronaut, ice-cream sandwich
A cardboard telescope
A package of glow-in-the-dark stars
Materials needed for "rocket testing"
A gorgeous Planet Passport for "intergalactic travelers" to fill out
An astronaut training certificate
And guess what? So many of these materials we can use again (BONUS POINTS) — like the space yoga cards, the pack of colored pencils, the half-a-roll-of-tape leftover, the astronaut book (we'll keep this for when he starts reading!), leftover astronaut stickers, the cardboard telescope he made, etc.
I love that!
What can you expect in your kid's night in box?
Each Kid's Night In box will contain:
A little learning
A get-up and move around activity
A healthy snack
Dedicated recipes you can cook (great time to let your kids cook with you so increase their cooking skills!)
Just look at the Kid's Night In Box we received this month: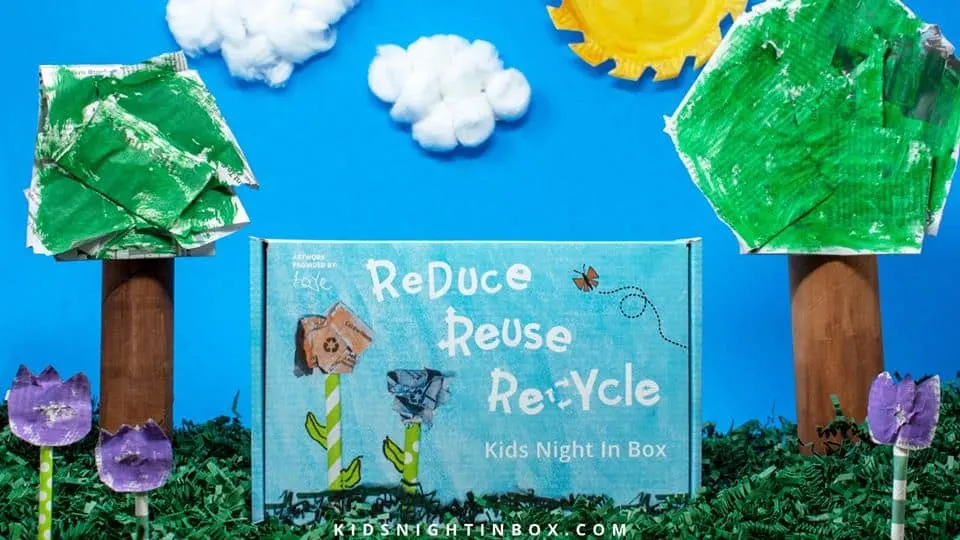 My little guy was excited to get some Mama time doing what we call "activities" (and he calls "actilities").
His favorite thing we did together? Had to be the watercolor painting, and the bubble blower we upcycled out of other materials.
What was included:
Board Book, Don't Throw that Away!
Recipe card with two chef-created, Earthy recipes
Set of watercolor paints with a brush
Materials to create an upcycled bubble blower, plus bubbles (cupcake-scented!)
Materials to create newspaper flowers
Eco-friendly snack (boy was my little guy excited about this one — a chocolate-rice-krispy treat from Nature's Path's EnviroKidz line)
Reusable snack pouch (dishwasher-safe)
A few facts you should know also is that each box will accommodate 1-2 kids plus one adult (we had two adults, and one kid, and that worked out just fine as we took turns engaging with Conner and reading ahead to set up anything that needed setting up). Also, there are separate talking points throughout the materials for younger kids versus older kids, since we all know a 3 year old is way different than an 11 year old!
Kid's Subscription Box: KiwiCo Review
Age: 0-16 years
STEM Skills: varies (there's such a huge array of options!)
Cost: $16.95/box – $19.95/box
KiwiCo has 7 different lines of boxes to choose from – from Tadpoles (ages 0-2), all the way up to Eureka (ages 14-104).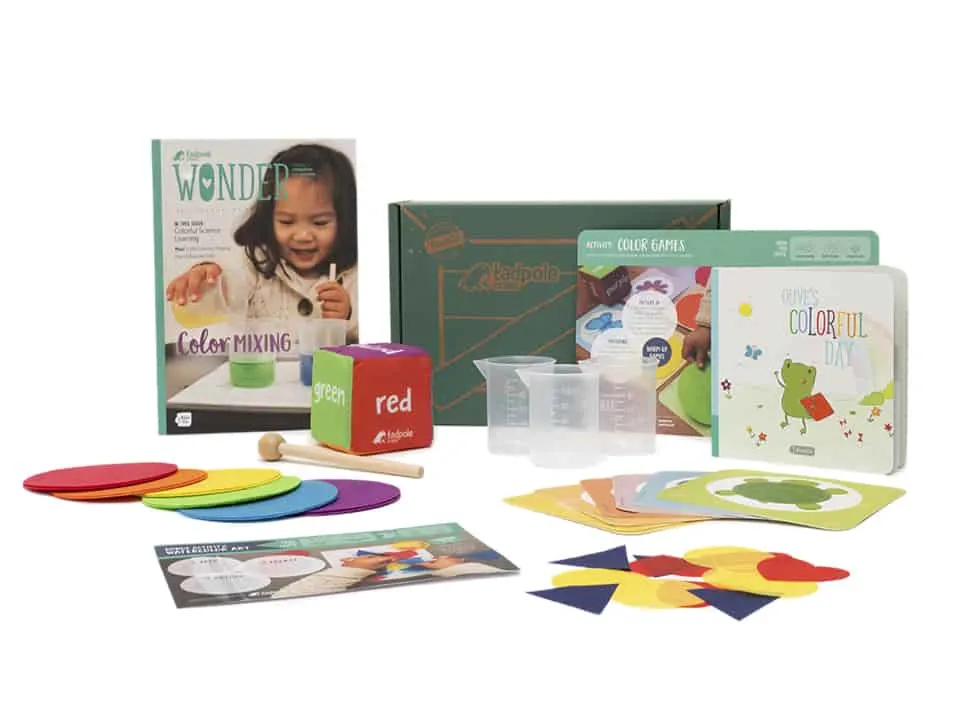 We sampled an Atlas box, which is for ages 6-11, and it happened to be themed around the country of Japan (where I met my husband!).
I loved how the welcome envelope had a tie clasp, just like you're opening a postcard in the Griffin and Sabine series.
Directions guided us through making a Carp windsock for the Japanese holiday called Children's Day (a koinobori), how to play Daruma (an ancient blocks game we can play over and over and over again – my 3-year-old loved this one), and many more activities like karate, cooking a new recipe, etc.
The materials are all very durable and high-end. I was really impressed!
Psst: Use this link and get your first month's subscription box for free!
Kid's Subscription Box: Learning Crates Review
Age: Kindergarten through 6th Grade
STEM Skills: books, experiments and hands-on activities
Cost: $24.99/box
Wow – I was blown away when I opened this box. First of all, our lovely post woman had to hand-deliver it to our front door because it was so heavy! When I opened the box itself, it was all tied together with a lovely sticker and my name handwritten on it – how nice is that?
Then when I opened up the tissue paper? A ton of awesome books were revealed.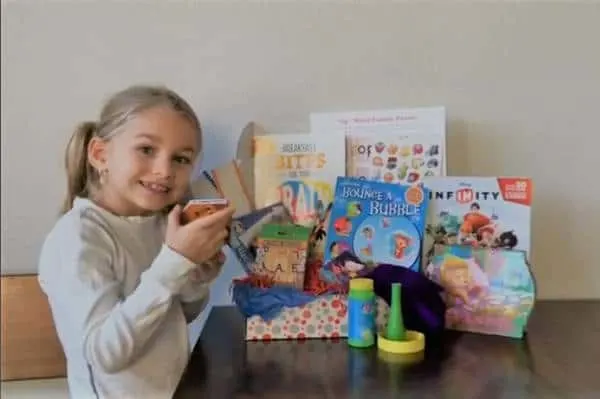 In my personal box were the following:
Let me do the math for you – that is $65.21 worth of books if you were to buy them separately on Amazon!
What value.
When you sign your child up, you let the company know their interests, hobbies, and any areas where they might need some academic improvement.
Then each month, they'll receive a box personalized for them that includes:
7-10 brand new books, experiments and hands-on activities
One book donated for children's literacy
Kid's Subscription Box: Creation Crate Review
Age: 8+ years
STEM Skills: electronics, coding, engineering and high-level problem solving
Cost: $11.49 – $29.99/box (depends on how many months you sign up for, and which track you choose)
We tried the Creation Crate for Electronics (you choose either electronics or engineering when you sign-up), and it was all about creating a mood lamp, at home!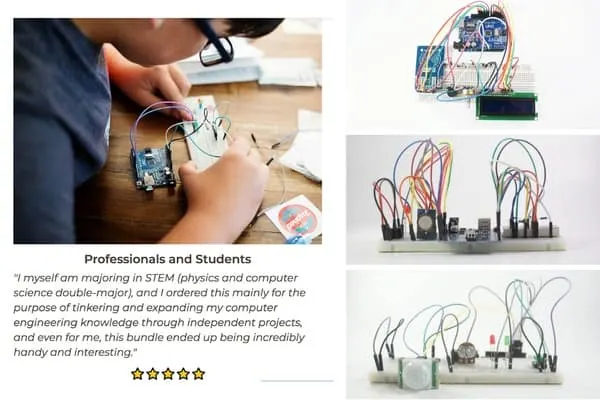 Which momentarily brought me back to my mood rings/lava lamp teen years *ahhhh*.
We got to sign into their classroom website, "order" the Mood Lamp 2.0, and input a password in order to get the course for free (or as part of our membership).
Video and text lessons included:
Electronics Basics
Hardware
Programming
Troubleshooting
Exercises
There's also a discussion area, where you can actually talk to the creators and get an answer (the last response was just 20 hours ago from when I signed in, so they're pretty responsive!).
I really like how the projects become increasingly challenging each month, so it promotes skill growth and will keep your child engaged.
Bonus: for every $1,300 raised, they donate 5 Creation Crate classroom kits to help bring more STEM education to classrooms in the U.S.
Kid's Subscription Box: The Preschool Box Review
Age: 3-6 years
STEM Skills: letter & sound recognition, counting & number recognition, sorting shapes & colors, identifying sounds in words, writing practice
Cost: $32.95/box (you can prepay for the year, at $27.50/month)
I really enjoyed the organization of this box (you can tell this was created by a former kindergarten teacher) – they send a curriculum to follow over the course of 4 weeks, and each week is wrapped around specific learning objectives (like Week 1's learning objective is the Letter A, the colors red and blue, and the numbers 0-5).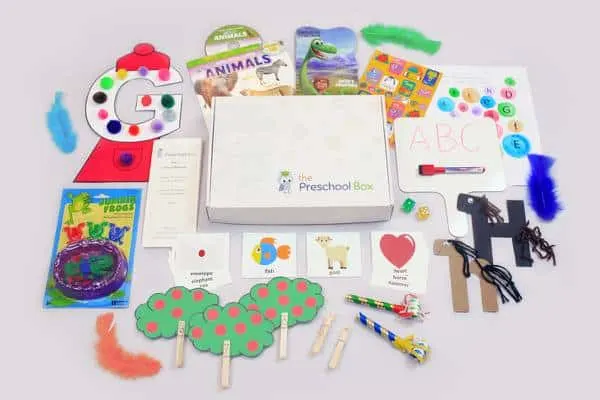 It's very much what I would expect from preschool learning, except I can do it with my 3-year-old at home.
For the letter A, my little guy got to find flashcards I hid around the house, and then we went through each of them – he loved the letter A images (astronaut and alligators were his favorites!). Then, we made an alligator craft together, and did a writing-prep exercise by tracing the letter A on a worksheet.
And there's still 2 more activities for us to do, just in Week 1!
Other activities include making the letter "B" with beans, dot painting with a beautiful set of watercolors, more tracing, more sorting, a book called "The Night Before Valentine's Day" – with all supplies sent (see note below).
I also like how this is a 12-month program (you don't have to sign up for all 12 months) that mimics an entire year of kindergarten, with activities that build on one another. At the end of the 12 months, your child even gets a celebratory graduation box with a certificate and graduation cap!
What you can expect in every box:
16+ activities, designed to be done over a 4-week period of time
Note: The makers assume you have the following supplies – glue, scissors, tape, crayons, pencils, and markers. Sounds like a pretty fair assumption!
The following two tabs change content below.
Amanda L. Grossman is a writer and Certified Financial Education Instructor, a 2017 Plutus Foundation Grant Recipient, and founder of Money Prodigy. Her money work has been featured on Experian, GoBankingRates, PT Money, CA.gov, Rockstar Finance, the Houston Chronicle, and Colonial Life. Amanda is the founder and CEO of Frugal Confessions, LLC.
Read more here
.
Latest posts by Amanda L. Grossman (see all)