Greenlight vs. BusyKid – which prepaid debit card and allowance/chore app is best for your family? Let's take a look.
In a Greenlight vs. BusyKid competition, which prepaid debit card + money management app would win?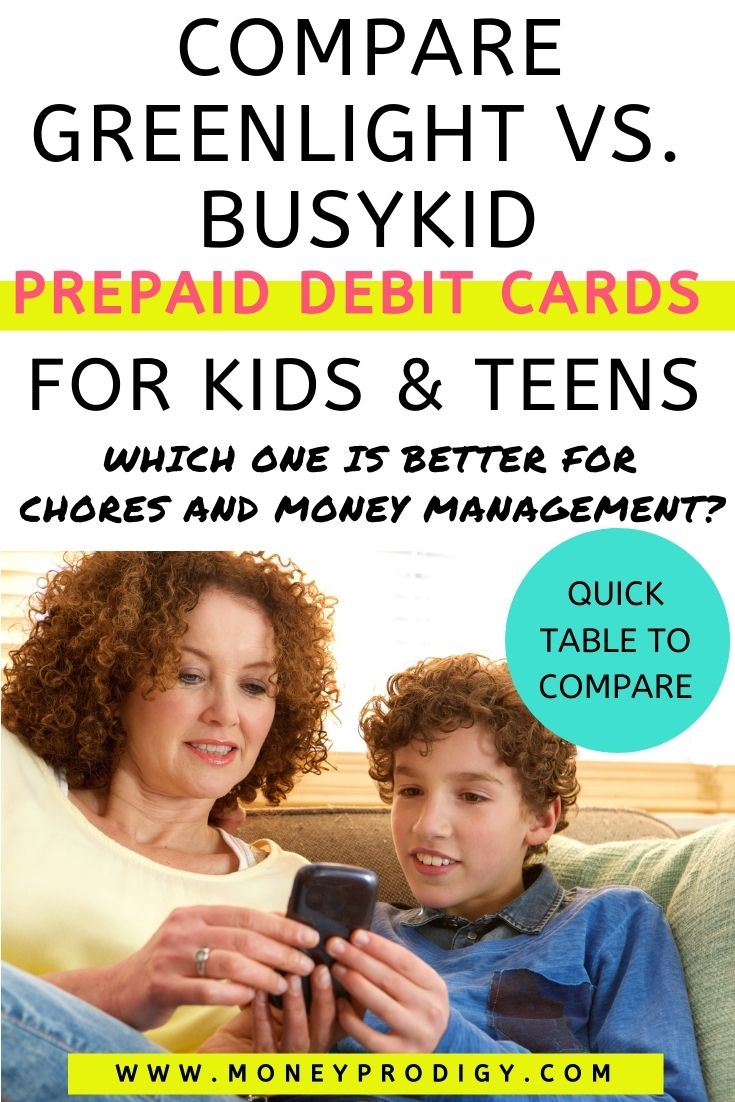 Well, that partly depends on what your goals and needs are.
We're going to break down the differences and similarities between these two cards below.
In the meantime, you should know that the main difference between Greenlight and BusyKids is in functionality, rewards, and suggested age. Greenlight tends to be better for teens, rewards users with both a cash back percentage on purchases and savings rewards paid by the app, and has more reload options than BusyKid. It also costs more than BusyKid.
BusyKid is great for slightly younger kids and tweens, works well with allowance and chore commission systems, and costs less than Greenlight.
Here's a breakdown of the main differences:
Greenlight can be used internationally in over 150 countries with no foreign transaction fees (BusyKid can be used internationally, but with fees)
Greenlight allows you to use pay apps (Apple Pay, Google Pay, etc.) as a funding source, whereas BusyKid does not
Greenlight offers 1% cash back on purchases with its Greenlight Max card and BusyKid does not have cash back on purchases
Greenlight offers direct deposit for working teens straight to their Greenlight account, BusyKid does not
Greenlight is a prepaid MasterCard, BusyKid is a Prepaid Visa Card
With Greenlight, your child can start investing with $1 (with the $7.98 plan)
Greenlight Vs. BusyKid – A Comparison
Now, let's compare these two, side-by-side, so that you can see what will work best for your family.
Details
BusyKid
Greenlight
Suggested Age
5-17 years
8-18 years
Product
A money management app with a prepaid debit card (Visa)

Ability for kids to donate to more than 50 charities




Prepaid debit card (MasterCard) with a money management app – kids do not need to use the app in order to use the prepaid debit card

Greenlight + Invest comes with the prepaid debit card and educational app, plus an investing platform for kids to use

Mobile-only access
Price
$3.99 a month (or $38.99 annually, saving you $8.89), up to 5 kids/cards
$4.99 – $9.98/month
Replacement Card Fee
$7.99
First replacement card free; $3.50 after that
Functionality
– Comes preloaded with chores or activities and an allowance amount based upon your child's age (you can customize this)
– BusyPay™ is exclusive to BusyKid and allows
family & friends to add money to a kids account through QR code ($1 fee). Kids can even send money to siblings and other kids
– Auto-Allowance allows you to automatically pay an allowance (rather than pay for chores) every Friday or twice a month (your choice)
– Bonuses can be sent for any reason, and can either be sent straight to the child's card to spend, or to their account to be allocated into save/spend/give
– Spend Bucket allows both kids and parents to send each other money for reimbursements
– Kids can use Save the Change Roundup
– Kids can use the Greenlight + Invest app to research stocks, invest an amount of their choice and track progress over time (parents must approve buys)
– Card customization available
Anyone can gift your child money through Greenlight Gift
– Teens can direct deposit their paychecks to their Greenlight account


Parental Spending Controls & Oversight
– All money transaction must be approved by parents, who receive notifications for each money transaction
Category and store level limits and controls – parents can block transactions from specific retailers
Cash Back
None
1% cash back on prepaid debit card purchases (Greenlight Max plan)
Savings Reward
– Parents can send bonuses either straight to the child's card to spend, or to their account to be allocated into save/spend/give
Greenlight pays 1% for every user who links bank account, and 2% savings reward on Greenlight Max plan
Reload
– Parents can reload by checking account, debit card, credit card, Apple Pay, and Google Pay
Parents can reload by direct deposit, debit card transfer, bank transfer, Apple Pay and Google Pay
We've focused on the differences between these two prepaid debit cards + apps. Now, let's focus on what makes them similar.
You should know that both of these:
Are prepaid debit cards with money management apps for the kids/teens and parents to co-manage money
Offer a way to automatically pay an allowance to your child
Offer ATM withdrawals
Offer a way for your child to donate part of their money
Offer some parental controls over how the money is spent
Greenlight Vs. BusyKid – Comparing the Costs
At $3.99 a month (or $38.99 annually, saving you $8.89), up to 5 kids/cards, BusyKid is the cheaper option out of these two.
However, Greenlight potentially makes up for the added costs (if the added features/functionality are worth it to you) with all of the app rewards it offers.
As a recap, Greenlight offers:
1% cash back on all purchases made on the Greenlight Max prepaid debit card ($9.98/month)
1% savings reward on all accounts, and 2% on the Greenlight Max prepaid debit card ($9.98/month)
When choosing a Greenlight vs. BusyKid prepaid debit card and money management app, you'll want to take into consideration things like how much you'd like to pay, the age of your child, how you'd like to reload the card, and what kinds of parental controls you want. No matter which option you choose, remember to introduce money lessons to kids and discussions along with the money management app, so that your child self-discovers important money life skills.
The following two tabs change content below.
Amanda L. Grossman is a writer and Certified Financial Education Instructor, a 2017 Plutus Foundation Grant Recipient, and founder of Money Prodigy. Her money work has been featured on Experian, GoBankingRates, PT Money, CA.gov, Rockstar Finance, the Houston Chronicle, and Colonial Life. Amanda is the founder and CEO of Frugal Confessions, LLC.
Read more here
.
Latest posts by Amanda L. Grossman (see all)