Greenlight vs. BusyKid – which prepaid debit card and allowance/chore app is best for your family? Let's take a look.
In a Greenlight vs. BusyKid competition, which prepaid debit card + money management app would win?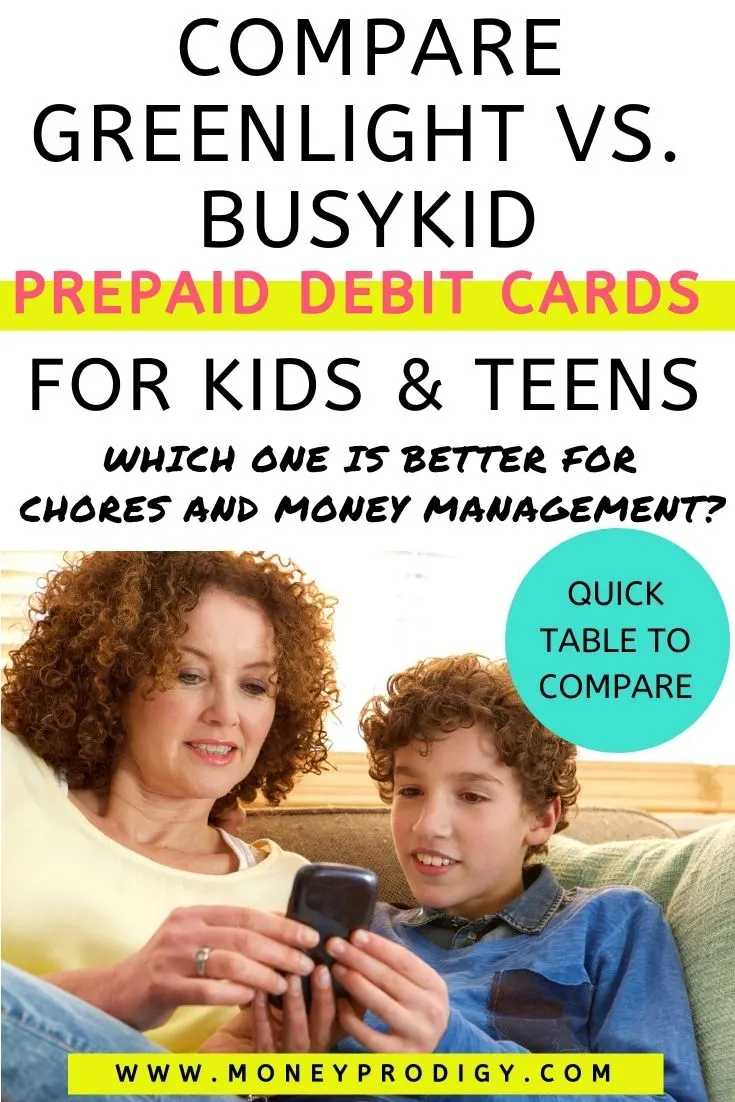 Well, that partly depends on what your goals and needs are.
We're going to break down the differences and similarities between these two cards below.
In the meantime, you should know that the main difference between Greenlight and BusyKids is in functionality, rewards, and suggested age. Greenlight tends to be better for teens, rewards users with both a cash back percentage on purchases and savings rewards paid by the app, and has more reload options than BusyKid. It also costs more than BusyKid.
BusyKid is great for slightly younger kids and tweens, works well with allowance and chore commission systems, and costs less than Greenlight.
Here's a breakdown of the main differences:
Greenlight can be used internationally in over 150 countries with no foreign transaction fees (BusyKid can be used internationally, but with fees)
Greenlight offers 1% cash back on purchases with its Greenlight Max card and BusyKid does not have cash back on purchases
Greenlight offers direct deposit for working teens straight to their Greenlight account, BusyKid does not
Greenlight is a prepaid MasterCard, BusyKid is a Prepaid Visa Card
With Greenlight, your child can start investing with $1 (with the $7.98 plan)
Greenlight Vs. BusyKid – A Comparison
Now, let's compare these two, side-by-side, so that you can see what will work best for your family.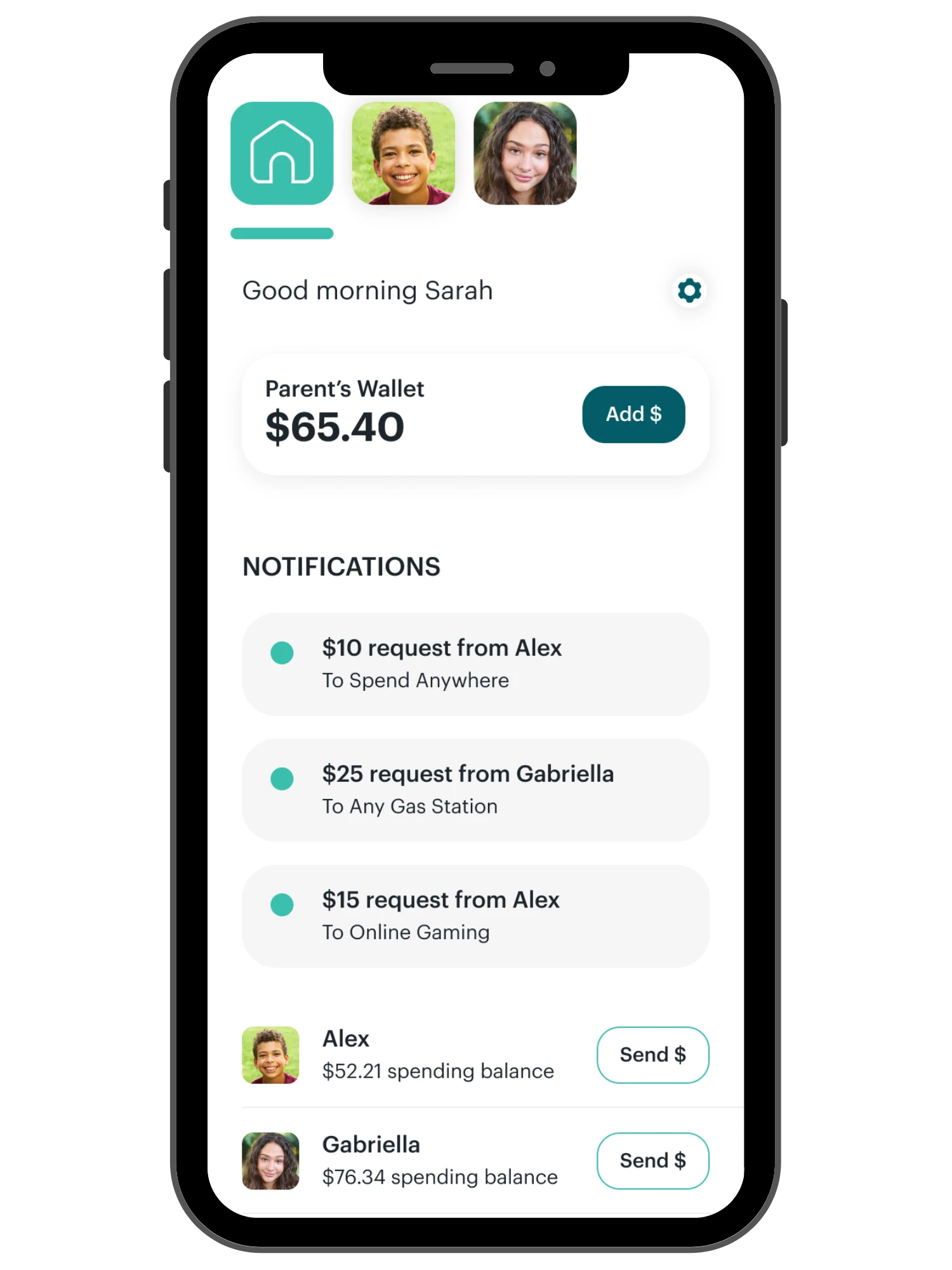 Age Range: 8-18 years (U.S. only)
Cost: $4.99-$9.98/month (up to 5 kids)
Parent Spending Controls: You can lock and unlock all spending, set up store-level spending limits, and set up category spending limits.
Saving Incentives: Earn 1% savings reward with linked bank account, and 2% with the Greenlight Max plan, save the change roundup capability, and/or incentivize your child to save more by paying them an interest rate on money saved.
Investing Capabilities: Kids can use the Greenlight + Invest app to research stocks, invest an amount of their choice and track progress over time (parents must approve buys)
Charitable Giving: Parent-approved donations, starting at $10, using CharityNavigator.org
In-App Learning: Toggle "Learn Mode" on, and they'll be guided on how to interpret financial data when investing
Digital Wallet Access: Apple Pay, Google Pay, Samsung Pay (kids must meet minimum age requirements)
Gifting: Friends or family can send a Greenlight Gift money to a child's account
Cash Back on Purchases: Earn 1% cash back on purchases with the prepaid debit card (Greenlight Max plan only)
Teen Paycheck Direct Deposit: Teens can direct deposit their paychecks to their Greenlight account
Reload Sources: Parents can reload by direct deposit, debit card transfer, bank transfer, Apple Pay and Google Pay
Allowance/Chore Functionality: Parents can set up one-time and recurring chores that are tied to payment or not. Parents can choose a standard, flat-rate allowance or connect allowance to chores. Greenlight will calculate the payout. When it's time to pay, parents can choose All or Nothing, or Partial Payments, depending on chore completion.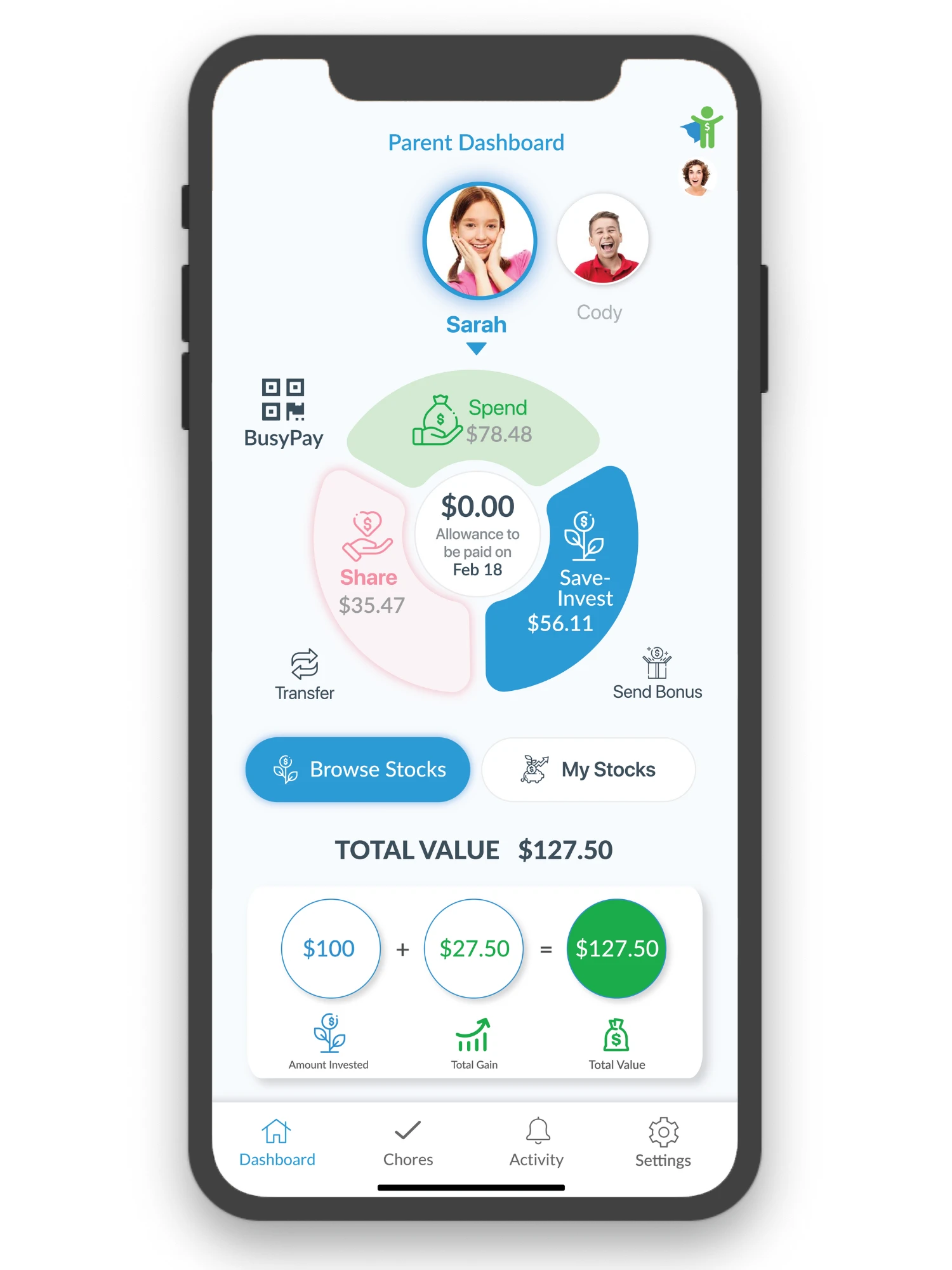 Age Range: 5-17 years
Cost: $4.00/month when paid annually (up to 5 kids)
Parent Spending Controls: All money transaction must be approved by parents, who receive real-time notifications for each money transaction. Parents have the option to lock the Save, Share and Spend areas with "Lock Money Transfers". Parents control how much allowance goes into the Save, Share and Spend areas.
Saving Incentives: Parents can send bonuses either straight to the child's card to spend, or to their account to be allocated into save/spend/give. Parents can also match savings.
Investing Capabilities: Unlimited Investing with more than 4,000 companies and ETFs available.
Charitable Giving: Kids can donate directly to over 60 charities.
In-App Learning: Not available
Digital Wallet Access: Not available
Gifting: BusyPay™ is exclusive to BusyKid and allows family & friends to add money to a kids account through QR code ($1 fee). Kids can even send money to siblings and other kids.
Cash Back on Purchases: Not available
Teen Paycheck Direct Deposit: Not available
Reload Sources: Parents can reload by checking account, debit card, credit card, Apple Pay, and Google Pay. Using a credit card or debit card will result in a transaction fee.
Allowance/Chore Functionality: Comes preloaded with chores or activities and an allowance amount based upon your child's age (you can customize this). Auto-Allowance allows you to automatically pay an allowance (rather than pay for chores) every Friday or twice a month (your choice).
We've focused on the differences between these two prepaid debit cards + apps. Now, let's focus on what makes them similar.
You should know that both of these:
Are prepaid debit cards with money management apps for the kids/teens and parents to co-manage money
Offer a way to automatically pay an allowance to your child
Offer ATM withdrawals
Offer a way for your child to donate part of their money
Offer some parental controls over how the money is spent
Allows you to use pay apps (Apple Pay, Google Pay, etc.) as a funding source
Greenlight Vs. BusyKid – Comparing the Costs
At $4.00 a month billed annually ($48.00/year), up to 5 kids/cards, BusyKid is the cheaper option out of these two.
You also have the investing feature, without needing to upgrade to a higher price point, like with Greenlight.
However, Greenlight potentially makes up for the added costs (if the added features/functionality are worth it to you) with all of the app rewards it offers.
As a recap, Greenlight offers:
1% cash back on all purchases made on the Greenlight Max prepaid debit card ($9.98/month)
1% savings reward on all accounts, and 2% on the Greenlight Max prepaid debit card ($9.98/month)
When choosing a Greenlight vs. BusyKid prepaid debit card and money management app, you'll want to take into consideration things like how much you'd like to pay, the age of your child, how you'd like to reload the card, and what kinds of parental controls you want. No matter which option you choose, remember to introduce money lessons to kids and discussions along with the money management app, so that your child self-discovers important money life skills.
The following two tabs change content below.
Amanda L. Grossman is a writer and Certified Financial Education Instructor, a 2017 Plutus Foundation Grant Recipient, and founder of Money Prodigy. Her money work has been featured on Experian, GoBankingRates, PT Money, CA.gov, Rockstar Finance, the Houston Chronicle, and Colonial Life. Amanda is the founder and CEO of Frugal Confessions, LLC.
Read more here
.
Latest posts by Amanda L. Grossman (see all)