How do you budget for prom? Here's how, using a free prom budget template so that your teen make the most of their night.
Back when I was a teenager and needed to pay for my own prom gown, dance tickets, and boutonnière for my date, I sure could've used a prom budget template.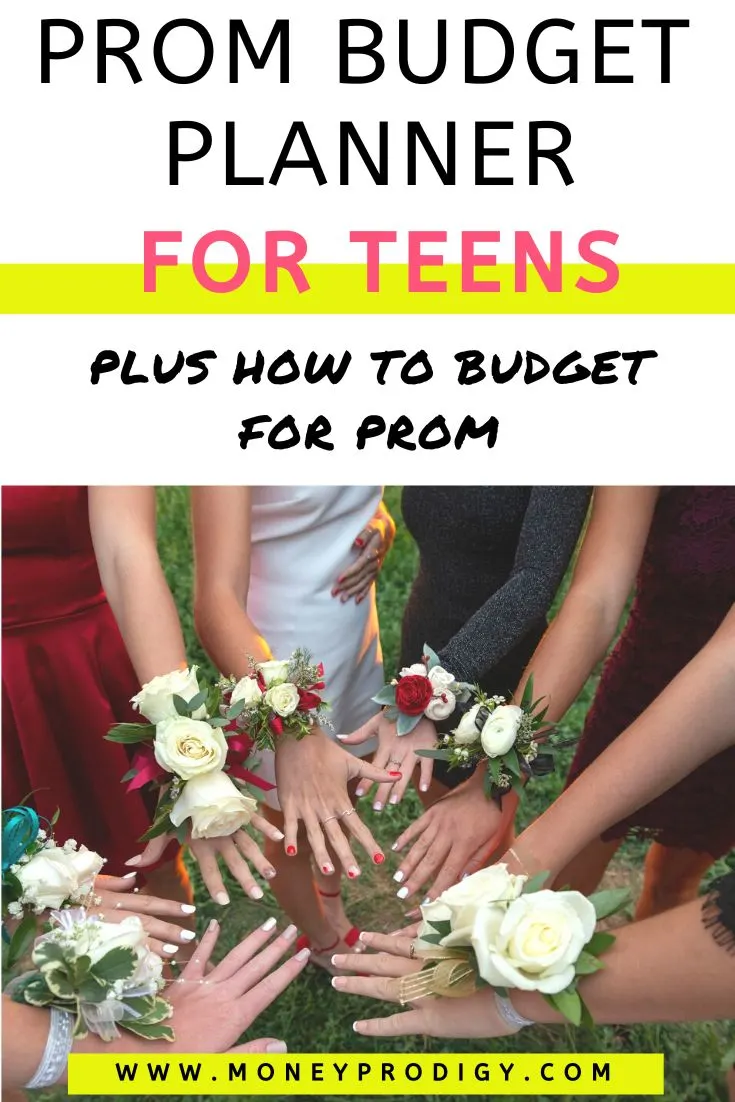 Which is exactly why I'm creating this article today.
First up, we'll discuss how to budget for prom.
Then we'll dive into a prom budget template to make the process of paying for/getting for prom much easier (and even exciting).
How Do You Budget for Prom?
There are three steps to budgeting for prom:
Write a list of everything you'll need and want for the big day
Get clarity on who is paying for what (teen, teen's date, parents)
Estimate the cost of each item you're responsible for (your target savings goal)
And you'll want to work on this several months in advance. That way, everyone knows what they'll be responsible for, and everyone has plenty of time to save up some money.
Let's talk briefly about each of these.
Step #1: Write a List of Needs and Wants
Now's a great time to discuss needs vs. wants with your teen.
Here's a list of common prom wants and needs – some of which fall more into the "needs" category (like a dress), and some of which fall more into the "wants" category (Promposal costs).
Hint – don't forget these two things about needs vs. wants:
One item might be a need for one person, but more of a want for another (and there are gray areas, too).
Spending can get out of control even for "needs", because a "need" can quickly snowball out of control. For example, something to wear to prom is a "need". But a $500 dress? That's a want (because you can satisfy the need with a $75 Shein or thrifted dress, instead).
Here's a suggested list:
Needs
Prom Ticket
Prom Clothes (dress, undergarments that work with the dress, suit)
Shoes
Transportation
Hair/makeup
Wants
Dinner + tip (if not included in ticket)
Photos
After-prom activities
Pre-prom activities
Promposal
Prom car hire
Jewelry (earrings, necklace, bracelet, anklet, tiara, head chain, hair piece, etc.)
Accessories (purse/clutch, gloves, cufflinks, hair accessories, rhinestone belt, shawl, etc.)
Flowers – corsage/boutonniere
Professional-done hair/makeup/eyelash extensions/nails
Manicure/pedicure
Dress/suit alterations
Step #2: Get Clarity on Who is Paying for What
Sit down and determine how much parents will pay and how much the teenager will be responsible for paying. Also, what is the date going to cover, and perhaps their parent(s)?
Maybe parents will stick to an overall amount, and anything over that, the teenager will be responsible for paying for.
Maybe the teens are responsible for everything (that's how it was in our household).
Maybe the parents will splurge and cover the bill.
Whatever makes sense for your family is what you go with – just make sure there are no last-minute surprises about what you thought someone else was going to pick up.
Hint: this is also a great time to look at timelines, so that everyone knows when the purchases need to be made.
Step #3: Estimate the Cost of Each Item You're Responsible for
Help your teen fill out one the prom budget template below to see the individual costs for each item, then the total cost they'll need to save up over the coming months.
If the total is too much? Help your teen go through each item again, and come down from their "dream" item to an item they'd still be happy with that meets the need.
Also, you can go back to the suggested list of needs vs. wants, and shave a few wants off the list.
Next up, let's look at a template to help you budget for prom.
Prom Budget Template
Check out this prom budget template you can use with your teens and high school students.
They'll be able to:
Use the Prom Checklist to plan out each of their purchases
Use the Research page to discuss who will pay for what (teen, date, parents, etc.)
Research the "Need Met", "Good", and "Dream" prices for each item to give them a range to work with
Fill in a budget worksheet for each item they're responsible for with the planned amount, then calculate how much they'll need to save up to afford it
Prom is such an exciting event, and I just love that your teen and/or high school students are going! Hopefully the process will be easier with this prom budget template. Not to mention, using it is a great opportunity to teach your teen(s) how to budget for an important event.
The following two tabs change content below.
Amanda L. Grossman is a writer and Certified Financial Education Instructor, a 2017 Plutus Foundation Grant Recipient, and founder of Money Prodigy. Her money work has been featured on Experian, GoBankingRates, PT Money, CA.gov, Rockstar Finance, the Houston Chronicle, and Colonial Life. Amanda is the founder and CEO of Frugal Confessions, LLC.
Read more here
.
Latest posts by Amanda L. Grossman (see all)