Steal these genius road trip hacks for kids we've figured out after logging almost 70 hours in the car with a preschooler.
How do you survive a family road trip?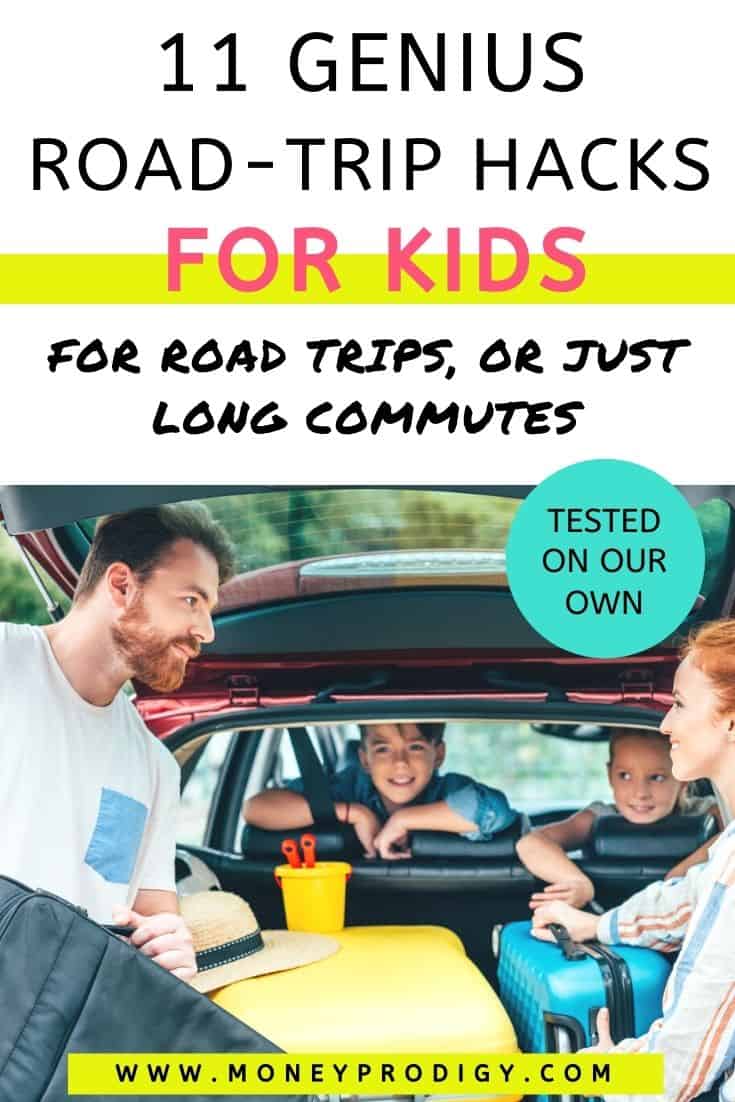 Since moving to a location that's a great jumping off point for road trips – think the Rockies, the beach, the Grand Canyon, all within 3-8 hours from us – we've been on the road a lot in the last two years.
Which means, we've had to figure out some pretty genius road trip hacks for kids.
Keep reading to pick up some serious road trip hacks, gained from hours upon hours of experience.
Genius Road Trip Hacks for Kids
There are soooo many opportunities to make your next road trip a raving success! Or, at the very least, much less obnoxious than they've been in the past.
Keep your kids happy, organized, and (can I just say) out of your hair on your next road trip with these genius hacks for kids.
1. Use a Shower Toy Organizer in Genius Ways
I got this genius idea last summer about how to increase the use of space in our car: by using a mesh bath toy organizer.
This is the one we use, and its suction cups are very strong.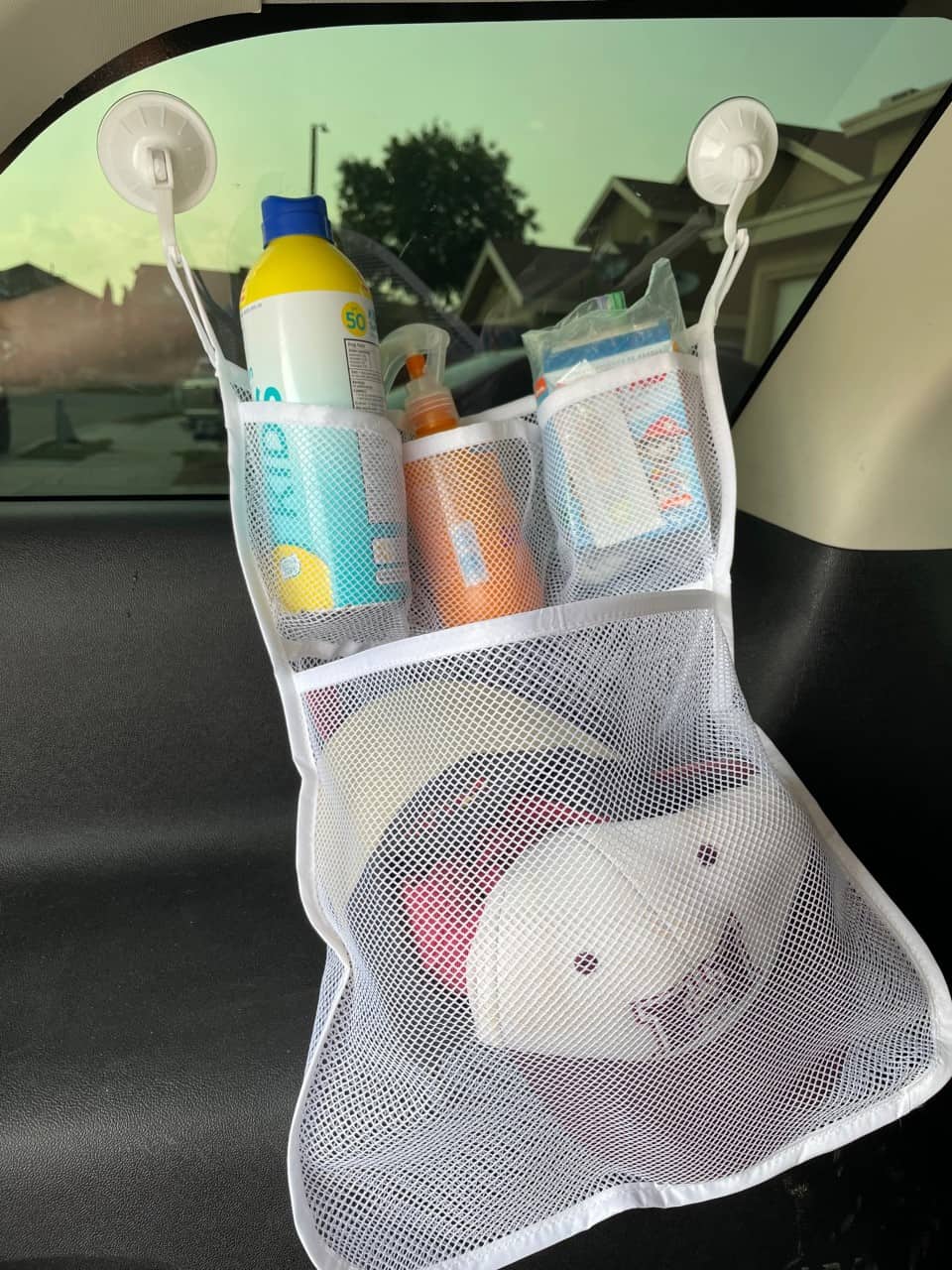 We've used it as a grab-n-go sun station for when we stop for hikes (with sunscreen, hats, etc.). Like when we recently went straight to Big Bend National Park and stopped off for a hike before checking into our hotel – we simply opened up the back hatch, got our sunscreen and hats, and were off.
And as someone who once took a 9-month-old on a 9-hour car trip, I can confidently say that I wish I had thought to use it as a diaper-changing station. Instead, we had to stop every few hours and use the gas station bathrooms, after lugging my diaper bag inside with me – yuck!).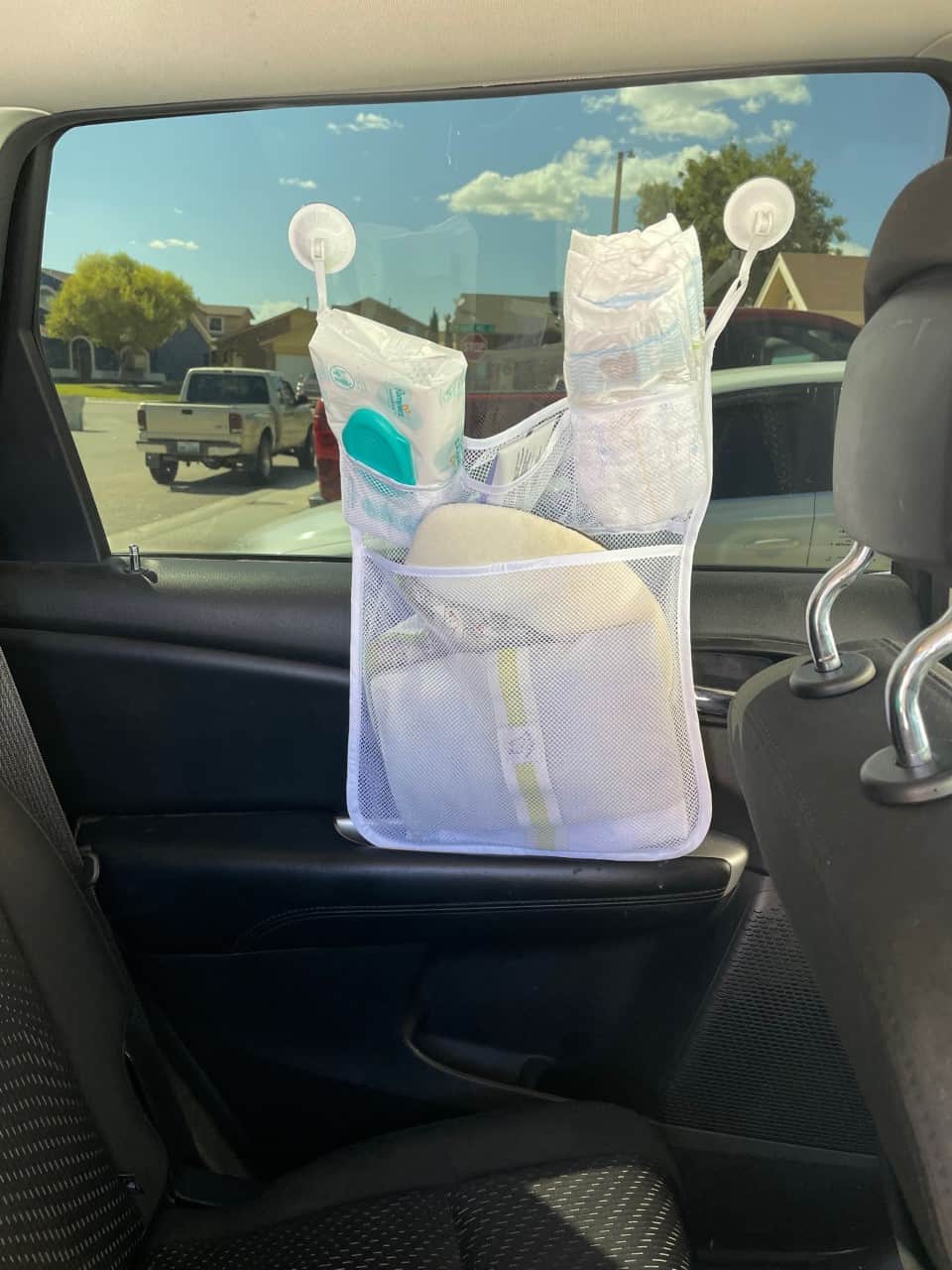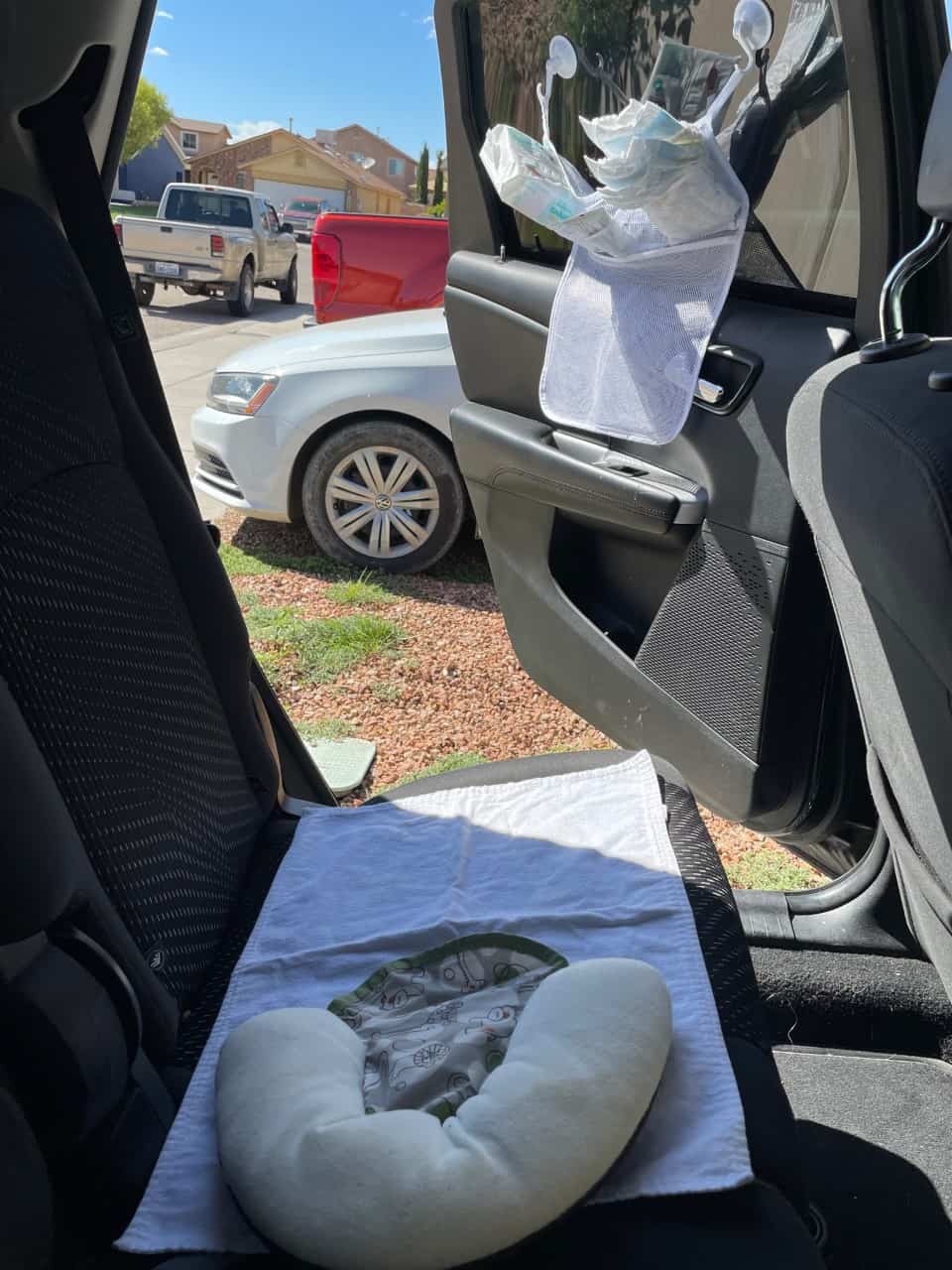 Other uses include:
Pet Clean-Up Station: again, this would've been really helpful after our cat peed in his pet carrier on our 12-hour trip between Houston and El Paso. Also helpful for doggie stops.
Grab-n-Go Hotel Bag: on some of our really long trips, we've gotten in really late at night, and being able to grab just the essentials (like toothbrushes, covers/blankies, stuffed animal, etc.) and get to sleep was about all the energy we had.
Play Station: You could put this near your child's window, and include things you want them to have easy access to (including sanitizing hand wipes, to use before a snack!).
Use your imagination – this one is a game-changer.
2. Do Timed Bursts of Clean-Up
Things can get messy or cluttered really easily on long car rides especially with multiple kids.
Let everyone know that the family will be doing timed clean-up bursts each hour (or whenever it suits you).
This means you set your phone alarm, and when it goes off, everyone cleans up the area around them – toys get put back into bins, pencils/crayons/etc. back into containers, window paint cleaned up (just pour a little water onto a paper towel and hand it back), trash sent to the trash bag person, etc.
It's like a clean slate!
3. Add a Cloth Bin Next to Each Child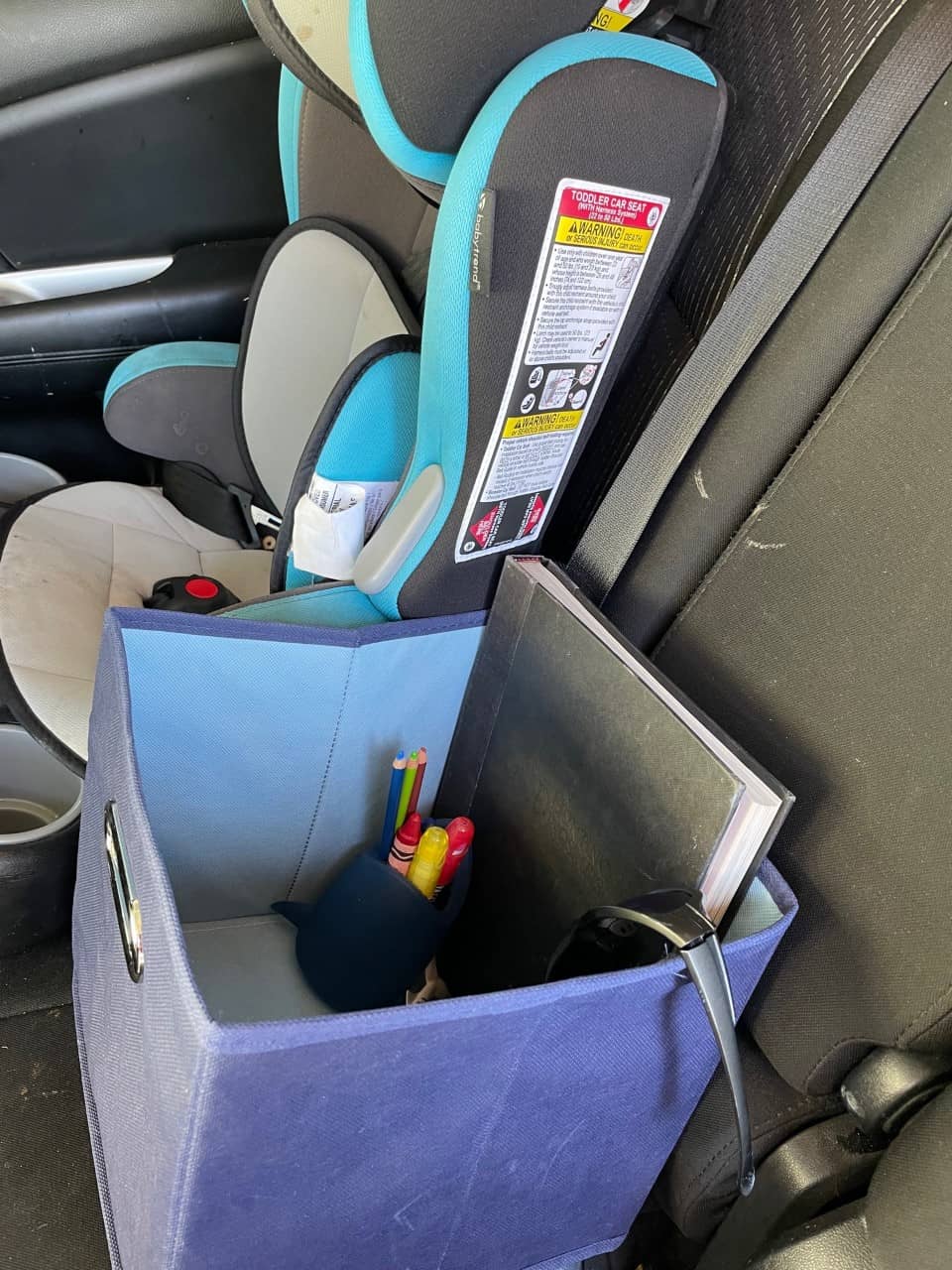 Putting a bin next to our kid's child seat? Was such a game-changer.
I am able to stock it with books, a few toys, and even this shark toothbrush holder (which is where I have him keep any crayons/pencils/small items that would otherwise get lost in the bottom of the bin).
4. Stop Less Often with this Bucket Pulley System
Look at this woman's genius road trip hack – a bucket pulley system! She and her family can now easily get things back to kids (allll the way to the back of their van) without having to stop.
And the kids? Well, they seem to think it's pretty cool, too (bonus: that means it's part of their entertainment!).
5. Have Everyone Wear Flip Flops for Easy Pit Stops (and Comfortable Riding)
I don't know about you, but I find long road trips infinitely more comfortable if I can do them in my bare feet (not as a driver, but a passenger).
So do many kids! But putting socks and shoes back on for pit stops is a disaster – particularly if your kids are young. Instead, have everyone wear flip-flops for the car ride. That way, they can pop them on and off easily.
Psst: Don't forget to have some fun, yourselves! Here's my article on 17 things to do in a long car ride for adults.
6. Give One Family Member Trash Collector Status
I say "status", because you're going to give this person an extra reward for doing such a good job!
Make sure they're sitting next to the car's trash bin, or that they have grocery bags/a garbage bag.
The reward to doing this job – making sure everyone's trash gets into the car's trash bag throughout the ride – could be as simple as giving them first pick on their bed at the hotel, or choice over what you all listen to, or some other privilege.
7. Prep for Your Pit Stops
Use this RV app to map your route out with a few interesting side notes and places to stretch the kiddos' legs.
Even better, put a bin in the truck (as the last thing you pack), that you can quickly access when you stop at parks or any area. Include things like bubbles, a frisbee, and anything else to encourage your kiddos to let loose and run around.
8. Use the Try-Something-New Mantra Leading Up to Your Trip
In the weeks leading up to road trips and trips of any kind, we let our picky (with eating) 5-year-old that on trips, we do things differently.
This opens him up to do something that he normally wouldn't do at home – try new foods much quicker. Which is fantastic!
He started eating bacon in Michigan. He picked up a Honey Nut Cheerios snacking habit from our trip to Pennsylvania. Which is also where he tried French toast for the first time.
For someone that eats far less types of food than other kids his age, this has been huge for us. It could be huge for your kids, too.
You just need to prep everyone ahead of time.
9. Use a Toddler Clock for Young Kids
For young kids who cannot tell the time yet, a road trip can seem even more agonizing.
Bring or buy a toddler clock for them (it changes colors when it's time), and then set their alarm for specific times when they get to change out to a new activity, or each hour, or when the next pit stop will be, or some other meaningful time (even snack time).
It helps kids to feel more in control, plus they get to be in charge of something.
10. Keep a Grocery Bag Holder Nearby
I can't tell you the number of times that I've needed more grocery store bags to hold trash, wet items, and anything else (and didn't have them).
Use your household grocery bag holder, and hook it to the pocket behind the passenger seat for easy access.
11. Don't Forget the Play Tray, Play Bin, and Clipboards
Ever wondered how to keep your kids busy on a road trip? I wrote a whole article on car activities for 4-year-olds (that is also very relevant to other ages).
I'd also like to add how helpful it is to take a clipboard and play bin or play tray on the trip. You can then print out activities for them to work on. Not only that, but the play bin/play tray will help them to be able to play with something without dropping smaller pieces.
Hint: I like for these to be deeper than a play tray, so that it's less likely that the toy/activity will fall out.
Keep coming back, as we've got more road trips planned and I'll continue to experiment and add more ideas here. In the meantime, tell me which of these road trip hacks with kids worked the best for your family!
The following two tabs change content below.
Amanda L. Grossman is a writer and Certified Financial Education Instructor, a 2017 Plutus Foundation Grant Recipient, and founder of Money Prodigy. Her money work has been featured on Experian, GoBankingRates, PT Money, CA.gov, Rockstar Finance, the Houston Chronicle, and Colonial Life. Amanda is the founder and CEO of Frugal Confessions, LLC.
Read more here
.
Latest posts by Amanda L. Grossman (see all)