THIS National Take Your Child to Work day? Give your child a lesson in entrepreneurship (really great for Mamas with their own small biz).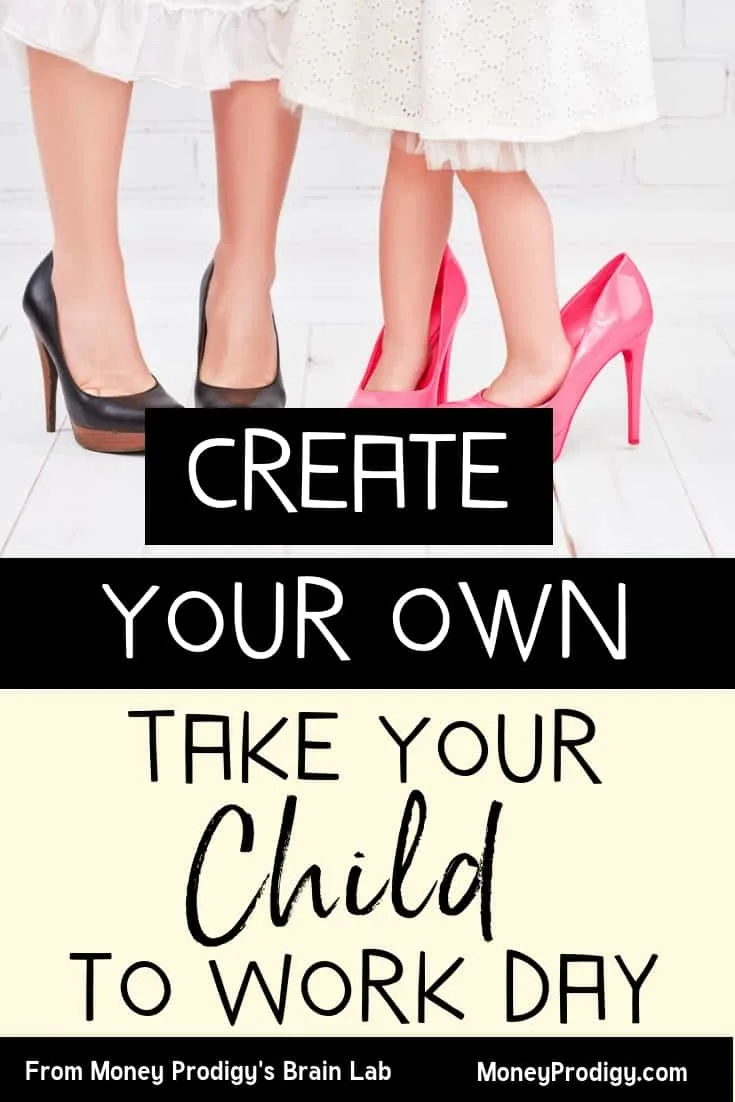 ** Psssst: you can create a take your child to work day any day of the year!
Ladies, you are killin' it out there.
Mothering, building your business, RUNNING your business, and stylishly wearing the bazillion other hats that keeps you + your family's lives running on a daily basis (master diaper-changer, anyone?).
I would know, because I'm right there with you.
But guess what? This new path all of us Mama Bear biz-owners are forging ahead on? Didn't exist even 10 years ago.
It's brand spankin' new.
That's scary AND exciting.
And even moreso than that? It means we have an obligation that perhaps we haven't even gotten a breath to think about yet.
We need to pass on these skills, these businesses, these opportunities to our own kids — there's no age limit.
Even more importantly, to our own daughters.
The next generation of female entrepreneurs, if you will.
As the tides continue to shift with females becoming the breadwinners, we've GOT to let our daughters know that they don't have to choose between a satisfying career OR becoming a mother when their heart is set on it.
And when they do choose to become a mother, they don't have to choose between staying home with their child, OR pursuing their career/putting their child into daycare.
There is an in-between, and it's called being a work-at-home-Mom (WAHM).
Guys, this is more important than ever. Because while you're blazing the trail, we need the next generation to whack it out of the park further than we ever thought this thing could go.
What is the Purpose of Take Your Child to Work Day?
The skills used in entrepreneurship are COMPLETELY different from school-learned skills.
Wellllll…not 100%…but a good bit different. I mean who remembers taking CYA-Biz Legal 101, or a beginner's course in how to take one piece of content from your blog and repurpose it for Facebook, Pinterest, LinkedIN, fill-in-the-blank with whatever new social media platform is trending?
I sure as heck don't.
I had the pleasure of connecting with the CEO of Clever Tykes, a small biz that sells a line of entrepreneur books for kids, over our shared passion of helping kids.
And she sums it up really nice in her TEDx talk about Raising Useful People.
The gist is, our kids are completely not learning what it takes to run a business in their classes at school.
Not even close.
Things like social media managing, copywriting, business bookkeeping 101…these courses don't exist.
Think of all the things you've had to just drudge through and learn from the ground up because you'd never even heard of it before.
A couple come to mind for me:
Copywriting (like, this is different from writing? I had no idea)
Text overlays in graphic design
Business systems + organization
Hiring virtual assistants + task delegation
Innovation + content creation
I could go on…
So, you can see how vital it is to bring your child in on your small business (and creating a Take Your Child to Work Day is a great start!).
Psst: you'll also want them to check out these career exploration resources for students, career websites for students, and career books for students.
Imagine Giving Your Daughter a Leg-Up in Understanding Small Business
Step #1 to giving your daughter a bit of a leg-up, the one you did not have?
Is giving her exposure.
So, THIS Take Your Child to Work Day/ Bring your child to work day?
I want you to take your daughter + son to YOUR work day. At home (or your rented office, wherever you play).
And I'm going to help you out with this by giving you lots of ideas, questions, and activities to take you out of the role of "Mama Bear" for the day and into the role of successful biz owner passing down her hard-won knowledge.
Because right now? Your child is probably getting a very different picture of what working from home means, and what owning a small biz is really like.
Perhaps she/he thinks:
Owning a small business is frazzling.
Working from home – sometimes in PJ bottoms – is what every mother does.
Phone/laptop is something that you play with.
"Laptop time takes Mommy away from me, and I don't like that."
And…can you really blame her? She views you as Mommy. The getter of snacks. The matcher of socks. The cleaner of unknown stains. The one who hugs the boo-boos away.
How can she possibly know that you're really forging a whole new pathway that one day, she can choose to take herself?
Bring Your Child to Work Day Activities
If you haven't gotten your free download yet to structure your bring your kid to work day, I really recommend that you do. Because this is filled with what you need to bridge the gap for your daughter to understand what small biz + your world is really all about.
Here's a rundown of what you guys will do together, and why:
Mother Prep Work: You're going to do a few mental jumping jacks before the day arrives so that you have some structure to pass onto your child, plus you can more readily answer her questions. Such as, creating a simple visual of your business model, writing out your mission statement (even if today is the first time you've ever done this), and brainstorming several mistakes you've made along the way. You'll also create a schedule of events, as if your daughter was going into a corporation's Take Your Daughter to Work Day, from the idea list provided.
Child Prep Work: Your child also has some prep work to do before the big day! There are 3 different activities, and they get to choose one to tackle (extra credit here is fine).
Schedule of Activities + Chat Topics: Mama BOSS, you're in charge of creating a schedule of events, just like if your child was going to a traditional company's Take Your Son to Work Day. Don't worry – I've got a juicy list of both activities + chat topics to choose from.
And to give your child a quick, crash course in business before the big day? Have them check out this video on business models (9:42). It's well worth their time (heck, I wish I had watched it before opening up my own business 9 years ago!).
If your daughter or son finishes up even half this stuff in this free printable? They'll be about 18 years ahead of where I was when I decided to start a business!
One final thought for take your child to work day (other than making sure it's an excused absence at their school and providing a letter from employer — that's you!): Please think about inviting children other than your own to your big day. This is how I got to experience take your kid to work day at NBC in Washington D.C. with my Aunt. And for this farm-girl-turned-city-woman? That was revolutionary.
The following two tabs change content below.
Amanda L. Grossman is a writer and Certified Financial Education Instructor, a 2017 Plutus Foundation Grant Recipient, and founder of Money Prodigy. Her money work has been featured on Experian, GoBankingRates, PT Money, CA.gov, Rockstar Finance, the Houston Chronicle, and Colonial Life. Amanda is the founder and CEO of Frugal Confessions, LLC.
Read more here
.
Latest posts by Amanda L. Grossman (see all)