Does your child or teen have basic banking skills? No worries if not – these banking worksheets PDFs will help.
Kids and teens need to be able to use banking products as adults, even before moving out of the "the nest" for good.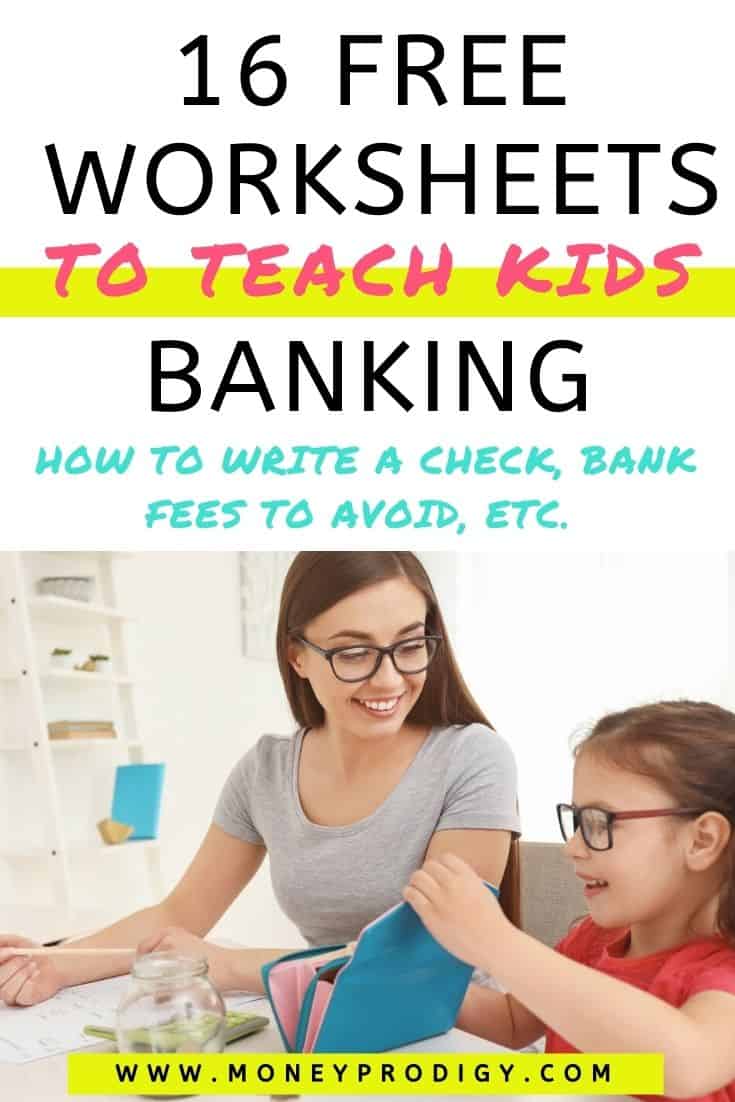 I mean, how else will they do things like:
Direct deposit their paychecks
Pay their landlord
Put a down payment on a car
Buy textbooks
Etc.
That's why I'm sharing some great, free banking worksheets PDFs that will help kids and teens learn about the banking world to help them with teen money management, kid money management, and as a young adult.
Psst: don't shy away from taking kids and teens to an actual bank to perform "normal" banking functions. Also, clue them into the world of online and app-based banking by showing them how you do things like direct deposit a check on your mobile banking app, order checks online, etc.
Banking Skills Worksheets
Kids and teens need to learn some fundamental banking skills in order to use a bank as a young adult.
Things like:
How to write a check
How to deposit money
How to insure their money at the bank
Etc.
Find all of that, and more, below.
Suggested Age: 4-5 grades
Use this lesson plan and worksheet to teach kids how to write a check. Very important banking life skill!
Suggested Age: 6-8 grades
Use this TD lesson plan and worksheet to teach students how to balance a checkbook. They'll then be given a case study of someone's spending, and need to balance that person's checkbook with the provided worksheet.
Suggested Age: Middle School
This lesson plan includes worksheets and guidance on how to teach students all about interest at banks.
Including:
Compounding daily vs. monthly vs. quarterly vs. annually (makes a big difference!)
Calculating APR
Calculating APY
Interest rate vocabulary
Etc.
Suggested Age: Not given
Let's face it: banks have a lot of various fees that are sometimes hard to understand.
In this lesson, students will:
Identify common bank fees
Understand what overdraft protection is and how overdraft fees can impact your finances
Learn about mobile banking alerts
Etc.
Suggested Age: 12-16 years
There are actually two worksheets and lesson plans on this page that are helpful (and free):
Understanding Banking Transactions
Reading a Bank Statement
Banking Basics Worksheets
Why do banks exist? Why should a student get a bank account? What kinds of things can be done at the bank?
Some banking basic skills include:
Comparing one bank product to another
Shopping around for a good interest rate (either to earn, or for a loan)
Differences between a bank account and a credit union
FDIC insurance, and what it means
Etc.
All of these and more, can be taught with these free banking basics worksheets.
Psst: pair these banking worksheets pdfs with over 50 banking activities for kids.
Suggested Age: Middle School
Here's a simple banking lesson about banking basics, such as why a student should get a bank account, differences between a bank and a credit union, bank insurance protection, etc.
Then, it gives a quiz plus a teacher's answer key to use with your class.
Hint: you'll need to register to get an account here, but it's free, and there's loads of other free financial literacy lessons and resources available (including personal finance lessons in Spanish).
Suggested Age: 6-8 grades
Students will learn:
Differences between accounts (certificates of deposit, checking, and savings accounts)
Difference between simple and compound interest, and how to calculate them both
Suggested Age: 9-12 grade
What's the difference between a bank and a credit union? What kind of services do banks provide? What is FDIC insurance?
Your students will learn all of this, and more, with this set of videos, teacher guide, and banking worksheets.
Suggested Age: Not given
Here's a robust lesson plan all around banks – including a PowerPoint presentation, handouts, and more.
You'll begin by discussing why putting money under a mattress is different and not as good as saving money in a bank account.
Students will also learn:
How interest is earned
The Rule of 72 when it comes to doubling your money
Earning simple vs. compound interest
Comparing bank accounts to find the best one
Worksheets include:
Bank Comparison Chart
Bank Reconciliation
Interest Rates and the Rule of 72
Suggested Age: 9-12 grades
Under Lesson 5, you'll find a worksheet all about the various banking options teens can choose from.
They'll learn things like:
Difference between a checking and savings account
Importance of using an account that is federally insured
Protecting your personal information
Analyze different banks to choose the best one
Suggested Age: 13-19 years
Whether or not virtual currencies (like bitcoin) will be around by the time your child is an adult is too hard to tell.
But, when talking about banking nowadays, it's best to include this interesting chapter.
In this activity, students will read through an excerpt about virtual currencies (to be honest, I learned a bunch myself reading through it!), then answer questions about what they read through the worksheet.
Suggested Age: 7-8 grades
Use this teacher's guide, set of worksheets, and PowerPoint presentation to teach kids the basics about banking.
Things like:
How to shop around for the right bank and banking services
Read and understand a checking account statement
How to write a check
How to reconcile spending with your checking register
Etc.
Suggested Age: Not given
Students will learn the difference between using a check, a debit card, and the atm, will work on balancing a checkbook, and looking over a bank statement.
Banking Vocabulary Worksheets
Looking for simple banking vocabulary worksheets to kick-start your students' understanding of financial institutions?
Like, what is compound interest, what is a bank statement, APY vs. APR, etc.?
Here you go.
Suggested Age: Not given
This set of banking sheets includes a review of some common bank vocabulary terms, and a worksheet to go along with it.
A teacher presentation and teacher guide are included.
2. Banking Basics Worksheet
Suggested Age: Not given
You can download a free lesson plan that includes a banking vocabulary worksheet with definitions for phrases like:
Minimum Balance Fees
ATM Service Charge
Overdraft Protection
Pay Yourself First
Insufficient Funds
Etc.
Suggested Age: Not given
Unfortunately, I couldn't find a link to this from their website, but this is the free PDF banking vocabulary worksheet that includes an answer key.
Vocab words include banking things like:
Banking Transaction
Banking Fee
Savings Account
Simple Interest
Monthly Fee
Debit Card
Etc.
Great basics to get your students started.
Pair any of these banking worksheets PDFs with actual banking actions in real life, and you've got a recipe for teaching students and kids banking financial literacy (before they can really mess things up).
The following two tabs change content below.
Amanda L. Grossman is a writer and Certified Financial Education Instructor, a 2017 Plutus Foundation Grant Recipient, and founder of Money Prodigy. Her money work has been featured on Experian, GoBankingRates, PT Money, CA.gov, Rockstar Finance, the Houston Chronicle, and Colonial Life. Amanda is the founder and CEO of Frugal Confessions, LLC.
Read more here
.
Latest posts by Amanda L. Grossman (see all)