Free stock market games for students and kids, stock market board games, and high school investment competitions to teach your child how to invest.
One of the biggest requests I get from parents and teachers is for free stock market games for students and kids.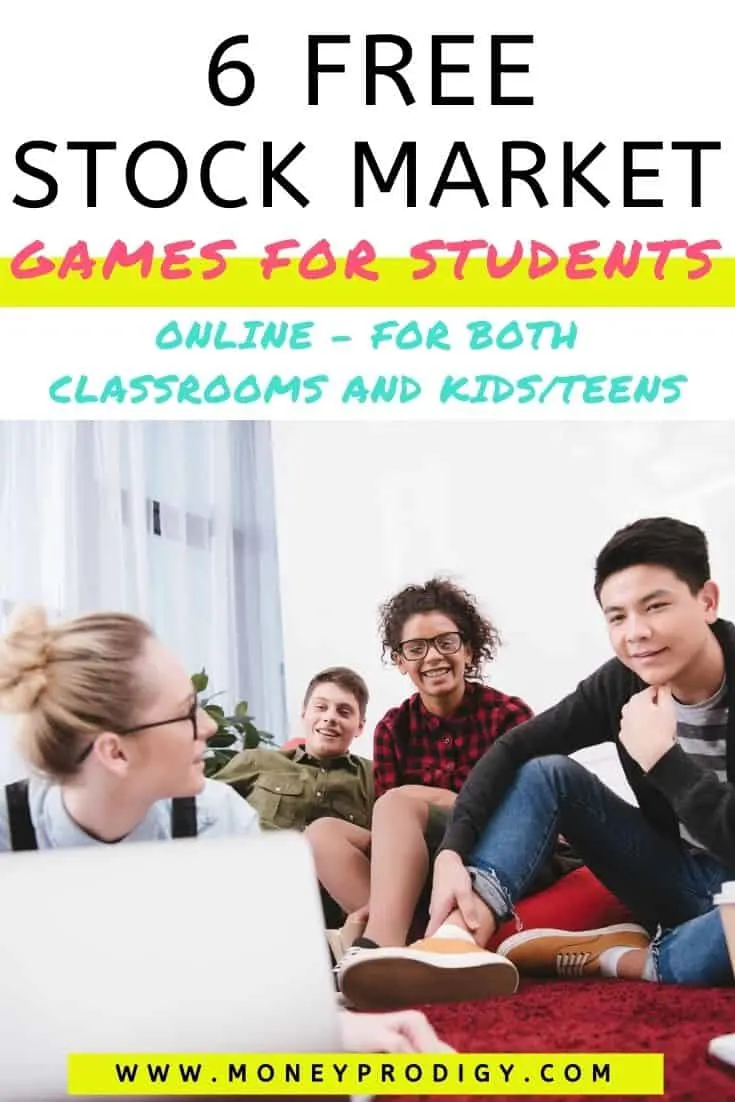 Wellllllll…they don't exactly start the conversation out like that – it's more like they ask me "how do you explain the stock market to a child?"
And then the conversation turns to me talking about one of the best ways to explain the stock market to a kid: finding a free stock market simulator game lasting 6 to 10 weeks, and leading them through it.
Heck, even a few rounds on a good stock market board game will give your child and students exposure to the stock market.
This might sound scary to you – maybe you're not too on the up-and-up with your OWN investments, and the idea of trying to teach it to impressionable kids leaves you a bit queasy.
That's the beauty of these stock market simulation games. There are lessons, stock market worksheet PDFs, videos, and guidance along the way so that you can sort of learn alongside your child – it's not all centered around the knowledge you have on the market (whew, right?).
That, and, your kids get to practice stock trading with fake money. Can't beat that!
Psst: You'll want to give your kids/students an edge by making these investing books for kids and teens available to them. Also, here's an article all about investing for kids, and teaching kids about stocks.
Free Stock Market Games for Students and Kids
These free stock market games for students and kids are a great way to not only introduce many stock investment concepts, but to go through the trail-and-error process (without risking any real money) so that they self-discover the lessons they'll need to successfully invest in stocks one day.
Ages: Elementary+
Students get to manage $100,000 in virtual money through The Stock Market Game, an educational investing game for kids supported by the Securities Industry and Financial Markets Association (SIFMA) Foundation.
They can compete as individuals, or as teams of between 2 and 5 people. There are also a series of lessons provided for teachers and parents to help with teaching and guiding your child along the journey.
Bonus: You'll want to access the free Teacher's Support Center, which has a searchable library of curriculum resources, lesson plans, assessments, and correlations to national Common Core State Standards (CCSS).
Ages: Middle School + High School
Here's an awesome platform for either an individual student/kid or a group of students to do some fantasy stock trading. You get $100,000 in virtual cash to build a portfolio.
Teachers? You'll want to check out their classroom area.
Something else that I like? You can create your own custom contest for either your classroom, or with a group of students/kids.
And by custom, they mean you can create your own dates, commission structures, security types, and more. You get to set your own rules!
Bonus: They've also got an impressive collection of free investment lesson plans.
Ages: Middle School and Up
Are you British? This stock market game is in pounds (which is why I asked). It's got a cute interface that is geared towards younger kids, and also starts at a lower cash amount – £100 – which also is better for a younger crowd.
Your child gets access to 10 shares with their £100 in PIGGYBANK®Cash, and can track them on the "My Portfolio" page.
This stock market game also gives you the ability to compete against others by creating a game.
Another classroom stock market game? This person has a free excel spreadsheet you can download to create your own off-line stock market game.
Psst: want your child to start buying stocks? Here are 7 stock apps for kids.
Ages: Not given
Find lots of resources here for both teachers, and students to learn about the stock market and try their hand at making trades.
All for free!
You can trade real companies, and get real-time ranking updates against classmates as the game unfolds. Also, the platform is mobile-optimized.
Age: Not given.
These guys offer free lesson plans to accompany a stock market simulation your students get to do. Students are given between $100 and $10,000 dollars to invest in the stock market (you can edit the amount, as the educator), which mirrors prices in the actual stock market.
There are over 10,000 stocks to pick from, including FOREX and cryptocurrencies.
And teachers? You can download each of the student's portfolios to keep tabs on things.
Ages: Not given.
Your child is given the mission to grow their wealth as much as they can in 20 years.
Then, they go through various decision-making points throughout those 20 years in this game — both savings opportunities, investing opportunities, and major life transition costs (such as getting married).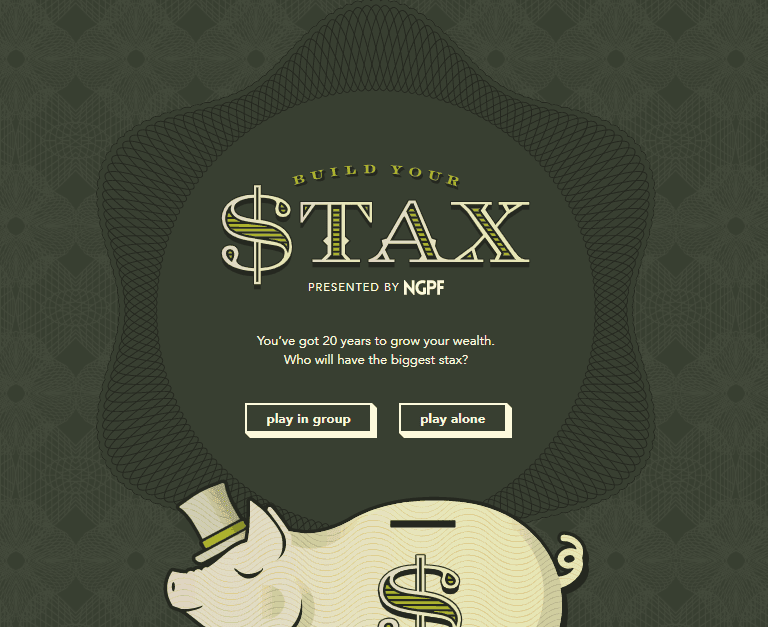 Crashing stocks, a computer that plays against you using index funds, and many other characteristics of this stock market game make it a memorable one.
You can play this investing and savings game either in groups, or individually.
Now, let's move onto high school investment competitions.
7. Personal Finance Lab's Stock Market Game
Ages: Middle School+
Right now for April's Financial Literacy Month, you can sign your classroom or own kids/teens up for the PersonalFinanceLab Stock Game!
Actually, it's a Financial Literacy Challenge, so on top of your students and kids building their own virtual stock portfolios, they'll also:
Learn about checking and savings accounts
Learn about credit cards
Build a monthly budget
And they'll be help with building portfolios.
"During the challenge, the participants won't only be trading stocks but they will also be doing assignments to learn more about it."
There's a prize, too! Winning classrooms can get a $100 gift card.
Here's a video for teachers, but parents? You can get some info from this, too.
High School Investment Competitions
Now we get into a really fun portion of this article – because not only can you take a group of kids or students through a stock market simulation…but you can also lead them through an investment competition (with prizes)!
High school investment competitions to keep your eye on:
Ages: 9-12 Grade
This 10-week competition comes with an approved stock list (see, that's helpful!), and your team of 4-7 students – bigger classes can be broken down into teams, and you can enter with a homeschool-led or investment-led team as well – gets to manage a virtual portfolio of $100,000. You'll use Wharton's Online Trading and Investment Simulator (OTIS).

Here's the cool thing: the team with the highest portfolio value doesn't necessarily win this stock market competition! Nope. They will select winners based on "team investment strategies and overall competition experience".
No previous investment experience necessary. Here's a link to bonus learning resources anyone can check out for investment lesson plans.
Ages: Middle school or High School
There's a national, 14-week-long investment competition each year that uses The Stock Market Game (from above). It's called The Capital Hill Challenge, and Members of Congress get matched with students, teachers and schools from their district who are competing.
There's no cost to participate, and it's by invitation-only (you can make a request). Up to 10 teams per school, and 3-5 kids per team. Each team begins with $100,000.
Winners get a trip to Washington D.C.!
Let's move onto some cool stock market board games.
Stock Market Board Games
Perhaps you don't want to get involved with an 8-week stock market simulation game, or a 10-week investment competition with your students.
Another option is to simulate the stock market for them in short bursts through stock market board games.
Investment board games for kids and investment games for students include:
Age Range: 8+ years
Players: 2-5 players
I like how kids start off with an asset in this game, and how kid-friendly the investing opportunities are as they choose how to build their portfolio.
Like being able to invest in a grocery store, or a candy factory.
Students are also thrown situations as the game progresses, such as bubble bursts. The player with the most cash at the end, wins.
2. Bulls and Bears: The Game of Booms and Busts
Age Range: 13+ years
Players: 2-6
This game takes stock market investing to a whole other level.
It's so robust – think the complexity of Monopoly, but with the goal of teaching investing – that you might want to help your child review the free online guidebook provided to get their investing sea-legs.
Some really interesting + priceless lessons built into this game:
Importance of Diversification: Player's portfolios are assessed periodically by banks to make sure they're diversified.
Current Events' Influence on the Market: Stock purchase decisions are based on how they think the market will react to different news flashes (talk about great prep for investing in the real world!).
How to Calculate Net Worth: Having the players calculate their net worth (need a refresher? That's the sum of all cash and investments minus any mortgage or other debts owed).
Importance of 3 Key Investments for Long-Term Financial Security: Goal of the game is to acquire a net worth of $200,000 while owning these three key assets – a retirement plan, a home, and health/property insurance.
I'll be adding to this list as I find additional free stock market games for students and other fun resources to make learning (and teaching) how to invest a fun process. And if you're looking for the real deal? Well, here are stock apps for under 18-year-olds to actually start investing (with built-in parental controls).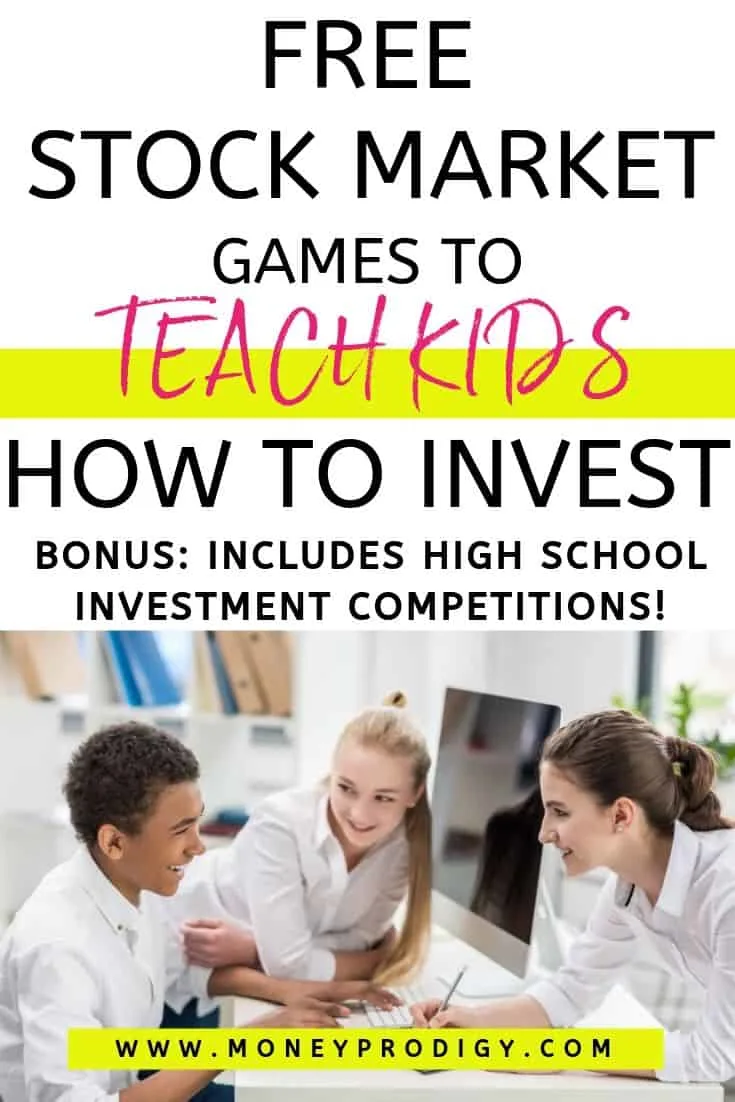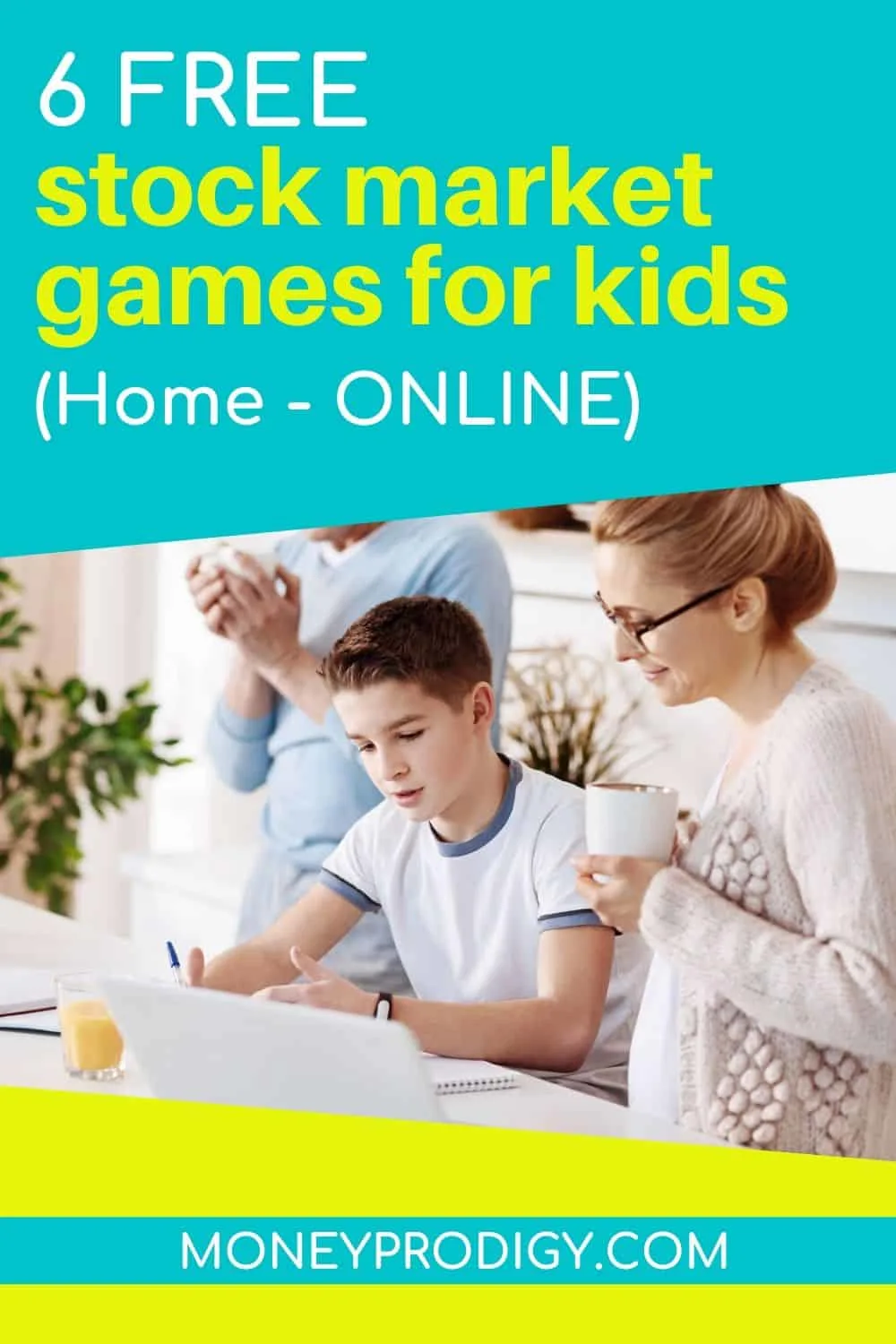 The following two tabs change content below.
Amanda L. Grossman is a writer and Certified Financial Education Instructor, a 2017 Plutus Foundation Grant Recipient, and founder of Money Prodigy. Her money work has been featured on Experian, GoBankingRates, PT Money, CA.gov, Rockstar Finance, the Houston Chronicle, and Colonial Life. Amanda is the founder and CEO of Frugal Confessions, LLC.
Read more here
.
Latest posts by Amanda L. Grossman (see all)