Skip the cash for their birthday or the holidays, and instead get one of these educational toys for teens in your life.
On a mission to gift educational toys for teens (instead of cash, again) this year?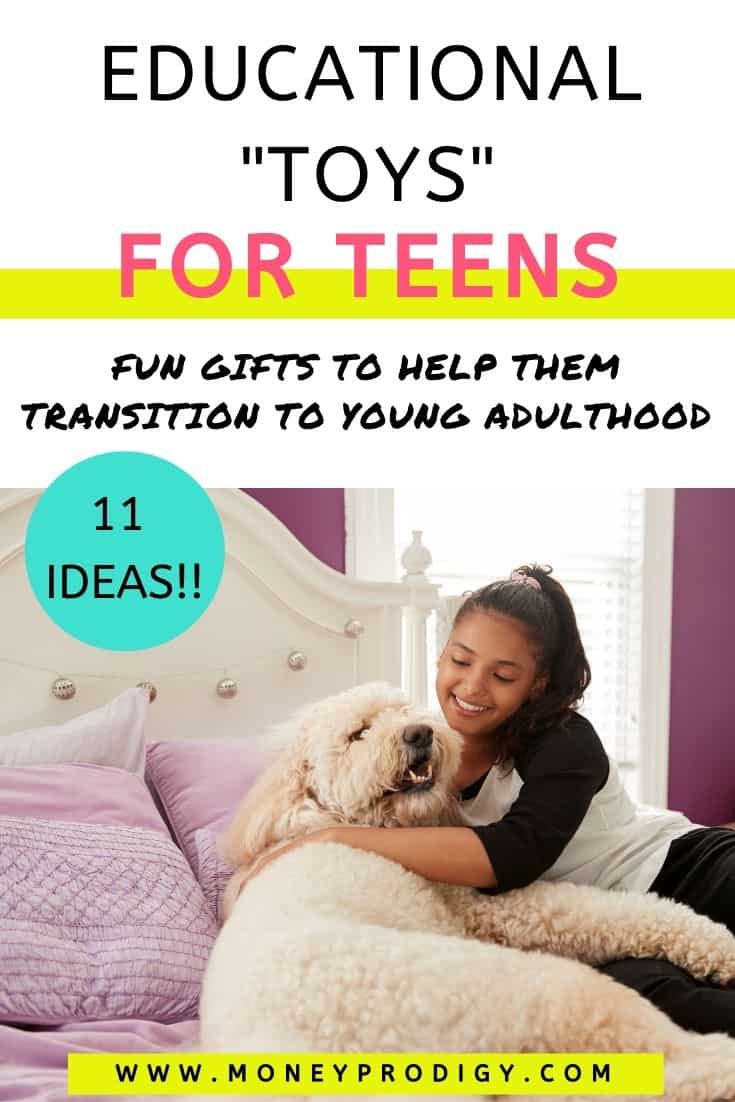 Good for you.
Educational toys for teens help bridge the gap between teenagerhood and young adulthood – in a way that's still kind of fun, and helps with the transition at the same time.
Let me show you what I mean.
What are the Best Educational Toys for Teenagers?
What to buy a teenager who has everything, or when you want to get toys that are educational for teens?
The best ones do one or two of the following:
Offer career and vocational guidance
Function in real life as a tool or resource, PLUS as something that they're interested in now
Are something they can use in young adulthood
This means they both teach and help your teenager to manage their money, organize their lives, develop their passions into something they can do to make money, etc.
And that's exactly the type of "toys" I've got for you below.
Educational Toys for Teens
I've got a challenge for you: this year, instead of gifting cash or consumable things, why not gift educational toys for teens on their birthdays, over the holidays, etc.?
1. Teen Entrepreneur Toolbox
Age Range: 12-18 years
Learning: How to start-up a business, how to brainstorm business ideas, how to make sure you're earning a profit, how to budget for a business, etc.
Could your teen use an entrepreneur kit? This Teen Entrepreneur Toolbox is quite comprehensive.
Created by Anthony ONeal (who partnered with Dave Ramsey), it includes the following:
Access to Free Entrepreneur Toolbox app
Teen Portfolio Book
DVD of Anthony's Training Video
Parent's Guide Book
Pack of Thank You Cards
Deck of Conversation Starter Cards about Starting a Business
Goal Tracker Poster
Hint: The Entrepreneur Toolbox App is also awesome…and completely free. It will help your teen (or anyone, for that matter) track savings goals, organize their business calendar, figure out profit potential, etc.
2. Environmental Science Kits
Age Range: 8+ years
I think we can all agree that the environmental changes we've been experiencing are going to be part of your teenager's world going forward, too.
That's why I was excited to find these climate science and engineering kits for teens to help them understand environmental science a bit better.
Who knows, your teenager could one day be the one to create the next solution to help us all.
3. Gifts to Educate them on Responsible Car Ownership
Becoming a responsible car owner and driver doesn't happen overnight. It's taught over time, with more maturity, and with some guidance.
Gifting your teen a few things to nudge them towards responsible car ownership is a great way to educate them on how to handle this big responsibility.
Hint: these work even if the teen you're gifting them to doesn't own a car yet – they'll be even more excited for that next phase to come!
Here's a few suggestions:
Also, be sure to check and out my Car Accident Checklist (free download) and print it out to include in your gift. You never know when having that in their glove compartment will help.
Show a teenager an interesting field where they can use their brain with this fun educational toy for teens aged 12+.
Teens will take on the role of detective as they work through this real-life-seeming case, with tons of evidence to sift through, suspects to size up, and information to use.
5. Creative Writing Prompt Books
They have these really, really cool things I wish they had had around when I was a teenager: creative writing prompts for teens.
Pssst: Yes, Mom – I LOVED that thesaurus you got me. One of the coolest gifts I received as a teen! Love, your writer nerd child.
Not only is it fun for teen writers to do right now, but they'll learn things about writing to take them into their 20s and beyond.
Here's a few to choose from:
Organization is a big life skill!
Buy your teenager a jewelry box as a teen – maybe even with a passed-down piece of jewelry waiting inside – and they can take it with them for the years to come to store and organize their pieces of treasure.
Did you know that coding and programming is likely already part of your teenager's curriculum?
Get your teen child interested in learning these future-economy (and current-economy) skills with this cool gadget.
They'll get their feet wet with Python (nope – not the snake…and I only learned this is a programming language about two months ago!), and be able to create pixel art that then displays on this charm keychain through the free imagi mobile app.
Such a cool toy for a teenage girl!
Growth mindset, positive thinking, gratefulness…these are all things that we want to train our teens to take into adulthood.
This Big Life Journal is a great way to not only satisfy them right now – it's pretty cool inside – but to help them to form some great habits. The kind of habits that can help lead them towards the path of happiness.
Looking for STEM gifts for teens and tweens?
This Robot car kit is a pretty sweet choice.
Your teen will both learn – plus need to use – some programming, electronic assembly, and robotics know-how.
In fact, it requires basic electronic knowledge (I wonder if my ability to change the batteries in our tv remote counts? Probably not…).
10. Teen Wallet
Teenagers love to be in charge of their lives, and one of the ways they can now express themselves is through how they spend their money.
Delight the teen in your life by getting them a wallet that they'll love so much, they'll actually use it.
Great wallets for teens include:
Here's my article on the best wallets for teens.
Is a teen budget binder a toy? Not really. But teens love to be in charge of money…so they likely will get some enjoyment from this.
This is a digital product that I sell, and you could print it out and assemble the entire binder for them. Wrap it up with a bow!
Your teen will learn:
How to create a Spending Plan (this is different than a budget)
How to create a better weekly budget by thinking through the next month ahead
How to track spending
How to calculate leaks and leftovers
Much more
Plus, there are videos! Seriously, go check it out.
Educational toys for teens are seriously some of the best gifts I ever received when I was that age. They're the items that I was able to both use as a teenager, but that I also took with me into young adulthood. I hope these gifts I've listed here will do the same for the teens in your life!
The following two tabs change content below.
Amanda L. Grossman is a writer and Certified Financial Education Instructor, a 2017 Plutus Foundation Grant Recipient, and founder of Money Prodigy. Her money work has been featured on Experian, GoBankingRates, PT Money, CA.gov, Rockstar Finance, the Houston Chronicle, and Colonial Life. Amanda is the founder and CEO of Frugal Confessions, LLC.
Read more here
.
Latest posts by Amanda L. Grossman (see all)