What to look for when shopping for the best wallets for teens that'll help them manage their money and their lives.
Wallets for teens are sort of a big deal – it's one more tool to help them as they become increasingly independent.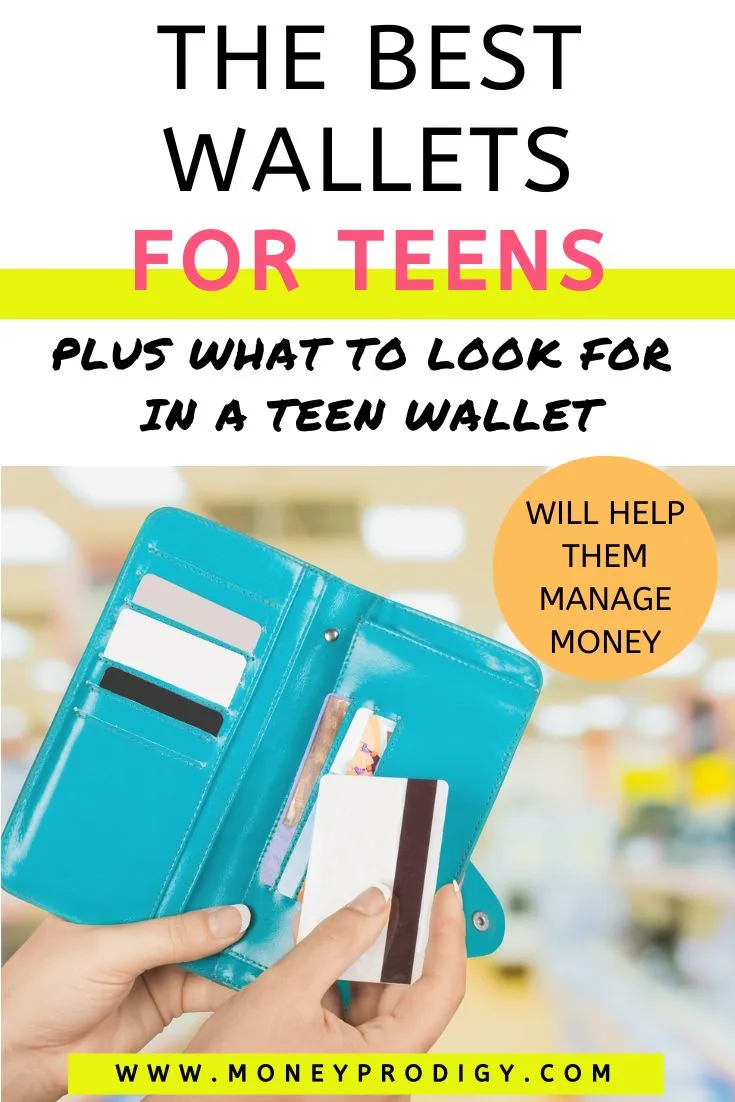 I clearly remember picking out my first wallet as a teenager, because I bought it for myself. It was an upgrade from my current kid-looking one, and I was so proud of it.
Nowadays, there's a dizzying array of options.
So, how are you supposed to sort through all of them?
Your teen needs a wallet that:
Is not too bulky and can fit into a pocket
Has a coin zipper area so that coins don't fall out
Has an ID slot area that's easily accessible
They're excited to carry around
Can grow with them into the next stage
Let's dive into my favorite wallets for teens (plus the one wallet type I don't recommend for this age group, and why).
Best Wallets for Teens
I personally reviewed each of these wallets below to come up with my list of best wallets for teens (both girls and boys).
Here's my shortlist, and what I specifically like about each one.
Psst: For what your teen should include in their new wallet? You'll definitely want to check out my article about 11 things to keep in your wallet for teens. And for how to manage their money, check out what to do with your money as a teenager.
The big draw to this wallet is how minimalist it is – it's supposed to be one of the least bulky wallets on the market, and I'd say they achieved that.
In fact, it slips quite easily into my 6-year-old son's pant pocket (with no bulge).
While I would prefer a wallet where the picture ID slot is accessible on the outside, they've got a slick magnetic-snap closure to easily access everything you need. I also like how easy it is to slide my picture ID in and out of the ID frame (wayyyy easier than my own wallet).
The card slots are wide enough to make getting your other cards in and out very easy, but not so big that you're in danger of cards slipping out if the wallet gets turned upside down (the inside material is also lined with a rubberized coating to keep store loyalty, debit, and other cards in place).
I also love the material – it's waterproof, and would be easy to wipe clean (it's also machine-washable).
There's an outside coin zipper area, which is one of my top wallet priorities after having purchased a wallet for my son without the zipper closure – you can't imagine how many coins we've lost in the last few months (we finally replaced it).
A very solid choice, in my opinion.
Is your tween or teen boy kinda rough with their belongings?
I get it – I'm amazed at how rough my husband is with his stuff, and can only imagine what it'll be like when my son reaches teenagerhood!
What I like about this tri-fold wallet for the tough-on-stuff crowd is that it's made from highly, highly durable material (rip-stop nylon) that also happens to be waterproof).
Not only that, but both the coin slot and the cash area is zippered in – which means they'll be much less likely to let any money slip out while doing something like skateboarding.
I do wish the identification slot had a clear plastic window to show it easily to someone – right now, it's got a fine, black, mesh netting.
It comes with a long lanyard, and a carabiner, which gives your teenage boy options for how they'd like to haul it around. The Velcro that closes it is very durable, too. And if you want to label the wallet with their name, you can do that on the inside.
Psst: this wallet also made it into my list of best wallets for kids.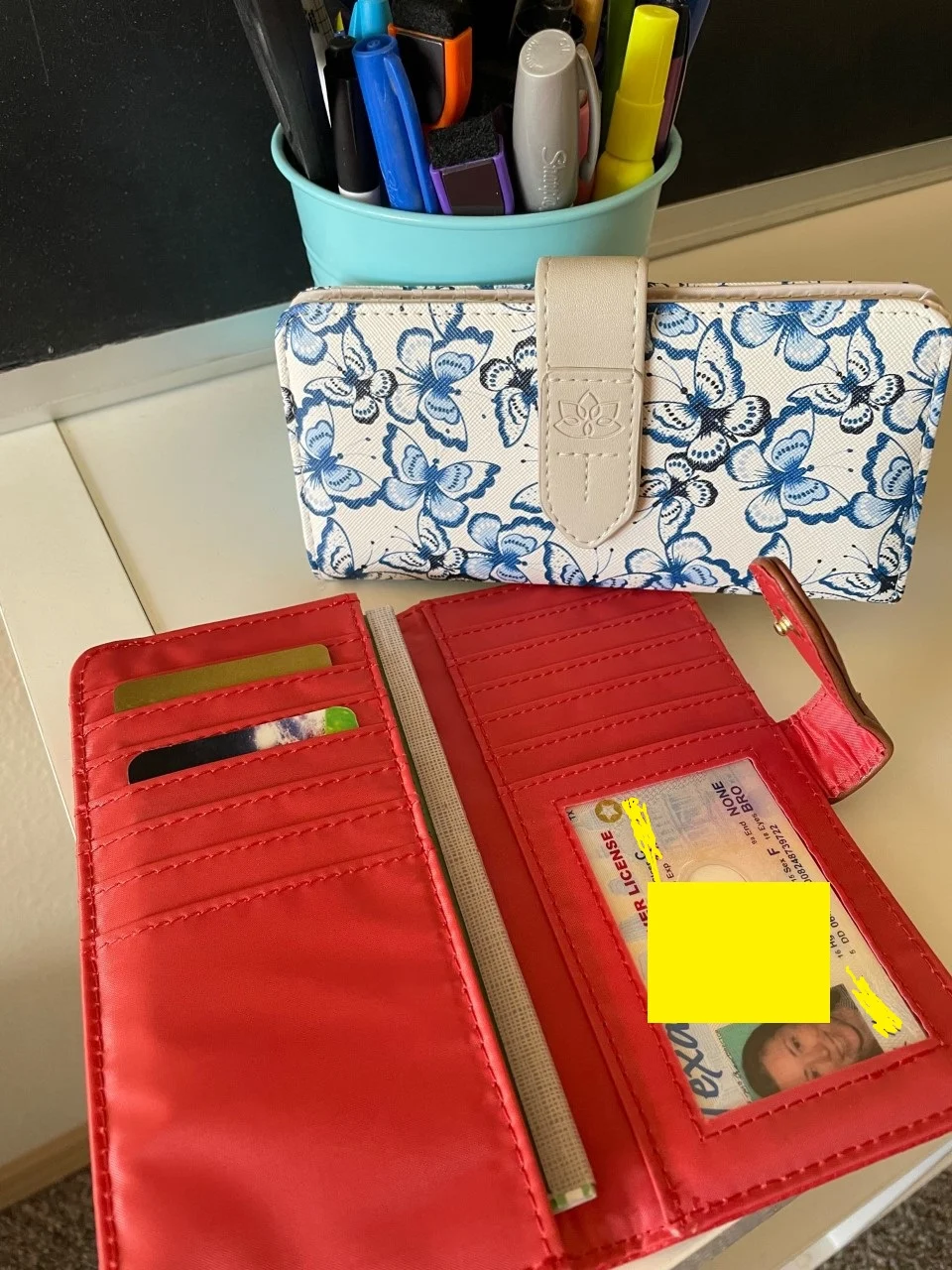 I ordered a bunch of wallets, and some of them didn't make the cut because of how cheaply made they were.
However, I wanted to add in the Alexandra Slim Wallet from Walmart. It strikes a good balance between being cheap – just $5.97 at the writing of this – and durable enough for a teen wallet.
I love the size (it's not huge, but it's longer than the minimalist wallets) and I love how it opens up to show all of your cards, photo ID, and cash slots.
And, you can even fit a checkbook into the inside slot (adds a little bit of bulk), if you want your teen to carry one around. There's a zippered pouch for coins on the back.
Hint: not only that, but you could also fit in a certain vaccination card, in case your teen needs to carry theirs around when traveling or such.
Is your teenage girl not ready to carry around a purse (or, do they like to carry around a really small one)?
Then this lanyard and wristlet-wallet could work.
It's a minimalist wallet with the identification card slot on the outside, a coin zipper area down the middle (that they could also use to hold folded bills in), and about 6 slots for various cards.
I just love the metallic rose gold color – looks exactly like it does in the picture.
This particular wallet is also RFID-blocking, which protects your teenager's identifying information from being electronically scanned and stolen.
A great, small wallet for teenage girls.
Hint: in the two other slots that this has, a certain vaccination card just about fits – it slides in perfectly, but sticks up slightly at the top. In case your teenager needs to carry that around for an event/school/travel/etc.
This wallet had me at "lifetime warranty".
I mean, can you imagine how long your teen could use this wallet with a guarantee like that? They could potentially replace it in 10 years or even 20 years.
Granted, these are very simple wallets that are meant for carrying just a few things around – like some cash and an ID/debit card. Like when you're out on an adventure (hiking, kayaking, fishing, etc.) and you just need to carry the bare necessities with you.
Which could be great for teens, who likely don't have much to carry around with them.
(Though they might need something bigger for everyday use, as they get older).
I love how durable this material is, and it's got a keyring in case your teen wants to attach this to something, or attach something to it.
There's a clear plastic slot for a photo ID, and two separate zippered pockets for coins, cash, and a card or two.
The One Wallet Type I Don't Recommend for Teenagers
There are a ton of different options that your teenager can pick from – a wristlet wallet, bifold, trifold, Velcro wallets, continental wallets, etc., etc., etc.
But one wallet format that I would suggest they stay away from is the sticky wallet that adheres to the back of a smartphone – here's why I don't like this idea, specifically for teens:
If they lose their phone (and let's face it, this happens), then they also would lose their wallet at the same time.
Can you imagine being out somewhere, possibly by yourself, and now you've lost your phone, your ID cards, and your ability to pay for anything? Best to keep these two things separate at this age, in my opinion.
The following two tabs change content below.
Amanda L. Grossman is a writer and Certified Financial Education Instructor, a 2017 Plutus Foundation Grant Recipient, and founder of Money Prodigy. Her money work has been featured on Experian, GoBankingRates, PT Money, CA.gov, Rockstar Finance, the Houston Chronicle, and Colonial Life. Amanda is the founder and CEO of Frugal Confessions, LLC.
Read more here
.
Latest posts by Amanda L. Grossman (see all)