Your middle and high school kids will love these cheap, small prize ideas for students. For use in classroom economies, for competitions, as incentives, etc.
Competitions, student-of-the-week, middle school prize box ideas, token economies, student award auctions – depending on your classroom reward system and school culture, you might be trying to constantly come up with small prize ideas for students.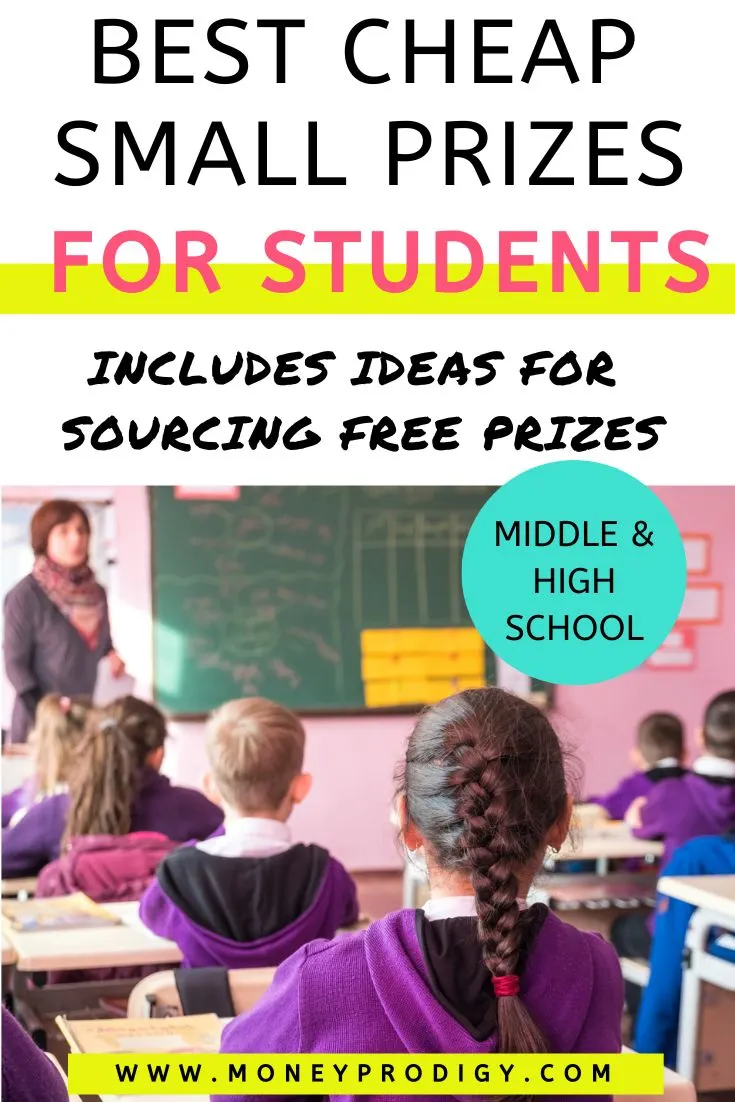 Hold tight.
Below, you'll find ideas for cheap prizes for students (middle school, then high school), as well as a section on how to source free prizes for students (in case your budget is nonexistent).
Small Prizes for Middle School Students
What are good prizes for middle school students?
Be careful – picking from this list below might just make you a legend among students (who will all be trying to figure out how to get their hands on one of these).
1. Emoji Magnets
You can get a lot of 50 emoji magnets students can keep on their desks, in their lockers, or any other metal location, for a pretty cheap price.
2. Desk Pets and Accessories
Can I be a kid again just so that I can get one of these desk pets? Seriously – they are so cute and such a great idea (my sixth-grade, pet-rock self just swoons for these).
Not only can you give out the actual desk pets themselves as prizes, but there are all kinds of accessory ideas that students can earn as well.
Check those out in my article on examples of classroom reward systems by real teachers.
3. Flavored Oreo Cookie Packs
Have you seen the explosion of Oreo cookie flavors? If your school allows food prizes, then I'd say buy a few bag/boxes of them, and divide them evenly into smaller snack bags.
4. Shoe Charms
Kids just love to express themselves in fun ways, so why not include some shoe charms in your middle school prize box?
They come in all kinds of varieties, in huge lots (so they're pretty cheap for what you can get) and you don't need crocs to use them – students can put them into any shoelace holes.
5. Tech Decks
Don't know what a tech deck is? I didn't, either, and had to look it up.
(Funny enough, I heard an NPR story on these years ago but didn't make the connection – so they've been around awhile!)
These are miniature skateboards (called "fingerboards") that tweens use to do skateboarding tricks on desks/tables or really, anywhere.
Hint: I've heard you can find these at a dollar store.
6. Rock for their Rock Collection
What middle schooler doesn't have a rock collection? Okay, okay – I'm sure not every middle schooler is interested. But there's enough of them to make these rocks highly sought after in your classroom.
This set of 250 comes with a giant poster that you can display near the reward area to get everyone excited and help with their choice.
7. Scratch-n-Sniff Stickers
Ahhhh, le 'ole scratch-n-sniff stickers. Seriously, can these ever go out of style with the 10-and-under?
8. Bookmarks
Either these rainbow-scratch bookmarks, or these wildlife bookmarks, would make an awesome addition to your prize inventory.
9. Emoji Keychains
Emojis are big! You can get these emoji keychains as rewards for middle school students (you'll probably start see them popping up on their backpacks).
10. Colorful Dice
Lots of kids play board games at home. Why not reward them with picking out a pair (or one) of beautifully colored dice? You better believe my 12-year-old self would hand in homework all month for that.
11. Glowsticks
The beauty of glowsticks (besides being very cheap)? Kids won't want to use them during the school day. Score!
11. Sequin Animal Keychains
You know those pillows that change patterns when you swipe the sequins in the other direction? Well, now they have keychains that do this!
12. Super Cute Pencil Toppers
Students would probably love to earn a cute pencil topper they get to look at while working.
Small Prizes for High School Students
One thing I found over and over again while researching and coming up with these ideas? Teachers saying how much their high school students love the silliest of prizes. Maybe even more so than middle school students!
See if you can find some to work with your own classroom of teenagers.
1. Vinyl Stickers for Laptops, Water Bottles, Smart Phones, Binders, etc.
I have seen countless teachers talk about how much their high school students want to earn these stickers.
They're waterproof, and don't leave a residue when taken off.
Hint: these are definitely age-appropriate, but you should still take a look through each one and make sure you're okay with them. Speaking from experience with stickers I handed out in my son's birthday party favor bags…
2. Magnetic Arrow Textbook Bookmarks
Teens have textbooks, and they're going to keep having textbooks for years to come if they go onto college.
These magnetic arrow bookmarks are just perfect for textbook readers, and they're stylish enough that teens might like them.
Hint: you might want to model these in front of students so that they want to earn them, especially if they're not sure what they are or what they're good for.
3. Million Dollar Chocolate Bar
How good would your students feel when they earn a million-dollar chocolate bar reward?
4. Car Air Fresheners
Teenagers are either driving, or going to drive. So, kitschy car fresheners are a great prize.
Like these Sneakerhead Air Jordan ones, or this pair of Yeti air fresheners.
5. Stylus Pens
Your students can choose from a variety of colors, then use these with their tablets, smartphones, or any other touch screen device.
6. Ramen Notes
Perhaps for a bigger competition, you could splurge on this pad of Ramen Sticky Notes as a prize.
7. Multi-Color Pen
Are your students allowed to use pens? Here's a 6-in-1 multi-colored pen pack you can include in a prize bundle.
Sourcing Free Prizes for Students
On a real-tight (non-existent) budget, and even "cheap" prizes are too expensive for you?
I've got you.
Check out these ideas for how to source prizes for students that don't cost money.
1. Classroom Rooster Award
When I used to work for the State of Texas, they had a peer award called the Bulldog award. It amounted to a brass bulldog statue, a certificate, a pin, and a ceremony.
You could create the same for your own classroom, and call it the Rooster Award. Students would vote for who receives it (or you pick, depending on students who have earned it). Then, the student gets to keep the pin and the certificate, but only keeps the brass rooster statue until it's time for the next ceremony and they must pass it on.
2. Ask Businesses for Free Swag
Ask local businesses, or write to corporate headquarters for free swag that you can use in your classroom to reward students who have earned something.
3. Create Classroom Privileges to Give Out
Here are some fun ideas:
Teacher's Chair for a Week
Early Lunch Pass
Choose Your Seat for the Day
Free Homework Pass
4. Email College Admissions Staff for Free Swag
Here's another outreach campaign that could prove to be quite fruitful. This time, email admissions staff at local technical colleges, community colleges, and larger colleges. Teachers who do this have reported receiving pens/pencils, pennants, stickers, T-shirts, lanyards, drawstring bags, and more.
Hopefully these small prize ideas for students will keep you stocked until the end of the school year. And if you have awesome ideas you've used before that work? Please share in the comments below.
The following two tabs change content below.
Amanda L. Grossman is a writer and Certified Financial Education Instructor, a 2017 Plutus Foundation Grant Recipient, and founder of Money Prodigy. Her money work has been featured on Experian, GoBankingRates, PT Money, CA.gov, Rockstar Finance, the Houston Chronicle, and Colonial Life. Amanda is the founder and CEO of Frugal Confessions, LLC.
Read more here
.
Latest posts by Amanda L. Grossman (see all)