Cheap & fun 3rd grade Market Day ideas, where all the materials actually come from the Dollar Tree!
Need some fun (and cheap) 3rd grade market day ideas?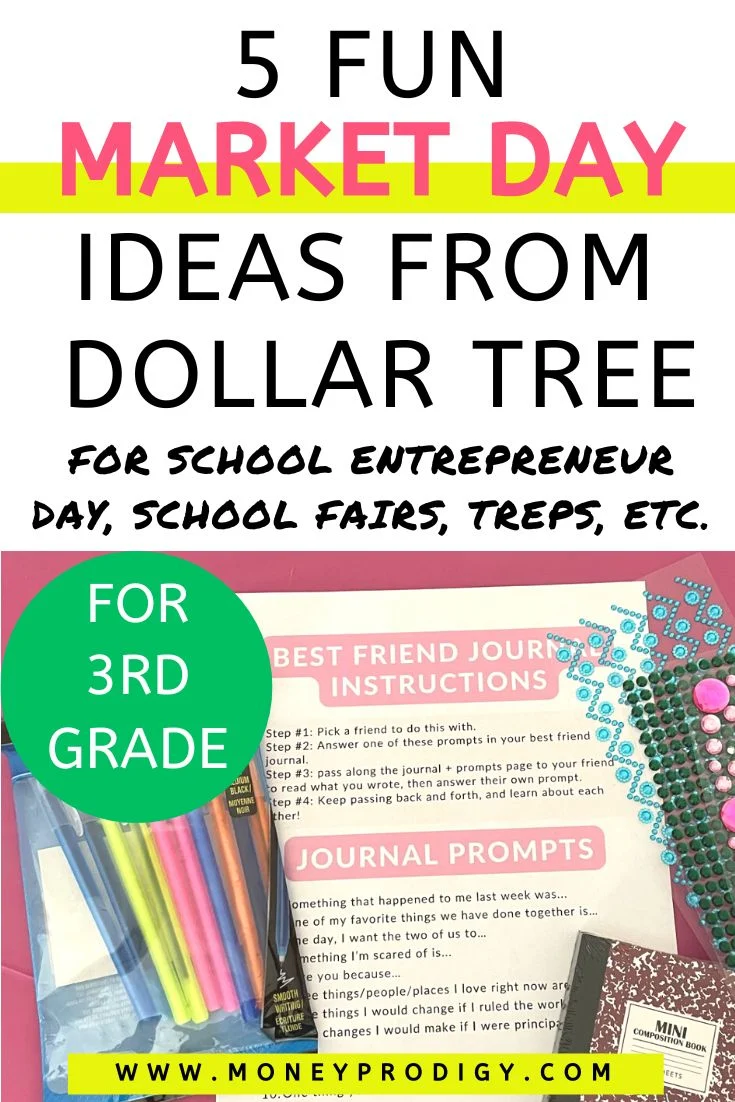 I've got 5 ideas to make and put together, and everything is sourced from the Dollar Tree.
For real!
3rd Grade Market Day Ideas
Hint: while Dollar Tree is a national store, you will find some differences in what's available in each store. Use these ideas as inspiration and a starting point, and add to it using what you can find in your own Dollar Tree! AND, try out several Dollar Trees in your area, if available.
1. Adopt-a-Pet Station
Have you seen those Squishy Pals at Dollar Tree?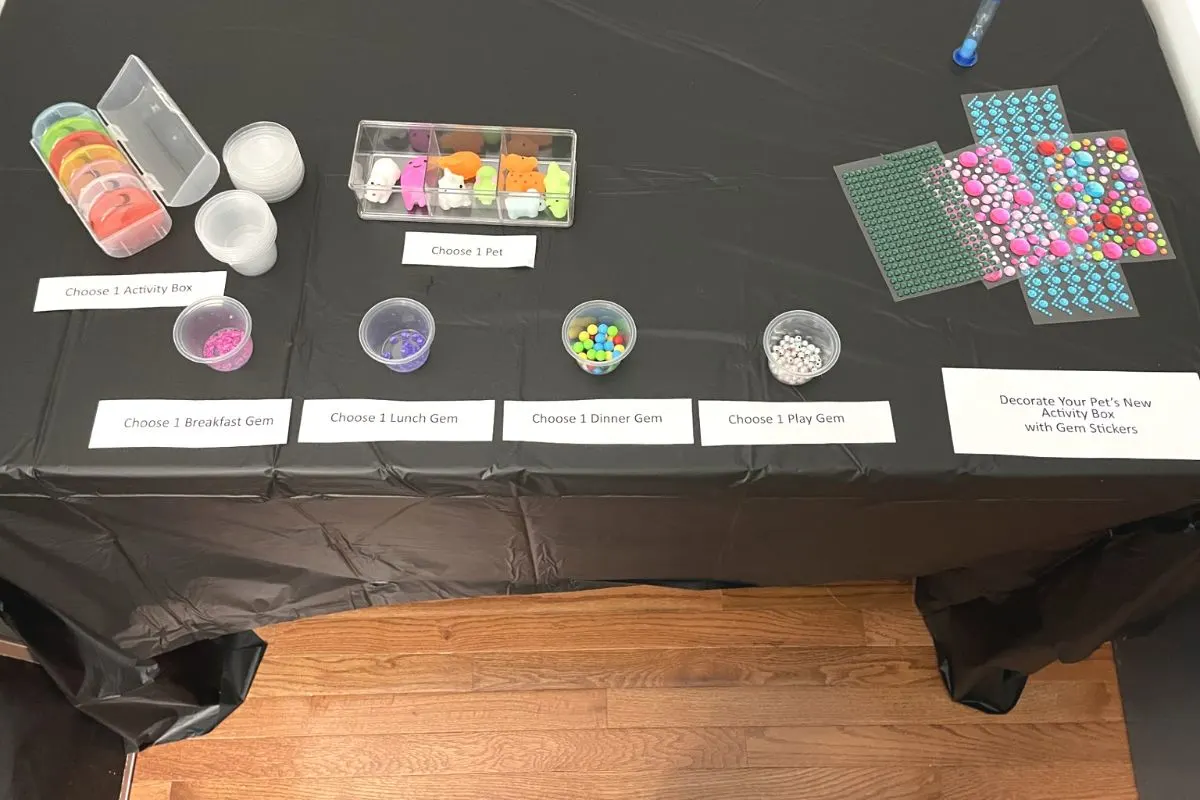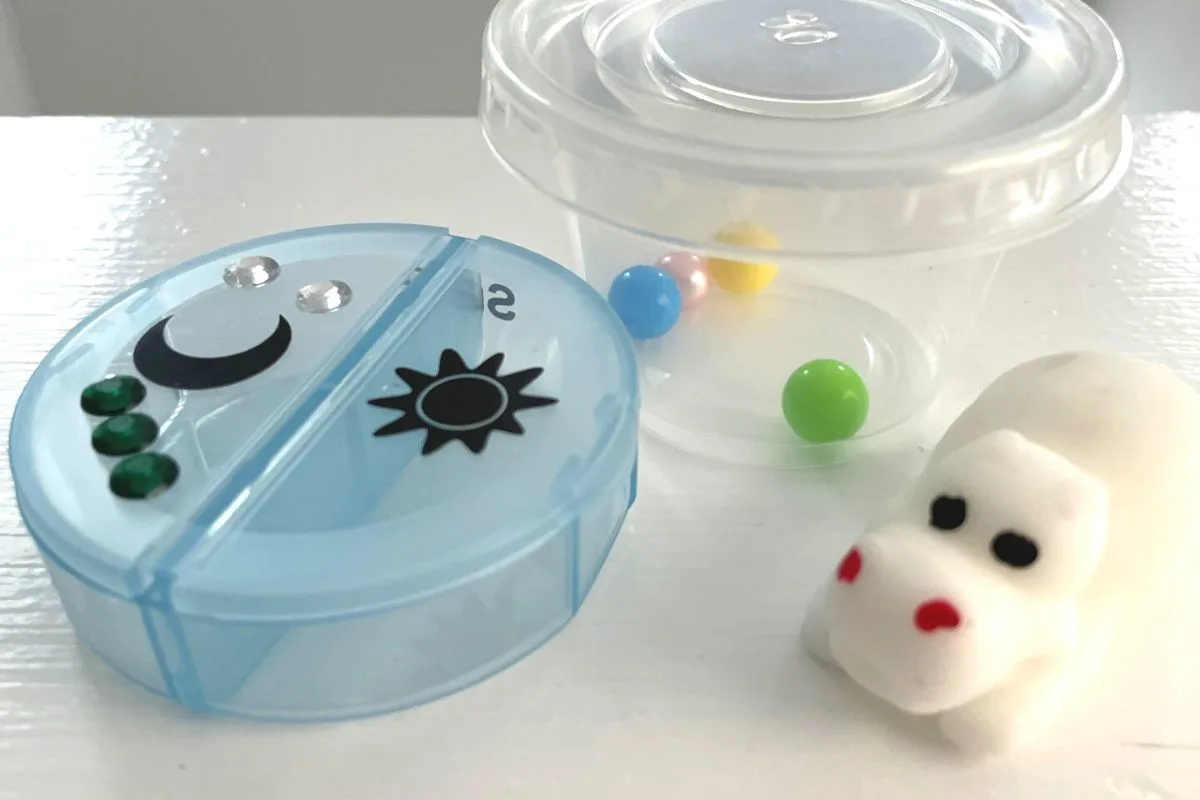 I've got this fun idea you can do with them to turn it into a product for Market Day: sell them as an adoptable pet.
Of course, you don't just want to buy them and turn around and sell them at a higher-cost. You want to add value to the whole deal, and I've got fun ideas for how to do that.
Each person gets to pick out a Squish Pal to adopt, plus a pill box (your pet's accessories bin or home) to keep their "accessories" in. Then, they can choose 1 unit from each bucket that represents (hint: those green/blue/yellow/white balls? Came from a mini-pool set in the toy section):
Breakfast
Lunch
Dinner
Play activity
Encourage them to name their pet, and they can then decorate the pill box/it's home with gorgeous, blitzy gem stickers (also found at the Dollar Tree). You can even set up a 2-minute sand-timer (from the education section there) to limit the amount of time/stickers they can use.
Finally, explain that they'll need to use the units/gems/balls in the cup to feed them each meal and play with them each day.
You can really get creative here! The way I have it set up is that the units all stay in the little plastic cup, and as they use them with their new pet, they put them in the morning or nighttime part of the pill box/home.
Total Cost Per Product: $3.12/pet (includes the pet, a pill box, 4 balls/units, and gem stickers)
2. First Aid Emergency Kit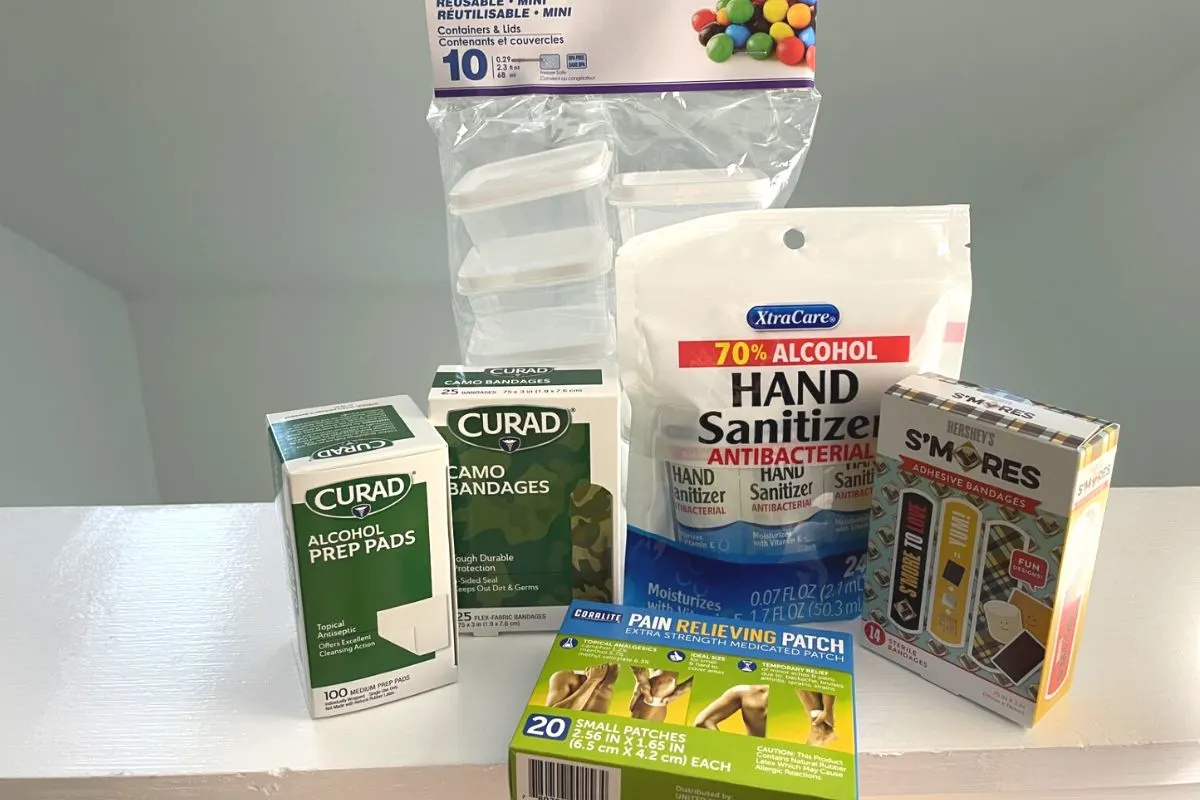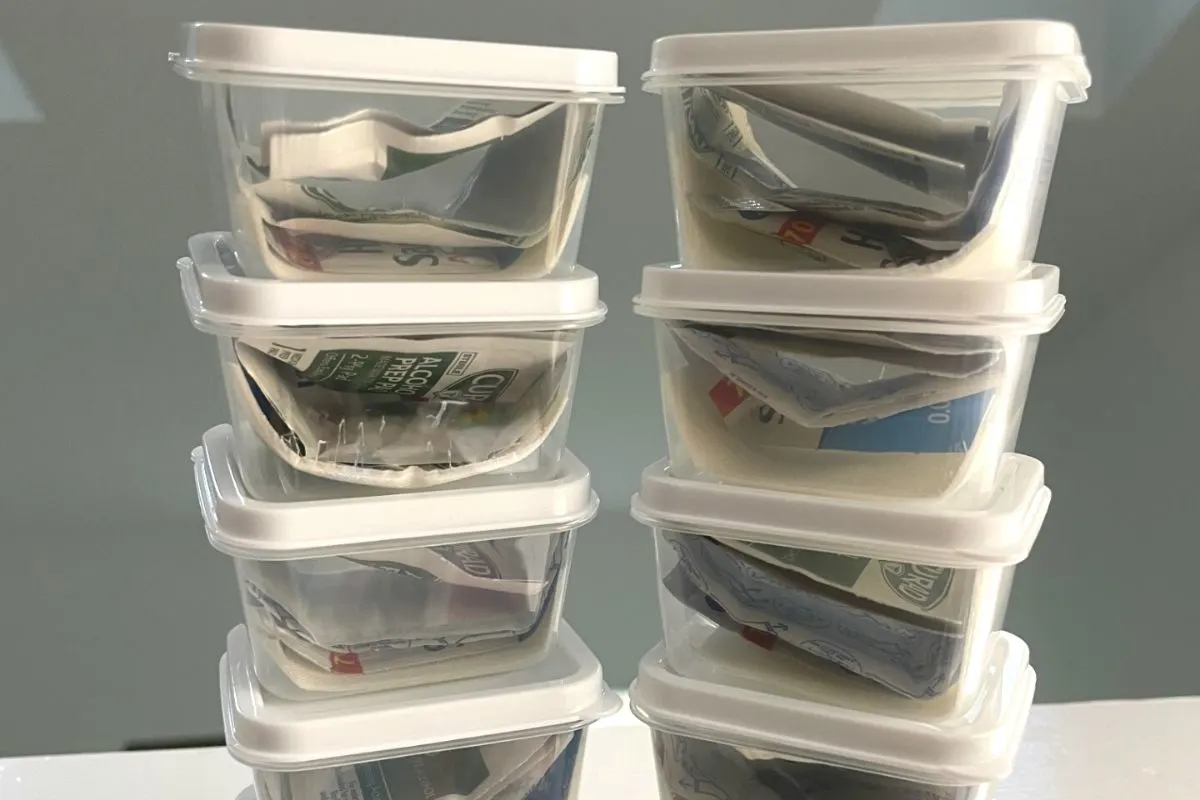 First aid kits that can easily slip into a purse, or the car glove compartment box, are super handy for families.
If you know there will be moms and dads buying on market day as well, then this could be for you!
Here's what I got to make these:
10 reusable mini containers
Cute band-aids
Pain-relieving patches
Alcohol prep pads
Hand sanitizer packs
I was able to make 10 of these, for a total of $6.25 (plus tax).
And, there's leftover supplies (the alcohol pads, the hand sanitizers), so you could buy more of the containers, the pain-relieving patches, and band-aids to make another batch of 10.
Total cost per product: $0.63
3. Best Friend Secret Journal Kit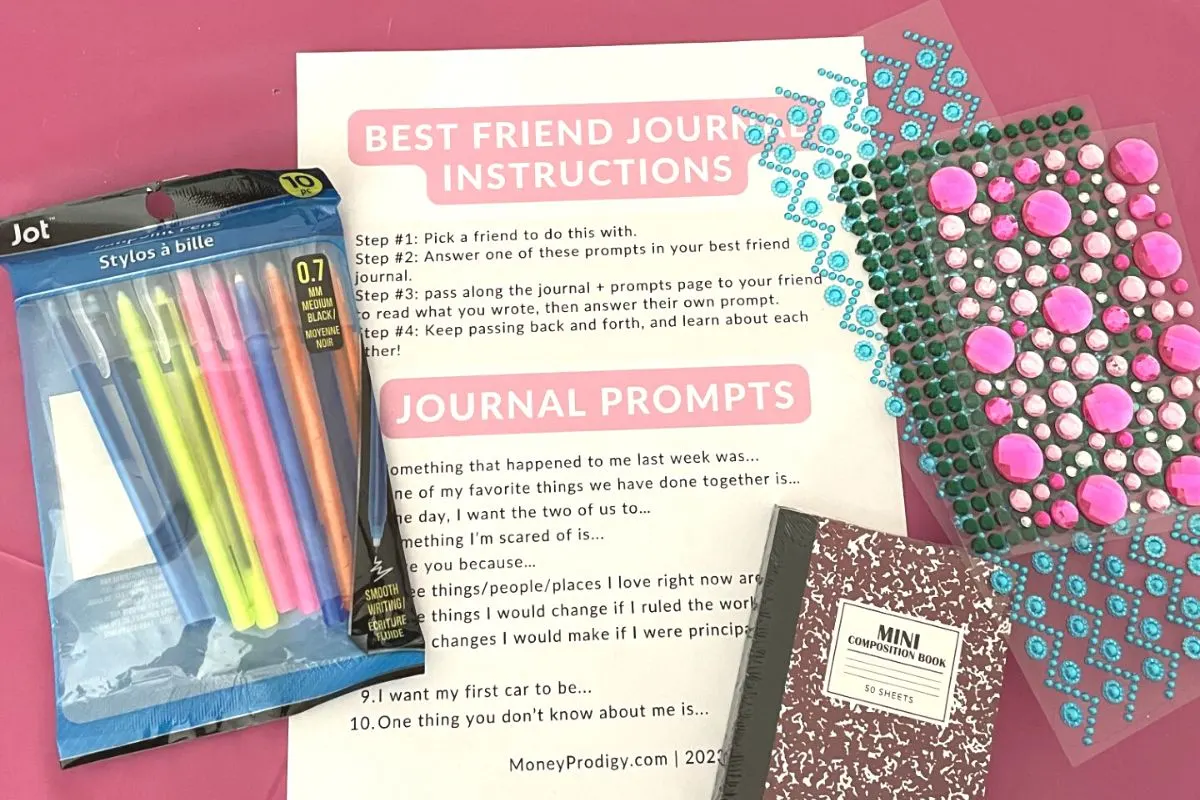 Kids this age love their friends.
How about creating a Best Friend Secret Journal Kit, with prompts?
You'll need to create a page of journal prompts – the kinds of questions two friends would want to know about each other.
Then, put together this journaling kit.
Each friend takes a turn choosing a prompt and writing about it, then passes the journal onto their friend.
That friend then chooses a prompt to journal about and answer, then passes it back.
Here's what I bought to make these:
1 package of mini journals
1 package of pens
Sheets of gem stickers
1 page of journal prompts (cost of printing them out – I'm assuming $0.50/sheet)
Let the friends use several gem stickers to decorate the outside of their new secret journal together, at your booth.
Total cost per product: about $1.33 each (depends on cost of printing and number of gem stickers used)
Psst: Don't forget to check out these Market Day food ideas from Dollar Tree, and 22 simple things kids can create and sell.
4. Prank Kit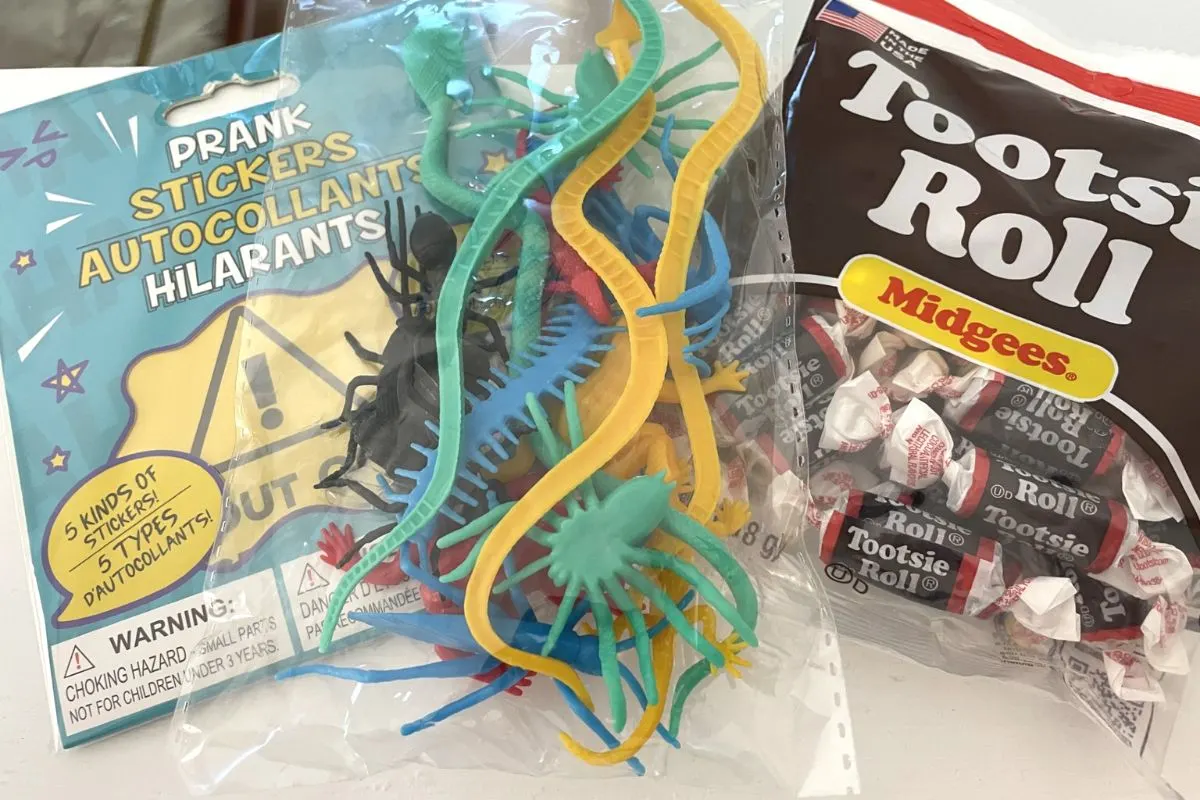 You can create a few fun pranks for kids to easily do at home, and put the materials together in a kit to sell.
For this particular product, I bought:
1 bag of bugs
1 bag of tootsie rolls
1 package of Prank Stickers
The pranks they can do are:
Tape a bug to the inside of a lampshade to create a shadowed bug effect
Microwave a tootsie roll…and…look up what that looks like (or use your imagination) to place somewhere around the house
Use the sticker on a wall or screen to trip up people (one is a fake outlet, one is a fake broken screen, one says "motion activated", one says "Do Not Enter", and one says "Out of Service")
You can make approximately 15 prank kits from the above items.
Total cost per product: $0.25
5. Cold/Flu/C-Vid Kit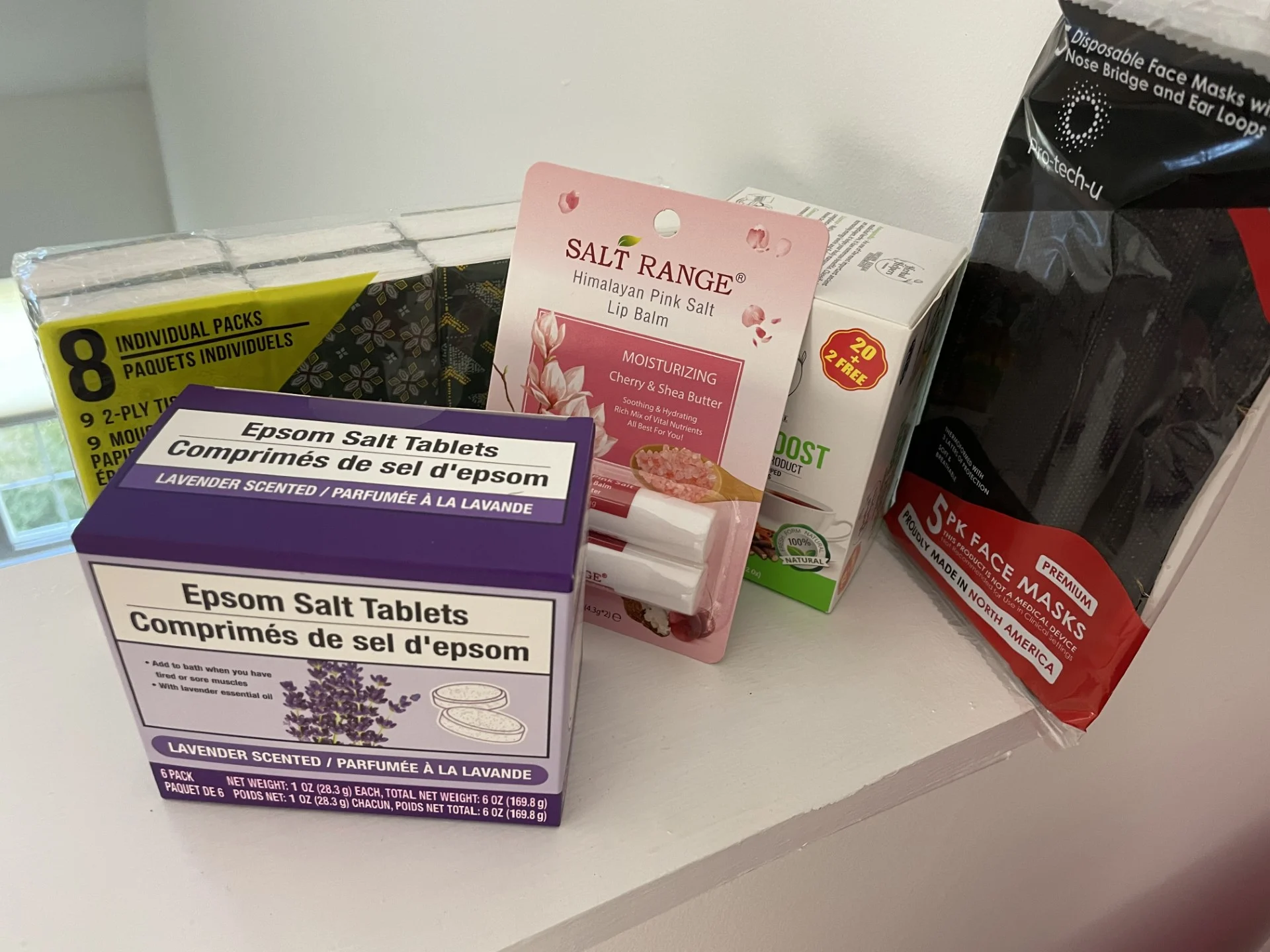 Almost everyone coming to your market day is going to come down with a cold, the flu, or C-vid in the next year.
Why not create a little cold/flu kit to sell to help them through it?
I included the following in mine:
1 package of face masks
1 package of energy-boosting tea
1 Package of Epsom Salt Tablets
1 package of individual tissue packs
1 package of lip balms
Total cost per product: $1.75
I hope I've shown you some awesome 3rd Grade Market Day ideas from things you can find at most Dollar Trees. Don't forget to check out my Market Day booth display ideas, and this Market Day lesson plan on pricing to help price your products.
The following two tabs change content below.
Amanda L. Grossman is a writer and Certified Financial Education Instructor, a 2017 Plutus Foundation Grant Recipient, and founder of Money Prodigy. Her money work has been featured on Experian, GoBankingRates, PT Money, CA.gov, Rockstar Finance, the Houston Chronicle, and Colonial Life. Amanda is the founder and CEO of Frugal Confessions, LLC.
Read more here
.
Latest posts by Amanda L. Grossman (see all)