Most of us grow up without learning how to give or what the spirit of giving really is. Let's change that – activities to teach giving to your own kids.
Why focus on activities to teach giving and generosity in the classroom and at home?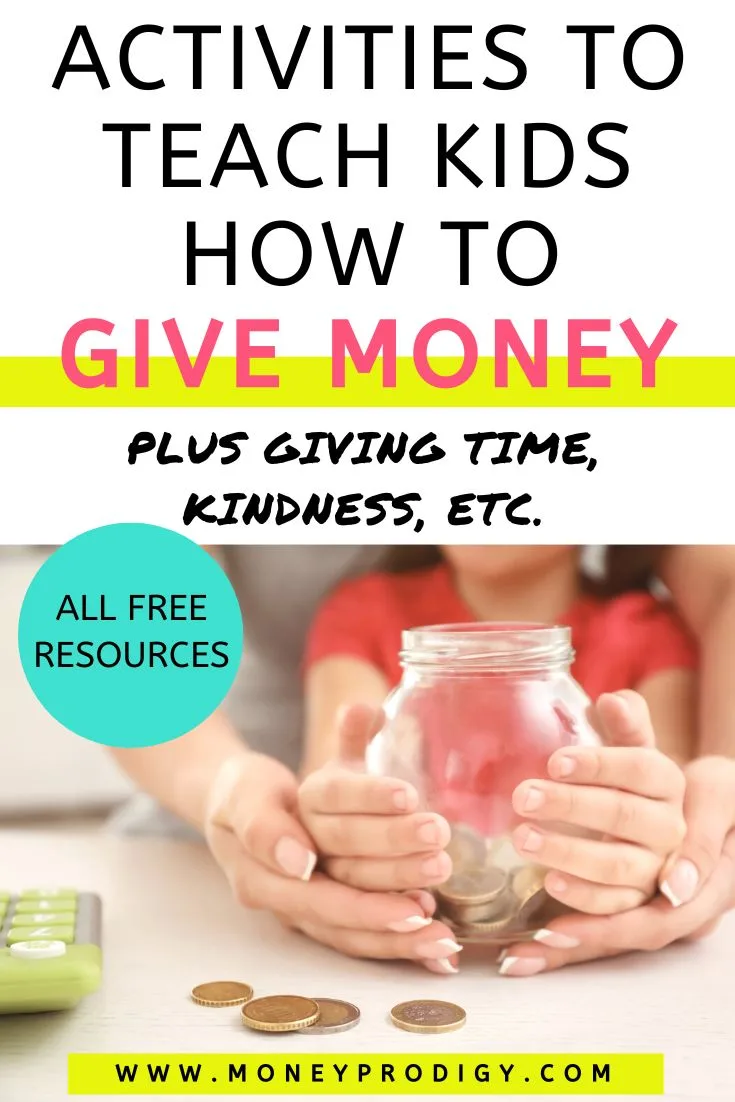 Well, let's face it: kids who learn how to manage their money at a young age will be in a position to give generously as an adult.
And while that's super-exciting, the thing is: knowing how to give money, and why to give money, and who to give money to, and all the other parts of giving money doesn't come naturally.
You don't wake up one morning, and think "I'm going to start tithing 10%", or "this is what "enough" looks like, so I know exactly what organization I'll start donating money to."
It's a learned behavior.
Teaching the ins and outs of giving to kids and teens is so important, that I've put together some activities to help you with this, below.
Activities to Teach Giving
Whether you want to teach giving money, giving time, or donating to kids and teens, there's an activity below that can help with that.
Psst: and don't forget the power of simply talking to your kids about your own donations and charitable acts. Turns out, that significantly raises the probability that kids will make their own donations and volunteer their own time, too!
Either at home, or as a classroom – you could sponsor a child. Each month, you pay a certain amount (ours is $38/month), and in return, the child and their family receive benefits like extra food, money for school supplies, clothes, etc.
Not only will this help your child with what to do with the "give" portion of their piggy bank, but you'll also get updates and information about the child to share with your family or class that can really open everyone's eyes to standards of living in other countries, poverty, and much more.
I sponsored a child as a teenager – I would give my parents the money each month needed for Belkis in South America, and they would write the check for me.
And my husband and I have been doing this together for the last 11 years. We've learned so much about Biniyam and his family life in Ethiopia in that time.
Sign up for a free account with Project Giving Kids, and check out their elementary, middle, and high school variations of this lesson on homeless families and children.
For example, in the middle school lesson plan, students are asked to write a description and draw a picture of what they think a homeless person looks like. There are then videos and discussions to help break down the natural misconceptions that many kids and adults have about people who are homeless.
Other lesson plans include:
Achieve Justice for All
Aid the Animals
Aid the Elderly
Comfort the Sick
Help Fight Hunger
Help Other Kids
Save the Planet
Support Our Troops
3. Have a "Spot-the-Opportunities-to-Help" Discussion
I'm an adult who didn't learn much about charity as a child, and I think this discussion could be truly eye-opening for your kids.
For me, spotting ways to be helpful has been a learning process over decades.
Why not choose an area of your town, an organization, or part of your community, and ask students to come up with ideas for opportunities to help.
This course for Grades 11 and 12 seeks to answer why philanthropy is important to individuals and to a healthy community and society, as well as what role students can play in their community.
There are 34 lessons, including units like:
Philanthropy Introduction
For Profit vs. Not for Profit
Andrew Carnegie and the Gospel of Wealth
Exploring Generosity
Accounting for Non-Profits
…and much more
There's also a mini-course for the educator on how to teach philanthropy.
Hint: you'll need to sign up for a free educator account to access everything.
This is a project-based learning, 6-unit lesson for Grades 6-8 on how kids can impact their community.
Students work in small groups to come up with a service-learning project, with a budget and a timeline. Projects are then presented at an end-of-unit Service Expo.
Everyone votes on the different projects, and the chosen one is the one that your class or school will actually implement.
Hint: you'll need to sign up for a free educator account to access everything.
6. Help them Create a Give Category, Then Choose a Charity
Start by having them create a category of "giving" or "tithing" in their budget. Talk about what percentage of money you'd like them to contribute there, and how much they would like to contribute.
Open up the conversation about what types of causes, organizations, etc. that they would like to help.
If they aren't really sure, then start the conversation by asking them what worries they have about the world and life – turning these worries into action by donating money to a cause can help them feel empowered, even.
I've collected over 10 good charities for kids to donate to that allow one-time donations, and where just $12 or less can make a tangible difference.
I think this is critical for kids, who probably have small funds to donate and who expect to see big results from them.
7. Share Stories of Unbelievable Results from Giving
An important element in teaching young people to give is to show them the impact of their giving actions.
Of course, that's not always possible – so many of the ripples felt by others from our actions are invisible to us.
That's why I think sharing with kids several chain-reaction examples of how giving to others changed lives is critical.
Here's a few incredible stories to share:
Here's a free set of bulletin board prompts you can set up with words of kindness you print out on post-it notes for kids to take on days that they need it.
Then the other part includes blank post-it notes where kids can write their own words of encouragement and kindness for others.
I've seen something like this in my local Starbucks, and it's so encouraging to see.
Hint: you'll need to register a free account with TPT to access this.
This is a free writing and reading unit for 3rd-6th graders with the goal of showing students "how giving and generosity enhances our lives and the lives of those around us".
I love how each student will be asked to complete one service act for each of the three weeks in the unit.
Hint: you'll need to register a free account with TPT to access this.
Students are tasked with choosing a project to do that will benefit the community – anchored by the idea that we all need to be good citizens in a Democratic Republic.
The project must be approved by the teacher, and signed off by a parent. Then, students need to write about their experience.
Hint: want to challenge your students to make a difference in the lives of others…but from the comfort of their home? Here's a list of good volunteer opportunities from home.
10. Hold a Fundraiser for Someone or an Organization
Sometimes kids see something painful in the world – an illness someone their age is going through, hearing of kids who aren't going to receive gifts on Christmas, finding out there are people in their neighborhood who are homeless – and they are so taken that they just need to divert all their energy into something positive to help.
A great way to rally around someone or an organization, and to teach kids about giving is to allow them to plan and do a fundraiser where someone else benefits.
Here are 17 killer teen fundraiser ideas, by the way.
Do you want to show your kids and students the power of daily giving (and the opportunities that are out there to do it)?
Join the 365Day Challenge free as a classroom, family, individual, etc., download the materials, and log + track daily giving
12. Go through a Kindness Project
Head on over to this database, and search "Kindness" for a free Grade-Level-2 kindness project.
Kids will set a kindness goal, why they chose it, and how they think it might impact others. Then, students will create a kindness paper quilt square, that will be put together into a large quilt as a classroom.
I love how this activity takes your students through finding room in someone's budget for giving. It teaches kids about creating giving rules for themselves that they can then use in their own budgets at home.
The following two tabs change content below.
Amanda L. Grossman is a writer and Certified Financial Education Instructor, a 2017 Plutus Foundation Grant Recipient, and founder of Money Prodigy. Her money work has been featured on Experian, GoBankingRates, PT Money, CA.gov, Rockstar Finance, the Houston Chronicle, and Colonial Life. Amanda is the founder and CEO of Frugal Confessions, LLC.
Read more here
.
Latest posts by Amanda L. Grossman (see all)