Money worksheets for kindergarten students to learn how to identify coins and bills, count small sums, and compare money values.
How do you teach kindergarten money?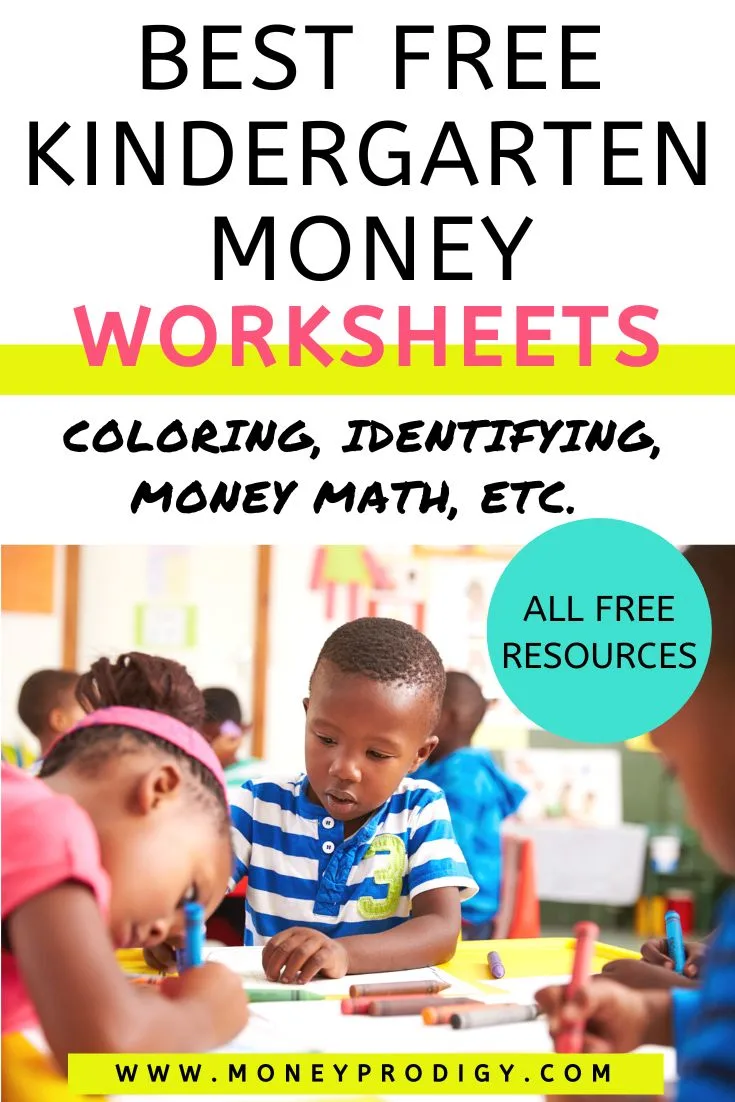 Money worksheets for kindergarten can really help teach 5–6-year-olds about money (especially since having actual money in classroom settings can be inconvenient or downright impossible).
Things you can teach or reinforce through money worksheets:
Money identification (coins and bills)
Comparing money amounts to see which is larger and smaller
Difference between things you need and things you want
Understanding that things have a cost, and how to say the cost out loud
You need to make choices about how to spend money
Counting money
Money Identification Worksheets for Kindergarten
One of the first skills kids this age need to learn is to actually be able to identify coins and bills.
That's where these kindergarten money identification worksheets come in. And I'm going to start with a set of them that you may have overlooked (that I think also introduces some fun into this).
Hint: I've got a set of these big, magnetic bills and coins that I use with my kindergartener-now-first-grader. They work great!
Coin Production Worksheets for Kindergarten
Getting kids fascinated with a subject is one of the surefire ways to help them learn it. And learning about making coins and then getting to make their own?
Well, kids this young really think that's cool.
You can order this free Carnival Thrills and Dollar Bills book from the U.S. Currency Education Program to read to your group, and then use this Make Your Own Coin Lesson Plan + Worksheet.
Coin Identification Worksheets for Kindergarten
Coin identification worksheets can help students with skills like identifying coins, learning the values of coins, and comparing one coin value to another.
The U.S. Mint has some great coin coloring pages using the real-life look of each coin for identification purposes. I love how there are two worksheets per coin – for the front, and back – and that the coin face takes up the entire page.
Hint: here's my article on free coin money coloring worksheets for kindergarten students.
You'll also find a worksheet where students take real coins (or play ones that look real – here's my article on the best free play printable money – scroll down until you get to the section on printable money that looks real) and line them up according to value. There's an introduction to coins lesson plan with this.
Here's a coin rubbing worksheet that's also a fun activity for them to do, a money mini-book they can make (you have to scroll all the way down to get the link), plus a free coin sorting mat you could pair with printable coins.
And a find the coins worksheet (just for good measure!).
Bonus: not able to print out lots of worksheets? You can request multiple free coin coloring activity books here.
Bill Identification Worksheets for Kindergarten
Here are the best, free bill money coloring worksheets for kindergarten students.
A few I'll highlight here:
Needs vs. Wants Money Worksheets for Kindergarten
Check out this Betty Bunny Wants Everything lesson plan and worksheets for PreK-Kindergarten.
Money worksheets for kindergarten include:
Make a Choice shopping worksheet
Wants worksheet
Set of toy worksheets to use as a visual aid
Psst: check out more needs vs. wants worksheets here.
The FDIC has a Money Smarts packet of worksheets for elementary students, which includes a needs vs. wants worksheet for kindergarten students. It also comes with a teacher guide.
Psst: here are free online financial games for elementary students.
Saving Money Lesson Plans for Kindergarten
I love getting the conversation around saving money on as early as possible – kindergarten seems like a great time for it!
At least, I know my kindergartener was super interested in money at this age.
The St. Louis Fed's Just Saving My Money Lesson Plan helps teach students about income, saving money, and saving goals. You'll read the book Just Saving My Money by Mercer Mayer, and then go through a series of activities, such as having students draw a picture of a savings goal and then a picture of one way they can earn money to save for it.
They also have a lesson plan around the book You Can't Buy a Dinosaur with a Dime. I particularly like the worksheet that comes with it, where students are asked to put a "+" sign next to the illustration of someone saving money, and a "-" sign next to the illustration of someone spending their money.
Free Printable Money Math Worksheets for Kindergarten
Money math in kindergarten is, of course, very simple. Your students can work on skills like:
Compare values to one another
Add simple money sums up together
Identify smaller money amounts inside of bigger money amounts (such as 4 quarters in a $1.00 bill)
Etc.
Here's a free "kindergarten worksheet on money" that includes questions like asking your students what the price of something is, what type of coin they're looking at, and who has more money in a group of kids on a page. Answers are provided.
The U.S. Mint's Money Patterns lesson plan and worksheets could make a great homework assignment (or you can bring in your change jar and let the students use it for the activity).
They also have the Battle of the Coins lesson plan and worksheets, where students compare and contrast coins to one another. What I love about this is students really get to compare coins both physically and by value.
And here's their Pennies, and Nickels, and Dimes, Oh My! Lesson plan and worksheets. Students are asked how many of a certain coin are needed to make another coin's value (such as to color in how many pennies are needed to make the value of a nickel), and more.
A few more options:
Hint: not seeing what you want? You can use this free counting money worksheet generator to create what you need.
You might also want to pair these money worksheets for kindergarten with one of these best count money apps.
The following two tabs change content below.
Amanda L. Grossman is a writer and Certified Financial Education Instructor, a 2017 Plutus Foundation Grant Recipient, and founder of Money Prodigy. Her money work has been featured on Experian, GoBankingRates, PT Money, CA.gov, Rockstar Finance, the Houston Chronicle, and Colonial Life. Amanda is the founder and CEO of Frugal Confessions, LLC.
Read more here
.
Latest posts by Amanda L. Grossman (see all)