When choosing charities for kids to donate to, let your child pick one where a small contribution – $12 or less – makes a tangible difference.
You're trying to raise a giving, charitable child, right? But how are you supposed to get them motivated and really teach kids kindness when their small amount of "give" dollars and change barely makes a ding in the cause they're trying to fund?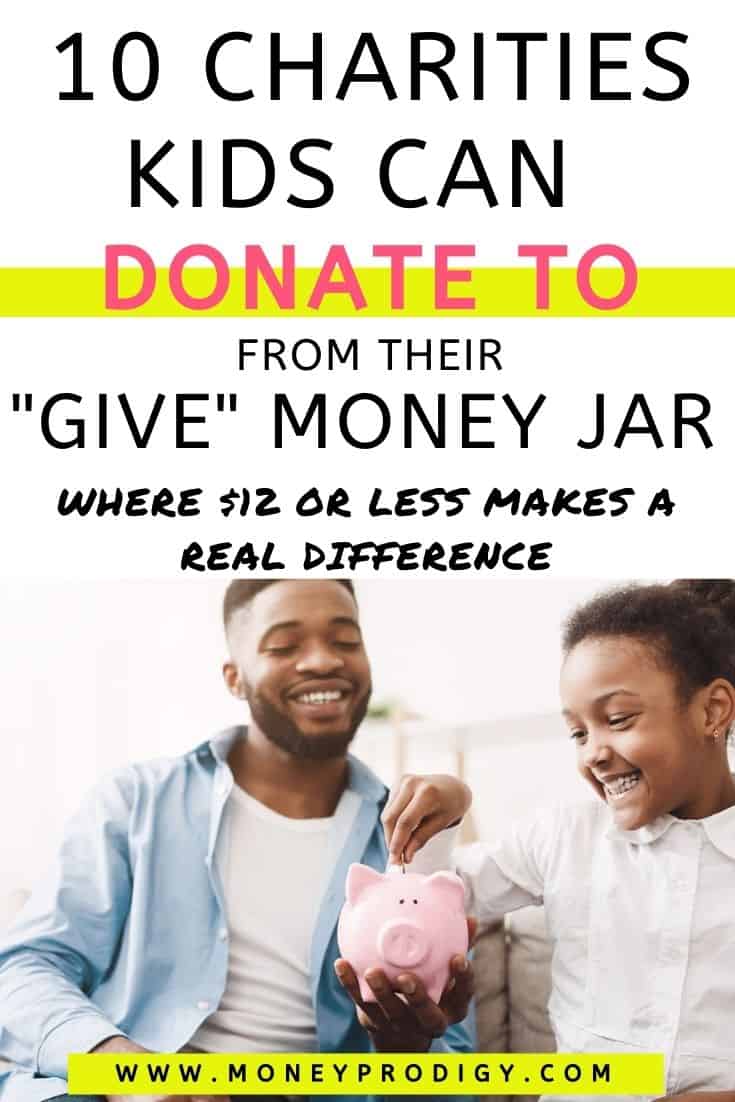 Let me introduce you to money acts of kindness for kids where small amounts of money goes a long way
We need kids to feel really good + resourceful with being able to help out the world now so that they habit stays with them through to when their paycheck allows them to ACTUALLY make huge splashes in this world.
So, I've got a list of 10 charities where less than $12 charitable donation really means something tangible your children can sink their teeth into.
I've also included each charity's rating on CharityNavigator.org, where possible (you can also check the BBB's — Better Business Bureau's — rating for charities).
Note: these are not recurring donations, they're one-time donations, which is what your child is much more likely to be able to afford with their allowance and other earnings.
How Do You Explain Donation to a Child?
So, you've decided that teaching your child to donate part of their money is high up on your family's money values to pass down.
But how, exactly, are you supposed to explain donations to a child?
I think a lot of that depends on the age of your child. Read this article for some interesting talking points about how to approach the topic.
Psst: here are activities to teach giving to kids.
How Can I Teach My Child to Give?
Many children seem to be born with a gene that makes them want to give things to others. I can think of many examples of this I've personally witnessed, like the wildflower a 4-year old boy picked and gave my 3-year old son, or my attempts to feed all the stray cats that came to our farm as a child.
Whether or not your own child naturally wants to give to others or not does not matter (nor is it a judgment on your own parenting). What does matter is that you can help this cause along.
Here are a few ways to help teach your child to give:
Purchase a Divided Piggy Bank for Kids: If you purchase a piggy bank for your kids that has a specific slot for charity/giving/tithing or whatever you'd like to call it, then you've set up the expectation for them to donate part of their cash.
Talk to Them About Your First Donation: Go back into the recesses of your mind, and remember the first time you donated some of your money to someone or something. Talk to your child about the hesitations you had, how you picked out the organization/person, and how it made you feel afterwards.
Model Cheerful Giving to Them: Austin Kleon sums this up rather nicely, "You can't tell kids anything. Kids want to be like adults. They want to do what the adults are doing. You have to let them see adults behaving like the whole, human beings you'd like them to be." If you want your child to give, cheerfully, then they need to see you giving cheerfully. This could be smiling while you give money into the collection plate at church, having them sit next to you as you donate to a charity online, dropping $1.00 into the Salvation Army bucket at Christmas, volunteer as a family, etc. Get out there and be the person you want your child to be (just make sure they see it).
Highlight Other Kids who Give to Charity: Sometimes, you can model behaviors to your kids day in and day out but the light bulb in their head doesn't really go off until they see their OWN peers doing what it is you'd love for them to do.
List of Charities for Kids to Donate to – Charities Kids Can Help
What $0.80 Gives Others: Feeds one child for a day. So, for $10.40? You could feed a meal to 13 children!
CharityNavigator.org Score: 84.06/100
The United Nation's World Food Programme created this app (yes, you need to download an app to donate) that allows people to donate small but meaningful amounts of money with the tap of their finger, starting at $0.50.
Seeing their Money in Action: Your child does get to choose which country they'd like their donation to go to, and a child will be fed in that country.
What $3.50 + Item Costs Gives Others: A tote you fill with a (new) stuffed animal, blanket, and children's book. You also can just purchase one of those items and donate them to be included in a tote.
CharityNavigator.org Score: Not Rated
**UPDATE** Minimum donation amount is now $25.00.
Your tote is donated to a homeless child to provide them with comfort.
Note: you need to either mail the tote or drop-off at one of their locations.
What around $12 Gives Others: Each of the animal sanctuaries around the U.S. has a shopping wish list with needs and wants that you can purchase and ship directly to them.
CharityNavigator.org Score: 87/100
This charity focuses on eliminating homeless pets. Operating the nation's largest sanctuary for homeless pets, they offer pet adoption, spay/neuter, and educational programs.
What $2 Gives Others: A net to protect children and adults from malaria-carrying mosquitoes.
CharityNavigator.org Score: Not Rated
Half a million people (70% of which are children under 5) die each year from malaria.
Seeing their Money in Action: This site tracks net distributions by videos and images (not sure that your child's particular net is tracked).
5.

AppleTree Institute for Education
What $10 Gives Others: A book for a classroom library serving kids in low-economic neighborhoods in Washington D.C.
CharityNavigator.org Score: Not Rated
This charity seeks to close the education gap for kids in low-economic neighborhoods by the time they reach the age of kindergarten.
What $10 Gives Others: You can give a child one set of wooden teaching blocks.
CharityNavigator.org Score: Not Rated (here is someone's personal review with the program)
This charity is focused on child education in Granada, Nicaragua.
Seeing their Money in Action: Your child will receive a photo of what their money has purchased + a thank you.
What $10 Gives Others: There are all sorts of charities on here where you can donate $10 to and where they'll tell you exactly what it goes for, such as providing 38 people with "food-based micronutrient fortification for one year," through Project Healthy Children, and provide 4 Ugandans with vital health products and services through Living Goods, and provide safe water to 11 people for one year through Evidence Action.
CharityNavigator.org Score: Not Rated
Seeing their Money in Action: Help your child play around with their calculator to see exactly how their money will impact people.
What $12 Gives Others: Choose from either a pack of seeds for a farmer who lost his/her harvest due to drought, or a pile of manure (yes, MANURE!) to increase crop yields.
CharityNavigator.org Score: 82.27/100
This is a collection of gifts to make an impact to another person, and you can donate it in another person's name.
Seeing their Money in Action: The fun thing with this is that your child can make a micro-donation that buys something tangible for someone, and do it in honor of someone else who will then receive a card detailing the donation made in their name.
These acts of kindness for kids to donate to will help them see that their small amounts of money can really make an impact.
The following two tabs change content below.
Amanda L. Grossman is a writer and Certified Financial Education Instructor, a 2017 Plutus Foundation Grant Recipient, and founder of Money Prodigy. Her money work has been featured on Experian, GoBankingRates, PT Money, CA.gov, Rockstar Finance, the Houston Chronicle, and Colonial Life. Amanda is the founder and CEO of Frugal Confessions, LLC.
Read more here
.
Latest posts by Amanda L. Grossman (see all)