Take your car rides and long road trips to the next level – without using a screen – with these car activities for 4-year-olds.
There are two things you should know about my family: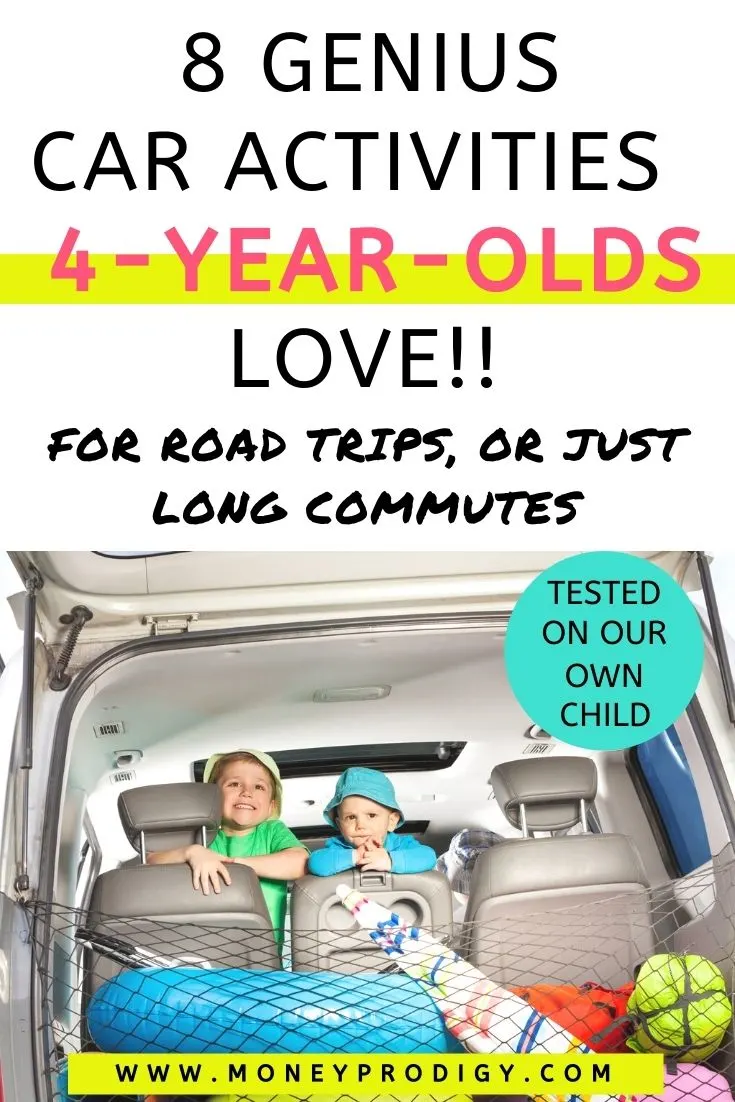 We like to take long road trips.
We travel with a 4-year-old (just turned 5), and we don't allow him screen time in the car.
Which is why I'm writing this article on screen-free car activities for 4-year-olds.
In the span of my son's 4th year, we drove:
From Houston to El paso (10.5 hours*)
From El Paso to Dallas (9 hours*)
From El Paso to Roswell, New Mexico (3.5 hours*)
From El Paso to Mimbres, New Mexico (2.5 hours*)
From El Paso to Houston (10.5 hours*)
*hours are each way. Not kidding.
And we did it all without screens, and without whining, yelling, or crying (well, not more than a few minutes here or there – I mean, let's be honest, all 4-year-olds do those things from time-to-time!).
Yep – you could say I'm a bit of expert on this subject now.
So, let's dig in!
Screen-Free Car Activities for 4-Year-Olds
Ready to get some cool, screen-free activities your 4-year-old will be begging for (on your next trip)?
1. Road Trip Egg Carton Countdown
I found an easy-to-package, and really fun way to help my little guy anticipate parts of the car ride, and see that we're making good progress.
And honestly?
If I got to list just one thing that I would do over and over again on a road trip with a 4-year-old? It would be this: the road trip egg carton countdown.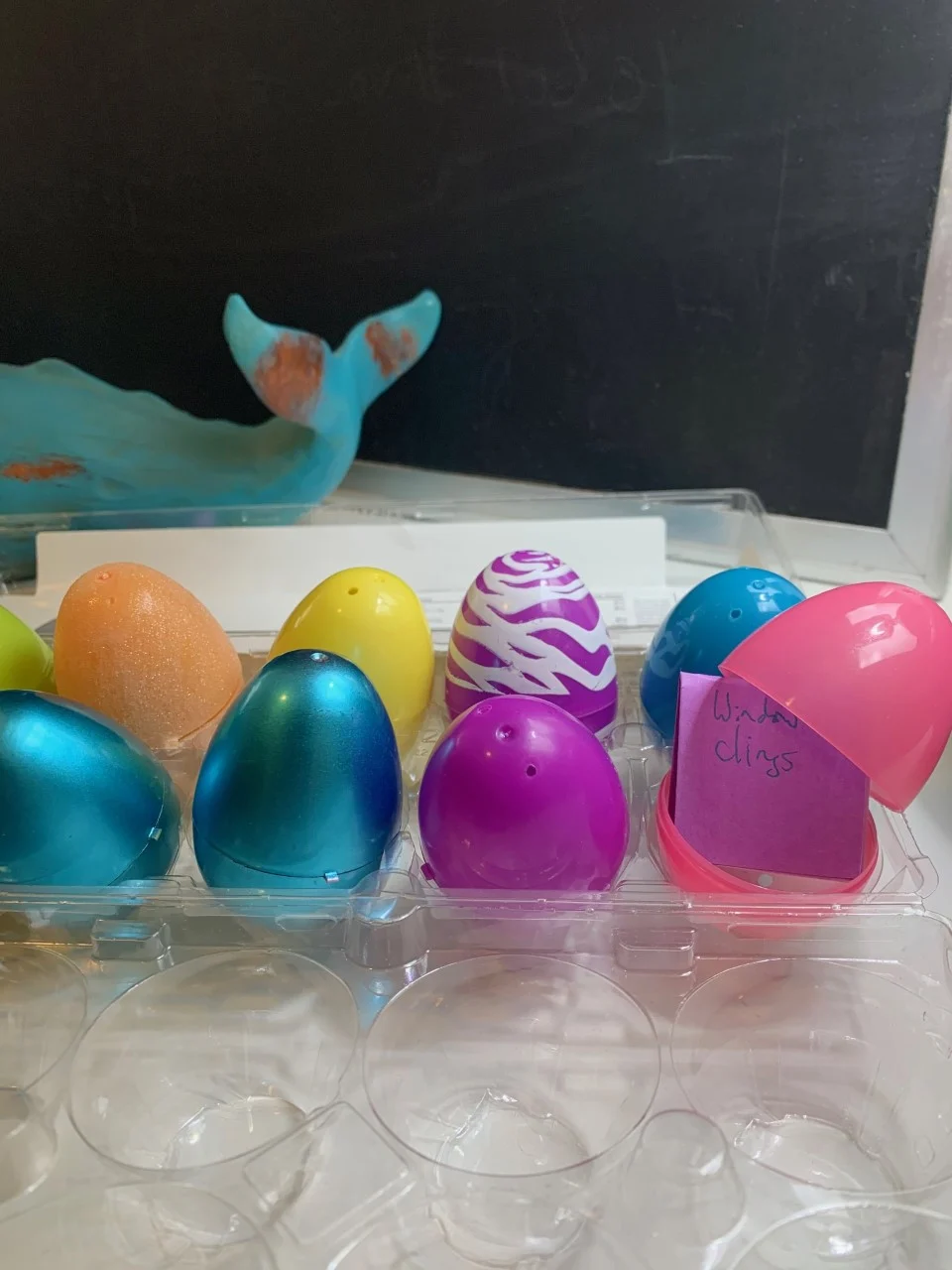 What you do is, every time one-hour passes, your child gets to pick an Easter egg to open up. Inside of the Easter egg? Is a little note that has an activity on it, OR, a little toy, OR, a little snack for them to have.
Trust me when I say that this might just be the highlight of your trip!
Hint: if your 4-year-old is anything like ours, then they can't tell time yet. So, they might just drive you batty with asking over and over and over again when the next hour is. Get around this by setting your phone alarm for each hour, and then telling them that if they ask you about the next hour, then they won't get to open a new egg.
Here's how to set this up:
Step #1: Gather all your materials
I dug out 12 Easter eggs from our decorations in the garage, and saved a few egg cartons in the months leading up to our trip.
Here's the complete list of what you'll need:
12 Easter eggs
(Clean) egg carton
Bag where you can keep all of the supplies
Little slips of paper
Small bag within the bigger bag, where you can keep the small stuff (for easy grabbing while in the car)
All the activity, treats, and toys for the eggs (we'll get to this in a minute)
Step #2: Come up with 12 activities, toys, and treats for your little one
You don't have to come up with elaborate ideas. Really, it can be a collection of a few things from around the house (perhaps that your child has forgotten about), a treat or two, some activities, and a few things from the Target dollar section or Dollar store.
Here is what I filled our eggs up with (the actual toy/treat if it's small enough, OR, a small piece of paper with the activity/thing written on it):
1 Cookie Decorating Kit (I put icing in the cooler, packed two different sprinkles/toppings, and 1 sugar cookie – I brought a plastic basket for him to do these types of activities in)
Star Wars sticker landscapes (Star Wars stickers and construction paper, so that he could create his own scenes)
Piece of chocolate candy
Dinosaur book from the library
Mad Libs (yes, this can work for little ones! You simply ask them to tell you a word, instead of a verb or a noun or an adjective – they'll likely lose it in giggles when you read the result at the end)
Another piece of chocolate (actually, one of those Kinder Joy's at the checkout that comes with a little toy inside)
Step #3: Put Everything into the Bag
Prep ahead of time by going one-by-one through each activity and make sure you have all the materials needed. Then, put everything into your bag and keep it in an accessible spot in your car (for us, that was behind the driver seat).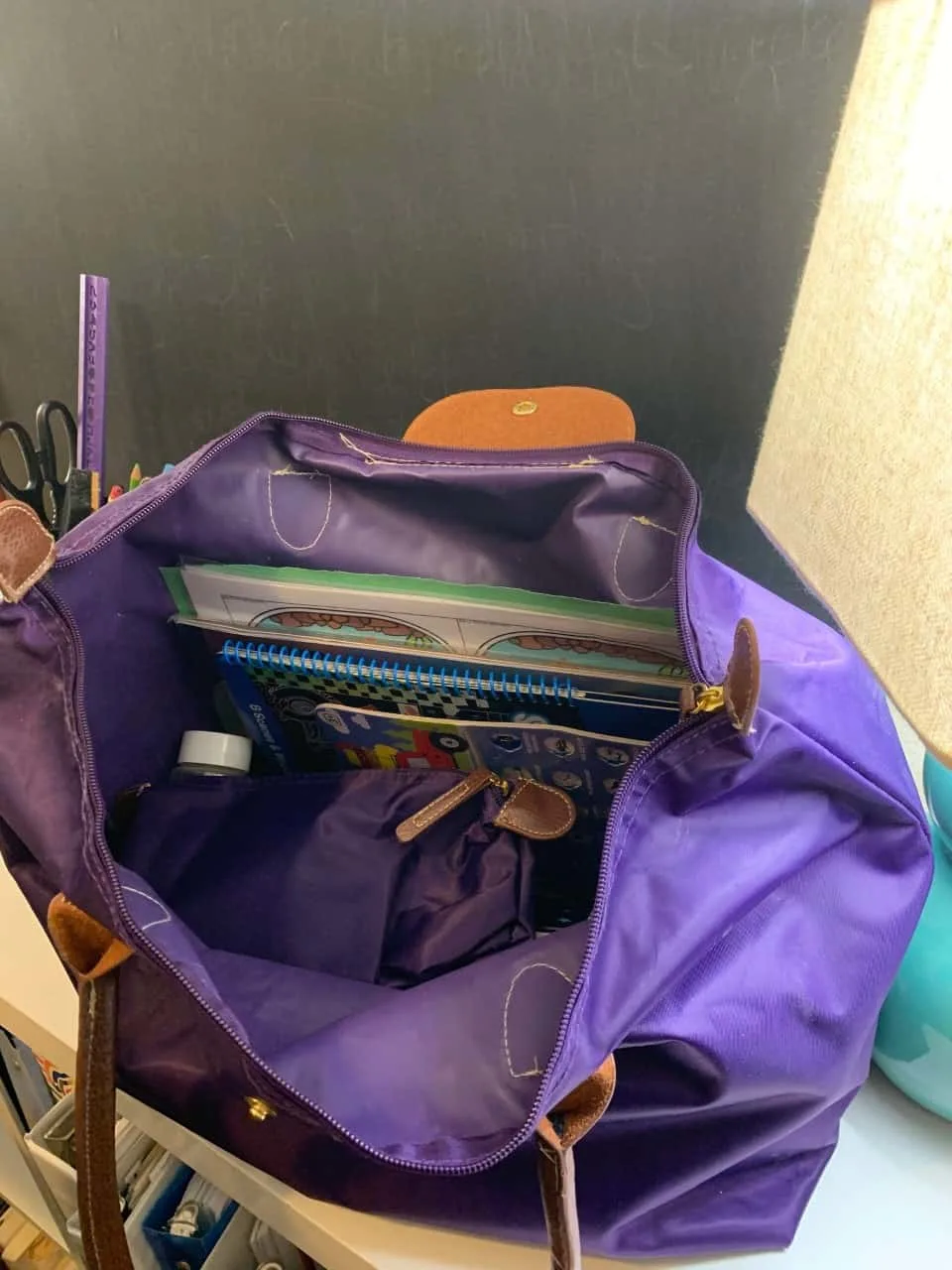 2. Window Paint Art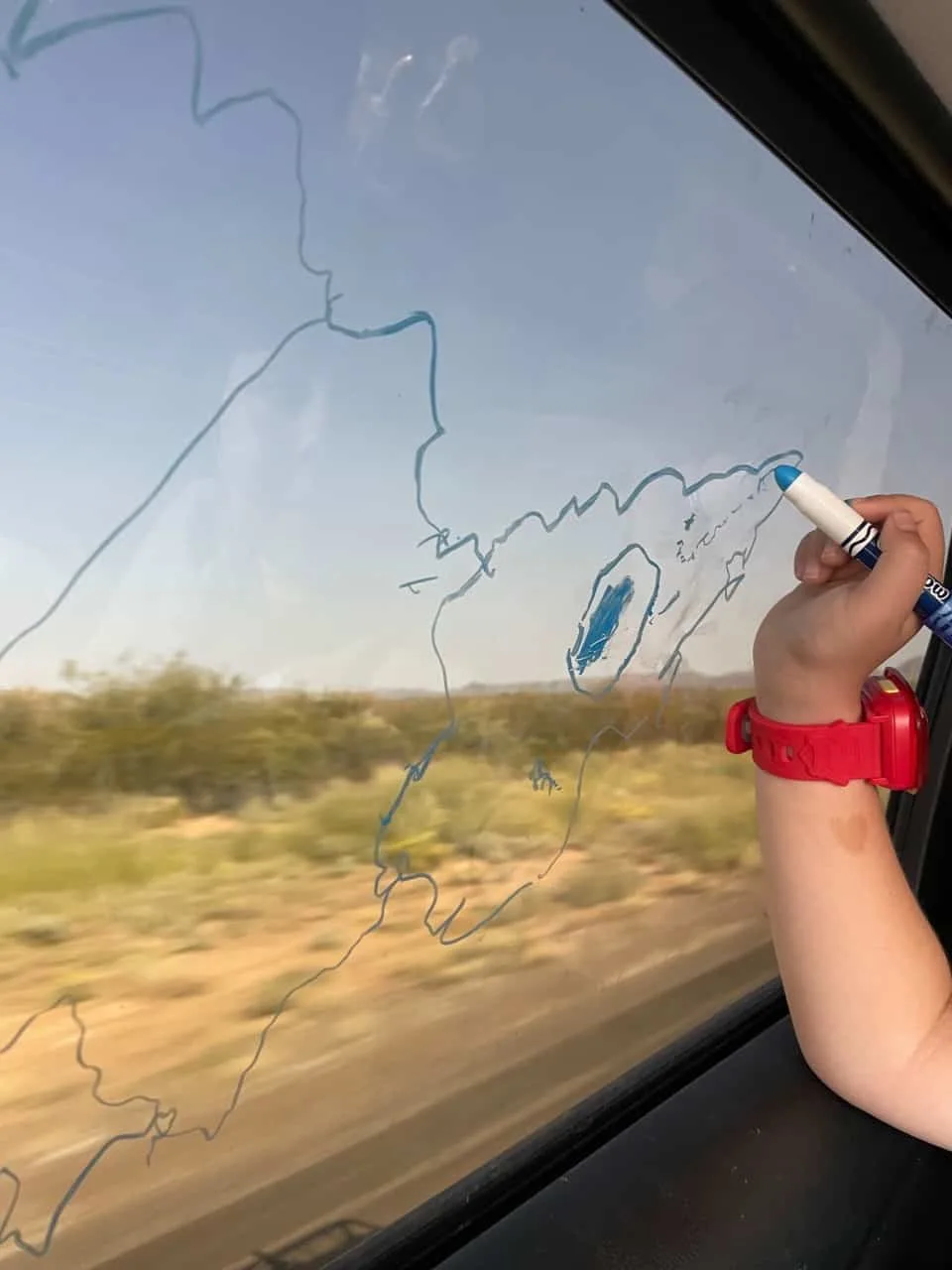 Did you know there is non-toxic window paint that is easy to clean off?
I was so pleasantly surprised when I finally figured this out, and bought a pack.
My little one was very excited to paint his own map on the window. At one of our pit stops? I simply dampened a paper towel, and wiped it all away.
3. A Road Map Book
There is no end to my 4-year-old's fascination with my Roadmap book.
I never thought to give it to him to play with; he simply found it in my passenger seat pocket one day, and he grabs it about once a week now to pore over.
He loves to give me directions, find new roads, see where the water is, etc. Such great, imagination play!
I have this one (from, like, 2001 – don't tell anyone).
4. Magnetic Toys
There's nothing worse than your child losing something they're laser-focused on while on a long road trip.
One of the ways I combat this is by using a plastic bin on our road trips.
And another way?
Is to give him some magnetic toys.
Here are a few:
Hint: you can also give your 4-year-old a magnetic wand, so that if they do lose or drop something, they can work at attracting it back to them!
5. Treasure Island Kid Story Podcast
My husband and I were SO pleasantly surprised when we put our first kid story podcast on during the 10.5-hour car ride to Houston.
Treasure Island was enjoyable not only for our 4-year-old, but also for us!
Other kid story podcasts to try out:
Psst: you'll want to check out my other road trip articles, including road trip hacks with kids and 19 things to do on long car rides for adults (you know, for when the kids are super occupied with the activities above!).
6. Take-Along Tic-Tac-Toe
I taught our son how to play Tic-Tac-Toe on a road trip!
Here's a fun way to prep a take-along game from something you probably have at home: Legos.
7. No-Spill Bubbles
Did you know you can get spill-free bubbles? I was so excited to find this out since our son looooovvvves blowing bubbles.
I am ordering a set for our next one!
8. Squigz Suction Cup Toys
Check out these cool suction-cup toys that your 4-year-old can use on the window next to their car seat!
Use these car activities for 4-year-olds to keep your preschooler happy AND off the screens. That's a big win in my book!
The following two tabs change content below.
Amanda L. Grossman is a writer and Certified Financial Education Instructor, a 2017 Plutus Foundation Grant Recipient, and founder of Money Prodigy. Her money work has been featured on Experian, GoBankingRates, PT Money, CA.gov, Rockstar Finance, the Houston Chronicle, and Colonial Life. Amanda is the founder and CEO of Frugal Confessions, LLC.
Read more here
.
Latest posts by Amanda L. Grossman (see all)