A quick breakdown of Greenlight vs. gohenry, so that you can choose the best prepaid debit card for your kids and teens.
Greenlight vs. gohenry…which prepaid debit card is best for teens?
What about for kids?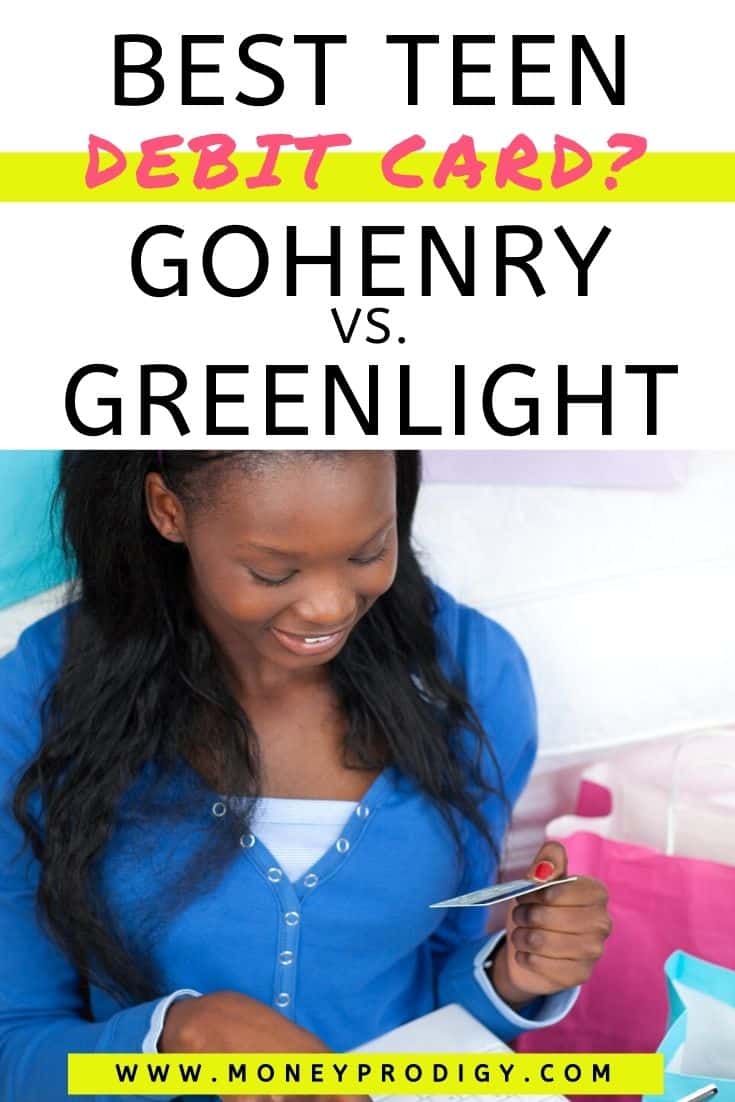 I remember the first time my parents gave me a debit card. I was in my teens, and had my driver's license.
At first, they let me borrow their card as an authorized user so that I could buy things from the grocery store and run other small errands for the family. Then, they let me keep it in my wallet, in case I needed it while I was out.
It felt like such trust and responsibility they were giving me!
Especially since back then, there were no teen debit cards that were attached to an app with both spending controls for parents, and money management options for teens.
Why a Prepaid Debit Card for Teenagers?
You may be looking for the best debit card for kids for your own reasons, such as:
Safety Reasons: Giving a teen the ability to pay at the pump for gas instead of inside the convenience store.
Travel Reasons: So that your teen has backup spending options when they're away on a trip.
Convenience Reasons: To make your allowance or chore system more convenient, saving you from having to hit up the ATM.
Educational Reasons: To give your teen an education in plastic while they're still young, since they'll be dealing with debit and credit cards in their adult lives.
Spending Controls: To give you, the parent, spending controls that you otherwise wouldn't have if your child was spending cash.
A prepaid debit card can function like a debit card in most ways, but doesn't give your child endless access to your checking account or the ability to rack up overdraft fees.
That's why it's a great option for kids and teens who are still learning about money.
So, which is the best prepaid debit card for your teenager?
I'm going to highlight the differences and similarities between the Greenlight vs. gohenry prepaid debit cards and apps, so that you can clearly choose the best debit card for kids and teens in your family.
Greenlight Vs. gohenry Prepaid Debit Cards
Both Greenlight and gohenry are prepaid debit cards with an app for management.
The main difference between the two is that Greenlight is more robust with money management and prepaid debit card features (such as digital wallet pay, investing capabilities, and cash back on purchases). Gohenry offers much more in-app financial literacy education (Money Missions).
Let's go over the similarities between the two before we dive into the differences.
What You Get with Either gohenry or Greenlight:
Both are used through a mobile app with a child and parent dashboard
Both alert parents of spending activity in real time
Both offer a free trial (Greenlight, gohenry)
Both have varying degrees of parental spending controls
Both allow you settings to set-and-forget allowances (if you'd like)
Both allow you to pay per tasks (if you'd like)
Both offer your kids the chance to set and track progress towards savings goals
Here's a table to highlight the main differences between gohenry and Greenlight: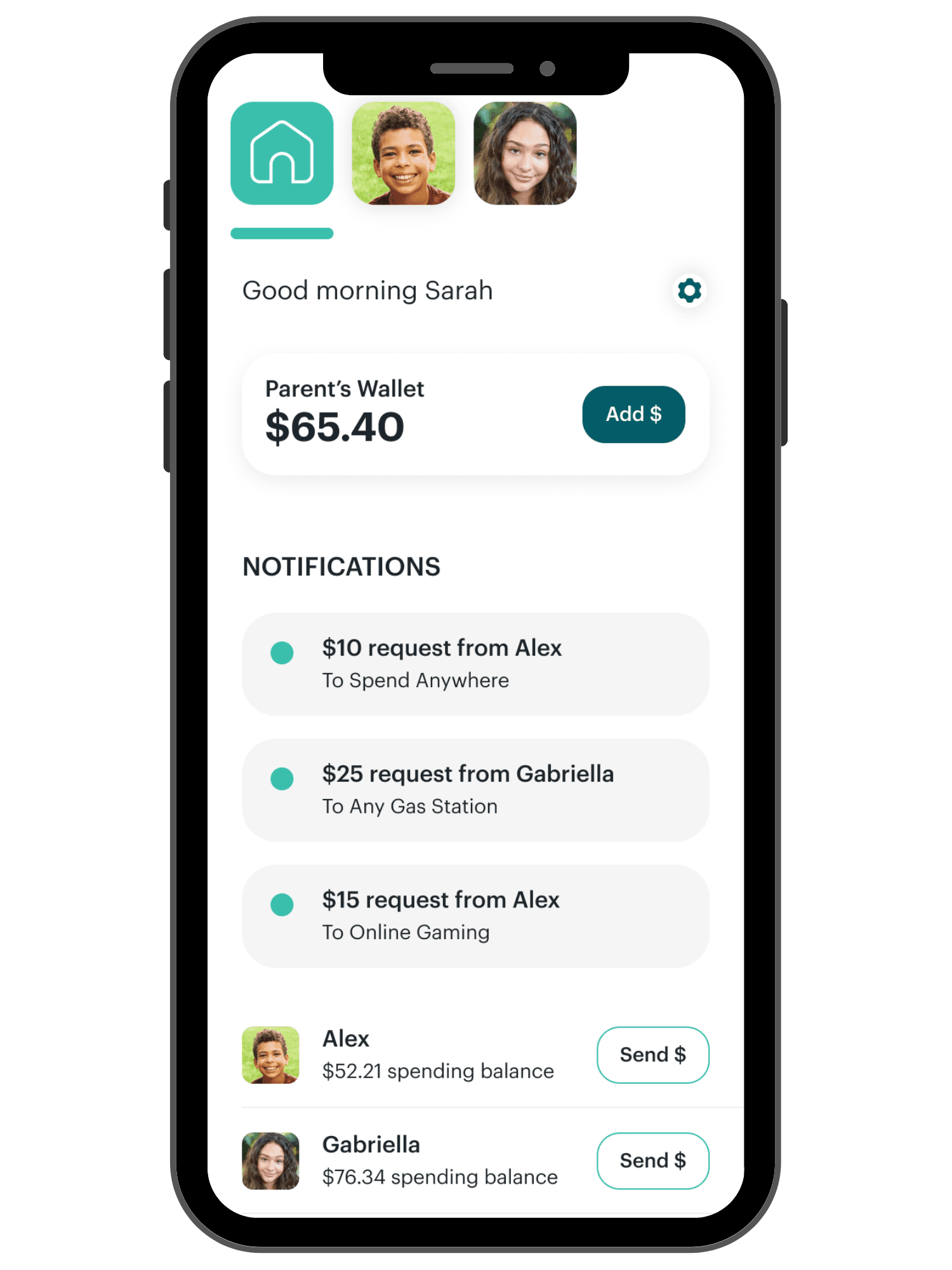 Age Range: 8-18 years (U.S. only)
Cost: $4.99-$9.98/month (up to 5 kids)
Parent Spending Controls: You can lock and unlock all spending, set up store-level spending limits, and set up category spending limits.
Saving Incentives: Earn 1% savings reward with linked bank account, and 2% with the Greenlight Max plan, save the change roundup capability, and/or incentivize your child to save more by paying them an interest rate on money saved.
Investing Capabilities: Kids can use the Greenlight + Invest app to research stocks, invest an amount of their choice and track progress over time (parents must approve buys)
Charitable Giving: Parent-approved donations, starting at $10, using CharityNavigator.org
In-App Learning: Toggle "Learn Mode" on, and they'll be guided on how to interpret financial data when investing
Digital Wallet Access: Apple Pay, Google Pay, Samsung Pay (kids must meet minimum age requirements)
Gifting: Friends or family can send a Greenlight Gift money to a child's account
Cash Back on Purchases: Earn 1% cash back on purchases with the prepaid debit card (Greenlight Max plan only)
Teen Paycheck Direct Deposit: Teens can direct deposit their paychecks to their Greenlight account
Reload Sources: Parents can reload by direct deposit, debit card transfer, bank transfer, Apple Pay and Google Pay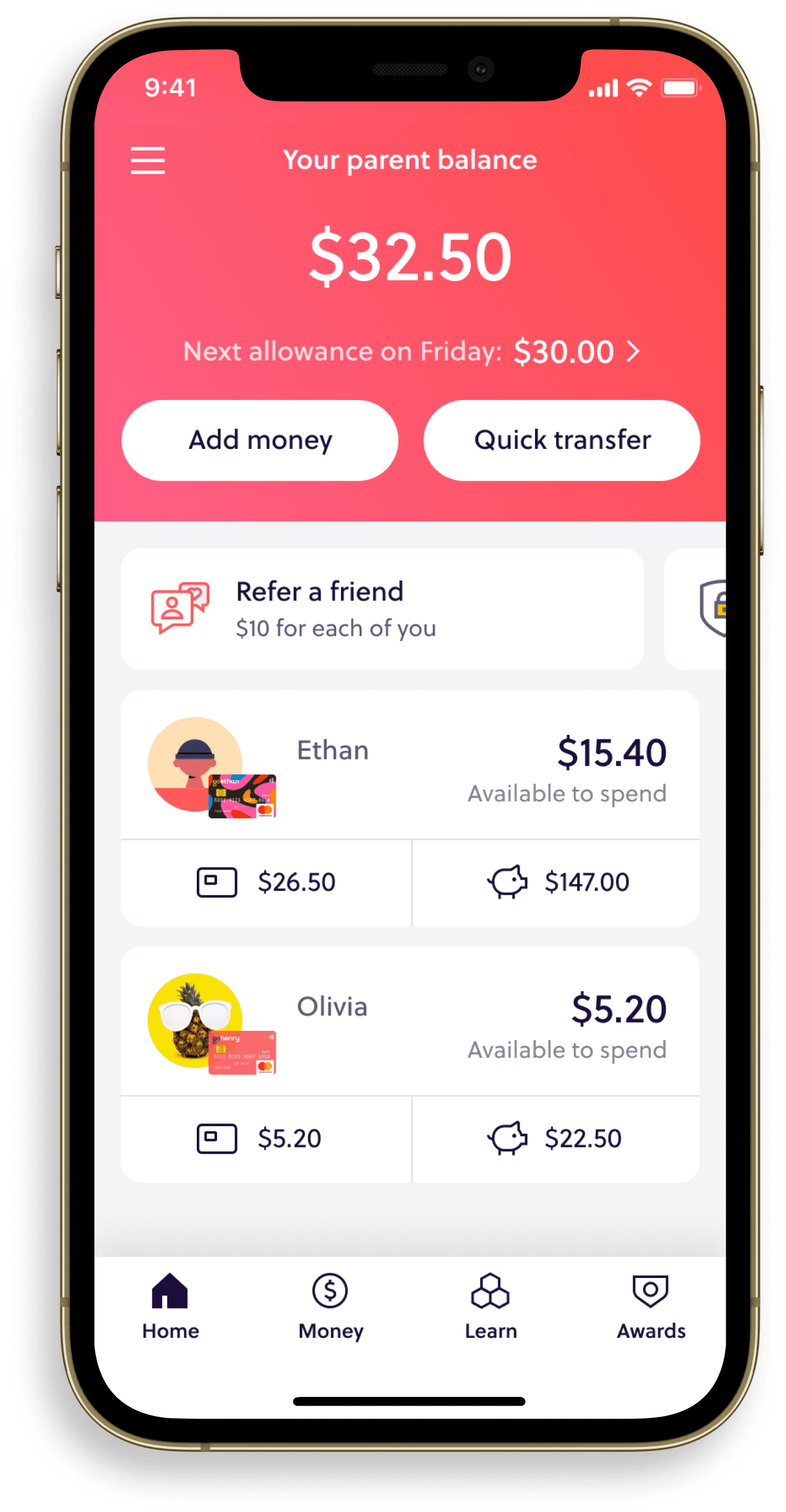 Age Range: 6-18 years (available in U.S. and U.K.)
Cost: $4.99 or $9.98/month (up to 4 kids)
Parent Spending Controls: You can lock and unlock spending, or cut off spending for each of these: online, in-store, ATMs. You can set up weekly spending limits, single spend limits, and ATM spending limits. Contactless purchases are limited to $50 regardless of any parental limits.
Saving Incentives: Parents can reward kids for saving regularly through the task feature (set up a task such as 'save $5 a month', and set the amount they'd like to reward as a one-off or weekly payment)
Investing Capabilities: Not available
Charitable Giving: Kids can donate directly to the Boys and Girls Clubs of America from their "give" category
In-App Learning: Money Missions are stories, quizzes, and videos your child can do to earn points/badges for learning K-12 Personal Finance Education National Standards
Digital Wallet Access: Not available
Gifting: Parents can invite relatives and friends to contribute to their child's earnings via giftlinks; kids can send a personal thank you note back
Cash Back on Purchases: Not available
Teen Paycheck Direct Deposit: Not available
Reload Sources: Debit card; does not accept prepaid debit cards, checks, or American Express cards
How to Choose the Best Prepaid Debit Card for Your Family
All prepaid debit cards:
Look like a debit or credit card, but that only has funds available to spend that someone physically loads onto it.
Allow someone to make an online purchase, but they have stricter spending controls.
Do not allow over withdrawal fees (though they do come with other fees).
But since these are TEEN prepaid debit cards, they come with tons more features than regular ol' adult ones. So, how are you supposed to pick the best one for your child?
There are some real differences between these two in terms of price and features that should help you decide which prepaid debit card and app is best for your family.
For example, if you want your teen to be able to direct deposit their paycheck straight to their prepaid debit card, then Greenlight is the way to go (it should be noted that this feature is coming out soon with gohenry). Greenlight also offers more specific spending controls, in case that's important to you.
But if you live in the UK? You'll definitely need gohenry because Greenlight is not offered there. Not only that, but their custom cards are half the price.
Note: In order to use the Greenlight card internationally, the Greenlight account needs to be associated with a US phone number and can only be funded through a US bank account.
In summary, both apps can work for your family, and your kids are bound to learn some good money lessons from either of these.
And if you still didn't find what you're looking for? Then be sure to check out my review of Greenlight vs. Famzoo, and Greenlight vs. BusyKid app.
The following two tabs change content below.
Amanda L. Grossman is a writer and Certified Financial Education Instructor, a 2017 Plutus Foundation Grant Recipient, and founder of Money Prodigy. Her money work has been featured on Experian, GoBankingRates, PT Money, CA.gov, Rockstar Finance, the Houston Chronicle, and Colonial Life. Amanda is the founder and CEO of Frugal Confessions, LLC.
Read more here
.
Latest posts by Amanda L. Grossman (see all)