An easy-to-read breakdown of Greenlight vs. FamZoo, so that you can choose the best prepaid debit card for your kids and teens.
There are lots of reasons why you might want your child or teen to have a debit card to use.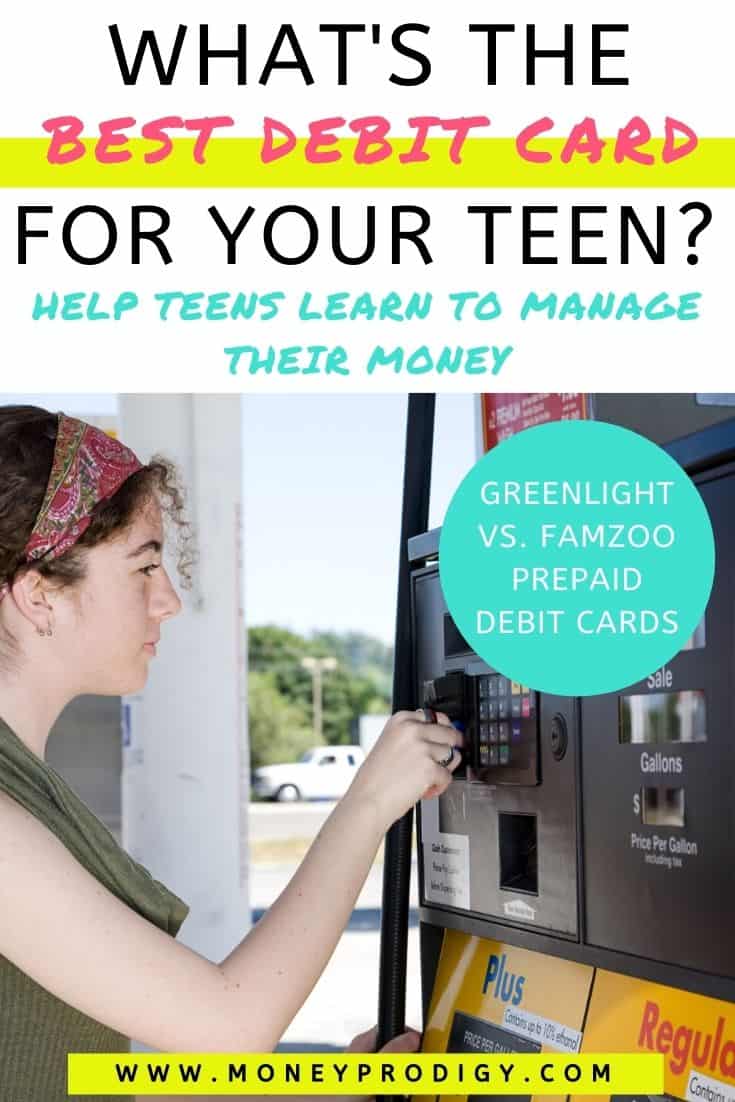 Things like:
Convenience Reasons: Instead of going to an ATM every time you owe your child their allowance or chore commissions, you can simply use a prepaid debit card to move money to them.
Educational Reasons: Let's face it – our world has turned into much more of a plastic one than a cash one. Your child can always choose to use cash (and I recommend they at least start with a cash system to understand their spending and money, in general); however, to give them no education at all using a plastic card is not recommended, either.
Spending Controls: With cash, your kids and teens can spend more freely. With a prepaid debit card, you're more in control of their spending (as well as can see what they've spent money on, after the fact).
Safety Reasons: For example, teen drivers can pay for their gas at the pump with a debit card, instead of going into a convenience store to pay with cash.
Travel Reasons: Maybe your child or teen is going on an overnight school trip.
Etc.
That's why I'm taking the time to highlight Greenlight vs. FamZoo prepaid debit cards and apps, so that you can clearly choose the best debit card for kids and teens in your family.
Best Debit Card for Kids – a Prepaid One
What is the best prepaid debit card for a teenager?
If you're looking for a debt card for your kids and teens, then a prepaid debit card is likely your best option.
That's because actual debit cards can incur overdraft fees, as well as can give your child access to whatever funds are in your checking account (depending on whose checking account the debit card is attached to).
A prepaid debit card looks like a debit or credit card, but must be pre-loaded with money to spend. They have some of the benefits of a debit card, such as allowing someone to make an online purchase, but they have stricter spending controls. You cannot over withdraw with one.
Even better? Is a prepaid debit card attached to an app that gives spending control to parents and money management options to kids.
Both Greenlight and FamZoo are prepaid debit cards with apps, and we'll go over the big differences, subtle differences, and likenesses between the two.
Greenlight Vs. FamZoo Prepaid Debit Cards
Both Greenlight and FamZoo are prepaid debit cards.
Here's what else is the same about them:
Both allow parents to lock and unlock the card
Both allow parents to incentivize their kids to save more money by paying an interest rate they choose
Both allow kids to divide up their money into digital envelopes for spending, saving, and charity
Both also allow kids to request money from their parents, with parents having the ability to approve or deny the request
Both work with Apple Pay and Google Pay (FamZoo also works with Samsung Pay)
Both alert parents of spending activity in real time
Both allow you settings to set-and-forget allowances (if you'd like)
Both allow kids to set savings goals and track progress towards them
Both offer a free trial (Greenlight, FamZoo)
Here's a quick table to help you see the differences between these two products:
Details
BusyKid
Greenlight
Suggested Age
5-17 years
8-18 years
Product
A money management app with a prepaid debit card (Visa)

Ability for kids to donate to more than 50 charities




Prepaid debit card (MasterCard) with a money management app – kids do not need to use the app in order to use the prepaid debit card

Greenlight + Invest comes with the prepaid debit card and educational app, plus an investing platform for kids to use

Mobile-only access
Price
$3.99 a month (or $38.99 annually, saving you $8.89), up to 5 kids/cards
$4.99 – $9.98/month
Replacement Card Fee
$7.99
First replacement card free; $3.50 after that
Functionality
– Comes preloaded with chores or activities and an allowance amount based upon your child's age (you can customize this)
– BusyPay™ is exclusive to BusyKid and allows
family & friends to add money to a kids account through QR code ($1 fee). Kids can even send money to siblings and other kids
– Auto-Allowance allows you to automatically pay an allowance (rather than pay for chores) every Friday or twice a month (your choice)
– Bonuses can be sent for any reason, and can either be sent straight to the child's card to spend, or to their account to be allocated into save/spend/give
– Spend Bucket allows both kids and parents to send each other money for reimbursements
– Kids can use Save the Change Roundup
– Kids can use the Greenlight + Invest app to research stocks, invest an amount of their choice and track progress over time (parents must approve buys)
– Card customization available
Anyone can gift your child money through Greenlight Gift
– Teens can direct deposit their paychecks to their Greenlight account


Parental Spending Controls & Oversight
– All money transaction must be approved by parents, who receive notifications for each money transaction
Category and store level limits and controls – parents can block transactions from specific retailers
Cash Back
None
1% cash back on prepaid debit card purchases (Greenlight Max plan)
Savings Reward
– Parents can send bonuses either straight to the child's card to spend, or to their account to be allocated into save/spend/give
Greenlight pays 1% for every user who links bank account, and 2% savings reward on Greenlight Max plan
Reload
– Parents can reload by checking account, debit card, credit card, Apple Pay, and Google Pay
Parents can reload by direct deposit, debit card transfer, bank transfer, Apple Pay and Google Pay
The biggest differences between Greenlight and FamZoo are that Greenlight connects directly to the parents' bank account, meaning you provide your checking sign-in information to the app, and they also allow parents to block spending at specific retailers before the spending happens. With FamZoo's app, parents push funds onto a FamZoo card, meaning the app never knows your main checking account info. Also, you can choose either an IOU or a Prepaid Card Account with FamZoo (with Greenlight, it's a prepaid card option only).
Greenlight Vs. FamZoo – Comparing Costs
Let's discuss the cost difference between these two apps.
How Much Does FamZoo Cost?
FamZoo costs $5.99/month.
There are also options to pay in advance, and if you pay up to 24 months in advance $59.99), then you pay just $2.50/month (an $83.77 savings).
Other fee information:
Additional Card Fee: You get 4 cards with the plan, and each additional card is $3.00.
Card Replacement Fee: You'll be happy to know that you get two card replacements completely free! Each next replacement costs an additional $3.00.
ATM Fee: FamZoo does not charge a fee to use an ATM. However, the ATM you use might charge you a fee.
Your subscription fee includes your whole family, and it's the same whether you choose the IOU Account, or the Prepaid Card Account.
How much is Greenlight a month?
Greenlight costs $4.99/month for up to a family of 5. You can also choose Greenlight + Invest for $7.98/month, or Greenlight Max for $9.98/month.
Other fee information:
Additional Card Fee: The first replacement is free, and then each additional one is $3.50.
Greenlight vs. FamZoo prepaid debit card…in the end, the winning card + app is the one that works best for you and your family. If you want the functionality of an award-winning family finance app but without a prepaid debit card, then a FamZoo IOU Account is your best bet. Are you looking for your kids to start investing? Then you might want a Greenlight + Invest account. The choice is yours – it's just always nice to know your options!
Pssst: still didn't find what you're looking for? Check out my articles on the best allowance apps.
The following two tabs change content below.
Amanda L. Grossman is a writer and Certified Financial Education Instructor, a 2017 Plutus Foundation Grant Recipient, and founder of Money Prodigy. Her money work has been featured on Experian, GoBankingRates, PT Money, CA.gov, Rockstar Finance, the Houston Chronicle, and Colonial Life. Amanda is the founder and CEO of Frugal Confessions, LLC.
Read more here
.
Latest posts by Amanda L. Grossman (see all)