Need some examples to show kids and teens how to create a business plan? Kid business plan examples + a free template to create your own.
Teaching kids and teens to make a business plan?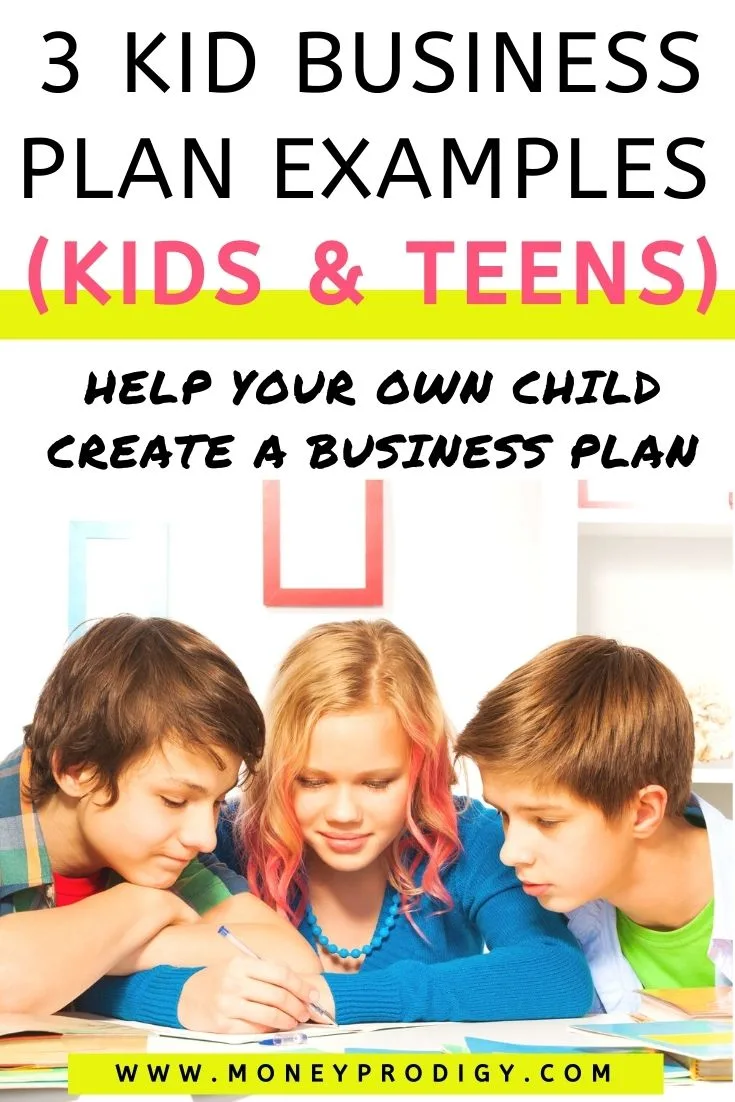 It's helpful to have some kid business plan examples to show the kids and teens who will be creating their very own (usually for the first time).
I happen to have created a kid business plan template – the Solid Gold Biz Plan.
So, I'm going to use that and two of the kid business ideas I came up with here, to show you kid business plan examples.
First up, let's look at what a kid business plan needs to cover.
Teaching Kids to Make a Business Plan
Each business plan looks a bit different, but if you're teaching kids about making one?
You'll want to make sure these bases are covered:
Problem you want to solve
The ONE idea you're going to create to solve it (product or service)
Who you will target to buy your product/service
How you're going to tell that target audience about your product/service (marketing)
How you'll price your product service (combination of estimating your cost to create/maintain/deliver your product/service, what the competition is charging for a similar or same product/service, and what your customer can pay)
Now, let's head into some kid business plan examples.
Kid Business Plan Example #1: Wig Styling
I put a call out for actual kid business plan examples real kids and teens have filled out, and was SO excited to receive this one from Natalia.
Sixteen-year-old Natalia has wanted to sell styled wigs for 2-3 years, and was given the opportunity to fill out a business plan at her school (love that!).
Her mother says,
"My daughter started cosplaying when she was about 12-13. Harley Quinn from Suicide Squad started it all! We started going to "comicons" and Animethons in our area, and she was HOOKED! She developed a passion for styling her own wigs because when they arrive/or are store bought, there is little detail. Natalia is a stickler for the finest details when it comes to wigs for characters. She's very precise."
Her parents bought her some salon-quality cutting tools, and Natalia taught herself some unique techniques in styling.
She shares her idea + marketing work below.
Business Idea: Natalia wants to commission wigs, and has mostly done this for conventions and cosplay so far. She's even sold a couple already!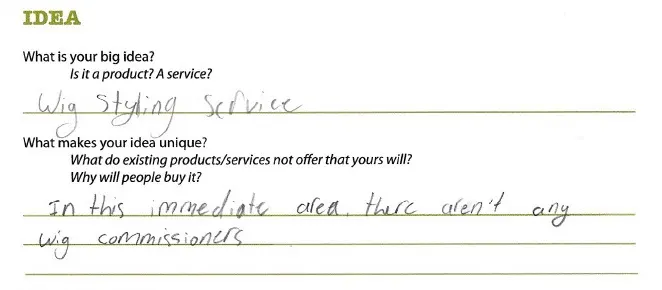 Marketing: Natalia wants to focus on cosplay stage play, and teens to adults at the moment. Her strategy to find these clients is through Amazon or Facebook – all online.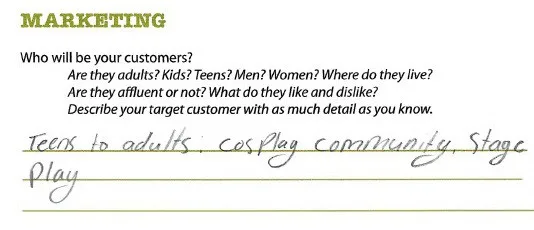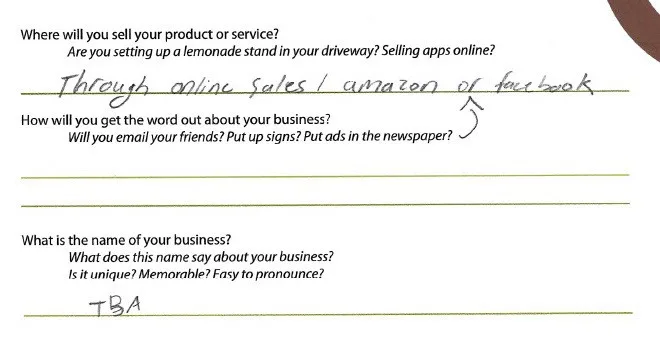 Pricing and Profit: Natalia has not nailed down her pricing yet (this will come with experience). She works for either a flat rate, or by the hour right now. Her average cost for materials is $80, and she sells the wig for $120. This means her profit is right around $40. This is a profit margin of 33.33% ($40/$120 * 100). Her plan is to invest most of this back into the business until she starts getting steady income from it.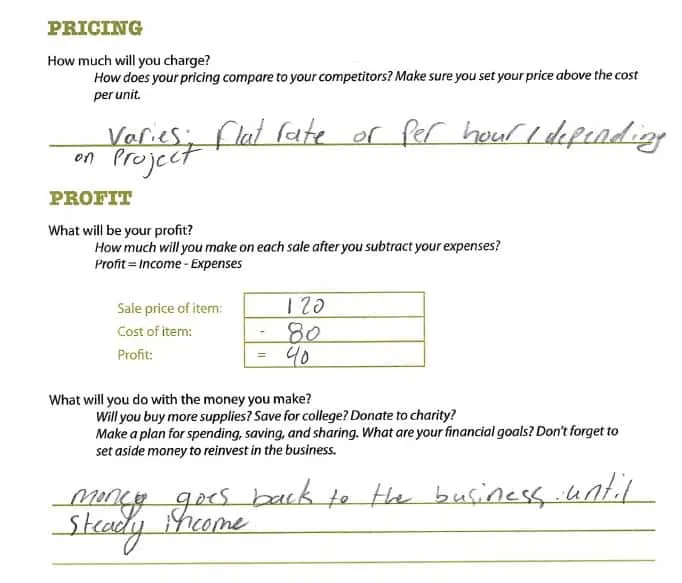 Alright! Let's go to the next business plan example.
Kid Business Plan Example #2: Pet Photography Business
Let's say your child wants to start up a pet photography business.
Problem You Want to Solve: People love their pets – they're practically family members. They want to have photos of them in real life to both print out for their home, and to post on social media networks like Facebook and Instagram. But it's hard to take your own photos of you playing with your dog, or to take animal photos at all (since they move) especially if you haven't got the photography skills.
Your Target Client: Pet owners who feel like their pet is part of their family, or pet owners who like to spend extra money on their pets
How to tell the target Client about your product/service (marketing): I can hang out at the local dog park and hand out my business card with the services printed on the back. I can also talk to a few pet sitters that I know, to see if they will help to spread the word.
Estimate cost of creating/maintaining/delivering this product/service:
I don't know of any competitors – everyone takes photos of people, not people with their pets. Local photographers charge around $150 for a portrait package with kids and teens.
I don't have a lot of experience with this, but am in the middle of a photography class at school.
To get my first few clients and start getting experience, I am going to charge just $35 for a 30-minute pet photography session at the local dog park.
I'll also offer an "upsell" of any public location they'd like (within a 20-mile radius of my house), for just $15 more.
As my experience grows and as the referrals start to come in, I'll raise my prices.
Kid Business Plan Example #3: Bean Bag-Making Business
I love to use the business example from my own childhood that my friend and I created: to make and sell bean bags.
We didn't fill out a business plan at the time (only 1 of the 1,327 mistakes we made – haha!), but if we had, it would've looked something like this: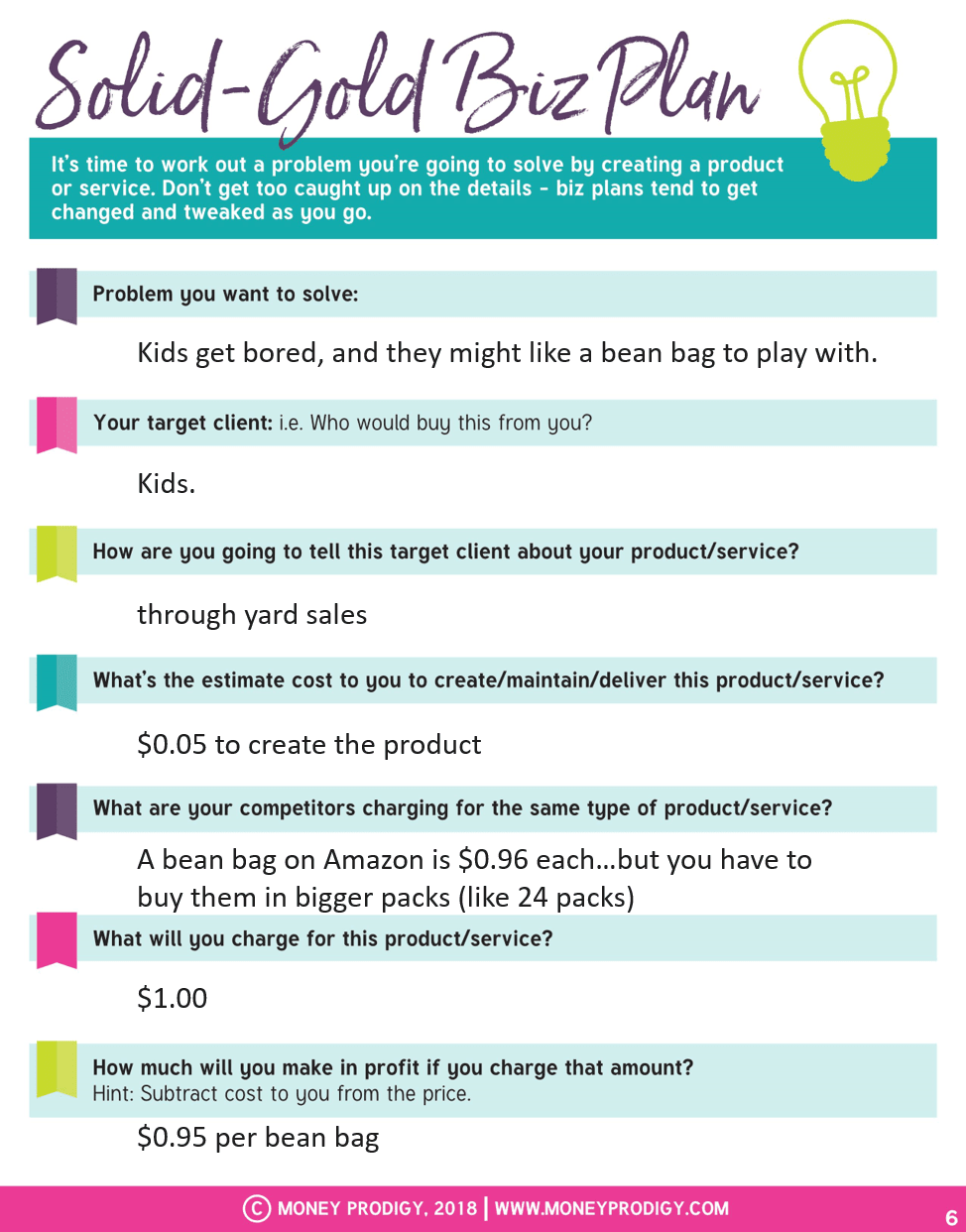 Problem We Want to Solve: Kids get bored, and they might like a bean bag to play with.
Hint: this was one of the biggest problems with creating this product – it was really solving our own problem of trying to come up with something to do. We were bored, and my friend's mother suggested we do this! Not only that, but we thought we could earn a quick buck).
Your Target Client: Kids.
How to tell the target Client about your product/service (marketing): through yard sales
Hint: it was summertime when we started this, and our only avenue to sell was through a yard sale.
Estimate cost of creating/maintaining/delivering this product/service:
To create our product, we have to have:
Needle and thread (yes…we were making them by hand!)
Beans
Fabric
We can create one bean bag for around $0.05. We will sell our bean bags for $1.00.
I hope you found these kid business plan examples useful, and I'll be adding to them as I go. In fact, if your students or child/teen has a business plan example that they wouldn't mind sharing? Go ahead and email me so that I can add it in to this article. That'll help others trying to fill out their own business plan!
The following two tabs change content below.
Amanda L. Grossman is a writer and Certified Financial Education Instructor, a 2017 Plutus Foundation Grant Recipient, and founder of Money Prodigy. Her money work has been featured on Experian, GoBankingRates, PT Money, CA.gov, Rockstar Finance, the Houston Chronicle, and Colonial Life. Amanda is the founder and CEO of Frugal Confessions, LLC.
Read more here
.
Latest posts by Amanda L. Grossman (see all)