16 kids business ideas to help your child start their entrepreneur journey.
When I think back to all the kids business ideas I had growing up, the only one I can remember doing anything with was the bean bag selling business I started with my best childhood friend.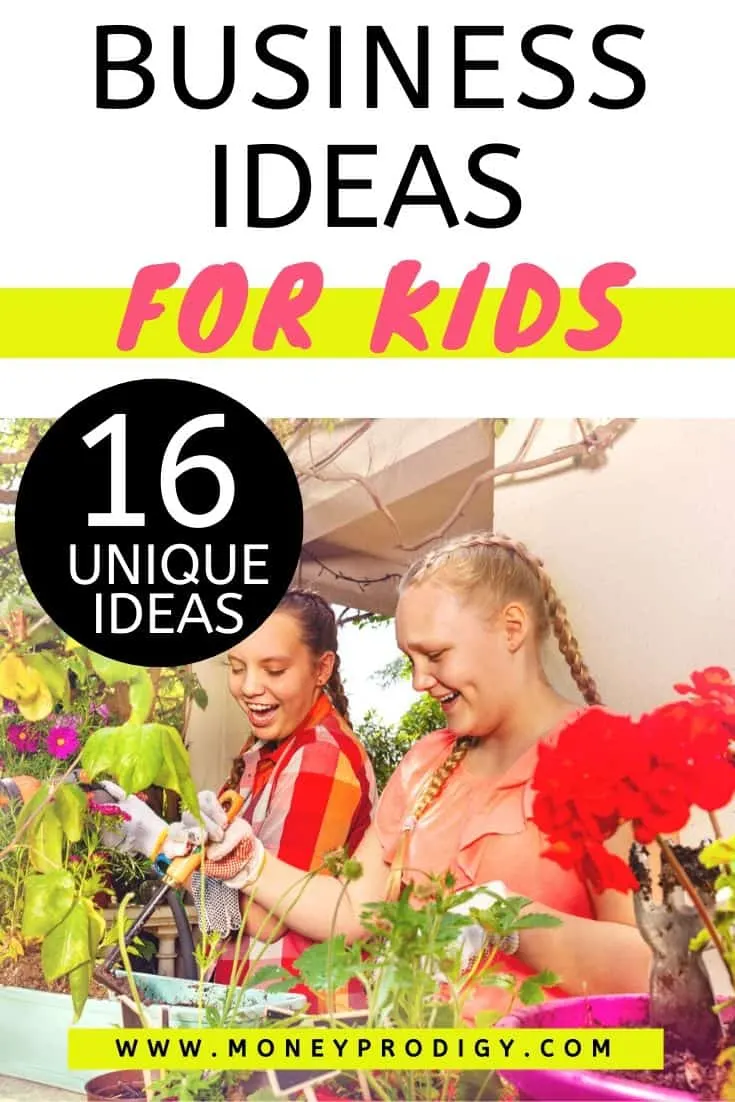 It was a flop.
The materials cost more than we ever brought in. We had no customers (mostly because our only form of marketing was one yard sale). We gave up by the end of summer.
And yet, I still learned so much from that experience!
That's because starting up a kid business and (attempting) to run it is much different than earning chore commissions, mowing someone's lawn twice a month, or even babysitting.
Suddenly, kids need to think about:
Other people, and what they want and need
How to price something that they create, and how much people value it
Profit vs. cost of materials and time
How to tell people about their product (marketing – that thing my friend and I were not good at!)
Filling in a kid business plan template
etc.
Before we dive into the 16 kid business ideas, let's talk about what makes a good business for your child to start.
What is a Good Business for a Kid to Start?
When choosing from the kid business ideas I'm about to share, consider a few things:
Seasonality: Does your child want a seasonal business, or one that can make money throughout the year? Choose a business idea that reflects that.
Capability Level: Are they capable of running this type of business, or is it something they'll need training on?
Upfront Costs: Does the business idea cost a bunch of money upfront to get started in equipment, permits, materials, etc.? Is that something you guys can handle, or should they pick a lower-costing option instead?
Amount/Type of People Needed: Can they handle starting this business up with just themselves, or will they need a partner to help? Do they need a parent to run this business because certain parts of it require someone over the age of 18?
Psst: not exactly what you wanted to hear? Then you might want to check out my article on summer jobs for kids. Either option will teach your child priceless money lessons.
Kid Business Ideas
Making money through chores, allowances, mowing someone's lawn, selling something at their school's market day, etc. can really make a kid's head spin trying to figure out even more ways to earn cash.
Check out this list of 16 good kid business ideas your child can use to start earning more!
Psst: looking more for a kid-business-in-a-box? Here's some kid entrepreneur kits.
1. Pet Photography Business
People just love their pets. They want to get photos of their pets, and probably even photos of themselves interacting with them.
But is everyone willing to pay large sums to get professional photos done? Not really.
That's where your child can come in – offer to photograph their pets and them playing with their pets for a fraction of the normal cost a professional photographer would charge.
2. Drop-Off Christmas Wrapping Service
My sister has always been good at wrapping gifts – from the time she was a tween onwards. She could've totally done this.
Me? Not so much.
Depending on if your child has a driver's license/transportation or not, your child could both pick up and drop off wrapped Christmas gifts.
And if they don't have a driver's license? This is a great home-based business idea for kids – clients can drop off, then pick up a day or several hours later (depending on what you think is best).
Your kids could offer a few different varieties of wrapping paper designs for clients to choose from.
3. Worm Farming
One of the most unique home-based business ideas kids can do is to start a worm farm. Your child can sell the worms to bait shops, organic farmers, etc.
I even found this 12-year-old girl who started her own successful worm farm business.
4. Amusement Park Mother's Helper Service
There are tons of Moms trying to take all of their kids (and keep them all happy + together) to amusement parks, splash pads, water parks, etc. in the summertime.
Trust me when I say – it can be exhausting!
Instead of being a "Mother's Helper" at home, come up with a business model where your child goes to the recreational area WITH a mother and her family, and then help them with whatever she needs to keep everyone happy. Could be taking one kid on a ride while she takes a different kid on a ride. Or watching the other kids while she goes to the bathroom with her little one.
Psst: great thing about working for a mother? If she likes you, she'll tell all her Mom friends. Referrals are a fantastic way to get more customers!
5. Youth Sports Team Uniform Washing
Can your child offer a service to wash uniforms for teams at your local laundromat? Not every team will bite, by any means. But some might.
6. Pressure Washing Houses
We actually hired a teen to pressure wash our home when we were getting ready to sell it last summer. He brought his own machine (you can also rent them – though you want to make sure you'll still make a decent profit if you rent the equipment), and he made about $150!
7. Strawberry Business
Your child could really specialize in growing just one thing – to get really good at it – like strawberries, and selling them to your neighbors. My mother used to do this when she was a kid, and it's how her family bought their new set of living room furniture!
Remember that this is seasonal work, so your child only has a certain timeframe to make money during the year from it (like, 1-3 months, depending on your climate, soil makeup, etc.).
Psst: if your child goes through with a business idea? Then you might want to check into some of these youth entrepreneurship awards and youth entrepreneur programs!
8. Birthday Party Assistant
Hosting a birthday party where other parents drop children off can quickly get overwhelming.
Your child can offer services that are part-babysitting, part-entertaining (you'll use one of these business templates for kids to refine your idea) to mothers to help make their birthday parties go smoothly.
9. Rock Band
Has your child ever thought about starting a band? If they treat that band like a business from the beginning, then think about how much more likely it is that they'll actually make some money.
In fact, all the bands on the radio and accepting awards at shows? They have business plans, and conduct themselves like a business instead of solely focusing on their music creation.
10. Decluttering/KonMari Pick-Ups
Sooooo many people want to declutter their homes: their garage, their living rooms, their basements, their closets, etc.
Offer a service where your child schedules pick-ups of donations, trash, and things to sell at any number of places (online, or offline). They could offer profit-sharing with what they sell, OR, they could make that the "payment" for picking up sellable items.
Up to you guys!
11. AirBnB Cleaning Service
Lots of people around the U.S. now rent out their guest house, guest room, home, etc. for several weeks or more throughout the year – kind of like a hotel – and could maybe use help with a cleaning service in-between bookings.
12. Vending Machine Business
If your child has a bit of money upfront to buy a vending machine (you can get used ones, like the girls in the video did), stuff it full of candy, and find vendors to allow their vending machine in their shop. A great start to creating a vending machine business.
Here's a story about a 10-year old entrepreneur who started his own vending machine business.
13. Subscription Box Service
Subscription boxes for kids, teens, adults, and even pets are pretty big right now. You can help your child create their own subscription service as an online business for kids. Here's how one woman got started with hers.
Psst: here's my review of the Teen Entrepreneur Toolbox, which guides teens (and parents) through the teen start-up process.
14. Tech Classes for Seniors
Can your child get a group of interested seniors together for classes on things like using FaceTime, setting up Facebook, updating their Facebook page, setting up their favorite apps on their smartphone, and other things they might not know how to do (but your child excels at)?
15. Plan Kid Parties for Parents
Your child could get their feet wet with party planning by helping mothers and parents plan parties. Think about different milestones the average kid reaches, such as the 16th Birthday, the 1st Birthday, graduations, baptisms, etc.
Start with this free Kid Party Planner.
16. Etsy Digital Printable Business
Here's a free guide on how to start selling printables on Etsy. Could be a fun project kids do to learn some graphic design and work with their parents!
Which of these kids business idea are you most excited about trying out? Hit me up in the comments below!
Also, here are 22 other things for kids to make and sell.
Related Kid Entrepreneurship Resources
The following two tabs change content below.
Amanda L. Grossman is a writer and Certified Financial Education Instructor, a 2017 Plutus Foundation Grant Recipient, and founder of Money Prodigy. Her money work has been featured on Experian, GoBankingRates, PT Money, CA.gov, Rockstar Finance, the Houston Chronicle, and Colonial Life. Amanda is the founder and CEO of Frugal Confessions, LLC.
Read more here
.
Latest posts by Amanda L. Grossman (see all)