Lemonade stand worksheets are the perfect way to help your child setup a real lemonade stand, OR, to teach students business math in a fun way.
Kid starting a lemonade stand?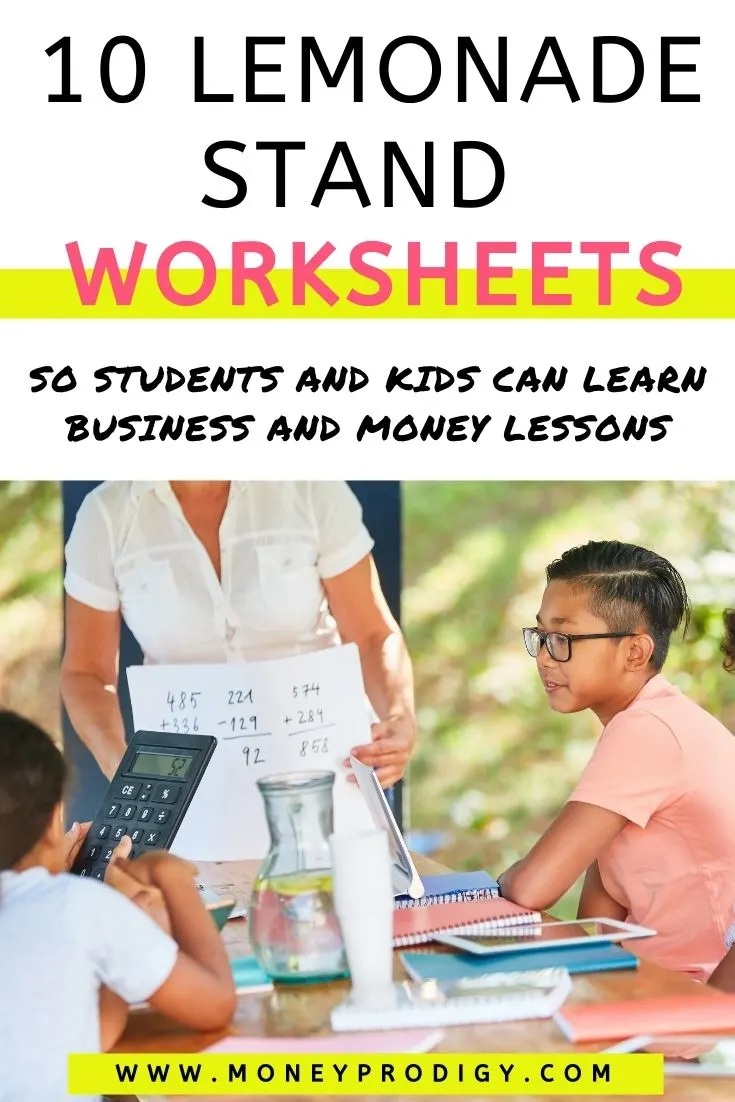 OR, do you want to teach some serious math and business skills through lemonade stand worksheets?
I've got great lemonade stand printables that will help teach:
Planning your lemonade stand (i.e., create your first kid business plan!)
Pricing your lemonade
Attracting customers
Tracking sales and calculating profit
Etc.
First up, some seriously cute (and free) lemonade stand business plans.
Lemonade Stand Business Plan PDFs
This is possibly one of my favorite sections, because these are super cute, and really comprehensive.
You can print one of these lemonade stand business plan PDFs out, and let your child or students work through planning their own stand!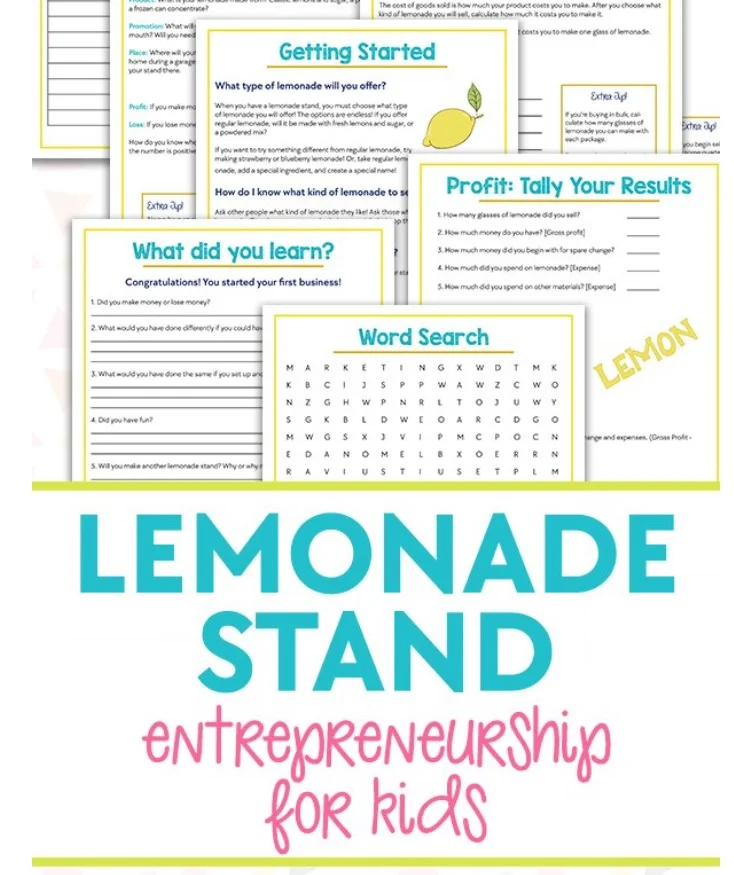 Not only are the design of these gorgeous, but they really offer some great guidance for kids.
Included are worksheets that help kids:
Price your lemonade
Create a marketing plan
Tally up their profits (using gross profits, expenses, etc.)
Reflect on their Lemonade Stand experience
There's also some pricing signs in the back you can just print, cut, and use.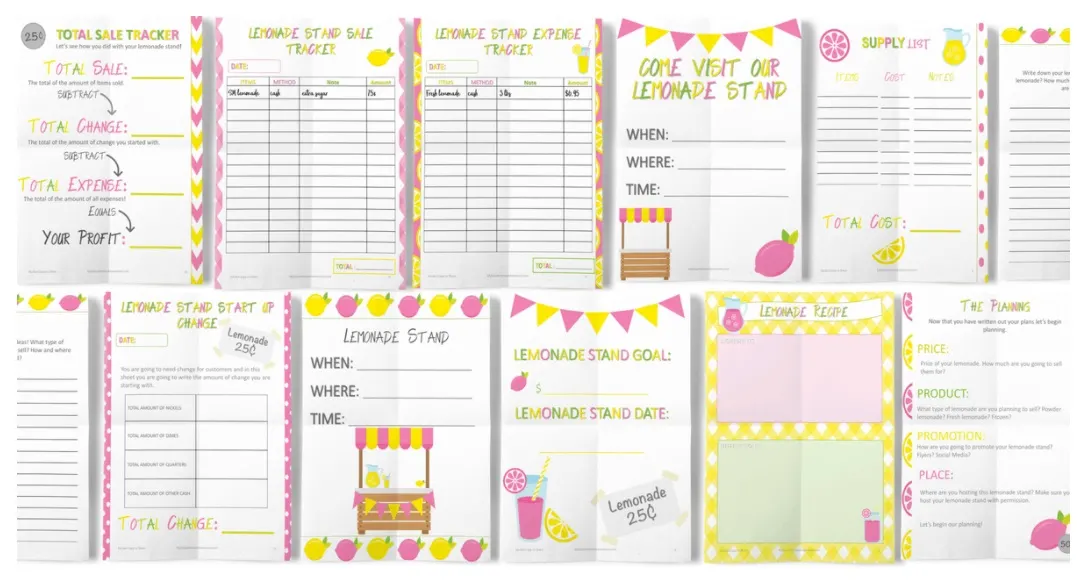 Running a good lemonade stand is like running a good business: making a plan is going to put your light years ahead.
Get your kids in on the business-planning mode wayyyyy earlier than me (my first business plan was about 4 years after starting one!) with these printables.
Included are:
Supplies list
Sales flyers for advertising
Expense & sales trackers
Planning sheet
Goals sheet
Etc.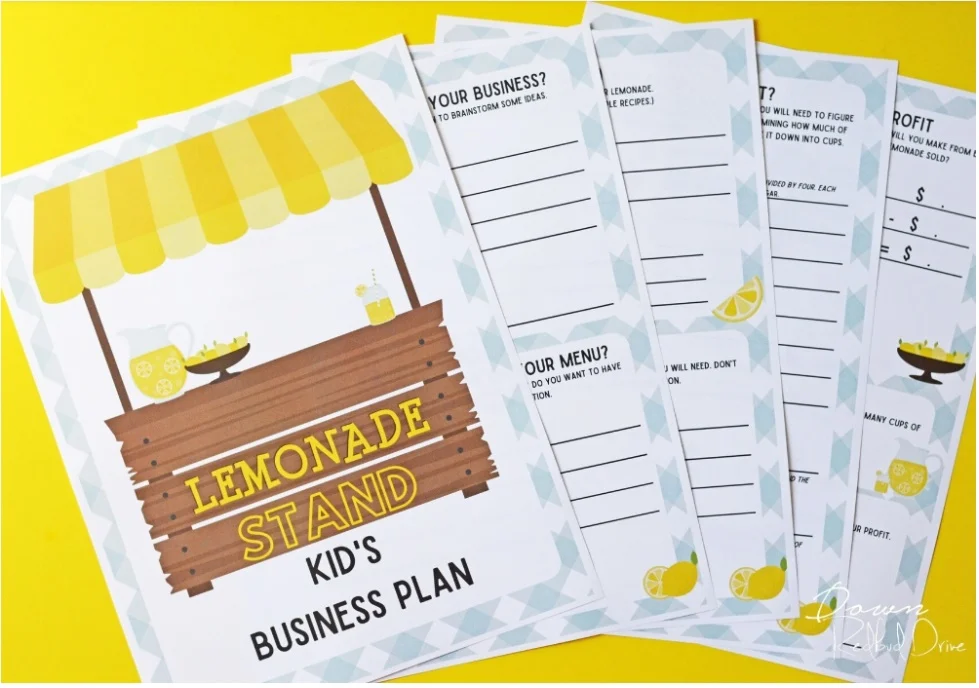 Here's a classy-looking business planner for a tween's lemonade stand.
Included are:
Brainstorm section for naming the stand
Menu brainstorm
Lemonade recipe + pricing sheet
Pricing, profit, goals, and tracking worksheet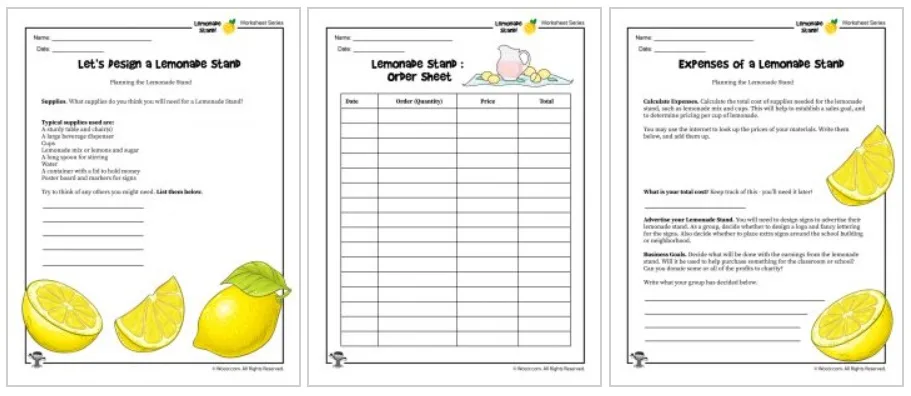 This set of lemonade stand business worksheets has the same business plan PDF types as the sets above, but also includes:
Lemonade stand vocabulary worksheet
Lemonade stand quiz
Lemonade stand word search
Psst: starting a real lemonade stand? Here are my best lemonade stand ideas. And want different kid business ideas? Here are 17 boy crafts to sell, and 22 things for kids to make and sell.
Lemonade Stand Math Worksheet
Looking for free math worksheets with lemonade stands as the theme?
I've found a few for you!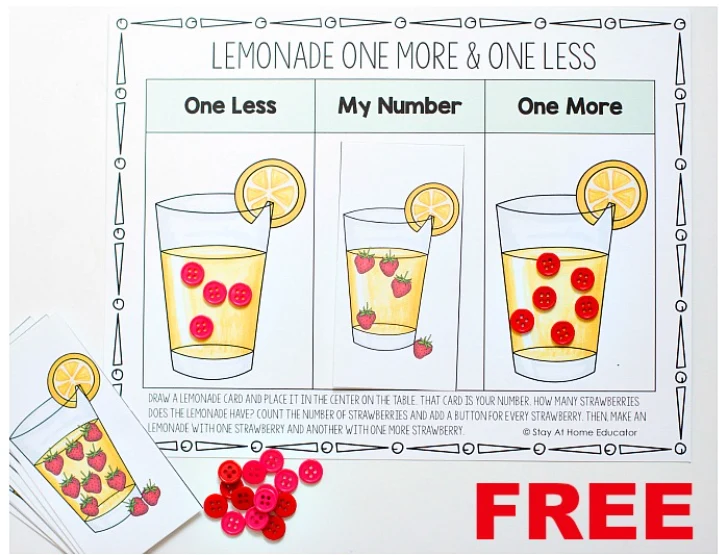 Look at this cute, free printable!
Preschoolers can use it to practice multi-step activities, practice counting, etc. They'll choose a card, and then need to count the number of strawberries in the lemonade glass. They then count out their own objects to place on their mat, then figure out what is one less than that, and one more than that.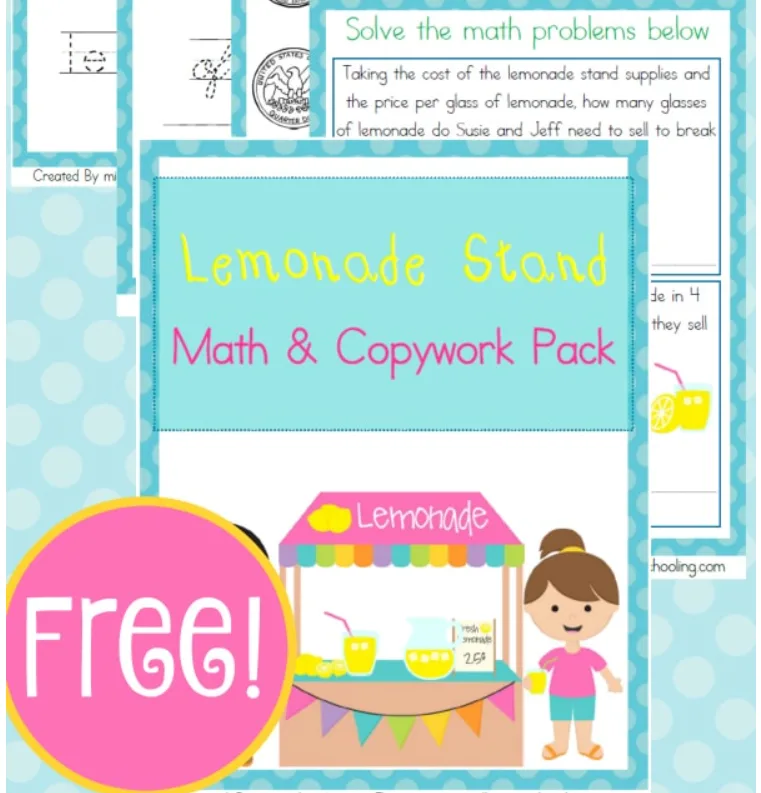 Here's a set of cute math worksheets that tackle the following money subjects:
Adding up various coins and coin math
Coin and bill identification
Profit, and figuring out how much a lemonade stand would need to sell to "break even"
There are also handwriting practice worksheets.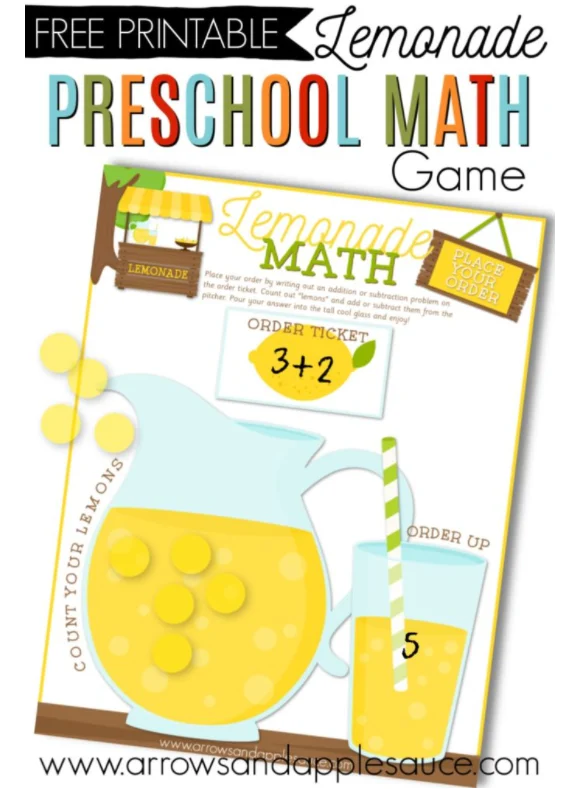 This preschool math game – centered around a lemonade stand – has a great imaginative play/pretend play element to it.
For example, kids can use any objects they can find as lemons, to fill their lemonade pitcher up with.
You'll give them different orders, in the form of an addition problem you make up.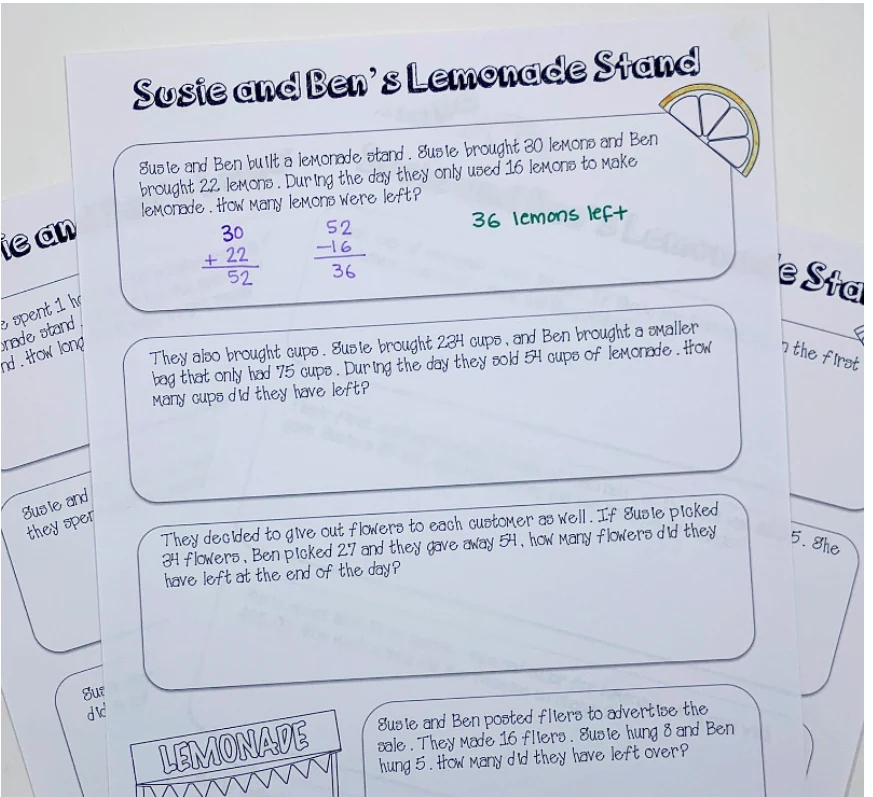 This set of sheets deals with word math problems, money word problems, and time elapse problems.
You'll find math word problems for grades 2-4 (answer keys included).
Lemonade Stand Pretend Play Printables
Perhaps you're not yet ready to tackle a business plan with your child.
There's still some great lemonade stand printables that will help with pretend play (and to spruce things up!).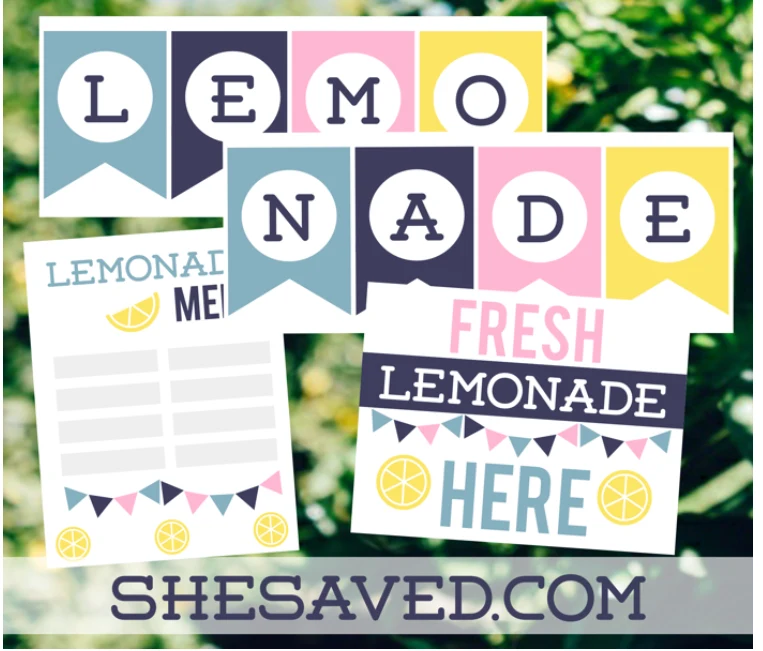 These are cute, simple printables your child can use to either play pretend with a Lemonade stand, or at a real lemonade stand. There's a menu, decorations, and more.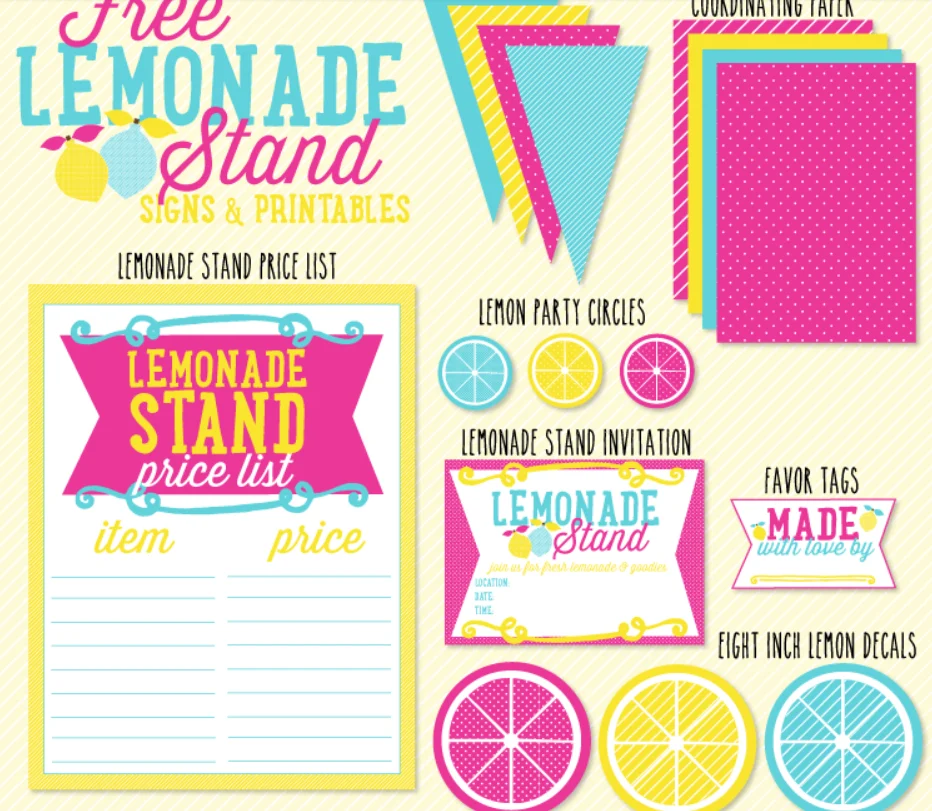 Look at these cute coasters your kids can play with in this set of printables! Your kids also get a price list, banners, favor tags, and more.
Really cute printables, right? I love how you can use these lemonade stand worksheets to teach business lessons, math lessons, or even to just have fun playing around the house.
The following two tabs change content below.
Amanda L. Grossman is a writer and Certified Financial Education Instructor, a 2017 Plutus Foundation Grant Recipient, and founder of Money Prodigy. Her money work has been featured on Experian, GoBankingRates, PT Money, CA.gov, Rockstar Finance, the Houston Chronicle, and Colonial Life. Amanda is the founder and CEO of Frugal Confessions, LLC.
Read more here
.
Latest posts by Amanda L. Grossman (see all)