How can I keep track of my kid's money and spending? Great options to track your child's money by paper, excel, and automatically through apps.
How can I keep track of my kid's money?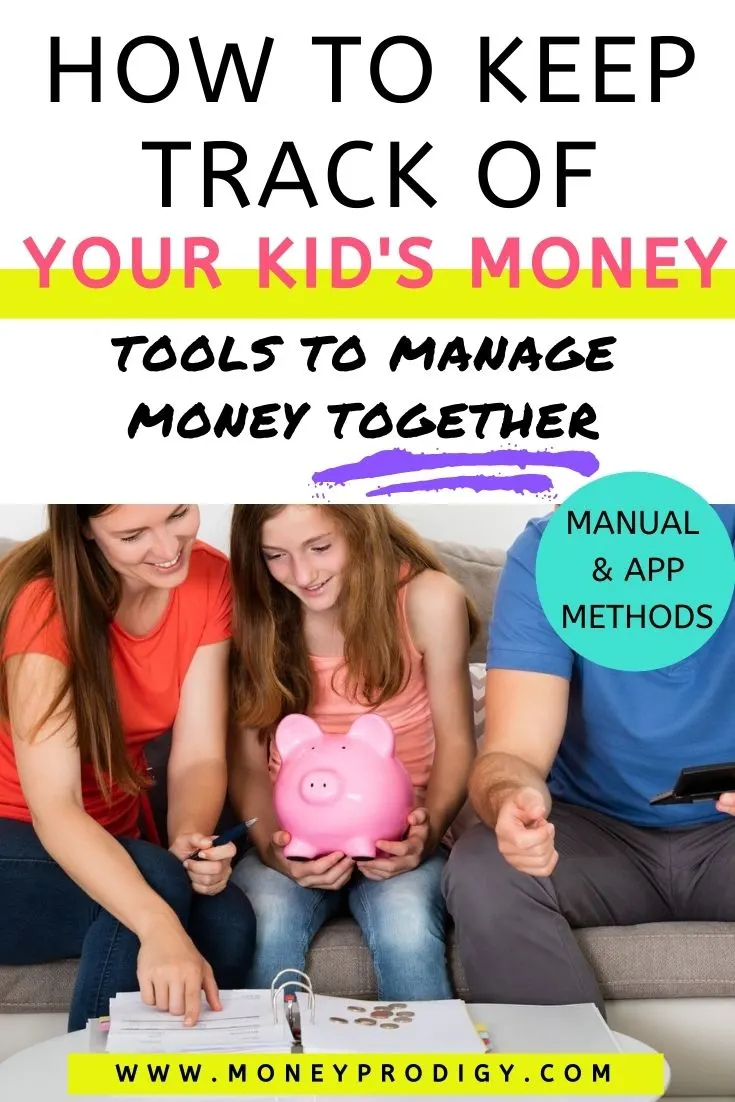 Parents want to keep track of their kid's money for many different reasons.
See if you can relate to any of these:
I want to know what my child is spending their money on
I want a system to track allowance and chore commissions
I want to control what my child is spending their money on
My child loses their money, and it's such a waste – I want us to track it together
I've even talked to a mother who is dead-set against giving her daughter any cash because she's afraid she could get involved in bad activities (that the mother couldn't trace).
The good news is, there are many ways to keep track of your child's money, so that the two of you can do this money management thing together.
Parent Tracking Methods for Kid's Money
There are two different categories of methods you can pick from to track your kid's money and spending.
Manual methods (by paper, by excel, etc.) – these methods work well for younger kids not in the banking system yet, for kids who do not have smartphones, for cash-only allowance and chore commission systems, etc.
App methods (money management apps, allowance apps, banking apps, etc.) – these methods work well for families with multiple kids, people who use phone apps consistently, kids in the banking system, etc.
Here's a quick snapshot of pros and cons for each of these types.
Method
Manual Tracking
App Tracking
Pros
– Your child has to do more calculating, which can help them learn + reinforce money math better
– Your child doesn't need a bank account to do this
– Your child doesn't need their own smartphone to do this
– Syncs between Parent and Child's device, so easy spending monitoring
– Calculations done automatically, which is more convenient
Cons
– Easier to miss transactions or lose the receipt
– They'll need to remember to update the tracker for spending and income received
– Harder to gain confidence physically handling money* (making change, giving correct amounts to cashiers, identifying bills/coins, etc.)
– Gives your child easier access to online shopping (through the app's platform)

*Looking for a system where your child can both handle actual cash and you can track things through an app? Check out FamZoo's IOU account, below
Manual Tracking Methods
First up, let's look at manual tracking methods to keep track of your kid's money.
1. Money-In/Money-Out Sheet (Cash Only System)
I like to call this a Money-In/Money-Out System, because it's sort of like that classroom sign-in/out sheet we all used to have to fill out for borrowing something, or even for going to the bathroom.
It's a simple paper method of tracking your child's money – much like a bank does automatically.
Except this works for cash-only systems, and there's no need to log into anywhere!
Here's how to set this up:
Create a Money Station: Create a money station for your child's money system, including a place to store the cash and coins (that you can easily get the money both into and out of here are 21 unique piggy bank options), a calculator, an envelope for keeping all receipts, and a tracker sheet.
Pick a Paper Tracker: Create a tracker (or use the one below) and keep it right next to the money.
Calculate as They Go: Whenever anyone adds money, or subtracts money, they must write it down on the tracker (plus do the math to find out how much is in there).
Reconcile Once a Week: At the end of each week, tally up the money to make sure what's on the tracking sheet is what's actually there. Discuss any discrepancies between the two, and where someone might have forgotten to write something in.
2. Excel Money Tracker
Maybe you like the idea of tracking your child's cash along with them, but you're an excel-sheet-kinda gal.
I hear you! I've got excel sheets, too.
Hint: this works best if you want a lot of control over the money, because you'll be working on/housing the excel sheet on your computer.
Here are a few simple excel spending tracker sheets to get you started:
Got multiple kids? You could simply open a new sheet within a workbook, and name the sheet after them. This would be very useful to track a family savings goal, too.
App Tracking Methods
Need something a bit more…automated, synced, techy?
Great – that's what we'll go over in this section.
This is an award-winning family finance app that gives you two options:
Prepaid debit card
IOU accounts
So, you can either use this app with a prepaid card, or not.
It also will completely organize your allowance and chore-based commission system – from paying your child after they work through their chore list, to your child paying you for any money responsibilities they have (like the data plan on their phone, or online spending).
Kids also can set budgets, track spending, and set up savings goals with this app.
2. Greenlight App – an Allowance App with Prepaid Debit Card
Here's a fully-functional prepaid debit card tied to an educational app for kids (aged 8-18 years).
Not only that, but there's an investment platform for an additional fee (parents must approve, first).
Parents have the ability to block spending at specific merchants, plus other parental spending controls.
Read more here: Greenlight vs. FamZoo app, Greenlight vs. gohenry app, Greenlight vs. BusyKid app, and Greenlight vs. Goalsetter app.
Goalsetter is a financial management app with a financial literacy platform that incentivizes your kids to learn about money.
Kids must take (and pass) a quiz each week to unlock their spending money.
Not only that, but it's geared towards helping your child and teen set and achieve savings goals.
It's also a fully-functional allowance and chore pay system.
Read my full Goalsetter app review here.
gohenry is another financial management app with pretty robust parental spending controls (both at specific merchants, AND weekly spending limits overall can be set).
Here's more info in my article on Greenlight vs. gohenry app.
How to Choose the Right Tracking System for You
Now that you've seen a bunch of options, I want to guide you a bit on how to decide which is best for you and your family.
Step #1: Figure Out What You Want to Track
First of all, you need to figure out what you want to track.
You could track:
their spending
their saving goals
your allowance/chore commission plan + payments
Or, you could track a combination of these alongside with your child.
Step #2: Figure Out if You Want to go Cash, or Cashless
Do you use a cash, or cashless kid money system?
Hint: no kid money system to speak of, or yours is barely holding together with duct tape? Here's how to set up your kid money system.
There are pros and cons to each, I can assure you.
For example, with a cash-only system, your child:
Learns to use actual money – like how change gets made, identifying bills/coins, etc.
Learns the pain of losing money, and the importance of keeping track of it (I've heard from so many parents about their kids losing money)
Feels the pain of spending money (studies show that it's much harder to part with actual cash than with a plastic purchase)
But…you also have to:
Go to the ATM before your kid's payday rolls around
Worry about kids losing money
Make your child or teen's online purchases for them
With a cashless system, you can:
Sync money tracking across everyone's devices
Automatically pay your child on allowance/chore commission paydays
Use parental spending controls for online purchases
But…you also have to:
Have smartphones or computer access to use them
Monitor online purchasing more closely, since many apps allow this from their platform (like through a kid/teen prepaid debit card)
Make a point to discuss spending and tracking and things with your child, so that they still get the money lessons even though they're not physically handling it. So that the whole thing feels more real instead of just numbers going up and down on a screen.
Step #3: Pick the Right System for You
If you have a cash system, then either the paper method above, or the excel sheet will be the best system for you.
You could also do FamZoo's IOU account, where everything is tracked with the app (mobile and web access), but then you pay out with cash on your child's payday.
If you're going cashless? Then you can choose from one of the apps discussed.
I hope I've shown you some great options that allow you to keep track of your kid's money. Pick a system you think will work for you, try it on for size, and see how it goes. Many of these options can grow with your child's money management needs, so don't be afraid to dive in, and tweak as needed.
The following two tabs change content below.
Amanda L. Grossman is a writer and Certified Financial Education Instructor, a 2017 Plutus Foundation Grant Recipient, and founder of Money Prodigy. Her money work has been featured on Experian, GoBankingRates, PT Money, CA.gov, Rockstar Finance, the Houston Chronicle, and Colonial Life. Amanda is the founder and CEO of Frugal Confessions, LLC.
Read more here
.
Latest posts by Amanda L. Grossman (see all)