Printable money saving challenges for kids to create a savings goal, and track it all the way to the sweet purchase point.
Why do a printable money saving challenge for kids?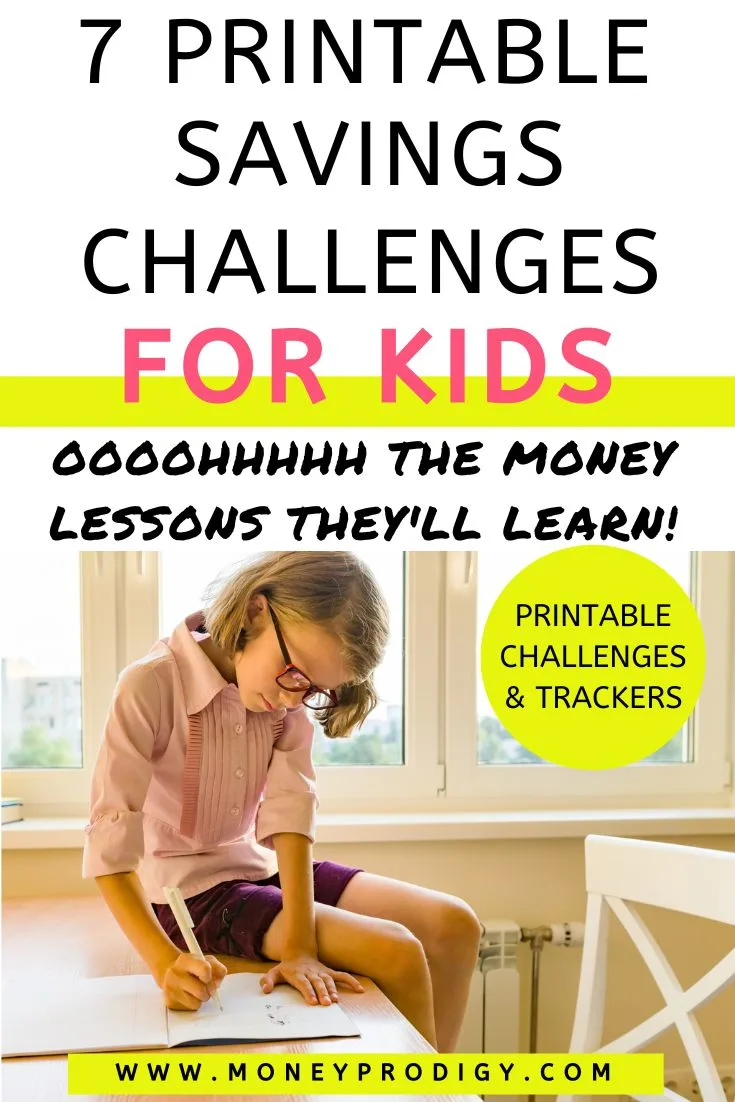 For starters, it's a fun way to get them motivated to hang onto their money.
It's also an incredible money-learning tool.
Off the top of my head, going through one of these money saving challenges can teach your child:
That small amounts of money can add up to increased spending power
How to create a goal and see it through
Simple money calculations
Savings habits
Even if they aren't successful, they'll learn some valuable money lessons. Who doesn't love that? Let's dive in.
Printable Money Saving Challenges for Kids
How do you choose the right printable money saving challenge?
A few things to remember:
Make it Short: Choose a challenge that gets them to the finish line in a month or less.
Make it Fun: Choose a challenge that they'll squeal in excitement over (maybe not every day…but at least in the beginning).
Make it Doable: Can your child actually complete the challenge, given how much allowance or chore commissions they earn?
Some kids Most kids will find it hard to make it through a long savings challenge or savings goal.
You know – one that lasts 3-6 months. Even more than a month is a challenge.
Not only that, but they likely don't have consistent money to put towards a savings goal. So, how are they supposed to complete a savings challenge?
That's why I've created a savings challenge for kids where not everyday is about saving a certain amount of money.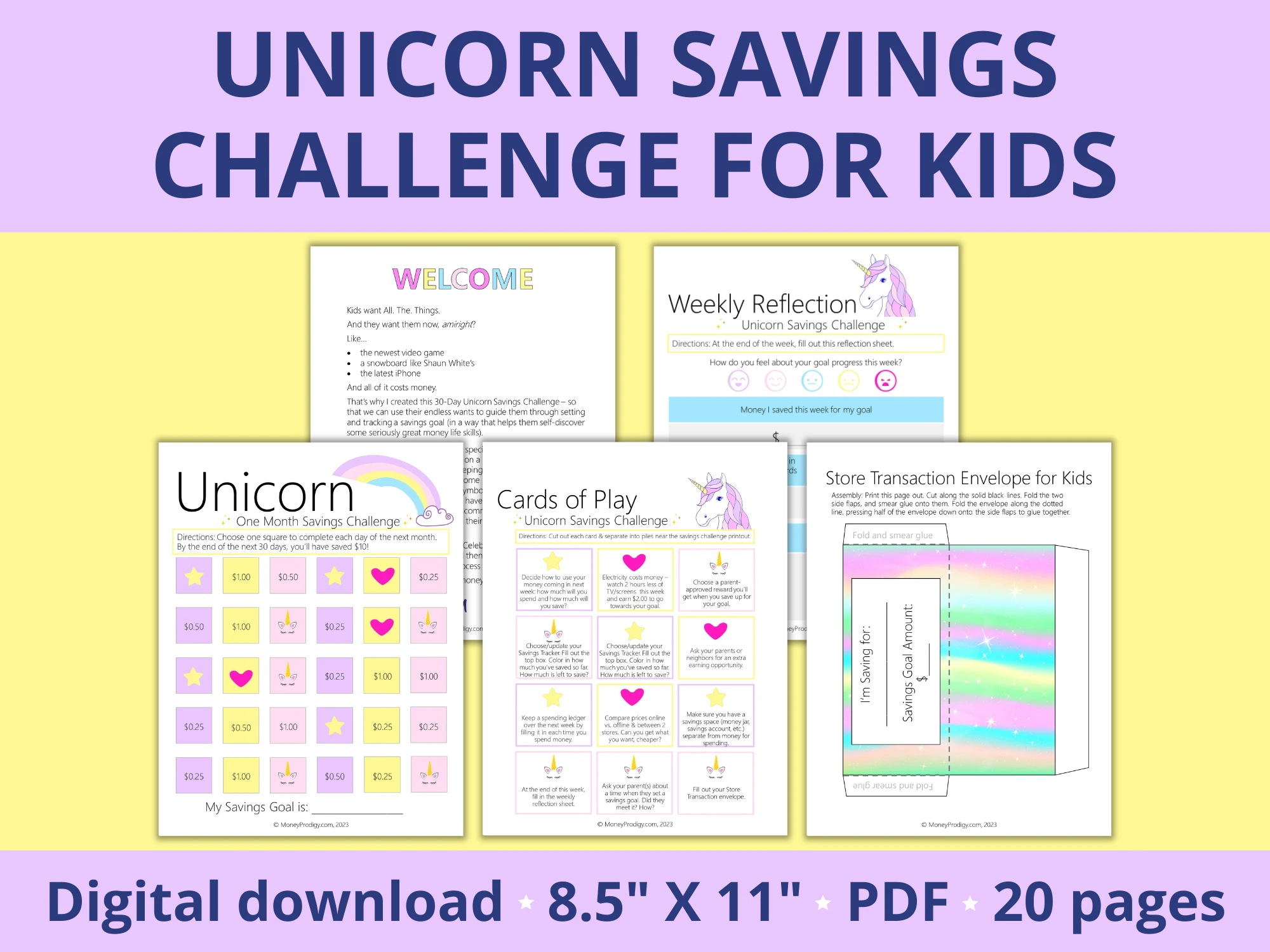 Because, let's face it: learning how to save money is about more than just putting aside money into a money jar or bank account.
There are:
Savings habits to reinforce
Learning about the world of saving, like bank account interest rates
Being able to delay gratification and then stretching that delayed gratification muscle
Saving actual money and not touching it
Learning how to set a savings goal and make the calculation to see how to do it
Tracking money saved towards a goal
Spending less than they earn (allowance, chore commissions, etc.) so that they can save part of it
Learning to say no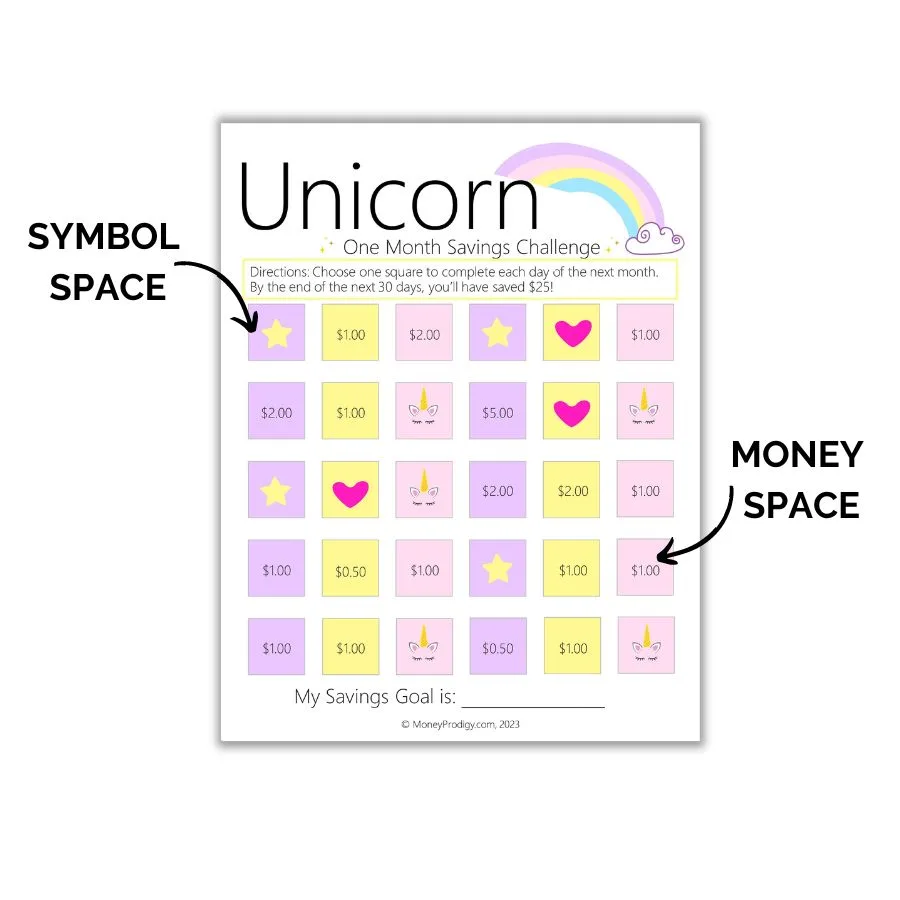 Does your child have a savings goal? Great! They can use this set of dinosaur savings trackers to track their progress.
Use this kit to help your child set their first (or next) savings goal, track it, and reflect on how they're doing.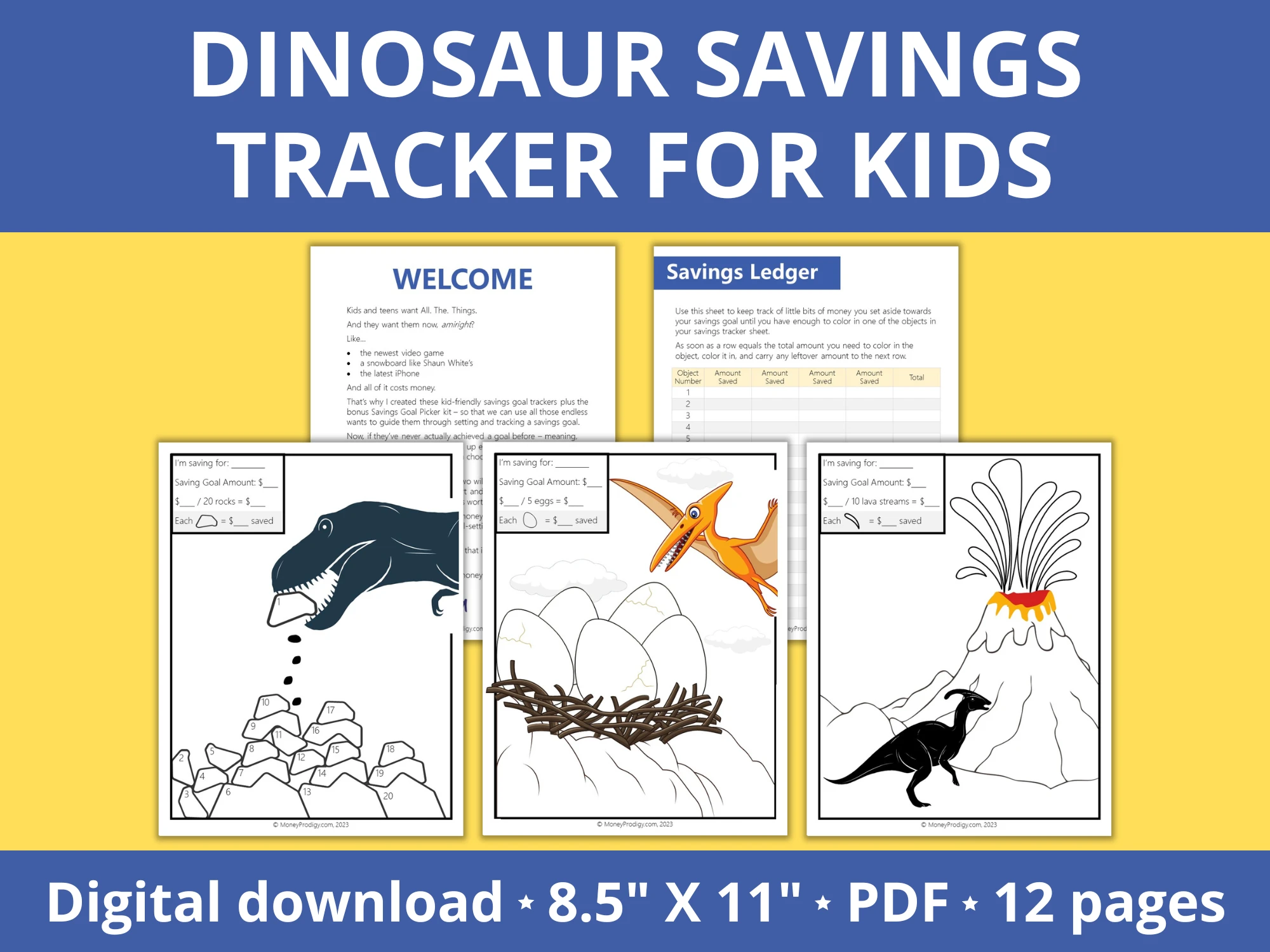 It includes:
Savings tracker instructions
3 savings trackers to choose from
Savings Ledger
Weekly Goal Reflection Sheet
Savings Goal Picker to help your child choose the best savings goal for them
If your child wants to save up $170, then they should check out this free savings tracker.
They'll need to save $5 each week for 34 weeks.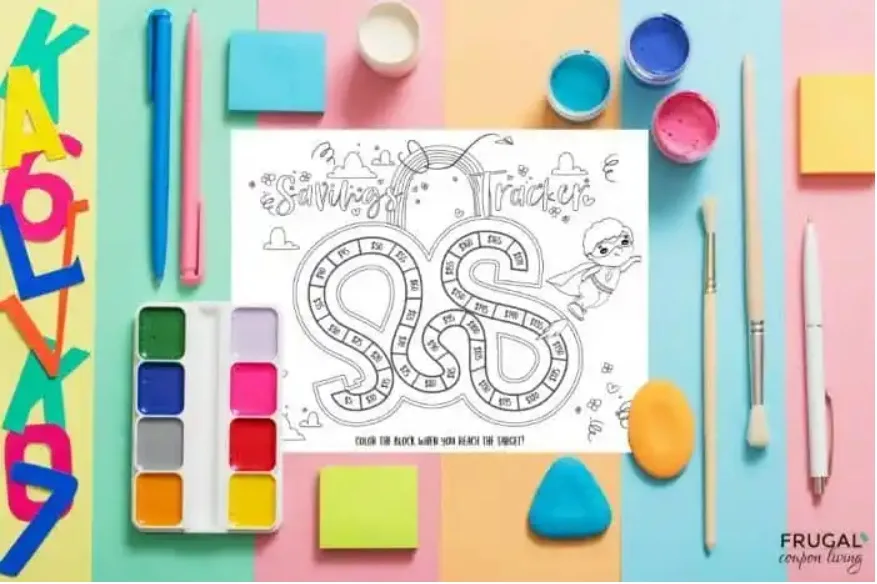 Such a cute printable! Available in both black and white, and a colorful option.
Can your child save one penny per day, and then add one penny each day to that amount…for a whole year?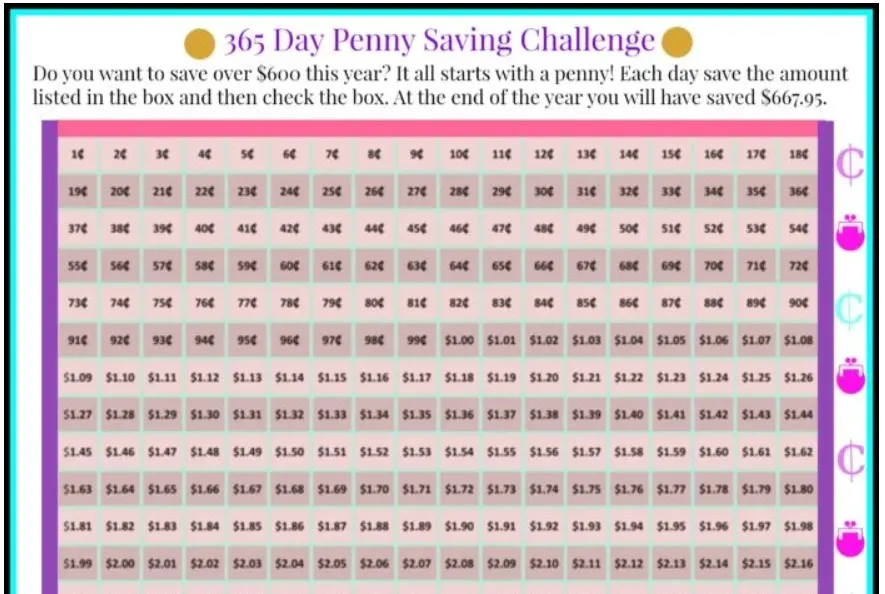 Then they'll have a sweet $600 by the end of the next year.
Using this tracker will help keep them motivated.
Have you heard of the 52-week savings challenge?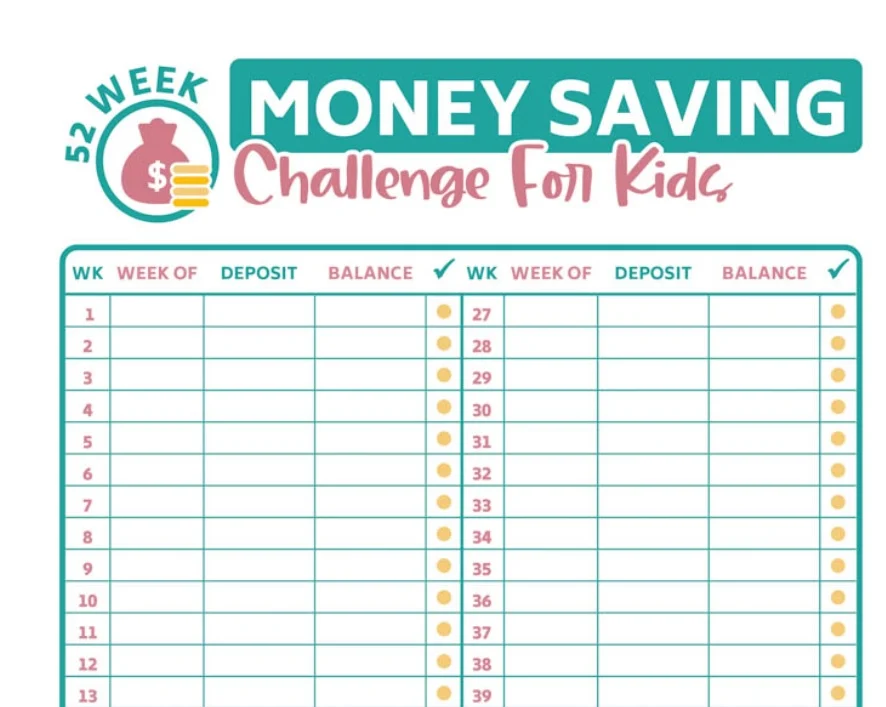 Here's a blank printable for kids to just see how much they can save each week, and how much little bits saved each week add up after a full year.
Back to the same 52-week savings challenge, but this time, you can get three different versions:
Save $1/week, all week long, for a total of $52 at the end of the year
Save $1/week for a while, then work your way up to $4/week, for a total of $130 saved by the end of the year
Blank
7. Savings Goal Prioritization Optin
Does your child need help figuring out what savings goal to go after?
Check out my free Savings Goal Prioritization Kit.
Here's what I want you to do: choose one of these printable money saving challenges for kids, and introduce it as a mini-project to your child. Could be a summer project, the kick-off could be timed to winter break, or just the start of a new month. Then, let them choose what they want to save up for (with parent approval).
Doing these two things – setting a savings goal they're motivated to put their money towards, and pairing it with some fun guidance (a printable savings challenge for kids) – is the secret sauce to helping your child learn how to save money.
The following two tabs change content below.
Amanda L. Grossman is a writer and Certified Financial Education Instructor, a 2017 Plutus Foundation Grant Recipient, and founder of Money Prodigy. Her money work has been featured on Experian, GoBankingRates, PT Money, CA.gov, Rockstar Finance, the Houston Chronicle, and Colonial Life. Amanda is the founder and CEO of Frugal Confessions, LLC.
Read more here
.
Latest posts by Amanda L. Grossman (see all)