Staring down the barrel of a small Christmas budget this year? You'll never believe these Dollar Tree Christmas gifts for teens.
How to buy Christmas presents on a budget…for teenagers?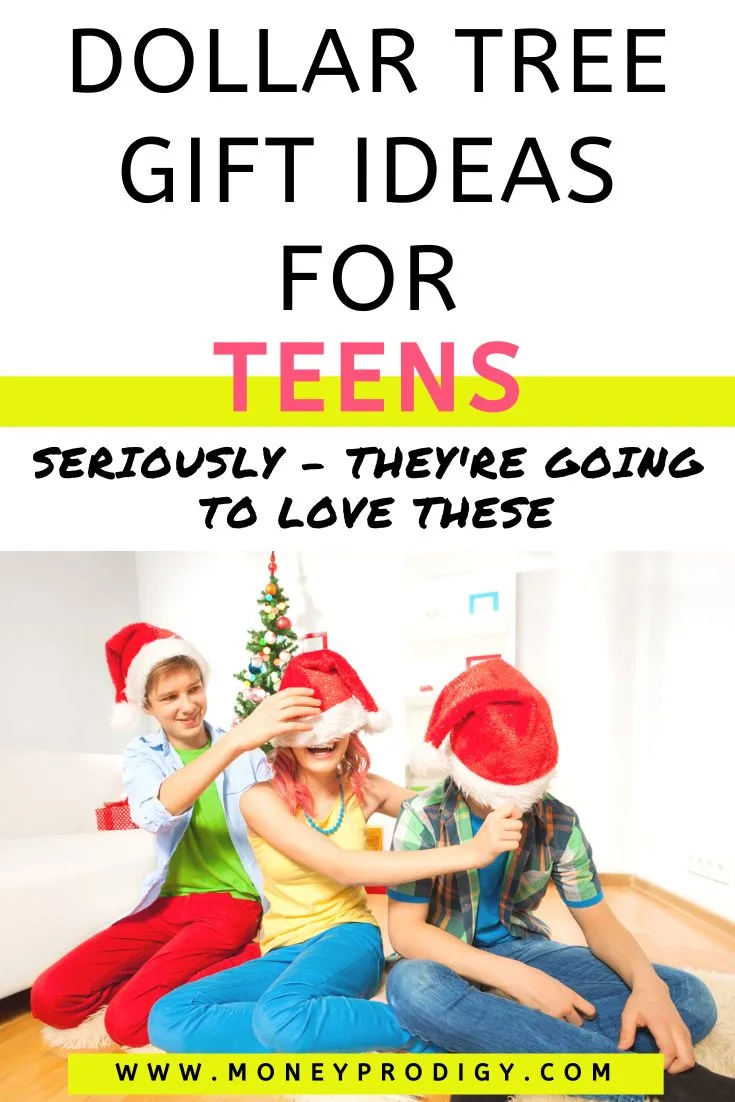 These Dollar Tree Christmas gifts for teens will surely help keep the bills down this year.
And just as important? Your teen will be excited to receive them.
Dollar Tree Christmas Gifts for Teens
And if the products happen to be the exact kind you'd buy elsewhere, but for a lot more? Well, that's even better.
Hint: many of these items come in a variety of colors.
1. Flavored Water Drink Set
You can find these BPA-free water bottles in many different colors, not just pink – then pair it with a reusable travel straw (I put it in the inside), plus some flavored drink pouches from brands your teen loves.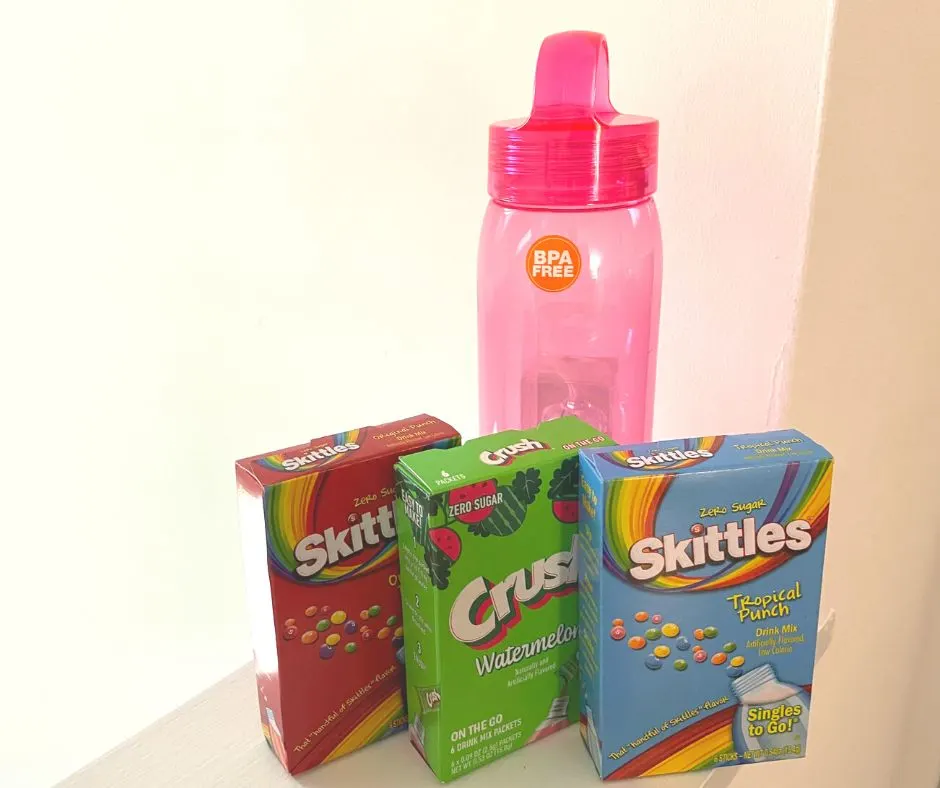 And voilà! You've got a gift to make any teen smile.
2. Teen Guy Bath Stuff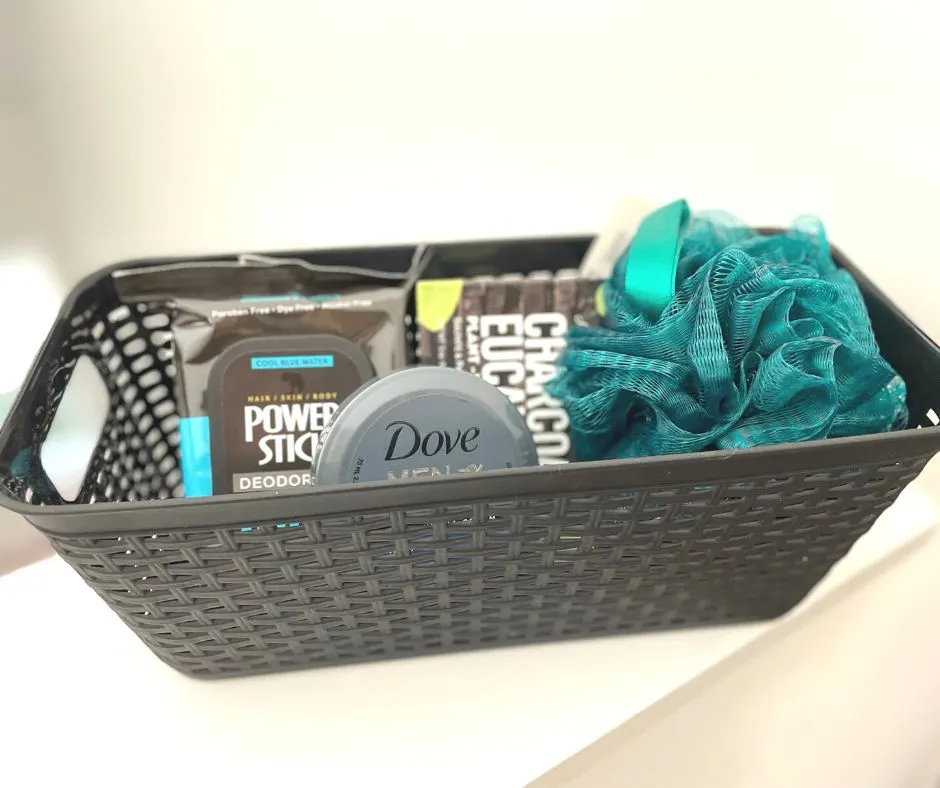 The Dollar Tree now carries a bunch of "guy" bath care and skincare stuff, which I'm quite excited about.
For the teen guy in your life, fill a black storage basket with:
Deodorant Wipes
Charcoal Eucalyptus Bar of Soap
Dove Men+ Care Face, Hands and Body
Hunter Green Shower Pouf
Black Storage Basket
Total Cost: $6.25 (plus tax)
3. Double-Tip Pens in Kendall + Kylie Pouch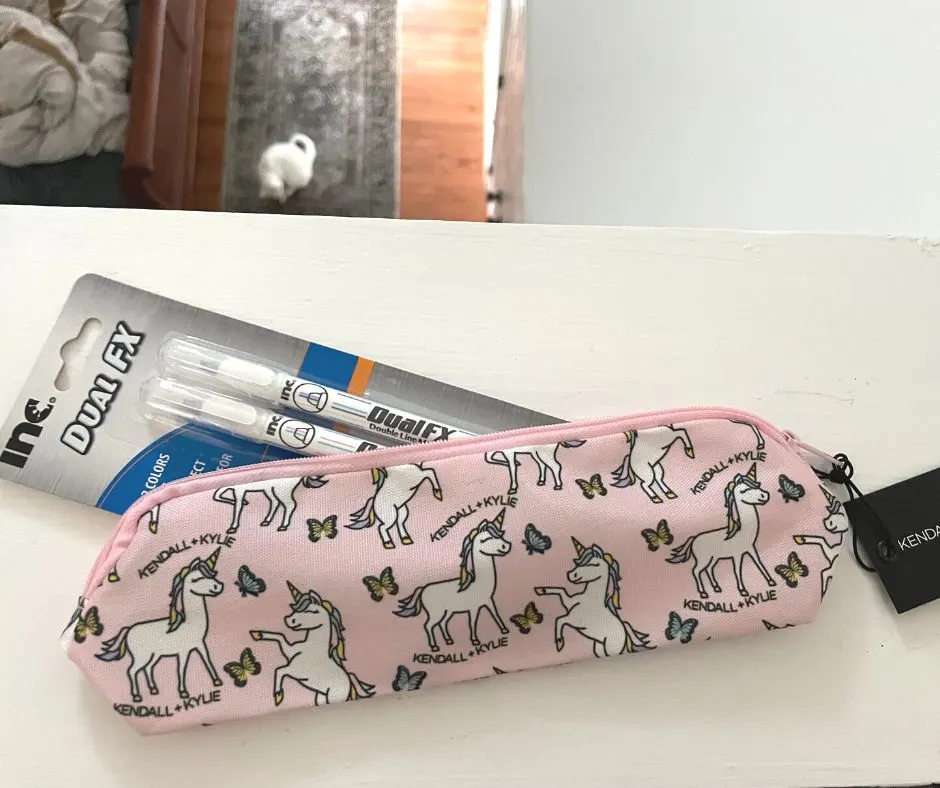 These dual-colored pens create a 3D effect when your teen writes. And I found this really cute, unicorn pouch by Kendall + Kylie right at the Dollar Tree!
4. Shower Pouf + Face Masks Tin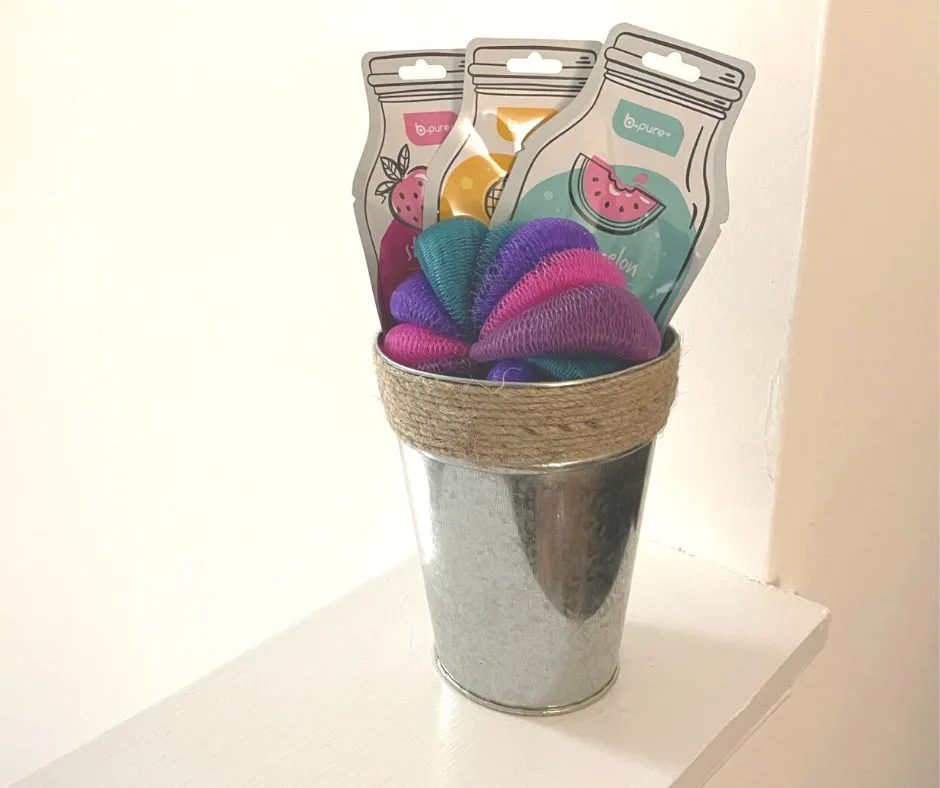 Have you been down the bath products aisle at your local Dollar Tree recently?
I was pleasantly surprised to find some seriously trendy products that any teen girl would love.
I made this gift basket with:
Tin pail
2 poofs (there's one in the bottom holding everything up for effect)
3 Face Masks
Total Cost = $7.50 (plus tax)
5. Mobile Gaming Grip Holder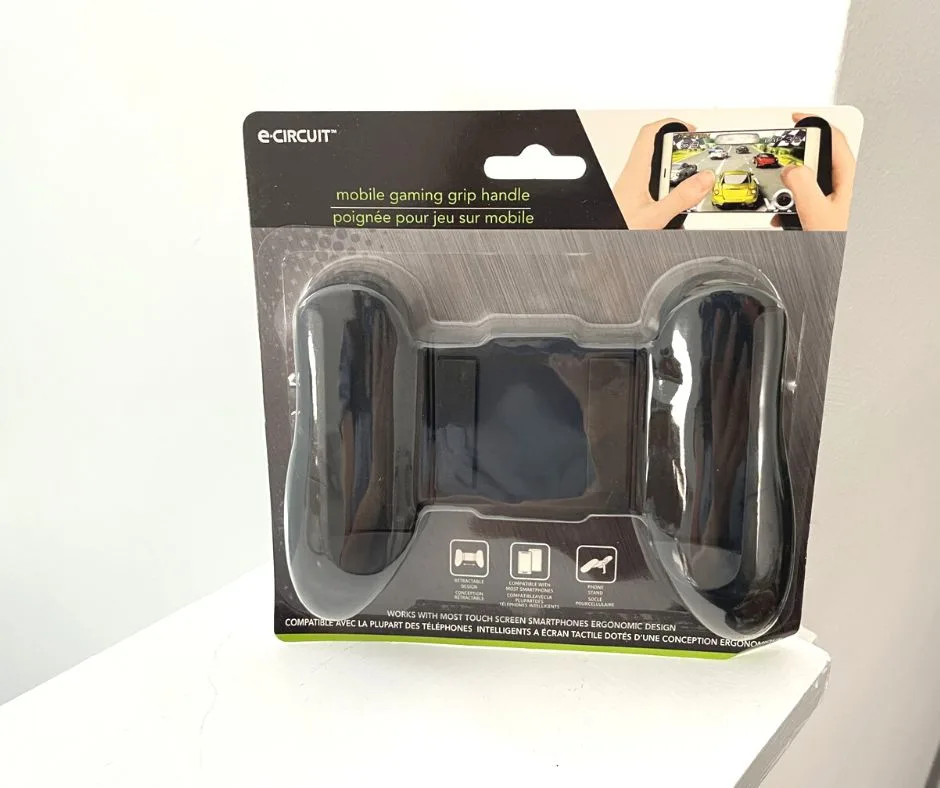 Wow – this thing kind of turns a smartphone into a gaming console.
Which is pretty cool for anyone who likes to play video games on their phone.
Total Cost: $1.25
6. Cake Decorating Kit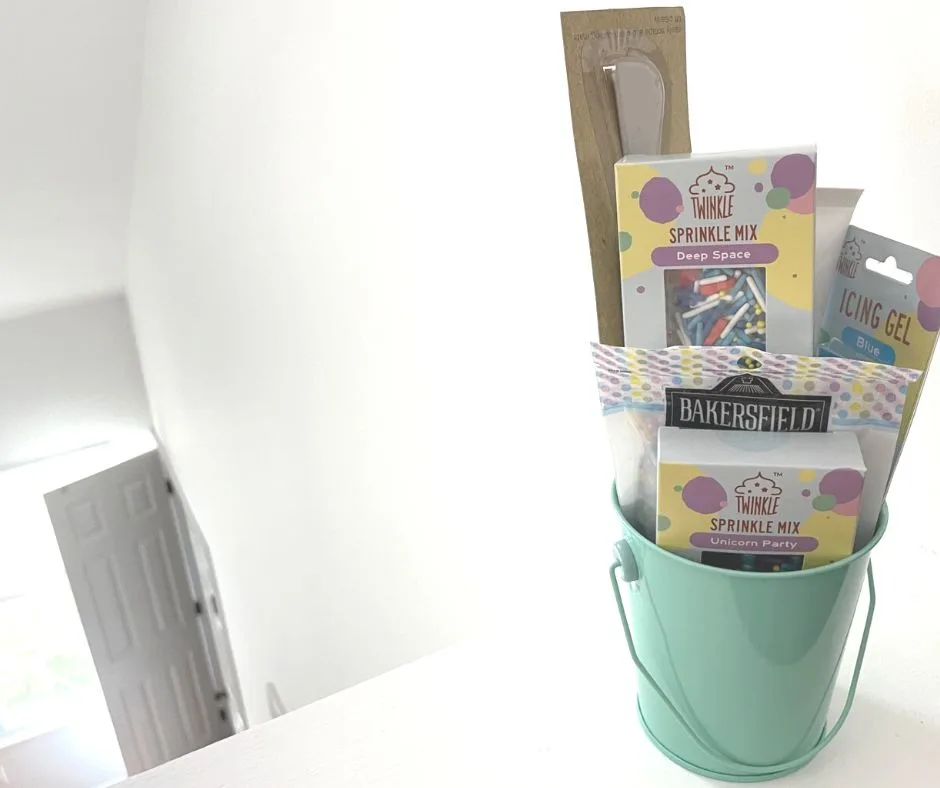 Does your teen love watching Cake Boss or other baking shows?
Encourage their baking interests by putting together a cake decorating kit from the Dollar Tree.
In this cute teal tin, I've got:
Unicorn Party Twinkle Sprinkle Mix
Deep Space Twinkle Sprinkle Mix
Rainbow Pastels Sugar Pearls
Blue Frosting Gel Tube
Blue Icing Gel
Craft spatula
Total Cost: $8.75 (plus tax)
7. Jerky Sampler Pack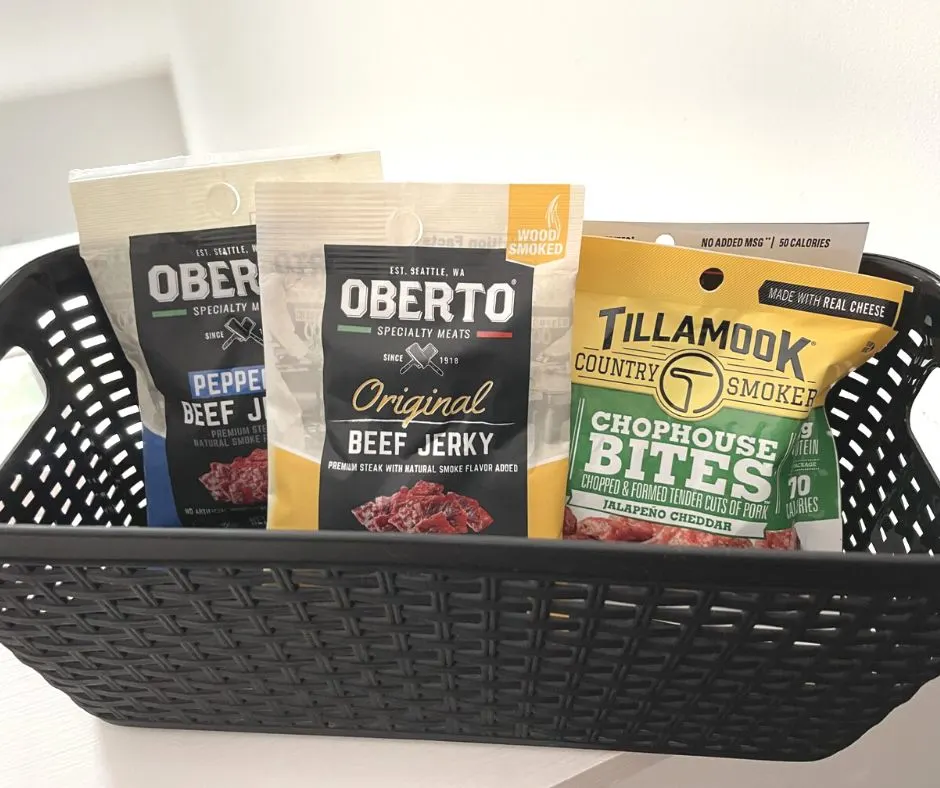 It seems like there's a whole wall of Jerky packages now at the Dollar Tree.
Choose some of the gourmet and/or non-gourmet flavors, and gift them as a sampler pack to a jerky-loving teen on your list.
In this image, I have:
Turkey Jerky
Peppered Beef Jerky
Original Beef Jerky
Jalapeño Cheddar Chophouse Bites
Total Cost: $5
8. Travel Teen Set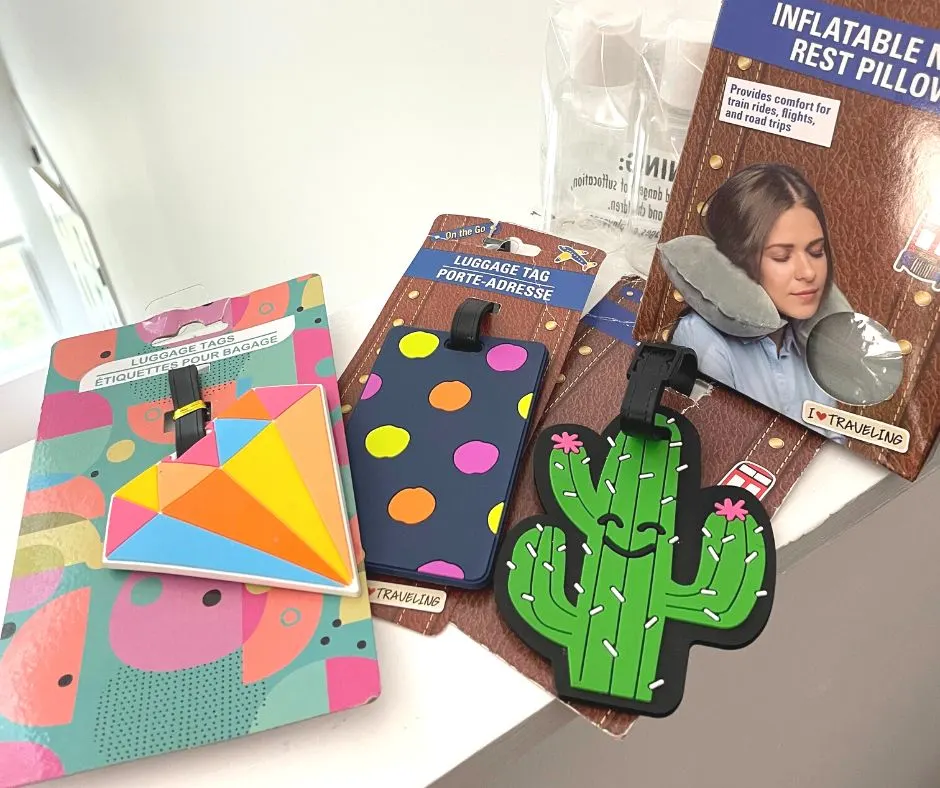 The Dollar Tree has come out with a line of really fun, teen-friendly travel products that I would've loved to receive when I did my first study abroad in Spain at 16.
Included are:
Easily identifiable + fun luggage tags
Inflatable neck pillow
3 empty beauty bottles that will pass TSA regulations for carry-ons
Total Cost: $3.75 (plus tax)
9. Choose to Shine Journal + Metallic Marker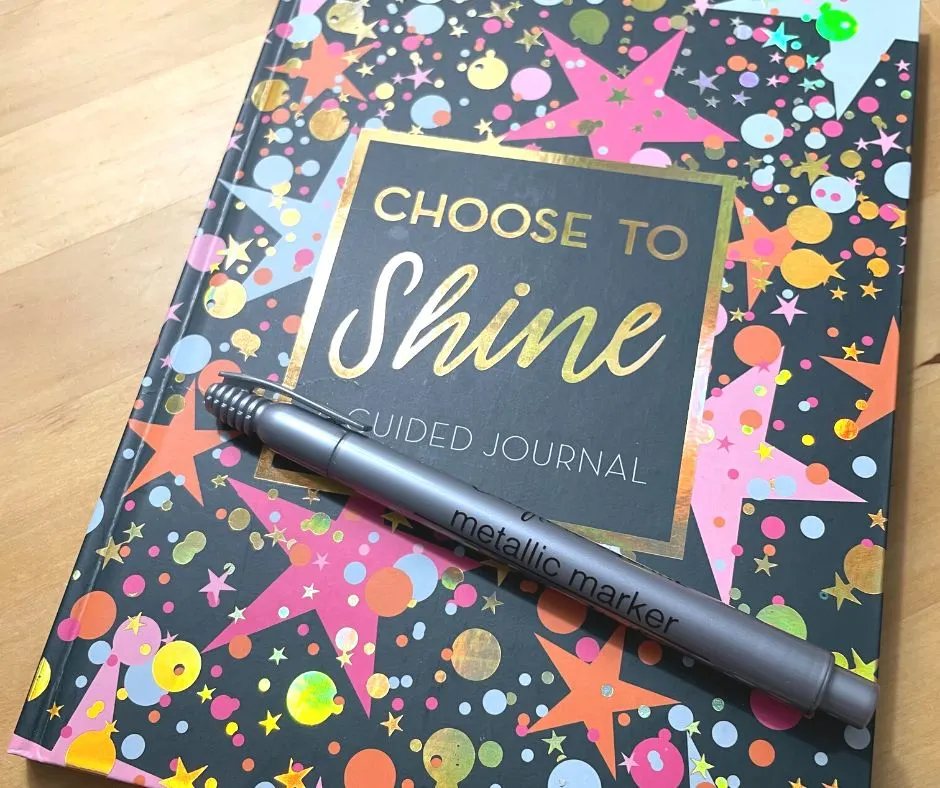 I started journalling in elementary school, and kept a journal as a teen as well (still do, as an adult – I've got a lot of history, thoughts, and feelings documented!).
That's why I was so happy to find this Choose to Shine journal at the Dollar Tree. It has prompts to help your teen, in case they aren't used to journalling for things like quieting their inner critic, dreaming big, setting an intention for the day, etc.
The inside pages are all a beautiful, dark blush color, so this metallic marker (from the craft section) would work well with it.
Total Cost: $2.50 (plus tax)
10. Teen Personalization Set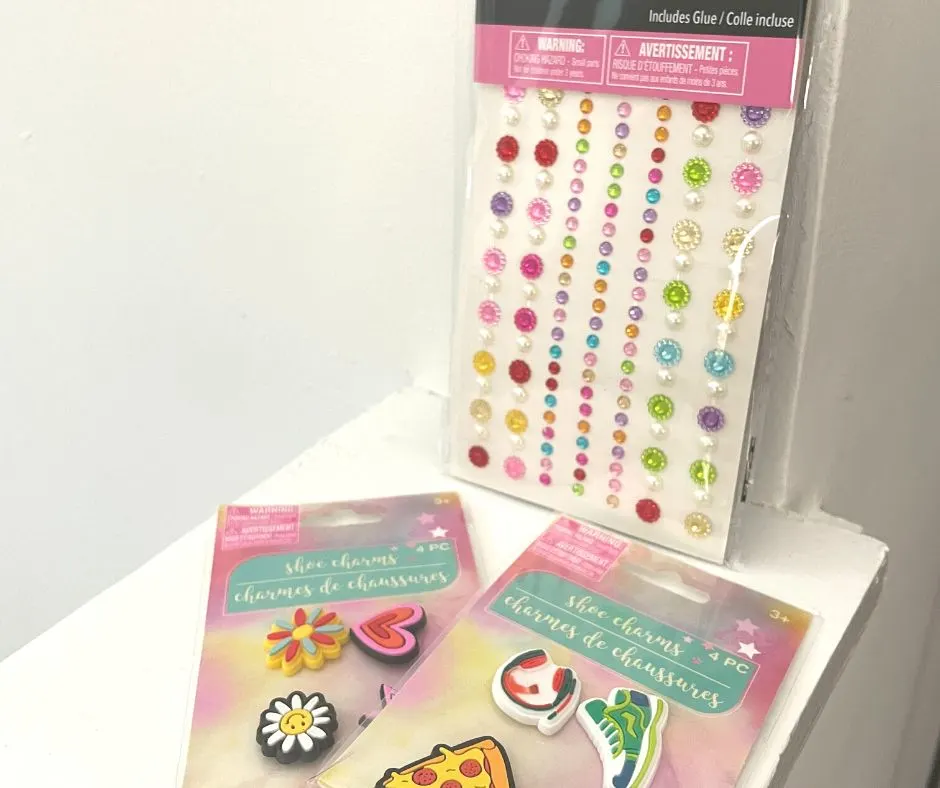 Teens love to personalize everything.
That's where this set comes in – a bunch of teen-errific accents that teens can use to personalize shoes, notebooks, tablets, rooms, etc.
Including things like:
Shoe charms
Gem stickers (this package comes with super glue, too)
Iron-on patches
Etc.
Total Cost: $3.75 (plus tax)
11. Incense Set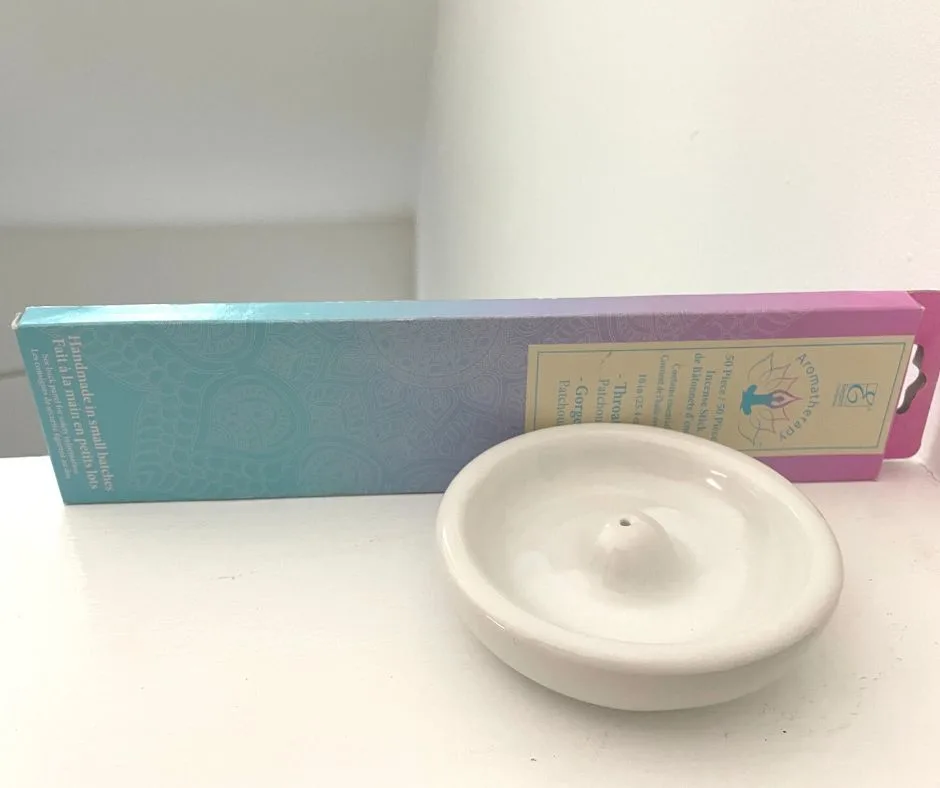 Did you have incense when you were a teen?
I remember very clearly how much I loved my incense burner (and how cool I felt being able to afford new incense sticks – which happen to be highly affordable).
Here's an incense burner + incense sticks to get your own teen started.
Total Cost: $2.50 (plus tax)
12. Socks Sampler Set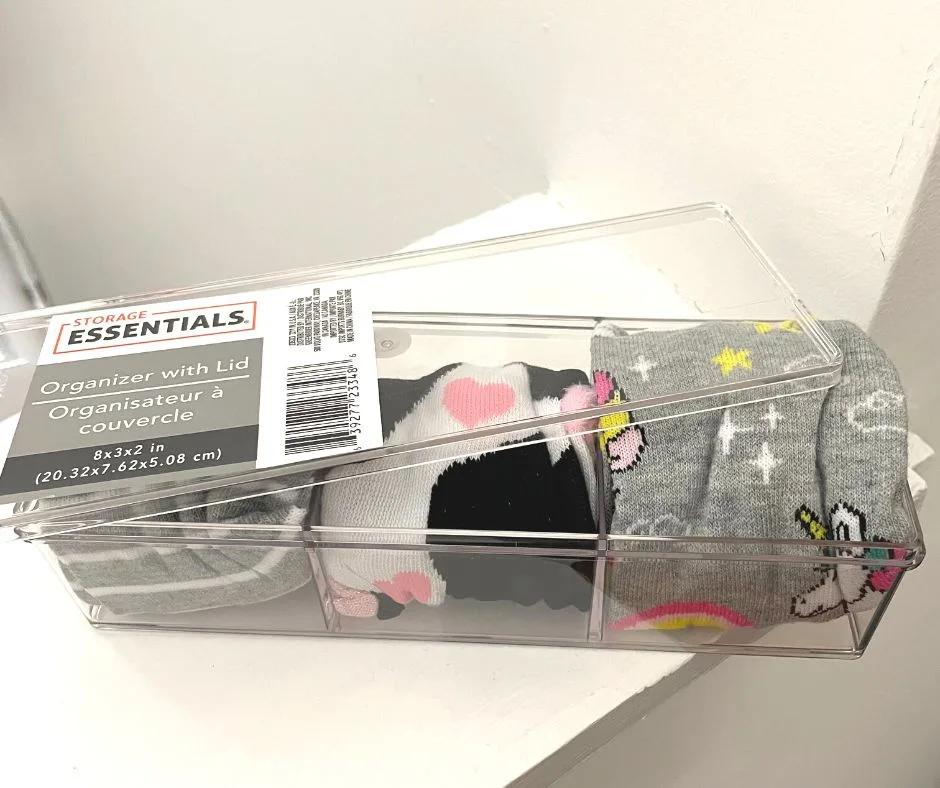 There is a whole wall of really cute socks – long ones, short ones, and no-show ones.
Choose three, and pick up this very sturdy organizer with lid for a cute gift to stash under the tree.
Total Cost: $5.00 (plus tax)
13. Teen Phone Accessories
There are some really fun smartphone accessories available in the Dollar Tree – actually, there's half an aisle dedicated to these!
Pick out the following for them:
Phone Grip and Stand
Fashion Gem stickers
Tempered Glass Screen Protector
Hint: they have phone pockets as well to store IDs, cash, and credit cards on the back of phones, too. BUT, I highly caution against gifting that – think about it, if your teen misplaces their phone (which everyone does at some point), then not only do they not have a way to call you, but they've also lost their identification and a way to pay. You can check out my other tips in what to keep in a teen's wallet.
Total Cost: $3.75 (plus tax)
14. Photo Lights Clip String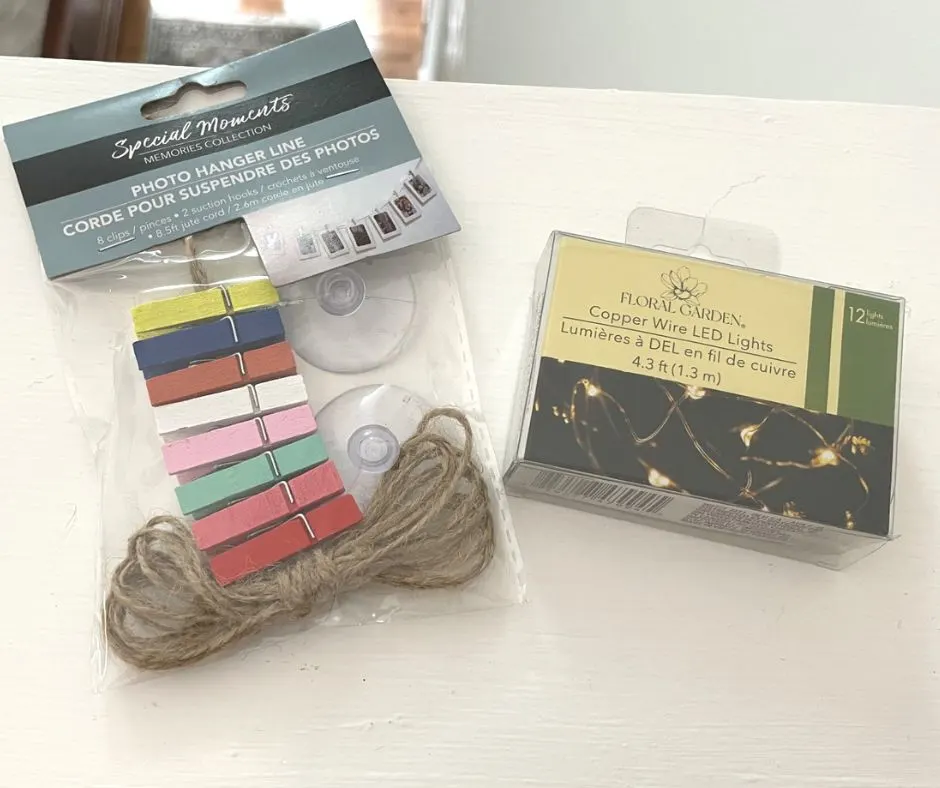 Have you seen those cool photo clip strings with lights on them on Amazon or something?
You can recreate one with these two products:
Copper Wire LED Lights
Photo Hanger Line
Total Cost: $2.50 (plus tax)
Guys, I had so much fun putting this post together. Soooo…I'm dying to know – which Dollar Tree Christmas gifts for teens are you most excited about? Any surprises?
The following two tabs change content below.
Amanda L. Grossman is a writer and Certified Financial Education Instructor, a 2017 Plutus Foundation Grant Recipient, and founder of Money Prodigy. Her money work has been featured on Experian, GoBankingRates, PT Money, CA.gov, Rockstar Finance, the Houston Chronicle, and Colonial Life. Amanda is the founder and CEO of Frugal Confessions, LLC.
Read more here
.
Latest posts by Amanda L. Grossman (see all)