These cheap stocking stuffer ideas for classroom and school Christmas parties will help you fill your student's stockings with a special surprise!
What are some good stocking stuffer ideas for students in your classroom?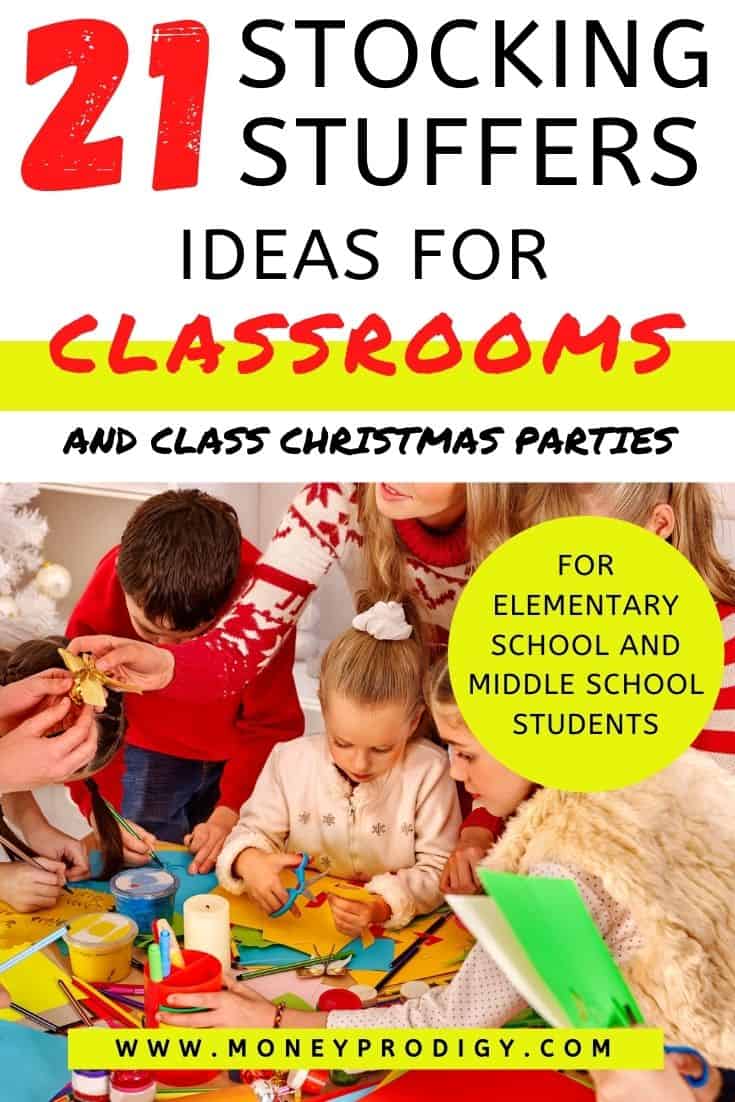 Great stocking stuffer ideas for classroom students should meet a few of the following:
Fit into a stocking (worth noting!)
Are affordable
Are parent-approved
Are seen as "cool" by your students
Teach your students something, or pique their curiosity
Are fun
Let's dig into my favorite finds that your students will love.
Stocking Stuffer Ideas for Classrooms (Elementary)
I wish I could be a fly on the wall when your elementary students open up their classroom stockings to find one of these, below!
Hint: you could also introduce a new classroom reward system – here are examples of classroom reward systems from real teachers.
Kids will go wild for these Rainbow scratch masks (I know my preschooler would!).
It's a 27-pack, so you can give each student a mask and scratch-off wood stick to take home and play with.
What elementary-aged student doesn't love to use a magnifying glass to explore their world? Send them out into nature with one of these.
Ever heard of these? They're a great way for youngsters to get creative and bring their ideas to life.
No glue is needed – these are self-sticking. Each pack in the kit comes with 12 Wikki Stix per child.
Each student can go home with a reusable set of stickers and a face to put them on!
As a Mom, I just love that these are reusable. In fact, I have a few sets of reusable sticker faces at home, and over the last 3 years we've used them multiple times.
Here's a set of 20 finger puppets that are sure to delight your students!
These puzzles are a great way for kids to sit still…plus use their brain! Comes in a box of 12.
These mini-doodle board sets are totally great, and totally affordable!
I know quite a few elementary-aged kids who are obsessed with magnets. These metal wands can be used for so much magnetic exploration.
You could divide and conquer – getting a set of these mermaid tail coin purses for the girls in your class, and then something different for the boys in your class.
Stocking Stuffer Ideas for Classrooms (Middle School)
Looking for stocking stuffer ideas for middle school classrooms?
Below, find really fun stocking fillers your students will go Ga-Ga over!
I'm pretty sure that if my teacher had been cool enough to put an invisible ink spy pen into my stocking…it would've earned her like 30 brownie points.
Just sayin' (don't worry Mrs. Wooten – I still loved you as a third-grade teacher!).
Students get to write a secret message, then use the pen's light to reveal it.
Let your kid design their own bookmarks with this 36-set of Rainbow scratch bookmarks.
These come with 10 in each pack, so buy as many boxes as you need, and then divide them up in your student's stockings.
Super-cute way to promote reading over the holidays and school breaks!
Pssst: if you can splurge a bit, then these 3-D creature cartoon bookmarks are absolutely hilarious and cute!
I can't tell you how many times I tried to solve a Rubik's Cube when I was a kid (my grandmother had one at her house, so each time we went over there, I'd fiddle with it for 30 minutes or more!).
Here's a 30-pack of Rubik's Cube you can send your students home with.
I distinctly remember visiting the Museum of History as a middle school student, and being absolutely mesmerized by the mummies and Egyptian artifacts.
These very affordable Papyrus-paper bookmarks are sure to be a hit!
The first time I got to play with one of these was when I was in middle school, myself, in a classroom.
But you know what? I never actually got to own one until I was an adult. Think about how excited your students would be to get their very own liquid motion toy/timer!
7. Colorful Flash Drives
Gift your students some colorful, digital, storage options with this 10-pack flash drive.
Give each of your students one of these metal wire puzzles to figure out over the holidays (or…into next year).
I love how they're individually wrapped, and come with a $15 gift card challenge (if your student wants to submit a video of their finished puzzle!).
Here's a 12-pack kit where kids get to create their own bouncy balls. What a fun, home project for the holidays! Each kit makes two bouncy balls.
Kids love slime…amiright?
Not only that, but they're great for stress-relieving and sensory playtime.
Super helpful that this comes in a 36-pack, too.
Pssst: got a bit more money to spend? Here's a 24-pack of galaxy slime. I just looooovveee the colors!
I only learned about market stamps a few months ago, and I bought a set for myself. They're soooo cute!
One pack has 10 in them, so you can just buy a few packs and leave one or two in each stocking.
Pssst: parents will love that they're washable.
Studying space in your classroom this year? My son is obsessed with it! These bookmarks are sure to delight your students.
No matter what you can afford to give your students, I applaud you for going above and beyond your usual job and providing joy in your classroom. Hopefully, these stocking stuffer ideas for classroom students will help you surprise them even more!
The following two tabs change content below.
Amanda L. Grossman is a writer and Certified Financial Education Instructor, a 2017 Plutus Foundation Grant Recipient, and founder of Money Prodigy. Her money work has been featured on Experian, GoBankingRates, PT Money, CA.gov, Rockstar Finance, the Houston Chronicle, and Colonial Life. Amanda is the founder and CEO of Frugal Confessions, LLC.
Read more here
.
Latest posts by Amanda L. Grossman (see all)