I've got awesome stocking stuffer ideas for 18-year-olds, whether you're shopping for a boy or a girl.
Gift shopping for 18-year-olds is different. I mean, they're still technically teenagers, but they're right on the cusp of young adulthood.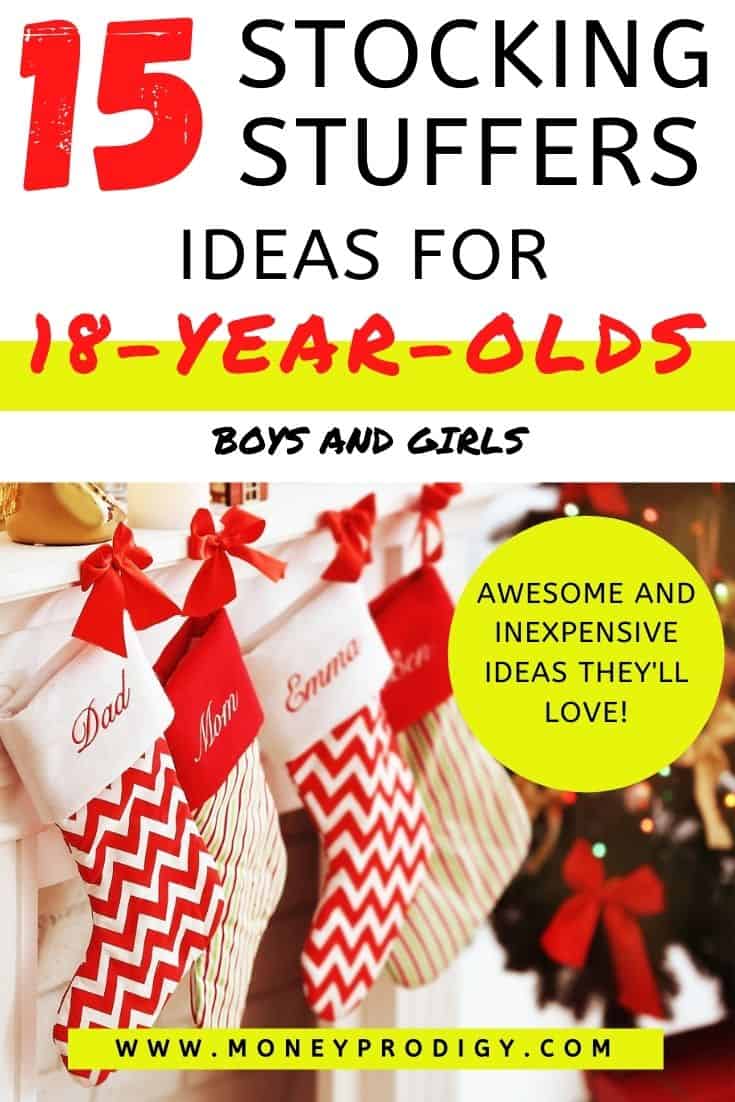 That's why I've created a special list of stocking stuffer ideas for 18-year-olds.
These are gifts they'll appreciate in this interesting phrase of life, when they're getting ready to do things like:
Going off to college
Getting their first apartment
Holding down a first job
Graduating from high school
Moving out on their own for the first time
Maybe doing a Gap Year, or taking a senior trip.
Stocking Stuffer Ideas for 18-Year-Olds
Whether you're shopping for stocking stuffers for an 18-year-old girl, or boy, you'll find plenty of great options below.
We're teaching our son to use chopsticks, and this pair is definitely getting added to his stocking this year!
It really stinks when you lose your car keys. And we've all done it!
Can you imagine your teen losing their apartment keys, car keys, and whatever else while living away from home?
Get them this Keyfinder that will alert them where your keys are within 200 ft., or tell you the last place they were (if more than 200 ft. away).
This works for any smartphone, which makes it a convenient purchase to make. And most of us use our phones for directions and GPS, so having it readily in front of a driver makes sense for that.
Help your teen-adult with both using less straws AND making their occasional (or…daily…) coffee drinks cool-looking.
I love how this is both dishwasher safe, AND, comes with a straw brush (I had to buy my own straw brush because the reusable straw I bought didn't come with one and I hadn't thought that far ahead).
What a fun way to write to-do's and reminders – by scratching them off to reveal lots of rainbow colors!
Does your 18-year-old like iced drinks? Not only is this Java Sok sleeve very stylish, but it serves two functions:
Keeping all that condensation from getting everything wet around them
Keeping your beverage icy, longer
Score!
Who can't use extra storage in our digital world?
For school stuff, for photos, for college papers, etc. This one comes with 64 GB of space, a lanyard, and an LED light.
This will make your teen-adult's nails super shiny, without chemicals and without damaging the surface of their nail.
You can feel great about equipping your 18-year-old with one of these personal safety alarm keychains. Comes in colors for both boys and girls.
What teen guy wouldn't love to add one of these one-size-fits-most covers to their center console in their truck or car?
And if your 18-year-old is a teen girl, then consider one of these bling-y looking ones.
Psst: you'll definitely want to check out my stocking stuffers for new drivers list. And my car gift ideas for used car owners.
These are especially useful for reading from textbooks, the bible, or college texts – because you can move the pointer to show the exact sentence or paragraph where you left off on a page with tons of text.
This is a great chance to upgrade your 18-year-old's money space.
Here's a classy, but cool, trifold Timberland men's wallet.
For the teen girls, check out this line of wallets with a checkbook holder and more.
Not only does this bracelet have a lot of helpful stuff – like a compass, fire starter, emergency knife, and whistle – but it's also cool enough looking that your 18-year-old guy might wear it out.
Does your teen-adult have some travel in their future? Get them ready with these TSA-approved beauty bottles.
What a comfy (and funny – it's a conversation-starter, for sure) blanket to send your 18-year-old off with to the next stage of their lives. Whether that's college, a first apartment, or their childhood bedroom.
Really cute and classy insulation sleeves that are washable. Not only does this keep a drink cold for longer, but it prevents condensation dripping onto a desktop and such.
Made for iced drinks, not hot ones. Lots of different styles to choose from.
How about it – which stocking stuffer ideas for 18-year-olds are you most excited about?
More gift-giving Guides to check out:
The following two tabs change content below.
Amanda L. Grossman is a writer and Certified Financial Education Instructor, a 2017 Plutus Foundation Grant Recipient, and founder of Money Prodigy. Her money work has been featured on Experian, GoBankingRates, PT Money, CA.gov, Rockstar Finance, the Houston Chronicle, and Colonial Life. Amanda is the founder and CEO of Frugal Confessions, LLC.
Read more here
.
Latest posts by Amanda L. Grossman (see all)