Are you a parent of a teen who is dating? Here are 20 cute Valentine's Day date ideas for teenage couples.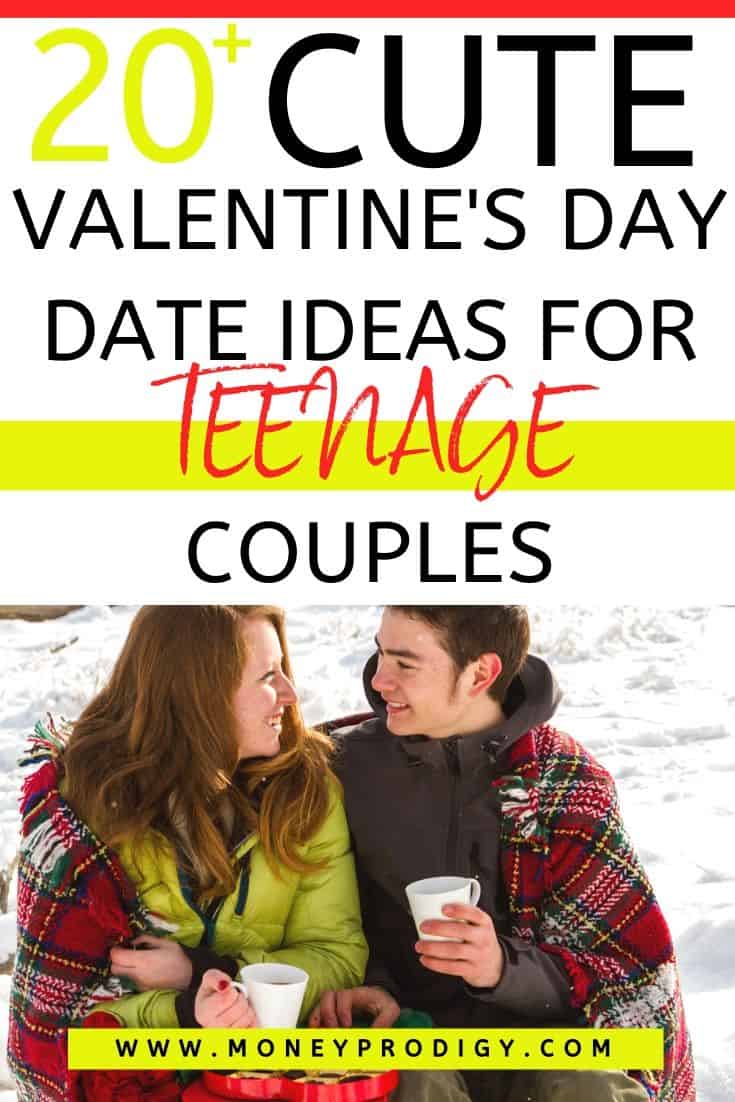 What are the best Valentine's day date ideas for teenage couples?
Whether you're looking for Valentine's day date ideas for at home, or ones that get you out on the town, you're in the right place.
But before I offer these up, a few words on how best to choose from them.
Things to Remember When Choosing Valentine's Day Date Ideas for Teenage Couples
I'm going to be serving you up some seriously fun and cheap date ideas to make Valentine's Day special for teenage couples…but you should remember a few things when you go through and choose from this list.
Mostly that, which date ideas you go with depends on the following:
Parental permission
Budget
Transportation needs and resources
Curfew times
Adult supervision requirements
What you're interested in
Go through this list with your teenage daughter or son, and come up with several options for them to choose from that are A-Okay in your book.
Pssst: are you a teen reading through this? If I were you, I would choose several options that you'd love to do, and then discuss them with your parent.
Alright, alright – let's get to the awesome ideas!
Valentine's Day Date Ideas for Teenage Couples
When you think of Valentine's Day date ideas teen couples can do…what comes to mind? Are you stuck on regular ol' coffee shops, the movies, or ordering a pizza?
Nah, not for you.
I've got way cooler, and quite unique, ideas for teen couple dates on Valentine's Day.
#1: Go to a Candy Store Together
I just love the vibrant colors in candy stores. It's a great backdrop to Valentine's Day, and many of them even have seats and sell things like milkshakes you can enjoy while there.
Your teen can let their date pick from their favorite candies to take home.
#2: Enjoy the Hot Tub with Christmas Lights
Can your teens use your hot tub? You could also let them bust those Christmas lights back out (just a string will do) to string up some Christmas lights around it.
#3: Eat at a Revolving Sushi Restaurant
This can be a cheap date for your teen as long as they watch what they're doing – that's because they'll only pay for any sushi grabbed off of the conveyor belt.
Not only that, but some serious cool points – it's quite entertaining to watch the sushi being made and revolving around the room or table on a conveyor belt.
#4: Check Out the Sky View Together
Your teen can drive together with their date to the nearest indoor area where you can get really high to see across the landscape. This could be a restaurant that overlooks a valley, or a high-rise building that allows tourists to go to the top, etc.
#5: Get Chinese Takeout + a Movie
Can you give your teen couple exclusive access to the tv for a Valentine's Day date? They could pick up some Chinese food, and pick out a movie ahead of time to share. Chopsticks are a plus!
Bonus Tip: Can you help your teen set up everything needed to make s'mores on a table in your house?
#6: Complete an Escape Room…At Home
Your teen can check out these Free Escape Room Printables and work through them with their date, at home.
Psst: here's my list of best Valentine's gift ideas for teen boys.
#7: Go Indoor Rock Climbing
If your teen checks a site like Groupon, they can find discounted tickets to places like indoor rock-climbing gyms.
What a great opportunity to take a date!
#8: Go on a Digital Scavenger Hunt
Have you ever heard of a digital scavenger hunt? It's created through an app, and there are several companies to choose from (with over 400 cities represented).
Your teen and their date would get clues, and work on them together to complete a scavenger hunt in the city nearest you.
This can be a little pricey, so they'll want to check out places like Groupon.com for discounted tickets.
Companies include:
It's also a great opportunity for some fun Valentine's day selfies.
#9: Tour a Food Factory
There are hundreds of factory tours that are free or cheap for a teen couple to go on, across the U.S. (use this site to find ones near you).
Many give away free samples at the end!
#10: Meet Up at a Free Event
Great places to look for free events include:
#11: Get Fancy…for Dessert
Help your teen make a reservation at a fancy restaurant in town or in the nearest city, get dressed up, and…enjoy a dessert together!
#12: Hang Out in a Cat Café
Did you know there are cafes that have lots of cats in them? They seem to be a new, but growing trend, and can help some of these cats find good homes.
In the meantime, your teen can take a date to one, get a coffee, and pet cut and cuddly cats all evening.
#13: Coffee Shop + Conversation Cards
I just love the idea of conversation cards – you learn SO much about each other.
Let your teen take a date to a local coffee shop, and then help them print out one of the following free decks of conversation cards:
#14: Compete on the Dollar Store Challenge
Have you ever heard of the Dollar Store Challenge? Your teen couple can head to the Dollar Store, where they'll both compete against each other. Put a dollar cap on the trip — like $5 — and then come home and DIY-create something.
Whoever creates the coolest thing using just $5 at the Dollar Store for supplies, wins!
For a twist? They can buy DIY supplies for each other…and then see what each person can each create out of them.
Now, what happens if your teen doesn't have any transportation or otherwise can't take their girlfriend/boyfriend out for Valentine's Day?
Well, you get creative, that's what.
Cute Valentine's Day Date Ideas for Teenage Couples (Who Can't Drive)
Maybe your teen can't actually afford to take their girlfriend or boyfriend out for Valentine's Day. Or, they can afford it, but they have no transportation. Or they're grounded. Or any number of other hiccups.
Don't fret. This is the section of ideas for just that!
We'll start off with ideas they can do while at school, since Valentine's Day often falls on a week day, and then move onto at-home Valentine's Day date ideas for teens.
#1: Make School Lunch Extra Special
Does your teen normally eat lunch together with their girlfriend or boyfriend at school?
Great – they can use that as their Valentine's Day Date.
They can bring in a Valentine's Day cupcake to surprise their date with to go with whatever the cafeteria or lunch bag is serving up.
They could even tell their date they want to pack lunches that day for both of them, and surprise him or her with something from your home.
Bonus Tip: Think outside of the box here – can your teen bring in two sets of chopsticks hanging around in your silverware drawer at home? That would make lunch more interesting.
#2: Dress up their Locker for a Few Minutes of Conversation Time
If your teen can only get a few minutes of time together with their date in the morning, after school, or in-between classes, then they'll need to make it count.
On Valentine's Day, they can dress up their date's locker with some red/pink post-it notes, these free print-and-fold Valentine's cards (or these), a free candy gram poster, or even some Valentine's Day window clings (they should cling to the locker, and come off clean).
They can sneak this surprise in either before they get to school, or do it after they meet up in the morning so that when school is over, they can talk to each other to the background of some Valentine's Day decorations!
Psst: here's 14 Valentine's Day activities for high school students.
#3: Window Cling their Car
Your teen can buy a bunch of Valentine's Day window clings, and then time it to get into school after their date do so that they can put some on their windows!
#4: Sneak in a Valentine's Day Breakfast
Your teen can get to school a little bit earlier than usual, and meet up with your girlfriend/boyfriend at their locker, in the cafeteria, or wherever else they're allowed to to present them with some free Donut Forget printables + donuts picked up at the convenience store on the way in (or from the grocery store)!
#5: Go to a Drive-In Movie…in Your Driveway
Your teen can grab some movie-theater candy boxes from the grocery store or dollar store and a blanket. Charge up their laptop or smartphone or whatever else you use to stream a movie/watch a DVD, and invite their boyfriend/girlfriend out into the driveway for a drive-in movie!
#6: Take the Teen 5 Languages of Love Quiz
Have you ever heard of the 5 Languages of Love? It's all about how you give and receive love to others (to your family, friends, boyfriend/girlfriend, etc.).
There's actually a free version of the quiz for teens, and your teen can take that together with their date. Couple quizzes are always fun! You never know what you'll learn about each other.
Bonus Tip: Pair the evening with some mocktail recipes for kids!
Share your own Valentine's Day date ideas for teenage couples below — I'd love to hear them!
The following two tabs change content below.
Amanda L. Grossman is a writer and Certified Financial Education Instructor, a 2017 Plutus Foundation Grant Recipient, and founder of Money Prodigy. Her money work has been featured on Experian, GoBankingRates, PT Money, CA.gov, Rockstar Finance, the Houston Chronicle, and Colonial Life. Amanda is the founder and CEO of Frugal Confessions, LLC.
Read more here
.
Latest posts by Amanda L. Grossman (see all)