Get the trick that makes a vision board for kids one of the most motivational ways for them to meet their goals.
You've heard of the vision board, right?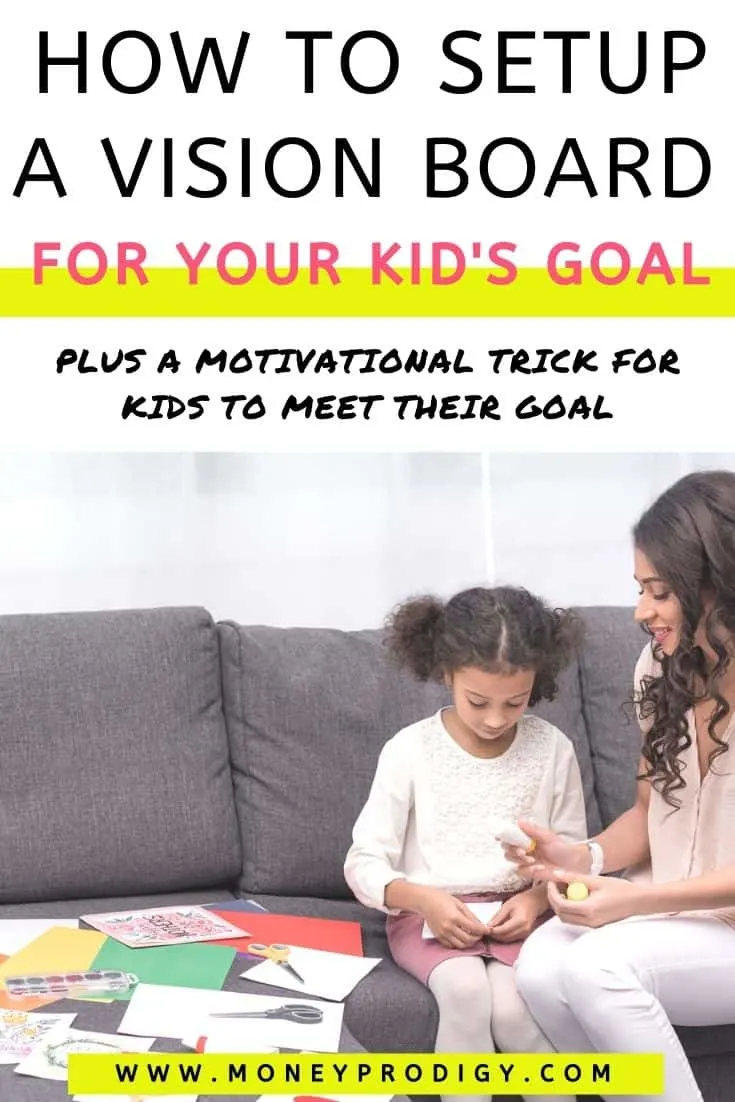 You know, where you collect a bunch of drool-worthy images showing whatever it is that you want to be/do/have in your life and then create a collage by hand or digitally?
A vision board can also be a great tool for trying to teach a kid or teen to get sustain motivation while they're trying to meet a savings goal (such as how to save up for an iPhone as a teen).
But not just any vision board will do.
It's reverse-engineering a vision board, so that your teen reveals a piece of an image of their goal each time they set a certain amount of money aside for it. It's one of my favorite vision board topics, 'cause it works.
Let's get started!
What is a Vision Board and How Does it Work?
Before we dive into what goes on a vision board + the trick, you should probably be able to explain to your child what a vision board is and how it works.
A vision board is simply a collection of images (or just one) that physically represents a goal that you have. The idea is that if you see what you want in life, you will be motivated to go after it and make it a reality. It's a reminder of what you're working towards, and can really help when you lose motivation during the goal process.
As Psychology Today points out, merely making a vision board is not enough to get your child the goal that they want – they really need to take action on it. The vision board for kids is merely a tool to keep them motivated so that they take the daily and weekly actions needed to get to where they want to be.
How it works is what we'll be going through below.
What Goes on a Vision Board? Here's a 5-Step Process to Figure that Out
I'll be walking you through a 5-step process to figure out what goes on your kid's vision board.
First, we'll figure out what they want as their goal (a vision board for kids goes hand-in-hand with goal setting for kids). Then, we'll figure out how much that goal costs.
I'll then walk you through the rest of the steps to do this trick, but you should know that we're going to start off with figuring out what your child wants to be/do/have in their lives (i.e. what their goal is).
Psst: you might want to check out one of these free vision board printables for students.
Step #1: Help Your Kiddo Set a Savings Goal
The first thing you'll need? Is an actual savings goal. Just one.
I know, I know – getting your child to set their eyes on just ONE thing they want at this particular moment in time can be a bit daunting.
But don't stop here.
I've got a one-page guide that will help your child dream-storm all their savings goals, then – and here's the important part of money saving tips for kids – narrow it down to the one that will yield the quickest win. Because if they can meet their savings goal quickly? Then they'll be more likely to come back to the goal-setting line again and again.
And that, Mama Bear, is worth its weight in gold.
Step #2: Figure Out How Much it Costs
Your kiddo's next step is to come up with a Target Savings Goal Amount – i.e. the amount of money it's going to cost to be able to purchase what they want to be/do/have. You have to have a target goal so your child knows that this money saving tips for kids is realistic, not just a pipe dream.
I'm going to use the iPhone as an example, as it turns out quite a few tweens and teens are curious as to how to save up for an iPhone as a kid.
In order to price my Target Savings Goal Amount, I need to conduct a little research.
This means I'll:
Look in-store to see if there are any upcoming promotions that could be a better deal than purchasing online.
Look online to price shop a few places, such as at Virgin Mobile, versus purchasing from the Apple store directly.
Try out price shopping for different variations in models, colors, storage space, etc.
Look into other buying options that will be cheaper, such as buying a pre-certified, or pre-loved phone with some sort of warranty at a fraction of the original cost.
After I gather all of this info, I'll settle on the option that I want. This will answer how much my Target Savings Goal Amount is.
In my case, it will be $374.99. This would be through Virgin Mobile, for the iPhone 6S, brand new (in case you're wondering).
Step #3: Create an Engaging, Vibrant Vision Board
Next, your teen will want to create their own vision board. They can do this online, but they'll need to print out their creation so that they have it in front of them to do this vision board trick.
Help them search Google Images for images of what they want to be/do/have. You can also help them use an image-intense search engine, like Pinterest. Perhaps they can use some magazines lying around.
Maybe they just want one image of what they want to embody their vision board, or perhaps they want many. Doesn't matter – let them have full creative reign here!
Step #4: How Do You Make an Effective Vision Board? Reverse Engineer it
Now it's time to break out the post-it notes. You're going to help them do a little math to figure out how much each "post-it note" real estate is going to be worth on the board.
Take into account how much their Target Savings Goal Amount is for, and how much space they have on their vision board to cover.
Take a look at the vision board I created, and you'll see that I decided to value each post-it note at $25. This means I'll need 15 post-it notes ($374.99/$25 = 15).
If I had valued each post-it note at $5, then I would have needed 74 of them…so do some calculations to see which dollar denomination makes sense for your kiddo's savings goal and for the amount of space you've got.
For example, if your teen's Target Savings Amount is $200, and you're working off a vision board the size of a regular 8" X 11" paper, then you might want to make each post-it note worth $25. That way, you would need to use 8 post-it notes ($200/$25 = 8) to cover the entire image.
Whichever amount you choose, write it on each of the post-it notes and cover your vision board in a single layer. Do a quick calculation at the end to make sure the entire Target Savings Goal amount is covered.
Step #5: Pluck Off those Post-It Notes
Now, as your teen saves those denominations, they get to pluck off a post-it note to reveal part of what they'll eventually get to be/do/have.
How fun is that?
They can choose to take the post-it note from wherever they'd like.
For example, if I set aside $50 this month to go towards my iPhone, then I get to pluck off two post-it notes from my vision board, revealing part of the image of what I am saving for. If I set aside just $15 next week, I'll wait until I can set aside another $10 in order to pluck off one.
You can even make a note on one of the post-it notes to keep track of how much more you need to save in order to pluck it off.
It's like a savings game!
What a fun money savings tip for kids. Reverse-engineering a vision board is kind of addicting – don't be surprised if you try this out for yourself. And in the meantime? Your teen or kiddo will be working towards both what they want + an invaluable money lesson of how to save up for their purchases instead of going into debt to buy them (not to mention a lesson in goal-setting and how important visualizations can be).
It's a money win-win!
The following two tabs change content below.
Amanda L. Grossman is a writer and Certified Financial Education Instructor, a 2017 Plutus Foundation Grant Recipient, and founder of Money Prodigy. Her money work has been featured on Experian, GoBankingRates, PT Money, CA.gov, Rockstar Finance, the Houston Chronicle, and Colonial Life. Amanda is the founder and CEO of Frugal Confessions, LLC.
Read more here
.
Latest posts by Amanda L. Grossman (see all)