Cool money banks for kids to get them excited about saving money plus best piggy banks for toddlers. Heck, they might even accumulate some money instead of you finding it crumpled up in their jeans pocket!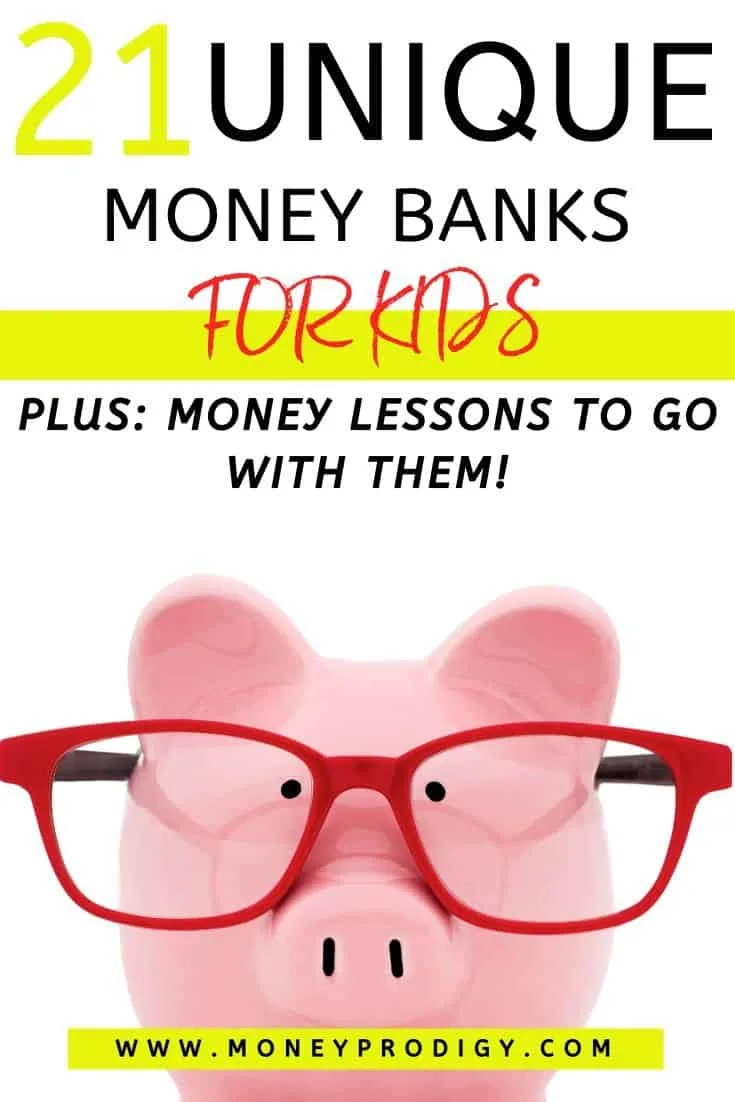 The piggy bank.
It's kinda the first instrument/tool/resource you can give your kiddo, or your niece, nephew, grandchild, etc. to get them interested in saving money. But there are tons of money banks for kids out there.
Which are the best kids' piggy banks?
Saving money for kids starts simply by giving them a place to accumulate their extra coins + cash. Instead of leaving a dollar here, $0.50 in their wallet, and finding money crumpled up in the corner of their bedroom…you can now give them a place to store it. In a kids bank!
And not only store it, but to watch it grow into something.
Getting a child interested in accumulating money can lead to some really cool outcomes later in their lives, such as them being able to fund their needs + wants + dreams.
In other words, by gifting them one of these unique piggy banks for kids below, you'll be able to pat yourself on the back down the road when you see them living their lives OUT LOUD.
Choose from one of the 21 unique piggy banks to get the kid(dos) in your life interested in accumulating money (or at least, not spending all of it as soon as it reaches their pocket — which for their age, is a solid start).
Pssst: ever wondered why people put coins into pigs, anyway? I mean, why not put coins into cows? Or dogs? Turns out they've been doing it for centuries. Check out the history of the piggy bank here so that you can add in a fun story to tell your kid(dos) when you give them their very own!
Money Banks for Kids with Single-Use Savings Category
These money banks for kids have one slot, and one opening to access the money from that slot (yes, gone are the days where you have to smash your piggy bank to get the money out. Could be a good thing, could be a bad thing…depends on how impulsive your little one is!).
My 8-year-old, astronaut-obsessed self just got excited – this coin bank is actually made with real meteorite from outer space!


Fun little fact: my husband is in love with Frozen. He might not admit to it out on the street…but he is. He plays the songs for our little guy on his phone (and may or may not sing along with them).
Any other Frozen fans on your shopping list? Personally, I'm wondering how many coins will actually fit inside this Elsa doll.

Look at this awesome (and suppppeerrr cute) way to turn a mason jar into an actual "piggy" bank! The piggy's mouth? Is the coin slot. It's sooooo cute (comes in both pink and blue!).
Two things you need to know: this dog's name is Bailey…and he eats spare change. Nice way to encourage your kid(dos) to put their coins "away"!

Want to start instilling the need for an emergency savings fund? This coin bank is a great conversation starter for that. Bonus: no batteries needed.
This elephant piggy bank is so cute, you might just want to scratch under his little trunk.
My grandparents had this two-foot tall Coca-Cola bank…and when they cashed it in after years and years of plunking all their pocket change into it, the total was over $800! Nice.
What a cool way to categorize four different reasons to save your money!
Can I just say how super-cute this little guy is? I mean, who couldn't help but want to feed him nickels and dimes?

Stylish + chic are the words I'd use to describe this white elephant piggy bank. The white and gold would match any décor. Bonus: it's so stylish that really, it'll grow with the child.
Heck, I'd like to have this little guy sitting on my library-turned-playroom shelf!

Your kids can paint their own piggy bank before using it to store money.
There's a digital LCD screen display that counts and keeps track of the jar's savings for your kid(dos)! And if they happen to raid the money-candy jar early, or if they want to add some bills instead of coins? They can work on some money skills by using the add/subtract button to report the amount. Another unique part of this bank is that you can just unscrew the lid to get out your cash. That could be a good thing…or a bad thing.

Soooo…there's this cool cat who apparently likes to pop up and steal your coins when you place them on a certain spot. What kid (or adult, for that matter) wouldn't try to place more coins on that spot (which happens to lead directly into savings)?
Toddler piggy bank, for sure!

Any Doctor Who fans out there? Here's an official Doctor Who product all about getting your kid excited to save their money.
Divided Piggy Banks (Piggy Banks with Sections to Save, Tithe, Invest, etc.)
Looking for a piggy bank that will allow your kid(dos) to divvy up their precious dollars into different categories, like tithing/charitable giving (hint: here's 10 charities for kids to donate to), spending, saving, and investing? These banks are for you.
This award-winning savings jar allows kids to divvy up their money between saving, spending, and sharing. A Family Guidebook and Passbook are included, and the individual compartments can be taken out, or kept together in one bundle.
(HINT: this is a great piggy bank for bills).
Have a little person who is really into building blocks? This piggy bank will delight them. I like how the individual containers are transparent, which is one way to get your child to see their money physically growing (or declining, if they decide to use the funds early).
My two-year old is obsessed with fire trucks and firemen. On a recent visit to PA where my family lives, he actually got to tour one! Which isn't out of the ordinary, as my Mom's side of the family owns a firehouse.
So this could be a great toddler piggy bank for us.

This owl bank gives your kids the option to put their money in three different categories: spend, save, and share.
This is a set of three boxes with magnetic closures that cover your kid(dos)' money needs for spending, saving, and sharing. Boxes can be stored together, or taken out as separate components. Also comes with a simple kid's money guide.

I love how transparent the four chambers are with this piggy, one each for: save, spend, donate, and invest. It also comes with stickers to decorate each of the four categories with.

Now that You've Picked out a Kid's Piggy Bank…
I want to give you a few more resources, as buying your kid(dos) or the children in your life a piggy bank is likely to peak their money interest.
The following two tabs change content below.
Amanda L. Grossman is a writer and Certified Financial Education Instructor, a 2017 Plutus Foundation Grant Recipient, and founder of Money Prodigy. Her money work has been featured on Experian, GoBankingRates, PT Money, CA.gov, Rockstar Finance, the Houston Chronicle, and Colonial Life. Amanda is the founder and CEO of Frugal Confessions, LLC.
Read more here
.
Latest posts by Amanda L. Grossman (see all)