Teen back to school and needs help with an after school routine? A free after school routine printable high school students can follow (plus homework tracker).
After school routines for high school teens look different than when they were in middle school and elementary school.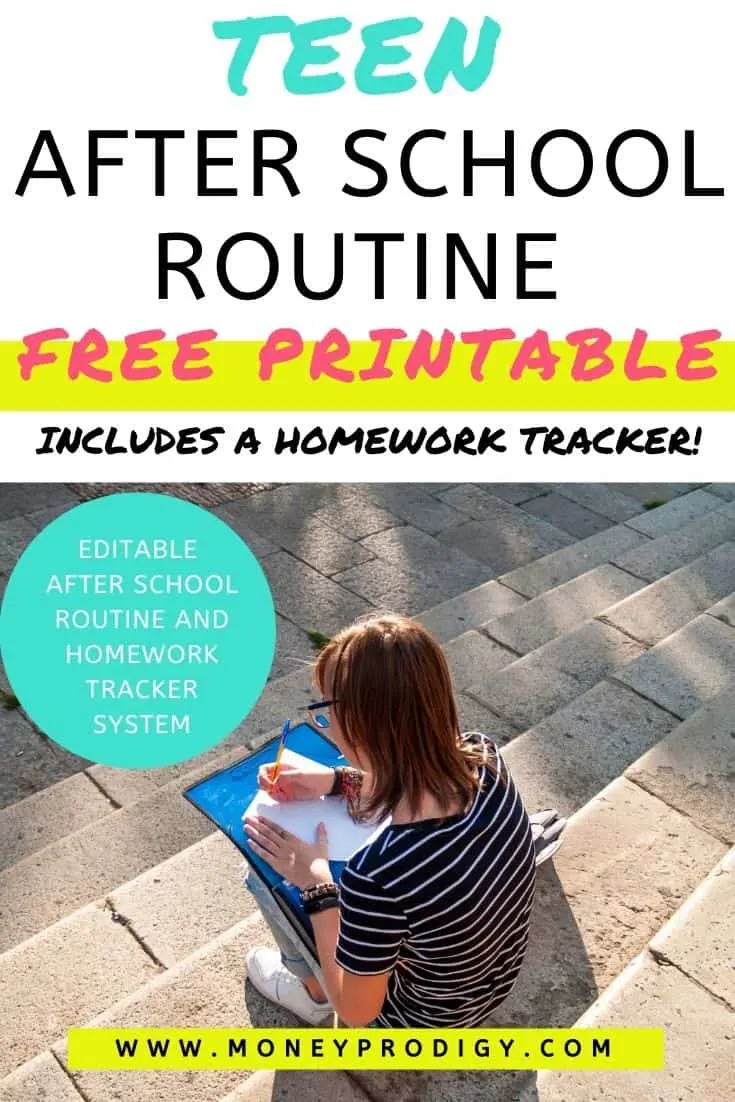 For one, they might have some outside activities they're doing. For another, they're given a bit more autonomy (and if not "given", they certainly demand it) at this age to figure out their evening schedules.
Then, there's sports, after school help, driving…
Did I mention that at the teen-level of adolescence, they're also more social than before, since teens naturally focus on peer groups right now?
Whew. That's a lot to digest.
And it's why I came up with a system I'm handing over to your teen to make their evening and homework routines much more manageable.
You in?
Let me show you how your teen can quickly whip their entire evening routine into shape, and also become way more organized around homework throughout the day (and on the weekend).
What is a Good After School Routine? Let's Talk Teen Time Blocks
Productive after school routines are necessary, as your teenager has a lot to get done. And don't worry – we're going to get them on the right track with the after school schedule template I created, below.
But let's not also forget what else comes with a good after school routine – a bit of down time/decompression time, some family time, and some fun time.
I don't know about you, but my husband, child, and I all know the necessity of some "decompression time" after a long day of work/school/errands/commute/etc.
It helps us to sift through the day, take a breather, and transition better into our evening routines.
That's why it's super helpful if your teenager builds some decompression time into their after school routine. Decompression time could be as simple as a commute or bus ride home, watching a 30-minute television show, reading for 20 minutes quietly in a secluded corner, etc.
And that's not all that makes a good after school routine for teens.
SO, how is your teen supposed to fit all of these different types of activities into the few hours they have after school?
With time blocks.
Meaning, they'll block-out their time after school into different categories, and then fill in appropriate tasks for those categories, depending on their preferences, parental needs, and the day of the week.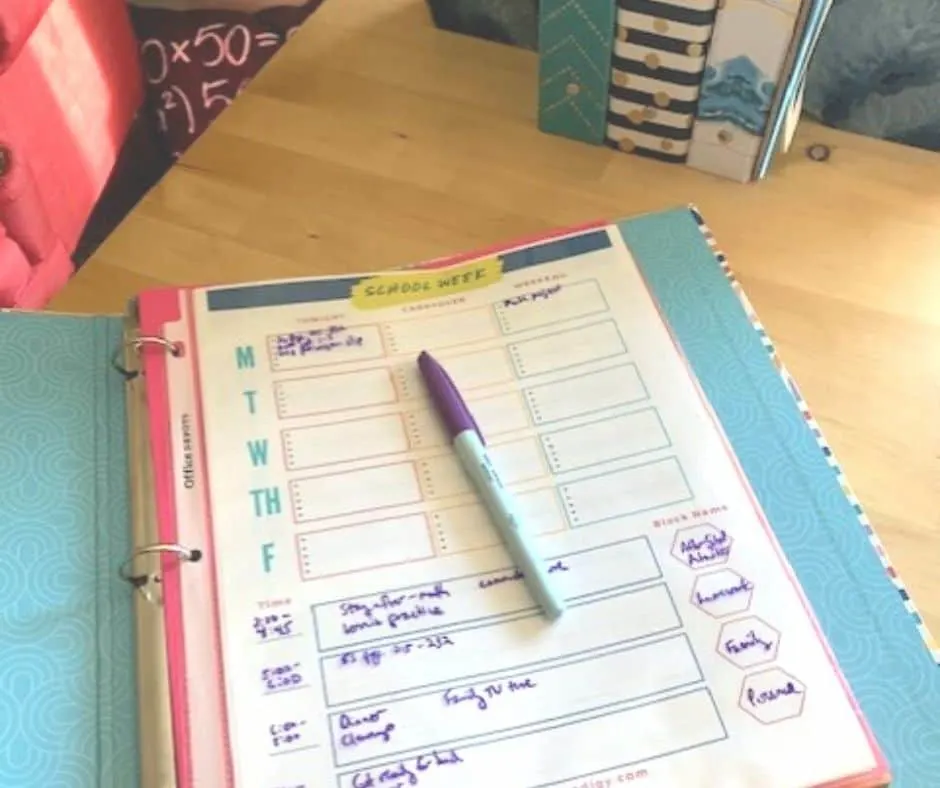 They'll want to include the following in their after-school evening time blocks:
Activities/Sports/After School Help Block
Decompress Block
Homework Block
Family Block
Personal Block
Unwind Block
Job Block
Each teenager's evening routine blocks, and tasks within those blocks, are going to differ based on their own wants and schedule needs (and on their family's wants/needs for the evening).
For example, their family block might include:
Dinner prep
Dinner time
Dessert together
Play games together
And they might have a Decompress/Unwind block that includes:
Commute home
Bike ride
Grab a snack
Grab a smoothie
Sit outside
Walk to the park
Watch a TV show
Read quietly
Video game play
Walk the dog
That's why I've created a free evening routine template that can be edited to use by everyone.
Psst: did I mention that it dubs as a homework tracker, and weekend homework schedule? Let's dive in!
How Do You Manage After School Time?
When I sat down to develop a teen evening routine printable…I quickly figured something out:
Any teen routine printable and system would have to accommodate a system for getting homework sorted and done.
I mean, not only homework – by any means.
But if homework wasn't part of the whole system? Well, then it just wouldn't work.
That's why I've created a free teen evening printable that also dubs as a weekly homework tracker.
Meaning, not only will it catch all of their homework assignments that they'll need to work on in the evening or on the weekends, but it will also serve to block out their evening routine each evening so that they make the most of it.
Did I mention that it's completely editable? Let me show you how this works.
Psst: trying to help your teen get organized? Here's my article on how to help a teenager get organized.
After School Schedule Template
This editable after school routine chart allows your teen to build their homework tasks and after school routine as their day and week goes on (not to mention, build up their homework list for the weekend – all at the same time!).
As your teen goes through the week, they'll use the wet erase marker to fill in:
Assignments due that night
Assignments carried over from other nights
Assignments that can be done/worked on over the weekend
Any tasks that don't get done that night, they'll simply write into the next day's "carryover" column so that they're sure to not let them slip through the cracks.
Then when the weekend rolls around, they work on all the tasks/projects on their "weekend" boxes from the week.
As each day passes, they build their evening routine around their specific needs. Then, they simply erase the bottom portion and start with a clean slate for tomorrow night's evening routine.
Once a week, they'll wipe clean the top portion to start over the following week, fresh.
Supplies to Set this Teen System Up
The more convenient things are, the more likely we'll do them. Amiright?
The way you make this convenient is by setting it up once, and being done with it.
You'll need a binder, the printable, a sheet protector, three folders with binder holes pre-punched (one in pink OR red, one in orange, and one in teal), and fine-point wet erase makers.
The folders correspond with the three columns of when they need to do or work on an assignment: Tonight, Carryover from a different day, Weekend. This gives a place for your teen to "catch" and place worksheets, notes, and other bits of paper they'll need for that particular assignment.
Hint: why wet erase markers instead of dry erase ones? If you or something else bumps into writing from a dry erase marker…it erases. If you smudge or bump into writing from a wet erase marker? It doesn't go anywhere. You need to use a damp cloth to clean it off. Also, always get a fine-tip one, or an ultra-fine tip set, like this one. Makes it easier to write in small spaces.
Package it in a CUTE Binder
You want your teen to embrace and use this system, right? I mean, it's got the ability to really change their afterschool routine for the better (and help them track homework needs for the weekend, and from week-to-week).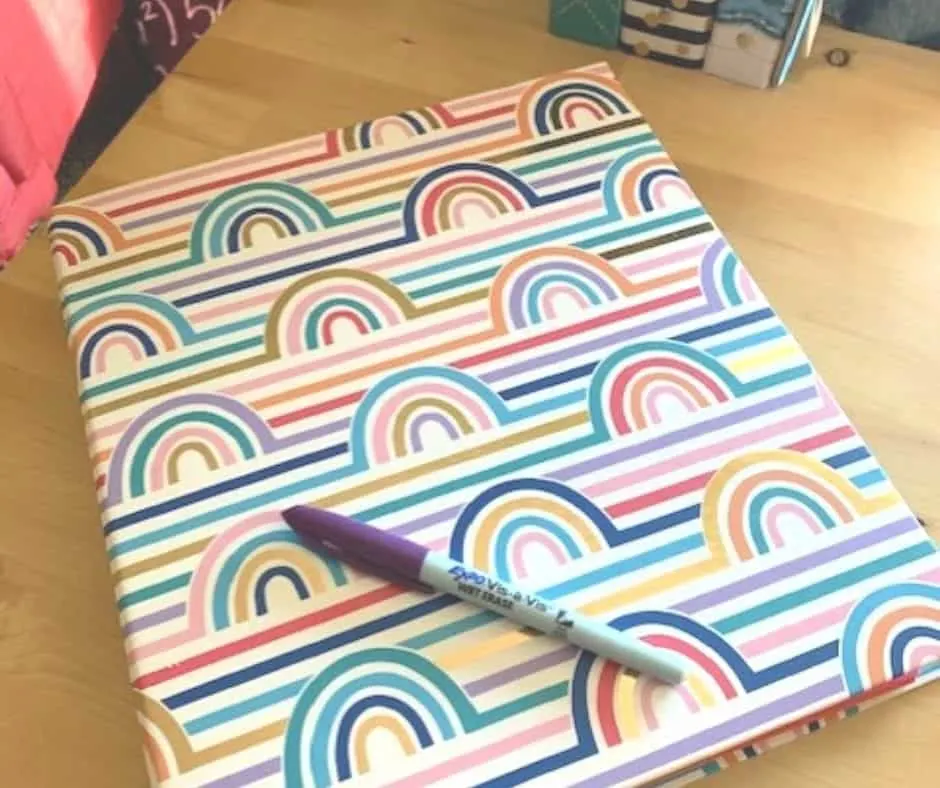 Well, then I suggest you put it in a CUTE binder.
It sounds silly and superficial, but in all honesty, even adults (like myself) are more likely to get into something if it's packaged in a beautiful or cool way.
My suggestions for binders are from Green Room. They're only 1", which is all you need, and they come in the coolest designs.
I personally used their rainbow design for this project.
Other "cool" and teen-friendly binder design include this motivational one, this golden unicorn one, this Harry Potter one, or this camouflage one for teen guys.
Bonus: Weekend Routine for Students
The cool thing with this weekly system is that you're "building" your child's weekend homework list, too.
Each day, they'll add to that "weekend" box what they need to get done to be set up for success in the coming week.
The following two tabs change content below.
Amanda L. Grossman is a writer and Certified Financial Education Instructor, a 2017 Plutus Foundation Grant Recipient, and founder of Money Prodigy. Her money work has been featured on Experian, GoBankingRates, PT Money, CA.gov, Rockstar Finance, the Houston Chronicle, and Colonial Life. Amanda is the founder and CEO of Frugal Confessions, LLC.
Read more here
.
Latest posts by Amanda L. Grossman (see all)