Need ideas for backyard activities for kids? These 37 backyard summer activities will make the most of your outdoor area.
You've got a backyard, and now's the time to make the most of it with these backyard summer activities for kids.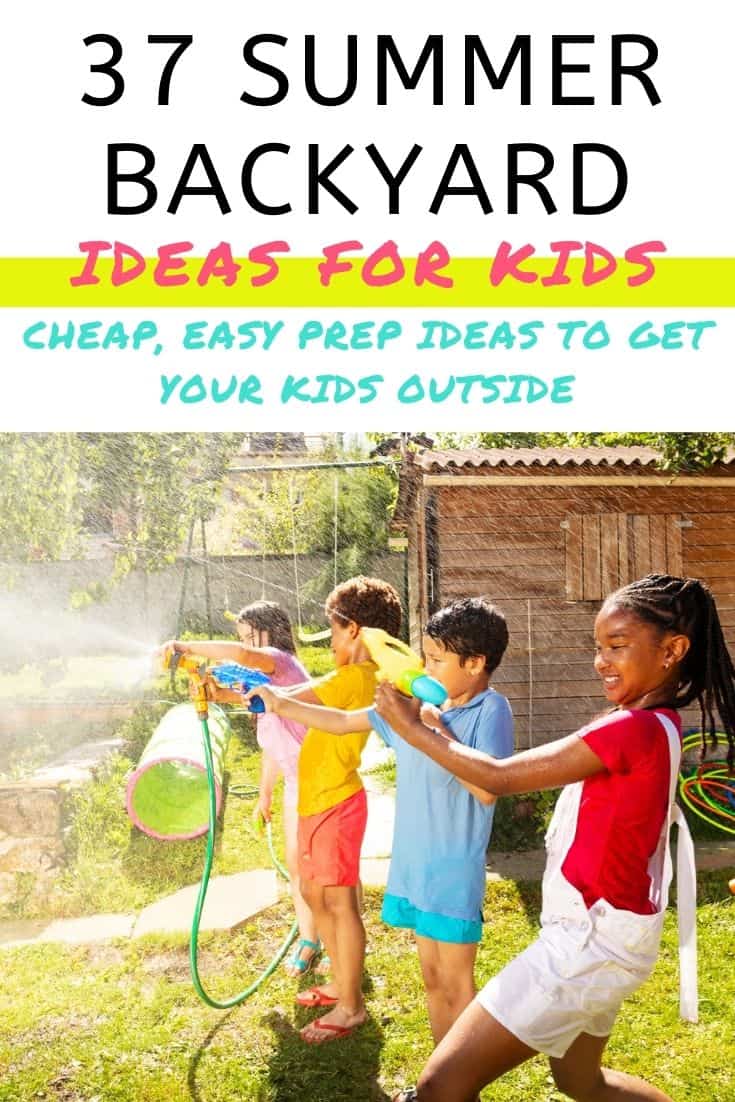 No matter if it's big, small, rocky (like ours!), or has lots of weeds grass, I've got ideas for how you can maximize your kid's fun and learning in it.
Backyard Summer Activities for Kids
How do I entertain my kids in the backyard?
I've got you covered! Work through this list of backyard summer kid activities over the next few months.
Psst: got older kids? Check out these awesome backyard ideas for older kids.
1. Soap Boat Races
Who can carve the fastest boat out of soap?
First, your kids will each need their own bar of soap (ivory or other cheap soaps work fine). You'll also need a few other materials, like a cheap rain gutter.
After everyone carves their own boats, get to racing!
2. Play Mud Pictionary
Instead of playing the ultra-fun Pudding Pictionary (where you draw what's on the card in a pile of chocolate pudding), let your kids make a mud station and then hand them these free printable Pictionary cards for a round or two of fun play.
3. Drive-Thru Window for Dinner
I was watching the show My Five Wives, and they had this totally cool idea where you prep for a fast-food-type dinner (things like hamburgers, hot dogs, French fries, shakes, etc.), and then have your kids walk up to a kitchen window that opens to your back patio (or side of home) to order their food.
They get to choose from 2-5 menu items, you serve it up, and everyone eats outside.
You can prep a condiments station outside ahead of time, as well, to make it seem more like a real fast food restaurant patio.
SOOOOOO fun!
4. Tiki Torch Lunch
Really, this one works for any meal or snack (or even dessert) of the day.
Buy some tiki torches, get a folding table for out back, use your deck chairs, and watch as your kids enjoy the backyard in a whole new way.
5. Campfire Dessert Bar
Whip up a fire in your fire pit, or turn on the grill. Set up a dessert bar station and help the kids make their own desserts.
Some of my favorite grilled/campfire desserts to try:
Psst: pair campfire desserts with free family conversation starters pdfs.
6. Toothpick Dinner
Figure out all kinds of foods you can make on toothpicks or eat with toothpicks (or….just pick 2-3 recipes), and have a "toothpick" dinner out in your backyard. Or a toothpick lunch.
7. Egg Drop Competition
Use these awesome free printables to invite your kids to an Egg Drop Competition. Each team (or person) will need to design a way to catch an egg so that when you drop it from the air…it won't break.
Prize ribbon printables, included!
8. Enjoy the Night Sky in a Variety of Ways
You can enjoy the stars by doing a few different things:
9. Ice Block Treasure Hunt
Over the course of a few days, you'll want to freeze some "treasures" into a big block of ice that will take time and work to chip away.
Then, plop it out back, give your kids some kid-friendly devices to melt and/or chip away at it, and let them get to gettin'!
10. Hunt for Four-Leaf Clovers
There truly aren't many four-leaf clovers anywhere – in fact, you'll only find about 1 four-leaf clovers out of every 10,000 three-leaf ones.
Still…introduce your kids to the idea (you can even do a mini-lesson on them), and then let them hunt to their heart's content!
Hint: my 5-year-old niece actually found a four-leaf clover this summer!! Her mother framed it for her.
11. Play a Money Board Game, Outside
I've highlighted lots of great money games for kids before, and you can play many of them out back!
12. Outdoor Art Sessions
Art outdoors means you can let the kids get much messier than you might be comfortable with inside.
Plus, since there's so much space, you can do BIG art!
13. Outdoor Airplane Races
Give your kids a few sets of printable instructions, plus some paper. Tell them they each need to create one or two paper airplanes that they'll then use to race in the backyard at X:XX hour.
Or, set a timer for 30 minutes and tell them that their airplanes must be completed by then.
14. Mud Sludge Play + Mud Café
A nature recreational center near us has an annual mud day, where they take cheap kiddie pools and fill them with dirt, put in some kitchen utensils and tools, and let kids make mud!
And not just make mud, but play in it.
Let your kids get in their bathing suits, filling your own kiddie pool with dirt, and give them a hose. They'll know what to do.
Psst: here's a really cute idea to create a mud cafe for your kids! She's got free printables, too.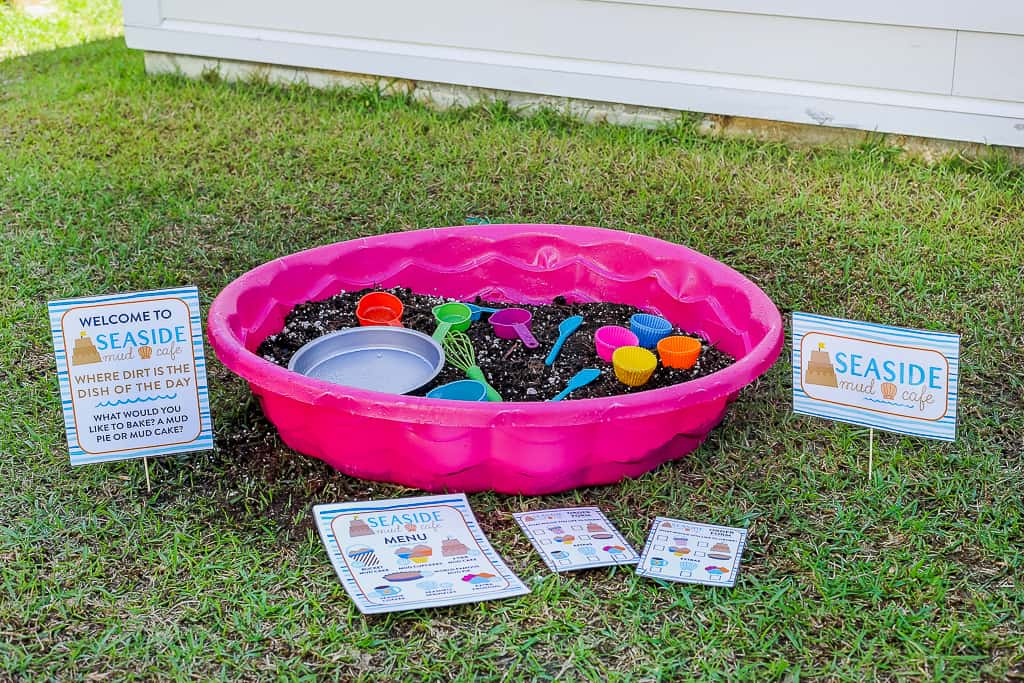 15. Car Wash Play
Depending on the age of your kids, giving them full access to the hose + sponges + a bucket of suds to be used on the family car could be enough to keep them busy for awhile!
Bonus: got really little kids? Set up a small metal bowl for them with a toothbrush, some soap, and water. Tell them to gather their metal cars, and give them a wash at their car wash! My son just loves this activity.
16. Spray Bottle Watering
Last year when I my little guy was 3, I came up with the idea of giving him a spray bottle of just water out in the backyard.
You know – the kind you find at the dollar store, or even Home Depot?
Talk about a goldmine of a backyard activity! He routinely sprays trees, the side of the house, patio, weeds, plants, and anything else he can find.
We even started to do what I called "water gun walks", where I put him in the jogging stroller with a filled water sprayer (plus an extra one for when he runs out), and we go for a 2-mile walk.
17. Backyard Citizen Scientist Activities
Did you know that your child can take part in some actual research projects…from their backyard?
Check out Zooniverse.org for current projects where Citizen Scientists can contribute to, gathering data from their own backyard (specifically, check out the "Biology" section).
Psst: here are 11 weeknight family activities.
18. Paper Airplane Construction + Races
Design and create their own paper airplanes, and then hold a race to see whose airplane goes furthest.
Use different types of paper, pens and pencils so that they can draw up blueprints if they'd like, rulers, scissors, and some markers and stickers for design purposes.
19. Hold an Afternoon Tea
Help your kids put together an afternoon tea outside. Get them to decide where to put the table/chairs (unless they're too heavy to move). Help them plan a small menu, plus even look up different tea recipes and bite-sized snacks that they want to try.
Maybe even let them use the "nice" dishes, depending on their age, capability, and your comfort level!
20. Make Plant Heads
Get a small plant pot for each child, and give them some outdoor paints to use. Let them decorate their pot as if it's a face, and then plant seeds inside of the pots. Kids get excited when they see things grow from soil, and eventually, their pot will look like it has an unruly head of hair!
These outdoor-tested paint pens would work perfectly.
21. Paint Garden Rocks
Speaking of outdoor painting, let your kids create a whole set of garden rocks! We did this as a couple, and I think kids would have just as much fun.
22. Create a Giant Bubble Station
Did you know you can create a homemade bubble solution that will make GIANT bubbles? Here's the recipe, plus how to make a DIY bubble want (or you can just buy the giant bubble wand here).
23. Catapult Toys
Give your kids instructions for how to create their own catapult. Have them gather their little toys and figures (marshmallows work, too!), and let them catapult them all over the backyard.
24. Eat Ice-Cream
Don't all of us have fond memories of eating an ice-cream out in the hot sun? Surprise your kids with fruit pops or ice-cream pops, or ice-cream cones, and send them outside to enjoy.
25. Create a Giant Spiderweb
Have you ever really taken a look at a spiderweb? Like, studied it? They're absolutely gorgeous and brilliant.
Let your kids work on building a giant spiderweb. It doesn't have to be for Halloween, only!
26. Create a Chalk Mural
Introduce the idea of murals to your child, and maybe even show them a few examples of famous ones.
Then, let them get creative and make their own mural outside on the driveway or back patio, using chalk! You can "frame" it, too, by drawing a large rectangle or square around it.
27. Bouncing Ball Competition
Gather up all the rubber bouncy balls you've got – different weights, sizes, and textures is great – and have your kids hold a competition.
The winning ball? Is the one that springs back the farthest when thrown horizontally against the fence or outside wall.
Give your kids a measuring tape so that they can measure the number of feet after each test-run.
28. Create a Fairy World
Give your kids a plot of land (several feet by several feet would be great) where they can create a whole fairy world. They can use pretty rocks, marbles, regular rocks, flower petals, moss, pinecones…soooo many ideas.
29. Have a Paintball Fight
Get a pack of water guns, and fill it with water that is each dyed a different color (these dyes are skin-safe). Let your kids get dressed in some old clothes, and have a paintball fight in the backyard!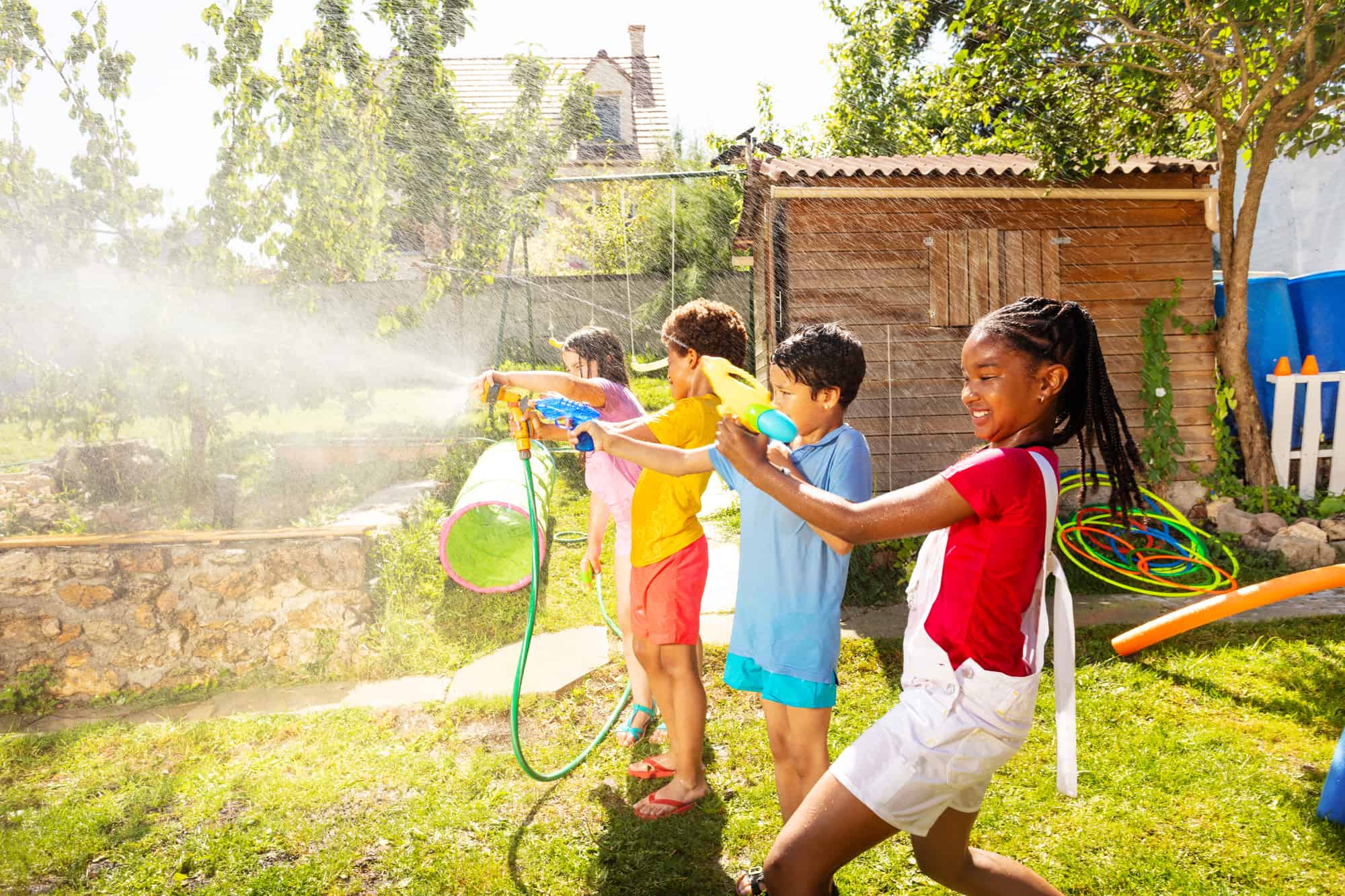 30. Play Bubble Wrap-Twister
Get your old Twister game out, and tape it down out back on cement, patio, or other surface you can tape to. Then, tape bubble wrap to the top of it! Really fun idea.
31. Make Sun Art
You can get sun print paper, and let your kids make sun art with objects they gather from nature. The light-sensitive paper gets exposed by the sun, causing it to create a silhouette of any object you use!
32. Launch a Stomp Rocket
I saw these on TV one day, ordered one for my 4-year-old…and let me tell you how many HOURS it has kept him actively busy, by himself, both in and outside of our home! Amazing.
I personally love how it doesn't use up batteries or need to be plugged in. It's a self-contained toy that can last for years!
33. Set Up a Treasure Hunt
There's this really cute, free, treasure map and hunt you can set up for your kiddos outside. She gives clue ideas for setting this up inside, but you can just change those up.
34. Have a Where's Waldo-a-Thon
Have you introduced your kids to the wonderful world of Where's Waldo?
I just bought myself a copy as an adult, and can't wait to show my 4-year-old when he gets a little bit older.
Grab 1, 2 (here's another one), 3 volumes or more, set a timer, and see how many Waldos your kids can find in the next 30 minutes.
35. Rock an Outdoor Band
Help your kids gather instruments, plus make a few, and rock out in the backyard.
Here are some DIY instruments you can make:
36. Bob for Apples…or Rubber Duckies
Bust out that old plastic pool, fill it with water, and host a "Bob for Apples" competition with your family.
Could also be for rubber duckies…why not?
37. Play Lego Charades
Get your kids to bring their Legos outside, print out this free Lego Charades game, and let them battle-build to their heart's content.
38. Blindfold Remote Control Cars
Set up a target, then take turns blindfolding one child. Give them the remote, and have the other child describe to them how to get to the target. This can be so much fun!
Awesome backyard activities for kids, right? Now choose one, and go do it!
The following two tabs change content below.
Amanda L. Grossman is a writer and Certified Financial Education Instructor, a 2017 Plutus Foundation Grant Recipient, and founder of Money Prodigy. Her money work has been featured on Experian, GoBankingRates, PT Money, CA.gov, Rockstar Finance, the Houston Chronicle, and Colonial Life. Amanda is the founder and CEO of Frugal Confessions, LLC.
Read more here
.
Latest posts by Amanda L. Grossman (see all)