Struggling to shop for teen girls on a really tight budget? Find awesome ideas on this list of gifts under $10 for teenage girls.
The best way to figure out great gifts under $10 for teenager girls is to look at the important things in their life right now – then buy gifts that support, encourage, or revolve around those.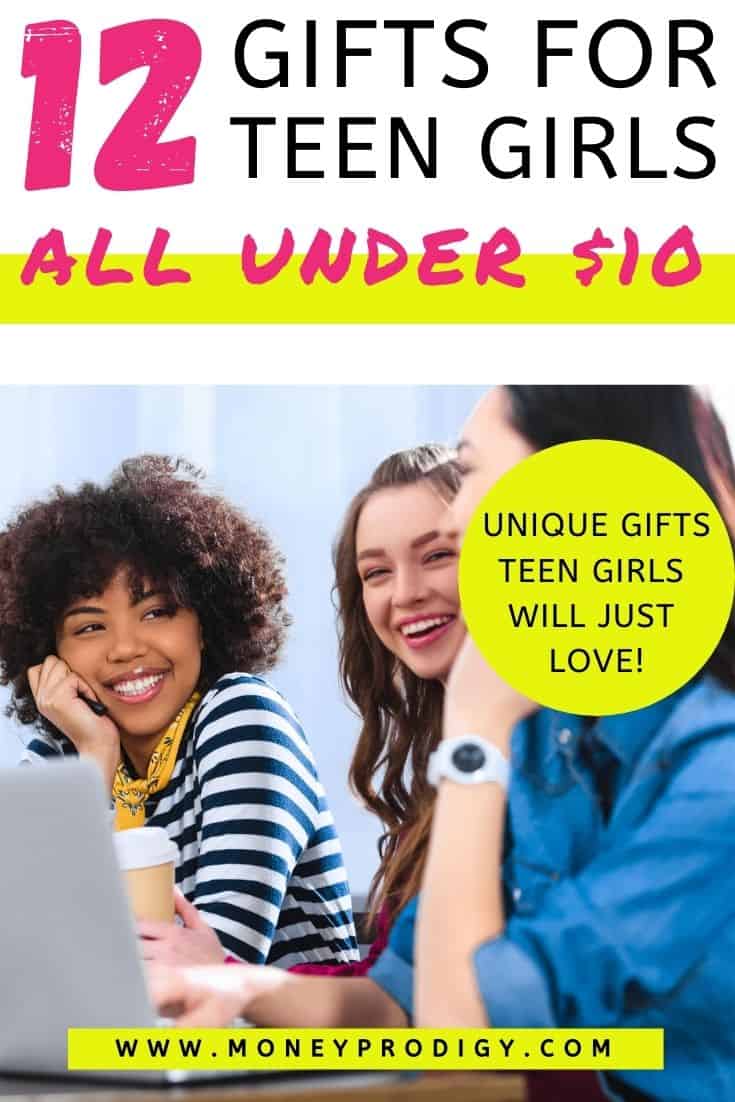 What is a Good Gift for a Teenage Girl?
For example, teenage girls:
Are close to getting their driver's license, or already have it
Own a car, or will be buying one in the near future
Like to express their own style through items
Are socially aware (a natural stage of development)
Are straddling the world between kid things and adult things
Worried about finding awesome gifts for teenage girls that are less than $10 that will interest a teen girl?
Don't be.
I've got a killer list below!
Gifts Under $10 for Teenage Girl
Need to shop for a teen girl and your budget is $10?
Perfect – check out the list below.
Psst: got teenage guys to shop for? Here's the brother-list to this, 19 Cheap Gifts for Teenage Guys (Under $10).
Teens love to rearrange their childhood rooms and have more control over their environment. Not only does this lightbulb offer them a range of colors to choose from…but it comes with a remote control.
Who doesn't want a remote control, all their own?
There's lots of cool options for getting a teen girl their first (or second) wallet.
I think I like this turquoise, trifold wallet the best!
Establishing a gratitude habit as a teen? Will serve them soooo well for the rest of their lives.
Here's a daily gratitude journal that gives prompts, which will help give them structure to how to do a gratitude practice.
When I was a teen girl? Not only did I need help with staying organized and jotting down random notes to myself, but I loved the color BLACK.
These scratch-off, black post-it notes would've been exactly what I wanted.
Teen girls are spending more and more time away from home with friends, possibly a boyfriend, groups, etc.
And this is especially true if they're driving (with or without a job).
Make their lives a bit safer with one of these personal safety keychains.
Teens are given more and more responsibility, and with that usually comes at least one key (maybe to their home, maybe to their first car, maybe to their locker?).
These stylish lanyards are just the thing to help them not only easily access their keys, but give them a reason to actually want to remember them.
Here's a best-selling book all about driving, geared towards teenagers. This is perfect whether or not your teen is driving yet, or on the cusp of doing so.
Topics covered include things like:
Expressways, Freeways, Thruways, and Beltways
Taking Care of Your Car
Getting a Ticket
Driving in Bad Weather
Etc.
Remember when I said that teen girls are in a stage of wanting to express themselves through style?
When I was a teen girl, that was through the keychains you attached to your backpack.
These decal stickers – that they can add to things like their laptop, their water bottle, their notebooks, luggage, etc. – will accomplish the same thing. So many to choose from, that they'll absolutely find at least one (or 10) that they love!
Pssst: teens love receiving money for gifts, too. Here's my article on creative ways to give money to a teenager (even if it's just $10!).
The fact that these are face masks from an Asian country makes them so much cooler than the kind they could get at the grocery store!
Also, these are great for girl sleepovers.
Here's a really neat and unique piece of jewelry for teen girls.
You can line their car cupholders with these stylish coasters, and help them keep that area of their lives clean.
Here's yet another way for your teen girl to express some style in her car! This one dubs as an air freshener.
Which of these gifts under $10 for teenage girls are you digging the most? I've got several on my list of people to buy for this year, and personally want the lanyard for myself!
More gift-giving Guides to check out:
The following two tabs change content below.
Amanda L. Grossman is a writer and Certified Financial Education Instructor, a 2017 Plutus Foundation Grant Recipient, and founder of Money Prodigy. Her money work has been featured on Experian, GoBankingRates, PT Money, CA.gov, Rockstar Finance, the Houston Chronicle, and Colonial Life. Amanda is the founder and CEO of Frugal Confessions, LLC.
Read more here
.
Latest posts by Amanda L. Grossman (see all)