Best boy and girl wallets for kids to help them with managing their money, plus our system for handling our young child's wallet.
Looking for the best wallets for kids?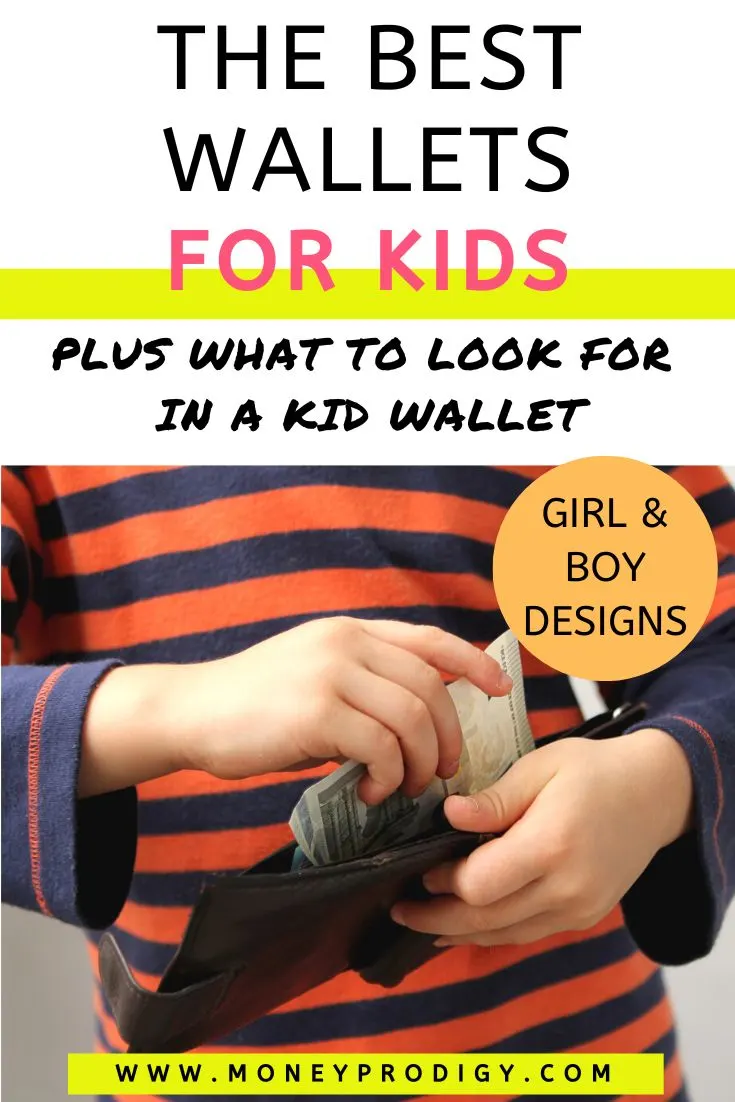 Giving your child their first wallet is almost like a rite of passage.
They get to start carrying around something "important", which can help them value their money (even more then some already do). Plus, they've got something official to take to the store and to use during a transaction.
But how are you supposed to choose between all of the options out there?
Your child needs a wallet that:
Is not too bulky and can fit into smaller pockets (or a small purse – if your little one chooses)
Has a coin zipper area so that coins don't fall out
Is made out of durable material
They're excited to carry around
Can grow with them (at least until the teen years, when they'll likely upgrade to a wallet for teens)
Before we dive into my favorite wallets for kids, let's briefly go over what age to get your child their first wallet.
What Age Should a Kid get a Wallet?
First up, let's briefly talk about when to get your kid their first wallet.
While some families have traditions around this, and others hold off until the teen years, I've got my own rule of thumb:
I think whenever your child starts getting/earning an allowance or chore commissions, then it's time to get them a wallet.
A wallet is a money tool, and so it makes sense to get them one when they start seeing some form of consistent money.
Here's how we manage my 6-year-old's wallet together with him:
His wallet stays in my purse
On Allowance days (Fridays), I first pull his wallet out and hand it to him
I give him his $5 allowance
He counts what his new amount is in the wallet
I respectfully ask if he's finished with his "banking", and when he is, we put his wallet back safely into my purse
Whenever he's going to make a store transaction, or even an online purchase, I hand him his wallet first so that he can initiate what he wants to do with his money (like counting it, asking me questions, seeing how many bills he has versus coins, or whatever else a 6-year-old comes up with)
I should also mention that I let him get his wallet anytime he wants – he just needs to ask (since it's in my purse).
This is what's worked for us so far.
Now, onto those kid wallets!
Best Wallets for Kids
Find my top picks, in no particular order below.
Hint: many of these have both boy and girl designs, so if you like the features of the wallet, be sure to click through and look for different colors and such.
I just love this kid wallet – and there are tons of boy and girl designs to choose from.
It's got a plastic photo ID area inside the wallet (and a separate one on the outside), which will help your child feel grown-up (even if what they put in there is just their library card). There are two additional slots for cards, and a zippered coin pouch.
I just love the lanyard that this comes with, especially since some parents like to have their kid(dos) put a wallet around their necks when they take their money outside of the house.
I do have to say that the Velcro does not appear to be as strong as the Rough Tough or the Puma Wallet (discussed below). After lots of use, it might end up no longer "sticking".
Other than that, I'm team-Choco Mocha!
I've included this wallet both here, AND in my teen wallet review article.
Because, well, I'm raising a boy. I understand how tough they can be on their belongings.
And this wallet seriously lives up to his "Rough Enough" name, in my opinion. The material is made out of rip-stop nylon, and it's water resistant.
You can label the inside with your child's name (if you choose), and there's a black mesh area for their ID.
Psst: the quality of this one means that it's a cheap boys wallet – it'll last for years and years and years.
There's a zippered pouch for coins, AND a zippered area for cash (that helps with no losing it!). Also, there's three slots for cards. This wallet also has an outside zippered compartment for easy access to something without having to open the whole wallet.
Did I mention it comes with a really nice wristlet-lanyard, neck strap and carabiner? Plus, the Velcro is very durable.
This is a kids Velcro wallet that's made out of really durable materials (including the Velcro part).
There's a zippered pouch for coins, and three slots for cards. While there's no plastic sleeve for an ID, they do include a little plastic album that slips into one of the slots, which can hold up to 4 cards/IDs.
I was delighted when I received this child's wallet in the mail – not only are the colors and the design great (I just love sharks, personally), but it's high quality. Like seatbelt-quality material.
The Velcro is extremely strong, and I can see it lasting a long time. It's got a zippered coin pocket on the inside, and four areas for cards and IDs.
Only two things to think about on this one:
It's slightly wider than the other three wallets I discussed above. However, I checked my son's pockets to see if it fits, and it does (but you should know that my son is very tall for his age wears a size 14/16).
There's no plastic slot for a photo ID, which can be fine at a younger age. There are two mesh netting slots on the inside where you could put one, though.
Now it's your turn. What age were you when you got your first wallet (I was around 11)? What age did you give your kid(dos) their first wallet (OR, what age do you think is best, and why)? Also, don't forget to give your kids a reason to save their money. One of these printable money saving challenges for kids should help.
The following two tabs change content below.
Amanda L. Grossman is a writer and Certified Financial Education Instructor, a 2017 Plutus Foundation Grant Recipient, and founder of Money Prodigy. Her money work has been featured on Experian, GoBankingRates, PT Money, CA.gov, Rockstar Finance, the Houston Chronicle, and Colonial Life. Amanda is the founder and CEO of Frugal Confessions, LLC.
Read more here
.
Latest posts by Amanda L. Grossman (see all)