Things to keep in your wallet teenagers should listen to, for both money management and safety reasons.
What should a teenager have in their wallet? And what should they NOT keep in their wallet?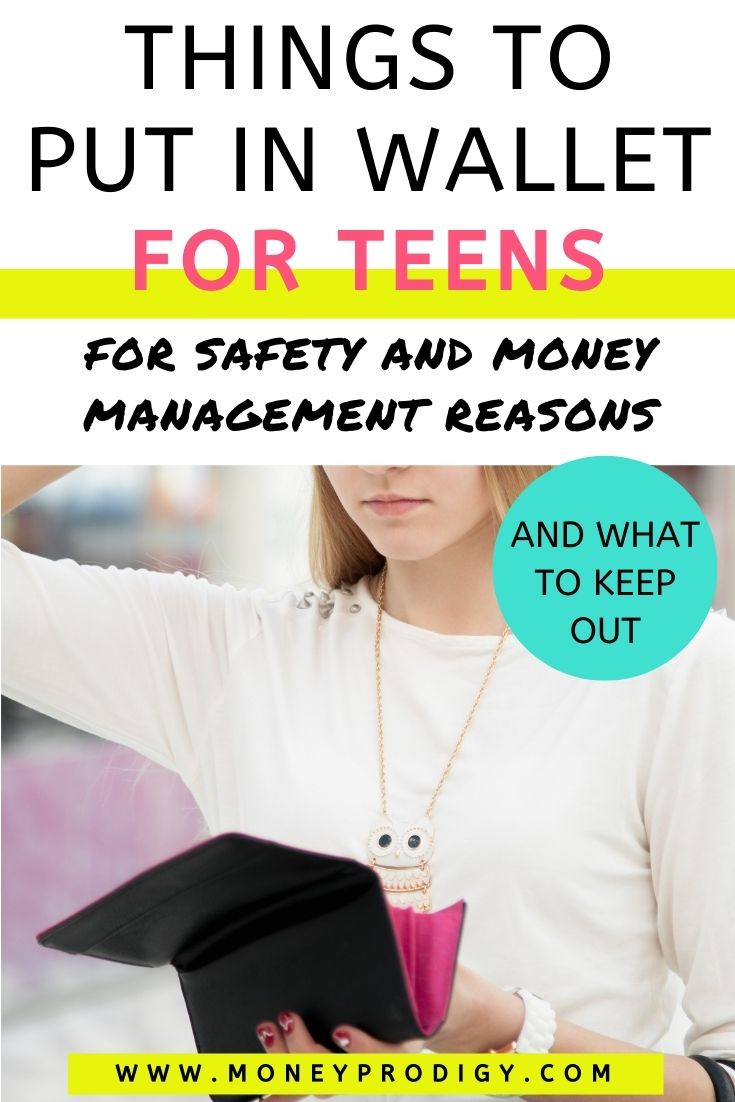 We're going to look at both, plus what to do if your teen's wallet is lost or stolen.
Let's dive in.
Psst: definitely check out my review of the best wallets for teens.
Things to Keep in Your Wallet – Teenagers
Where your teenager keeps their money is part of their money management system. And it's an important part (if not one that is often overlooked).
Let's look at the things your teen wants and needs to keep in their wallet.
1. Driver's License and/or Photo ID
Is your teenager driving now? Then they need to keep their driver's license on them. A wallet with a clear space showing their ID card is best.
If they don't have a driver's license, then some sort of photo ID is a good idea.
These are important because:
they might have to prove who they are
an emergency person might need to ID them
they might get pulled over by a police officer
etc.
2. Money
Ideally, their wallet will have slots for both some cash to keep on hand, as well as a zippered pocket where they can store coins (without them falling out).
How much money should they keep in their wallet? Well, that depends.
They don't want to store lots of money in there, because it could get lost or be stolen. However, if they're going to the store to make a specific purchase, then they'll want to have what they need.
Carrying around an emergency stash of cash, such as $20, is usually a good idea as well.
3. Health Insurance Card
In the event of an emergency health situation, you want your teenager to have their health insurance card on them.
4. Emergency Contact Information
Let's face it – we just don't memorize phone numbers like we used to.
It's a good idea for your teen to have the phone number of two people they could call (in the event that their phone battery dies, or they lose their phone, or it gets stolen).
This can also be helpful in case an emergency person needs to phone someone.
You and your teen can fill in this emergency contact card on my free Teen Accident Checklist, cut it out, and put it in their wallet.
5. Medical Alert Information
An emergency worker should be able to quickly figure out if your teenager has a bad allergy to something.
For example, I'm seriously allergic to Penicillin. It's something I need anyone to know about me, in the event that I can't tell them.
One of these wallet medical alert cards that gets engraved with customized information is a great thing to keep in their wallet at all times.
Hint: you could also buy them a credit card holder that sticks to the back of their smart phone, and keep the medical alert card inside of that.
6. Lunch Card/Student ID
Your teen might have a lunch card that connects to their lunch account at school, and/or a student ID.
Both of these are great things to keep in their wallet.
7. Prepaid Debit Card (if they have one)
A prepaid debit card for teens like Greenlight, BusyKid, FamZoo, or gohenry has both a physical prepaid debit card that your teen can keep in their wallet, and a money management app.
The two are linked. That means that if the card is stolen or lost, you or your teenager can freeze it or turn it off in the app (read in the next section for more specific information, per the card that your teen has).
You can read my reviews of each, here.
8. Membership Cards
Any store loyalty cards, library cards, gym membership cards, etc. can be kept in your teen's wallet for easy access.
Don't forget a Triple AAA card for towing, if you guys have a membership (this is in my list of things to put in a teen's car, too).
9. Work and Volunteer Badges
Your teen can keep any work and volunteer badges in their wallet for easy access (unless they need to scan it often – in which case, they might want one of these).
10. Transportation/Bus Pass
Depending on where you guys live, your teen might have a bus or metro pass. They can keep this in their wallet (and might even want to use the clear window ID area if they have to scan it daily).
11. Receipts Staging Area
They don't need/want to keep all receipts in their wallet by any means, but if your teen has been working on their teen budget, then a slot where they can keep receipts until the end of the day or end of the week can be a great idea.
Receipts are great for tracking spending, for returning a product for a refund/exchange, and even to use in a cashback app.
What to Do if Your Teen's Wallet is Stolen or Lost
Actually, I should've named this section "what to do before your teen's wallet is stolen or lost" because this next step can be really helpful to do.
After your teen gets their wallet together (or right now, if they've got a few things in it already), they'll want to "log" what's in there.
This means keep that list and/or photocopies of the front/back of their cards in their Teen Life File. That way if their wallet gets lost/stolen, they'll have an easier time with figuring out who they need to call and what needs to be replaced.
Does your teen have a prepaid debit card? If your teen loses their prepaid debit card, then here's how to handle that by company:
Don't Keep these Things in Your Teen's Wallet
You'll find that a Teen Life File system will help with where to put some of the following items – which should definitely not go into their wallets.
For example, they would put their Social Security Card (once it's given to them) into their identification folder.
Here's my whole article on how to help a teen get organized.
1. Social Security Card
I don't know about you – but when my social security card was signed over to me, the first thing I wanted to do was to stick it into my wallet!
I learned this is a bad idea, because of identity theft (which can happen to kids and teens, too).
2. All their Money
I know it seems like keeping all of their money in their wallet – especially to them – is the right place. But if they do this, then three things might happen:
They could end up spending much more than they intended to
They could have it stolen
They could lose it
Encourage your teen to keep a small portion of their money in their wallet, for either emergency-type situations, or for specific shopping occasions and reasons.
The rest should be kept in a savings account, checking account, or (at least) a money jar/divided piggy bank.
Psst: check out how my child and I handle his wallet together in my article on wallets for kids.
3. Spare Keys
Your teen might have their driver's license already, which means their physical address is on it. And if a house spare key is in the wallet that just got stolen?
Well, now a thief has a spare key and address to a home they can attempt to rob if they'd like.
Not a nice thought, but its much safer to keep a spare key outside of your wallet.
4. Their Debit Card Pin Number
It seems really convenient to just take a Sharpie and write your PIN number on the back of your actual debit card – but please advise your teens not to do this.
That wraps up things to keep in your wallet teenagers should know about. Did I leave anything off the list? Please let me know below (also, you can share stories of when having one of these things in your wallet helped you in a pinch as a teenager! I'm sure we all have those stories).
The following two tabs change content below.
Amanda L. Grossman is a writer and Certified Financial Education Instructor, a 2017 Plutus Foundation Grant Recipient, and founder of Money Prodigy. Her money work has been featured on Experian, GoBankingRates, PT Money, CA.gov, Rockstar Finance, the Houston Chronicle, and Colonial Life. Amanda is the founder and CEO of Frugal Confessions, LLC.
Read more here
.
Latest posts by Amanda L. Grossman (see all)