Awesome double date ideas for teens to hang out in groups and date at the same time. These are cheap and fun!
Need double date ideas for teens that are both fun and cheap?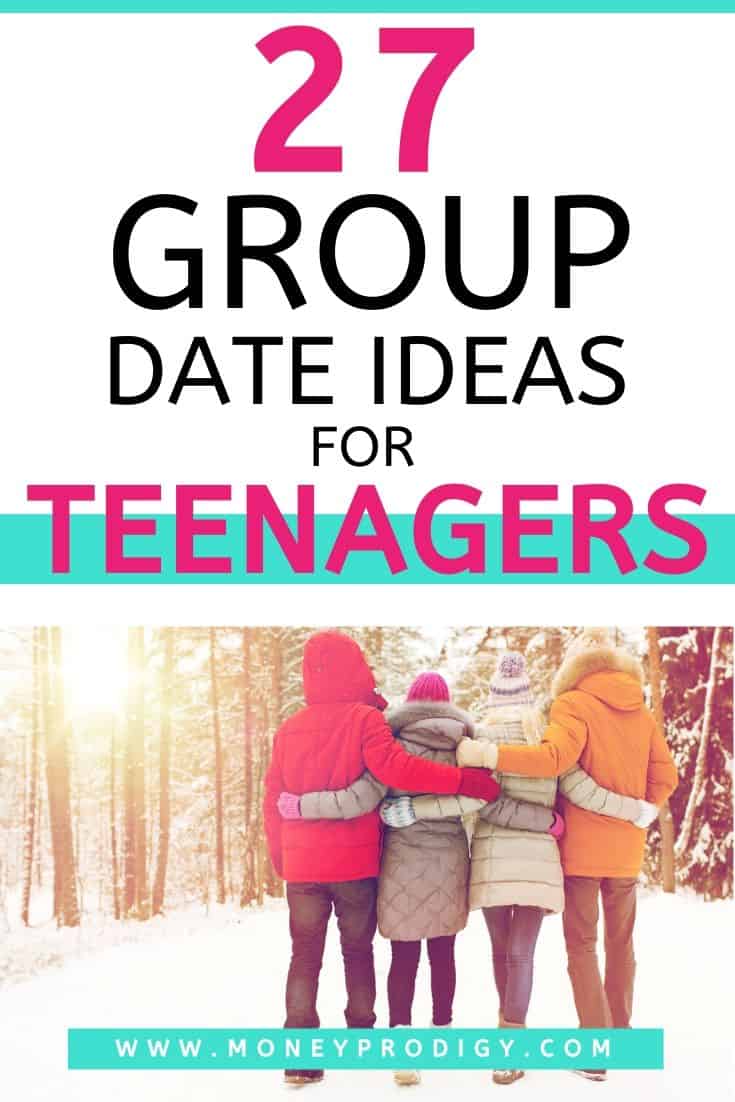 Group dating as a teen can create wonderful memories, not to mention help cement some important relationships your child may take into young adulthood and beyond.
In fact, at least two of the girls who were also in my group dating circle as a teen are still in my life today (the boy I was dating? Wellllll…I've since moved on).
I've divided these ideas up between at-home double date ideas for teens, and out-on-the-town double dates.
So even if your teen can't drive, they can still get a group of teen couples together at your house and have an awesome time!
Double Date Ideas for Teens – At Home
If you'd prefer your teenager to group date at home, then these double date teen ideas are the perfect thing.
They might even get excited to stay in!
#1: Host a Hot-Sauce Tasting Contest
How hot can you and your teen's couple friends stand it?
Gather hot sauce supplies, and host a competition to see who can make it through each of the hot sauce tastings.
I know I wouldn't! I'm kind of a chicken when it comes to hot foods.
Hot Food Supplies:
Hot Sauces: Buy a few bottles the next time you go grocery shopping, or order some from Amazon.
Hot Sauce Dippers: Corn tortilla chips, guacamole (for cooling your tongue off), French fries, flat breads, etc.
Psst: your teen could ask each of their couple friends coming over to bring one bottle of hot sauce with them.
#2: Do Graffiti Snow Play
Graffiti that makes permanent damage onto buildings? Not so cool.
But graffiti on snow that will melt? Sure!
Let your teen invite their friends over, grab some spray paints, and head on out to the backyard (or back woods) for spray graffiti on the snow.
Hint: Double make sure you have your parent's permission!
#3: Host a Straw Building Competition
Pair each teen couple off into teams (either with their own partner, or with someone else's), and get to work building the tallest straw tower they possibly can.
The couple with the highest tower, wins! Set a timer to keep things interesting.
Here's a big box of unwrapped straws to get you started.
#4: Set Up a Game of Pudding Pictionary
Ever heard of Pudding Pictionary? It's pretty awesome…and definitely memorable for a group of teens (or even a teen couple).
Each person chooses a card (these are free to print), and then uses homemade or instant pudding on a table, cardboard, plate, etc. to draw the word on that card. Then, their team has to guess what it is.
#5: Do a Round of Blindfold Portrait Painting
Make each boyfriend and girlfriend a team. Gather up all those craft supplies you've got lying around or head to your local craft store for some canvases, paint, and paint brushes. Blindfold each person, and have them create a portrait of their partner!
Parents, friends at school, or the whole group can vote on their favorite.
#6: Play Tag-Team Twister
Twister is a fun game in and of itself, but it becomes wayyyyy more fun when you get a group of teens together to play what I like to call the Tag-Team Edition.
Set up a group teen date, and have couples pair off into teams.
Set a timer for 5 minutes, and every 5 minutes, teens need to tag their partner in – the partner must then go into the exact position they were in when their teammate left.
Then, the game continues!
Hint: Here's more cheap things to do for teen friends when bored.
#7: Play the Throw-Throw Burrito Game
Have you ever heard of this game? It's from the maker's of Exploding Kittens. And yes…there is a burrito that your teens get to throw, periodically. Haha!
What I like about this game is it's nice and fast, and everyone plays at the same time so there's not much time for being bored.
Here's a video to explain it better:
#8: Build an Ice Cream Bar
Invite your teen's couple friends over to build ice-cream sundaes!
My step-mother did this for my group of teen couples after one of our school dances. We all came back in our gowns and suits, and there was an entire ice-cream sundae bar laid out for each of us to build our own desserts.
Super fun!
#9: Host a Soda Tasting
You know all of those one-bottle sodas in the soda aisle at the grocery store? Have each of your teen couples bring a flavor with them, and set up a soda tasting at your home.
Flavors like:
Root Beer
Cream Soda
Cherry Cola
Sparkling Blackberry
Orange Soda
Set up a station where people can mix together different kinds of sodas to try and create something new, like cream soda and cherry cola.
You can also buy some soda flavoring syrup, like Torani syrups, and let couples flavor cola and lemon lime sodas however they'd like.
#10: Host a Sign-Making Event
Help your teen get excited about their next big school game – whether it's for homecoming, a national championship, or just a Friday Night game – by inviting over their partner and then another teen couple or two and creating team-spirit signs together.
Ask each couple to bring supplies they already have at home, and then you can provide the big poster board. Think about using sparkles, streamers, paint, etc. Have fun with it!
#11: Couple's Creation Night
Invite over 2-3 teen couples for a fun group date at home where each couple works together on creating a "work of art".
Here's a few different ideas:
Buy modeling clay for each couple, and set the timer for 3 minutes. Each person gets 3 minutes to continue some sort of creation with the clay before passing it onto their partner to continue.
Buy a canvas, paint brush, and some paints for each couple. Same directions as above, OR, use these free Pictionary cards for what each couple team is supposed to recreate.
Double Date Ideas for Teens – Going Out
In this section, we'll talk about tons of cheap and fun double date ideas for teenagers when they just want to get out of the house and meet up to do something together.
#1: Meet Up at a Dog Park
Have everyone bring their family dog for a fun time at a central dog park. Don't forget leashes, frisbees, balls to throw, doggie treats to share, etc.
Then, you all can go on a dog walk together afterwards!
Psst: here's 50 more summer activities for teens.
#2: Do a Mall Scavenger Hunt
Print out copies of this free mall scavenger hunt, meet your date and another teen couple at the mall, and have a blast competing against each other.
#3: Host a Pokémon Go Competition
Pair off into teams and have one person in each couple download the Pokémon Go app. Meet up at a local park (but really, anywhere will do – I once battled it out with a Pokémon in the produce section of our grocery store!).
Set a timer for, say, 30 minutes, and see which team can capture the most Pokémon in that time.
#4: Meet Up at the Arcade
Even if it's just the one in the front of your local movie theater! Pair off and see who can get the most points on the games.
Don't forget to bring lots of quarters!
#5: Take a Factory Tour Together
Where I grew up in PA, we used to meet up at Hershey Park and Herr's Potato Chip Factory for free factory tours.
What factory tours are around you? Many are free, and they usually give out a tasting or sample at the end.
#6: Create a Tubing Party Down a Slow-Moving River
Do your teens have access to a river where you could make a day trip to go tubing? Find a place that rents out tubes, help your teen pack some sandwiches and water/chips/etc. in a mini-cooler they can attach to their tubing party, and let your teen come home by curfew.
#7: Do a City Scavenger Hunt
Look at Groupon.com to see if your teen can snag a deal for a scavenger hunt near you. The whole thing is delivered completely through their smartphones!
#8: Meet Up for Frozen Yogurt
Our local frozen yogurt company actually has a fire pit on the outside patio. What an awesome group date idea for teens – to meet up, make your own frozen yogurt sundaes, then hang out on the outside patio next to a fire!
#9: Join a Church Youth Group Gathering
Invite your teen couple friends with you to a fun church youth group event. The church we belong to regularly has things going on for teens, such as Hawaiian night at the church, concerts, serving together in some capacity in the community, and games nights.
#10: Glow-in-the-Dark Bowling
Does your local bowling alley have glow-in-the-dark nights, when they turn the lights down, put on some music, and the pins glow?
Definitely a memorable group teen date.
I hope you can see that double date ideas for teens don't have to be expensive to be fun and create memories. Which ones are you wanting your teenager to try out first? Leave your own ideas (or your teen's) in the comments below — I'd love to hear about them!
The following two tabs change content below.
Amanda L. Grossman is a writer and Certified Financial Education Instructor, a 2017 Plutus Foundation Grant Recipient, and founder of Money Prodigy. Her money work has been featured on Experian, GoBankingRates, PT Money, CA.gov, Rockstar Finance, the Houston Chronicle, and Colonial Life. Amanda is the founder and CEO of Frugal Confessions, LLC.
Read more here
.
Latest posts by Amanda L. Grossman (see all)