At home date night for teens don't have to be boring. Check out these cheap, cute, and FUN date ideas for teenage couples at home.
Stuck at home, with a low teen budget, and looking for fun date ideas for teenage couples at home?
I've got you covered!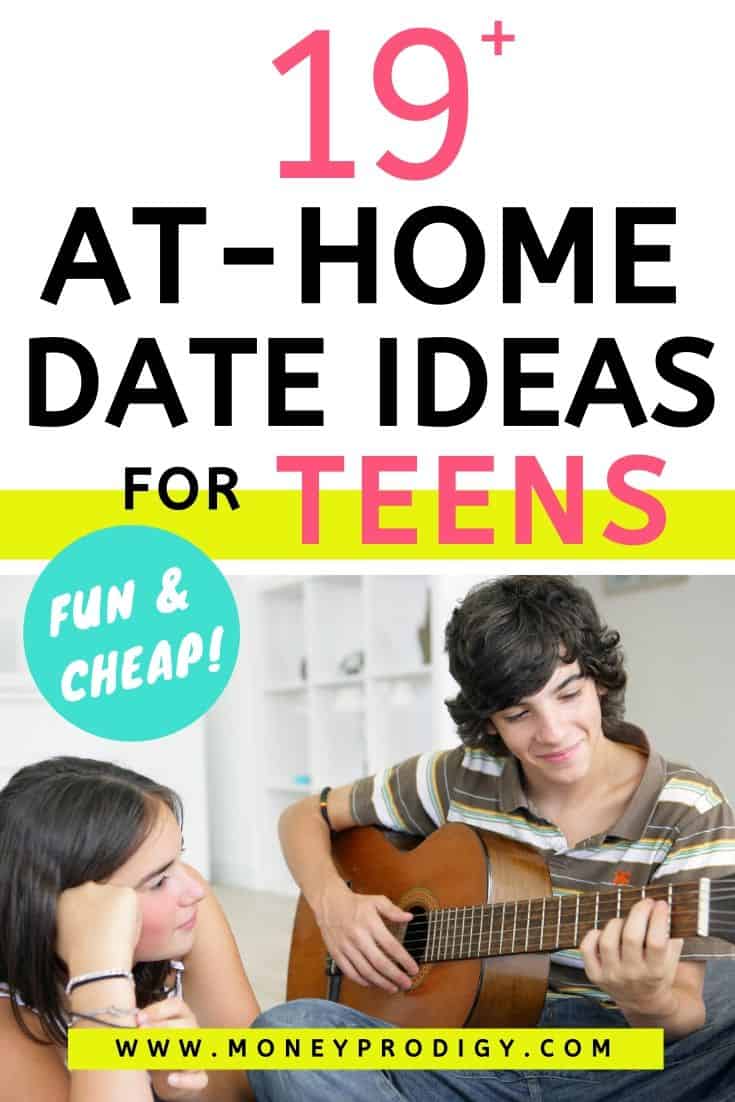 And Mama, rest assured – these are wholesome date ideas for 16-year-olds, or whatever age you deem your teen is ready to "go on" dates (at home).
In fact, let's talk about how teenagers and parents can work together on this so that each feels like they're getting a say in what's appropriate on teen date nights.
At Home Date Night for Teens – Parents and Teens Working Together
Here's how best to use this list of at home date night for teens:
Teen: Before you go through this list of fun at-home date ideas for teens, make sure to get permission from your parents.
Parent: Before your teen is ready for their next date, you can go through this list on your own and choose a few ideas that you're most comfortable with. Then, give your teenager THOSE options, so that they still feel like they're in control of picking out date night.
Alright, let's get into those at home date ideas for teens!
Fun Date Ideas for Teenage Couples At Home
Date night ideas at home for teens don't need to be boring.
In fact, if you use some of the ideas below, your at-home date nights might be MORE exciting than the ones where you go out on the town!
1. Play Music Roulette
I find that people love different songs for very interesting and personal reasons – just listening to each other's favorite songs and why that song means something to them (or why they love it so much) can tell you so much.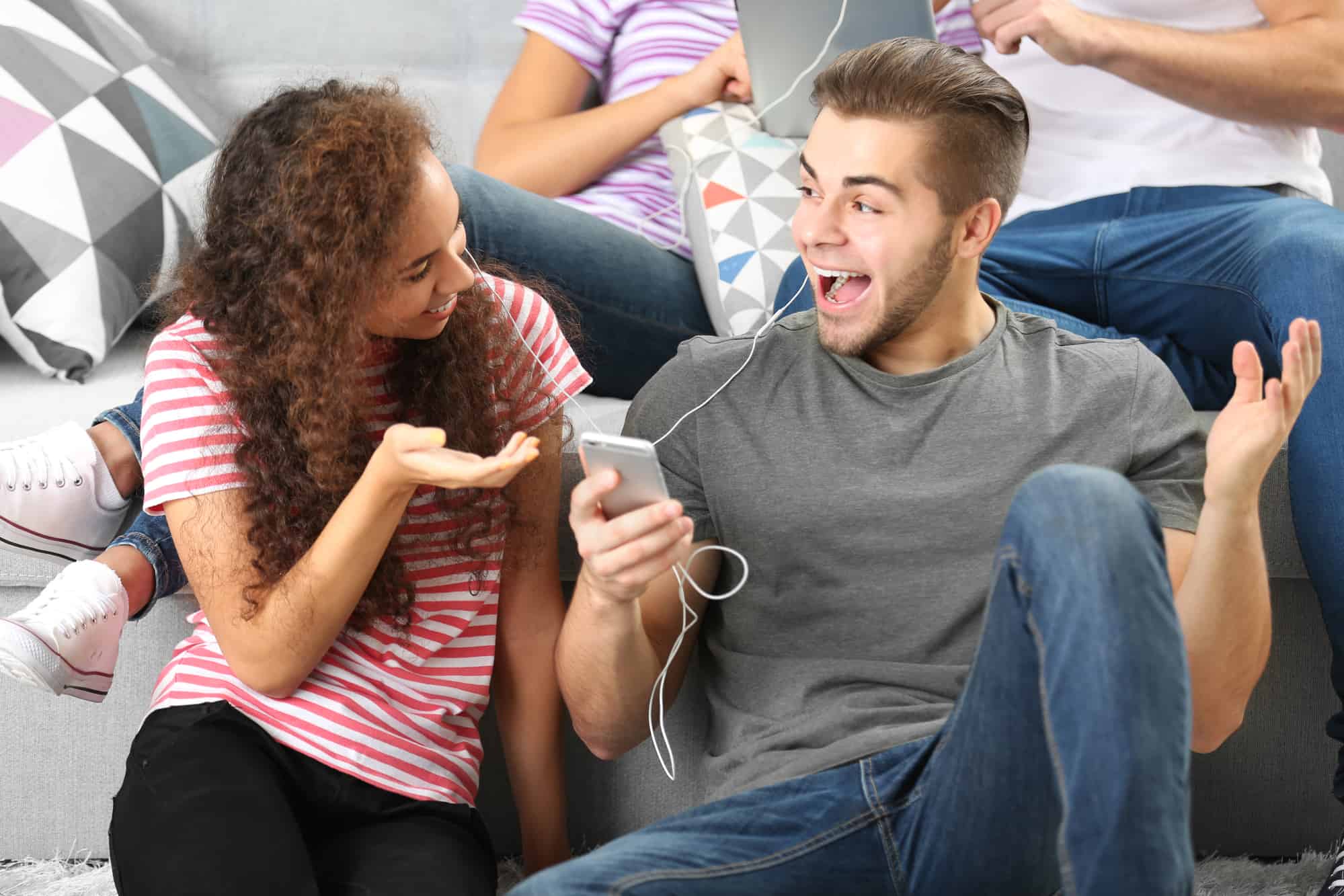 Invite your boyfriend or girlfriend over, share a pair of earbuds, and take turns listening to each other's favorite songs from your playlist.
Make this a bit more fun by taking a deck of cards, and randomly choosing a card from it. Whatever number is on it, that's the number your girlfriend or boyfriend has to reveal from their playlist (and the two of you must listen to together!).
Get curious about each other! Ask them why they like it, when they started listening to it, do they listen to other songs from that same band or artist, or is it just that song?
2. Tour Works of Art Together
While walking around a museum with your girlfriend or boyfriend is a great teen date activity…it's not always possible.
These art museums from around the world have made their collections available online:
Pick out your favorites. Stop your virtual tour to talk about something you see. And pick out which painting reminds you of each other, and why!
3. Complete an At-Home Volunteer Project Together
Did you know that there are tons of ways to volunteer from home? Pick one, and invite your girlfriend or boyfriend to complete it alongside with you for a date day, evening, or night.
4. Do a Blind Taste Testing
Grab blindfolds (or bandanas, or even tee-shirts if you have nothing else), cups/spoons, and a paper/pencil.
You want to set up a blind taste test for each other.
You can either do this by each of you picking out 5-7 items from the fridge/pantry and setting up a round for the other person.
OR, you can ask Mom and Dad to help you plan for the date night by asking THEM to come up with the 5-7 foods and set them up so that neither you nor your date know what the foods are.
Keep score, and see who can guess the greatest number of foods on taste alone.
Hint: make sure you ask your date if they have any food allergies before doing this.
5. Build Marshmallow and Pasta Towers
It's actually a ton of fun building a tower out of food, such as this marshmallow and pasta tower.
My husband and I actually did this one night for our date night!
You can compete against each other, or together (and if you compete as a teen couple, maybe ask your parents to compete against you).
Figure out the measurement for deciding who wins (is it the tallest tower? The widest? The most intricate? The coolest-looking one?), set a timer for 30 minutes or so, and get to building!
6. Chopsticks Date Night
Part of the fun of teen dating is just being goofy together.
Make this at-home teen date night special by instituting a rule that the two of you can ONLY eat using chopsticks.
Then, come up with several snacks, apps, and/or a main meal idea for the evening. Grab two pairs of chopsticks, and "work" at eating your feast!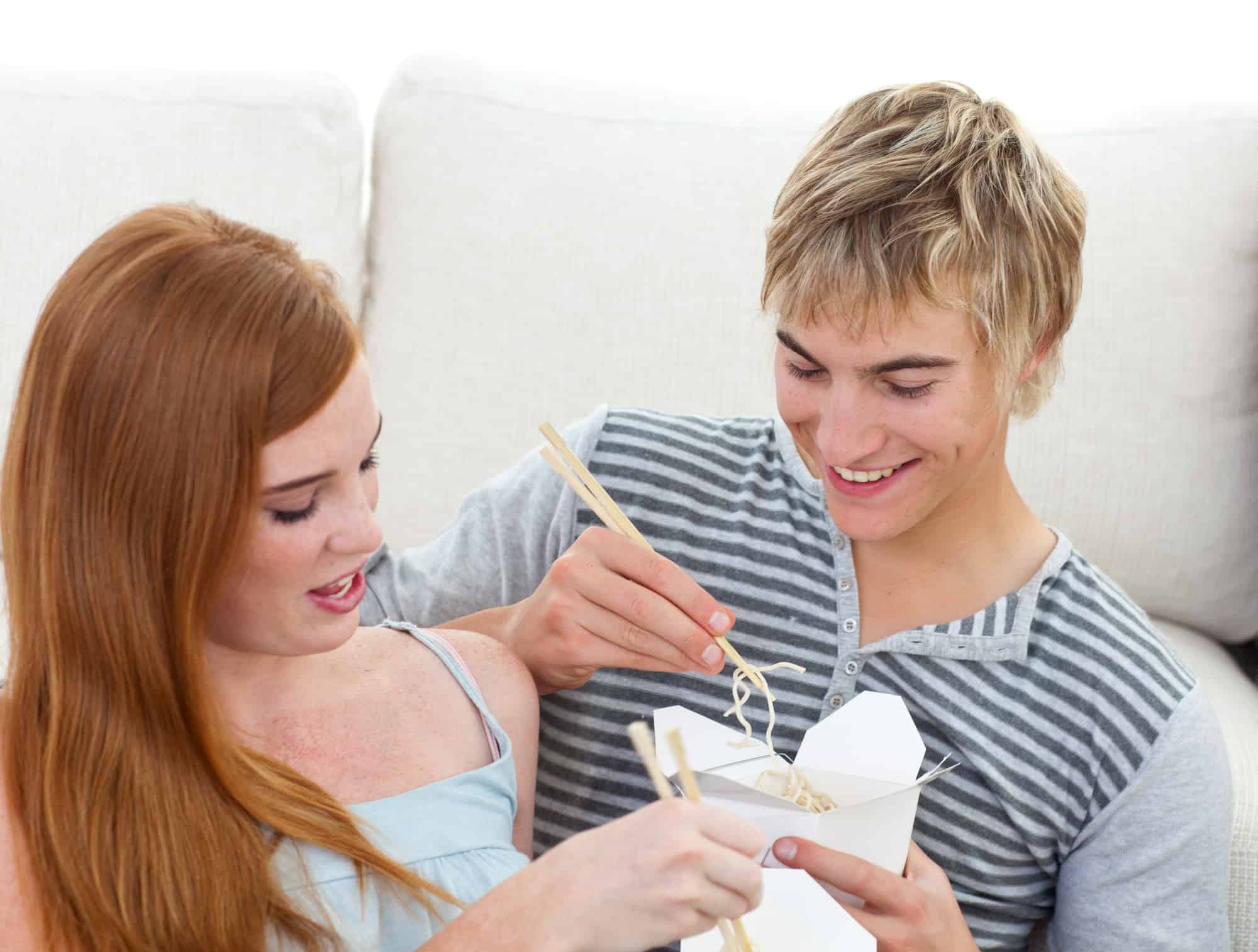 Get really creative and silly here.
Food ideas for you:
Chips
Pasta dish
Tea sandwich bites
Bowl of candy
Carrots + ranch dressing for dipping
etc.
7. Teach them Something You're Passionate About
The idea of dating is not only to have fun, but to get to know your partner better to see if you guys are really compatible.
Which means an at-home date night is the perfect time to teach your boyfriend or girlfriend something you're passionate about – like:
How to play guitar
How to bake a cake
How to change the oil on your car
etc.
8. Carve Out a Teen Hangout Zone in the Garage
Ask Mom and Dad if you can clean out part of the garage (ha! This sounds good so far…) to make room for a small, teen hangout area.
You could install a dartboard, get a disco ball and bring your speakers out for a place to dance to music together, or any other number of things.
9. "Taste the Rainbow" Date Night
Grab some rainbow-candies (like Skittles, Nerds, Jelly beans, or something like that), and a pencil/piece of paper.
You'll each take a turn blindfolding the other person, and then handing them a flavor. Ask them what it is, and keep tally on which ones they get right.
Shout out to The Dating Divas for this date night idea!
10. Cook a Dish Together
One of my fondest teen date nights I can remember is when my boyfriend invited me over to cook a pumpkin roll with him. He had the recipe from his Mom, and he had already gotten all the ingredients.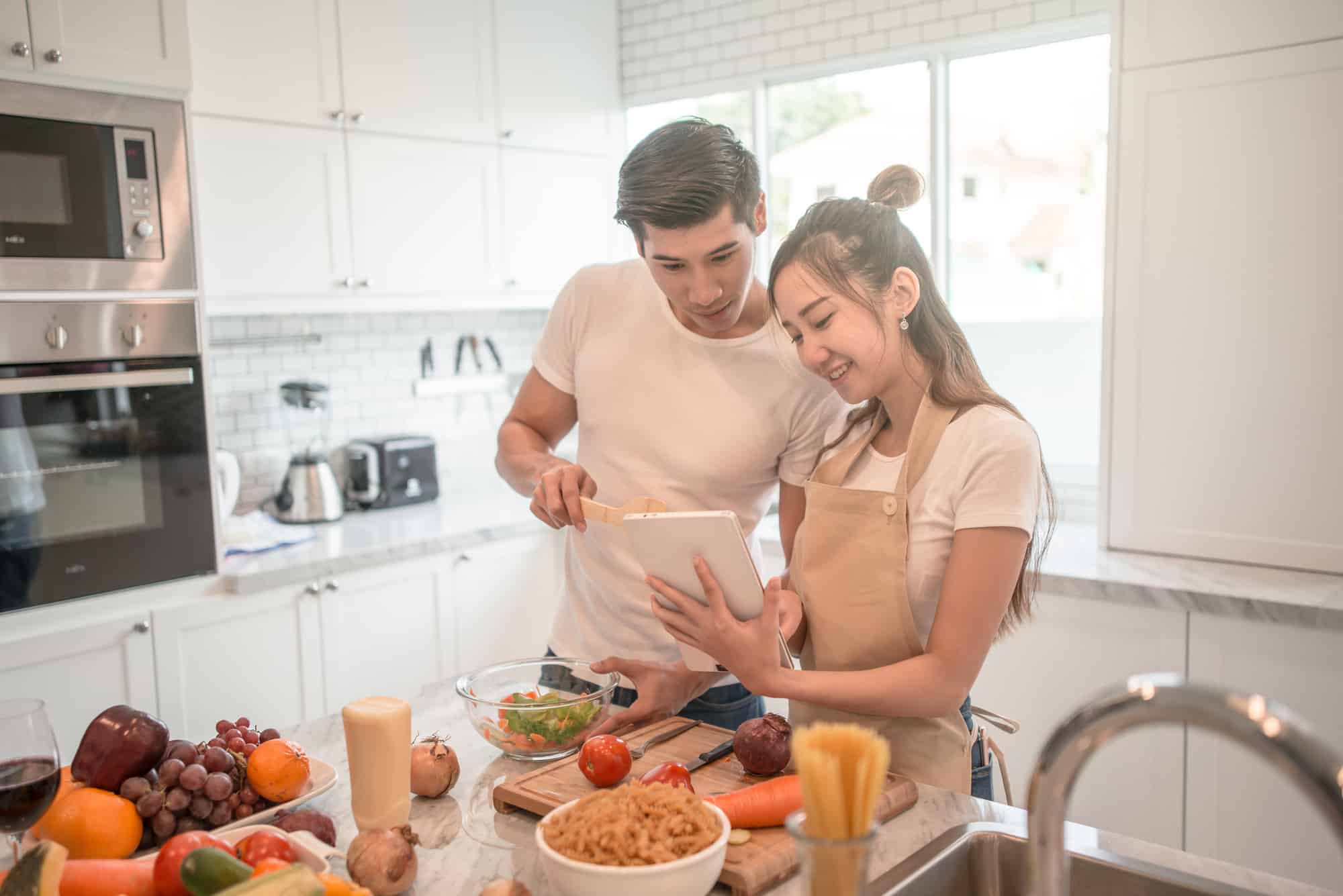 For the next 1.5 hours (let's face it – we were having too much fun, and we were too inexperienced as chefs, to do anything quickly in the kitchen!) we helped each other through the recipe.
And his Mom gave us complete reign over her kitchen (as long as we cleaned up afterwards)!
At the end, we had a semi-edible pumpkin roll to devour.
11. Have a Game Board or Card Game Tournament
I'm not talking about inviting your boyfriend or girlfriend over to play one board game.
Rather, I'm talking about getting snacks and drinks together, and a paper/pen or whiteboard so that you can play several rounds of a game for hours…and record who wins each time.
12. Set Up a S'Mores Bar
Either get your parents to help you with creating a fire in the fire pit outback, or set up a tabletop s'mores area for the two of you to roast marshmallows and talk.
13. Wash Your Cars Together
Does one or two of you have a car? Great! Set up a car-washing station outside with sponges, a bucket, soap, and the vacuum cleaner. Help each other make both of the cars shine.
14. Plan Out Your Ideal Senior Week Trip Together
It is so much fun to daydream with your partner. Not only that, but you learn things about them you didn't know before!
Gather some vacation brochures from places you dream about going (you can send away for brochures for free from tourism websites). Also, grab your laptop and a whiteboard or paper/pen.
Dream up what would be your most ideal, most fun, senior week trip to take.
And guess what? If you never end up taking it for senior week, then maybe you can take it in college. Or after you graduate. Or 10 years from now you might find it tucked away in your high school yearbook and you'll have fond memories of that afternoon when the two of you thought up this plan together.
15. Have Engaging Conversation
Have you ever used a deck of conversation starter cards to get things going? They're so much fun and you're guaranteed to learn SOMETHING about your loved one.
Here's my article on 1,009 conversation starters (all free printables).
16. Babysit a Younger Sibling Together
I used to babysit my younger brother (15 years younger than me) with my boyfriend every so often. And it taught me SO much about them. Plus, we were put into kind of hilarious situations, so the whole experience was fun.
Did I mention this can also be really, really helpful to your parents?
17. Play Photograph Captions
Get a dice from a board game, and take turns rolling it.
Whichever number it lands on (or add up the number from two dice), that's the photo number in your partner's phone to dig up.
Set a timer for 5 minutes, and you each write captions for your "meme" on slips of paper. Don't forget to read them out loud!
18. Dessert by Tiki Torch
Set a table of dessert up outside, with two chairs. Get your parents to help you light tiki torches all around, and the two of you can enjoy a quiet evening in the backyard.
19. Make BIG Art
Use your backyard space to make some BIG art together using a shower curtain as your canvas. Grab a cheap shower curtain from the dollar store, paints, and paint brushes. Get to work creating something from just the two of you!
Pretty darn fun date ideas for teenage couples at home, right? Now it's your turn. I'd love to hear YOUR favorite date ideas teens can use from home.
The following two tabs change content below.
Amanda L. Grossman is a Certified Financial Education Instructor, a 2016 Plutus Foundation Grant Recipient, and founder of Money Prodigy. Amanda's kid money work has been featured on Experian, GoBankingRates, PT Money, CA.gov, Rockstar Finance, the Houston Chronicle, and Colonial Life.
Read more here
.
Latest posts by Amanda L. Grossman (see all)
https://www.moneyprodigy.com/wp-content/uploads/2020/04/at-home-date-night-for-teens.jpg
512
1024
Amanda L. Grossman
https://www.moneyprodigy.com/wp-content/uploads/2016/09/Money-Prodigy-Logo-transparent.png
Amanda L. Grossman
2020-04-20 05:00:14
2020-06-03 17:33:53
19 Fun Date Ideas for Teenage Couples At Home (Fun & Cheap Activities!)