What are the COOL and CHEAP things to do with teenager friends when bored? Glad you asked. Budget-friendly and teen-approved options.
What do teenagers do for fun…especially if they (or the friends they like to hang out with) don't have a lot of money to spend?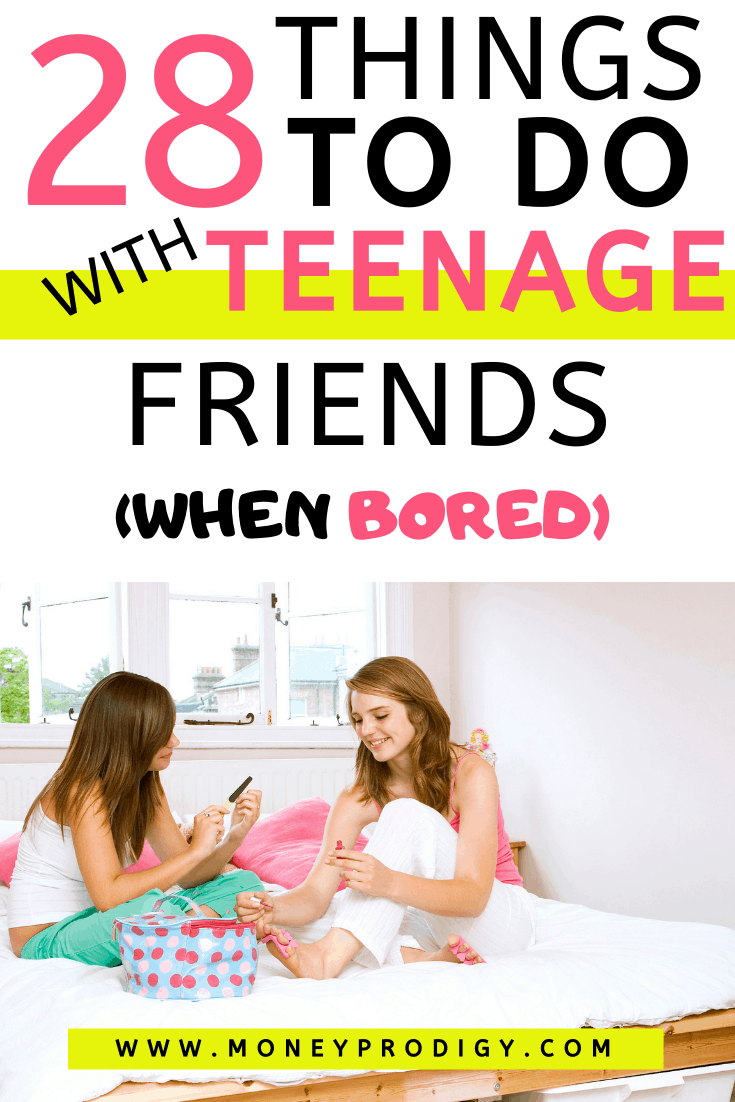 Keep your teen's budget intact using this resource of really cool and cheap things to do with your teen friends.
Skim over the fun activities listed below with your teenager, figure out which ideas work for you and your family, then let them invite their friends over for some fun!
Things to Do with Teenage Friends when Bored
I think every single teenager on earth gets bored at some point (and, typically, several points throughout the day!).
I mean – I was a teen once, and I even remember sitting around wondering what the heck to do with myself.
That's why I'm creating the list of COOL and CHEAP things to do with teenage friends when you're bored.
1. Host a DIY Escape Room
Your teen can use these free escape room printables (they even come with audio files for the missions) to create an escape room to invite a few friends to.
Using materials like scissors, pens, single-sided printed copies of the free missions, etc., they'll get to solve puzzles, decipher Morse codes, and deactivate bombs.
2. Compete with Minute-to-Win-It Games
Want to send a group of teens spiraling out of control into giggles? Pick from a few of these 200 Minute to Win It Games.
Your teen just needs one other person, and a group of teens is even better.
Psst: here are 27 cheap double date ideas for teens.
3. Ask Parents for their Gym + Guest Pass
Do you have a guest gym pass you could use to take your teen plus one of their friends to the gym?
They can workout, hit up the café, or just talk while stretching – beats being bored at home!
Parents: looking to bond with your teenager? Here are 17 activities to do WITH teenagers.
4. Set Up a Building Challenge
One of the cheapest and most fun things to do with your teenager's best friend? Is doing a building challenge.
Help your teenager gather the supplies needed (things like toothpicks, marshmallows, and jelly beans), and race against their friends with this building challenge, or this spaghetti tower building challenge.
5. Set Up a Star Gazing Area
Your teen can host a sleepover night when there's supposed to be something happening in the sky – meteors, shooting stars, eclipses, whatever you can find. Set up an outside area with a tent, or even a blown-up kiddie pool or mattress, and include pillows and blankets to keep everyone warm.
Help them set the alarm for when the big show starts and stay up a little later than normal!
6. Host a Chocolate Tasting
Have you ever been to the gourmet chocolate area of your grocery store?
There are only…oooohhhhh 1,937 different chocolate bars to try. The cacao percentage changes, the variations on ingredients, and much, much more.
Let your teen and their friends meet up at the grocery store and pick out 6 different varieties, print out these free chocolate tasting printables, and enjoy some gal-pal time while figuring out their faves (and not-so-faves).
7. Join a Flash Mob
Look for local flash mob announcements (you can search in google for this), or use this page to see if there are any flash mobs near you. What a memorable thing to meet up with friends and do! Could definitely go on your bucket list.
Psst: definitely check out my article on 50 things to do for teens this summer.
8. Do Spooky Fire Pit Readings
Does your teen love a good scary story? Grab several short scary stories that are either local to your area or are completely fiction (your choice!), help them light the fire pit in the backyard, and let your teen's group of friends take turns reading the spooky stories out loud.
These are my personal favorite from my childhood.
9. Cook Dinner for Your Parents
What if your teen and a few of their friends completely took over the kitchen for a night and cooked dinner for you (and themselves)?
Make sure there's a parent-approved checkpoint, once they figure out what they'd like to cook from your pantry/freezer/cupboards.
10. Create a Time Capsule
My childhood friend, Michelle, and I created a time capsule one afternoon when we were totally bored. We decided to bury it in part of the woods on my family farm, and vowed to meet there when we turned 25 to dig it back up.
Spoiler alert: we made it to about 16, when she asked us to dig it up so she could retriever her items…
It was a special bonding experience that I won't forget. Perhaps your teen and their friends would like to do the same?
11. Make Friend Portraits
Looking for activities to do with friends?
Your teen can pop on some tunes, and set up paper or posters or canvases with paints so that their group of friends can each paint the person to their right. No artists in their posse? Even better – they'll turn out to be hilarious.
Pssst: are your teens having a sleepover soon? Check out these 100 things to do at a sleepover.
12. Take the $6 Dollar Tree Date Challenge
Got $6?
This video of three guys doing a $6 Date Night Dollar Store Challenge is hilarious. AND, they do a great job!
Basically, you each a $6 budget to put together a "date night" (we'll call it a friend night, for you and your pals) meal from the Dollar Tree. Extra taxes that take your final count above $6 is fine. They also have a 15-minute countdown (optional).
13. Meet Up for a Mall Scavenger Hunt
You might no longer think of malls as one of the cool places for teens to hang out. But stick with me here.
No need to buy lots of things to make a mall a good teen hangout. Teens can print out this free mall scavenger hunt printable and compete with their friends (or, do it together).
14. Build Frozen-Yogurt Cups
Here's a teen hangout idea: places like Menchie's are a great place for teens and their friends to hang out in because there's usually a cool fire pit on the patio, and you pay for frozen yogurt by the pound. If they don't have a lot of money? They can just get less toppings.
15. Go Keychain Shopping
Your teen and their friends are either driving now, or will be soon. How fun would it be for them to go out shopping for cool keychains to use with their first car? Also, it's a super cheap activity to do.
They can also create their own keychains with some pretty cheap materials. And a shopping trip to the dollar store or Michael's is always fun with friends! (Love this braided t-sheet keychain).
Psst: you'll also want to check out these Thanksgiving activities for teens, and Christmas activities for teens.
Things to Do with Teenage Friends When Bored At Home
So, your teen and their friends are staying in. What are some cool things to do with teenage friends at your home (or theirs)?
16. Eat Snacks with Chopsticks
Save a bunch of chopsticks from Chinese take-out nights, and then when your teenager has friends over, have everyone eat with ONLY chopsticks (no matter what snacks or food you're serving up!).
17. Play Tag-Team Twister
Looking for fun things to do with a group of teenage friends?
Twister is a fun game in and of itself, but it becomes wayyyyy more fun when you play what I like to call the Tag-Team Edition.
Get your teen's group of friends together, and pair off.
Set a timer for 5 minutes, and every 5 minutes they'll need to tag their partner in – the partner must then go into the exact position they were in when they left.
Then, the game continues!
18. Do a Building Challenge
The supplies for these are super cheap – think a few boxes of $0.99 spaghetti noodles, toothpicks, and marshmallows – and your teens can easily pair off into groups of 2-3 to compete against one another.
Check out this building challenge, or this spaghetti tower building challenge.
19. Come Up with their Own "Code"
Your teen can grab a dictionary in another language, and learn how to say a word that their buddies will instantly recognize as something special between them all. If nothing else, trying to pronounce all those words can be kinda hilarious.
20. Color in Mandalas
Coloring is trendy at any age, so why not help your teen print out some really intricate, free Mandala pages, and ask their friends to each bring a set of coloring pencils to share while gabbing away around a table? (My favorites are the Native American Dream Catcher coloring pages).
21. Take the Blindfold Drawing Challenge
Need spontaneous things to do as a teenager?
Your teen and their friend can either draw/paint portraits of each other (with blindfolds, of course), or pick something the whole group has to attempt with their blindfolds on.
22. Make Personal Pan Pizzas
The host can sit out all the ingredients (or even pre-make the pizza dough), plus the topping choices, and everyone gets to build their own mini-pizzas!
23. Compete Against Each Other in this Entrepreneur Challenge
Basically, each teen is given the task of coming up with a new beverage for a local ski-resort. They'll need to measure out ingredients, taste test, and price things out so that they can at least make a $1.00 profit.
Then, each new beverage goes through taste-testing by a panel of judges (could be the adults?), and a winner/awards are given out.
Looking specifically for girl group activities? I hope these won't disappoint.
Psst: Lots more home activities on my list of 50 summer activities for teens.
Activities for Girl Groups
What can your teen do as a bored teenage girl at home with friends?
Building on what's already listed above, here are a few specific activities for teenage girl groups:
24. Create their Own Signature Perfumes
This one can get a bit more expensive than the other suggestions, but what a cool activity to do together! Here's an article outlining how to choose a base, and how to get different perfume scents using various materials.
25. Take the Thrift Store Challenge
Let your teen meet up at a local thrift store with their friends – or snag a ride in someone's mini-van – and bring $5. Each of them needs to buy one piece of clothing they'll be wearing to school on Monday with that $5.
Now, GO!
26. Play Tag-Team Twister
If your teen has a group of teen girls, then playing Tag-Team Twister is the way to go! Pair off into teams of 2 or 3. Set a timer for 5 minutes, and every 5 minutes they'll need to tag their partner in – the partner must then go into the exact position they were in when you left.
Then, the game continues!
27. Help Build a Home
Is your group of teen girls 16 and over? Then they can volunteer at a Habitat for Humanity construction site. I did this several times in my early 20s and really liked it.
Pssst: here are 17 more productive teenage activities at home.
28. Host a Teen Craft Party
What's cool about hosting a teen craft party? Everyone leaves with something! Here's tons of teen party craft ideas that have pretty cheap supplies. Decide on one or two, get supplies, and invite your teen's group of girl friends over for some craft time!
29. Figure Out Each Person's "Colors" or Season
When I was a kid, I had my "colors" done. It helped me with getting dressed for the last few decades – that's because it turns out that each person's complexion and eye colors and overall tones lends itself to certain color palettes over others.
Use this free tool, colorwise.me, to take turns uploading pics of each other and figuring out what color palette you are.
Wow – so many cheap and fun activities for your bored teen and their friends to enjoy some together, right? I'd love to hear your own ideas for things to do with teenage friends when bored. You might just make someone's day who's searching for this exact thing!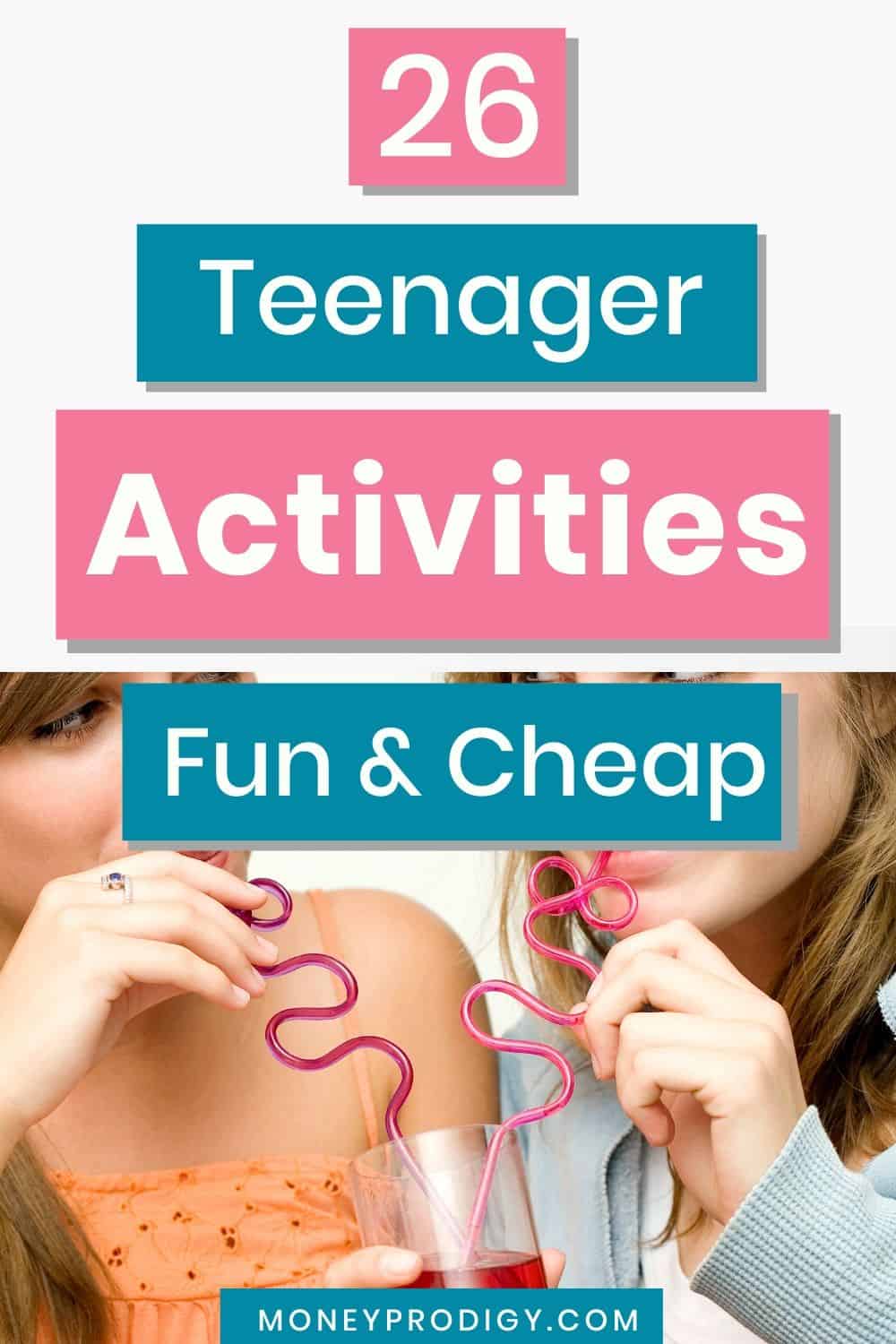 The following two tabs change content below.
Amanda L. Grossman is a writer and Certified Financial Education Instructor, a 2017 Plutus Foundation Grant Recipient, and founder of Money Prodigy. Her money work has been featured on Experian, GoBankingRates, PT Money, CA.gov, Rockstar Finance, the Houston Chronicle, and Colonial Life. Amanda is the founder and CEO of Frugal Confessions, LLC.
Read more here
.
Latest posts by Amanda L. Grossman (see all)