Hosting a sleepover or slumber party? Easy sleepover snacks to make ahead of time (there's even a few healthy, fun ones!).
It's 11:38 p.m. and someone's got the sleepover munchies…what are some easy sleepover snacks to make?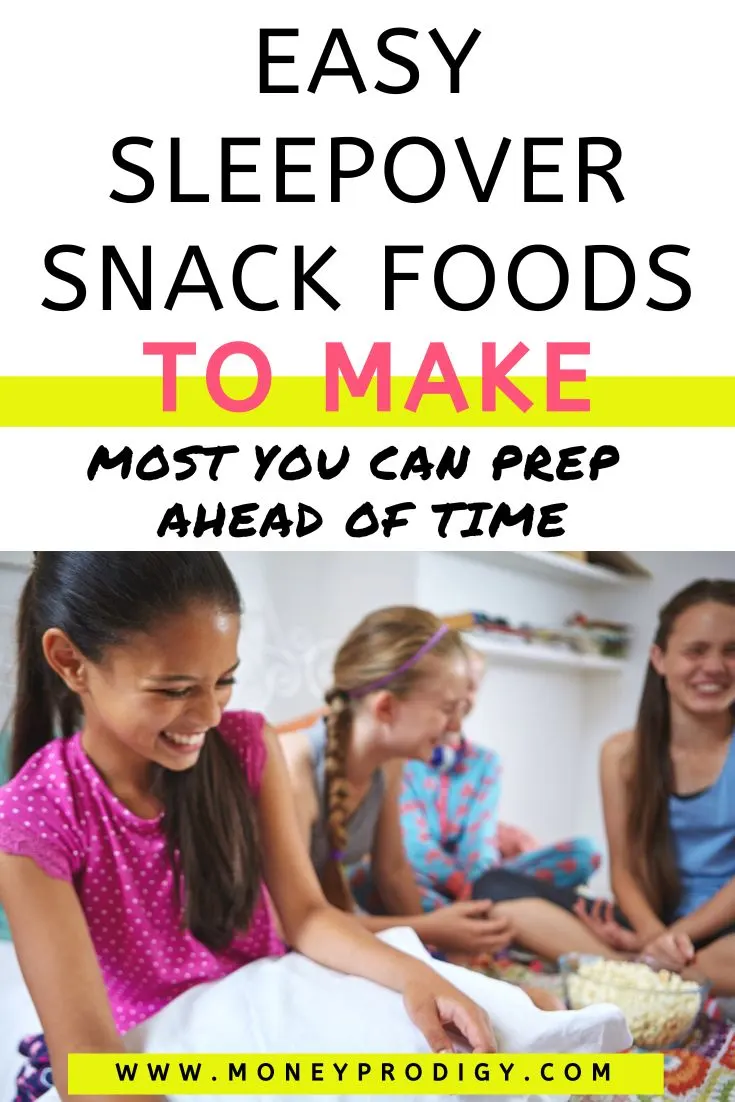 Not only are these sleepover snacks easy to make, but you can prep most of them ahead of time.
Giving you and your teen (as hosts) a carefree evening focused on fun.
Psst: looking for things to do at a sleepover? You don't want to miss my wildly popular article, 100 things to do at a sleepover.
Easy Sleepover Snacks to Make
There are soooo many occasions at a sleepover for snacking:
The I-just-arrived-and-I'm-hungry snack
The movie snack
The gab-fest snack
The midnight snack
The 2:00 a.m. snack
The snacking-for-dinner snack
…need I go on?
I've got you covered with these easy sleepover snacks to make (many you can prep ahead of time).
Psst: looking for healthy options? Stick around – I offer healthy sleepover snacks towards the bottom.
1. Unicorn Fudge Cookies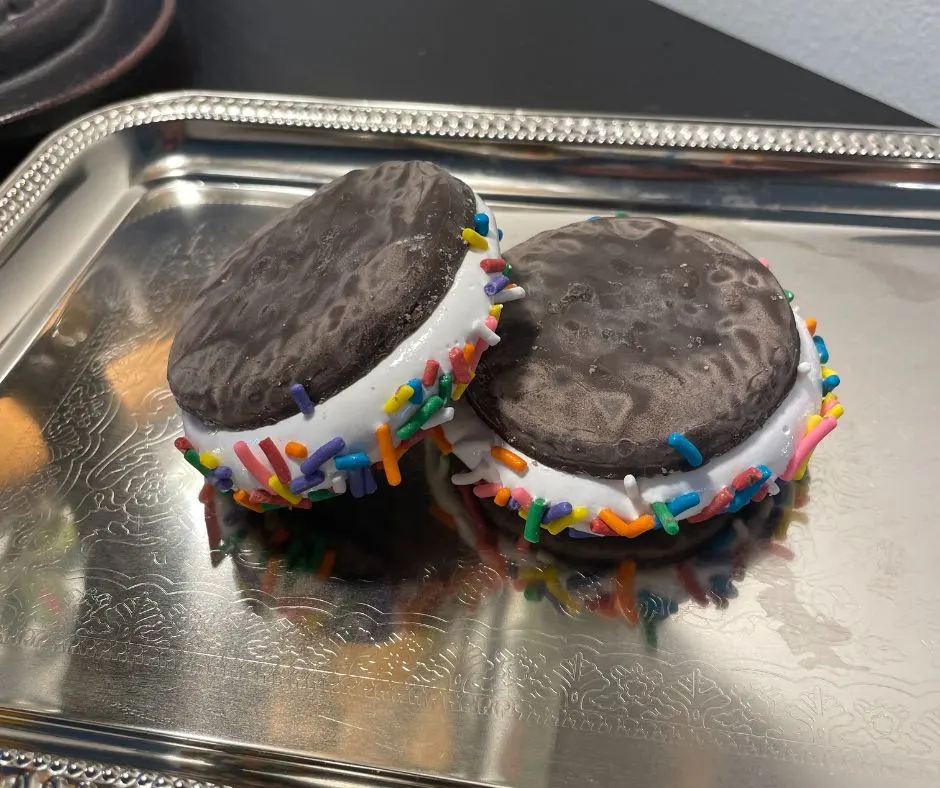 There are these mint fudge cookies at the Dollar Tree that taste pretty much like a certain organization's Thin Mints.
One day I decided to plop some marshmallow fluff in the center of two, then roll that into rainbow sprinkles.
And a new cult snack was born: Unicorn Mint Fudge Cookies.
All for $3.75 (yup – you can get all the ingredients at the Dollar Tree).
Hint: they're also great frozen. Just sayin'. Also, you can make these with the fudge graham-cracker covered cookies, which are the ones I used in the photo.
2. A Bucket of Raw Cookie Dough Batter (that's Safe to Eat)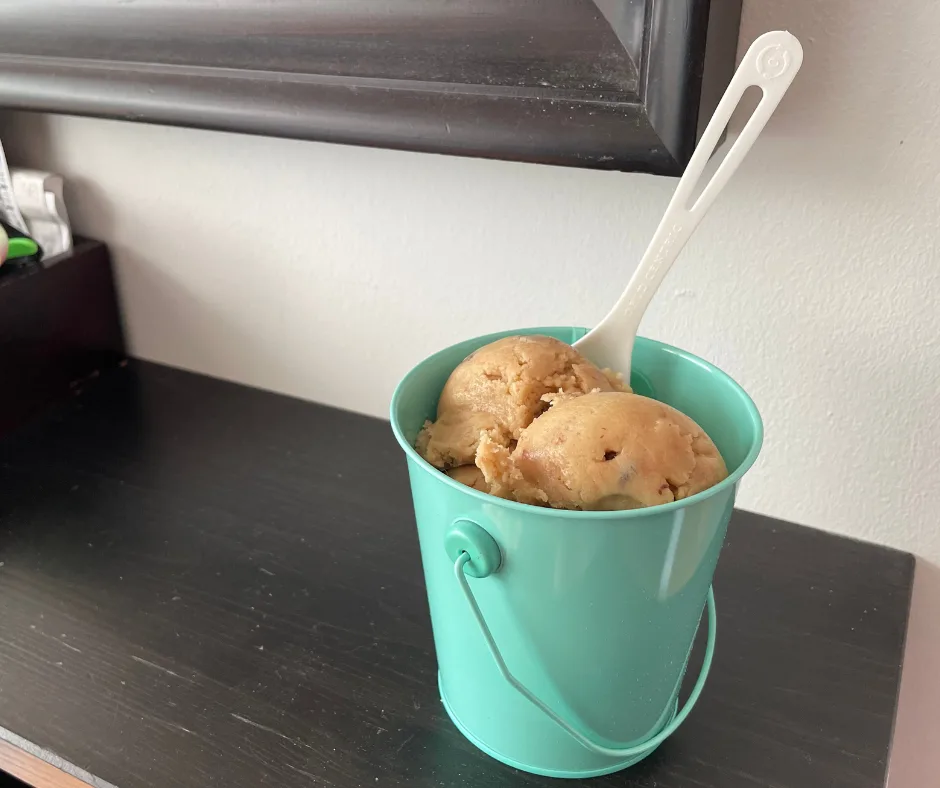 Look at this bucket of raw cookie dough (safe to eat – thanks to no eggs, and heat-treating the flour)!
I doubled this recipe (you don't need to, though, to fill one of these buckets) – but did not double the amount of chocolate chips. There's a lot in there, already!
Hint: to recreate it, get a bucket at the Dollar Tree for $1.25, wash it out. Make the recipe, then put it in the fridge for 30 minutes to firm it up. Use an ice-cream scooper to scoop it into the bucket.
Here's a few other safe raw cookie recipes:
3. Texas Toast Pizzas in the Toaster Oven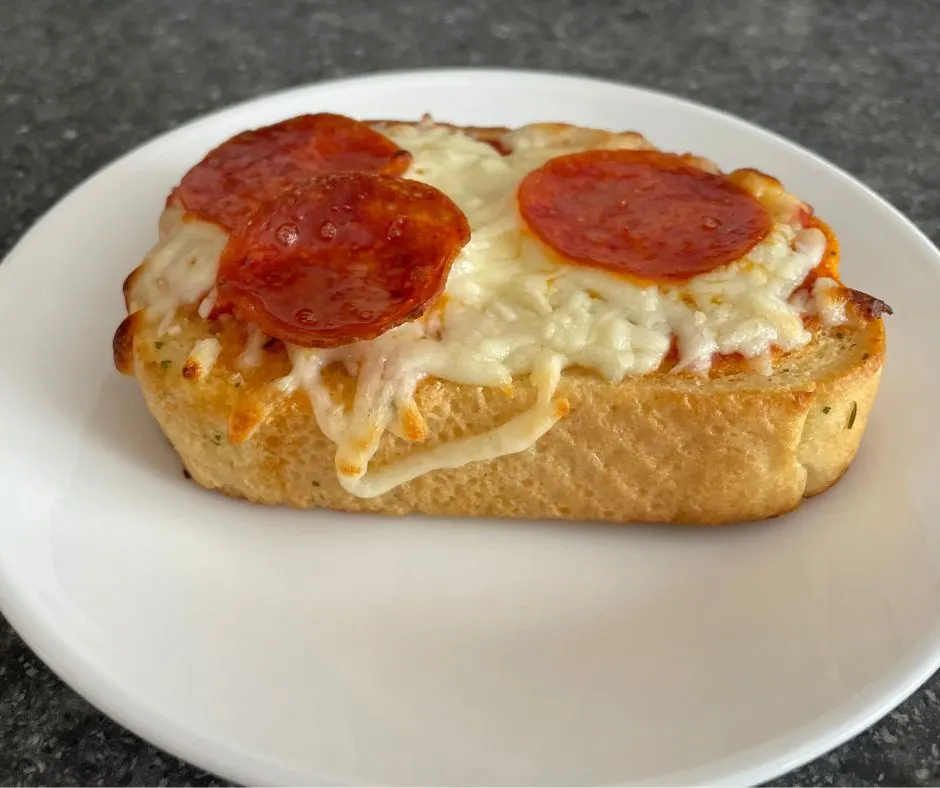 Have you ever had a Texas Toast pizza? Oh my gosh. My husband and I decided to try them out, and WOW, are they awesome.
Setting up a mini-pizza-making station for a meatier mid-night teen snack is pretty easy to do.
Put some Texas Toast in the freezer and bring it out when everyone is ready. Then put some pizza sauce in a bowl, and cheese in another bowl, and some toppings in other bowls. Let everyone make their own, and then have them cook them in the toaster oven.
Hint: Do your teens not usually operate the toaster oven? You can either leave instructions for how to use the toaster oven, OR, be there while they do it.
4. Pudding Snack Station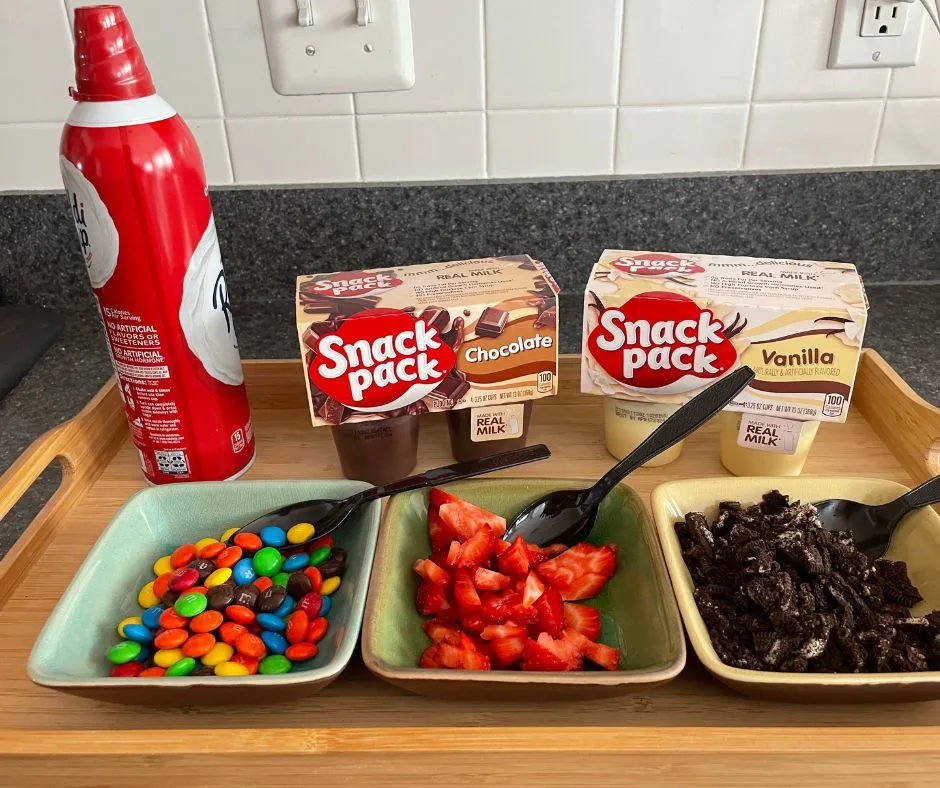 Set out the two main pudding cup flavors – vanilla and chocolate – and a few toppings and mix-in's your sleepover guests can use.
Hint: the great thing about using shelf-stable, premade puddings is you can prep this ahead of time and just leave it sit until the right moment comes.
5. Cookie Milk Shooters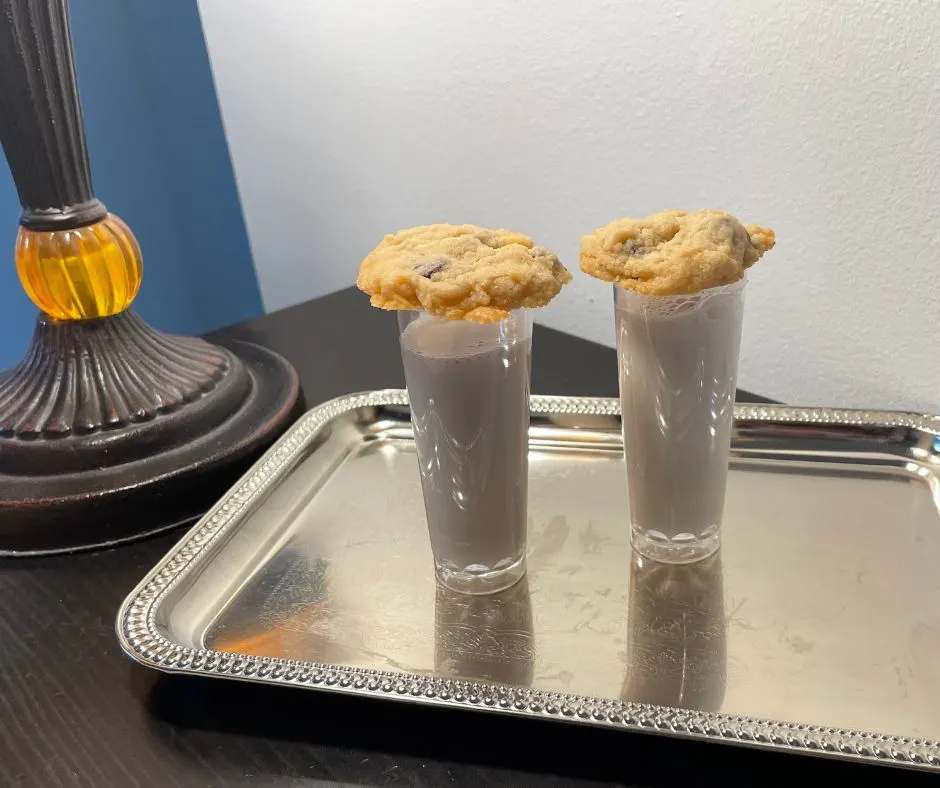 Okay…are these not the cutest things ever?
I can't take credit – they were created by Style Me Pretty.
Take whatever cookie you want – packaged, or homemade – and just sit it on top of grown-up glasses filled with milk (don't forget to provide non-dairy options if needed).
Even better, I got all the supplies for mine from the Dollar Tree. You can find plastic shooters and grown-up cups in the party section, the "silver" tray, and a Betty Crocker Chocolate Chip Cookie mix (you need to add butter and water).
Hint: while we almost never make cookies from a package…my husband and I both are big fans of these. They are so chewy!
6. Fruit Trifle Bar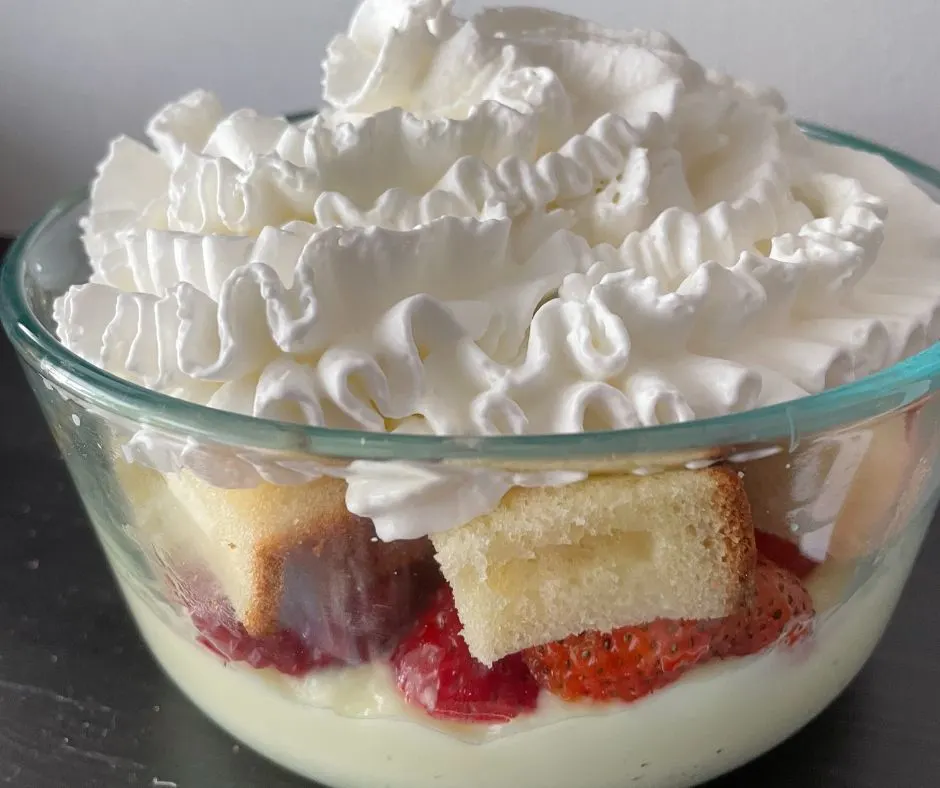 Ready to make the easiest fruit trifle ever?
You'll need:
Individual serving cups (plastic is fine)
Various fruits (strawberries, blueberries, pineapples, etc.)
Vanilla yogurt, or vanilla pudding, or whipped cream
Cubed cake (pound cake, vanilla cake…anything you'd like)
Just layer the vanilla pudding or vanilla yogurt on the bottom, slice the fruits and put those next, cut the pound cake/cake into squares and add that as the third layer, then plaster it in whipped cream.
YUM.
OR, you can offer your sleepover guests DIY fruit trifles. Just set everything out, and they can make their own (tweens and teens love this!).
7. Flavored Rice Krispy Treats
Regular ol' Rice Krispy Treats are great…but let your teen's imagination run wild with these fun versions:
Hint: you can also score flavored Rice Krispy Treats from the Dollar Tree.
8. Midnight Waffle Bar
Parents, you'll (hopefully) be sleeping by midnight. SO, you can help your teen prep a midnight waffle bar ahead of time that they can set out at 12:00.
Especially good for all-nighters!
9. Pretzel Bites + Cheese Sauce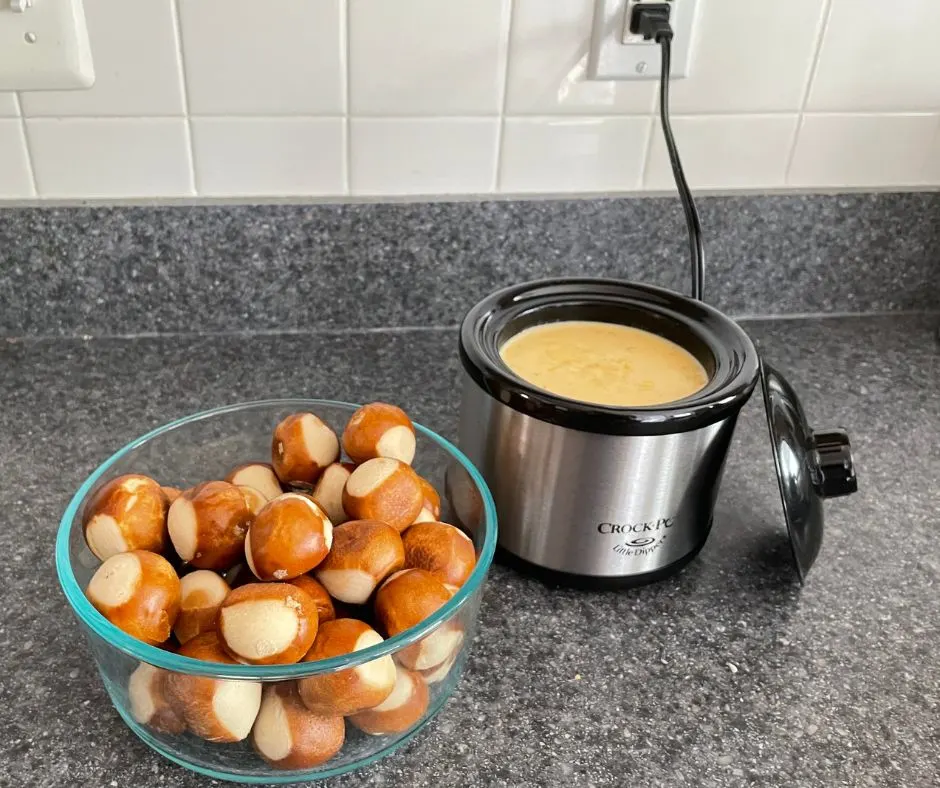 What makes this recipe easy?
Well, you can get pre-made pretzel bites (I found ours in the bakery section – you can also find them frozen).
Then, make a cheese sauce by putting all these things in a saucepan (or slow cooker).
Transfer to a slow cooker (unless it's already in there), and plug it in.
Hint: pretzel bites are precooked, so if you aren't wild about your tween/teen using the oven (especially if you're in bed sleeping…), then they can still do this snack.
Sleepover Candy Ideas
Candy and sleepovers (or candy and kids, candy and tweens, candy and teens)? Well…they go together like peanut butter & chocolate at a Reese's Peanut Butter Cup factory (I know, I know…some people hate that combo – I happen to love it).
That's why I've included a whole section on sleepover candy ideas.
1. Candy Charcuterie Board
A whole board filled with colorful candies? Yes, please.
Hint: you need to gauge the group and see if you can leave this out for semi-responsible grazing, or if you need to close it down after a bit to prevent tummy aches.
Healthy Sleepover Snacks to Make
Sleepover snacks don't need to all make us parents cringe. In fact, adding a few healthy options is a great idea – we all know our bodies have a cap on the junk food.
Having said that…sleepovers are for fun, right? SO, these all have an element of fun and might not be considered "healthy" during a normal cafeteria lunch.
Sound good?
1. Trail Mix Rice Krispy Treats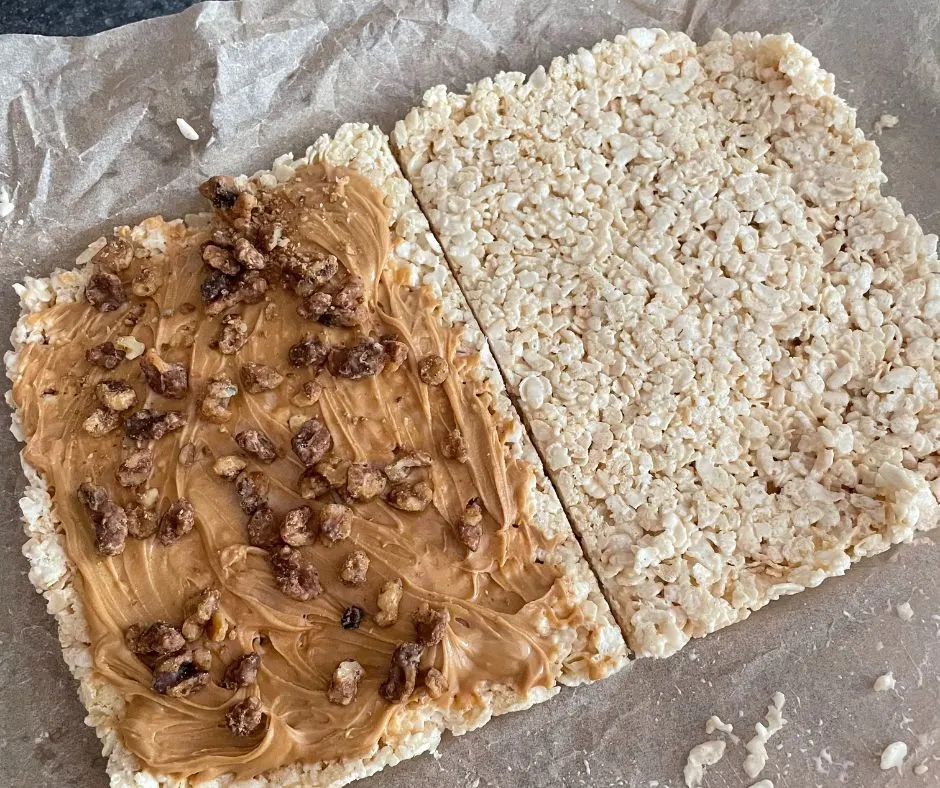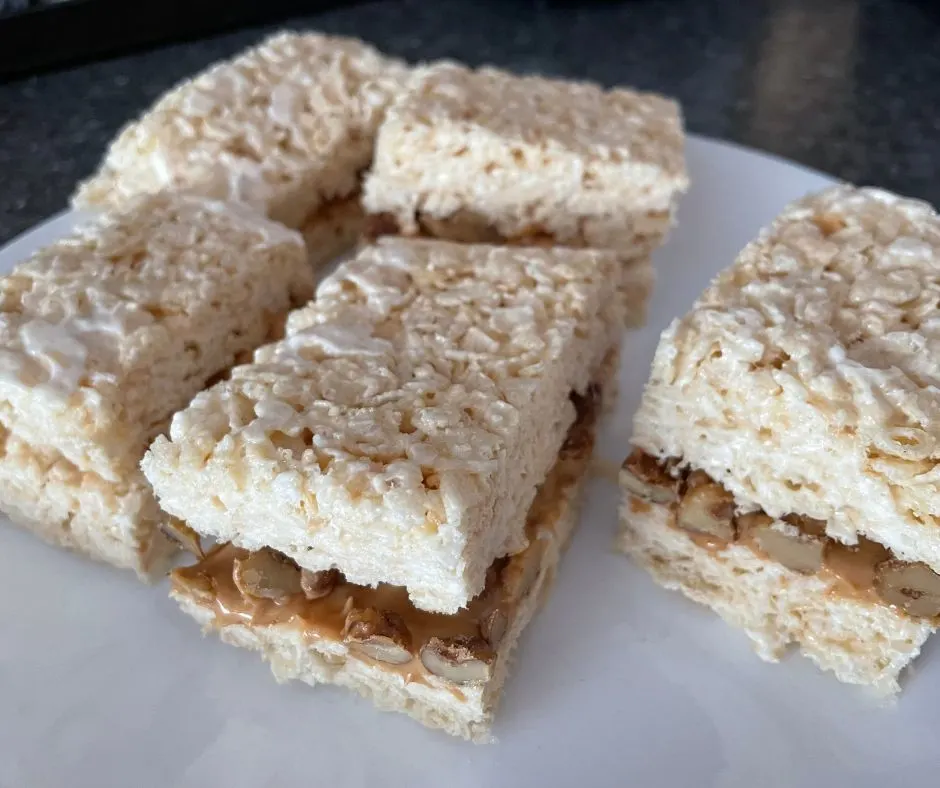 You guys…oh my gosh. I LOVE these.
I came up with the idea and decided to give it a go – and I'm SO excited that I did. My husband and I could not stop stuffing our faces, to be honest.
Make Rice Krispy Treats using the original recipe (use parchment paper for easy removal from the pan).
After it cools, take them out and slice the big pan full in half.
On half, put peanut butter or a nut butter (or Nutella!). Then top with trail mix or just your favorite nuts (for me, that's maple walnuts from the Dollar Tree – hands down).
Put the top half on, press firmly down, then cut into small squares. YUM.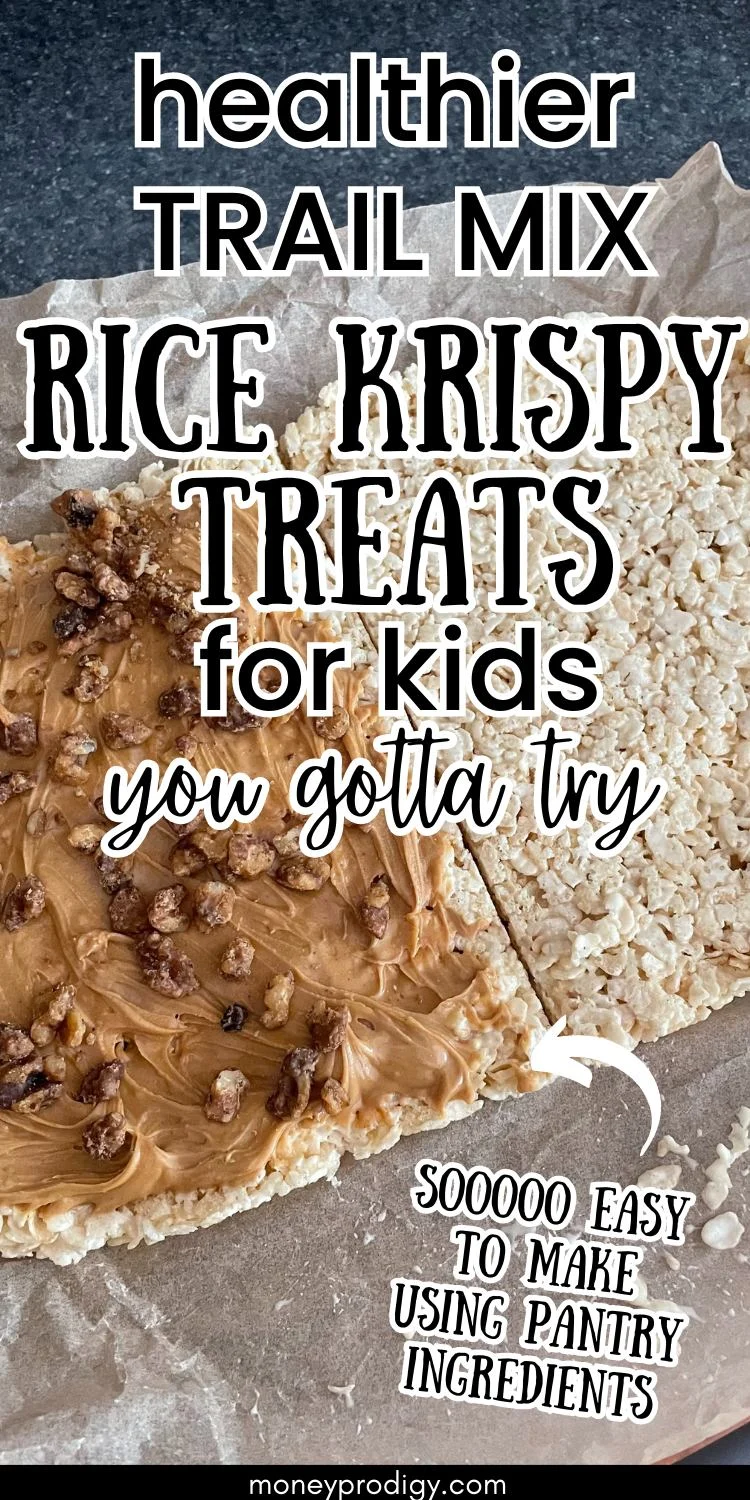 Hint: I found spraying a spoon with pam and then using the spoon to flatten the treats so that they can cool in a good shape was really helpful.
2. Watermelon Pizzas
A fun snack or dessert idea for teens is to let them make their own watermelon pizzas.
You'll need a "sauce", like Greek yogurt, and then different toppings such as fruits, coconut flakes, nuts, and chocolate chips.
Here's a recipe for watermelon pizzas to get you started.
3. Candied Grapes
I don't know who first came up with this idea…but I think it's super cool.
And, these take just two ingredients to make!
While not as healthy as just grapes, they're a pretty good option to balance between fun junk food and healthy foods at a sleepover.
4. Yogurt Sundaes
Instead of ice-cream sundaes, use vanilla yogurt as your base and make yogurt sundaes.
You can include things like:
Big tub of vanilla yogurt
Cut fruit
Rainbow sprinkles
Crushed cookies
Cut pound cake/cake
Whipped cream
5. Fruit Kebabs with White Chocolate Sauce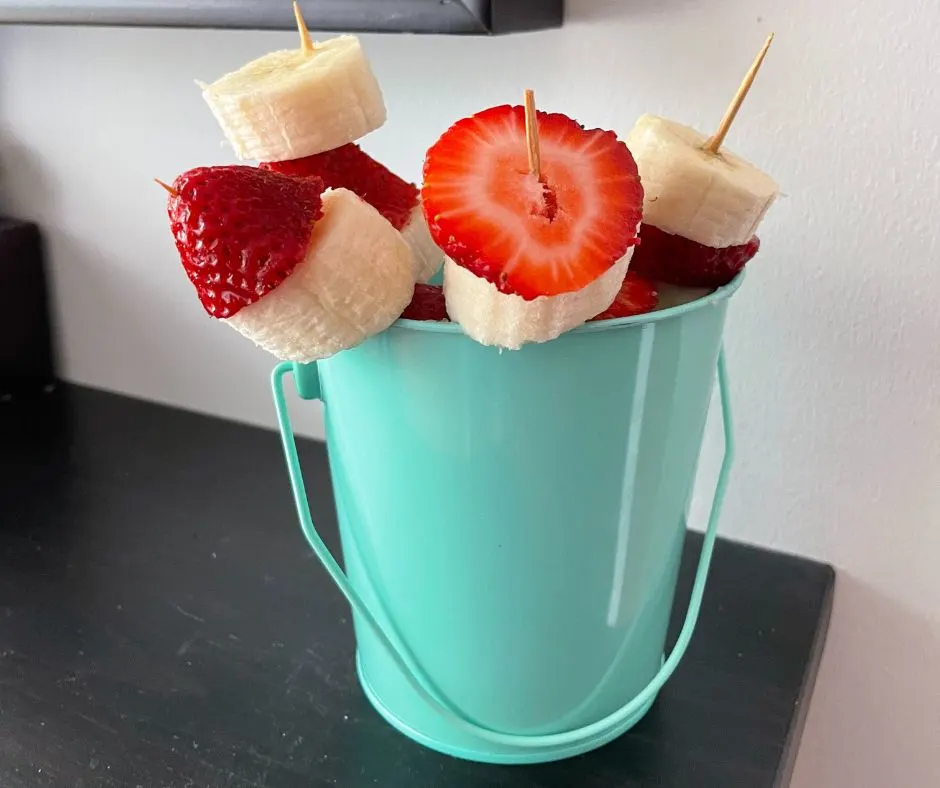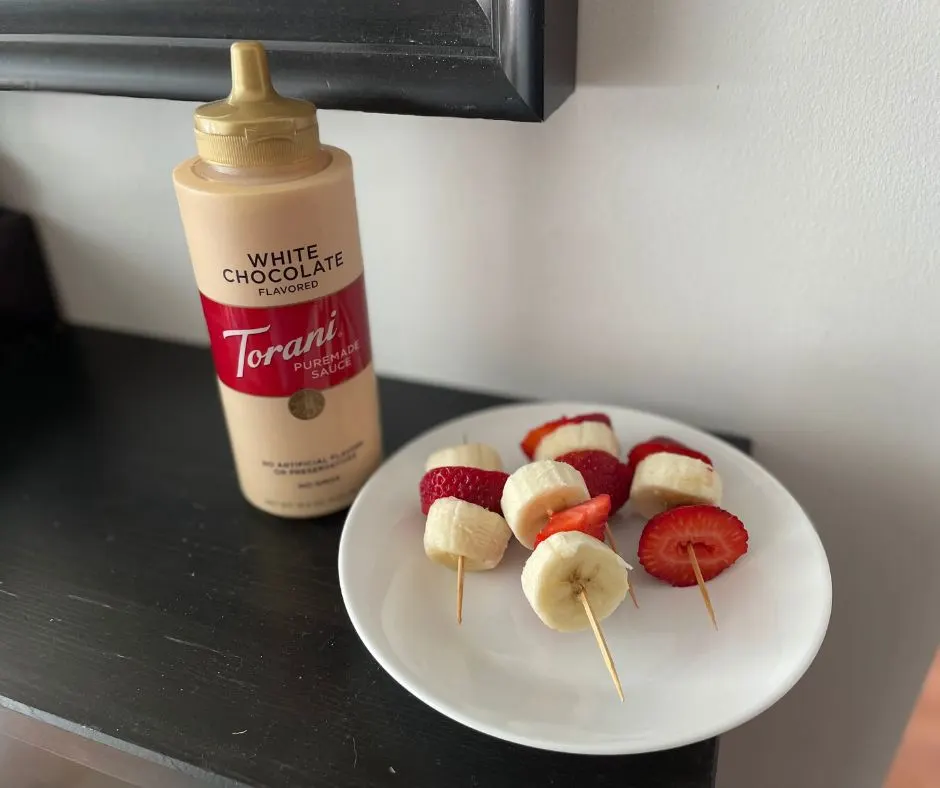 What would make tweens and teens excited about fruit on a stick?
Well…if you let them drizzle some white chocolate sauce on them.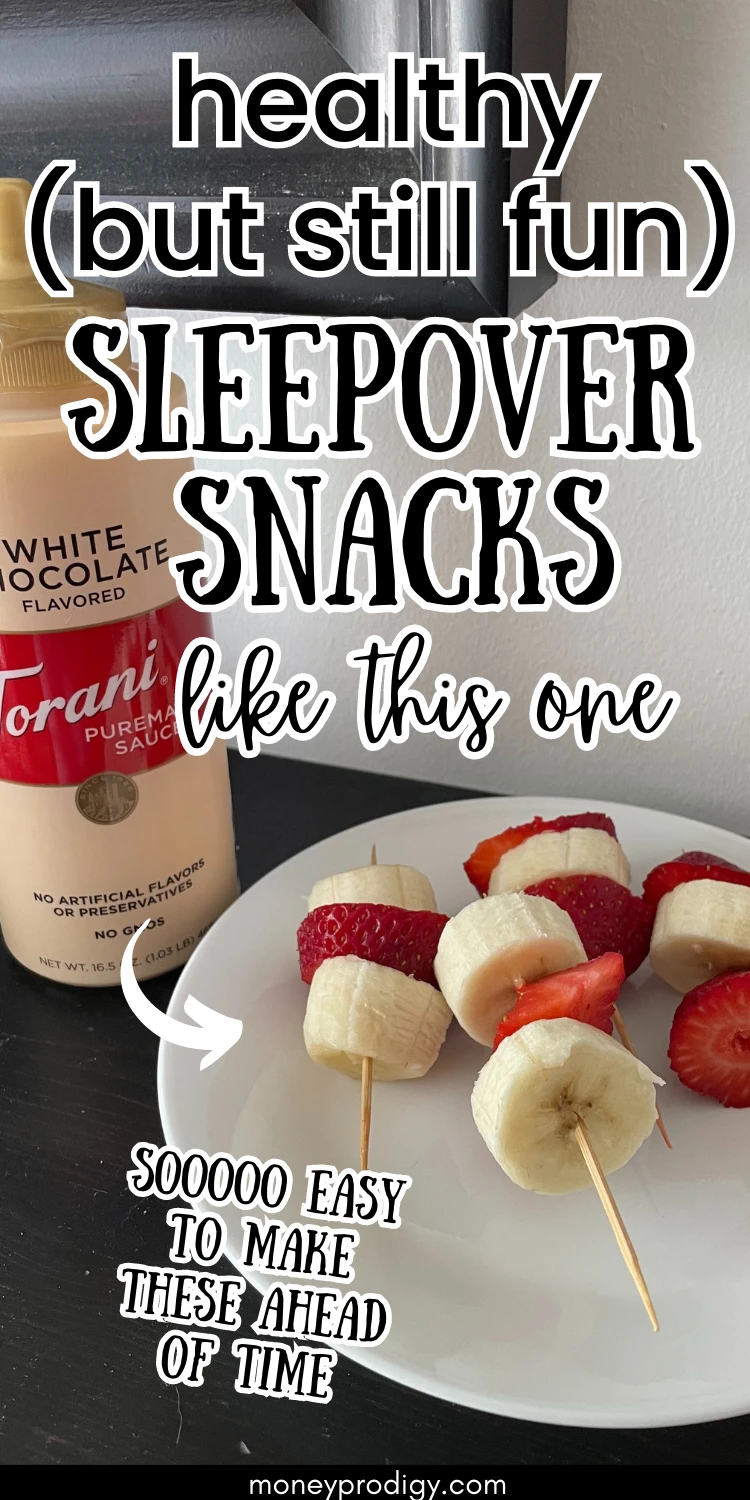 BOOM.
There you have it – just a few ingredients in each of these easy sleepover snacks to make for your teen or tween's next slumber party. These are so easy, in fact, that your child can help you prep and put them together!
The following two tabs change content below.
Amanda L. Grossman is a writer and Certified Financial Education Instructor, a 2017 Plutus Foundation Grant Recipient, and founder of Money Prodigy. Her money work has been featured on Experian, GoBankingRates, PT Money, CA.gov, Rockstar Finance, the Houston Chronicle, and Colonial Life. Amanda is the founder and CEO of Frugal Confessions, LLC.
Read more here
.
Latest posts by Amanda L. Grossman (see all)