These 19 free financial literacy games for high school students add engagement and FUN to teaching personal finance.
How do you make financial literacy fun?
One way is to assign one of these free financial literacy games for high school students from below.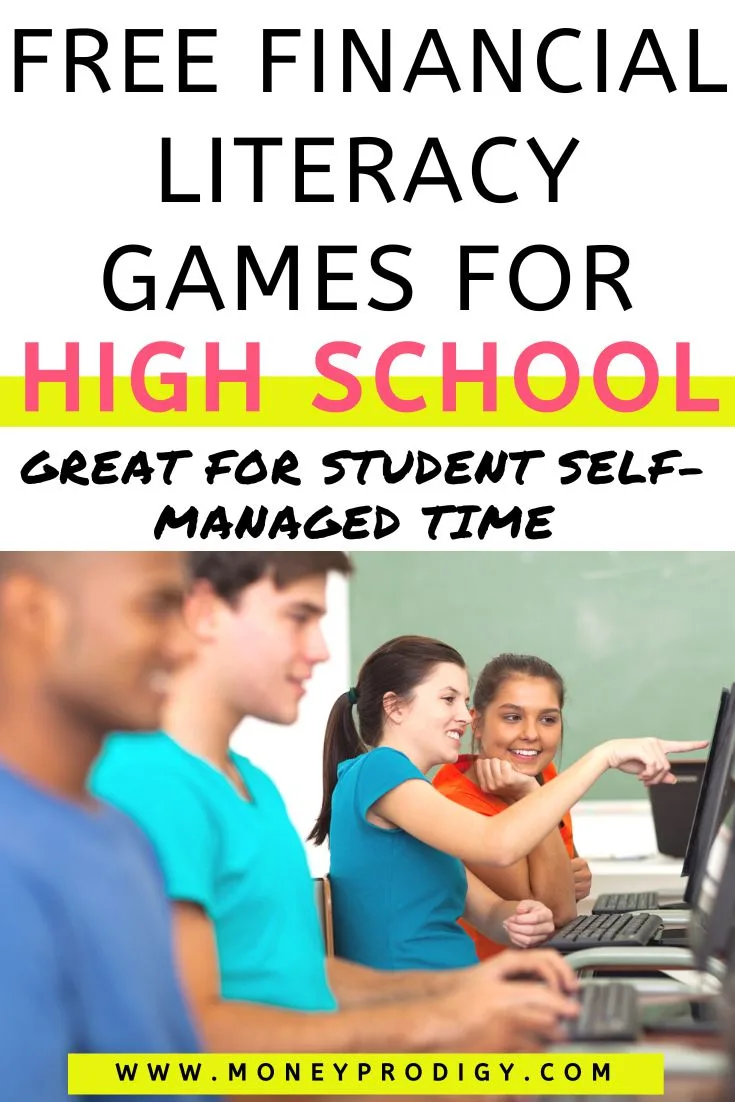 These games will teach your students lots of really important financial lessons, such as:
How loans work and how loan sharks take advantage of people
How choices made right now and during college can greatly affect their future finances
How the stock market works, and look at rewards in light of risks
How much they'll need to earn from a job in order to live their dream life
And much more…
You could even base one of these around a financial literacy week theme, or personal finance topic for high school students!
Let's get on with it.
Free Financial Literacy Games for High School Students
Financial literacy games for the classroom can teach your teens a whole lot more about how money works in the real world (and not only in the real world – but in THEIR world).
Psst: got elementary students? Here are free online financial games for elementary students.
Your students get to play "loan shark" in this finance game – predatory loan lender and collector – in order to learn all about risky loans and loans in general (like interest rates, what a loan is, loan collections, etc.).
It's an eye-opening way to show your students how lenders can and do take advantage of people who take out loans. Hopefully one day, this can save them from the payday loan cycle!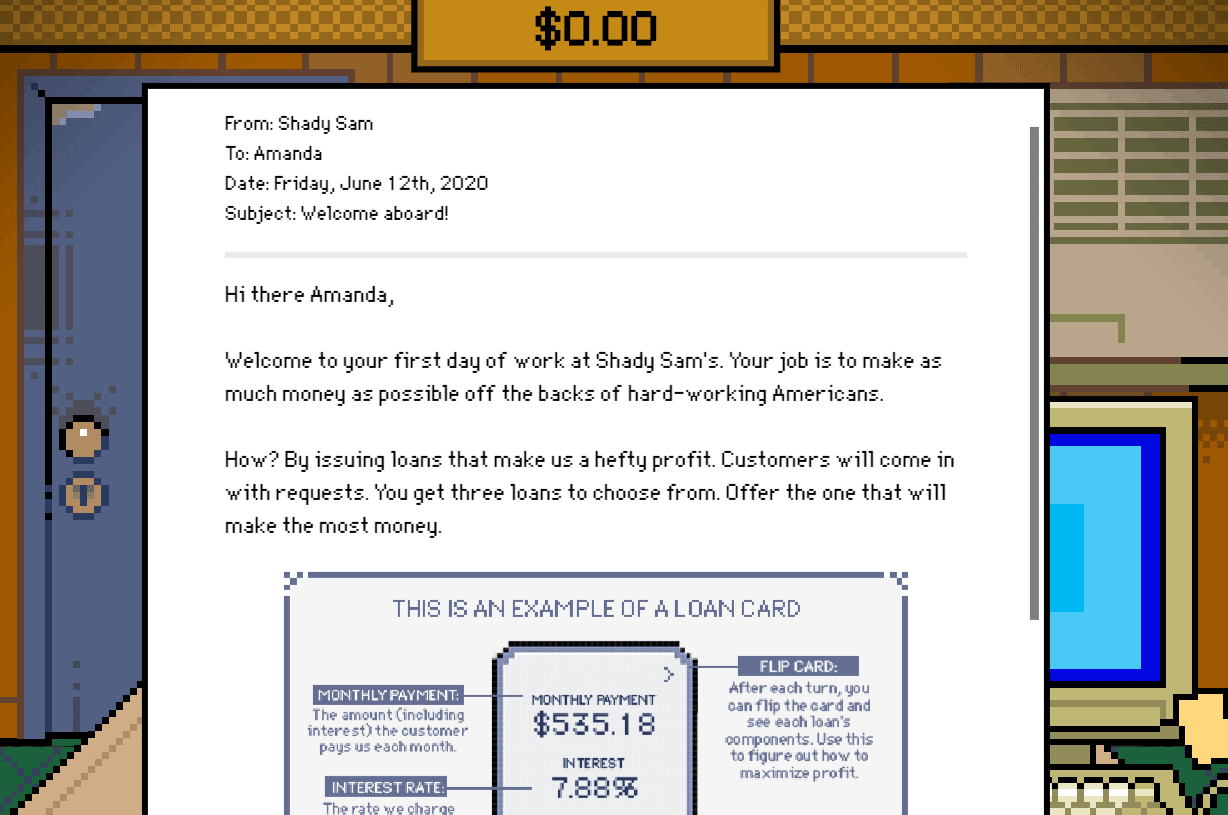 Your students are movie producers, and they've been given a $100 million budget to create a 5-star movie.
You can play this personal finance game as a high schooler or as a middle schooler (you choose which). With each question your group answers correctly, they earn more money to put towards a movie they're going to produce.
They must also make good financial decisions in order to produce a star-rated movie (12 different financial decisions they'll make).
Psst: in charge of teaching students to budget? Here's my article on how to teach budgeting, even with varying skill levels.
The Consumer Financial Protection Bureau create a pretty fun online money management game for teens using a graphic-novel theme.
Topics covered include:
Avoiding impulse purchases
How debt can affect a military career
Importance of building savings
Protections servicemen and their families can get through the Servicemembers Civil Relief Act (SCRA)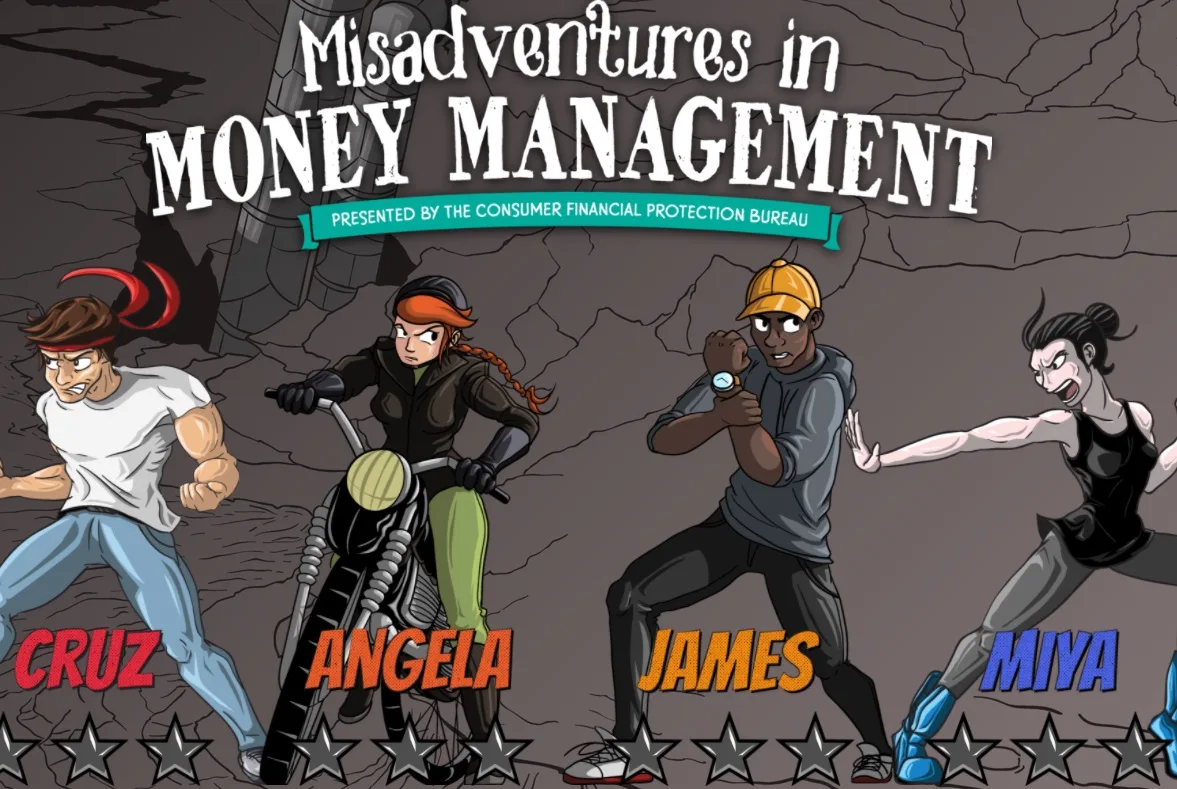 Hint: while this is semi-geared towards service members and their families, anyone can play.
Can a person survive on a job in the "gig economy"? That's what this game attempts to reveal to your students.
They'll be given an urgent financial need (such as – your mortgage of $1,000 is due in a week), and then will need to accept gig jobs from Uber in order to try and save up enough to pay their bills.
Can they do it?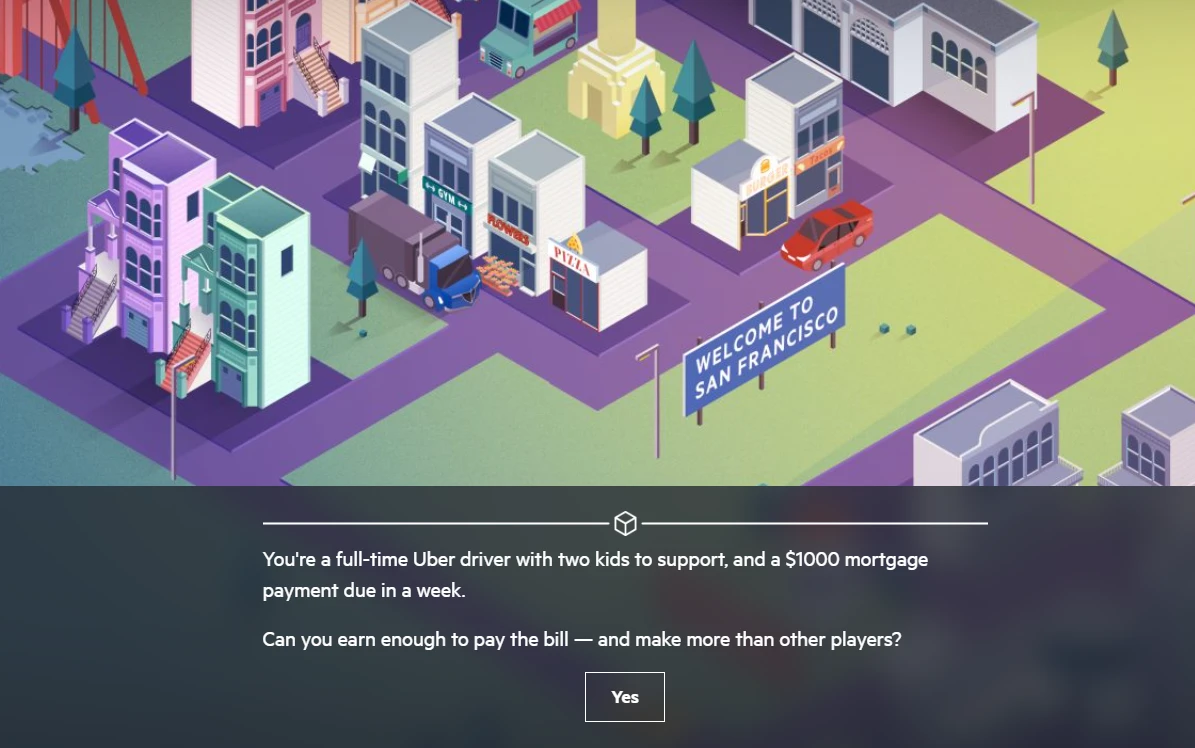 Pssst: you might also be interested in my article on 15 free financial literacy activities for high school students PDFs, and these 14 free financial literacy worksheets pdf.
Students are given a career with an annual salary, and then are asked to make certain budget and lifestyle choices based off of that salary.
Will they be able to afford the house they want, or have to rent with an apartment they share? Is their career choice enough to sustain their organic food tastes, or are they better off eating "basic" food?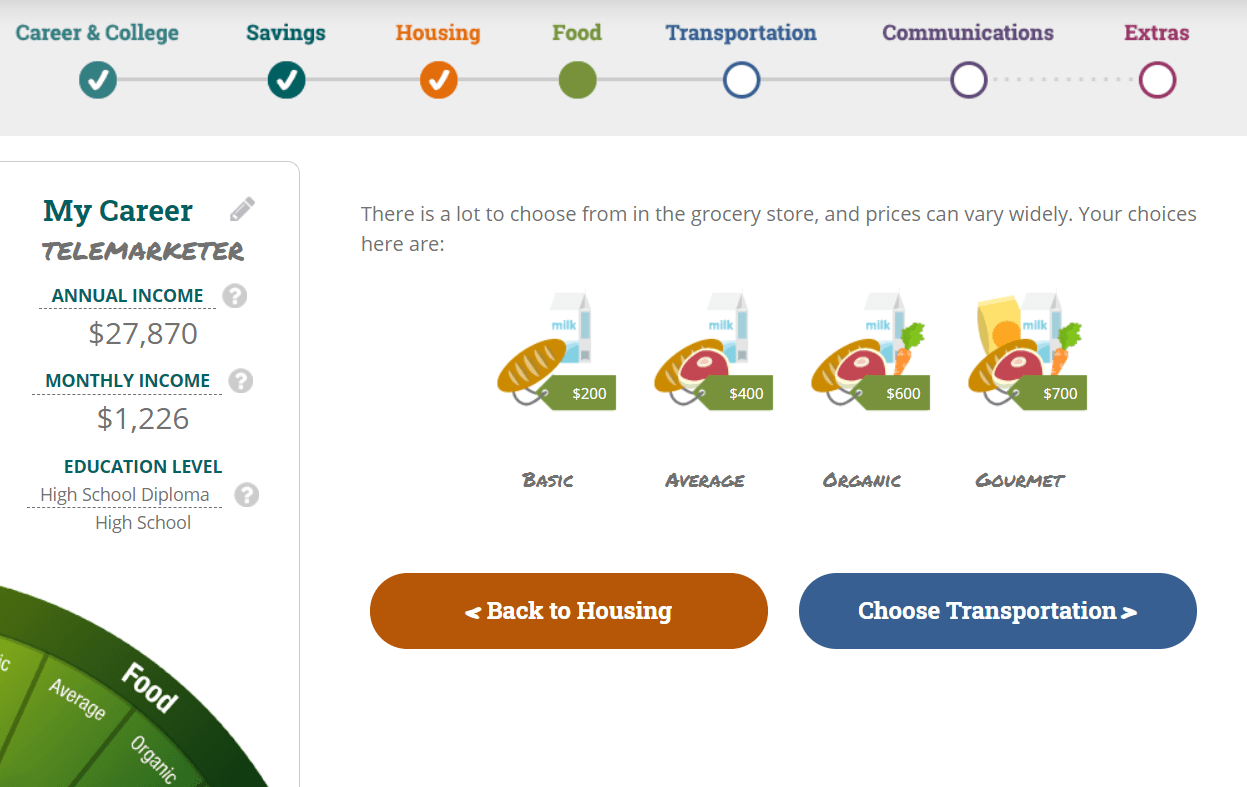 Psst: here's a free printable money activity for a group where you teach kids and teens how to pay bills.
The Consumer Financial Protection Bureau has a whole section on lesson plans for teen financial literacy games – all are free to use.
Examples include:
Investigating investing
Handling a lost or stolen credit/debit card
Playing a credit and debit game
The University of Ohio offers several financial literacy games that teachers can request permissions to, for free.
These include:
Get a Life (Grades 7-12)
Mind Your Budget (Grades 9-12)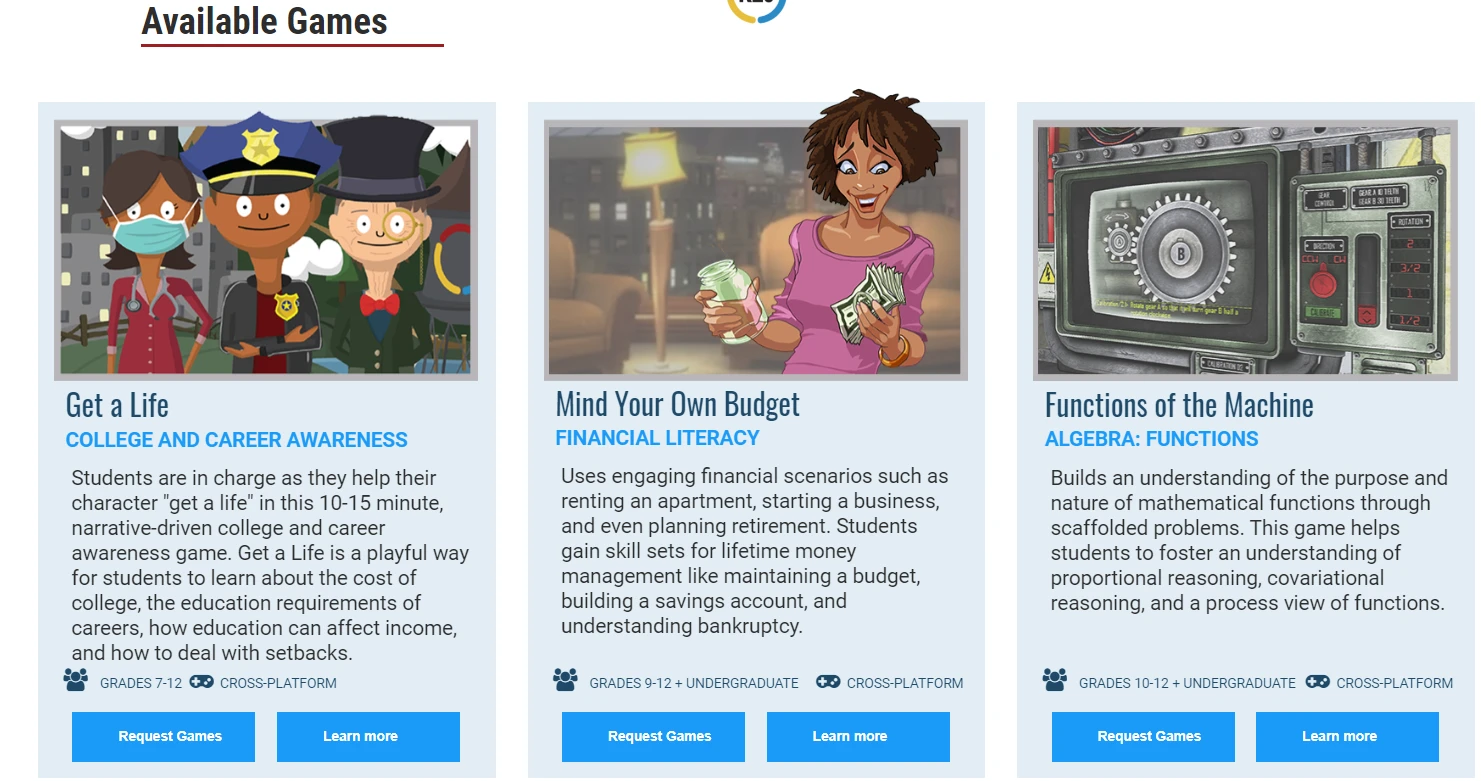 Monopoly can be a great game for kids and teens to play to learn some financial literacy lessons (and they'll learn even more if you play it with my free financial hardships Monopoly printable).
This site offers a free, online version of this game that can be played online versus friends, offline versus robots, or even on the same phone as another friend.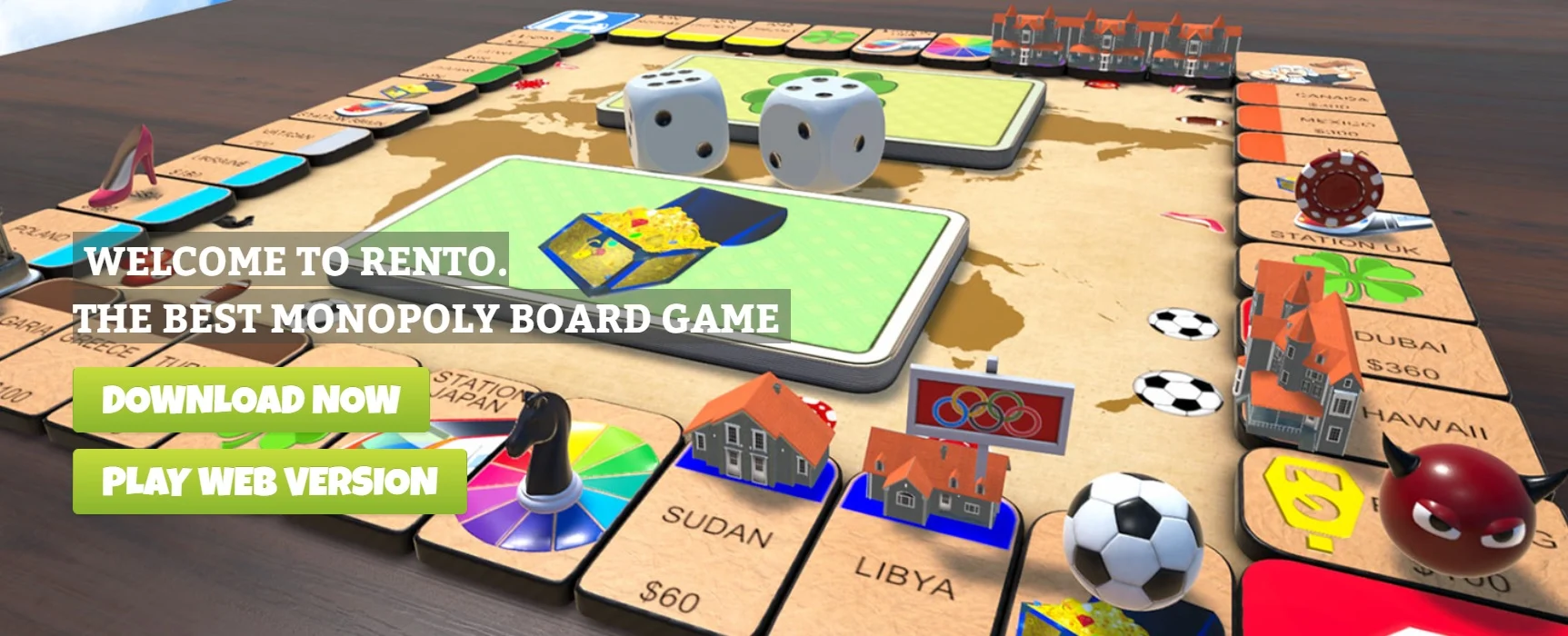 Just like in personal budgeting, if there's a gap between revenue (income) and spending, then that's a problem.
Students may or may not be aware that the current tax income will not pay for all of the government's obligations in the future (such as retirement and health benefits promised to the aging, and basic services).
With this game, your high schooler will need to choose which tax and spending changes to make over the next 25 years.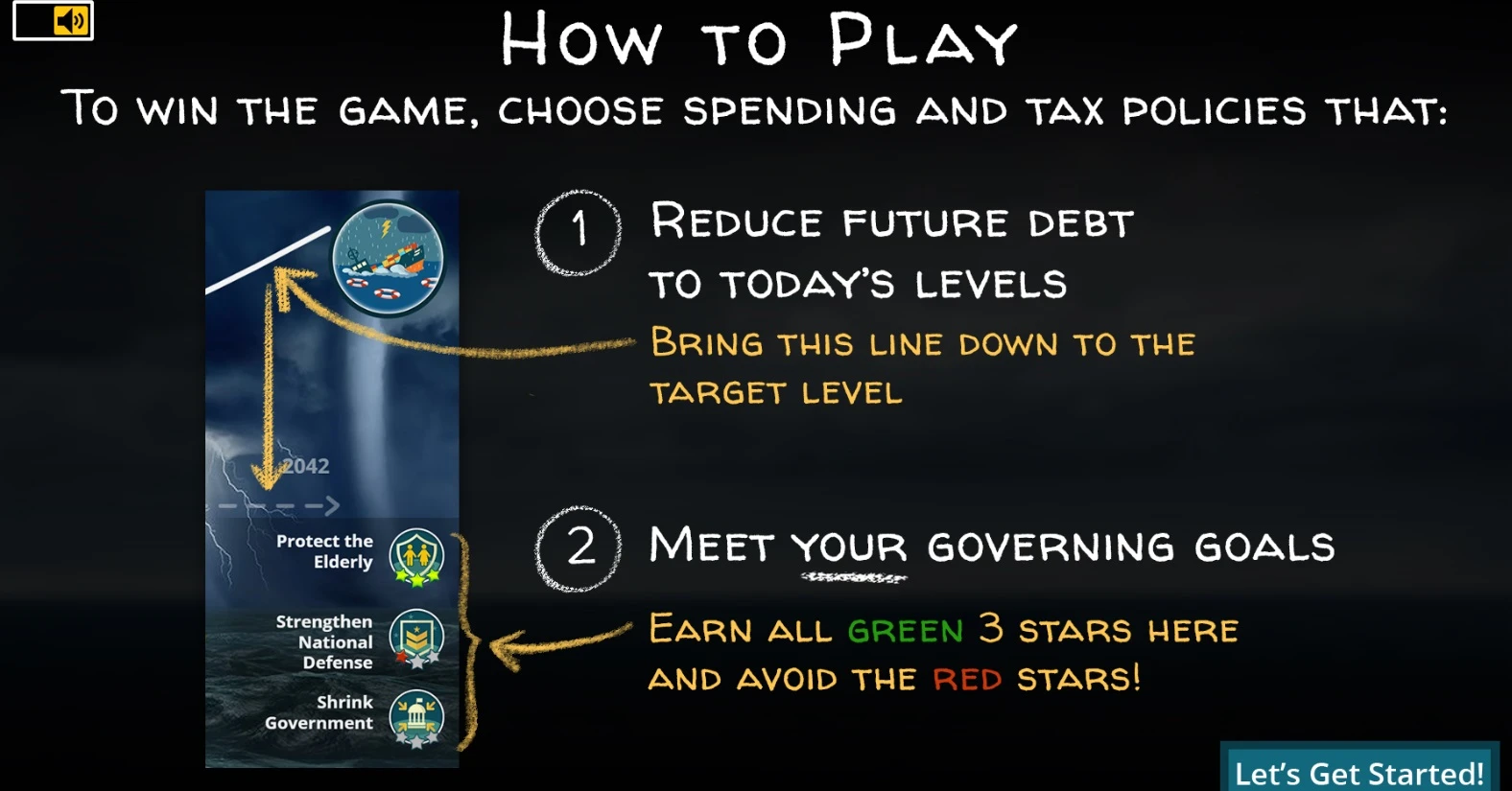 Here's a new one – students work on building skills around spending, saving, and investing their money (all while playing a Roblox game).
Players gather yum-yums, which they can then convert to currency to build their pancake empire while learning how to balance risk and reward.
There are opportunities to get different rewards, and each comes with its own risk.
This game is definitely more self-directed than some of the other free financial literacy games on here. Your students really take charge of figuring out what to do, then getting rewarded when they do something good (and they do point out what financial step they took that earned them a reward, so that they'll know to do it again).
There are arrows to help the complete newbie (that was me!) get started.
Psst: players will need a new, free account with Roblox, or can use an existing one, to sign in. Downloading and installing Roblox is required as well (free).
Bloom-o-Rama is Fidelity's metaverse experience. It teaches students money mindfulness – helping students to feel calm and collected when saving, investing, and spending money – plus more financial basics.
For example, students go over mindful spending. Students earn wearables for their metaverse avatar by answering questions correctly.
The first thing they'll do is create their avatar. Then, there's this little assistant that guides students through how to use their keyboard and mouse to navigate the metaverse.
Finally, your student is off and running and able to experience Bloom-o-Rama.
Psst: students can play as a guest in Decentraland, so they don't need an account to use it.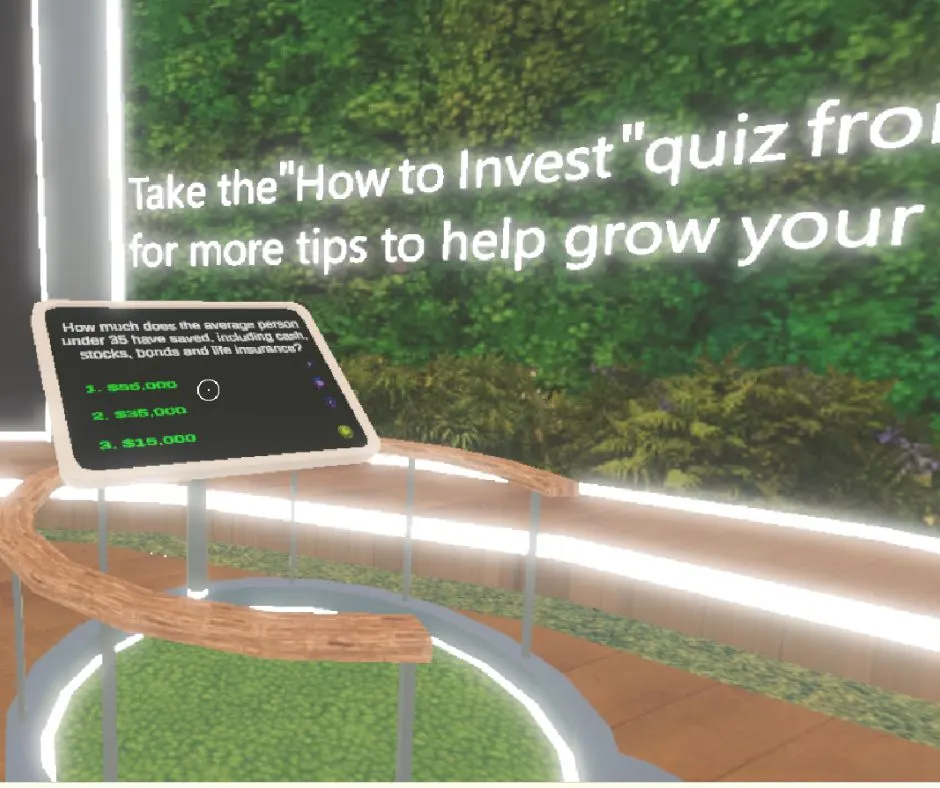 Here's a new game that's really great – I find it to be up-to-date and very accurate on digital financial literacy terms.
Students take a 10-question quiz ahead of time to measure their basic financial literacy knowledge before playing.
Then, they choose an avatar, a job, and meet their new roommates.
They're asked to do things like:
Decide on a budget for groceries (a cheaper, or more expensive option)
Pay their roommates their portion of rent
Sign up for direct deposit on their first day of their job
Lots of good learning, like paycheck taxes, fixed vs. variable expenses, etc.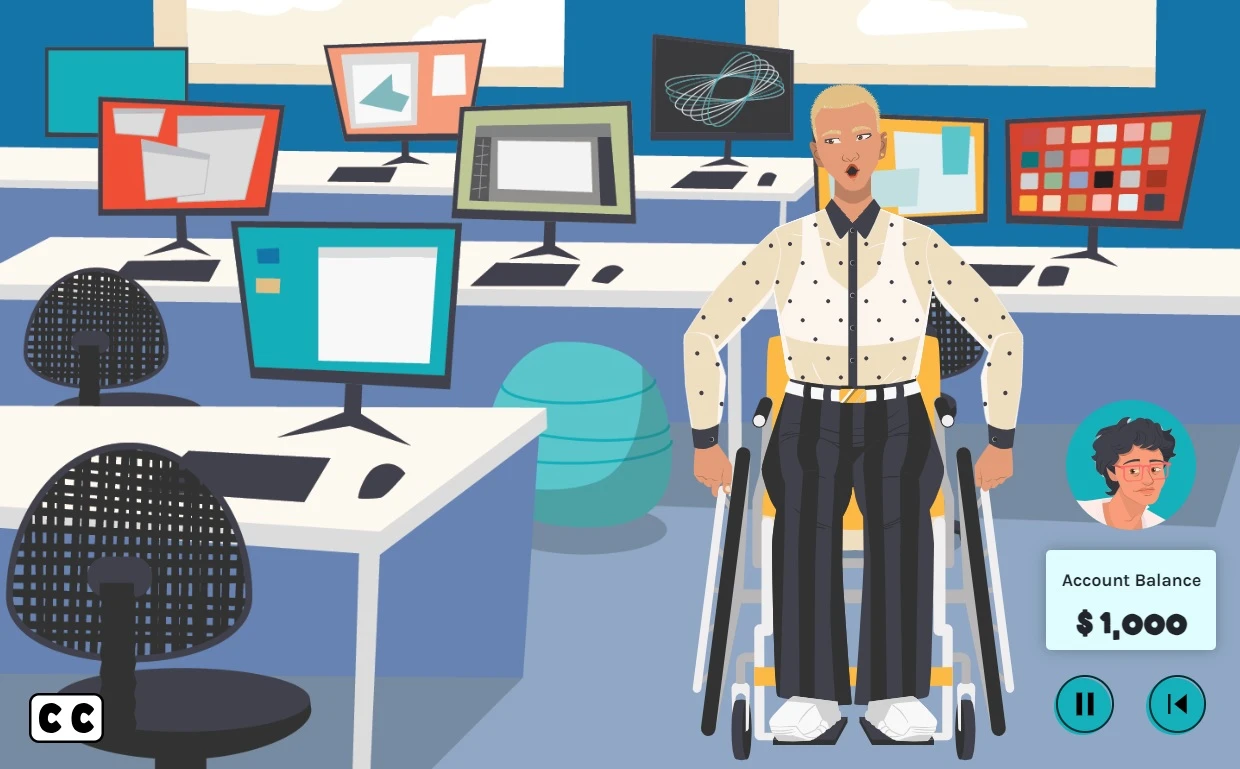 Online Budget Simulations for High School Students
You can really help to bring a budget alive when you have students go through a budget simulation – meaning, they take a budget that they've either made, or was given to them, and they attempt to see if they can "make it" without overspending.
Here's a few online budget simulations to help high school students test out a budget.
Psst: be sure to check out these financial literacy books for high school students I've personally reviewed.
JumpStart's Reality Check is an eye-opening way to show your students how their wants can dramatically affect the amount of money they'll need to earn in a career.
They take a student through 1 of X questions, asking them things like what type of housing they want, and what type of car they want.
Then, in the end, they spit out how much the teen will need to earn in order to afford that type of lifestyle.
Really can make a child think about their choices!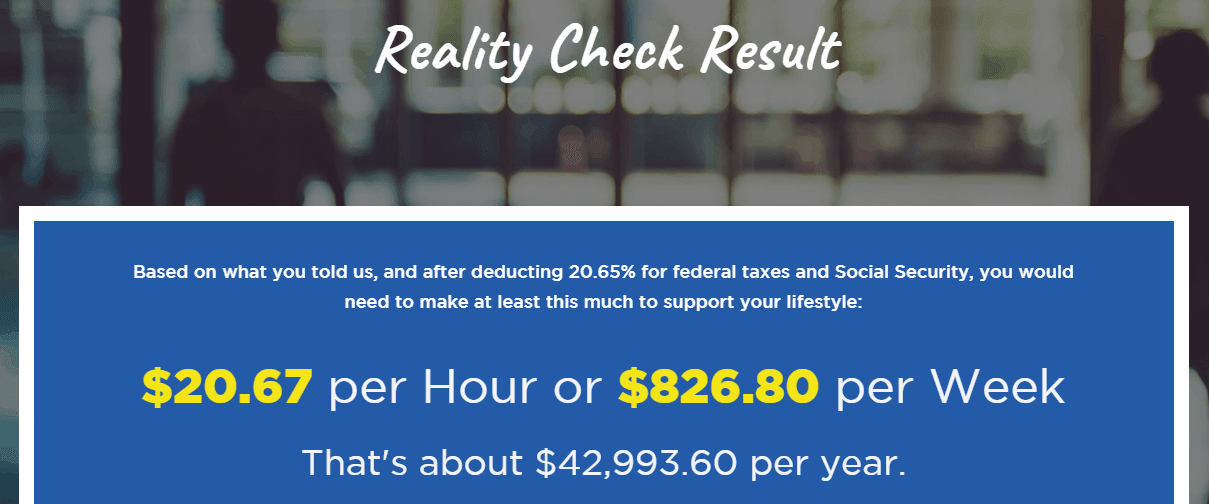 Students will help Enzo, a magician, save up $50,000 so that he can go to Las Vegas and have a venue to perform.
They'll be asked to figure out how to spend Enzo's money to get to his savings goal, with the spending categories being:
Advertising
Vegas Fund
Enzo's Needs
Magic Shop Fund
Maintenance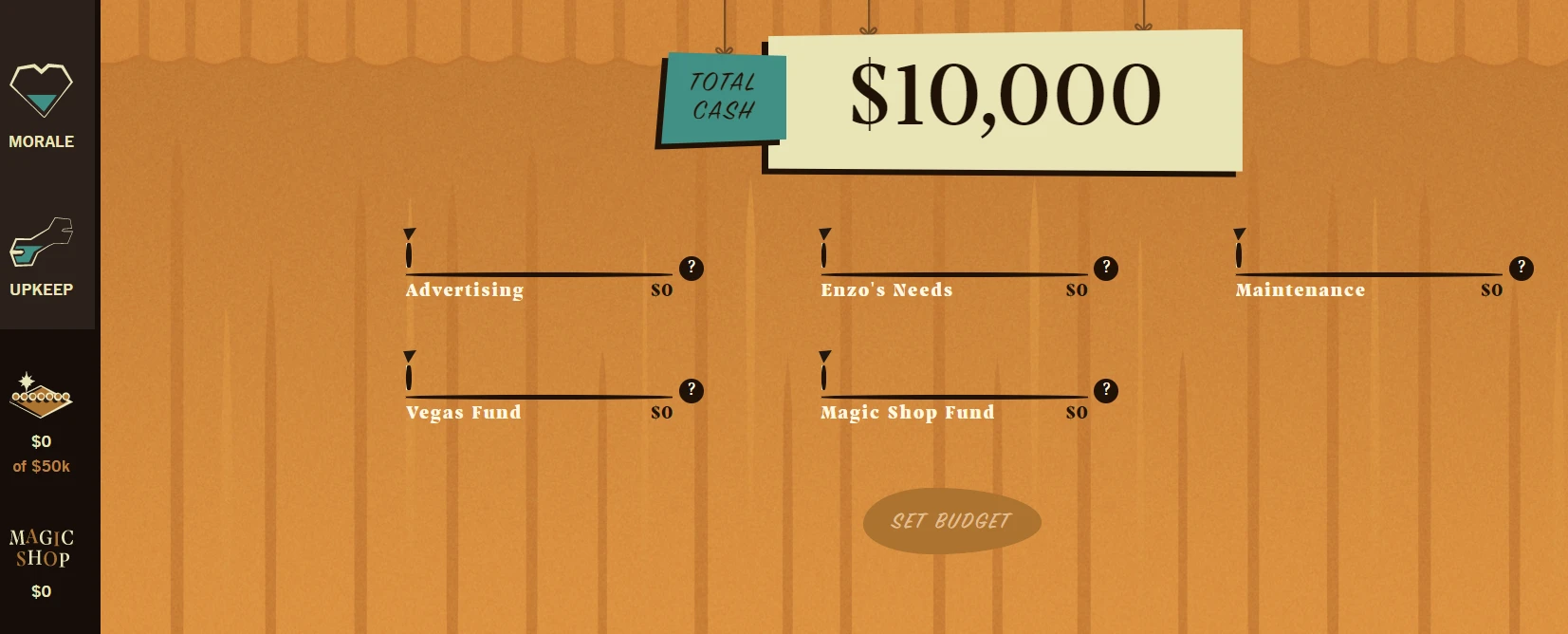 Sometimes I hear from parents that they have no idea how to teach their kids about poverty and homelessness.
This is a wonderful simulation if you'd like to make your students more aware of how difficult it can be to live on a low income. It also can build some empathy to the problem, as teens start to understand how it is someone might end up on the corner of a street, asking for money.
Students are told they are unemployed, have lost their house, and are down to their last $1,000. They must make it to the end of the month with that $1,000.
Can they do it?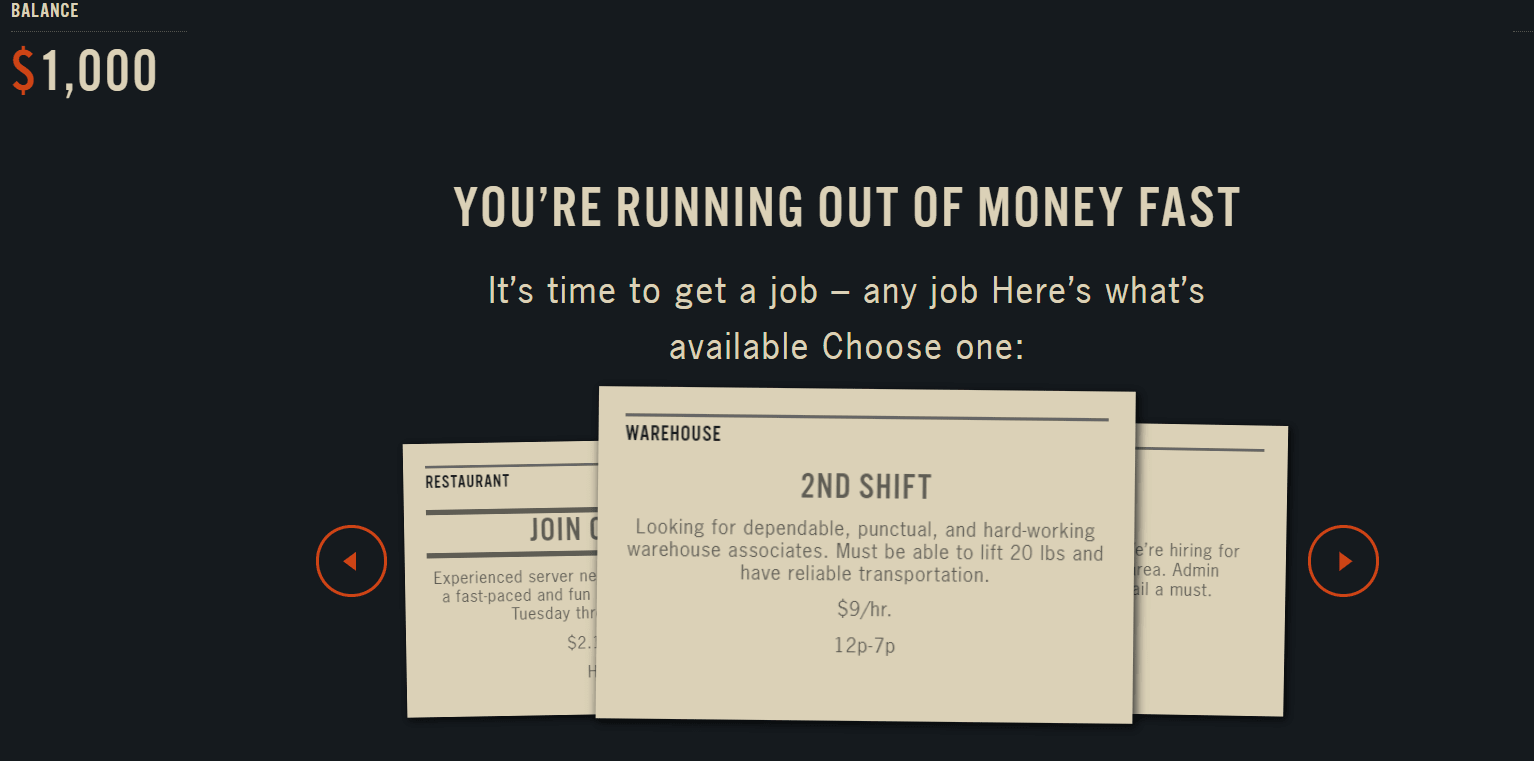 Pssst: you'll definitely want to check out my article on budgeting scenarios for high school students – chocked full of free resources.
You are going to take a cross-country road trip with your friends, and need to keep within a budget (without going hungry, stalling your car because you forgot to buy gas, and actually making it to your destination).
Can your students stay within budget and keep enough money to make it all the way to their destination?
Financial Simulation Games – Personal Finance Games Simulations
Financial simulations games are different from what we've discussed above, as they attempt to make financial situations more "real" with students and engage them in decision-making that has actual consequences to their results.
1. Stock Market Games
If your students are learning about investing, then a free online stock market game could be just the thing to help them understand it better.
Kids sign up either in groups, as a class, or as individuals, and everyone is given a certain amount of money to invest at the beginning. Then, students follow along with the real market to see how their decisions are stacking up.
Some competitions even have reward money and prizes that they give out!
Free online stock market games for kids include:
Personal Finance Lab's Stock Market Game
This is a decision-based, online financial simulation game with changing scenarios depending on what your students choose.
Your student is given a random profession, one of the 13 stops they'll make that will greatly impact their decisions, finances, and game play.
For example, I went through the game and was given the profession of Accountant. My salary was broken down for me, and then I was shown how much I'll pay in taxes. Then, I was asked which type of checking and savings account I would like to open, and how much money I want to save from my paycheck.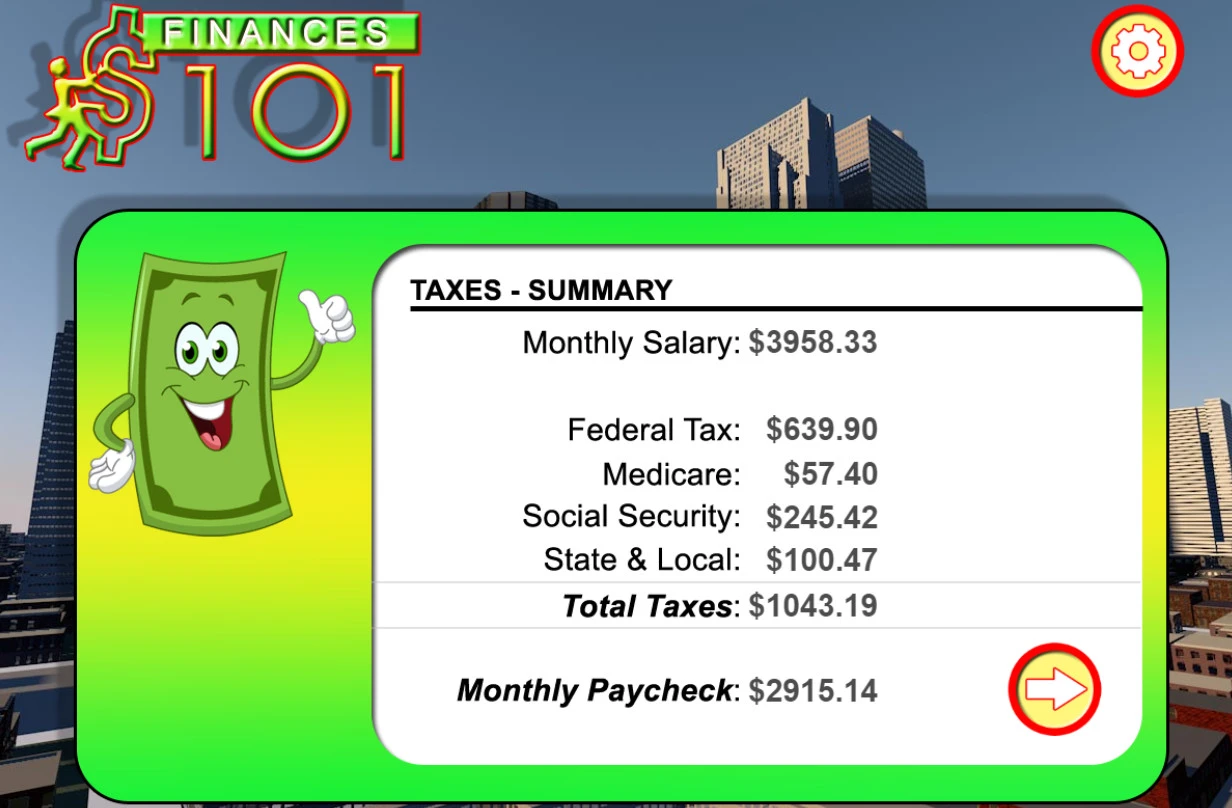 Paying back student loans has proved to be too much for some students, especially if they fail to find a job on a career path.
This financial simulation game can help your teen students better pick out careers and majors based on simulating what kinds of jobs they might find when they graduate, and how much their student loans might be.
They'll be asked to make critical decisions that will have a direct effect on their budgets and finances post-college, such as what type of college they want to attend (i.e., 4-year, 2-year, community, in-state, out-of-state).
Also, they'll decide on more immediate needs, such as whether or not to buy a new laptop for college, or if they should take a low-paying, labor job to help pay the bills.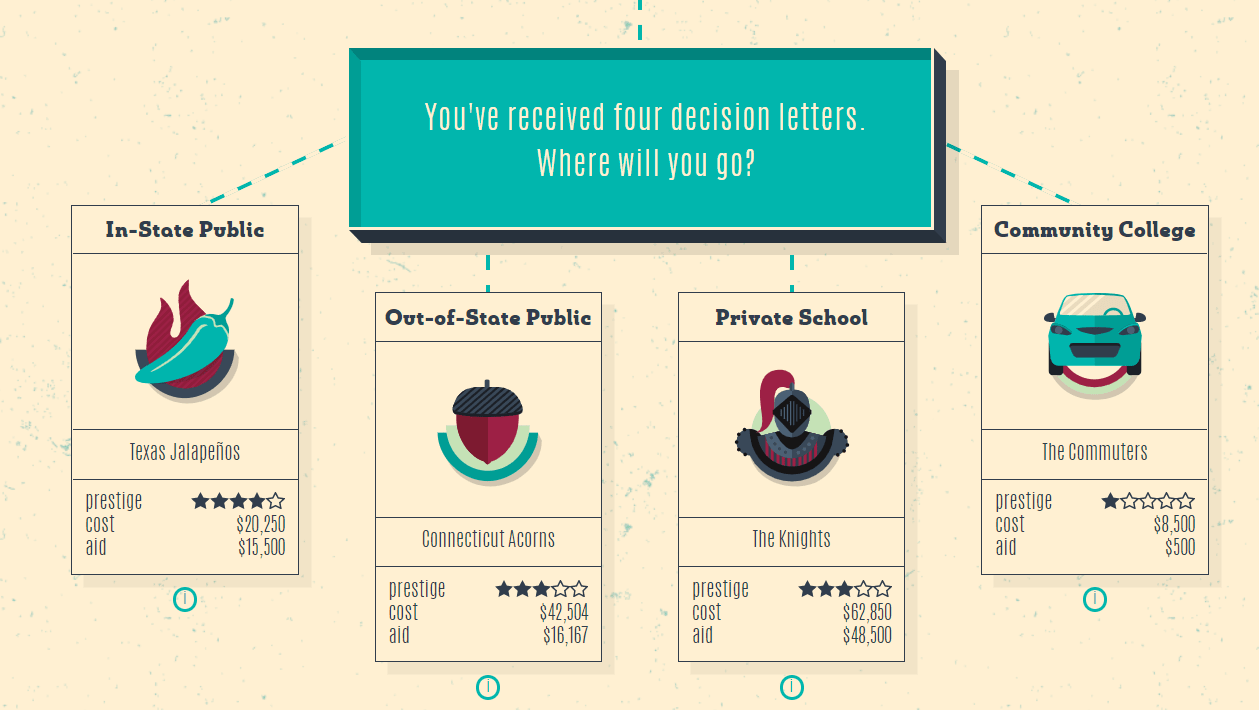 Financial Literacy Board Games for Teens
Let's not forget about good, old-fashioned board games that can help teens and high school students understand finances better.
Suggested Age Range: 10 years+
Players: 2-4 players
Everyone starts off in debt in this game. Then, each player is given a life persona that will determine what kind of salary and how much debt they have.
Players choose a "Life" card, and three "Debt" cards to begin the game.
For my round, I was given the following:
$6,000 in student loan debt
$6,000 in student loan debt
$5,000 in business loan debt
Yikes! That's $17,000 in debt to start, which feels slightly overwhelming.
Good thing it's just a game, but one that will show your students how destabilizing debt can be (and also, how to work through it). Kids are also given a salary, and $1,000 in an emergency fund to start.
Free financial literacy games for high school students and kids can really add fun and self-discovery to financial literacy teachings. Tell me below which one your own kids are trying and learning from!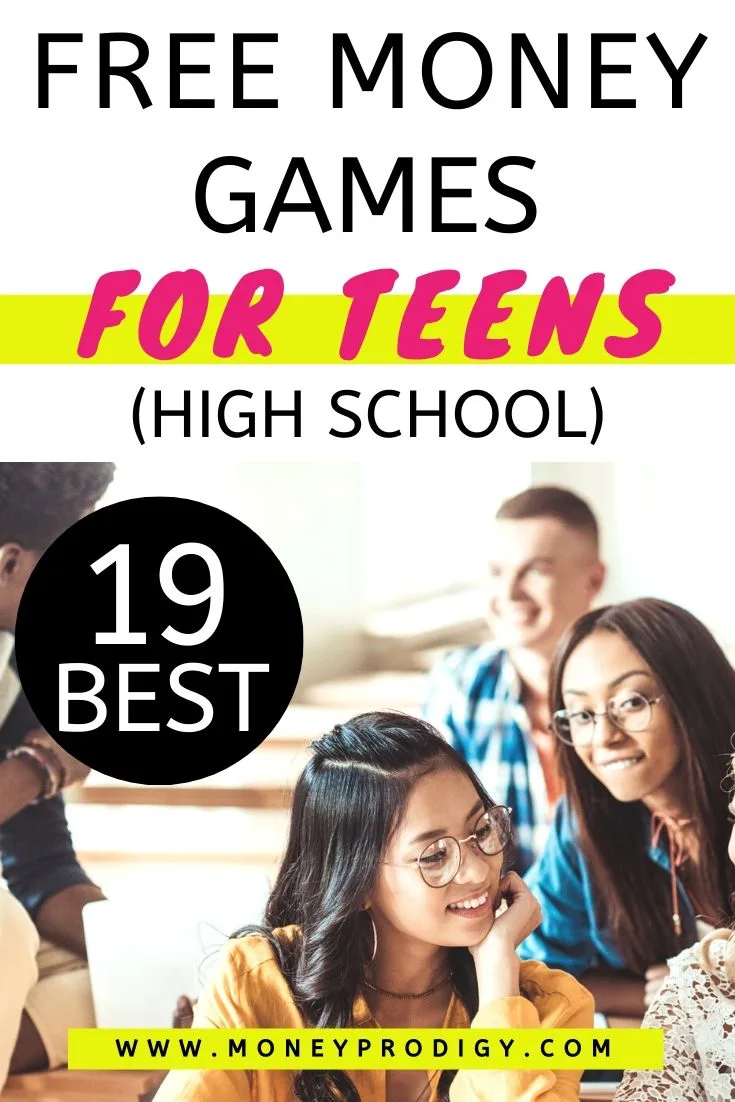 The following two tabs change content below.
Amanda L. Grossman is a writer and Certified Financial Education Instructor, a 2017 Plutus Foundation Grant Recipient, and founder of Money Prodigy. Her money work has been featured on Experian, GoBankingRates, PT Money, CA.gov, Rockstar Finance, the Houston Chronicle, and Colonial Life. Amanda is the founder and CEO of Frugal Confessions, LLC.
Read more here
.
Latest posts by Amanda L. Grossman (see all)