Keep teens from being bored and build memories with these 100 things to do at a sleepover. Your best slumber party awaits!
Sooooo…you've volunteered to host a bunch of teens (or just two) at your house for an epic sleepover, and you're wondering what's 100 things to do at a sleepover to keep them occupied?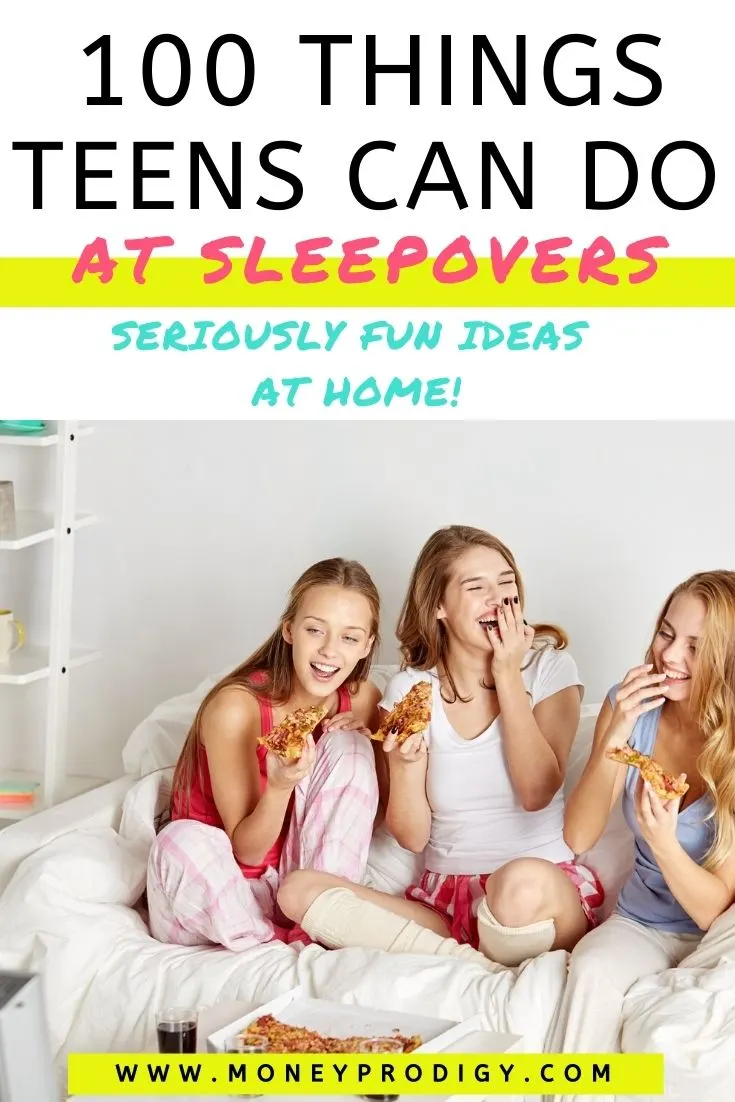 Fortunately for you, I used to meet up with my own group of teen friends for "Thunderplunks" – what we used to call slumber parties – every few months.
So, I've got some experience filling up time with a bunch of fun sleepover ideas and sleepover activities for a group of teens!
100 Fun Things to Do at a Sleepover – Slumber Party Ideas
Read through this list of 100 things to do at a sleepover, then talk over sleepover ideas and sleepover activities with your teen for their next slumber party so that both of you agree.
Let's dive in!
Hint: many of these make great birthday party ideas, too! Especially if you do a sleepover party.
1. Make (Safe) Raw Cookie Dough Batter to Eat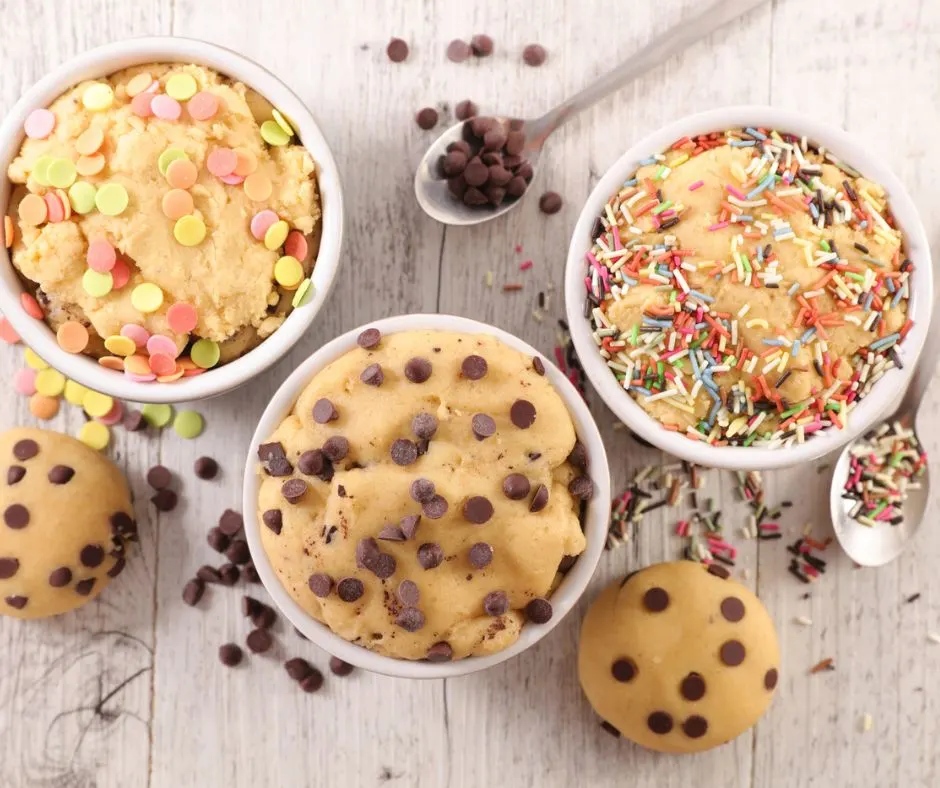 Sometimes…it's just nice to sit around in sleeping bags and talk to friends with some cookie dough, amiright?
Here are a few raw cookie recipes that are safe to eat:
Psst: Don't forget the whipped cream.
2. Host a Glow-Stick Dinner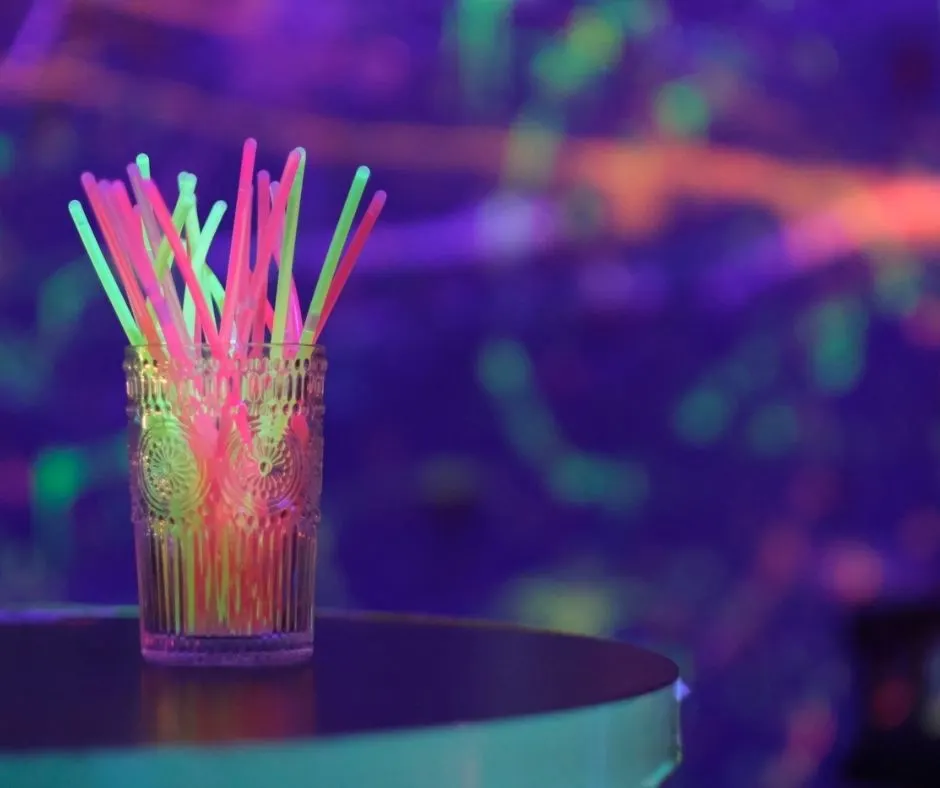 One of my favorite slumber party ideas: whatever dinner you're planning on serving, do it with the lights off…and with glow-in-the-dark bracelets/necklaces to wear.
3. Watch Old-er High School Movies
Each generation of teens grows up with their own well-loved high school movies. Share your own favorite movies from your high school days and help your teen to find these movies from generations past that they should watch with their friends.
What were the popular movies among teens in the 70s? 80s? 90s? 00s?
You could even ask sleepover guests ahead of time to bring their (or their parents) favorite high school movie idea with them.
4. Google Your Favorite Nail Art and Attempt to Recreate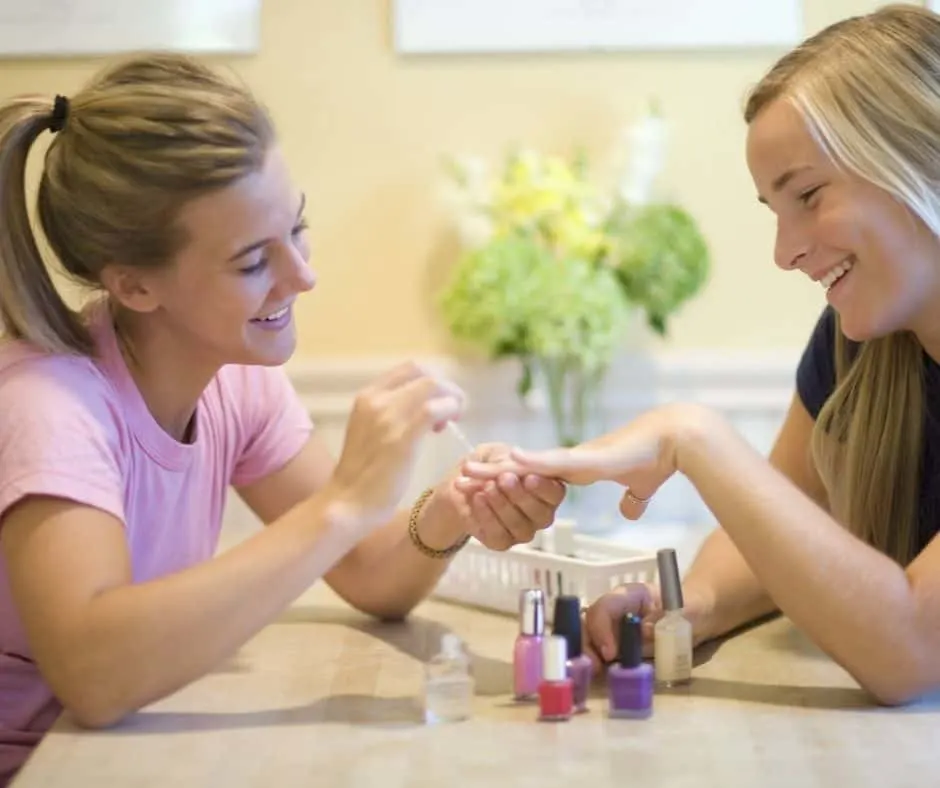 They can search for their favorite nail design art examples, and then try to recreate them during a "spa night" themed sleepover.
Each person can recreate one on one person's hand, making 5 imperfect (and probably hilarious) pieces of art that can be easily erased (thank you, nail polish remover)!
Hint: you can find these and other sleepover party supplies at your local Dollar Tree!
5. Make Homemade Slushies
Got some Ziploc bags, rock salt, lots of ice, and various juices? Perfect – your teens can use all of this to make their own slushies.
They'll have fun gabbing during the process, and then they can take turns tasting each to see who made the best kind!
6. Wash Each Other's Cars
If these are older teens getting together, then they might have cars (my first car I bought at 17).
Provide buckets, water, sponges, a vacuum cleaner, and anything else they might need to hang outside washing their cars. Don't forget some sweet music!
Perfect for a teenage sleepover.
7. Pitch a Tent and Sleep Out in the Yard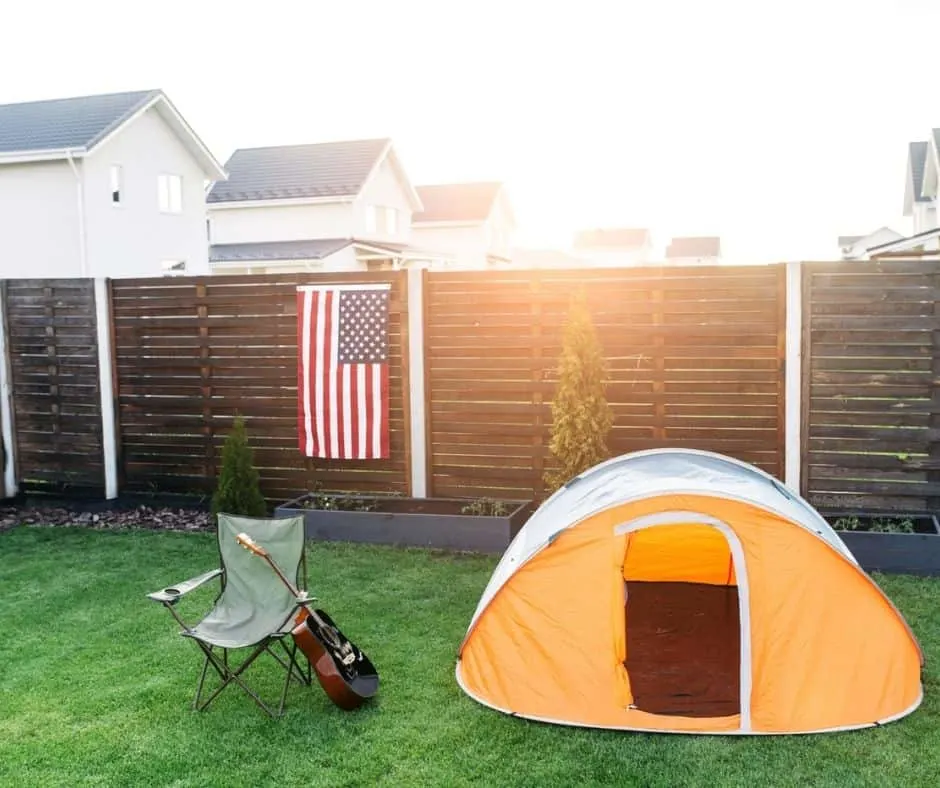 Of the 100 things to do at a sleepover, the one that I loved when I was a teen the most?
Was pitching a tent over at one of my friends' house.
My one girlfriend who used to have us over for our infamous Thunderplunks lived on a farm and had tons of woods acres away from the house. We would pitch a tent down in the woods, spend about half the night in the house area, and then come down to sleep in the wee morning hours.
Lots of fun!
8. Give Your Hand Cookies a Manicure
I just love the Pioneer Woman's idea to bake hand-shaped cookies, and then gather a bunch of decorating ingredients so that her daughter and friends could give the cookies "manicures".
Psst: here are a bunch more easy sleepover snacks to make. Like Unicorn fudge cookies (what?!?!).
9. Make Personalized Keychains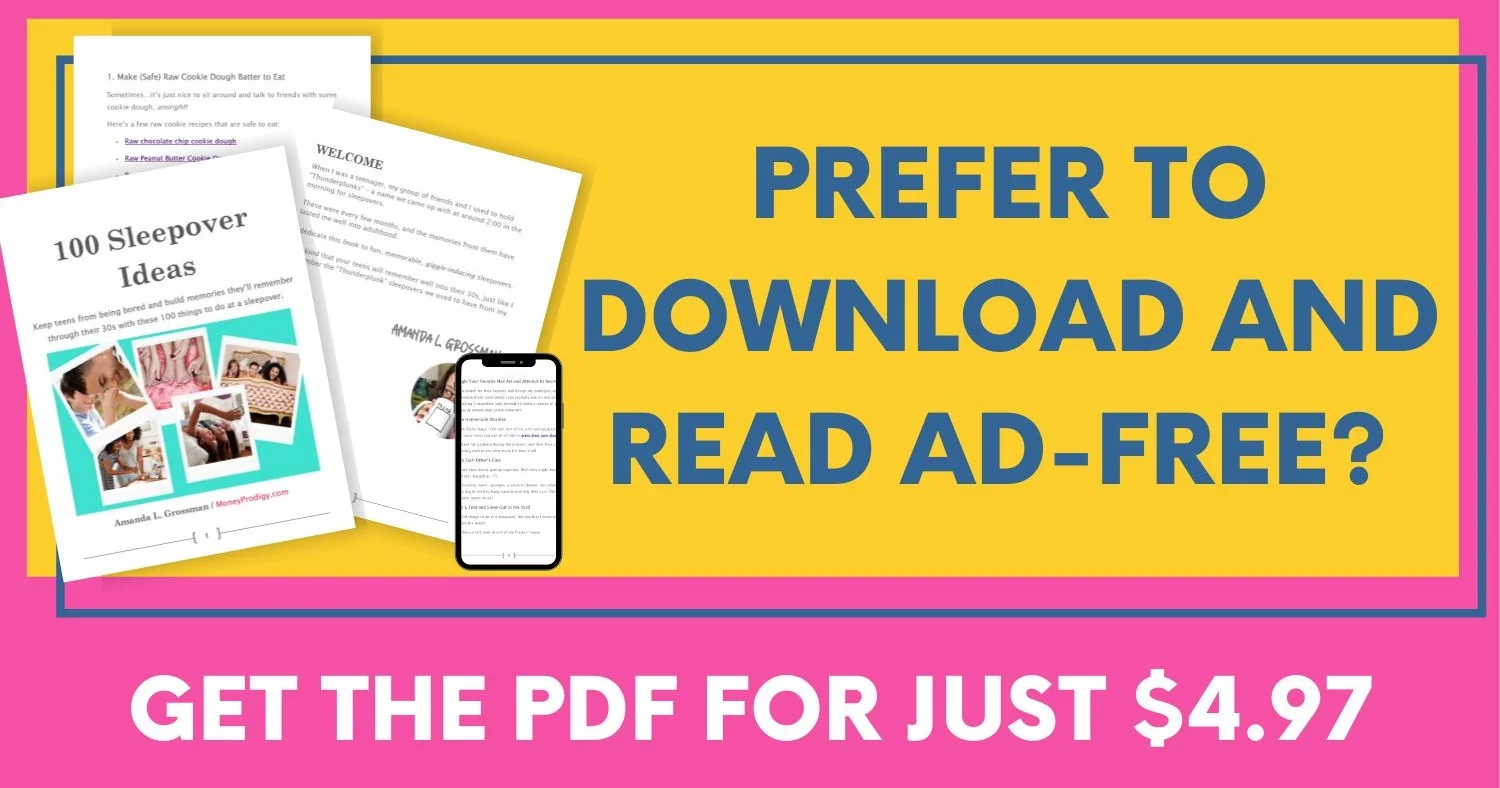 Teens are either driving or will drive soon. Not to mention, they likely have a set of their house keys (locker keys, gym locker keys…etc.).
Which makes making personalized keychains? A really great idea.
Here's a full set for what you'll need to do this.
10. Make Tat Arm Bracelets
With parental permission, your teen and their friends can get a bunch of temporary tattoos and create a bracelet or chain of them around their upper arms.
11. Play a Round of Exquisite Corpse
Have you ever heard of this really old art game? It's certainly not a classic board game…and can lead to spasms of giggles.
You take a piece of paper and fold it into thirds. Each person takes a turn drawing a person on one-third (either the head, the torso, or the legs), folds it so that their drawing is not seen, and then hands it down the line for the next person to draw the next section.
These come out pretty hilarious.
Hint: Having a sleepover party? Here are 11 more teen party games to try out.
12. Do Post-It Note Dreaming
Post-It Note brainstorming – or, setting a timer and writing out one new idea on a specific topic on each post-it note, then posting them on the wall, paper, etc. – can be fun.
You can theme it for teens around:
13. Play Rounds of M.A.S.H
Here's a classic sleepover game – did your MASH predictions ever come true? I think mine didn't (I'm particularly glad the 20-kids-thing didn't come to fruition)…but that doesn't mean you can't pass on this treasure-of-a-game to your teen and their friends!
Here's a free M.A.S.H. printable, perfect for sleepover downtime.
14. Do Cosmic Kids Yoga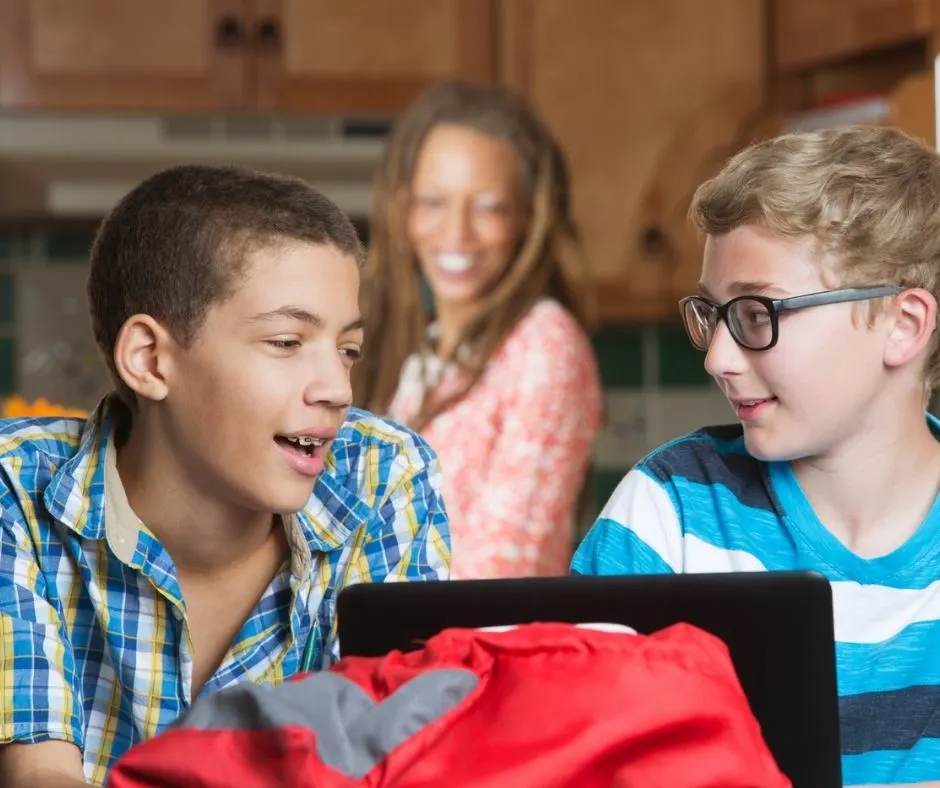 Have you heard of the YouTube Channel, Cosmic Kids Yoga? It's for kids…but would be really fun for a group of teens or teen best friends to do as well (in the line of making them giggle for doing something so silly together!).
15. Stay Up for an Astronomical Event
Time the sleepover for when there will be a special event in the sky (just google "astronomy event" for a breakdown by date), like a meteor shower, a comet that people can see, etc. Then, stay awake (at least) until it actually happens!
Bonus: Help your teens set up something to make the outside cozier than usual, like light some tiki torches, or create a hangout area with blankets and pillows.
16. Rearrange their Friend's Room
I always loved rearranging my room and making it into something fresh and better. Getting some teen friends to help? Sounds like a plan to me.
Pssst: here's 28 more things to do with teenage friends when bored.
17. Make Different Flavored Marshmallows
Making homemade marshmallows is quite trendy right now, and Molly Yeh's got a recipe for them, or here's a Peppermint Marshmallow recipe from a boy who made a business out of homemade marshmallows.
18. Wade in a Kiddie Pool with Mocktails
Remembering my own teen years, I can honestly say that the goofiest and silliest things that we did are the things that stick in my memories.
Which is why I'm suggesting your teen and their friends grab a kiddie pool (or two), make some mocktails, and go sit in them while catching up.
Totally silly, and totally a kodak-moment.
19. Decorate their Earbuds/Headphones
As long as your teen doesn't have wireless earbuds, they can spend some time gabbing and decorating the cords with embroidery, nail polish, or other materials.
These look pretty neat!
20. Make Gemstones
Did you know that you can make gemstones?!? When I found this out, I started telling everybody.
Hint: most of these just need to sit overnight, which is perfect for a sleepover!
Also, save some egg cartons for each of the girls to store their gems in on their way home.
21. Set Up an Outdoor Hangout Place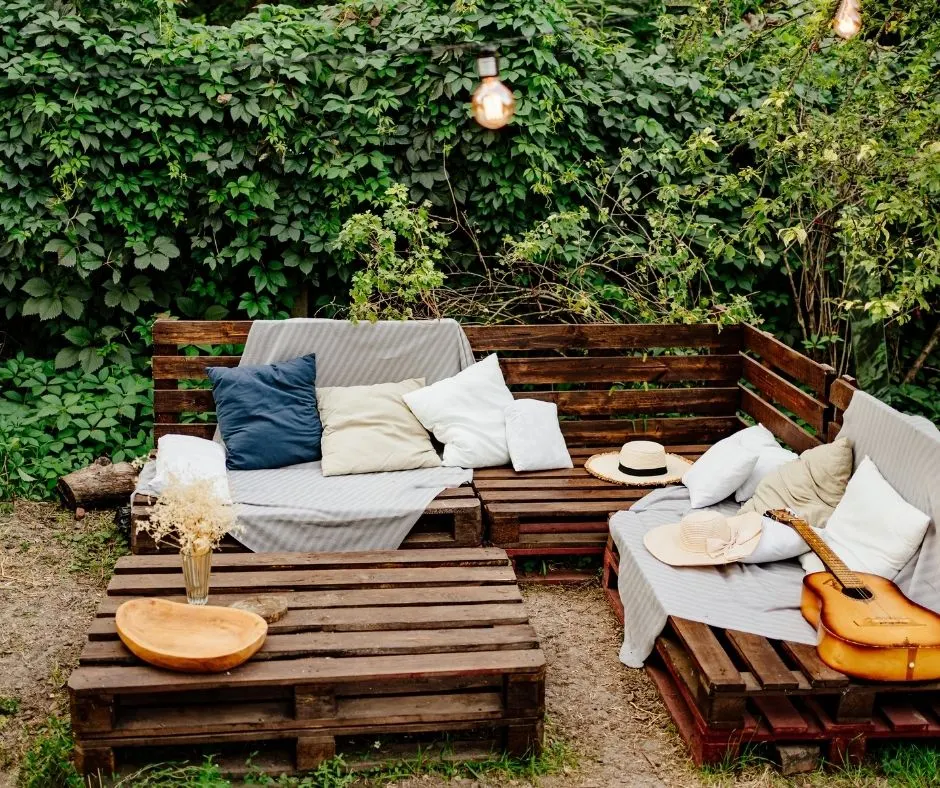 Need some birthday sleepover ideas? You could create an outdoor hangout place for teens.
Put down one big, sturdy blanket or quilt, and sturdy pillows that are easy to lean up on and chat. Include a tote bag with quilts (in case they get chilly!), and a small table filled with refreshments.
Maybe bring out some board games or card games as a suggestion.
22. Do Squirty Chalk Art on a Large Sheet
Hang up a used/torn sheet or shower curtain, make this DIY squirt-bottle chalk paint, and let the teens go crazy with painting outside.
23. Make a Washi Tape Craft
Have everyone bring over their favorite washi tapes, put them on the table, and pick out one of these washi tape crafts for teens to create.
24. Cook Pita Pizzas in the Toaster Oven
Set up a mini-pizza station with pita breads, pizza sauce, cheese, and different toppings. Let each teen create their own mini-pizza, and then toast them in a toaster oven.
Psst: this is also a great idea for when your teen brings their boyfriend or girlfriend over! Here's 19 fun date ideas for teen couples, double date ideas for teens, and cheap date ideas for teens.
25. Make Shoe Charms
Get out some supplies and let your teens make their own shoe charms. You could use safety pins and beads, thread and beads, or so many other kinds of materials to do this.
You could even let them make shoe manifestos! There's a great way to self-express.
26. Start Out Prom-Dress Shopping and Post the No-Go's
What to do at a sleepover at age 18? Let your teen group do some prom dress shopping together for the first few hours of the sleepover…and be sure to take photos of the no-go's (the ones they definitely don't want).
Could be fun social media photos to share, OR, just secret ones between the girls!
27. Create Pudding Paintings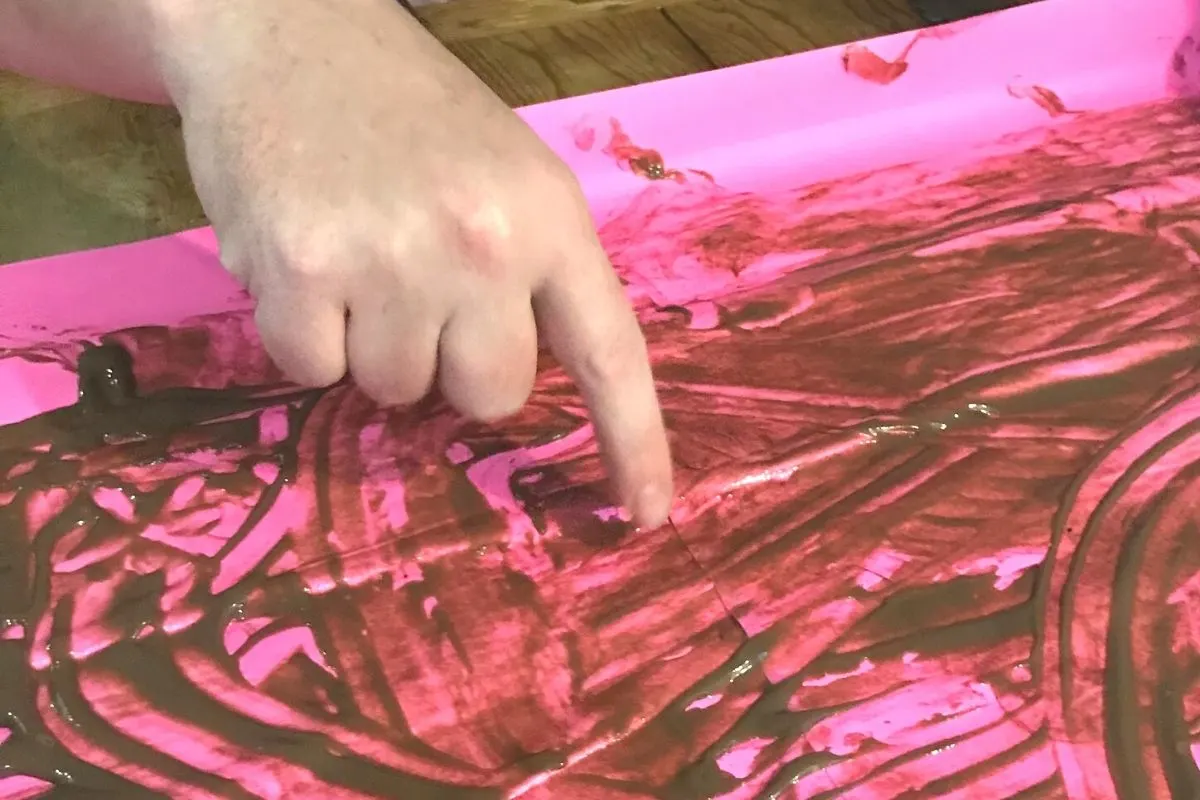 Whip up a few batches of different kinds of puddings (pistachio for green, chocolate for brown, etc.), and set them out in bowls with paintbrushes plus paper.
Teens can have fun making ridiculous (or, not so ridiculous!) paintings.
28. Assemble Watermelon Pizzas
A fun snack or dessert idea for teens is to let them make their own watermelon pizzas.
You'll need a "sauce", like Greek yogurt or a cream cheese sauce, and then different toppings such as fruits and chocolate chips.
Here's a recipe for watermelon pizzas to get you started.
29. Find Each Other's Colors
Teens can have a fun time figuring out each of their colors. In fact, I got this professionally done (for free – my Aunt's sister!) when I was a teen and I've used the information ever since to decide on colors that suit my natural skin tone.
Here's a free printable you can print out ahead of time. Set up a table with some mirrors and good lighting.
30. Take their Dog on a Group Walk
Got a dog? It can be fun for the group of teens to just take him/her out on a long walk together. Especially if the other teens don't have a dog of their own!
31. Play the Shake-it-Off Post-it Note Game
Here's a fun sleepover game – load each other up with sticky notes, then see who can shake them all off the fastest.
32. Play Yard Yahtzee
Grab a box of giant dice, and something big to roll them around in (like a small garbage can or tin beverage bucket). Set up some refreshments outside, and play a rousing game of Yard Yahtzee!
33. Give Each Other Chopstick Hairstyles
Doing a girl's sleepover? Save chopsticks from takeout night throughout the year, and let your teens use them to create chopstick hairstyles on each other.
34. Find a Tape Measure and Learn Your Body Shape
Teen girls love learning more about themselves, and figuring out their body shape could be a fun activity. Then, they'll understand better what kinds of clothes and haircuts and such will work for them!
This tutorial doesn't use a measuring tape, FYI.
35. Turn on a Teen Podcast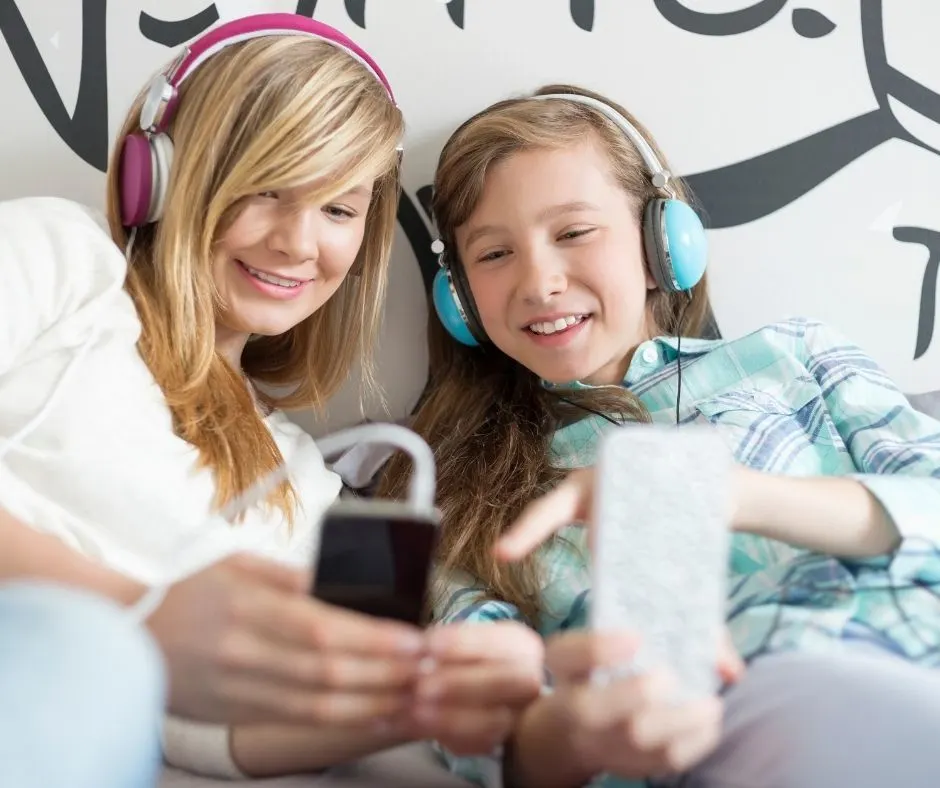 I was SUPER impressed with the quality of kid and teen podcasts after trying one out on our last 12-hour road trip.
Here are a few teen podcasts to check out:
36. Try a South Korean Face Mask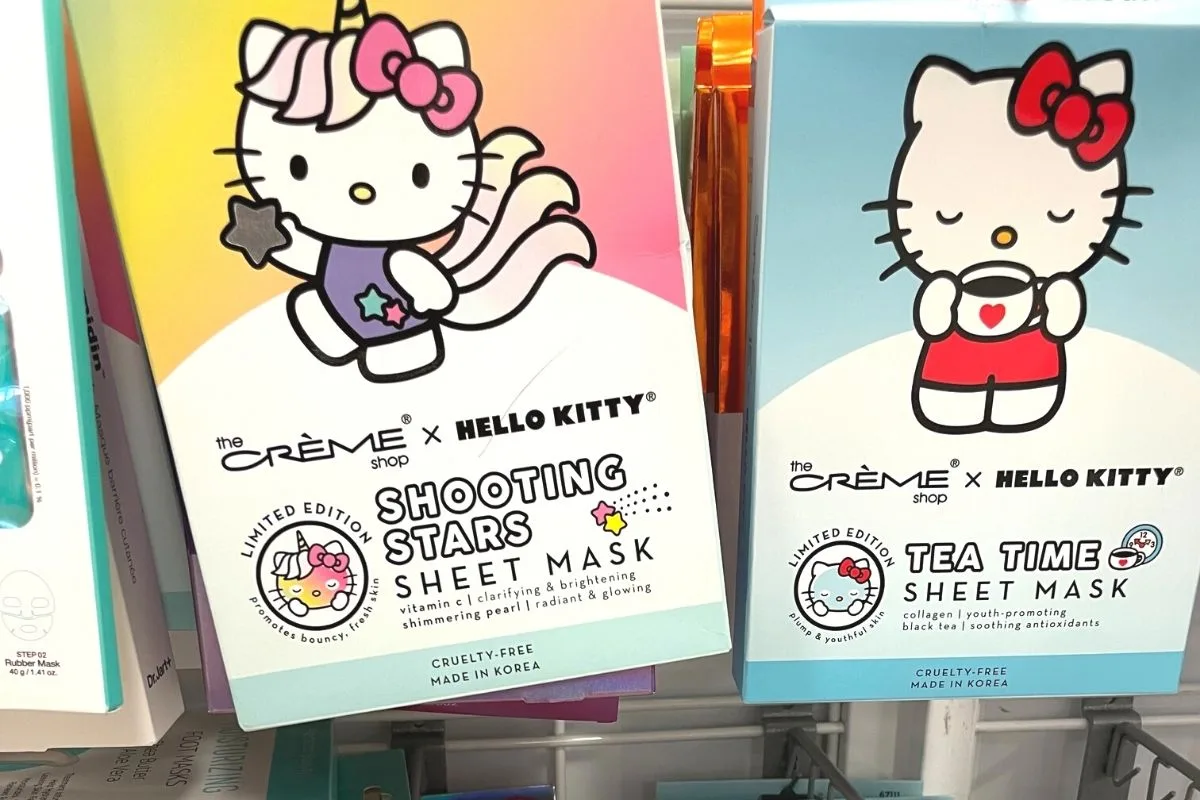 My friend gifted me a box of South Korean Masks, and I've been super impressed with them.
They come in such fun "flavors" and forms, and I think your teen would love picking out several for her teen friends to come over and use together!
Check out your grocery store's beauty area, or you can find lots on Amazon.
37. Do a Teen Book Exchange
Ask each teenager to bring over a book they enjoyed and are finished with, then do a book trade with each other.
38. Make Unique Rice Krispy Treats
Regular ol' Rice Krispy Treats are great…but let your teen's imagination run wild with these fun versions:
39. Braid Feathers into Each Other's Hair
Here's a girls slumber party idea: grab a bag of trendy-looking feathers, and let them braid one into their hair. If you want to be official, here's how to do it properly.
Completely removable!
40. Host a French Fry Dipping Sauce Competition
Have each teen create their own dipping sauce, bake up a big bowl of French fries, and let everyone judge their favorites. Here's a recipe for inspiration, or these recipes.
41. Build a Sugar Cube Castle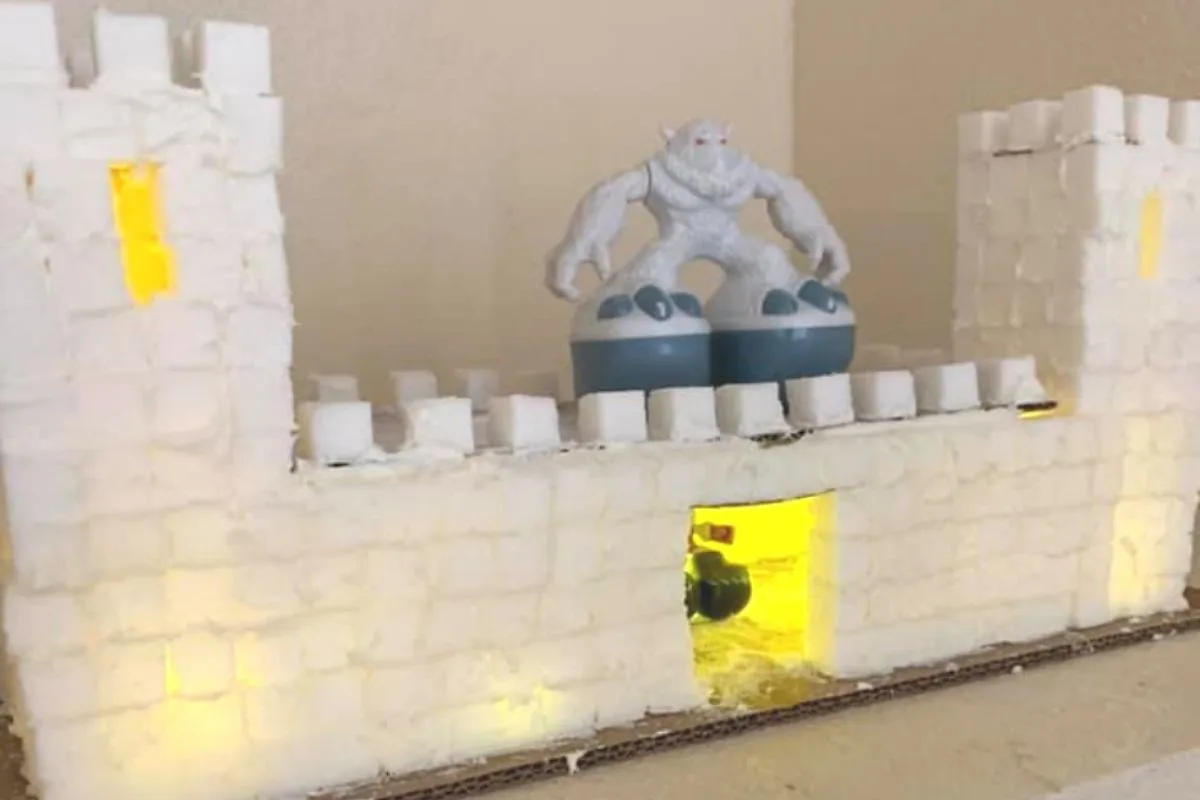 Get some icing (or make your own), and several boxes of sugar cubes to make your own castle.
42. Rework the Hosting Teen's Closet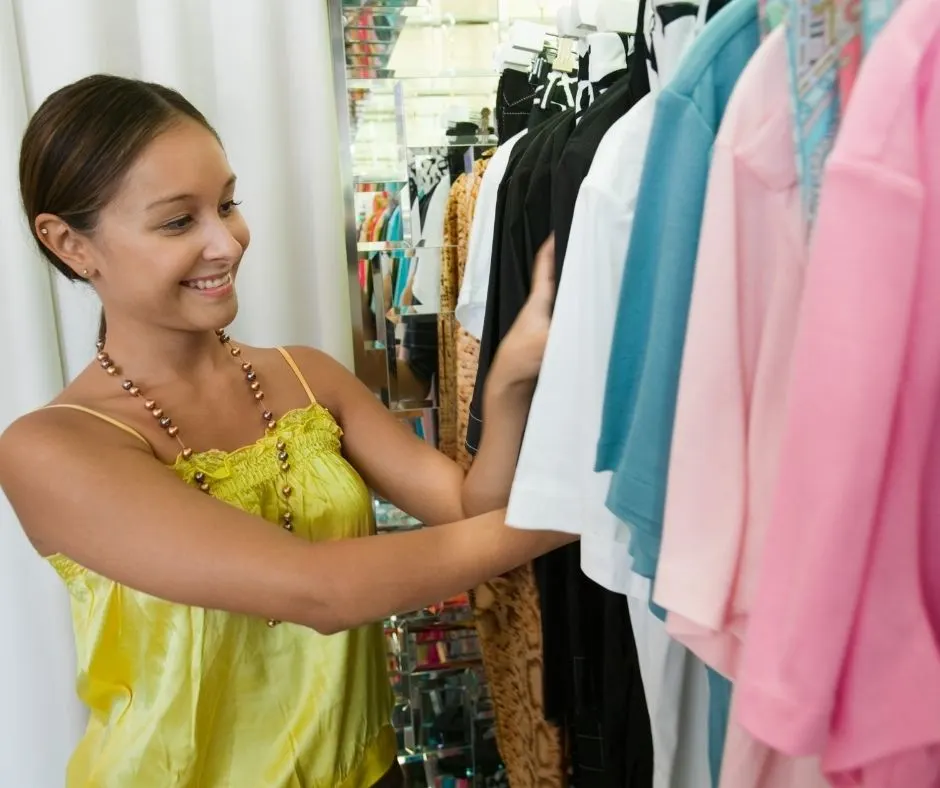 Whoever is hosting the sleepover, let the other teens help them makeover their closet and outfits. They can come up with new combinations, accessory ideas, or just organize everything better.
Next month, another teen friend in the group can host and everyone can help her redo her closet!
43. Try on Different Hair Cuts
Upload their photos to this website, and let them each try on what they'd look like with different haircuts. It's a fun way to try out something new without doing it first.
44. Blindly Do Each Other's Makeup
Gather some makeup, separate them into teams of two, and blindfold the person who will try putting makeup on the other person.
45. Do an App Exchange
Show each other your must-have phone apps and why. Teens might learn of a new app they want to try!
46. Wade in a Kiddie Pool, in the Dark
Is it a warm time of year? Get some floating flameless candles, fill up the small kiddie pool, and sit in it together.
47. Job Hunt Together
Your teens might all be looking for summer jobs…so why not do it together? They might learn something from each other.
Psst: here's my resource on teen first job, high payment jobs for high school students, and 25 online jobs for teenagers that pay.
48. Plan a Senior Week Trip
One of my favorite things to do with your best friend at a sleepover? Is to plan a senior week trip together. When I was a senior, we planned a one-week trip to a house on a beach in Delaware. Really great time!
Your teens can start brainstorming their own senior week trip or activities for after graduation.
49. Work on a Service Project Together
I've listed a bunch of volunteer-from-home activities here – your teens could pick something out and work on it together for a few hours.
50. Tiki Torch Dessert in the Backyard
Help your teens set up some tiki torches and a foldable table or picnic table with chairs so that they can serve their teen guests dessert outside.
51. Try Out the Latest Exercise Craze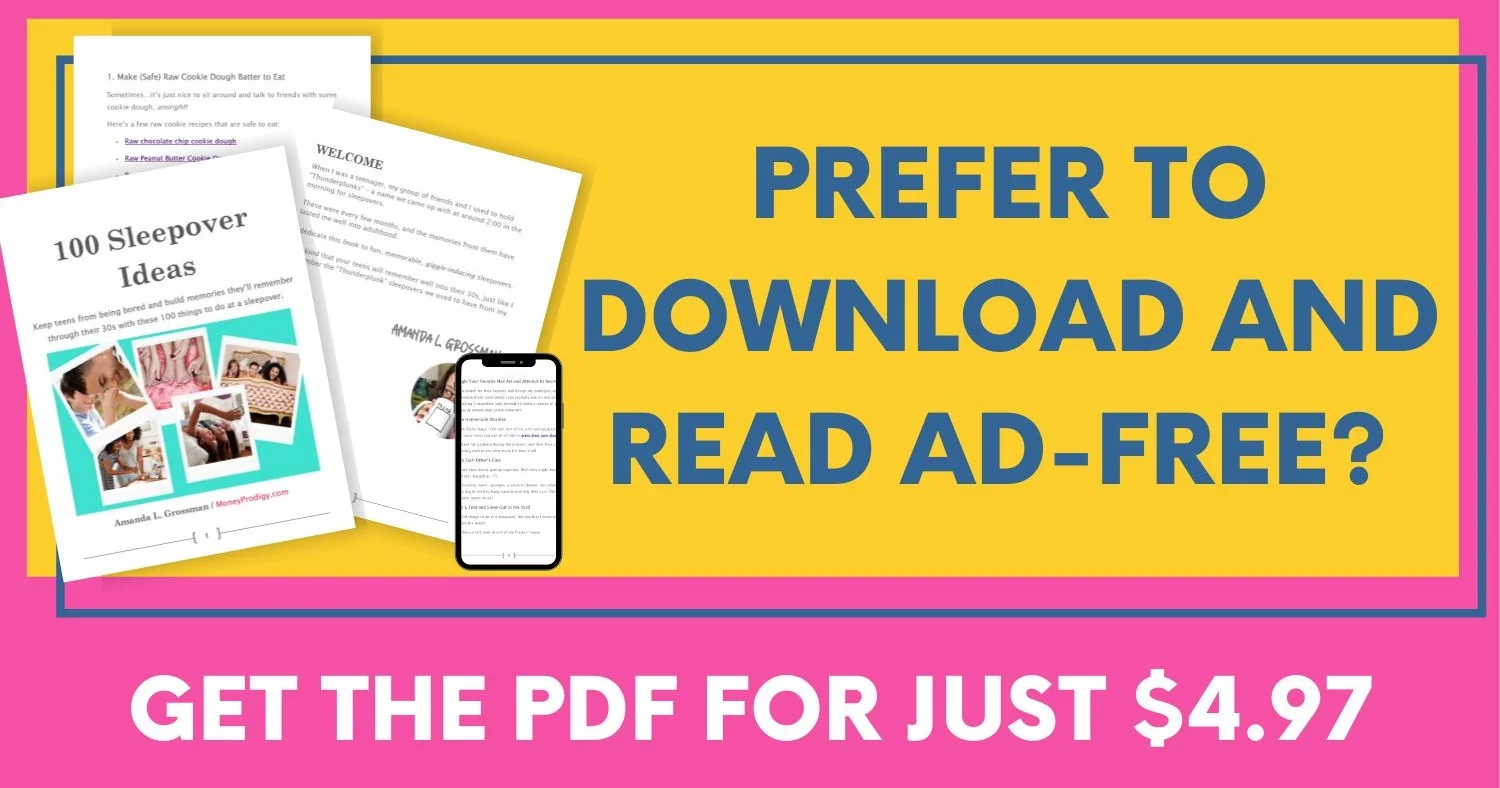 You can roll out towels/yoga mats/or nothing, and pop on a YouTube video with a new exercise routine that's trending. It's more fun to do something like this with a group, anyway.
52. Play a Hilarious Game of Mad Libs
One of my favorite sleepover games to play is Mad Libs. You know – when you ask each other for adjectives, nouns, and verbs without revealing any context, then read the hilarious story to everyone out loud afterward?
You can find free printable Mad Libs sheets, or buy some. These can be so. much. fun.
53. Play Mad Libs Fortune Teller
This is sooooo great – you get to fill in different words on this free printable fortune teller, and then ask each other fortune-type questions to reveal a hilarious answer.
54. Look through Old School Yearbooks
Have each teen bring over a copy of a yearbook from years ago, and they can have fun going through all the photos. Good times.
55. Plan a Double or Group Date
Sometimes just planning something with a bunch of friends is really fun to do – including group and double dates. I've got a whole article on cheap double-date ideas for teenage couples that you might want to check out for this.
56. Brainstorm a Teen Business
Your teen group can come up with either a group or individual teen business ideas to start creating. Sometimes it's just fun daydreaming, too!
Pssst: check out my 16 kid business ideas, and 19 things to make and sell in school.
57. Create a New Soda Flavor
Get together a base soda, and then different flavors (such as juices, extracts, syrups, etc.), then let your group of teens imagine up a new soda flavor and test drive as many as they can think of.
58. Go on a Virtual Tour
Teens can experience a fun tour from the comfort of their own house because many museums and places of interest have uploaded virtual tours with lots of controls for people to use.
A few to think about:
59. Take a Virtual Ghost House Tour
Speaking of virtual tours…did you know there are also virtual ghost house tours (forget scary movies!)?
Such as:
Psst: find a few more "spooky" ideas like telling ghost stories in my Halloween family night ideas post.
60. Take Funny Selfies with Props
You can find all kinds of fun, free printable props to use with selfies. Set up a little area in your house, and let the teens take over.
61. Make Necklaces from Michael's
Michael's craft store (or Hobby Lobby, or wherever you have access to it) actually has a robust jewelry-making section with tons of cool pendants, rocks, etc. I'm continually impressed with it. Buy some supplies, and let the teens make their own necklaces to take home.
62. Answer Questions about Yourselves
You can find tons of free printable questions to guide conversations for the evening. You never know what they'll learn about each other (or themselves!).
Pssst: here's my article on 1,009 free printable conversation starters pdfs.
63. Do Couple's Yoga Together
A group of teens can totally do couple's yoga poses – or attempt them, I should say! Check out free ones on YouTube.
64. Take a Zumba Class
Check out YouTube for a free Zumba Class.
65. Take a Belly Dancing Class
While we're talking about dancing, let's not forget all the free YouTube belly dancing lessons.
66. Upgrade Some S'Mores
Let the teens make s'mores, with a twist: they can add some caramel sauce, chopped-up nuts, or any other number of dessert toppings to them.
67. Upgrade their School Notebooks
Have each teen bring their notebooks, and get some washi tapes plus rhinestones to let them use to decorate them.
68. Set Up an Escape Room
You can set up a whole escape room for your teen and their friends! Here's a free printable set.
69. Do a Blind Taste Test Game
Your teens can use these free Rainbow Printables to create their own taste-testing game (hint: it's for couples, so Mama – just make sure you print out ahead of time and only have them use the scorecards plus some Skittles or other rainbow candies).
70. Taste Test Gums
Have you ever stopped to really look at all the various gums available now? Pick up a handful of them, and let the teens do a taste test to find their favorites.
71. Create a GIF of the Night Together
Your teens can take photos of each other, and then upload them to Giphy.com to create a GIF to share with each other. SO cool!
Honestly…I wish GIFs were around for our Thunderplunks. Those would've turned out hilarious!
72. Create DIY Phone Pop Sockets
Your teens can create and decorate their own pop sockets to put on the back of their phones.https://youtu.be/4aLktzmNyaI
73. Make Shoe Charms
Teens love to express themselves…help them do that through shoe charms.
74. Google Themselves
You never know what you might find when you google yourself – but it's always a good idea to check things out.
75. Sit in a Room Together with Glow Sticks…Only
As it gets darker and darker, eventually hand out some glow sticks and turn the lights off to make things pitch black. Kind of fun (and definitely different) to talk to each other in the dark!
76. Create DIY Bath Bombs
Gather some ingredients, and let your teens make their own bath bombs to take home.
77. Use the Trampoline in a Different Way
You can turn your trampoline into a teen hangout space with one of these awesome trampoline ideas.
78. See Who Can Get the Funniest Responses from Siri
Using their phone's Siri, your teens can take turns asking questions to get some hilarious responses.
79. Compete Against Another Group of Teens
Host the sleepover on the same night as another teen sleepover, and compete against one another with a scavenger hunt (search for some good, free scavenger hunt printables to use and take photos to show each other you're not cheating!).
80. Take a Metal Detector Out to the Woods
If someone owns a metal detector, borrow it, and let your teens take it out into the woods in your backyard (or wherever you can find a big open space). Who knows what they will find!
81. Create Sleep Masks
Whip out your sewing machine, and help the girls make their own sleep masks. Might not be much use for that night…but they're bound to want lots of sleep the next day!
82. Do DIY Face Masks
Look up some face mask recipes, gather the natural ingredients, and let the girls create their own face masks to soak in.
83. Make a Candy Charcuterie Board
For everyone to nibble from throughout the evening!
84. Make Airplanes and Compete for Distance
Have each teen make their own paper airplane, and then everyone can compete against one another to see which one flies the longest distance.
85. Start a Sleepover Journal
If your teens are anything like my group of teen friends were, then they'll have lots of teen sleepovers with (generally) the same group over the years. Help them start a sleepover journal that someone takes care of in-between sleepovers, and remembers to bring to the next one.
86. Produce a Lip-Syncing Video Together
Looking for fun challenges? Your teens can pick out a song to lip sync to, and choreograph their own dance moves (no karaoke machine needed!). Then, help them record it.
87. Work on a FUN School Project Together
Think about things teens could do like work on something to decorate their locker, or a homecoming banner, or decorations for a dance…something that's fun.
88. Throw some Hoops
A good ol' basketball game of HORSE can break up some boredom.
89. Answer this Round of "Who is Most Likely to…" Questions
Pick and choose questions from here, and have teens vote on who is most likely (among them) to do something.
90. Set up a Midnight Waffle Bar
Maybe not for the parents to do…but teens can set up a midnight waffle bar to break up the night.
91. Offer Champagne Flutes with Milk and a Cookie on Top
How cute are these? Flute glasses (for older kids to feel more grown up) filled with milk, and a homemade cookie sitting on top.
Grab a "silver" tray from the Dollar Tree, and viola! Your teen group will ooohhh and aahhhhh.
92. Make a Popcorn Bar
Create a popcorn bar and leave it out for munching.
93. Get a Bunch of Teen Magazines
Looking for things to talk about at a sleepover? Go to the store and buy some teen magazines to share. The teens can talk about things they're reading and share what interests them.
94. Put on Blindfolds and Draw Your Friend
Provide blindfolds (or something that you can tie around each person's eyes), give each person a piece of paper and something to draw with, and tell them they have 5 minutes to draw their friend.
These should turn out funny!
95. Document the Night
Set an hourly alarm, and take a photo doing whatever your teens are doing right then and there, for the whole night (or at least until everyone starts falling asleep).
96. Make Yogurt Sundaes
Instead of ice-cream sundaes, use vanilla yogurt as your base and make yogurt sundaes.
Hint: find lots more easy sleepover snacks you can make ahead of time.
97. Make a School Year Bucket List
Let everyone make their own list of things they'd like to do, be, or have for this school year or the coming one.
98. Share Each Other's Favorite YouTube Channel
It's always fun to hear new resources from friends who have already vetted them! Teens can share their favorite channels with each other.
99. Keep a Quote Board
Just for the sleepover, write down some hilarious quotes that will keep your teens laughing for weeks to come. Talk about a good time.
100. Whip Out the Skateboards
Does your teen's group of friends skateboard? Have them bring over their skateboards, and they can all show each other their latest tricks.
101. Pop-Tart Taste Test Challenge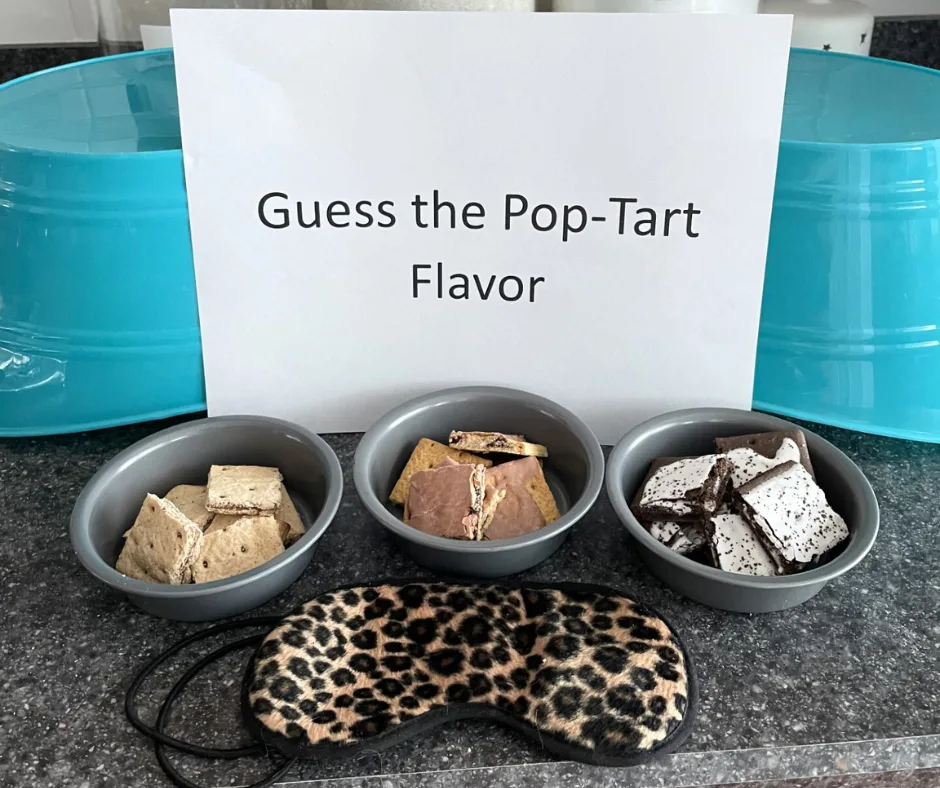 Have you seen the explosion of Pop-Tart flavors available out there?
I set up this really fun Pop-Tart tasting station for my family. And I have to say, this would be perfect for a sleepover, too.
Choose several flavors. Put the box for the flavor inside of a container or box, so that no one can see it.
Take at least one package of each flavor, and use a pizza slicer to cut up pieces. Put them into small bowls. Use a blindfold.
You can also have each piece of paper where people put their answers, then do the reveal later in the night.
Really fun!
Hint: when we did this, both my husband and my son thought the Oreo cookie Pop-Tart was some sort of fruit one. How odd (and hilarious)!
I hope you've gotten some killer hangout ideas and fun activities from this list of 100 things to do at a sleepover. And I'd love to hear your own ideas and fun things your kids and teens do, below!
The following two tabs change content below.
Amanda L. Grossman is a writer and Certified Financial Education Instructor, a 2017 Plutus Foundation Grant Recipient, and founder of Money Prodigy. Her money work has been featured on Experian, GoBankingRates, PT Money, CA.gov, Rockstar Finance, the Houston Chronicle, and Colonial Life. Amanda is the founder and CEO of Frugal Confessions, LLC.
Read more here
.
Latest posts by Amanda L. Grossman (see all)