A family chores system set up includes a family chores schedule, a system to assign chores, and an oversight system. Let's get yours set up.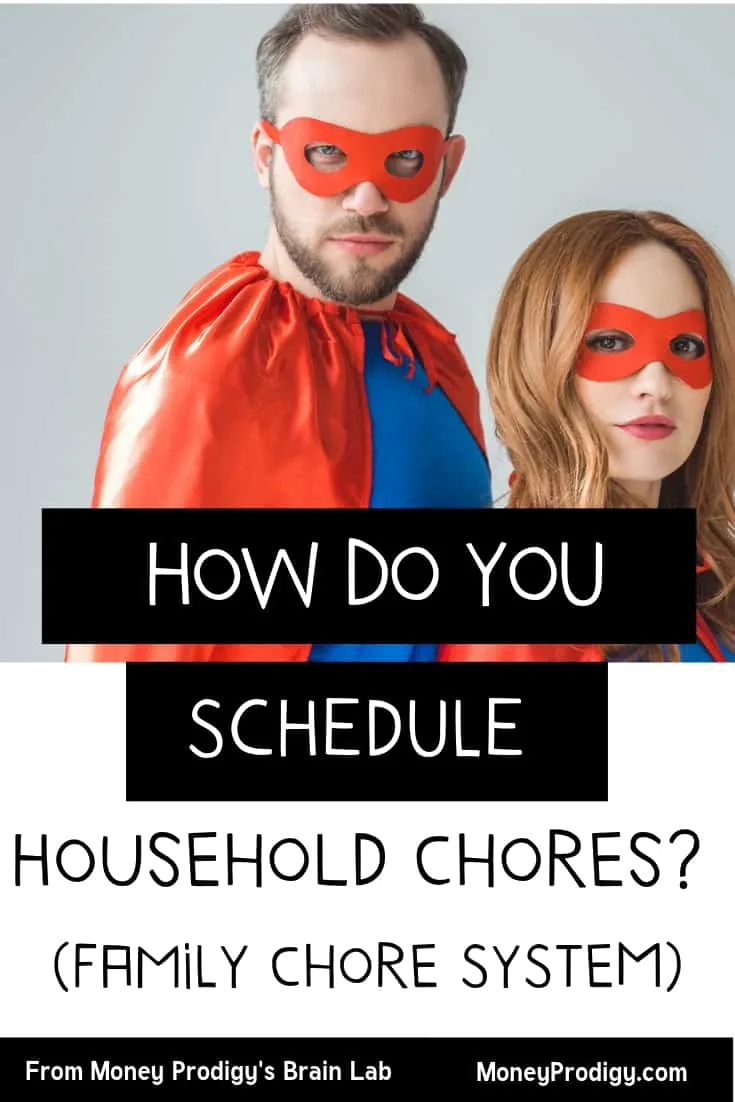 In the world of chores, there are personal chores/responsibilities, and then there are family chores.
Personal chores are cleaning up things that personally benefit yourself or things you're personally responsible for.
Like cleaning up your room, organizing your closet, putting your shoes away when you come home, ironing your shirt for that job interview.
Family chores include tasks that contribute to the overall good of the household and, in some way, to each family member.
This could be cleaning up the living room area, wiping down the kitchen counters, and loading up the dishwasher after a meal.
One of the keys to a successful family? Is dividing up the family chores + ensuring each person takes responsibility for their personal ones.
Because if you don't have each member of the family contributing towards the household responsibilities on top of taking care of their own, then chances are, you'll build up resentment. (And not just between kids and parents, but also between partners!)
How to Create Your Family Chores System
You're ready to either create your first family chores system, or to tweak the one you've got.
How exciting!
Let me outline for you what goes into a family chores system.
You'll need these three things:
Family chores schedule
Chore assignment system
Oversight system
Step #1: Establish Your Family Chores Schedule
When are the family chores expected to be done by? Is the deadline different for everyone due to scheduling conflicts, or do you guys tackle all the household tasks in one fell swoop on Thursday nights (Saturday afternoons)?
You'll want to choose your household chores cleaning schedule and stick with it as much as possible. Consistency is so important!
No matter whether you choose to go with one weekly date for the whole family to get it all done together, or have your kids do their responsibilities on their own, I would say you need the following two deadlines:
Deadline for when the entire list of housework chores needs to be completed
Deadline for when the person who does oversight has to complete their oversight
This section is intentionally short, because all of these questions become more important (and easier to answer) after reading through the next two sections.
So, just keep this in mind now as we move onto how you're going to assign chores.
Step #2: Chore Assignment System – Dividing Up Household Chores (Family)
You've got to find a way to assign chores and share responsibilities. And before you can do that? You need to know how to choose the chores that each person will get. We'll discuss both in this section.
First up, how do you choose the chores you're going to assign?
How to Choose Chores for Your Kids
If you're going to go through the trouble of giving your children chores – getting them to do them, providing oversight, and starting all over again next chore day – then you might as well get the most learning-mileage from the experience you can, right? Teach responsibilities for the win!
Here's the extra value you can get out of kids doing chores if you choose the right ones:
Teaching your child how to master a skill: Wow does this one help with self-confidence! Just think back to how proud your child was when they mastered the potty (ours just did this past summer!), or when they helped you prep dinner for the first time. Chores are no different.
Teaching your child how to work through a challenge: You shouldn't just dole out chores that are simple and at the capability level of your child; I challenge you to give them chores that challenge them (and to help when needed).
Teaching your child how to instruct others: Don't be too quick on passing down a chore your child has mastered. Allow them to then instruct their younger sibling on how to do it right, in turn teaching them how to instruct someone else (do you ever notice that when you have to teach someone something, you learn even more about it?).
Teaching your child how to be responsible for themselves: Give your child some of the chores that they'll be responsible for the rest of their lives, such as doing their dirty clothes/laundry.
Teaching your child how to be a team player + team contributor: Choose chores where your child is not the main beneficiary. For example, if they clean their room, then they get a nice clean room to live in. But cleaning the living room? Well, that benefits everyone.
Now that you know the types of chores to go after for your kids, you need a master chore list to choose from. I asked 179 mothers to tell me what chores they're giving their kids, and created a list of age appropriate chores based off of REAL data.
One more really important thing about which types of chores to choose, before we get into how to assign chores.
Family Chores Should Include Money Chores as Well
Think about it – when your child grows up, not only will they have to do laundry, clean dishes, and cook themselves dinner. They'll also have a whole bunch of money chores to take care of, like basic account maintenance, money management, resource management, rolling up change from the change jar, searching for discounts for items they need to buy, etc.
And while our culture is big on giving kids chores to do in prep for the real world, for some reason, we don't consider giving them money chores as prep to the money tasks they'll have to complete when they turn into adults.
You can change this!
Here are some Family Money Chores to pick from:
Roll up the coin jar to prep for depositing at the bank (you can get the coin wrappers at your bank).
Gather all the change from around the house + car (look in those seat cushions and don't forget the laundry room!), then put in the family change jar.
Coupon clipping for commonly used household products.
Prepping for an annual family yard sale.
Researching prices for the next family trip.
Now…how are you supposed to assign chores?
System to Assign Chores — How to Assign Chores to Family
How are you going to actually assign chores to your family members?
That's the next key to figuring out your family chores system.
Not only do you need to initially assign chores, but you need to think about how you'll switch them off. How will you rotate chores – when kids grow out of them, or weekly, or when you feel like it?
You can assign chores using family chore charts, chore apps for family, or chore games.
Assign Chores Using Family Chore Charts
Family chore charts really help with assigning chores because they give you a very visual way to keep everything organized. This helps you to keep track of who is doing what, and it also helps each individual person keep track of what's expected of them.
I've reviewed 16 of the best chore charts, and let me break down for you how to choose the one that's right for you.
Here are the basic chore chart categories for you to choose from (plus my favorite for each):
Customizable Chore Charts and Responsibility Chart: My #1 pick for a customizable chart that will easily grow with your kids is the Neatlings Chore Chart System. I was blown away by it! You can use it for up to 3 kids, and you can customize the chore cards it comes with. Not only that, but an oversight system for the chores is built in.
Semi-Customizable Magnetic Chore Charts: My #1 pick in this category is the Lushleaf Magnetic Behavior Chart. You can use this one for multiple kids (or just one – doesn't matter), and customize it by writing in your own chores. It comes with a choice between a weekly layout, or a monthly one.
Editable Printable Chore Charts: You can print out free printable chore charts (and free printable chore charts with money), and my #1 pick is this printable chore chart with these chore magnets you can make.
Remember when choosing a chore chart for you, that you need to pick one that works for your family. That means you need to consider whether or not you need a chore chart for 1 kid, or for multiple kids, and you need to know if you'll be paying commissions for chores, or if you'll be keeping allowance separate from chores (here's my article on whether or not you should pay kids for chores). Your decisions for these two things will determine what chore chart you can get.
Chore chart not for you? Let's look at family chore apps.
Assign Chores with Chore Apps for Family
I've reviewed 7 allowance and chore tracking apps for families, and they break down into these categories:
Chore Commission Tracking App: This category of chore apps is for people who want to pay their kids for chores.
Family Chore Apps: This category doesn't necessarily allow for you to track payments for chores, so if you aren't paying for chores, then these are for you.
Chore Apps with Debit Cards: These apps allow you to track chores, pay for them, and also act as money management systems for your kid (complete with a debit and/or prepaid debit card tied to it).
Check out my chore apps review to help you figure out what is right for you.
Assign Chores Using Chore Games
The final way you can assign responsibilities is through chore games.
Ummmm…yes, you heard me right!
I've written an article including 17 original chore games ideas, and many of those games are really just extremely FUN ways to share chores.
Such as my:
Pool Noodle Chore Draw Game
White Elephant Chore Game
Chore Fortune Cookies
Go ahead, you know you want to check these family chore game ideas out!
Now…it's time to talk about setting up your chore oversight system – otherwise, you might be nagging wayyyyy more than you want to.
Step #3: Establish an Oversight System
Your oversight system needs two things:
Instructions for how a task is to be completed
Someone to check that it was completed
Instructions for How a Task is to be Completed
You might assign your child the chore "vacuum the living room". But how are they supposed to know what you expect to see when you check whether they did the job or not?
For example, do you expect them to move furniture? Do they have to declutter anything or can they vacuum around that huge shoe pile? Does your vacuum work on the tile part of your living room, or do they skip that and just do the carpet?
These are the type of expectations you need to clearly set out before expecting your child to get the task done right.
I love these chore cards, with space, for chore instructions. Not only is it an excellent way to divvy up chores, but there is a space for you to write what you expect for that task to be marked "completed". It's a deck of 54, and there are blank cards as well – plus the pen it comes with is erasable, so these cards can grow with your kids over the years.
Free options for chore cards are available as well. Here are a few printable chore cards:
Who Will Complete the Oversight?
Have you ever seen those chore wheels – you know, the ones where you spin the wheel and whatever chore it lands on is the one you get?
I love that idea, but would like to see it used in a different way as well.
Instead of making chore choices random, make oversight choices random.
What I'm talking about is creating a Chore Oversight Wheel, with a picture of each family member at each spoke. Then when you spin it, the person it lands on is the person you will provide oversight for at the end of chores day or the task they've completed.
You can use this one, and adjust it by putting a picture of each family member over the chores on the outside circle area. Here's another one.
I think this is a fairer way to provide oversight – it's not just the older sibling always looking over the younger sibling's shoulders, and it's not just the parent always looking over their kid's shoulders.
And in the process of making sure big sister or Mom did the job right? Kids learn better how to complete the task.
Hint: if you're concerned about standards here, you should know two things. The first is, the chores process is a learning one. Mistakes and faulty cleaning techniques will run rampant. It's okay. And the second is you can create some chore oversight cards with specific household chores checklist the oversight person can check off for some standards. Talk about some good prep for reviews from future bosses!
Family Chore Reward: Don't Forget to Do Something Fun Together
This isn't a "must-do" for you to have a family chore system…but it certainly is a nice-to-do.
I'm a fan of having a Family Chores Day, which means that at the end of getting everything done, I think you all should do something fun together.
Don't have time or the schedule allotment to make all the chores happen in one day? No problem. You can still choose a Family Chores Reward Day as a target/deadline for when all chores + oversight needs to be completed. If it's done right, then the family gets to do something fun together.
Ideas for Family Chores Reward Day:
I've outlined how to set up a Family Chores System above, but now I'd like to talk about some important things to consider when choosing the chores you'll be dishing out for everyone.
You've got what you need now to create a family chores system. No matter which system you choose, I recommend holding a family meeting to talk about your expectations, how your new system or new system tweaks will work, and to answer any questions.
I'd love to hear more about how chores work in your own household!
The following two tabs change content below.
Amanda L. Grossman is a writer and Certified Financial Education Instructor, a 2017 Plutus Foundation Grant Recipient, and founder of Money Prodigy. Her money work has been featured on Experian, GoBankingRates, PT Money, CA.gov, Rockstar Finance, the Houston Chronicle, and Colonial Life. Amanda is the founder and CEO of Frugal Confessions, LLC.
Read more here
.
Latest posts by Amanda L. Grossman (see all)