How do you set up a reward system for kids? Best child reward system ideas that reward through money, points, screen time, or something else.
Looking for child reward system ideas that don't just involve money?
I hear you – those can get expensive, fast!
Below, you'll find the best ideas that'll help you:
Decide on WHAT you want to reward (behavior, chores, academic actions, report cards, etc.)
Choose a child reward system to fit your needs
Figure out how to set it up in your home (or classroom)
Understand ways to tweak it as you go and as your kids grow
Best Child Reward System Ideas
Before we dive into specific types of child reward systems, I wanted to offer up some reward system ideas for kids that will work with any system you choose.
Calculate the Max. Daily Amount: Make sure you sit down and calculate the maximum a child could earn in a day or "pay" cycle period with your reward system, and that you're comfortable with that.
Get Clear on What You're Incentivizing: Understand that every child reward system is rewarding certain behaviors/actions, and de-incentivizing others. SO, it's super important that you get clear on what your system rewards and what it de-motivates your child to do. (Hint: sometimes a system rewards things that we didn't think about, and don't want! You might learn that as you go along).
Let Kids Shoulder the Reporting Responsibility: Teach your kids greater responsibility by making them in charge of recording their points – however that works in your system. If points are not recorded in a timely fashion? They don't count.
Be Consistent: Kids won't learn the lessons you want them to learn if you're inconsistent in what you "pay" them, whether that's through points, prizes, or money. Make sure you set up a system you can be consistent with. For example, if you know you have a habit of not keeping cash around, perhaps you want to try a cashless child reward system (don't worry – tweaks are allowed! As long as you communicate them ahead of time to everyone).
Change Things Up for Summer: Summer is a nice breaking point to do some tweaks or major overhauls to a child reward system. You can even try out a new system altogether!
Alright – those apply to any child reward system.
Now, I've gathered more ideas specific to either money child reward systems, fake money reward systems for home, point child reward systems, or screen-time reward systems.
So, go grab yourself a set of free printable chore bucks, and get to reading!
Money Reward Systems
This is a site all about teaching kids money, so let's start off with money child reward system ideas.
Below are some great ways to set up AND run your own money reward system – whether at home, or in a classroom.
Psst: paying for chores in your home? Check out these free printable chore charts with money.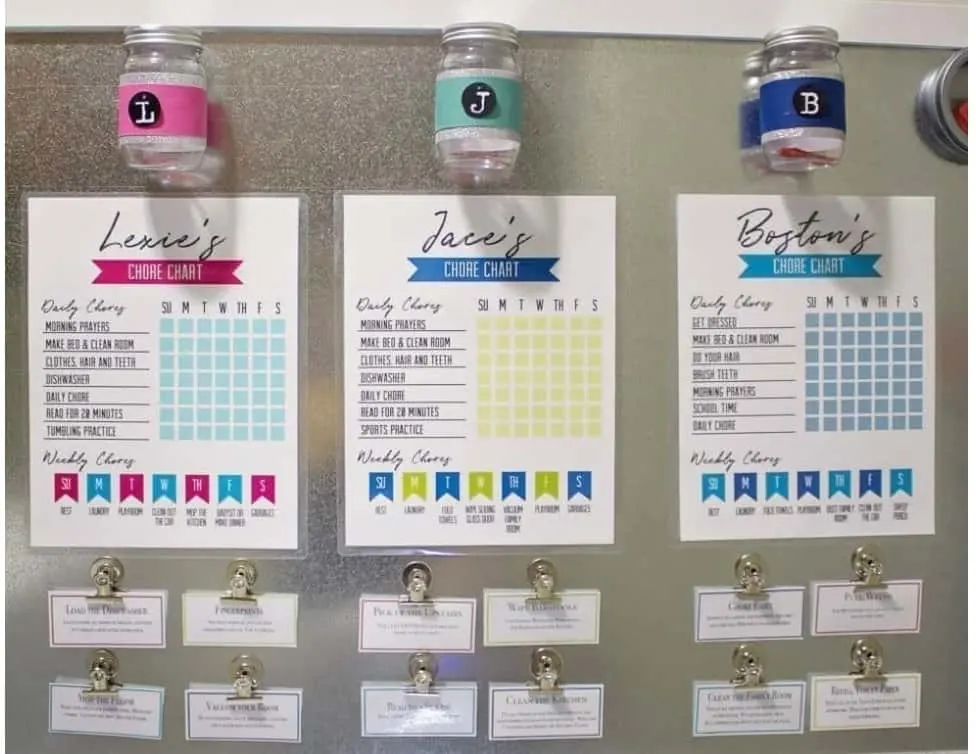 Using this system, your kids will need to do daily chores because they're part of the family, and then can choose from chore cards to earn tickets.
The tickets go into jars, and then periodically they can cash them in for $0.10 each.
Both these chore charts and the chore cards are free, FYI.
Psst: you'll want to check out my list of age appropriate chores that I put together after surveying 179 Mamas.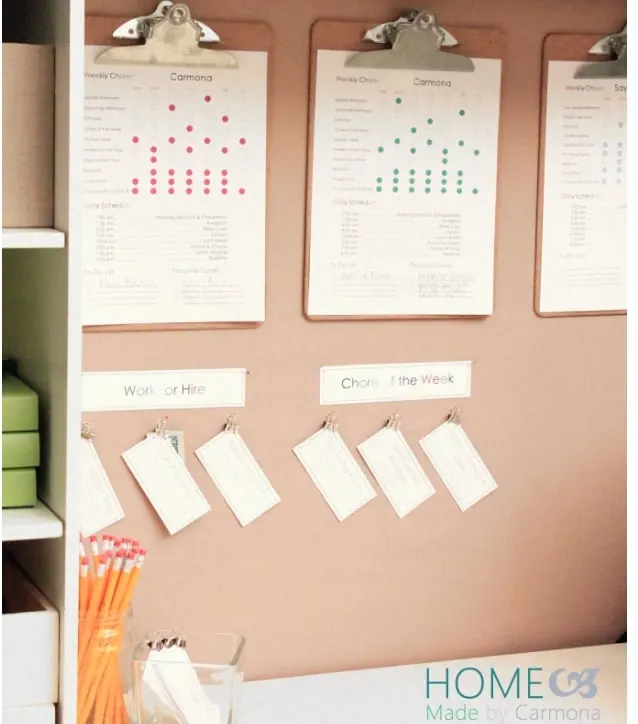 This system works by giving each kid a printable task to follow, then setting up a Work for Hire area under the charts, as well as a Chore of the Week area.
Work for Hire chores are paid, Chore of the Weeks are not.
Each child receives their own chore printable, which has:
Daily Schedule
To-Do List
Personal Goals List
On each of her kid's sheets is also a "chore of the week" – a weekly chore slot that she can fill with a chore of her choosing (giving the parents flexibility with what needs done).
Included in the free printables are Customized Chore Charts, Work for Hire, and Chore of the Week.
What an awesome way to use Monopoly money – as a reward for chores, and then set up a store at home where they can cash in their sweet dough.
For this particular Mom, she let's her son cash in for snacks.
But you could easily set this up to cash in for any number of things:
Experiences: Like a family s'mores night, trip to the zoo, 30 minutes Park time, boardgame tournament, etc.
Toys: Raid your local Dollar Store or Target dollar section and stock your home store with toys they'd love to own.
Vacation Money: They can cash in (maybe not dollar for dollar) money for vacation spending money for your next family trip!
Steve & Annette Economides came up with what they call the Money Smart Family System. While it's detailed out in their book, I want to give you an idea of how it works, here.
They created a single-page, daily time card for each kid. The daily point system consisted of giving points that were worth a certain amount of money for specific behaviors they value as a family.
Each day, they can could earn up to 4 points, and the parents needed to sign off on them. At the end of the week was payday, based on the number of points accumulated.
They also offered a bonus incentive for consistently good behavior, with more money earned once a certain point threshold was reached.
Pssst: Need more help setting up your family chore system? Check out my article on the ultimate guide to your family chore system.
Point Reward Systems
With point reward systems, the currency is some type of point system (measured in poker chips, Mom bucks, or something else) that can then be "cashed in" for a reward.
Let me show you several examples of this child reward system – ideas you can use!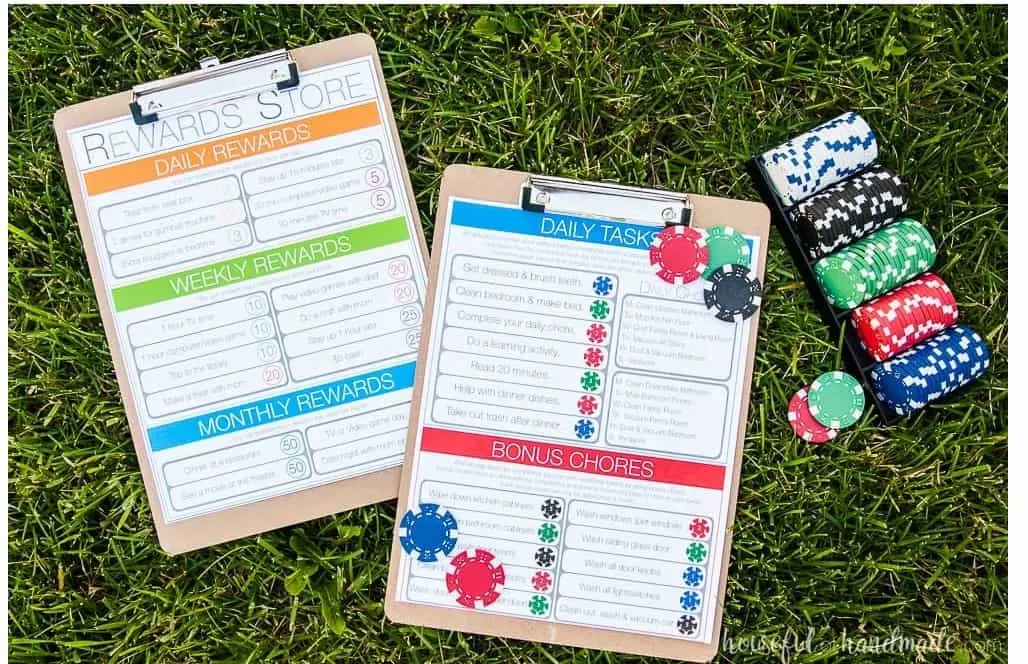 Her system involves rewarding kids with poker chips for doing the things that are expected of them, as well as rewarding them for additional chores that they take on.
In order to cash in any rewards, they have to complete their daily tasks for that day.
The reward store, where you cash in, includes things like:
Daily Rewards: Treat from treat box, stay up 15 minutes late, 2 dimes for gumball machine, etc.
Weekly Rewards: 1-hour TV time, trip to the library, stay up 1 hour late (in summers only), etc.
Monthly Rewards: Date night with Mom, TV or Video game time, etc.
2. Kid Chore Punch Card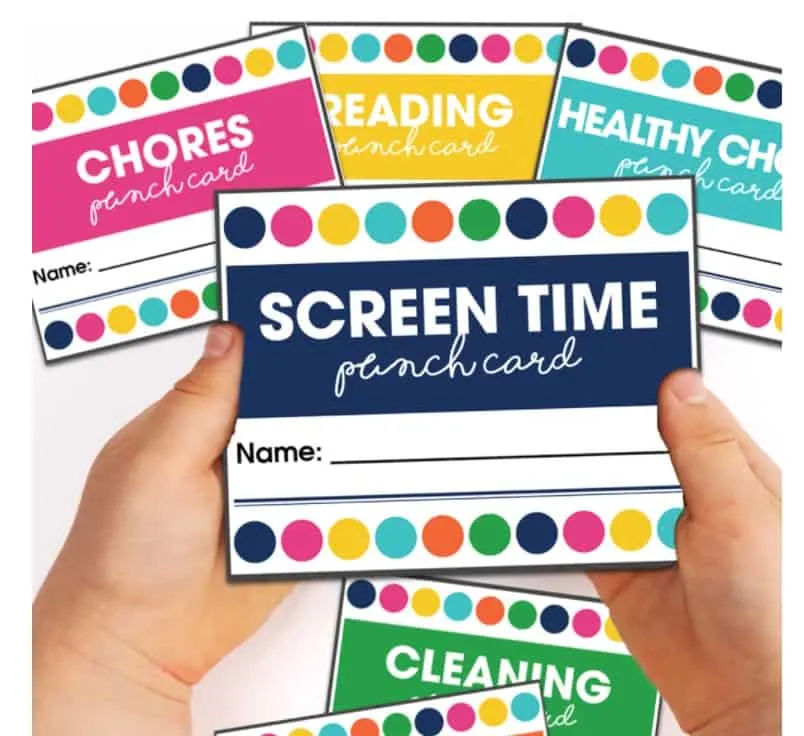 These are sooooo cute!
You can keep it really simple by giving the same amount of credit (one punch) for each chore completed, and then choosing just one prize for when they completely fill in their punch card.
Psst: definitely check out my cool ideas for chore games! That's a reward, in itself.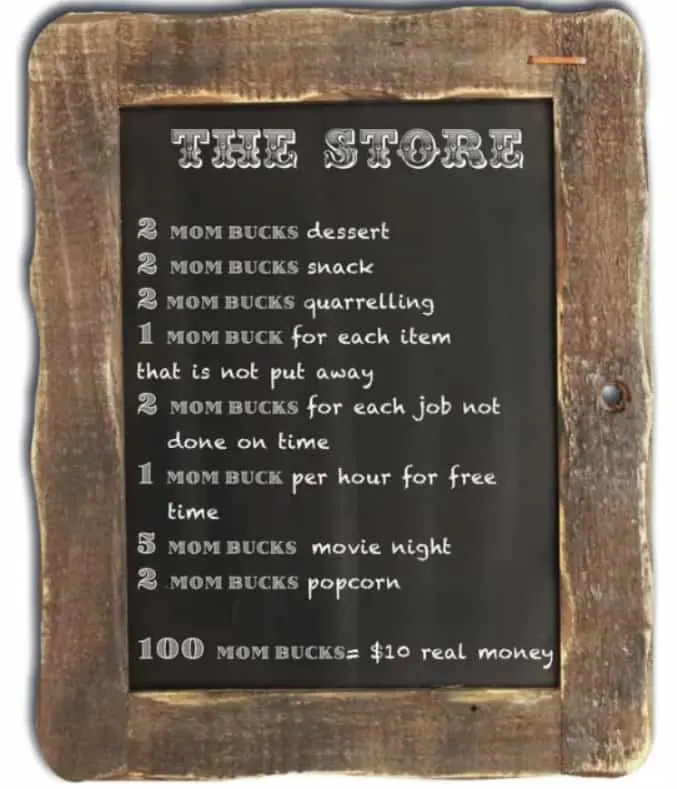 Here's another home-store child reward system idea.
I love this Mom's idea to offer one home store reward where her kids can cash in their Mom Bucks for actual money (100 Mom Bucks = $10).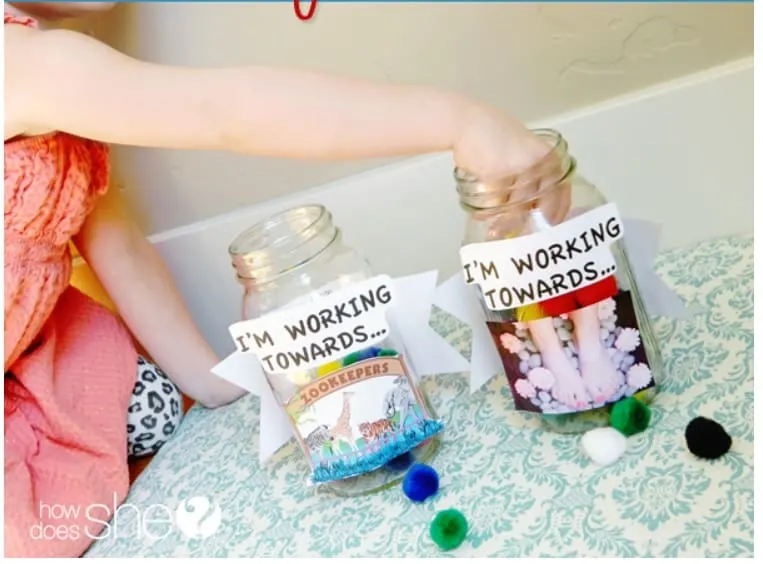 Love this idea – your kid (and you too, if you want to play along!) figure out a reward you want to work towards.
Tape a photo of what your reward is on the outside of a jar.
One-by-one, fill it as you reward your kid/student/teens for whatever you'd like to see more of.
When the jar is full? They get the reward.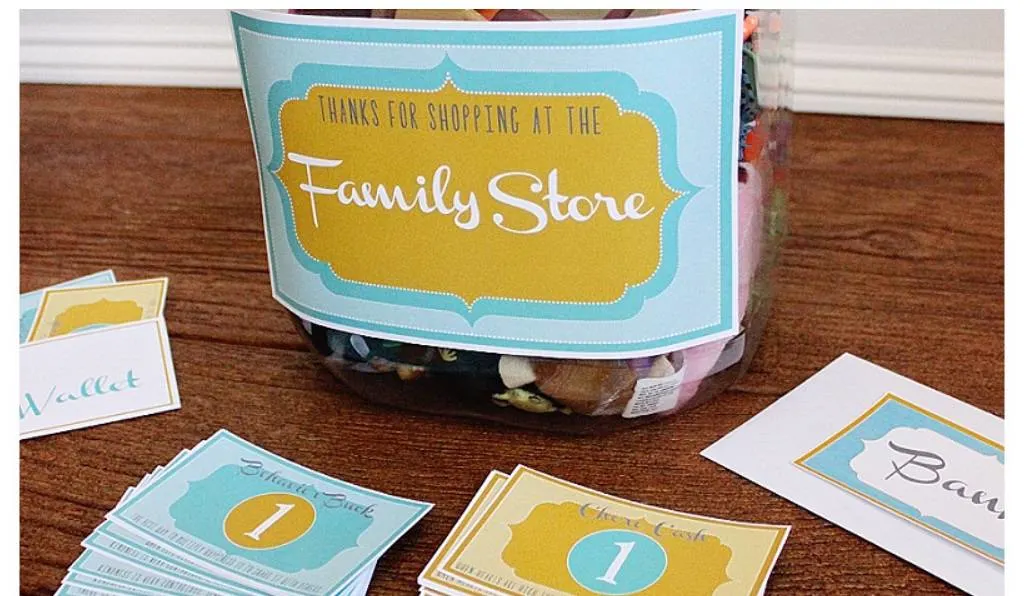 I really like this family banking system that's tied to a family store.
You get free:
Behavior bucks
Checks
Chore cash
Family store label
Bank label
Wallets
You cut out the wallets and hang one for each of your kids. You also have a bank envelope to store the behavior bucks in.
The checks are one-time rewards you give for catching your kids being awesome at something/behavior!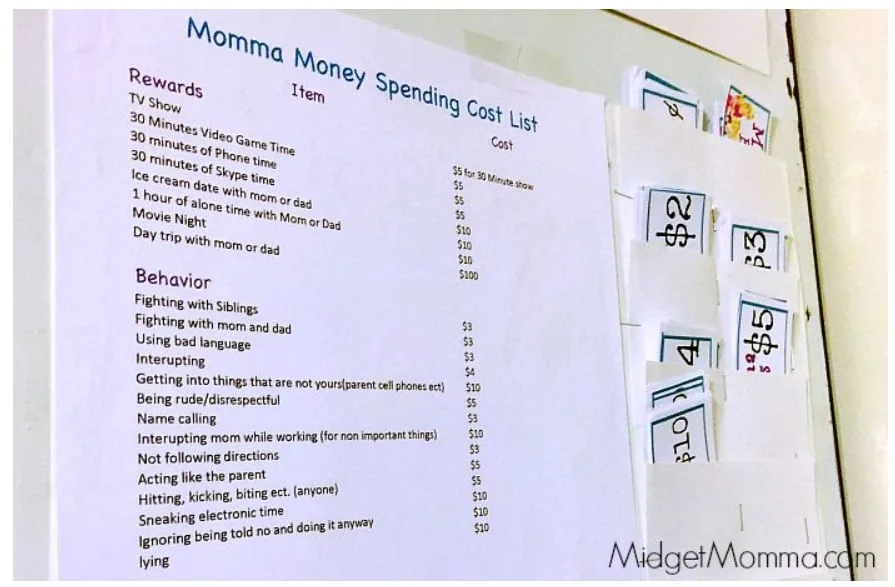 What a neat system to track your kid's chores, behaviors, money (Mom Bucks) earned, and things they want to spend it on.
With this system, the maximum amount of money your child can earn each day is $12.50 in Mom Bucks.
Included are:
Job list with prices
Spending money list with prices (including rewards and behavior money loss)
Currency tracker
You'll need some posterboard, index cards, and post-it notes to set everything up.
In her system, there are fines for bad behavior. You can lose Mom Bucks for things like:
Interrupting others
Leaving your backpack on the floor instead of hanging it up
Etc.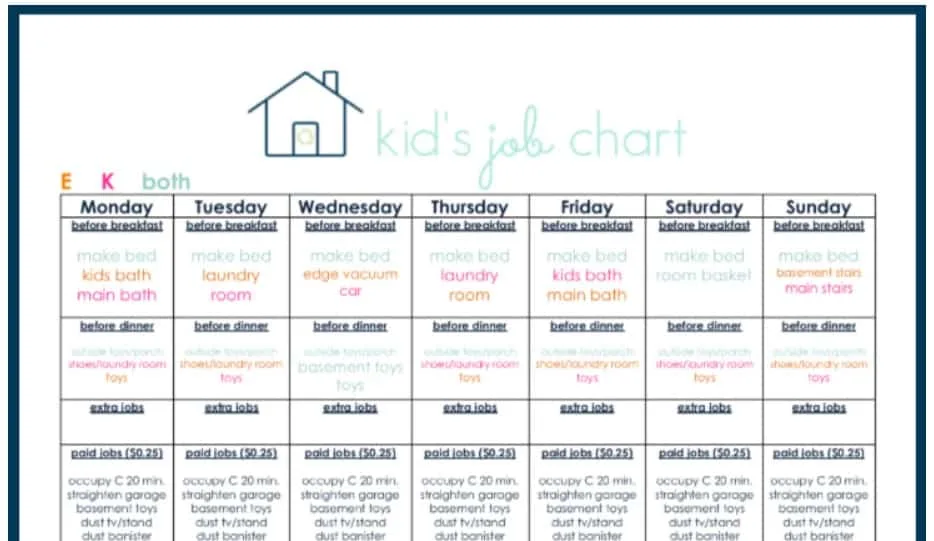 Erin uses this job system (she likes to call them jobs, not chores) to keep everyone's expectations aligned during the summer.
Plus, to cut down on arguments (because Mama doesn't have to be the "bad person" since the chores are already outlined on the chart).
Each day, kids get:
Before breakfast tasks
Before dinner tasks
Slot for extra jobs
The extra jobs are up to the kids, and each one available – as well as the amount they'll get by doing it – are listed at the bottom of the chart for each day.
She pays $0.25/extra job, based on her kid's age.
Screen Time Reward Systems
If you want to specifically set up a reward system where screen time is the prize, then these are for you.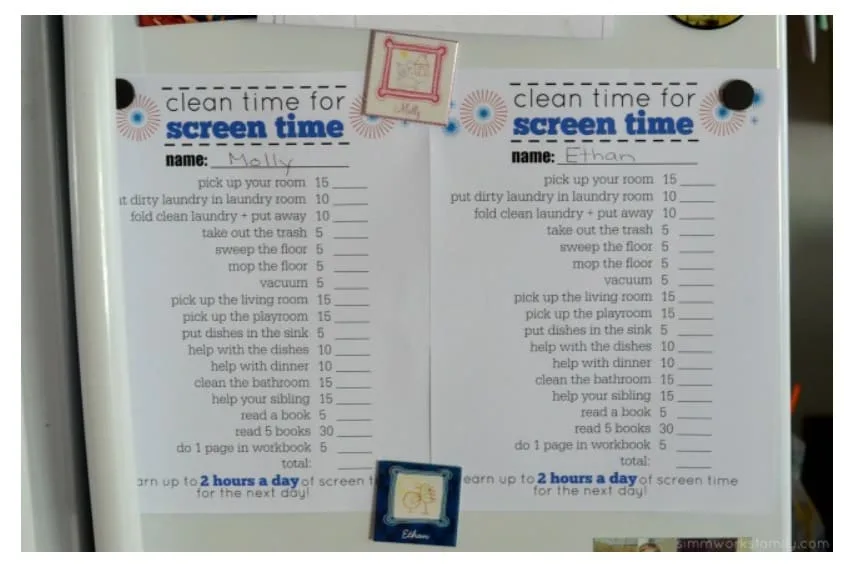 Fun name😊. With this reward system, your child can earn up to 2 hours of screen time for the next day.
How they do this is by completing chores like:
Fold laundry and put away (10 minutes)
Read a book (5 minutes)
Pick up the playroom (15 minutes)
Jordan has her kids using a Clipboard homework-chores-screen time system.
Her kids each have their own clipboard of tasks they must complete in order to get things like screen time or play time with friends. Some of the tasks, they have to complete before they come downstairs in the morning, while others they have until the end of the day to do.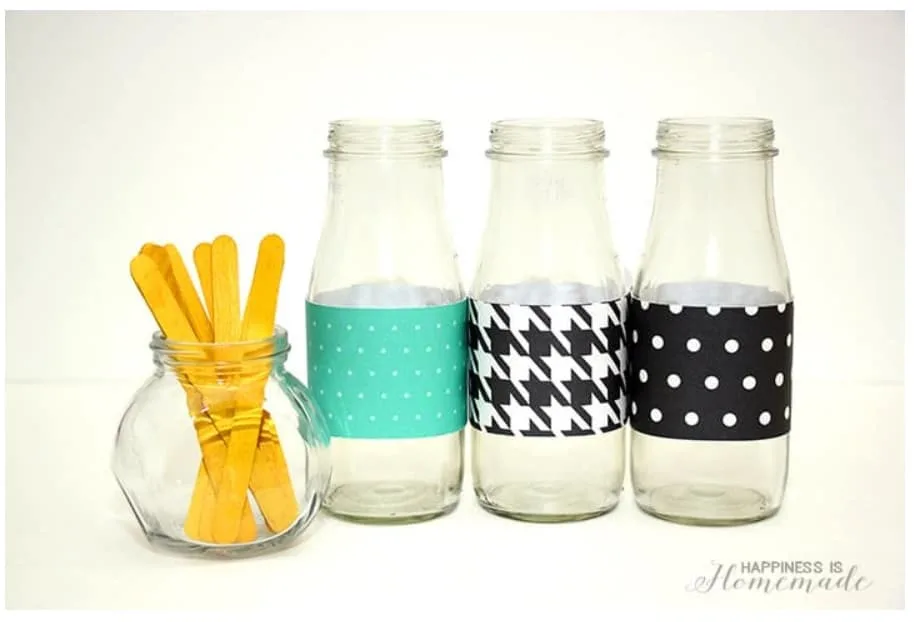 Haha – not the best name I've ever come up with, but it does describe how this woman tracks her child's earned screen time.
She has a free printable that lists out ways to earn screen time – 15 minutes for each task – and then when her child earns a 15-minute increment, she puts one popsicle stick in their individual glass jar.
When they want to redeem their screen time, they take out the number of popsicle sticks they'd like, and give them to their mother.
I like how she puts a maximum daily limit on earning (2 hours of screen time) so that she stays within her own values.
How do you set up a reward system for kids? You get clear on what you want to incentivize or motivate your kids to do/behave like, and then you pick how to reward that (points, money, screen time, etc.). Any of the systems above will work to help you with this – let me know what you choose, below!
The following two tabs change content below.
Amanda L. Grossman is a writer and Certified Financial Education Instructor, a 2017 Plutus Foundation Grant Recipient, and founder of Money Prodigy. Her money work has been featured on Experian, GoBankingRates, PT Money, CA.gov, Rockstar Finance, the Houston Chronicle, and Colonial Life. Amanda is the founder and CEO of Frugal Confessions, LLC.
Read more here
.
Latest posts by Amanda L. Grossman (see all)