Use these family conversation starter PDFs to engage with your child. There are developmental benefits, and no optins are required!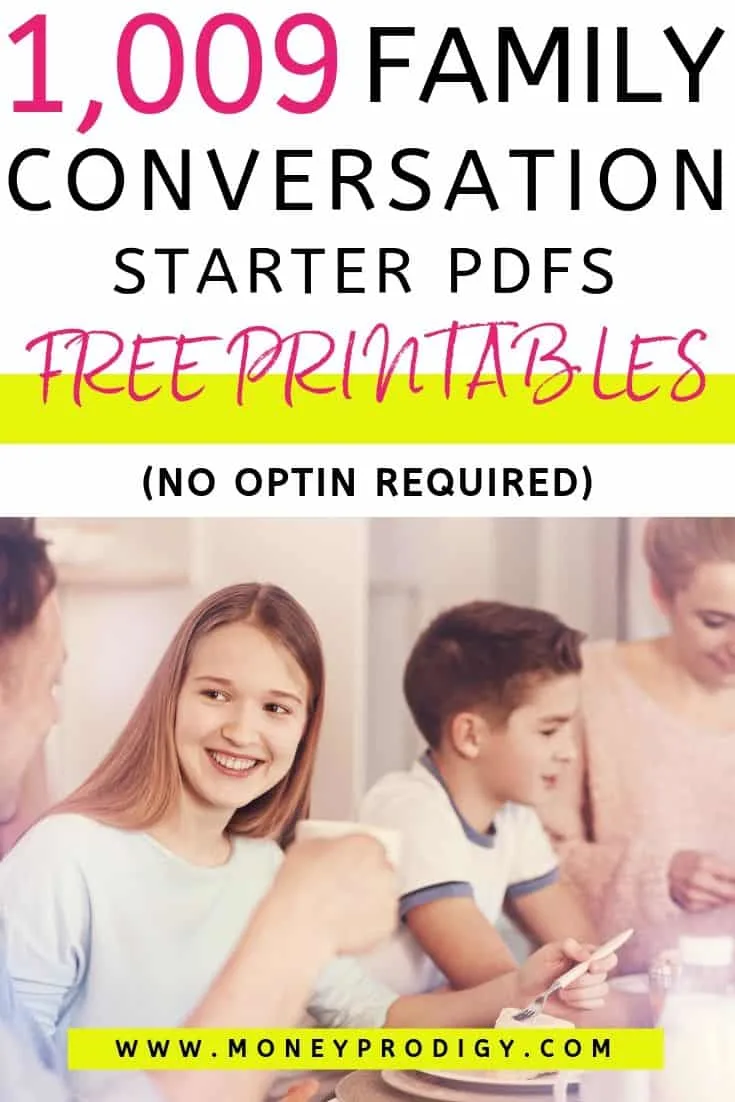 How do you engage a child in a conversation? It's a struggle many Mamas come up against, especially when:
You're juggling three different things at once just to meet all your home/work/mothering requirements
Kids reach a certain age and suddenly talking to their parents (like they used to do so freely) isn't "cool" anymore
Family conversation starters can really help you to not only break the ice with your kids, but to also help all of you learn much more about each other. It's a bonding activity that I can't talk about enough!
Not to mention, studies show that family dinner conversations support literacy development (in a way that even reading books does not), and kids with regular family dinners are significantly less likely to smoke, drink, or use drugs.
Ummm…sign me (and my kid) up!
Before I share with you all these FAB, free, family conversation starters, I want to give you plenty of ideas for how to use them.
How to Use These Family Conversation Starters Printables
I've got loads of family conversation starters printables below, but before I share them, I want to share with you some really cool, fun ways to use them.
I mean, you could just print them out and use them, and you'd be a pretty cool Mom for doing that.
BUT, how about you do one of the following to take the whole thing to a new level?
Idea #1: Use as a Dinner Conversation Game
You can use these free family conversation starters as part of a dinner conversation game with your family.
Check out these washable chalkboard placemats. You can give each diner one, take turns asking a question, and everyone gets to write their answer down.
You could also keep the printable intact (don't cut it), and use it like a board game. Each family member takes turns rolling the dice at dinner time, and whichever question they land on, they read out loud and choose ONE person who has to answer.
Write down a few "personas" or specific people on pieces of paper (like President of the United States, Dr. Seuss, Willy Wonka, etc., or like "college student during first semester of college", "octopus with only 2 tentacles", etc.), and have each person choose one from a jar when they sit down to dinner. Now, when they pick out a question to answer, they must answer like they think their person/persona would.
Other dinner conversation games include:
Idea #2: Use as Chore Incentive
Answering silly questions (and not-so-silly questions) can be really engaging, so kids generally like this sort of thing. That means you can use a round of family conversation fun as incentives to get chores done! If you have a family chore day, pair off into teams. The first team that finishes their zone of chores gets to choose which questions they ask.
OR, just tell everyone that after the family hunkers down and gets the chores done, you'll throw a pizza in the oven and do a round of family conversation starters.
Pssst: you'll definitely want to check out my chore games article for many more ideas.
Idea #3: Break Out During After School Snacks
Who says these conversation starters have to be used at dinner time? It would be a great idea to reconnect with your kids while they're eating after school snacks. Cut them up, put them in a mason jar, and let your kids take turns picking one.
Psst: here's after school activities for tweens, and an after school routine for teenagers. Also, here's 11 weeknight family activities.
Idea #4: Pair with a Surprise Picnic
Pack up a picnic, pick your kids up from sports/day camp/school/wherever, and surprise them! Print a set out ahead of time, and spend 45 minutes getting to know each other better.
Here's 36 more backyard activities for kids.
Idea #5: Use While Traveling
Whether by plane, train, or automobile, printing out a set of questions ahead of time will make things more enjoyable (not to mention, help pass the time quicker).
Did I get your wheels turning on ways you can use these? Let's move onto the actual family dinner questions printables.
Psst: check out these 12 fun Saturday night dinner ideas for families.
Fun Family Questions and Free Printable Table Talk Cards
Onto the fun part…and of course, I'll start with my own set of family conversation starters (hint: they're all about getting your kids to talk about money with you!).
#1: Money Conversation Starters for Families
Do you need a way to start talking to your kids about money…but the idea of what they might ask you keeps you silent?
I've got 12 pages of FUN money conversation starters for kids and parents, and they're completely non-intimidating.
Example Kid Money Questions:
You've won a $500 shopping spree at your local mall. What do you buy with it?
If you could create a new piece of money, what value would it have?
Do you think famous actors should make more money than the president of the united states? Why or why not?
Example Parent Money Questions:
What is one souvenir you regret buying on a vacation because you'd rather have the money back?
Martians are coming to take over Earth next week. What's one thing you buy with your money, now?
For $15,000, would you wear the same shirt for three months?
See? They're pretty fun.
#2: Table Topics Printable
You can print out these 4 pages of conversation starters without opting in.
Some of my favorite questions include:
If you could outlaw one vegetable, what would it be?
Would you rather have hands for feet, or feet for hands?
Name 3 wild animals you wish you could have as pets.
#3: Family Conversation Starters
What would happen on your perfect day? And, if you had wings where would you fly? Print out these 4 pages to ask your family these questions.
#4: Meaningful Connections Printable
I love how this woman and her family has dress-up dinners with different themes to make things entertaining. These 43 meaningful connection questions she created really help, too!
#5: CreateCraftLove's Family Questions
Get these 18 questions delivered via Google Drive (no optin required). Questions like:
Time freezes for everyone today. What do you do?
If you could teleport by blinking your eyes, where do you go?
What flavor of ice-cream do you wish existed?
#6: The Key Jar Questions
Get these 48 Key Jar questions from Momastery to "unlock what lives" in your kid's hearts.
Examples include:
What do you want to accomplish by your next birthday?
What's the best thing about living here?
What is something you use everyday that you don't need?
#7: Family Talk Jar Questions for the #DarkforDinner Movement
I've never heard of the #DarkforDinner Movement, so was happy to stumble upon it, on top of these 30 free questions families can use (no optin required).
Questions like:
What is your favorite insect?
What is your favorite month?
What do you think would be a hard job?
Psst: the Dark for Dinner Movement, while it appears to no longer be around, is the company Dixie "…asking families to remove all distractions, including electronic devices, from their dinner experience, and then share what they learned from going "Dark for Dinner" via social media using the hashtag, #DarkforDinner."
#8: Gratitude Conversation Starters
These 20 starters could be great for Thanksgiving, or for any day!
Example questions include (no optin required):
What is something about each of your siblings that you are grateful for?
What is something you love doing with your parents?
How did you help someone today?
#9: Family Conversation Starter Cards
These 45 conversation starters will help get your kids interested in talking to you.
Example questions include (no optin required):
What are you thinking right now?
What do you think is the best job in the world and why?
What are you afraid of?
#10: Family Pizza Night Jokes and Conversation Starters
Having pizza night? These are 9 jokes and questions directly related to one of kid's favorite foods.
Example questions (no optin required):
If you were a pizza, what kind would you be?
Would you rather eat a whole pizza, or eat a pizza without cheese?
What toppings would you put in your ultimate pizza?
#11: After School Questions Printable
You can access these 30 free after-school questions via Google Drive.
Questions like:
What does your teacher do really well?
When were you bored today?
What rule was the hardest to follow today?
#12: Family Discussion Starter Cards
These 123 family discussion starter cards are very thought-provoking.
Think questions like:
How can you be a good friend?
How do you think the world would be different without the internet?
Do you think that aliens exist?
#13: Family Dinner Conversation Starters + Printable Dinner Mats
Not only do you get 100 dinner conversation starters, but you also get a free printable mat you can laminate for each person in your family. Kind of like your kids are going to the restaurant!
Example questions include:
If you could meet someone famous, who would it be?
If you were boss for the day at home, what would you do?
What is the worst thing about being your age?
#14: Conversation Starters for Families with Young Kids
These 48 questions are great for families with younger kids, and have questions like:
If you were in the circus, which act would you want to be?
Would you rather live in the time of the dinosaurs or in the future?
Would you rather live under the sea or in outer space?
#15: Family Dinner Time Questions
Get 50 family dinner time questions, which include things like:
Each kid tells how they think their parents met. Parents go last.
If you planned our next family vacation, where would we go and what would we do?
How can you tell when you're grown up?
#16: Would You Rather Family Game
I love this "Would You Rather" conversation game.
Example questions include:
Would you rather have a pet penguin or a pet monkey?
Would you rather give up screen time or sweets?
Have tiger stripes or leopard spots?
#17: Tell-a-Story Mealtime Prompts
This idea is awesome! These are 7 story prompts that everyone can take a turn with (sort of like when I was a kid and we played a game where each person told a part of the story before passing it along to the next person).
A sample story prompt:
The doorbell rang. I was so surprised when I opened the door and there on our porch was a …
#18: Questions to Ask about School
These 20 questions will get you better answers about your kid's school day than you normally get.
Examples include:
Who did you sit by at lunch?
What was the hardest thing you did today?
Is there anything coming up that you are excited about?
#19: Lunchbox Conversation Wraps
Here's a neat idea – you wrap part of your kid's lunch with one of these 12 questions, and then your kid can be thinking about what answer they'll give you when they get home!
Example questions include:
If you were an adult for a day, what would you do?
Chocolate or vanilla?
What pet would you rather have: a cheetah or an alligator?
#20: Kid Conversation Starters
Here's another set of 24 kid conversation starters.
Example questions include:
Who is your best friend? Why are they your best friend?
What's the worst thing that has ever happened to you at school?
What embarrasses you the most?
#21: Guess Three about Me Conversation Game
Okay…this one doesn't come with a printable. But it's a fun, easy conversation game I thought you'd enjoy. You just each take a turn asking the person to your right or left to guess three things about you. Are they true, or false?
#22: Conversation Starters for the New Year
This is a fun way to sort of close out last year with your kids (while making great conversation).
Example questions include:
What was the best thing that happened during the last year?
Would you rather have a ride around the world on a magic carpet or one magic wish?
What are you looking forward to this year?
Let's move onto family dinner conversation starters for preschool-aged kids.
Mealtime Conversation Starters for Preschoolers
Are you kiddos a bit younger? Here are some mealtime conversation starters you can do with your preschool-aged kids.
#1: Would You Rather, Dr. Seuss Game
I love how these 16 "Would You Rather" conversation cards come with pictures to help preschoolers understand the question (plus be able to choose an answer).
Examples include:
Would you rather be a frog or a butterfly?
Would you rather have green or purple hair?
Would you rather be a dinosaur or a robot?
#2: Preschool Talk Cards
These are very simple questions, but they're open-ended so you might get some interesting answers.
For example:
Who do you like to play with the most?
What makes you smile?
What is your favorite thing to do with Mommy?
#3: Family Dinner Book Club (The Day The Crayons Quit)
This is such a great idea – this woman created a Family Dinner Book Club, and for each book, she offers (among other things) free question printables. These happen to be for The Day the Crayons Quit, and an example question includes:
If your toys could talk to you, which ones would say they are used the most or not enough?
#4: Would You Rather (Toddler Edition)
Here are 15 simple Would You Rather questions for toddlers.
Examples include:
Would you rather pet a kitty or a doggy?
Would you rather play in rain or play in snow?
Would you rather be tickled or be hugged?
#5: 100 Would You Rather Questions
These questions are great for preschoolers.
Examples include:
Would you rather go to the zoo or to a giant aquarium?
Would you rather have a pet goat or a pet chicken?
Would you rather eat a cookie or a donut?
#6: Pre-K Conversation Starters
Get these 20 Pre-K conversation starters, with questions like:
What is your favorite toy?
What is the best thing about today?
Do you like coloring, or painting better?
#7: Letter B Conversation Cards
I love how these questions revolve around your preschooler learning a letter of the alphabet!
Example questions include:
Tell what you know about bumblebees.
Pretend you are a baker. What special treats would you bake for your family?
Tell what you know about bears.
There you have it! You're bound to find some awesome family conversation starters and dinner conversation games from the list above. Print a few out, and keep them in your purse, car, and near the kitchen table for some good family bonding.
The following two tabs change content below.
Amanda L. Grossman is a writer and Certified Financial Education Instructor, a 2017 Plutus Foundation Grant Recipient, and founder of Money Prodigy. Her money work has been featured on Experian, GoBankingRates, PT Money, CA.gov, Rockstar Finance, the Houston Chronicle, and Colonial Life. Amanda is the founder and CEO of Frugal Confessions, LLC.
Read more here
.
Latest posts by Amanda L. Grossman (see all)