Need cheap date ideas for teenage couples? Here's 47 teenage date ideas winter, spring, summer, and fall. Tons of dates for teens who can't drive!
What do teenagers do for dates? Where do they go? How do they afford it?
Whether you're dating in the Fall, Spring, Winter, or Summer, I've got loads of cheap date ideas for teenage couples.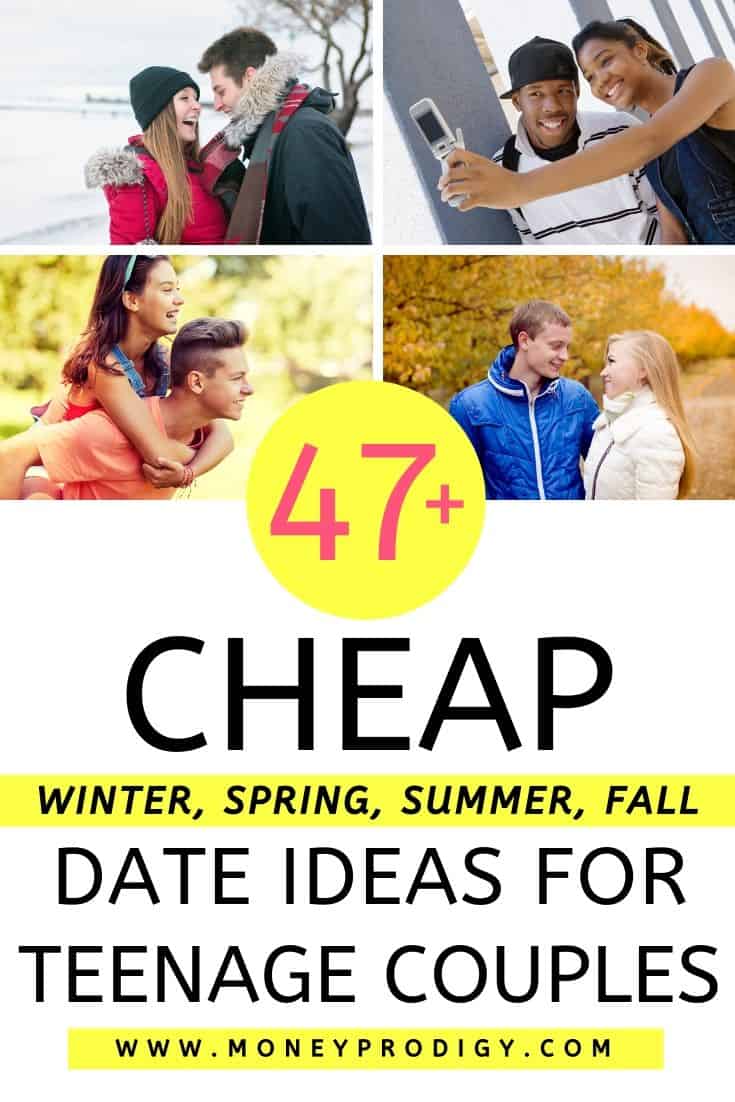 Some are at home date night ideas for teenage couples, and others are out on the town.
Before I offer these up, a few words on how best to choose from them.
What to Remember When Choosing Date Night Ideas for Teenage Couples
I'm going to be serving you up some seriously fun and cheap date night ideas for teenage couples…but you should remember a few things when you go through and choose from this list.
Mostly that, which teenage date night ideas you go with depends on the following:
Parental permission
Budget (here are free teen budget worksheets)
Transportation needs and resources
Curfew times
Adult supervision requirements
What you're interested in
What your date is interest in
Go through this list with your teenage daughter or son, and come up with several options for them to choose from that are A-Okay in your book.
Pssst: are you a teen reading through this? If I were you, I would choose several options that you'd love to do, and then discuss them with your parent.
Alright, alright – let's get to the awesome ideas!
Teenage Date Ideas – Winter
What are the best winter dates for teenage couples? I've got a few cheap ideas for you below that should make for an unforgettable time together.
Participate in a Flash Mob Together
Stalk this page, or figure out other ways to find a local flash mob. You'll probably want to practice together ahead of tie – another excuse for a date night!
Do a Mall Scavenger Hunt
Who says you have to actually spend money at the mall? Instead, print out this free mall scavenger hunt, pick up your bae, and have some fun hanging out.
Enjoy the Hot Tub with Christmas Lights
Does one of your parents own a hot tub? Ask if you can string up some Christmas lights around it, and then run from the house to your hot tub in the cold (don't worry – it'll feel great once you hit that hot water!).
Play Sumo Checkers
I absolutely love this idea from Life Teen's blog – you play checkers, and each time you lose a piece, you have to put ON a piece of clothing! Now, this could get hilarious.
Do a Round of Blindfold Portrait Painting
Gather up all those craft supplies lying around, and perhaps buy two canvases (or figure something else out). Then, create blindfold portrait paintings of the two of you!
Graffiti the Snow
Graffiti that ruins buildings? Not so cool. Graffiti that melts away into nothing after a few days? Pretty darn awesome.
Grab some spray cans, and head on out to the backyard or woods beyond your backyard, and create graffiti together in the snow!
Glow-in-the-Dark Bowling
Does your local bowling lane offer some night fun in the form of glowing bowling (or whatever else they may call it)? Check for the times and see if they're within your curfew.
Drive Around and Tour Christmas Lights
One memorable evening I spent on a date night as a teen was with my boyfriend who picked me up in his Dad's truck, and drove us around for 1.5 hours looking at neighborhood Christmas lights. It's one I won't forget!
Go to a Restaurant with Food You've Never Tasted Before
Can you find an ethnic restaurant, where even the menu is a different language?
Here's the fun part — explore part of this cuisine together by ordering something for each other off of the menu (see how much funner this will be if it's all in a different language?).
Do a Christmas Selfie Scavenger Hunt
This free, Christmas-themed selfie scavenger hunt looks pretty teen-errific! Work together to complete all of these holiday selfies. You can even race against a clock if you'd like – say, 2 hours.
Psst: looking for more Christmas-themed dates? Check out my 26 Christmas activities for teenagers article.
Do a Photo Booth Tour
Where are the photo booths in your area where you can pay a few bucks and make a strip of photos?
Find several, and drive around to each to take quick and fun photos of the two of you.
Here are some free printable props if you want to do a theme:
Christmas Win-it-in-a-Minute Competition
Invite just the two of you for a Win-it-in-a-Minute competition. You can use these printables as a really fun group teenage date night. Some healthy competition can be fun!
Watch a Terrible Movie Together
Do you know what some of my fondest movie memories with my husband now are? When we both watched a movie that was so bad, that we couldn't stop laughing at it.
Scenes and lines became inside jokes to us.
Go to RottenTomatoes.com, sort by movies with the worst ratings (use their "Tomatoemeter" filter), and choose one or two. Then, either Netflix them, rent them, borrow them from the library, etc. and watch it together. Could be the funniest date you've ever had!
Tour Your State Capitol Building
Tours can be so much fun! It's half-learning, half-hangin'-out, half-people-watching. Wait…that's three halves.
Anyway, check out a free tour at your state's capitol building.
Fly a Kite on the Beach
Hear me out on this one – because the beach? Basically stays windy all year round.
When I was a teenager, I had a boyfriend drive me to the beach (a few hours away), and we flew a kite. It was such a wonderful thing to do! A really cool way to use the beach in the winter time, and as long as you're bundled up well enough, an enjoyable experience.
Teenage Date Ideas – Spring
It's so nice to come out of the long winter (in most areas — ours in the South isn't quite so long) and see everything start fresh and anew! Now's the perfect time to spend more time with your loved ones and renew your relationship.
Here are some cool teenage date ideas for the springtime.
Go on a Graffiti Crawl
Most graffiti is…well, kinda ugly. But did you know that there are graffiti artists who take their work very seriously? There's also lots of beautiful pieces of art-as-graffiti (such as here in Houston).
Take the time to map out 4-5 different pieces of graffiti art to drive by, or get out and take some awesome photos together.
Eat at a Revolving Sushi Restaurant
One of the neat things about finding one of these restaurants is that you only pay for the specific sushi that you pick up and eat. So, it can be quite a cheap date if you watch what you're doing!
Not only that, but some serious cool points – it's quite entertaining to watch the sushi being made and revolving around the room or table on a conveyor belt.
Find a Chili Cook-Off
This is a great way to get out on the town, during the day, and walk around with each other. You'll get to taste all kinds of chilis, talk with some locals, and usually the ticket prices are quite reasonable (we've pad $5/ticket in the past).
Host a Pokémon Go Competition
Download the Pokémon Go app on each of your smart phones, and then meet up at a trail, go for a walk, or find a park.
Set a timer and see who can capture the most about of Pokémon.
Go on an Owl Prowl
Have you ever heard of an Owl Prowl? You can usually find them at nature centers, Audubon society centers, etc. They occur after dark, when a group of people are led into the woods to find as many owls as you can.
Definitely check this out – but know that you might need to be 18 or older (so you may need to bring a parent on this date night), AND, these can be a bit more expensive than all the other dates here.
Grab Some Smoothies
Hit up your local smoothie place and try a new flavor.
Find a Petting Zoo
Petting zoos aren't just for kids! Take your date, and buy them corn food (or pellet food – whatever is available) so that you both can feed the animals together.
Plus, watching little kids is so fun!
Construct a Home Together
Well…at least help with doing it. If you are 16 or over, you can volunteer at a Habitat for Humanity construction site. I used to do this in my early 20s, and loved it! The two of you will have so much fun helping others.
Teenage Date Ideas – Summer
Summer offers lots of opportunities for cheap date nights that are outside. Not only that, but it stays lighter out, later, opening up even more possibilities to take advantage of before curfew.
Chase a Food Truck
Check out RoamingHunger.com, which pinpoints the specific food trucks that are coming to locations near you, and the times they'll be there. Either meet up at a certain time, or drive there together.
Go on a Free Ferry Ride
If you live near a body of water with a ferry, then this is a cheap (and sometimes, free) way to get out on the water with someone! I've ridden the ferry in the south of Texas twice, and seen dolphins and pelicans each time.
Do you live near a ship channel or port? See if you can get a free ship channel tour (like in Houston!).
Create a Relationship Time Capsule
Gather at someone's house, fill up a tin can with some mementos from your relationship, and figure out a place to bury it.
Vow to come back to that spot 10, 15, or even 20 years later to dig it up together.
Use Your Parent's Guest Passes
Ask your parents if you can use their pool guest pass to invite your girlfriend for some swimming, hot-tub time, and sunbathing with you.
Host an Outdoor Ping Pong Tournament
The weather is great…why not move your Ping Pong table outside on the patio and have a tournament together?
Psst: score major brownie points with Mom and Dad by moving it BACK IN when you're finished.
Create Your Own Frozen Yogurt Bowls
Places like Menchie's are so fun — you get to take your date, sample various types of frozen yogurt, and then create your own yogurt sundaes (you pay by weight — so if you don't have a lot of money? Go lighter).
Then, take your fro-yo's to the outdoor seating area (our Menchie's has a fire pit!) and enjoy the rest of your date.
Go on a Factory Tour
I remember going on both the Hershey's Chocolate Factory Tour as well as the Herr's Potato Chips factory tour with dates. Both were fond experiences.
Search here for free factory tours near where you live.
Meet Up to Watch the Sunset or the Sunrise
One of the most memorable dates I had as a 17-year-old is when my boyfriend drove me a few hours away to watch the sunset at the nearest beach. Wow, was that special! And except for the gas, it was quite cheap to pull off.
Fall Date Ideas for Teenage Couples
Fall is an exciting time – lots of school events going on, new sports seasons starting, less light at night, and ample opportunities for teens to find cheap date ideas.
Go On a Zombie Run Together
Zombies are kinda a big deal right now, and lots of Zombie runs have cropped up around the country. See if you can find one near you (just search for your area + Zombie Run), and then go on a few runs together beforehand to practice!
Psst: if nothing else, you can download this free Zombie running app, share some earbuds, and have some fun jogging together. Absolutely hilarious!
Tour Some Haunted Woods
One of the most fun dates I can remember is when I went through supposed "haunted woods" with my boyfriend. How spooky! We actually drove through, but you can walk (er, run, if need be) as well.
You don't have to go all Blair-Witch on your date (wait…you've heard of the Blair Witch Project, right?!). Just research hauntings in your particular area of the world, and see if they are on public or private properties. Hint: if there's a public road? Then you're good to drive through it.
Go to Church Youth Activities
Churches offer some really outstanding youth programs as well as organize some great youth activities throughout the year.
Can you invite your date out to one of these events?
Sit at the End of a Dock or Pier
Just sitting with socks/shoes off and dangling feet near the water at the end of a dock or pier with your girlfriend/boyfriend can be a refreshing time together.
Haunted Walk Tour of Your Closest City
Many cities have haunted ghost tours where you walk around with a group and learn about all the supposedly haunted locations. What a fun date night that would be!
You can also piece together your own haunted ghost tour by going to the library, getting a local haunted book (they have them for many major cities and bigger towns), and following along. Pick your date up, and drive by several of the places that are mentioned in the book. Stop right outside and read the story/history aloud.
Go to Homecoming Activities Together
Likely your school is holding some sort of homecoming day where there are things like parades, sports events, activities, and maybe even a dance to go to. This is a cheap way to go on a date together!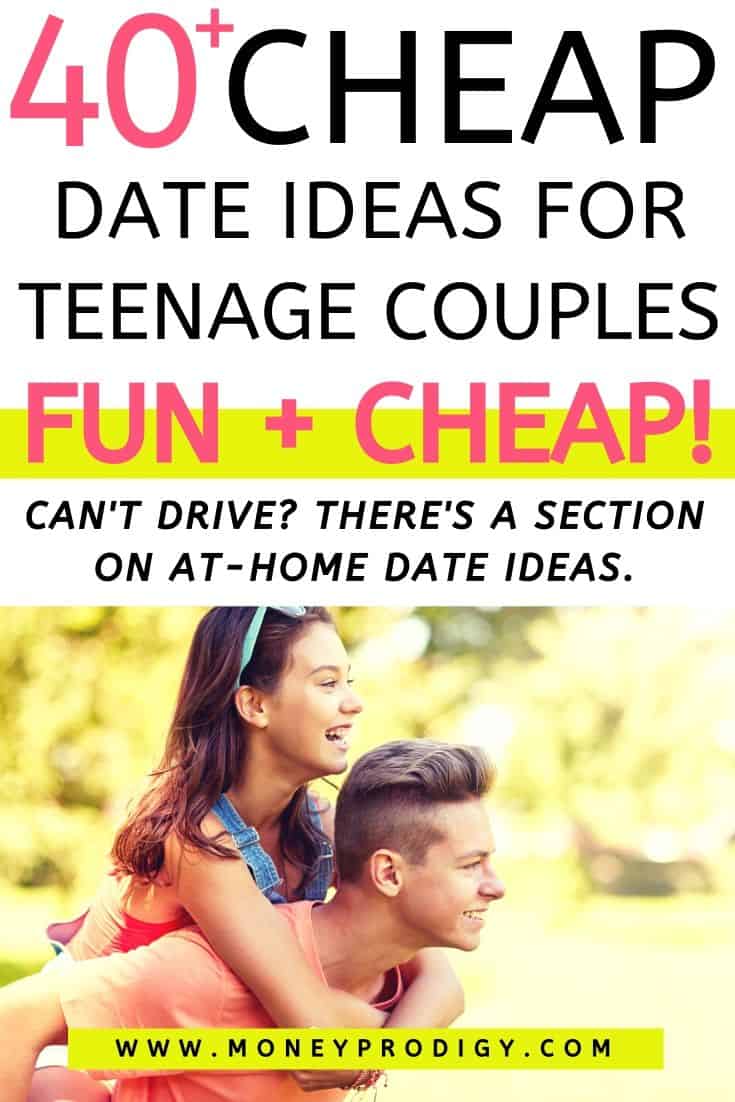 Show School Spirit Together
Go to a home game or away game for whichever local sports team you guys support. See if you can bring some hot cocoa in a mug (look for stadium rules, first), and maybe even a blanket if it's going to be a cold night. These are thoughtful gestures your date will appreciate.
Play Darts in the Garage
Ask your parents if you can set up a dart board in the garage. Play several rounds with your girlfriend/boyfriend!
At Home Date Night Ideas for Teenage Couples Who Can't Drive
You'll likely have lots of dating opportunities at home, so I wanted to dedicate an entire section to at home date night ideas for teens.
Here you'll find cheap date night ideas you can use all year round.
Have an Indoor Snowball Fight
Who doesn't love a good snowball fight? Especially if you can do it in the warmth of your own home. Actually…you can do this one ANY time of the year.
Create an Indoor Graffiti Wall
Grab some paints, a tarp we used to use for our wood pile out back that will work perfectly), and paper or a cloth canvas (an old sheet will do, or maybe one from the Dollar Store).
Move your parent's furniture and anything else that could be spattered away from the wall – I would do several feet away – and hang both the protective layer as well as your "canvas". Don't forget to protect the floor with trash bags or something else that will stop paint from bleeding through.
Then, create a graffiti mural together!
Complete an Escape Room…At Home
For a fraction of the cost of going to an Escape Room, you guys can solve one from a box.
Here's an Escape Room in a Box: The Werewolf Experiment to check out.
And I just love these Free Escape Room Printables! You'll find audio files for the missions by downloading the free iPhone app or free android app, and you'll need to get some materials together before your actual date night (like scissors, pens, single-sided printed copies of the free missions, etc.).
Solve puzzles, decipher Morse codes, and deactivate bombs – all while working together.
Play Pudding Pictionary
Play a round of pudding Pictionary…well, if you want to laugh so hard that you might just snort. It's seriously that fun!
Not to mention, it just takes some free printables and a box of Jell-O chocolate pudding (pre-made, or homemade, works as well!).
Try a Couple's Yoga Video
From the comfort of your own home, you can mess up and giggle your way through a couple's yoga session without any weird looks.
Hint: don't have yoga mats? Just use towels.
Do a Gourmet Chocolate Taste Testing at Home
Head to the grocery store together, down the gourmet chocolate aisle (or prep this ahead of time – your choice).
Pick out six different bars of chocolate to taste test.
Then, use The Dating Divas' FREE Chocolate Tasting Date Night Printables to set up a night of chocolate taste-testing with your bae!
My husband and I actually did this one night.
Here are the six chocolate bars we chose:
Divine Dark Chocolate with Pink Himalayan Sea Salt: This one ended up being our favorite!
Green & Black's Organic 85% Dark Chocolate: This one was wayyyyytoo bitter for both of us.
Theo Chocolate Organic Chili Dark Bar: We both enjoyed the bit of heat but there was too much cumin spice in it for us.
Divine White Chocolate Bar: Paul really liked this one, I thought it was okay.
Endangered Tiger Species Natural Dark Chocolate (72%) with Espresso Beans: This was our second favorite!
Construct a Jell-O House
Instead of a gingerbread house, make a home together out of Jell-O bricks!
You can use silicone molds to make the Jell-O bricks with, or Jell-O's own moulds, which are pretty cheap.
Play Mad Libs
Mad Libs are so much fun!! Instead of just sitting around trying to figure out what to do together, whip one of these out.
Make Tabletop S'Mores
Can you set up everything you need to make s'mores together, on a table in your house? Get your parents to help.
Set Up a Fondue Feast
The fun thing about fondue is how engaging it is to eat together. Set up your Mom's fondue pots in the den, dining room table, or even the back patio. Serve two courses, at least!
Here are some fondue recipes to get you started:
Got any other cheap date ideas for teenage couples? Please share them in the comments below.
The following two tabs change content below.
Amanda L. Grossman is a Certified Financial Education Instructor, a 2017 Plutus Foundation Grant Recipient, and founder of Money Prodigy. Amanda's kid money work has been featured on Experian, GoBankingRates, PT Money, CA.gov, Rockstar Finance, the Houston Chronicle, and Colonial Life.
Read more here
.
Latest posts by Amanda L. Grossman (see all)