Help your child set goals with these free goal setting worksheets for kids (PDFs).
Kids have many competing desires in life (which is why they need a goal setting worksheet for kids).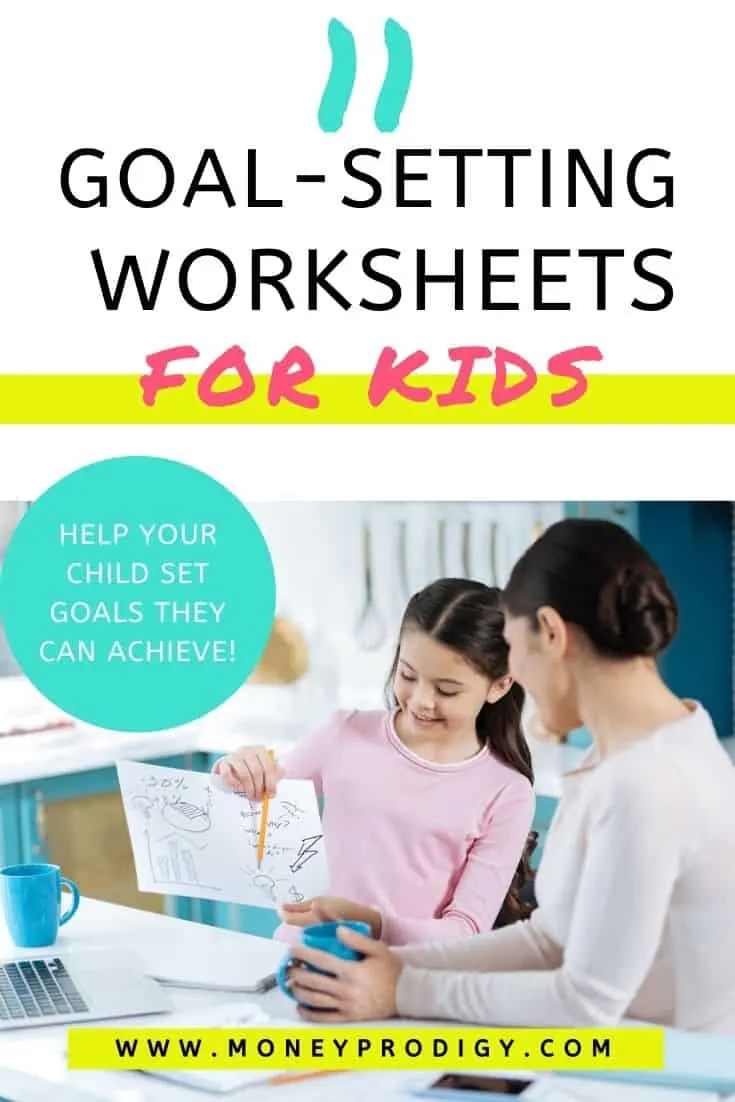 They want All. The. Things.
And they want them now, amiright?
Like…
:: the newest video games
:: to go to the arcade
:: a snowboard like Shaun White's
:: a white guitar with a skull like Pixar's character Coco
It's endless (not that I have to tell YOU that!)
And that probably sounds familiar, right Mama Bear? Because you and I have endless wants as well.
How can you help your kiddo narrow down their wants and desires so that they'll have one goal that they'll actually stick with?
These goal worksheets for kids will help.
Best Goal Setting Worksheets for Kids
Goal setting worksheets for kids can help your child with all kinds of goal-setting needs, like:
Figuring out the best goal to set (here's 37 short-term goals for kids to choose from)
Tracking their progress
Maintaining momentum so that they have a chance of achieving it
Helping them think through everything they'll need to achieve what they want
etc.
Here are some of the best, free, goal setting worksheets for kids and teens.
Psst: you'll also want to check out my article on examples of good and bad smart goals for students.
1. Goal Ladder Worksheet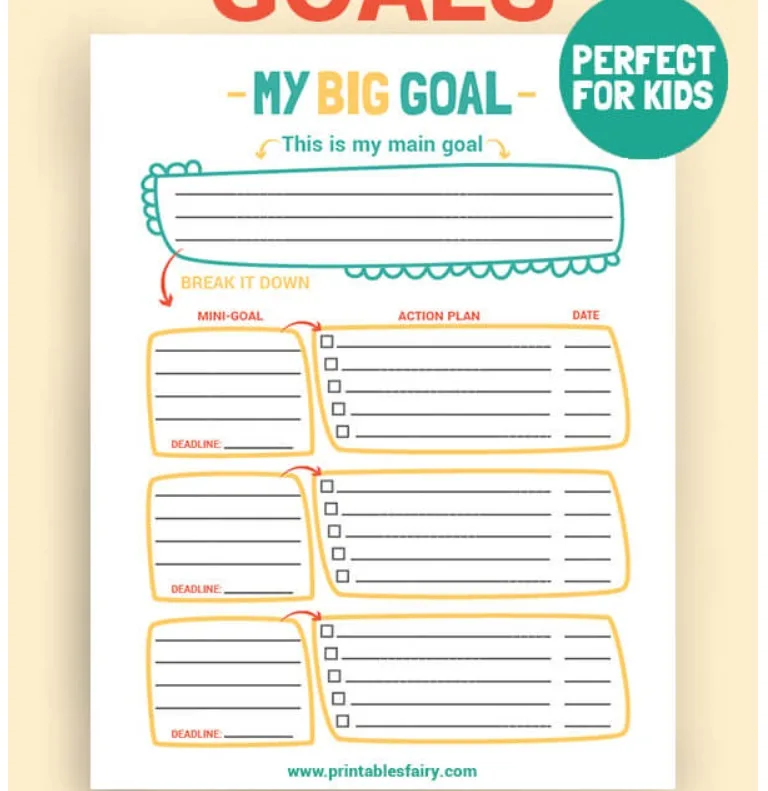 Check out Printable Fairy's awesome printable goal sheets for kids. I just love how they encourage kids to take a big, main goal, and break that down into mini-goals with specific tasks.
2. Simple Goal Brainstorming Worksheet for Students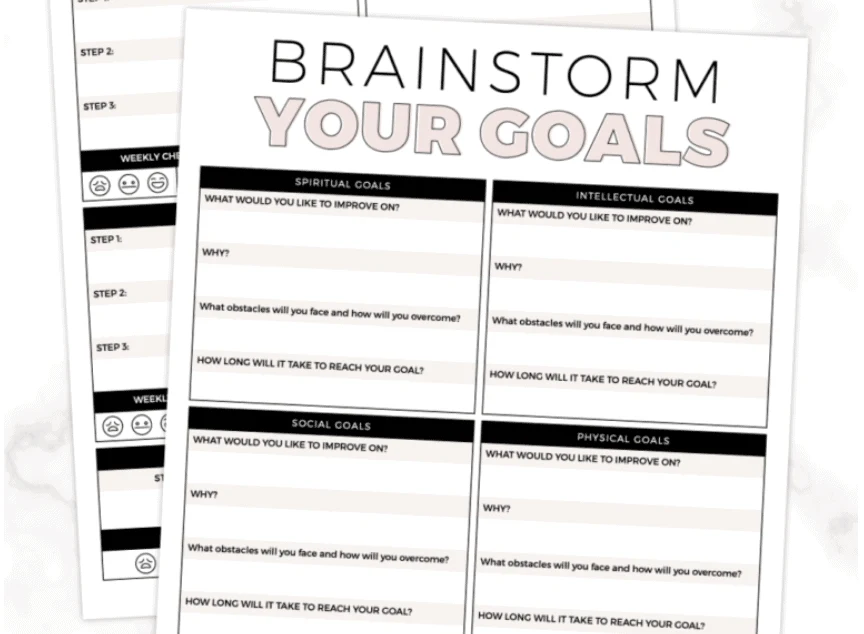 Here's a simple goal setting worksheet pdf that helps kids brainstorm what goal to set, and then brainstorm three action steps for each goal so that they know how to get started.
I like how it breaks goal setting down into categories, such as:
Spiritual Goals
Intellectual Goals
Social Goals
Physical Goals
Financial Goals
3. Quick Win Savings Goal Worksheet
I teach kids about money, and so I love to focus on goal setting for kids. Why? Because you can anchor your entire child's money education with goal setting.
Your child needs to see that the process of setting a goal to save for and then to actually purchase – whether it's something they want to be, do, or have – actually works.
If they see that it happens successfully one time, then they'll be more enthusiastic about trying it out again.
You'll need to eliminate as many kinks in this chain as possible for this to happen.
So, you want to steer their first savings goal towards the quickest win.
Think about it – most goals a child wants to obtain will cost them money.
Meaning, they'll have to plan ahead and save money to be able to buy whatever resources they need or to actually buy the toy/video game/horse lessons/etc. that they want.
Psst: kid want an iPhone? Here's my article on how to save up for an iPhone as a kid.
The first step to figuring out the RIGHT savings goal for your child to use is in helping them filter all of their wants/needs down to a quick-win one.
Goal Setting Action Step: To do this, use my Savings Goal Matrix. You'll guide your child to fill in all of the wants they just wrote down according to how long each will take to save for, and how important it is for them to buy it.
Pssst: Now that you've gone through the goal setting for kids activity and they've got a savings goal, you'll want to check out my article on teaching kids to save money.
4. New Year's Reflection Goal Setting Worksheet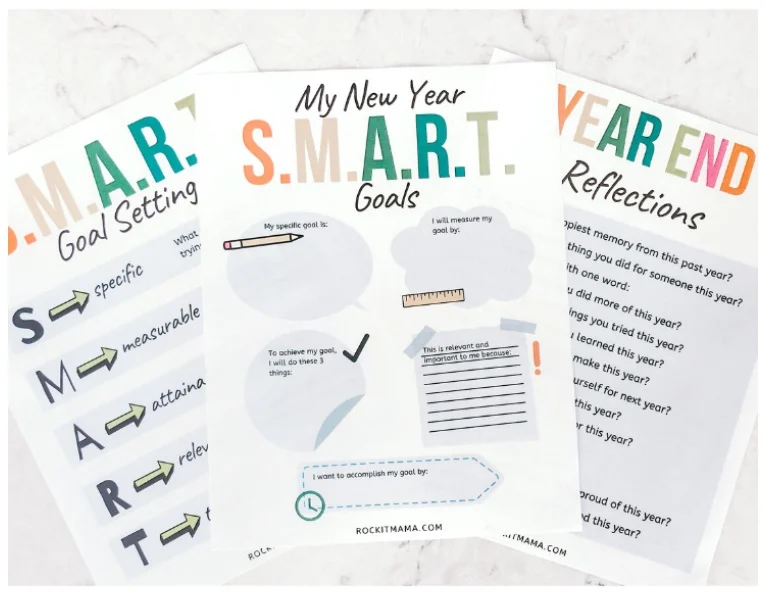 Rock It Mama's got an awesome SMART goal setting worksheet for kids, centered around the New Year.
Kids are prompted to reflect on their past year, then set SMART goals for the coming one.
5. Simple Goal Setting Worksheet for Teens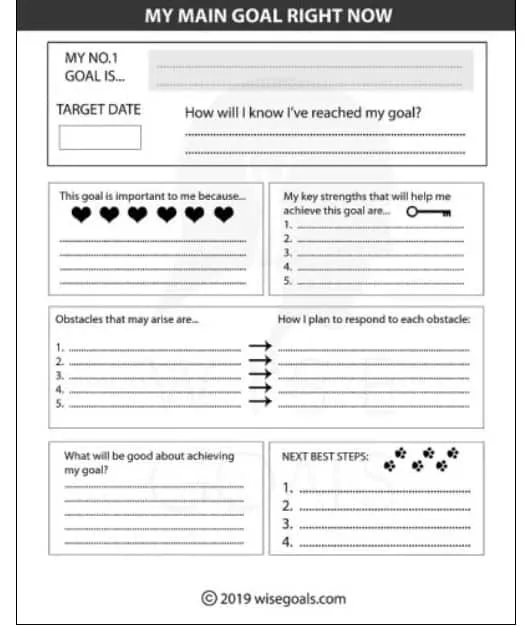 I just love how simple this goal setting worksheet is.
Teens and kids can use it to outline a goal, the strengths they have in achieving this goal, the obstacles they'll face and how to respond to those, and more.
6. Habit-Based Student Goal Setting Worksheets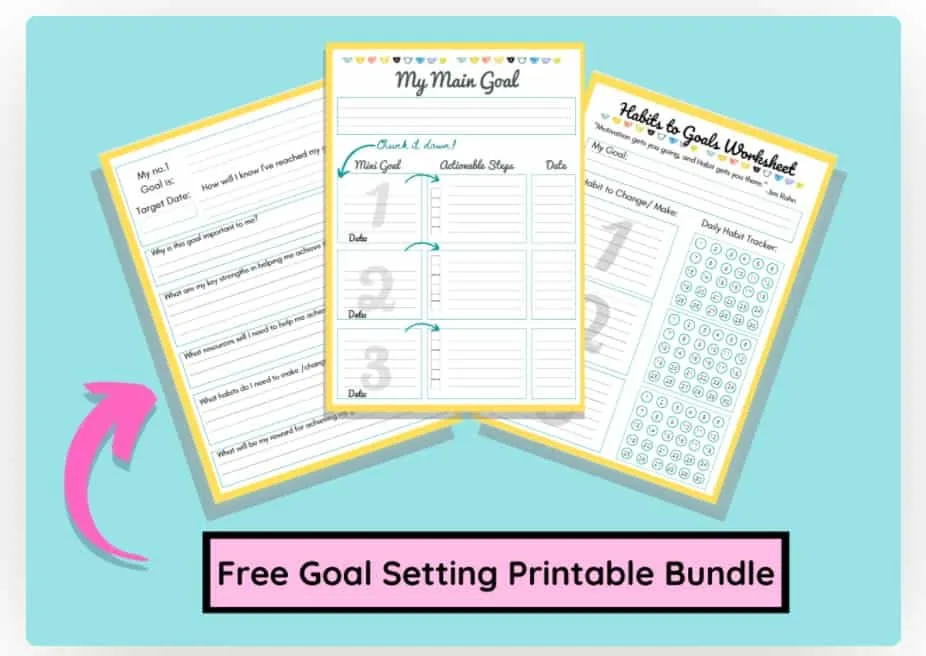 Here's a set of student goal worksheets that focuses on the importance of establishing habits to help you achieve the goal you set.
Each habit your student comes up with comes with a daily tracker so that they can start to get accountable for their actions.
It also gives students a page to break down a larger goal into mini goals with action steps.
7. Goal Planner for Students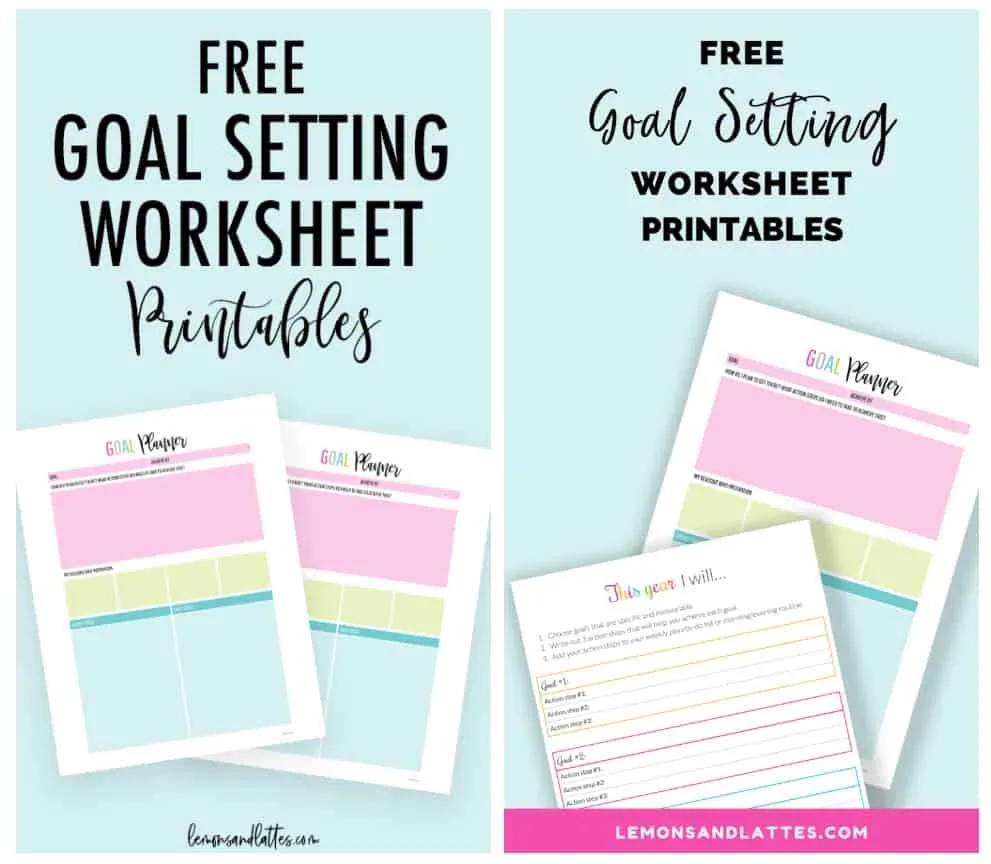 Your students can fill in daily and weekly tasks that will help them meet their goal with this set of goal planner worksheets.
Students can also use this for a New Year Resolution planner, brainstorming both goals for the New Year and actions they'll need to take to achieve it.
Psst: here's my list of 17 New Year Resolutions for Teens.
8. Wishes Into Goals Worksheet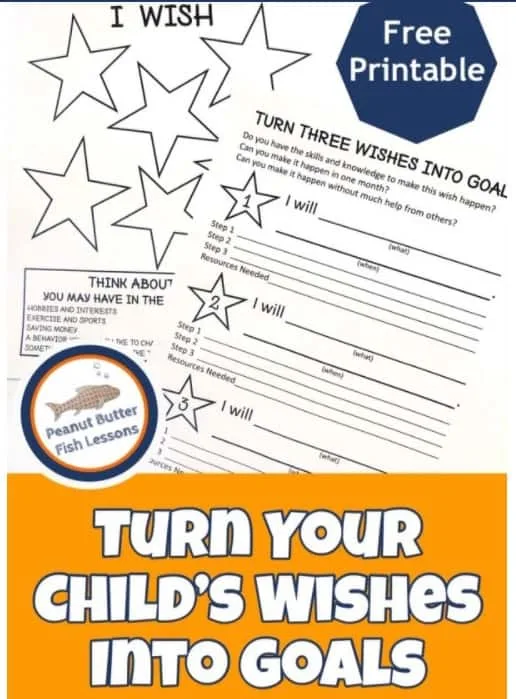 Here's a really cute worksheet set that helps take your child's wishes, and turn them into specific goals they can work on.
I just love that, because every kid has a wish and may just not know how to turn it into reality.
9. Post-It Note Goal Printables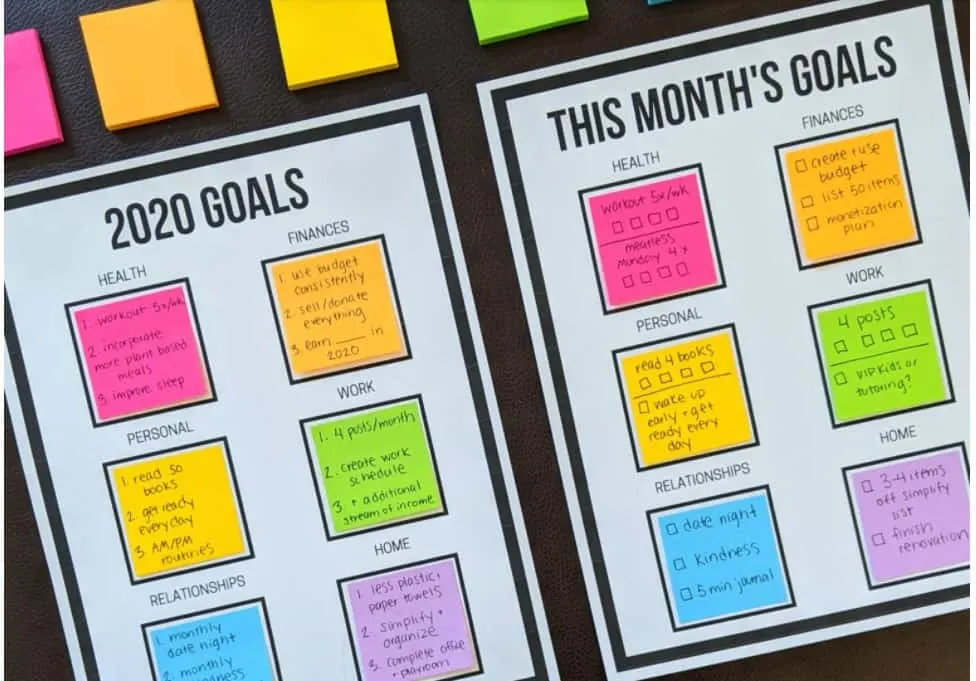 I love me some Post-It Notes!
That's why I've included this free Post-It Note goal-setting worksheet in this list.
Kids can use the brainstorm worksheet that comes with this to set their goals, then print these out and write their goals down on Post-It Notes. This printable will help keep their goals front-and-center, and the Post-It Notes make it very changeable.
10. Kid's Goal Setting Worksheet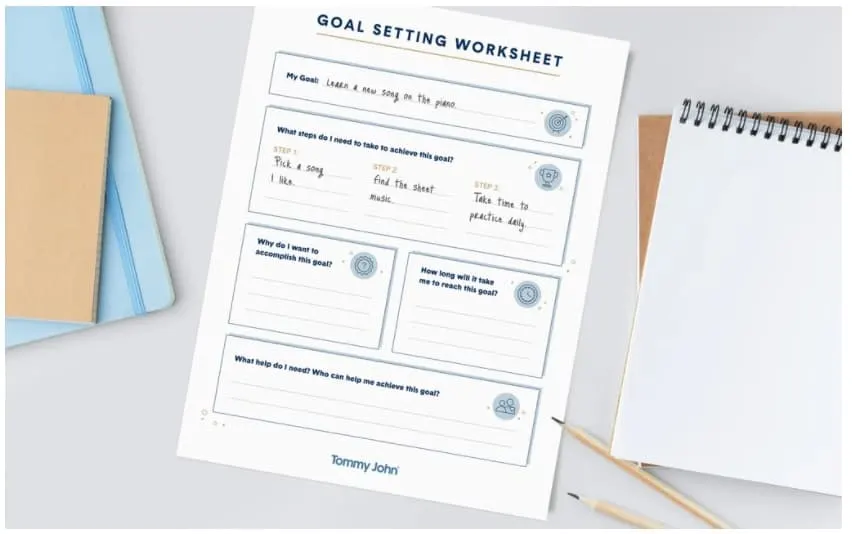 Got boys? This would be a great, goal setting worksheet to use with them. Very simple, and designed in a way that guys would like.
11. Simple Goal Brainstorm Sheet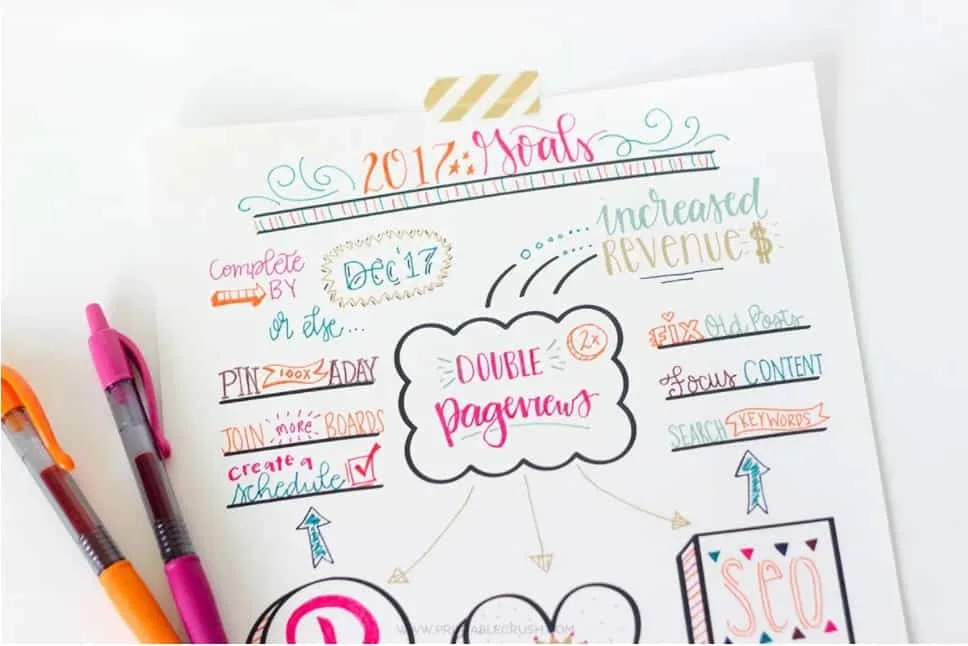 Can I just say how absolutely in love I am with this SUPER simple brainstorming sheet?
You could honestly use it to brainstorm anything, but it's minimalist black design is very suitable for inspiring kids to brainstorm goals, too.
The following two tabs change content below.
Amanda L. Grossman is a writer and Certified Financial Education Instructor, a 2017 Plutus Foundation Grant Recipient, and founder of Money Prodigy. Her money work has been featured on Experian, GoBankingRates, PT Money, CA.gov, Rockstar Finance, the Houston Chronicle, and Colonial Life. Amanda is the founder and CEO of Frugal Confessions, LLC.
Read more here
.
Latest posts by Amanda L. Grossman (see all)