Short term financial goals for high school students – what they are, and tons of examples your teens can use.
I absolutely love that you're looking for short-term financial goals for high school students.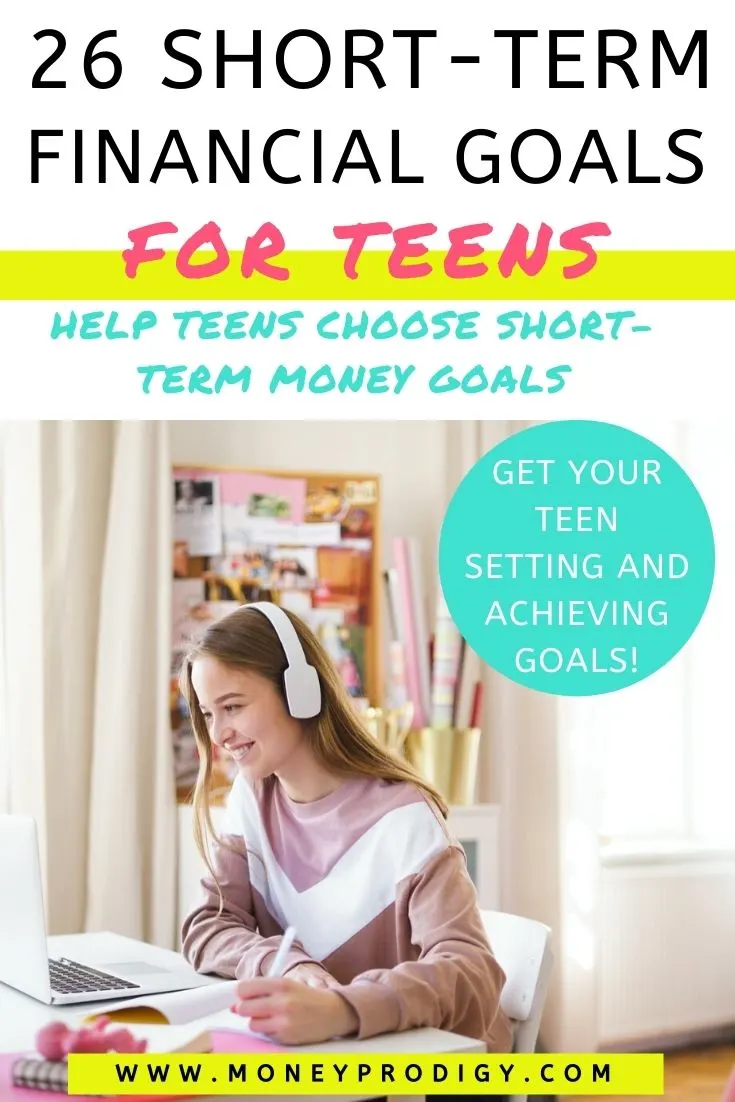 Why?
Because most teenagers are not ready to set and go after long-term (or even middle-term) money goals.
Maybe they:
don't have their delayed gratification muscles stretched enough OR
they've never set and successfully met a few shorter-term savings goals so they have no experience to get them through the long-haul OR
they simply don't have enough resources or income to even go after a long-term financial goal
A short-term financial goal is the best place to start!
First up, let's talk about what a short-term financial goal looks like. Then, I'll give you lots of examples for you and your students to use.
Short Term Financial Goal for Teens – Defined
A financial goal is:
Anything you want to be, to do, or to have that costs more time and money than one earned pay cycle (allowance, paycheck, etc.) to do.
Financial goals can take varying amounts of time to achieve.
So, what makes a short-term financial goal for teens, versus a medium-term financial goal, or a long-term financial goal?
A financial goal is short, medium, or long term, depending on a combination of:
Goal Cost: How much money your student will need to save to reach their goal
Resources they have to use/spend: How much money they have at their use
Motivation and Financial Obligations: How much of that money they'll set aside to save for the goal
Short, mid, and long-term financial goals for kids and teens look different than for adults. That's because adults have different capabilities and usually more monetary resources than a child/teen does.
That's why I've set out to define what each of these goal durations are for kids and teens.
What makes this a short-term or medium term or long-term goal? See below.
| Short Term Financial Goal | Medium Term Financial Goal | Long Term Financial Goal |
| --- | --- | --- |
| Takes more than one pay cycle, but less than 1 month to save up for | Takes more than one month, but less than 3 months to save up for | Takes more than 3 months to save up for |
So, for example, if your teenager gets a weekly allowance of $15, then a short-term financial goal for them would be something that will cost more than $15, but less than $60.
Hint: remember, this assumes that 100% of their allowance/pay cycle is going to go towards the goal. Something to keep in mind, if they have other financial obligations or are not as motivated to save!
When I was a teen, I had a job mucking horse stalls at our local veterinarian for $98/week. However, I had to pay for my own gas and entertainment costs. SO, I could only dedicate about $65/week towards a savings goal. That means I could've gone after a financial goal that cost between $65 and $260, and it would've been considered short-term for me.
Let's move onto actual short term money goals high schoolers can set and meet.
Short Term Financial Goals for High School Students – Examples
High school students will likely earn a range of money each week or month, depending on whether they work, the number of hours they work, and whether or not they still get an allowance.
Which makes nailing down a list of teen short-term financial goals a little more difficult.
But no worries.
I'm going to include a bunch of different short-term financial goal ideas that should fall within the short-term range I discussed above (more than one pay cycle, but less than one pay cycle to pay for and achieve).
Hint: not all financial goals take money to complete. That may sound odd, but stick with me – I'm going to divide this list up into short-term financial savings goals for students, and short-term financial goals that don't take money saved up to complete.
Short Term Financial Savings Goals for High School Students
In this section, you'll find short-term financial savings goals for high school students to save up for.
Fund a savings account with $25/week for one month (a total of $100)
Buy a prom gown with cash
Save up initial bank savings account opening minimum, and open up a savings account
Start up money for a weekend side business
Class ring
Christmas presents for siblings and parents
Senior photo session
Weekend youth retreat fees
Get a manicure/pedicure
Give a certain amount to a cause they find important
Redo/decorate their room
Newly released video game
Vacation spending money
Driver's Ed course
Horse lessons for the summer
Canoe or Kayak rental
Pair of sneakers
Concert tickets
DSLR camera
Short Term Financial Goals for High School Students
In this section, you'll find short-term financial goals high school students can complete without having to save up money to accomplish them.
Since there's no money involved here, you would know it's a short-term goal by the time duration from above – it will take one week to less than a month to complete.
Open up a custodial checking account, and set it up so that their weekend job/summer job paychecks automatically deposit there
Get their first job
Research what the total costs of attending the college they want to go to will cost – including room and board, tuition, textbooks each semester, travel back and forth from home, etc.
Sign up for Swagbucks (a search site where you earn points you can redeem for gift cards or PayPal cash deposits just for using it) and start doing all of their Google searches there for one month – see how much money they can earn that way
Spend one hour/week for the next four weeks to research and apply to college scholarships. Record their return on investment of time (ROI) – in other words, did they eventually get any of the scholarships? If so, have them divide the total amount reaped by the number of hours it took to find/apply for it, to get how much money/hour they earned doing this activity (their ROI).
Write a list of what they want over the next two weeks. Then, have them research how much it would cost, and then how many hours they would need to work in order to afford that. Does this change the way they look at it? Do they still want it, after all?
Psst: find more ideas in these 17 New Year Resolutions for teens article.
I'd like to leave you with one more piece of information. One of the most important ways you can set your students up for goal success (meeting their goal) is by helping them to choose one that matches and stretches their abilities just enough.
And how long it's going to take them to achieve a goal is super important to consider when trying to figure out what will match and stretch their abilities just enough. Start with a short-term goal, then move into medium and long-term ones as their resources, abilities, and confidence grow.
The following two tabs change content below.
Amanda L. Grossman is a writer and Certified Financial Education Instructor, a 2017 Plutus Foundation Grant Recipient, and founder of Money Prodigy. Her money work has been featured on Experian, GoBankingRates, PT Money, CA.gov, Rockstar Finance, the Houston Chronicle, and Colonial Life. Amanda is the founder and CEO of Frugal Confessions, LLC.
Read more here
.
Latest posts by Amanda L. Grossman (see all)