Halloween family night ideas to add some spooky fun to your evening. Plus, I share how we set up our own family date nights.
My husband, son, and I are allllll about the Family Date Nights we do each Saturday.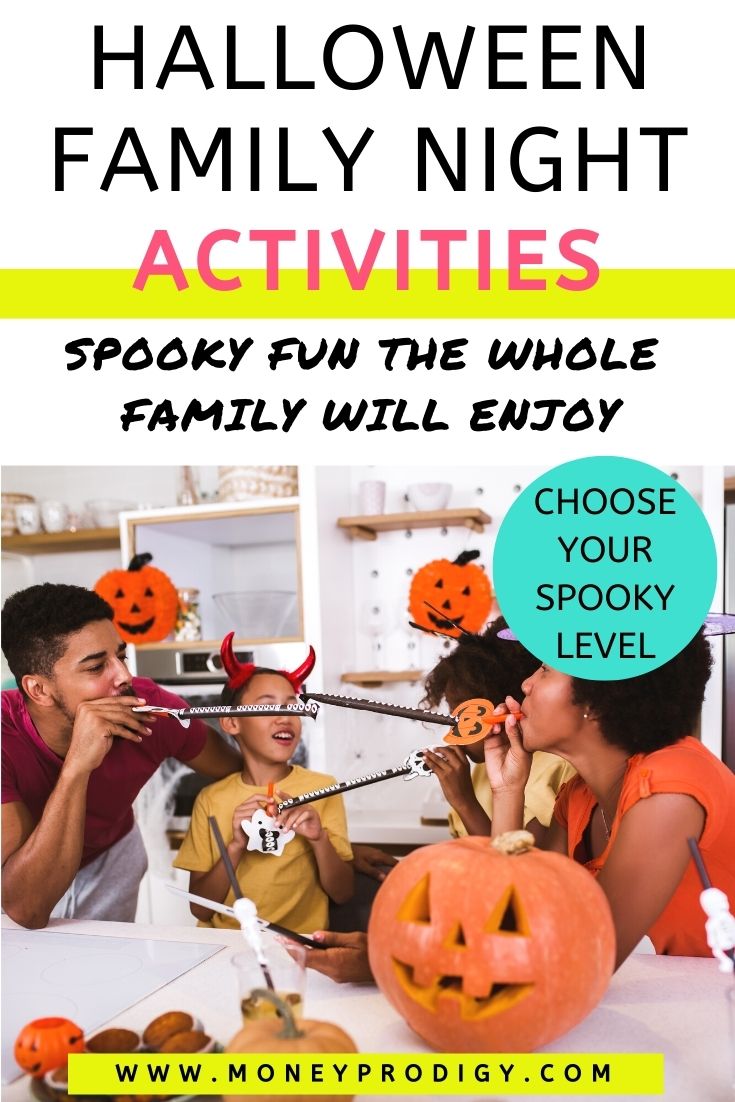 And now that Fall is coming up? We'll be breaking out some of these awesome Halloween family night ideas.
And I'd like to share the coolest ones with you so that you can make memories with your own family.
Hint: stick around until the end, where I detail how we plan and structure out our family date nights.
Halloween Family Night Ideas
Below, you'll find my best ideas for Halloween family nights both at home, and out-and-about.
Psst: some ideas are spookier than others, so definitely give thought to whether or not your kids would be all-in, or would be sleeping with Mom and Dad afterwards. Your call, of course!
1. Glow-in-the-Dark Halloween Candy Hunt
Here's a genius idea: put glow sticks into those Halloween cellophane snack bags, plus a few pieces of candy, and hide them in your backyard.
Let your kids stay up after dark and go find the candy!
This could work for a great backyard idea for older kids, too.
2. Host a Halloween Costume Family Dinner Night
Our kids pick out these awesome Halloween costumes that they think about for days, weeks, (my son, months)…and then they only get to wear them once (maybe twice).
Instead, get more use out of those costumes by hosting a costume family dinner night.
It can be just a regular ol' dinner, but at the dining room table with candles lit, and with everyone in their Halloween costumes.
So fun!
3. Make Gingerbread Skeleton Cookies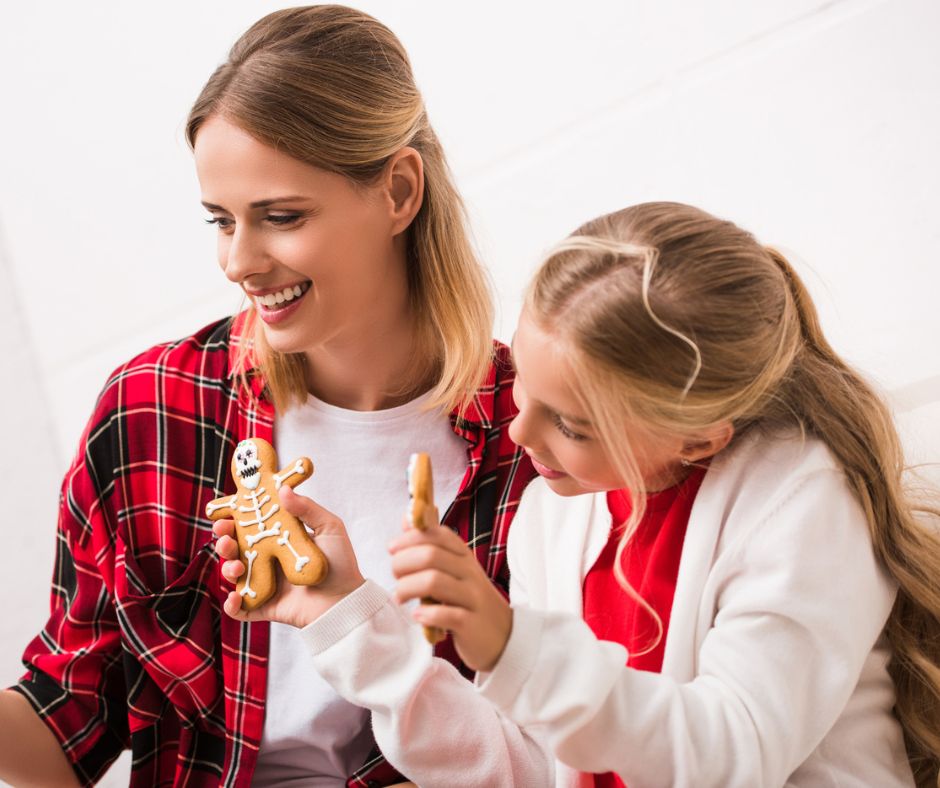 Bust out those gingerbread cookie cutters, and make gingerbread cookies.
Spread them out on half-sheet cookie pans. Then, get some white icing and let your kids draw-in some skeletons!
Here's a Gingerbread skeleton cookie recipe.
4. Decorate Pumpkins TWICE with Washable Paints
Forget about just carving the pumpkins once and being done with it.
Let the kids have fun one family night by painting faces on a pumpkin with washable paint or washable markers.
You'll be able to just wash it off before the actual carving night.
Hint: do you know that you won't feel like washing off the faces before carving? Then just make sure the kids only paint on one side, and use the other side when you're ready to carve.
5. Go on a Hayride
I grew up on a dairy farm, and each Halloween we'd host a hayride for our family and friends. It would land in our lower field where a huge bonfire awaited us.
Really fun!
There are also really scary hayrides that crop out around this time – if you go this route, you'll definitely want to ask about the "scary" level (I remember going on one as a teenager that was OVER-the-top scary).
6. Turn Your Den into a Stage Zone with a Spooky Podcast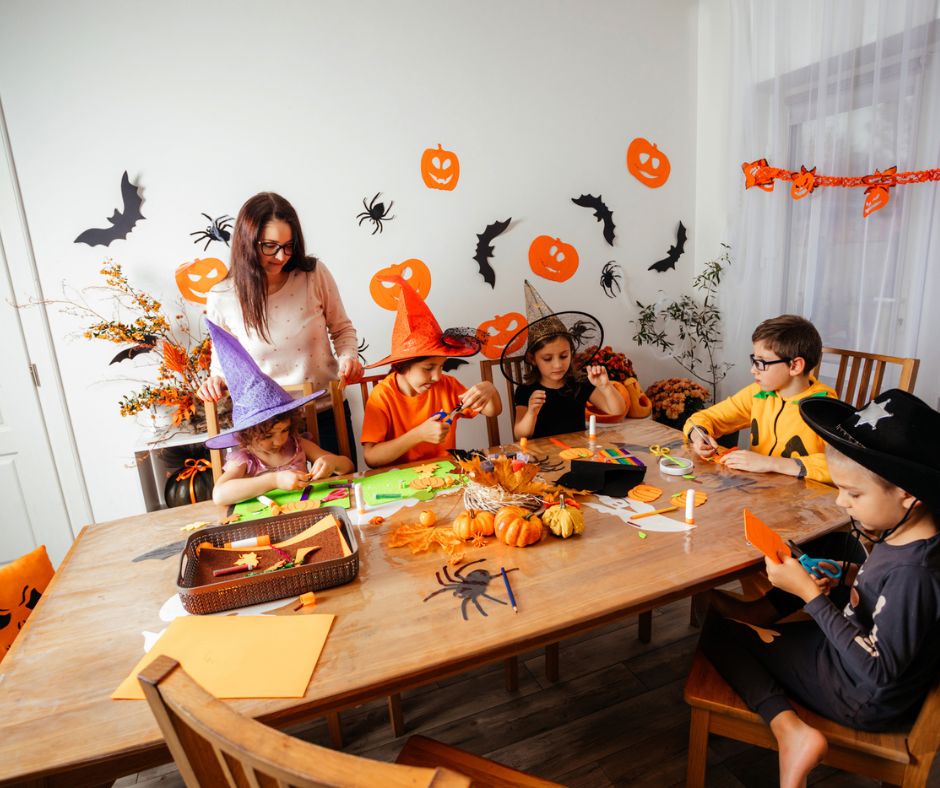 There are some great story-telling podcasts out there, including some great Halloween story ones.
Make use of those Halloween decorations by gathering the family in your den, turning down the lights to the dim glow of candles, and listening to one of these spooky, kid-friendly podcast episodes:
7. Do a Rolling Pumpkin Paint Night
Get some really long art paper (like this), and let each person in your family pick out a pumpkin to use.
Each person gets to dip their pumpkin in paint, and then roll it down the sheet (by the way, I think it'll be even more fun if you put the sheet on the ground and let everyone roll the pumpkin like a bowling ball).
You'll create something as a family, and you can even display it for everyone to remember the fun.
8. Make Family Halloween Drawings
Set up a family drawing night with paints, colored markers, crayons, canvases or sheets of paper in front of each station.
Then, set up your YouTube to play through your television, and pick one of these Halloween drawing tutorials from below:
9. Turn a Dollhouse into a Haunted House
Get your whole family involved in turning an old (or current) dollhouse into a spooky house for kids and toys alike to go through.
Depending on the age of your kids, you could:
Come up with a theme for each room of the dollhouse, and let each person choose one room to create
Let kids create fun traps for action figures and dolls to walk through
Let kids make a spooky story and act it out throughout the dollhouse
Psst: don't have a doll house? You could also make one of these spooky graham cracker houses.
10. Enjoy a Trunk or Treat
Trunk or Treats are getting more and more popular, and you can likely find one near you around Halloween.
A few days or the weekend before, plan how you'll decorate your trunk (let the kids have their own ideas that you *attempt* to do).
Psst: after the kids go to bed? Do one of my favorite Halloween activities for adults.
11. Set Up Silly Halloween Pranks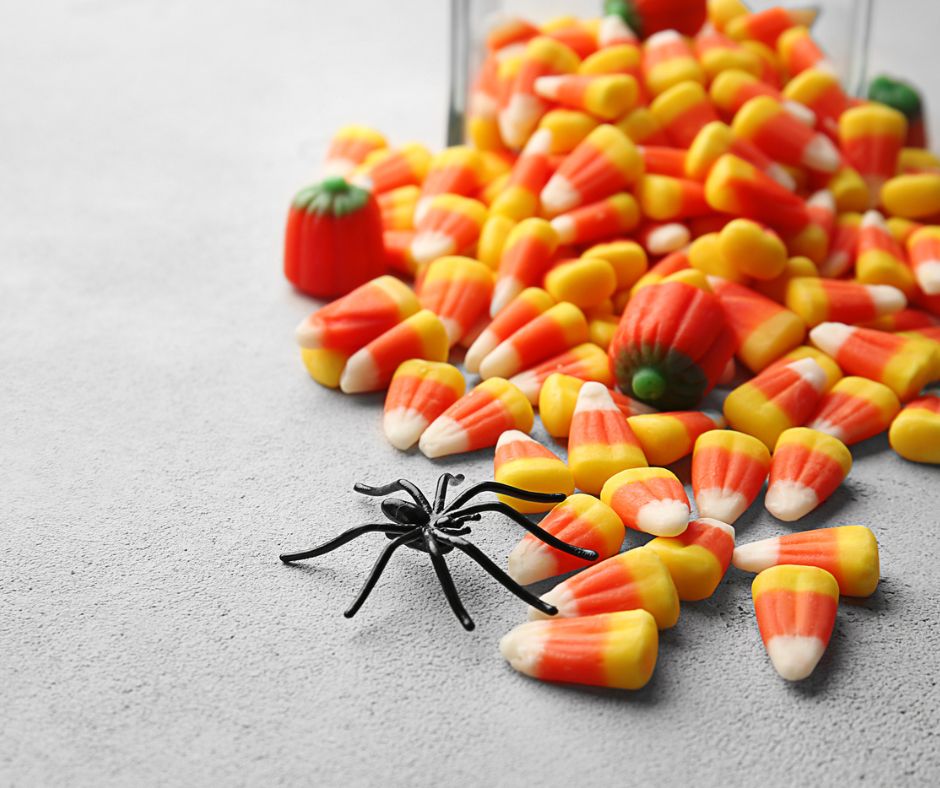 Divide your family up into groups or two (if you have enough members!), and give each group a "zone" of the house to work in.
Put all kinds of Halloween decorations and supplies out in a central location, and let each team set up pranks in their zone.
Like:
Putting a fake snake in the freezer for someone to find
Hiding plastic spiders in interesting places
When the timer alert goes off, assign each team a zone to carefully walk through…get ready for some giggles and an occasional scream (depending on what kind of pranks are set up!).
How We Do Our Family Date Nights
I'm so glad you stuck around to hear about our family date nights!
We started these back when everyone was stuck at home for months on end. I made the realization that while we were spending tons of hours together, we weren't spending quality time together.
It had turned so logistical with work, and learning, and meals, and everything else.
I talked to my husband, and we came up with Saturday nights as our family date nights. And we've been doing them for over two years now.
Here's how they're structured:
4:00 p.m. Shutdown: Everyone shuts down for the day (I usually work on Saturdays), and family time starts. We do an activity between 4:00-5:00 p.m. We've done so many fun activities (and there's lots above you can choose from around Halloween time). Including things like kicking a giant soccer ball around in the backyard, playing Bubble Battles, competing in a Waldo-a-Thon, etc.
5:00 p.m. Dinner + a Movie: My husband, Paul, works on cooking dinner during the afternoon/between 4:00-5:00 p.m., and then we all sit down to eat plus watch the family movie he picked out for us at 5:00.
There are SO many ways you can celebrate Halloween with your family, and I hope you pick from these Halloween family night ideas this year. Who knows, you could create traditions that your family will beg for again in the years to come!
The following two tabs change content below.
Amanda L. Grossman is a writer and Certified Financial Education Instructor, a 2017 Plutus Foundation Grant Recipient, and founder of Money Prodigy. Her money work has been featured on Experian, GoBankingRates, PT Money, CA.gov, Rockstar Finance, the Houston Chronicle, and Colonial Life. Amanda is the founder and CEO of Frugal Confessions, LLC.
Read more here
.
Latest posts by Amanda L. Grossman (see all)