Kid's budget worksheets are a great way to help teach kids how to budget. I round up the best monthly budget printables for kids.
One of the best ways to begin teaching kids how to budget? Is to have them use a kid's budget worksheet.
You see, seeing the numbers on a piece of paper, in black and white, changes people. I've seen it with adults over the years. The ones that swear they are spending less and that they earn enough income to support their lifestyle, but then can't understand why they come up short at the end of each month.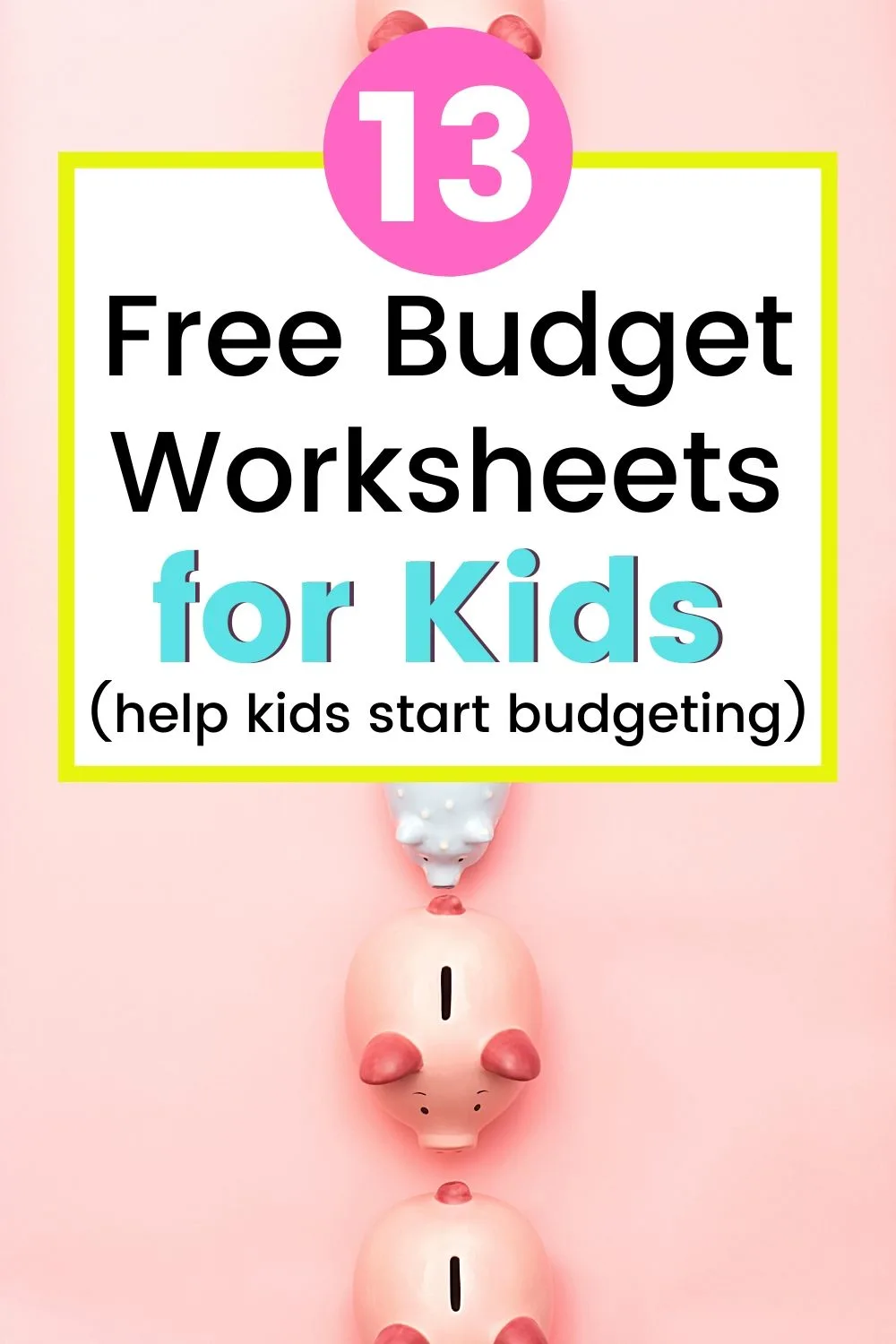 Once they actually write out the numbers – the income, the spending, etc. – the reality of their finances almost smacks them over the head. It's an "aha" moment that all of us have when we sit down and crunch what's really happening.
It happens to me, too!
For kids and elementary students, budget worksheets are even MORE important because they haven't had enough experience to even attempt to "mind budget". You know, where you just wing it each month, check in a few times on your checking account, and figure everything will work itself out?
Kids learning how to budget need to get in the habit of writing everything out. Then, they can see patterns, get up-close-and-personal with the reality of what they earn versus what they want to buy, and make better financial decisions.
I'm excited to put together a roundup of awesome youth budget worksheets and even sample budget templates for teenagers and kids – it's one step closer to teaching your child how to manage their money.
And that's what we're all about, here!
Kid's Budget Worksheets
One of the most important money management skills for kids to learn? Is how to budget.
Look through these kid's budget worksheets, and pick one or two to try out with your child.
This can also open up great money conversations to have with your child (here's how to talk to your kids about money, in case you wanted some help with that).
You can download a free budget worksheet for kids that includes some other pointers to help show them what financial responsibility – even at their age – looks like.
I like how this sheet shows what "savings" are:
Total (weekly) income – Total (weekly) expenses = Weekly Savings
That drives the point home that a) it's a good idea to have something left over before your next "payday", and b) saving money is as simple as that. Just not spending more than you earn.
Here's a very simple, one-page, BLANK monthly budget printable for kids.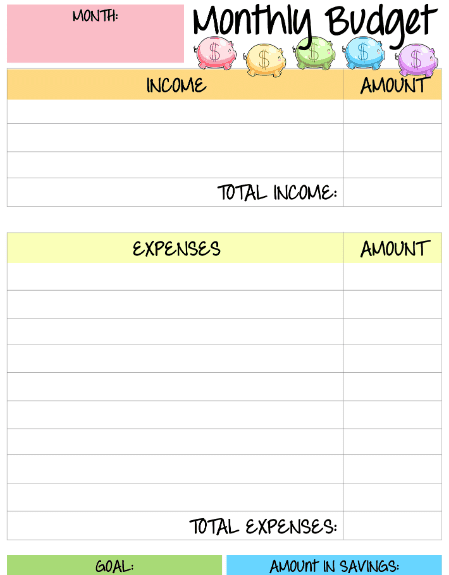 Teaching kids to save money? I like how this person's monthly budgeting worksheet for kids corresponds with save-spend-share jars. It's a way for your child to actually track their money, even if they're using jars instead of a bank account.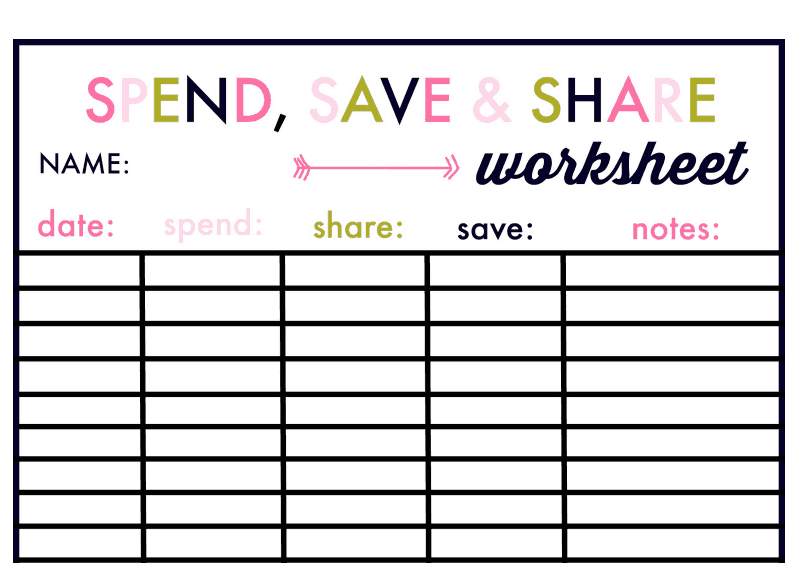 4. Money Prodigy's Kids Cash Envelopes
If you use a cash envelope system yourself for budgeting, then you might want to teach the same system to your kids.
You're in luck — I've created a free set of money envelopes for kids, and you can snag them, here.
Kids can use these to budget for a specific category of spending, like clothes, and can track how much they've spent and what they have left on the outside of the envelope. They're also great to use for when they go to make a store transaction.
Psst: you'll definitely want to check out my article on teaching kids about money.
Carrie Elle's got a set of cash envelopes for kids, too! Here you go.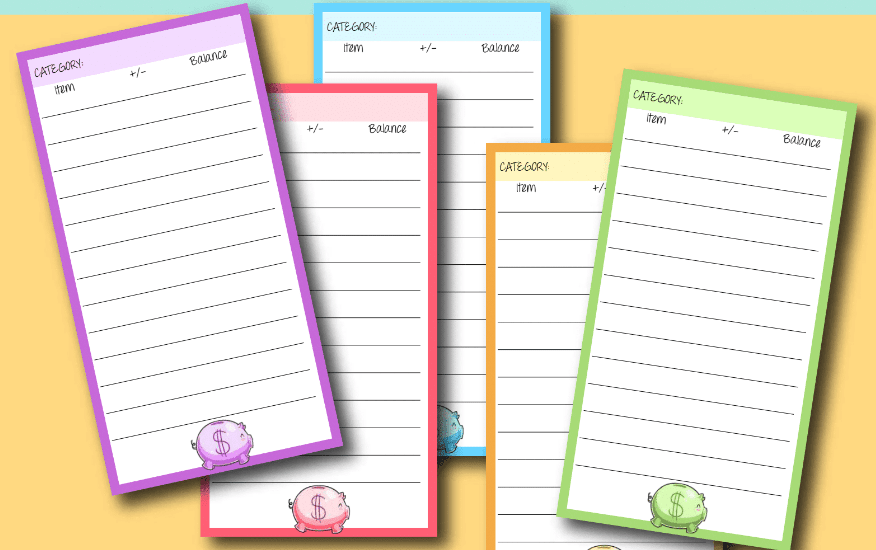 Here's another Save, Spend, Share Printable for kids. And here's ideas for charities kids can donate to (their "share" category in this printable) where $12 or less makes a big difference.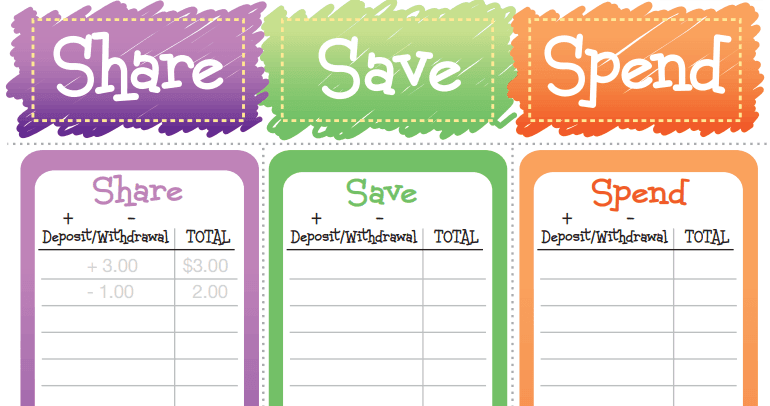 Youth Budget Templates – Budgeting Worksheets for Students
I've got a few more youth budget templates that can be used for either kids OR teenagers (even college students can benefit).
We're changing things up with this children's budget worksheet, which allows you to teach your child to budget just three categories. Could be a great way to start, especially if your kid is still saving money in mason jars.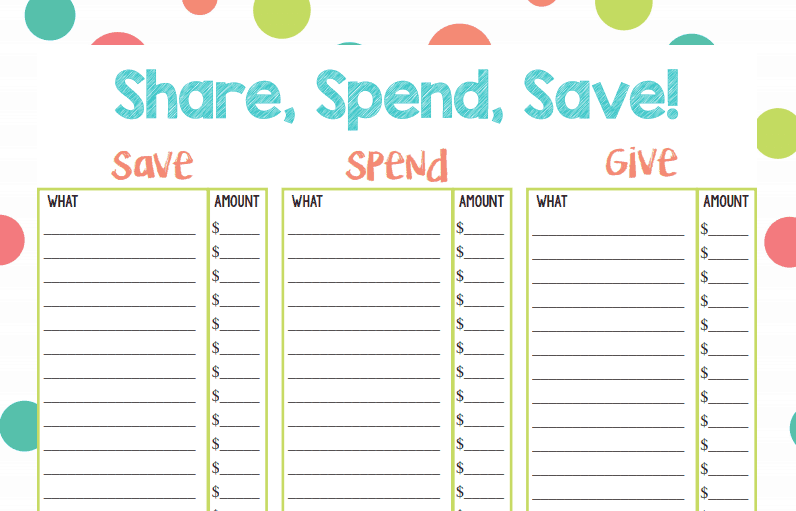 This could go really well with piggy banks that are set up for three categories, share, spend, and save, such as the following:
Moonjar classic piggy bank: This award-winning savings jar allows kids to divvy up their money between saving, spending, and sharing. A Family Guidebook and Passbook are included, and the individual compartments can be taken out, or kept together in one bundle.(HINT: this is a great piggy bank for bills).
Smart Piggy Trio Bank: This is a set of three boxes with magnetic closures that cover your kid(dos)' money needs for spending, saving, and sharing. Boxes can be stored together, or taken out as separate components. Also comes with a simple kid's money guide.
Money Savvy Pig: I love how transparent the four chambers are with this piggy, one each for: save, spend, donate, and invest. It also comes with stickers to decorate each of the four categories with.
Does your child buy gifts for their siblings, friends…parents?
Try out Queen of Free's Christmas Gift Budget Template — could be a great way to introduce the idea of budgeting to your child.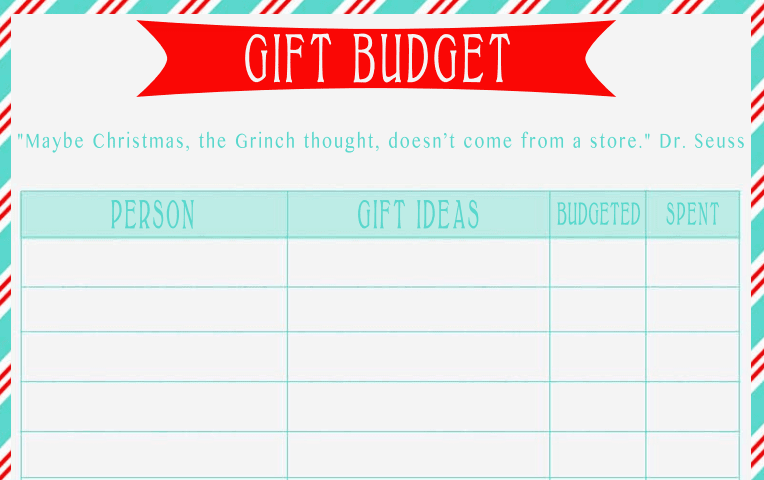 3. Penney Lane's Christmas Budget Worksheet
Again, here's another great, blank, Christmas budget worksheet that would work well for a child who wants to budget for Christmas presents this year.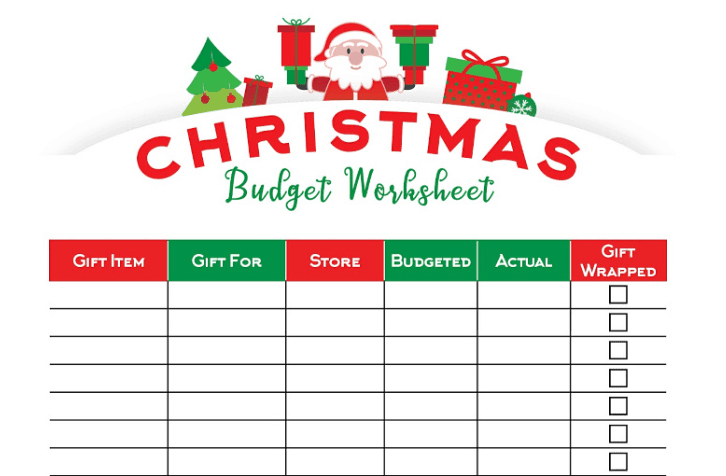 Sample Budget Template for Teenagers
In order for your teen to fill out a budget, they need to figure out how much they earn (either through a job, through allowance/chore commissions, or through a combination for both).
They also need to know their expenses, specifically if you've handed them over any money responsibilities (or things they need to pay for).
Before I share with you some sample budget templates for teenagers, let's talk about nailing down income information for your teen (you'll want to check out my resource guide on allowance for kids to figure out that part of the equation, if your teen doesn't have a job yet).
Do you know what the average teenager earns? That's a first good step in helping your teen create a budget (or, in managing their expectations of what they can reasonably expect to spend and save when they score that first teen job).
Current federal minimum wage: $7.25/hour. Remember that if a state has a higher minimum wage than the federal one, that is the one that is in effect. 18 states currently have a higher minimum wage than the federally set one.
Average Hourly Wage for Teens: $10.03/hour. Wow was this number difficult to track down. I eventually ended up calling the Bureau of Labor Statistics, who confirmed that they do not break this number down by demographics.
Average Salary for Teens (16-19): $460/week. This is for full-time wage and salary earners.
Alright, now that you've got a bit of guidance to help your teen fill out their current or future budget, let's look at sample budget templates for teens.
1. MoneyandStuff.info's Sample Budget Template for Teenagers
Here's a sample monthly budget for teens.
Psst: does your teen not have a job? Click on MoneyandStuff.info's sample budget template for kids, which shows an allowance example instead of a job example.
You'll want to use these kid's budget worksheets within your allowance system. Don't worry if "system" sounds like a pipe dream compared to how you're giving an allowance right now. I've got you covered with this article on how to give your child an allowance.
The following two tabs change content below.
Amanda L. Grossman is a writer and Certified Financial Education Instructor, a 2017 Plutus Foundation Grant Recipient, and founder of Money Prodigy. Her money work has been featured on Experian, GoBankingRates, PT Money, CA.gov, Rockstar Finance, the Houston Chronicle, and Colonial Life. Amanda is the founder and CEO of Frugal Confessions, LLC.
Read more here
.
Latest posts by Amanda L. Grossman (see all)