How to squeeze extra quality family time in during the crazy weekday with these bite-sized weeknight family activities.
"How to get more time with my child?"
I think this is a question most of us parents have asked ourselves – especially parents who work out of the home, and who have their child involved in lots of activities.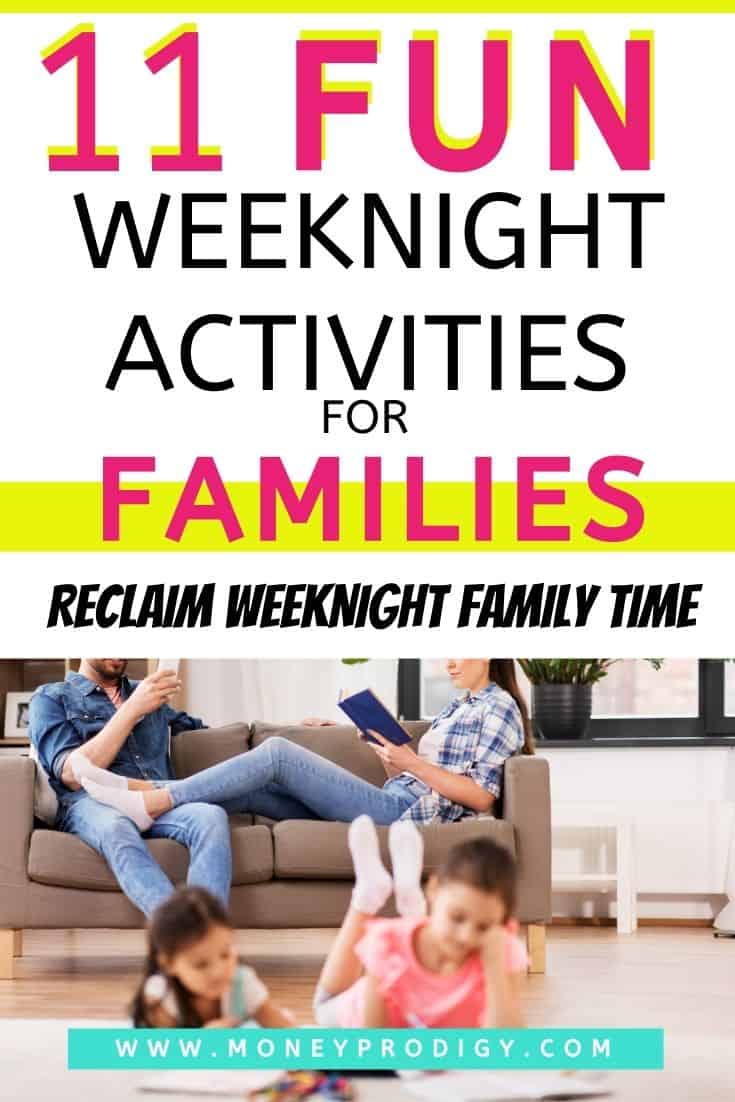 I mean, the summers might feel endless (either in a good or bad way…and usually both), and holidays usually have us all spending more time together.
But what about the in-between times?
What about all those weeknights during the school year?
Is your family life organized in a way to take advantage of the in-between times?
That's why I'm writing this article today – squeezing more quality time out of our weeknight with our families is such an important topic for parents.
I want to share many meaningful ways to engage with your kids by recapturing a sometimes-overlooked part of our schedules: the weeknight routine.
Of course, since these activities are all for weeknights, they have to fit certain criteria to be "doable" for many of us.
Like, they have to:
Be bite-sized
Be manageable (no one needs more stress on a Wednesday night…amiright?)
Fit into your time constraints
Give you a way to connect and engage with your family
So, let's hop to it – ideas to help with spending quality time with family during weeknights.
What Do Families Do in the Evening?
Let's talk about what a family typically does in the evening during weeknights, so that we can then talk about opportunities for fun weeknight family activities we can squeeze in.
Typical weeknight activities:
Pickup from school/Commute home from work
After school/after work snacks
Prepare and cook dinner
Homework
Eating dinner/dessert
Watching TV
Getting ready for bed/shutting the day off
Tucking in the kids
Going to sleep
Most of these things cannot be ignored.
But you know what? There are lots of opportunities to add in something extra around them, or even during them, to make the weeknight more fun, too.
Next up are bite-sized opportunities to get done what you and your family need to during the weeknight, but to also have some engagement and fun quality time together, too!
Weeknight Family Activities (Bite-Sized)
Whether it's in the car, cooking dinner, getting ready for bed, doing homework, or walking the dog – this section is going to show you bite-sized weeknight family activities that seamlessly fit into your busy weeknight schedule.
1. Rotate "Child Sous Chef" Nights
Rotate nights between kids where one kid gets to help Mom or Dad cook the meal.
This is such an excellent way to engage with your child, and they'll likely open up more about their day because the two of you are working together on something.
Not only that, but kids learning how to cook for themselves? Is a vital life skill.
In other words…this one checks THREE items off of your "good-parenting" list, and it involves an activity you have to do most weeknights anyway (re: get dinner on the table).
Psst: not sure how young is too young to start? We've been getting our 4-year-old to help us in the kitchen for 1.5 years now. He does things like hold measuring cups while we fill it with an ingredient before he pours it in, pinching salt into the bowl, mixing all the ingredients together, taking scraps to the trash can, etc.
Find kid-friendly recipes and demos here:
2. Add Conversation Starters to Your Dinner…or to Your Commute
You can print out one of thousands of free family conversation starters PDFs (be sure to check out the money conversation starters deck, too!), and keep them at the dinner table in a mason jar (or something plastic that the kids can't break).
Have each person take a turn picking one out, and then answering it. You can either have each person answer just the question they pick, or each person at the table answer the same question picked by someone.
Psst: do you end up commuting a lot between kid's activities and pick-up at school? Stash a container of these in the backseat and let your kids take turns reading the question out loud and answering it.
3. Play White Elephant Chore Game
Many of us having to get chores done during the weeknight. So, why not make it a fun family event where you're also playing with your kids?
I created the White Elephant chore game, and here are the rules:
Rule #1: You can only choose one of the chores you were given to include in the game.
Rule #2: Everyone must complete the chore in their possession at the end of the game + their other chore cards that were not swapped by __________ date.
Rule #3: Everyone must put their sealed envelope in the basket before the game begins.
Rule #4: Each person chooses a number from the basket. This is the order you go in.
Rule #5: For each person's turn, they can either a) choose a sealed envelope from the table (you need to open the envelope you choose and read it out loud), or b) steal someone else's opened chore envelope.
Rule #6: The person whose chore gets stolen gets to either a) choose a sealed envelope from the table, or b) steal someone else's opened chore envelope.
Rule #7: Chores can only be stolen one time per turn, and opening a sealed chore ends a turn.
Rule #8: The game is over when each person has a chore in hand (give the first person who started the game one more shot to either steal another chore, or keep the one they have).
4. Use Jordan Page's Tuck-In Time
Jordan Page from FunCheaporFree.com and her husband came up with a brilliant idea to squeeze extra engagement time with your kiddos when you have lots of them (they have 8 now – including a set of new twins this year!).
It's called "tuck-in time".
You rotate through which child gets this, and it involves the child being allowed to stay awake for 15 more minutes beyond the other kids, which turns into quality time for them with their parents.
They get a few more "perks" as well, so you'll want to watch this video for more information.
Psst: on my other site, Frugal Confessions, I've got 100 family fun night ideas at home you can check out.
5. Use Car Clipboards to Start Homework in the Car Ride Home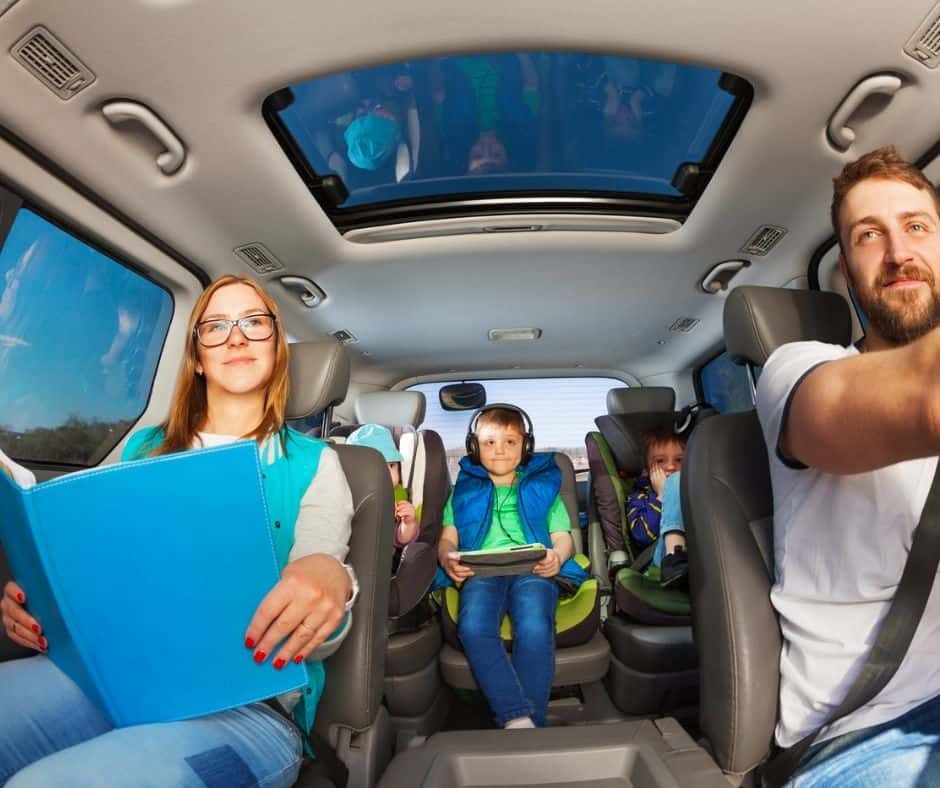 Do you have a long commute between picking kids up from school and going around to different activities?
Grab clipboards for each of your kids, and get them started on their homework on the car ride home.
This isn't actually more engaged time together – but it IS a way to squeeze extra time later in your night just for your family to talk or do another activity off of this list.
6. Have a Dance Party During After-School Snack Time
I got my husband this amazing speaker my friend had recommended last year. He's connected it to both of our phones through Bluetooth, and he absolutely loves it – the sound is pretty sweet.
And he's figured out how to really bring the whole family in on it by hooking it up to work wirelessly with his phone, and having little dance jam sessions with us all. We each take a turn picking out the next song, and our 4-year-old just gobbles this up.
You could do this same thing, and pair it with after-school snack time. Don't be surprised if any of your family (including yourself) breaks out into dance!
7. Break Out the Magic Fire Packets
I stumbled upon these magic fire packets last year when searching for a gift for my husband – someone who happens to love fires.
And you know what? They're really cool. You throw them on the fire, and they slowly burn colors into the normal flames (blue, green, etc. depending on the packet you use).
Just a little something special to do in the middle of a weeknight (especially when it gets dark early, anyway) – start a fire in the fire pit outside and put these packets on it.
Psst: you'll want to check out these 33 other fun things to do at home with family! And for just you and your partner? Here's 15 weekday date night ideas.
8. Do Dinner 'N Tiki Torches in the Backyard
We took a trip to Mexico 5 years ago, and one of the lessons I brought back with me was how lovely eating outside really is.
I vowed to eat more of our meals in our backyard. I bought a simple folding table, and when we do this, we just use chairs we already have.
I also like to light these tiki torches to help with mosquitoes plus make things special.
Psst: here are 36 more backyard activities for kids.
9. Start a Family Walk Mural
When we were kids, we once created a fishing net mural on the wall of my stepmother's aunt's condo. We bought the net, hung it on a wall in the condo, and went on a walk or two to pick up beach debris (and, truthfully, bought some shells and such from the local store).
You can do this too – get a fisherman's net, and hang it in your home. Each weeknight walk that you take with your kids, have one child add something they found into the netting.
Imagine how cool and unique your family net will look after only a few months of weeknight family walks?
10. Do Wednesday Night Desserts
Many parents don't do dessert every night for the kids. SO, you can pick just one weeknight that is dessert day, and either:
Surprise the kids on this day, each week, with a dessert
Let each kid rotate taking turns picking dessert for this night
Taking an extra 10-15 minutes to sit around the table or on the couches together while guzzling down dessert together? Well, that creates memories and makes one weeknight a week extra special.
11. Get into a Podcast Series, Together
Want less screen-time for your kids, but need something to listen to in the background while you're, you know, doing all. the. things. on a weeknight?
Pick up one of these free kid and teen-friendly podcasts, and listen to it with your kids each night. One episode is good enough!
There you have it – 11 weeknight family activities that actually fit into your schedule and routine, and will help keep your family close. It makes me smile, just thinking of all the new memories you'll create with these! Don't forget to check out these 12 fun Saturday night family dinner ideas.
The following two tabs change content below.
Amanda L. Grossman is a writer and Certified Financial Education Instructor, a 2017 Plutus Foundation Grant Recipient, and founder of Money Prodigy. Her money work has been featured on Experian, GoBankingRates, PT Money, CA.gov, Rockstar Finance, the Houston Chronicle, and Colonial Life. Amanda is the founder and CEO of Frugal Confessions, LLC.
Read more here
.
Latest posts by Amanda L. Grossman (see all)