Check out these 100 chores to do around the house for kid and teen chore ideas. Also includes 100 chores to do around the house for money.
Looking for chores for kids and teens to do?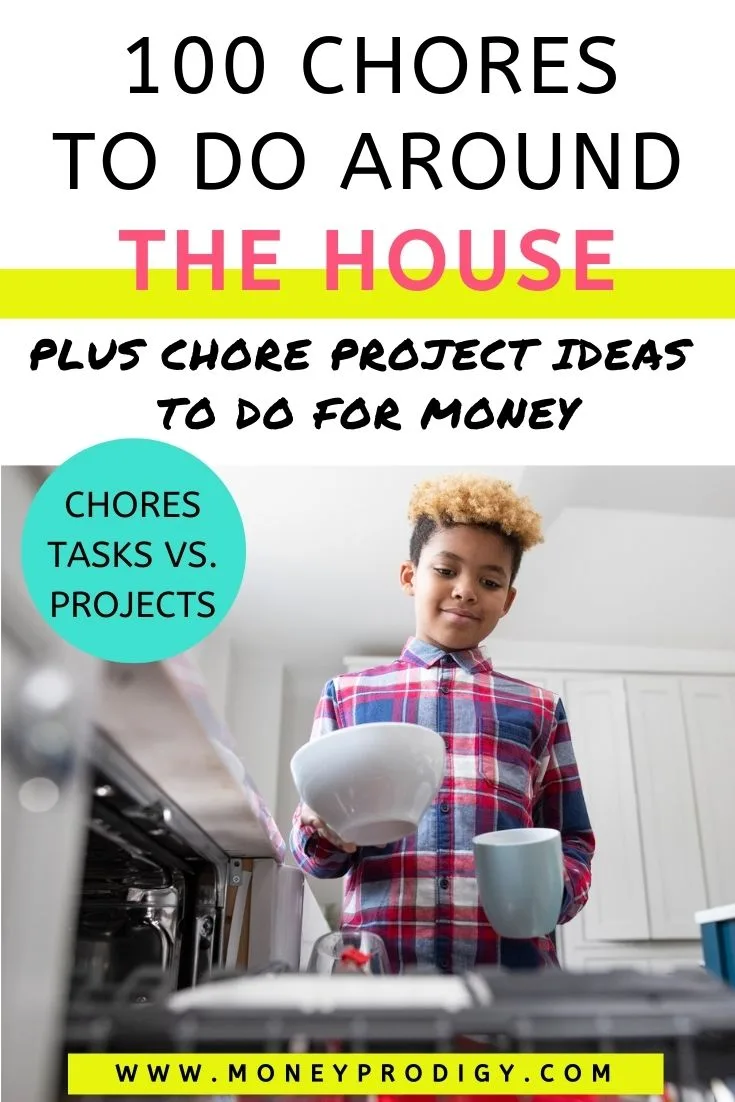 In this list of 100 chores to do around the house, you'll find ideas for chores your kids and teens can complete daily/weekly, as well as chore project ideas they can take on for extra earning opportunities (if you want to pay them for chores).
Remember: what you want and do not want to pay for is completely up to you – these are just suggestions and inspiration to get your mind moving on this.
100 Chores to Do Around the House
These 100 chores to do around the house are organized into zones to both make the list easier to choose from, and, to help in case you want to create chore zones for your kids to rotate through each week.
Note: Some of these chores are great for younger kids, and others (like cleaning out the pool) need to be left for teenagers and/or supervised. Looking for age appropriateness help? Here's my article on age-appropriate chores for kids.
Kitchen Chores
1. Set the table for dinner
2. Empty the dishwasher
3. Vacuum out the cutlery/utensil drawers and pantry
4. Wipe down the outside of the refrigerator
5. Wipe down the outside of the dishwasher
6. Scrub out the kitchen sink
7. Sweep the kitchen floor
8. Wipe down the countertops
9. Wipe down table after dinner
10. Unload lunchbox in kitchen after school (dirty dishes in sink, trash in trashcan, ice pack back in freezer, lunchbox put away for next day)
11. Scrub the floor under the cupboards
12. Check for expired condiments in the fridge to throw out
13. Sweep under the kitchen table after the meal
14. Organize all the magnets on the fridge
15. Dust dining room chairs
16. Wipe grease off oil/vinegar/salt/pepper bottles near the stove
17. Help carry in groceries
18. Wipe down outside of refrigerator and dishwasher with a microfiber stainless steel cloth (no chemicals needed, and it gets super-shiny!)
19. Take the grocery list for the week, then search for coupons parents might use to save money on what they're going to buy anyway
20. Scan in all receipts into free cash-earning apps like ibotta and Fetch
21. Put away pantry groceries
22. Fill up all of the ice trays and stack nicely in the freezer
23. Scrub clean the oven window
24. Choose one drawer in the refrigerator to take everything out of, and scrub clean
25. Fill up filter water pitcher
Laundry/Laundry Room/Mudroom
1. Gather laundry from each person's room, and take them to the laundry room
2. Wipe down the top and front of the dryer/washer
3. Fold the towels and put them away
4. Sweep the floor
5. Organize shoes in the shoe area
6. Pick up coats/hats/etc. on the floor and hang them up
7. Clean out dryer lint trap
8. Fold and put away the air-dried clothes
9. Wipe the outside of the deep freezer clean
Bathrooms
1. Wipe down the mirror
2. Scrub the sink and counter area
3. Wash the bathroom rugs (in the washing machine)
4. Take down and wash the shower curtain
5. Scrub the shower/bath tub
6. Empty the trash can
7. Scrub the toilet
8. Scrub the bath mat in the tub (both sides)
9. Clean the outside of the soap container/dish
10. Wipe down toilet paper holder and towel holder
11. Wipe down outside of medicine cabinet
12. Wipe down towel closet
13. Wipe down closet doors
Full House Chores
1. Gather all of the small trash cans, empty, and put new bags in each
2. Gather everyone's phones for charging (here's the charging station we love and use)
3. Dust the blinds using this
4. Wipe down each windowsill
5. Wipe down light switches
6. Wipe down doorknobs
7. Refill all hand soap containers in the house
8. Water all indoor plants
9. Replace the kitchen hand towels and bathroom hand towels with clean ones
10. Dust/vacuum off all lampshades
11. Clean the outside of each soap container/dish in the house
12. Wipe clean all laptop and desktop screens
13. Change all the clocks twice a year
Outside/Garage Chores
1. Take out the trash from kitchen to the outside trashcan
2. Take out the recycling from the kitchen to the recycling can/bin
3. Wipe down outside patio tables
4. Clean up toys on patio and in yard
5. Sweep off patio
6. Sweep off sidewalks
7. Roll up water hose and return to its holder
8. Get the mail
9. Water hanging flowers on porch/patio
10. Clean out pine cones, rocks, and toys from yard to prep for mowing
11. Pick fruit from fruit trees, as they ripen
12. Sweep off outdoor doormats
13. Wipe the outside of the deep freezer clean
14. Wipe down exercise equipment
15. Fill up the bird feeders
Living Room/Den
1. Clean out and vacuum under couch cushions
2. Categorize the DVDs and Games, alphabetically
3. Wipe down the tables
4. Dust the shelves
5. Sweep the floor
6. Fold up the blankets, and return them where they belong
7. Return couch pillows where they belong
8. Clean up and organize the gaming console area
9. Vacuum couches
10. Dust the book shelves
11. Clean the sliding glass door
12. Dust off picture frames
13. Dust and clean off side tables
14. De-fur the couches/chairs/pet hangout places
15. Make sure remotes are back where they belong
16. Wipe down exercise equipment
Pet Chores
1. Feed the fish
2. Feed the cat/dog
3. Clean the cat litter box
4. Scoop up dog poop from the backyard
5. Brush the cat/dog
6. Gather eggs from the chickens
7. Clean out bird cage
8. Give the dog a bath
9. Take hair off of the pet bed, then wash it
Alright – ready to look at chore ideas to do around the house for money?
100 Chores to Do Around the House for Money
In this list, you'll find my ideas for more complex chores, and what I call "chore projects" your kids and teens can complete for extra earning opportunities.
Use these as part of your teen chore chart.
Hint: here's help for how to set up chores for money charts, including figuring out how much you want to pay for these chores. And if you want to go an app route? Here are the best paid chore and allowance apps, and the best free chore and allowance apps.
1. Clean out and vacuum the family car
2. Reorganize the family command center
3. Clean-up the wood pile
4. Organize the family hall closet
5. Clean out the chicken house
6. Rake the yard
7. Scrub baseboards (downstairs, then upstairs)
8. Clean inside windows, one room at a time
9. Scrub outside of kitchen cabinets
10. Match all the socks
11. Organize all the DVDs/movies
12. Clean out the fish tank
13. Scrub out the microwave
14. Scrub out the refrigerator
15. Get rid of expired cans and boxes of food in the pantry
16. Organize kitchen cookbook shelf, and dust/wipe off cookbook covers
17. Clean off car windshields with a squeegee
18. Take out/pack up all out-of-season clothes into a bin and hang up next season's clothes
19. Scrub all kitchen door and cabinet knobs
20. Bag up ashes from the fireplace
21. Organize all sports gear in the garage
22. Scrub banisters clean
23. Gather all the pens and pencils and organize them in one drawer
24. Organize a junk drawer
25. Scrub inside of the microwave
26. Take out all of the books in the library area, and dust each shelf off
27. Organize pantry foods by type and expiration date (take everything out, and scrub the shelves)
28. Weed garden beds
29. Wash outside of the family car
30. Scrub out/hose down inside of kitchen trashcan and recycling bin
31. Take a broom and dust down spiderwebs from ceilings/corners/etc.
32. Vacuum/wipe dust off all air vents
33. Scrub inside and outside of coffee maker
34. Scrub out the dog cage
35. Organize digital photos for the family
36. Upload all photos to a photobook creation service (so that Mom and Dad can create scrapbooks!)
37. Dust blinds throughout the house
38. Be in charge of selling old electronics and cell phones for extra cash (they can take a commission from cash earned)
39. Keep the pool free of debris
40. Spot clean pet stains on carpets
41. Disinfecting all the doorknobs and light switches in the house
42. Stripping the beds and bringing all sheets to the laundry room
43. Scooping up doggie doo-doo from the backyard
44. Scan in all receipts into free cash-earning apps like ibotta and Fetch (they earn a commission on cash-back earned)
45. Set up a pet station for walks to the park (for example, a basket in the mudroom with everything you need to go for a walk, like the leash and doo-doo bags)
46. Clean up/organize all the board games
47. Fully clean out the cat litter box (remove all litter, and scrub/hose it out)
48. Repot indoor plants that have outgrown theirs
49. Scrub/hose out all indoor small trashcans
50. Dust and wipe down each windowsill in the house
51. Polish wooden tables (like in the kitchen and dining room)
52. Organize all of the Tupperware lids and plastic containers in the kitchen
53. Organize and clean the shelf around the washer/dryer
54. Clean out all keyboards in the house
56. Start decluttering a junk closet in the home by taking everything out of it and putting like-stuff together in piles for parents to go through
57. Hose down/scrub the garage door
58. Pull the fall/Christmas/seasonal decorations out of the garage and get them ready for family decorating
59. Scrub down any whiteboards and chalkboards in the home/home office
60. Clear out the oven drawer, vacuum out all debris and scrub, then reorganize what was in it
61. Wipe clean all banister/stair rungs/spindles
62. Organize all of the Christmas decorations, ready in time for next season
63. Fully clean out the guinea pig/hamster cage
64. Take everything out of the freezer, and wipe clean the racks/shelves
65. Use a DIY solution to clean/defog headlights on household vehicles
66. Wipe clean/empty out light covers around the house
67. Wipe clean all of the toilet paper holders and towel holders in the house
69. Scrub off each appliance on the kitchen countertop (outside of toaster, blenders, outside of knife block, etc.)
70. Clean out the tracks on all sliding glass doors using these
71. Scrub clean all pet food and water dishes
72. Take out all spices from spice rank, wipe them each down, and wipe the shelves clean
73. Clean off/dust off top of refrigerator
74. Clean off/dust off top of kitchen cabinets
75. Scrub the backsplash in the kitchen clean
76. Scrub clean the oven hood
77. Dust off all fake plants in the house
78. Scrub/hose down all outdoor patio furniture
79. Lift everything out of the pantry closet, and clean the floor below
80. Scrub a wall that gets lots of splatters on it (think: in the bathroom or kitchen)
81. Launder outside patio pillows ahead of the "outdoor" season
82. Iron cloth napkins
83. Take down curtains and wash/dry them, then put them back up
84. Organize electronic cords around the house
85. Clear out clothes from younger siblings' drawers and closets they've outgrown
86. Be part of the Konmari Cleanout for your household by gathering all of one type of item (such as all the books, all of the clothes, all of the toys, etc.) into one location so that the family can go through it
87. Take out all window A/C filters, scrub them clean, and return them
88. Organize the craft room/craft area
89. Scrub down the outside of the front and back door
90. Take off, launder, and replace couch and chair covers
91. Wipe down outside of closets
92. Take everything down from bulletin board, recycle expired papers, and organize what's left
93. Collect all the pens from junk drawers and around the house, test them, and throw out any that don't work – then organize what's left
94. Organize the linens closet – including refolding everything to look nice/fit
95. Collect all hair scrunchies, bobby pins, and hair accessories, and organize them all
96. Go through DVDs, make sure all of them are returned to their cases, then organize in alphabetical order
97. Wipe down/disinfect toys for younger siblings
98. Organize outdoor games (like volleyball/badminton sets, yard dice, frisbees, etc.) into one area of garage
99. Pressure wash the driveway
100. Work with parents to digitize some of their records by scanning in document piles and then recycling/shredding the documents
Psst: these free printable chore cards can help with putting these chores into practice!
A Note on Cleaning with Kids and Teens
I don't know about you, but I'm a bit squeamish about my child using chemicals to clean with.
Here's some ways to get around that:
Use a Chemical-Free Solution: We switched over to Norwex/ecloths for wiping counters, sinks, mirrors, glass, etc. For example, we use a microfiber glass-cleaning cloth and water instead of Windex for cleaning mirrors and windows. You'd be amazed how clean your surfaces get with these cloths, without using ANY chemicals at all!
Use Vinegar and Water: We've been using a DIY vinegar and water solution to clean most surfaces for over a decade now. I haven't looked back!
Get Kid Cleaning Gloves: You might feel a bit better getting a pair of kid and teen cleaning gloves they can use each time they are cleaning. That way, their hands don't touch any chemicals.
These 100 chores to do around the house should give you some great ideas for how to fill in your chore chart for kids and teenagers (no matter if you want to pay for chores, or not). Got a killer idea to add above? Just leave a comment below.
The following two tabs change content below.
Amanda L. Grossman is a writer and Certified Financial Education Instructor, a 2017 Plutus Foundation Grant Recipient, and founder of Money Prodigy. Her money work has been featured on Experian, GoBankingRates, PT Money, CA.gov, Rockstar Finance, the Houston Chronicle, and Colonial Life. Amanda is the founder and CEO of Frugal Confessions, LLC.
Read more here
.
Latest posts by Amanda L. Grossman (see all)