A set of free printable chore cards are great to pair with your chore chart so that your kids know what you expect to be completed for each chore.
You know how printable chore charts have about enough space to list your kid(dos)'s name, the chores they need to do, and a check-off area?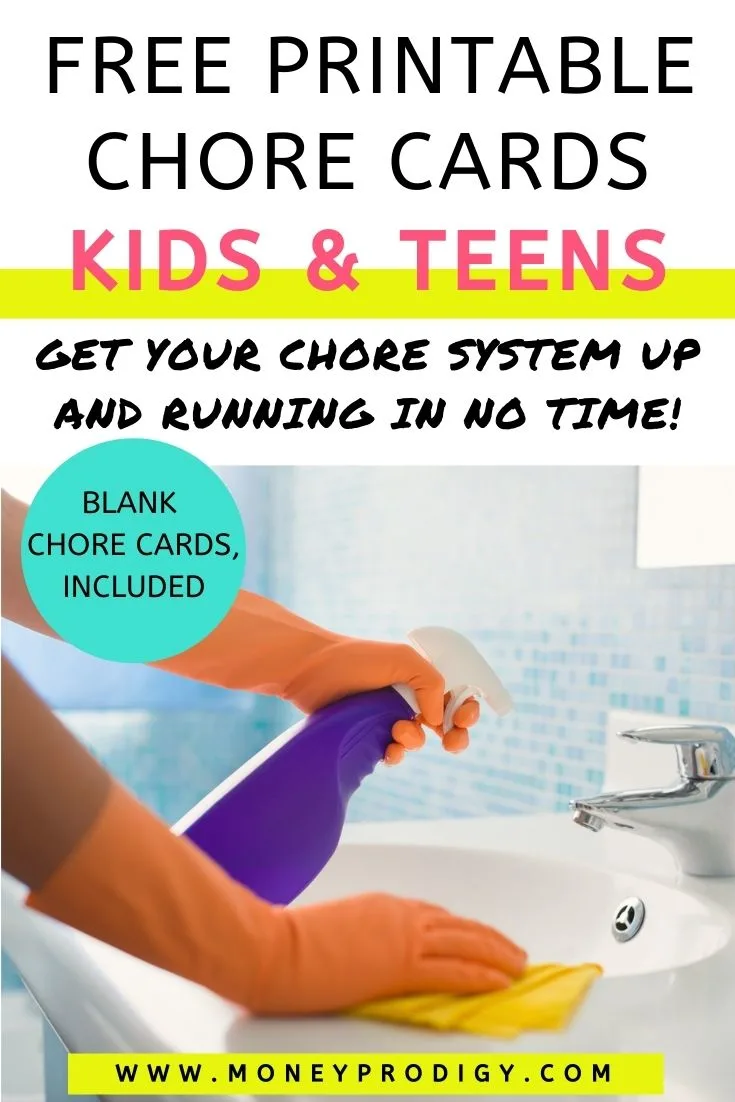 Well, another helpful thing for kids to be able to quickly reference is how to actually do the chore, and what a parent expects to be able to check that chore off their list.
This is where a set of free printable chore cards comes in.
Free Printable Chore Cards
Pick one of these awesome, free printable chore cards, and let them guide your kid on your expectations of what a "completed" chore looks like.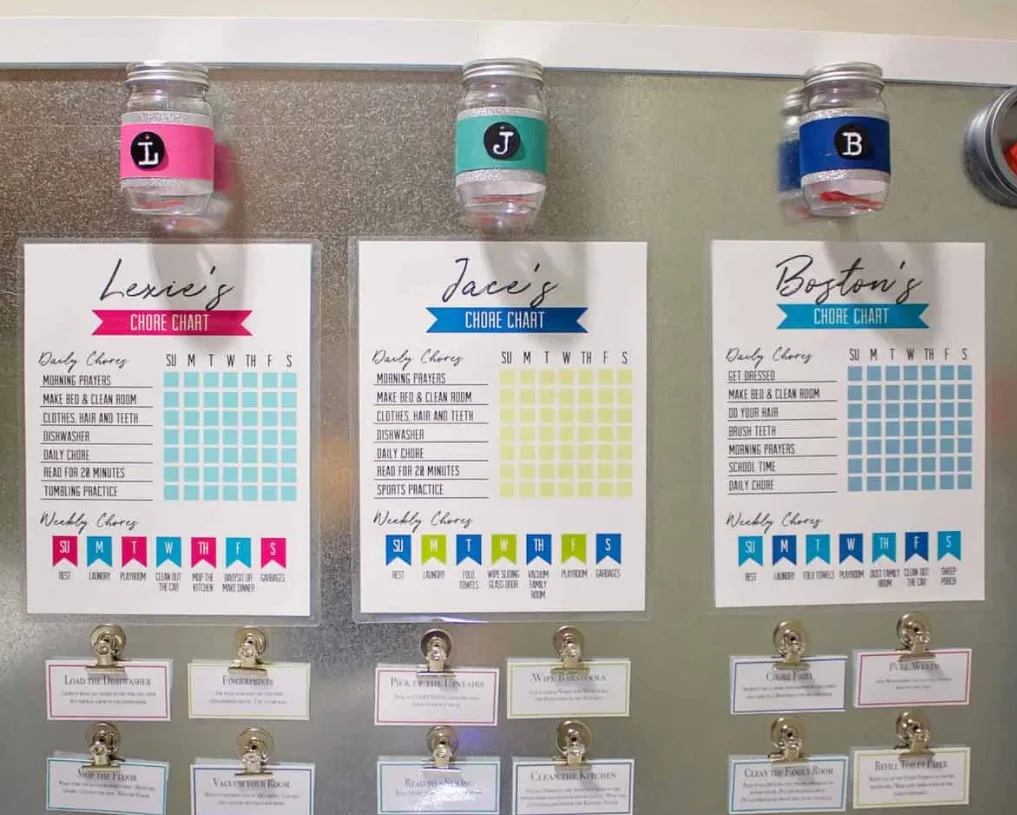 This set of chore cards lists a simple bit of instructions for each chore task. And if you don't like their set of chore cards/directions? Well, blank chore cards are included.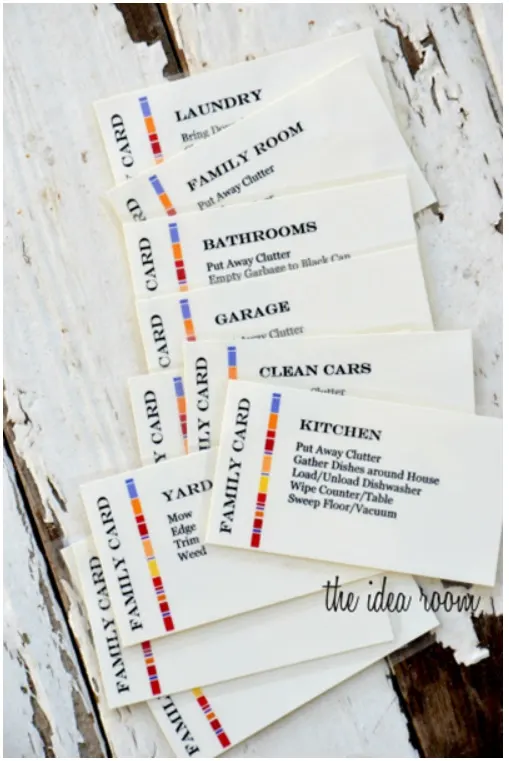 I like how these free printable chore cards are both for family chores and personal chores – two different sets.
Note: while you don't need to subscribe to get these chore cards, you do need to request access to the Google docs.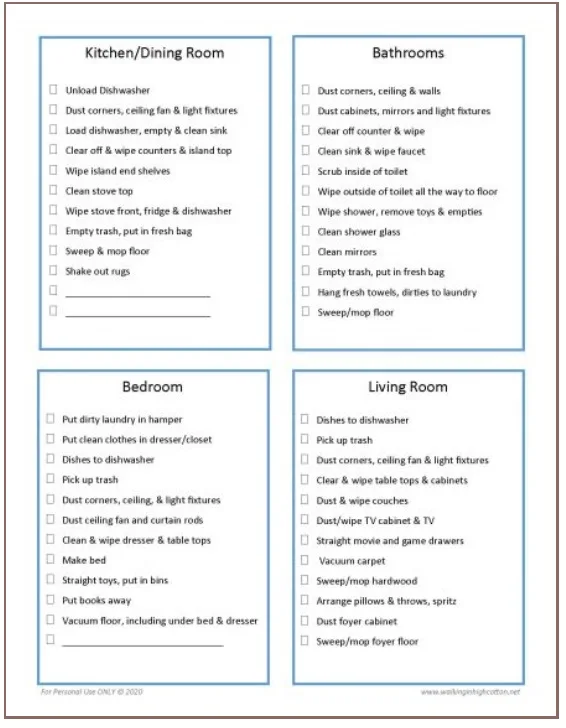 Are you into chore zones – you know, where you give out an area that your child is responsible for?
This is a set of room chore cards with a detailed checklist for what needs to be done in each zone.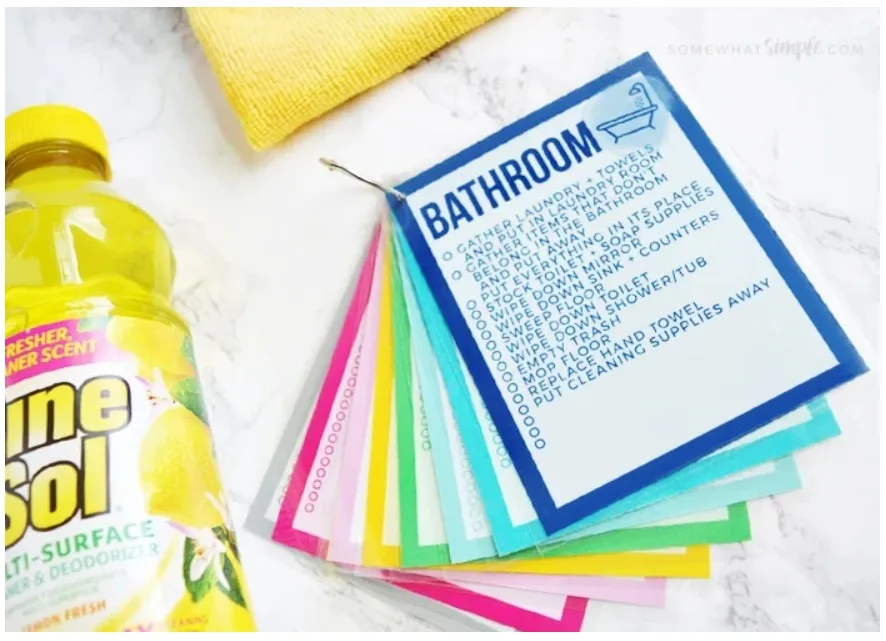 Need to give your kids a step-by-step checklist for each room in the home? These could be it!
I love how she includes blank chore cards, as well as a cute idea to set up a cleaning kit for each room. That way, it becomes grab-n-go for whichever kid has a specific room/chore zone for the week.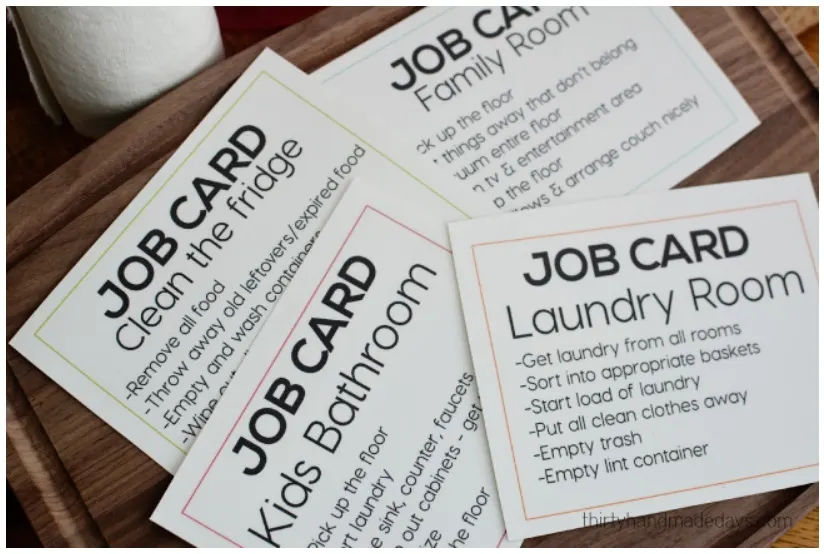 These job cards are for teens, and include checklists for:
Your room
Garage
Dining room + entry way
Kitchen
Family room
Cleaning the fridge
Etc.
Simple, visual chore cards toddlers and preschoolers can handle. I love her simple "To-Do" and "Done" chart.
Cut these out, laminate, and add Velcro to the chart and the chore cards. Then your kid can track what they have to do, and what they've already done.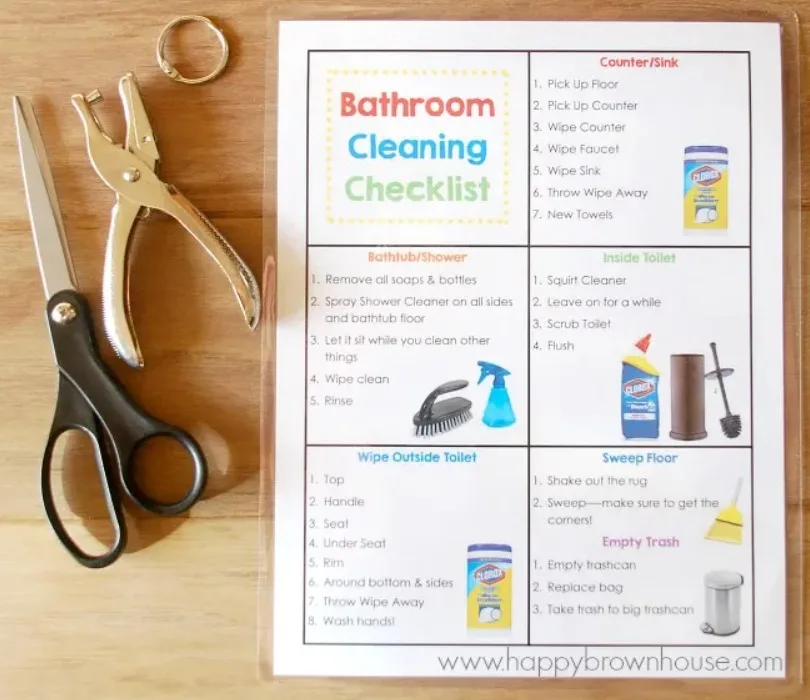 Here's a specific chore card just for the bathroom. I love how detailed, and step-by-step they are.
In fact, since they're so detailed, you can really divide up the chores by kids, or over several weeks.
For example, there's step-by-step instructions for:
How to clean the outside of the toilet
How to clean the counter/sink
How to clean the bathtub/shower
How to clean the inside of the toilet
How to sweep the floor
How to empty the trash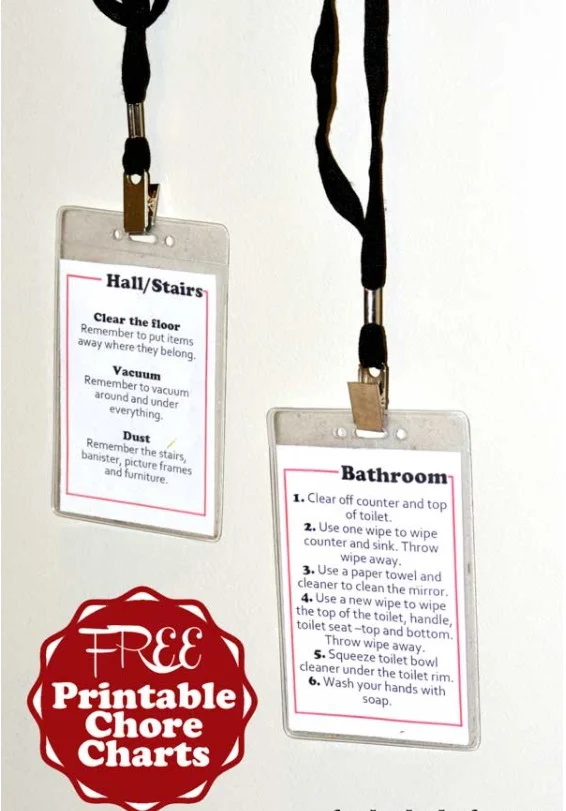 Don't underestimate the power of something "cute" or "different" to get your kids to do chores without nagging.
Which leads me to this cool idea – printable chore cards that fit into lanyards. Your kids and teens can pick up their chore card lanyard, and take it with them to their chore area.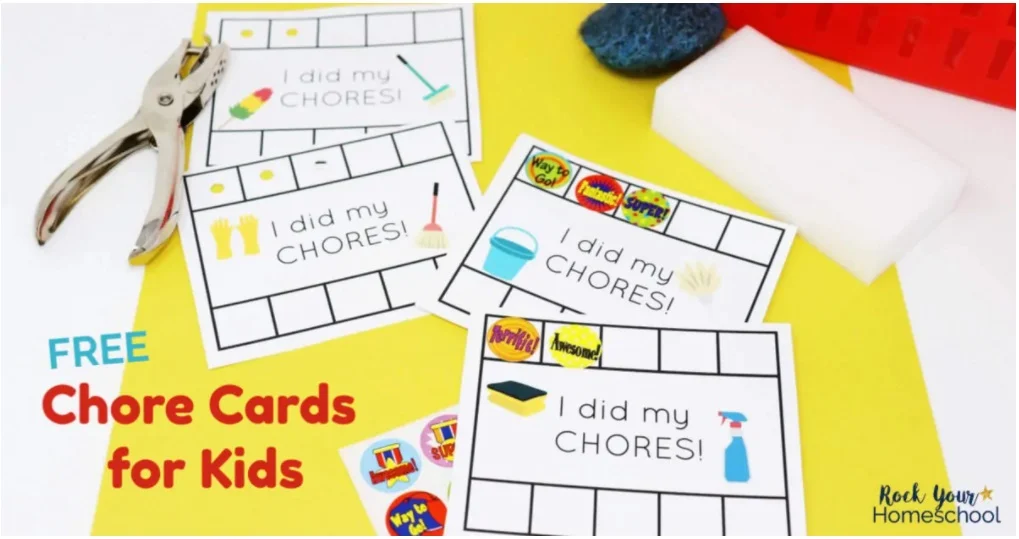 This set of chore cards could actually be your reward system for kids, too.
You use them by writing in the chores you want completed on the back of the card, and then rewarding your kids with a sticker, hole punch, or some other way to show that they've completed their chores to your satisfaction.
Psst: you can also use these free printable chore bucks for a reward.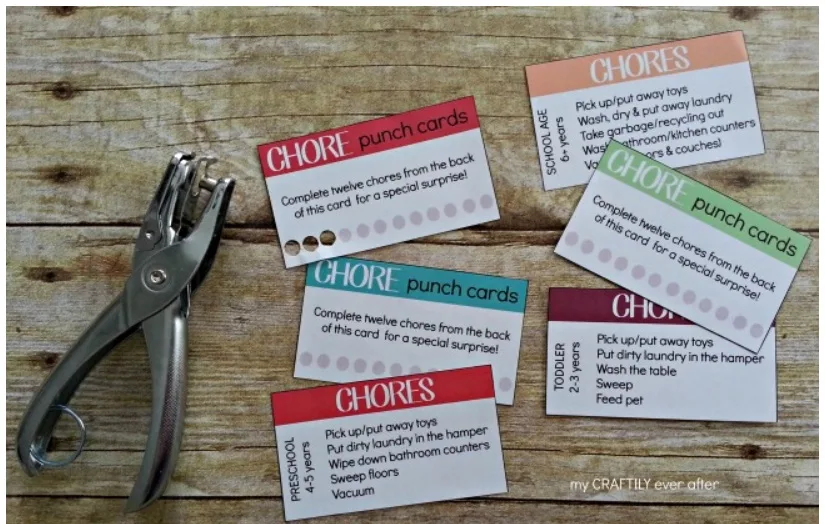 Here's a free printable set of chore cards that also is the chore reward card – the chores they can choose from are on the back of the punch card.
The age buckets for these are 2-3, 4-5, and 6+ years old.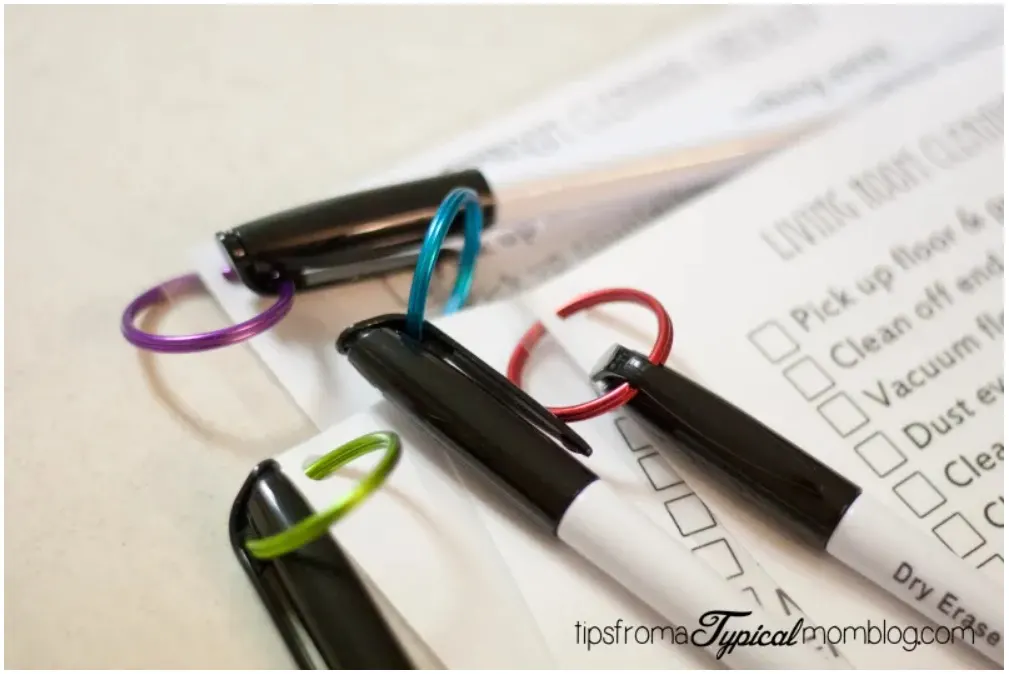 I love how this set of chore cards is really for the whole family. They're broken down into rooms, and include:
Bathroom
Kitchen
Bedroom
Office
She even has a cute idea for how to laminate and include a dry erase marker on the ring of each one so that everyone can check chores off as they go.
Free Printable Picture Chore Cards
Need some visual chore cards that have pictures to help your kid(dos) through their tasks?
Check out these free printable picture chore cards.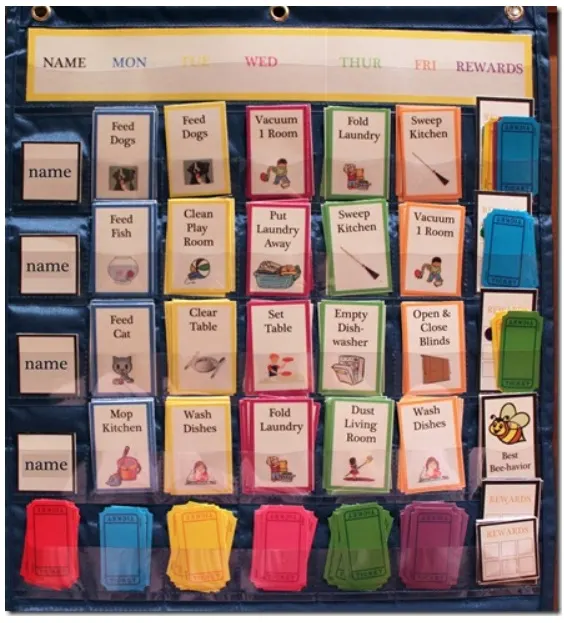 Perhaps you're not looking for directions, but rather a visual way to create a chore chart.
This set of free printable picture chore cards can be for you! Actually, there's two sets – one for older kids, and one for younger ones.
Just buy a pocket chart organizer to use. This is the one I own.
Psst: Looking to pay your kids for chores? You can also pair chores with these free printable chore charts with money.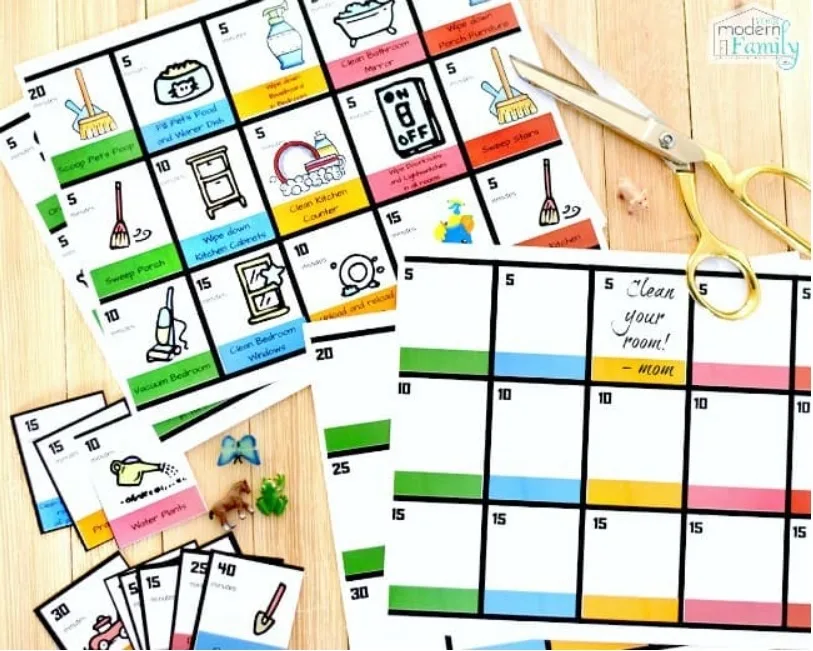 Are you interested in rewarding your kid's chore completions with screen time?
Whether you are, or aren't, you can still snag these free picture chore cards to print out and help your kids along their tasks.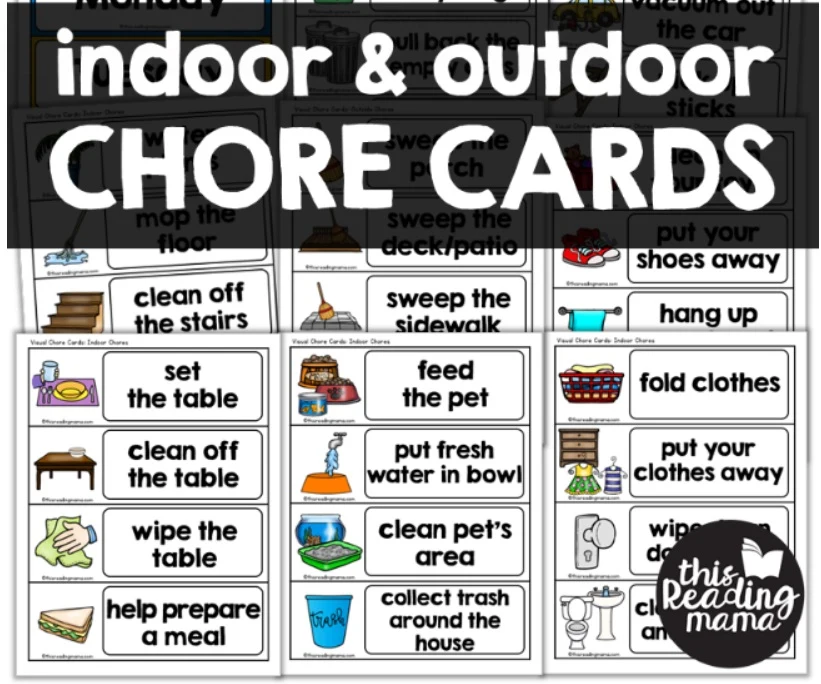 Here's a set of chore cards that includes outdoor chores, too!
Chores like:
Cleaning up pet waste
Picking up toys in the yard
Hosing off the porch
Which of these free printable chore cards set are you most interested in trying out? I just introduced chore cards in my own family for all of us (husband, me, and our son), and am really optimistic about how it's going to help get our household chores under control. Not to mention, it'll give my son a few extra earning opportunities, once he gets his chore responsibilities taken cared of.
The following two tabs change content below.
Amanda L. Grossman is a writer and Certified Financial Education Instructor, a 2017 Plutus Foundation Grant Recipient, and founder of Money Prodigy. Her money work has been featured on Experian, GoBankingRates, PT Money, CA.gov, Rockstar Finance, the Houston Chronicle, and Colonial Life. Amanda is the founder and CEO of Frugal Confessions, LLC.
Read more here
.
Latest posts by Amanda L. Grossman (see all)